---
B² Power Hammer School Mooresville, NC. AKA the Big BLU Power Hammer School invited me to take one of their 3 day classes in August. Now. . . at this point in my non-blacksmithing, blacksmithing career I would not have taken this course except for the fact that this was a very generous offer. The school is run by Steve Barringer of B² Design and co-sponsored by Big BLU Hammer's who provides extra hammers for the school. All the hot steel you can forge and all the food you can eat for three days. What blacksmith could refuse?
Continued. . . Page 2

---
SOFA Quad State Roundup Troy, OH
I reported on this last year and had a great time but I was not going back until several folks I know were going to be there that I do not see often. It is not that I do not love doing these things but it was not really in my travel budget.
Continued. . . Page 9

---
Turley Forge Blacksmithing School Has a new web site. Do a google search for Frank Turley and you will find him listed under the biographies of dozens of successful artist blacksmiths who graduated from his school over the past 34 years. Now Frank has moved into the 21st Century and has an Internet web site and a new e-mail address. If you are serious about learning blacksmithing this is the place to go. Check it out!

---
BlacksmithsDepot.com Is the new name
of the Kayne and Son on-line store. Soon they will have a new look and and all new catalog system

---
BlacksmithSupply Has taken over the
sales and distribution of Euroanvils. This deal came about at the ABANA conference and was closed in the following weeks. Blacksmiths Supply LLC, Chester, VA is opperated by John Elliot the long time president of CVBG.

---
Centaur Forge LLC Has opened a
new branch in New Braunfels, Texas for your convienience. 888-229-9977

---

The Revolutionary Blacksmith
The historical fiction blacksmith romance by Jim Paw-Paw Wilson is now in print.

Book Review

---
CALL For photos Author Dona Meilach is looking for photos of YOUR work for her next book Click for Details

---
NEWS INDEX
[ REMOTE ]
---
Vol.1 (May-June 1998 - JYH)
Vol. 2 ABANA 1998 Conf
Vol. 3 Camp Fenby
Vol. 4 ABANA Late
Vol. 5 PABA Edition
Vol. 6 AFC Edition
Vol. 7 Virginia Edition
Vol. 8 Thanksgiving Edition
Vol. 9 New Year's 1999 Edition
Vol. 10 1st International Edition
Vol. 11 Gichners Iron Age Antiques
Vol. 12 Spring Fling, blowing the anvil
Vol. 13 Southeast Conference Part I
Vol. 13, p.2 SPECIAL NWBA REPORT
Vol. 14, CanIron II, Calgary, Canada
Vol. 16, Francis Whitaker, Eternal Flame
Vol. 17, Spring 2000 Edition
Vol. 18, Bill Pieh
Vol. 19, JYH Photo Contest
Vol. 20, June 2000 Knife Smposium
Vol. 21, ABANA 2000!
Vol. 22, October 2000 ABANA vs. FABA
Vol. 23, April 2001 Kiwi Case, Spring Fling
Vol. 24, June 2001 Southeast Conf
Vol. 25, May 2002 Camp Fenby, ABASA, CanIronIII
Vol. 26, June 2002 ABANA Conference
Vol. 27, September 2002 Epps Hammer-In
Vol. 28, Spring 2003 Events
Vol. 29, May 2003 WV Armour-In
Vol. 30, Southeast Conference
Vol. 31, 2003 SOFA Quad State Event
Vol. 32, 2004 NC-ABANA * Hammerfest
Vol. 33, 2004 WV Armour-In
Vol. 34, July 2004 ABANA Conference
---
Page 2 - 5 Power Hammer School
Page 6 Zeevik Gottlieb, Master Smith
Page 7 Power Hammer School
Page 8 Hammer School Projects
Page 9 SOFA Quad-State
Page 10 SOFA Bob Harisim Knapping
Page 12 SOFA RR-rail anvils
Page 16 SOFA Forging Contest

---
Event Coverage Insert
Web Page Adoption Insert
Meilach call for Photos
Machine Design List
---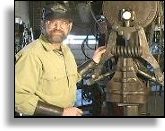 NEW! Video
Dave Manzer
"Power Hammer Tooling and Techniques"
Now available exclusively from anvilfire.com!
VHS, DVD and PAL format available.

---
CanIron V has yet another web site! www.caniron.ca/ AND the Gill Fahrenwald
2005 Blacksmith Calendar is out.