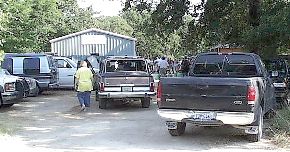 Saturday Crowd at Bill Epps'

Summer Hammer-In's were meeting places for "Pubbers" and CSI members. Paw-Paw and the guru met dozens of long distant friends at the Epps Hammer-In in Mesquite, TX and pubbers posed for a photo at Hanley Farm in Oregon. Barney the Blacksmith of North Bay Ontario invited smiths from all over to join him at the 2002 Farmers Fall Fair.
Continued. . . Page 3
---
Amy Pieh daughter of Bill and Bonnie Pieh, and previous president of Centaur Forge has launched a new consulting business offering consulting services to blacksmiths and farriers supply houses. Amy is also a stringer for Anvil Magazine. - PiehConsulting.com
---
---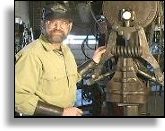 Dave Manzer
Little Giant Video, "How to cure the Bang, Tap, Miss Blues"
Now available exclusively from anvilfire.com!
If you have a Little Giant you NEED this video. If your Little Giant ever does the "Little Giant Hula" you REALLY need this video! Dave explains the bad behavior of many Little Giants and explains how to fix it.
---
CanIron IV has a new web site. The CanIron commitee has registered the URL www.caniron.ca and established a new web site.
---
NEWS INDEX
[ REMOTE ]
---
Vol.1 (May-June 1998 - JYH)
Vol. 2 ABANA 1998 Conf
Vol. 3 Camp Fenby
Vol. 4 ABANA Late
Vol. 5 PABA Edition
Vol. 6 AFC Edition
Vol. 7 Virginia Edition
Vol. 8 Thanksgiving Edition
Vol. 9 New Year's 1999 Edition
Vol. 10 1st International Edition
Vol. 11 Gichners Iron Age Antiques
Vol. 12 Spring Fling, blowing the anvil
Vol. 13 Southeast Conference Part I
Vol. 13, p.2 SPECIAL NWBA REPORT
Vol. 14, CanIron II, Calgary, Canada
Vol. 16, Francis Whitaker, Eternal Flame
Vol. 17, Spring 2000 Edition
Vol. 18, Bill Pieh
Vol. 19, JYH Photo Contest
Vol. 20, June 2000 Knife Smposium
Vol. 21, ABANA 2000!
Vol. 22, October 2000 ABANA vs. FABA
Vol. 23, April 2001 Kiwi Case, Spring Fling
Vol. 24, June 2001 ABANA vs. SERBC, Southeast Conf
Vol. 25, May 2002 Camp Fenby, ABASA, CanIronIII
Vol. 26, June 2002 ABANA Conference
---
Page 2 9/11 - Never Again
Page 3 Epps Hammer-In
Page 7 Hanley Farm, CBA Oregon
Page 11 North Bay, ON, Canada
Page 12 NOMM October Repair Days
Page 13 SaltFork Craftsmen (Oct.)
Page 14 IFGS 10th Aniversary (Germany)

---
SPAM and Cyber Terrorism FAQ
Event Coverage Insert
Web Page Adoption Insert
Machine Design List
Rusian anvil product review.
---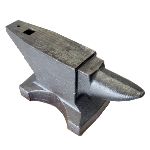 NEW!
Rusian anvil product review.

I N T E R N A T I O N A L
CSI - Cyber Smiths International now has members in the United States, U.S. Virgin Islands, Canada, Norway, Sweden, United Kingdom, New Zealand, Switzerland and Germany. CSI is a small but dedicated group that helps support anvilfire.com, ABANA-Chapter.com and projects such as our International Glossary of Metalworking Terms.

Adding to the International flavor of anvilfire.com is our new advertiser ArtisanIdeas.com, distributor of fine art books published in Italy for blacksmiths, decorators and architects worldwide.


We have also had contributors from Australia, Italy, Finland and Venezuela, and customers from Germany, Mexico, India and Indonesia.

Our chat, the Slack-Tub Pub, the only active blacksmiths chat on the Internet has over 1700 registered users. Registered chat users are from dozens of countries in many time zones. Folks are in the Pub 24 hours a day! We have Pub users (that I can remember off the top of my head) from Israel, Greece, Italy, Czechoslovakia, Switzerland, Germany, France, England, Scotland, Ireland, Norway, Sweden, Finland, Holland, Belgium, North and South America, Hawaii, New Zealand, Australia and many others.

Blacksmithing tools are now traded internationaly more than ever. Tools from America, Britian, Canada, China, Czechoslovakia, France, Germany, Sweden and Russia among others are sold world wide.

We are now part of a global community more than ever in history. On any given day it is not unusual to find blacksmiths from South Africa or Sweden chatting with blacksmiths in America, New Zealand or Austrailia. We trade ideas, goods and friendship.