THE ANVIL Shooting Controversy
Has reached an all time high. Last October the ABANA (Artist Blacksmiths Association of North America) led by board president Doug Learn announced that ABANA would no longer tolerate chapters breaking ABANA rules and holding Anvil Shoots at blacksmithing conferences. The controversy surrounded current board member Tim Ryan's insistance that FABA (Florida Artist Blacksmith Association) was an independent corporate entity and had its own insurance covering its events and ABANA had no right to dictate what FABA or other chapters did at their conferences.

FABA President Patty Draper had asked for insurance documentation from ABANA stating the insurance companies position on anvil shoots and the apparent refusal of those documents. Continued. . . Page 10
---
---
Machine Design magazine lists anvilfire! as a valuable resource. In both the January print and on-line edition of Machine Design, anvilfire was listed as a valuable resource for designers and engineers.

This is not the first time the International press has reported on anvilfire. In December 1999 we were written about in the New York Times and has also been referenced in Mother Earth News.
497-523
---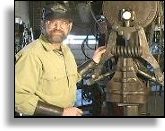 Dave Manzer
Little Giant Video, "How to cure the Bang, Tap, Miss Blues"
Now available exclusively from anvilfire.com!
If you have a Little Giant you NEED this video. If your Little Giant ever does the "Little Giant Hula" you REALLY need this video! Dave explains the bad behavior of many Little Giants and explains how to fix it.

---
Dona Meilach Press Release
The deadline for photos for Dona's next book, Fireplace Accessories has been extended to August 1, 2001.

---
NEWS INDEX
[ REMOTE ]
---
Vol.1 (May-June 1998 - JYH)
Vol. 2 ABANA 1998 Conf
Vol. 3 Camp Fenby
Vol. 4 ABANA Late
Vol. 5 PABA Edition
Vol. 6 AFC Edition
Vol. 7 Virginia Edition
Vol. 8 Thanksgiving Edition
Vol. 9 New Year's 1999 Edition
Vol. 10 1st International Edition
Vol. 11 Gichners Iron Age Antiques
Vol. 12 Spring Fling, blowing the anvil
Vol. 13 Southeast Conference Part I
Vol. 13, p.2 SPECIAL NWBA REPORT
Vol. 14, CanIron II, Calgary, Canada
Vol. 16, Francis Whitaker, Eternal Flame
Vol. 17, Spring 2000 Edition
Vol. 18, Bill Pieh
Vol. 19, JYH Photo Contest
Vol. 20, June 2000 Knife Smposium
Vol. 21, ABANA 2000!
Vol. 22, October 2000 ABANA vs. FABA
Vol. 23, April 2001 Kiwi Case, Spring Fling
---
Event Coverage Insert
Web Page Adoption Insert
Machine Design List
Dona Meilach Press Release
NEW
---
Page 2 Southeast Conference
Page 10 ABANA vs. Chapters
Page 14 Final Words - CSI
Page 15 E-Mail Virus & Hoaxes
Page 16 Chapters Addendum NEW

---

100# Chambersburg Hammer and Shaper for sale!
By owner
Click for more info.
---
E-Mail Virus hits blacksmith community
On Saturday May 26, I recieved a virus generated e-mail with attachment from a trusted friend. It looked suspicious so I didn't open it. Then I recieved a similar mail from another contact and then another. On running a virus scan on the files it was determined
Continued. . .