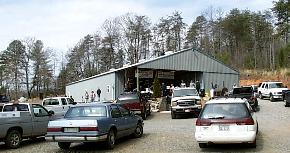 NC-ABANA at Oak Hill Iron Works
---
2004 Is off to a great start. The two meets we have attended so far have had record turn outs. This may be the result of our new Calendar of Events or its just a great year for blacksmithing events?

The annual Boone Hammerfest had a record turnout of about 250 attendees.
Continued. . . Page 3

The Oak Hill Ironworks NC-ABANA meet had a great first time turn out with over 120 attendees. Continued. . . Page 4

---
Big BLU to raise prices: Oak Hill Ironworks announced that they must raise the price of the Big BLU which has remained the same for over 6 years.
Continued. . . Page 2

---
Bull Hammers Bankrupt Closes shop. Operator Vincent Venegoni has closed shop and left Asheville, NC leaving a string of debts behind.
Continued. . . Page 2

---
CALL For photos Author Dona Meilach is looking for photos of YOUR work for her next book Click for Details


---
LOOK for our
ABANA Conference Coverage!
July 7-11, Richmond, KY

LOOK for the
West Virginia Armour-In!
May 13-16, Parkersburg, WV


---
Roger Duncan passes:
I met a wonderful fellow named Roger Duncan at the Boone Hammerfest on February 28. He was peddling a replacement for Pure Iron that he called "Double Ought Iron" or 00Fe. (.003% C). This was a very low carbon steel product used to make alloy and specialty steels. I bought a little of it to test and report on.

. . . He will be missed by all that knew him.

Continued. . . Page 9

---
NEWS INDEX
[ REMOTE ]
---
Vol.1 (May-June 1998 - JYH)
Vol. 2 ABANA 1998 Conf
Vol. 3 Camp Fenby
Vol. 4 ABANA Late
Vol. 5 PABA Edition
Vol. 6 AFC Edition
Vol. 7 Virginia Edition
Vol. 8 Thanksgiving Edition
Vol. 9 New Year's 1999 Edition
Vol. 10 1st International Edition
Vol. 11 Gichners Iron Age Antiques
Vol. 12 Spring Fling, blowing the anvil
Vol. 13 Southeast Conference Part I
Vol. 13, p.2 SPECIAL NWBA REPORT
Vol. 14, CanIron II, Calgary, Canada
Vol. 16, Francis Whitaker, Eternal Flame
Vol. 17, Spring 2000 Edition
Vol. 18, Bill Pieh
Vol. 19, JYH Photo Contest
Vol. 20, June 2000 Knife Smposium
Vol. 21, ABANA 2000!
Vol. 22, October 2000 ABANA vs. FABA
Vol. 23, April 2001 Kiwi Case, Spring Fling
Vol. 24, June 2001 ABANA vs. SERBC, Southeast Conf
Vol. 25, May 2002 Camp Fenby, ABASA, CanIronIII
Vol. 26, June 2002 ABANA Conference
Vol. 27, September 2002 Epps Hammer-In
Vol. 28, Spring 2003 Events
Vol. 29, May 2003 WV Armour-In
Vol. 30, Southeast Conference
Vol. 31, 2003 SOFA Quad State Event
---
Page 2 Power Hammer World
Page 3 Boone Hammerfest
Page 4 - 7 Oak Hill Ironworks NC-ABANA
Page 8 Ray Clontz Belt Grinder
Page 9 Roger Duncan

---
Event Coverage Insert
Web Page Adoption Insert
Meilach call for Photos Insert
---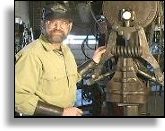 Dave Manzer
Little Giant Video, "How to cure the Bang, Tap, Miss Blues"
Now available exclusively from anvilfire.com!
If you have a Little Giant you NEED this video. If your Little Giant ever does the "Little Giant Hula" you REALLY need this video! Dave explains the bad behavior of many Little Giants and explains how to fix it. PAL format now available.