---
For years folks have been telling me you HAVE to go to Quad State. They have been telling me it is THE PLACE if you are looking for blacksmithing tools. They never said it was like THIS!
Over the past 5 years cover the NEWS for anvilfire I have traveled to several ABANA conferences, CanIron and many of the local/regional conferences such as BGoP's Spring Fling, the AFC converence and the Southeastern Regional Conference. If you took all the tools from all the tailgate sales at all those conferences and combined them into one event they might have equaled this year's SOFA Quadstate.
IF you ever have a chance GO. If you need tools and you are looking for old or new then its worth traveling how ever far it takes. Folks were setting up on Thursday when we arrived and continued to come in through Saturday. Sales were already brisk for many starting on Thursday. Bring a TRUCK!
---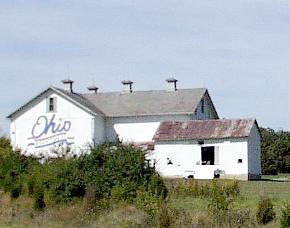 THURSDAY at SOFA Quad State
Conference Troy, OH - Miami Fairgrounds. When we arrived in mid afternoon there were already dozens of tailgaters setup and hundreds of campers. Sales were already in progress and as every new truck arrived a crowd formed to see what new treasures had arrived. I bought several items I was looking for and did not see any similar the rest of the weekend.
Continued. . . Page 2

---
---
Tom Joyce Santa Fe, N.M. blacksmith wins MacArthur 'Genius Award' of $500,000. The John D. and Catherine T. MacArthur Foundation has been giving grants for 25 years. MacArthur Foundation fellowships are given to people from virtually every discipline and comes with no requirements or expectations. The foundation wants recipients to "pursue their own creative, intellectual, and professional inclinations."
---
NEWS INDEX
[ REMOTE ]
---
Vol.1 (May-June 1998 - JYH)
Vol. 2 ABANA 1998 Conf
Vol. 3 Camp Fenby
Vol. 4 ABANA Late
Vol. 5 PABA Edition
Vol. 6 AFC Edition
Vol. 7 Virginia Edition
Vol. 8 Thanksgiving Edition
Vol. 9 New Year's 1999 Edition
Vol. 10 1st International Edition
Vol. 11 Gichners Iron Age Antiques
Vol. 12 Spring Fling, blowing the anvil
Vol. 13 Southeast Conference Part I
Vol. 13, p.2 SPECIAL NWBA REPORT
Vol. 14, CanIron II, Calgary, Canada
Vol. 16, Francis Whitaker, Eternal Flame
Vol. 17, Spring 2000 Edition
Vol. 18, Bill Pieh
Vol. 19, JYH Photo Contest
Vol. 20, June 2000 Knife Smposium
Vol. 21, ABANA 2000!
Vol. 22, October 2000 ABANA vs. FABA
Vol. 23, April 2001 Kiwi Case, Spring Fling
Vol. 24, June 2001 ABANA vs. SERBC, Southeast Conf
Vol. 25, May 2002 Camp Fenby, ABASA, CanIronIII
Vol. 26, June 2002 ABANA Conference
Vol. 27, September 2002 Epps Hammer-In
Vol. 28, Spring 2003 Events
Vol. 29, May 2003 WV Armour-In
Vol. 30, Southeast Conference
---
Page 2 Tools, Tools, tools, tools. . .
Page 3 MORE Tools, tools, tools (Thursday)
Page 4 Ric Furrier, Bladesmithing & Metallurgy
Page 5 Anvils, anvils, anvils . . .
Page 7Anvils Rare and Collectable

Posting in progress!
---
Event Coverage Insert
Web Page Adoption Insert
---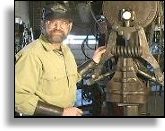 Dave Manzer
Little Giant Video, "How to cure the Bang, Tap, Miss Blues"
Now available exclusively from anvilfire.com!
If you have a Little Giant you NEED this video. If your Little Giant ever does the "Little Giant Hula" you REALLY need this video! Dave explains the bad behavior of many Little Giants and explains how to fix it. PAL format now available.