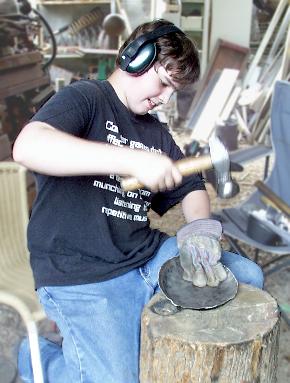 Sean Conner (AKA Whitesmith) working at stump
---
West Virginia Armour-In Parkersburg, WV, May 13-16 was hosted again by Ted and Ann Banning. This year's event was about the same in attendence as last. Again it was a very nice intimate affair where everyone got to meet each other and learn from each other.

Among the 24 or so attendees were master armourer Allen Bauldree, Mark Berry AKA "Clang" Clang's Armoury and Peter Buchanan, metal artist from Bedford, VA.

It was announced that next year's event will need to be sonsored by someone else in the group. The next Armour-In may end up in Kentucky. Watch for announcements.

Continued on page 3. . .

---
Paw-Paws Mini Hammer-In May 8th was the Celtic Festival at Historic Bethabara Park in Winston Salem, NC. Invited guest blacksmiths included Rich Waugh from St.Croix, Virgin Islands, Billy Phelps of NC, Glen Connor of West Virginia, . . . Continued on page 2 . . .

---
CALL For photos Author Dona Meilach is looking for photos of YOUR work for her next book Click for Details


---
NEWS INDEX
[ REMOTE ]
---
Vol.1 (May-June 1998 - JYH)
Vol. 2 ABANA 1998 Conf
Vol. 3 Camp Fenby
Vol. 4 ABANA Late
Vol. 5 PABA Edition
Vol. 6 AFC Edition
Vol. 7 Virginia Edition
Vol. 8 Thanksgiving Edition
Vol. 9 New Year's 1999 Edition
Vol. 10 1st International Edition
Vol. 11 Gichners Iron Age Antiques
Vol. 12 Spring Fling, blowing the anvil
Vol. 13 Southeast Conference Part I
Vol. 13, p.2 SPECIAL NWBA REPORT
Vol. 14, CanIron II, Calgary, Canada
Vol. 16, Francis Whitaker, Eternal Flame
Vol. 17, Spring 2000 Edition
Vol. 18, Bill Pieh
Vol. 19, JYH Photo Contest
Vol. 20, June 2000 Knife Smposium
Vol. 21, ABANA 2000!
Vol. 22, October 2000 ABANA vs. FABA
Vol. 23, April 2001 Kiwi Case, Spring Fling
Vol. 24, June 2001 ABANA vs. SERBC, Southeast Conf
Vol. 25, May 2002 Camp Fenby, ABASA, CanIronIII
Vol. 26, June 2002 ABANA Conference
Vol. 27, September 2002 Epps Hammer-In
Vol. 28, Spring 2003 Events
Vol. 29, 2003 Amrour-In
Vol. 30, Southeast Conference
Vol. 31, 2003 SOFA Quad State Event
Vol. 32, 2004 NC-ABANA * Hammerfest
---
Page 2 Paw-Paws Mini Hammer-In
Page 3-7 WV Armour-In
Page 8 Computer Crime

---
Event Coverage Insert
Web Page Adoption Insert
Meilach call for Photos
---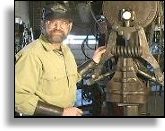 Dave Manzer
Little Giant Video, "How to cure the Bang, Tap, Miss Blues"
Now available exclusively from anvilfire.com!
If you have a Little Giant you NEED this video. If your Little Giant ever does the "Little Giant Hula" you REALLY need this video! Dave explains the bad behavior of many Little Giants and explains how to fix it.