Beakhorn Stake

Cast or Forged Steel

Blowhorn Stake

Forged wrought and steel forge welded.

These two T-stakes Are similar with a minor difference, the beakhorn stake has a flat or nearly flat narrower horn, the blowhorn stake has two sizes of round horn. Beakhorn stakes vary in proportions such as the No. 901 Pexto below but blowhorn stakes are very standardized. "Blowhorn" means "horn that is blown" such as a bugle or any other musical horn. While they have many other uses the name gives away their original design purpose.



Brazier's Anvil

Cast Steel

Conductor T-Stake

Forged wrought and steel work surfaces.

The two T-stakes above both have cylindrical arms of different sizes. Depending on the need this type of stake is made in various sizes and with different proportions. A Brazier is a brass worker and the name of something that holds a small fire. A Conductor is the large part at the top of a down spout.

Pexto is an anagram from Peck, Stow & Wilcox Co. Originally there was Peck, then Peck and Stow, then P.S.&W Co. Roper Whitney (Formerly Whitney Punch) now owns the Pexto trade name and sells a reduced line of their tools including stakes.






Selection of Roper Whitney - Pexto Hand Forming Tools

The 900 series tools above as well as other standard stakes are still available as there is still a lot of industrial sheet metal work being done. These stakes are used primarily for shaping and making seams in flat and rolled sheet metal for ventilation ducting, containers, and other tinsmith work. Due to the quantity in use over the years these are often found used.

The Pexto stakes above are no longer available in these exact patterns. Those from the Lynch Collection are rare unusual stakes that are only found as hand or special made. Stake a called a "Marley Stake" is of unknown purpose, perhaps texturing repousse'.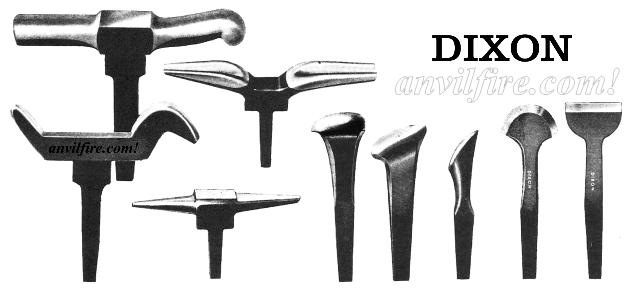 This collection from an old Dixon catalog is used mostly in repousse', raising, armour and other artistic work. Artistic application stakes are much less available than the more industrial type but some of these are still made. The round nosed stake was popularized in the book Techniques of Medieval Armour Reproduction The 14th Century and is seen in other references such as Metalwork Technology and Practice, Working in Metals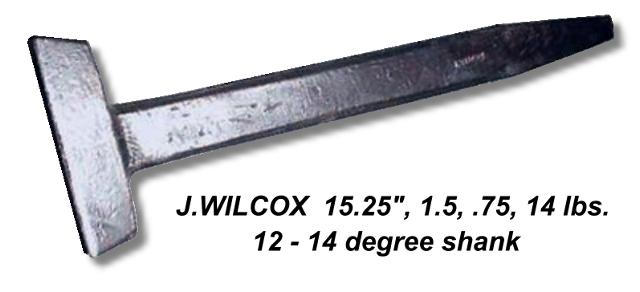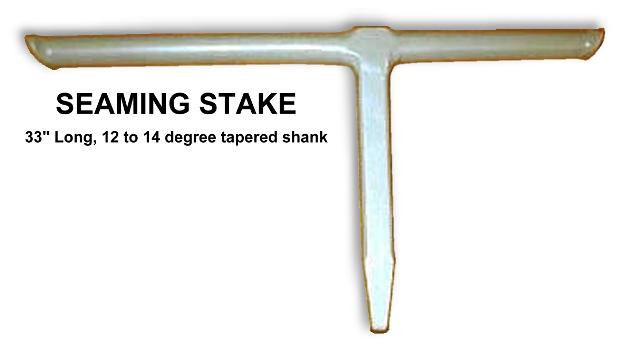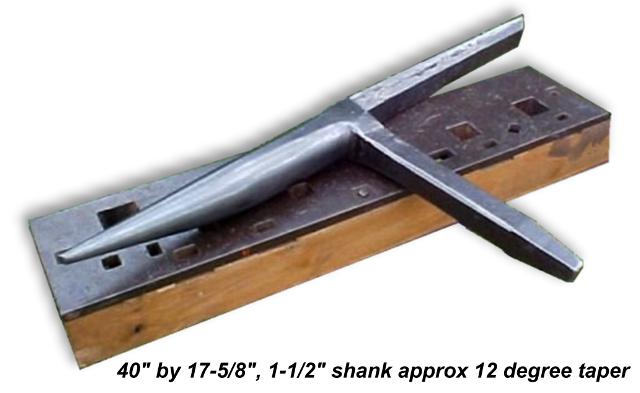 Large Beakhorn Stake, Photo from Matchless Antiques
Stake Tapers vary, there is no standard. However, the three stakes above show a typical taper of 10 to 14 degrees found on many old stakes. Some modern makers such as Peddinghaus use much lower tapers and those machining them prefer low angles to reduce the work load.
Stakes and Stake Anvils