My Friend, Bill Gichner - by Josh Greenwood

I met Bill in 1975 at Steve Burnet's blacksmith shop in Alexandria. He was sort of an oddity, hanging out there, obviously very knowledgeable, spurring the young upstart blacksmiths on with a torrent of free, often disdainful, and sometimes unwanted advice.

He said he had blacksmith tools for sale. I visited his shop, Iron Age Antiques, where he had indeed the finest inventory on the planet. I carefully noted all the items he had for sale and their prices. I couldn't afford to buy a set of tongs, but my mind was racing because in my travels I had seen many of those same things, and I knew where I could pick them up for a song.

In my second visit I came with a truck full of cone mandrels, caulking vices, anvils and all matter of rare and antique blacksmith tools, to trade or sell. It was the beginning of one facet of a relationship with Bill that spanned many years.

I'll never know who came out on top of those trades, some of which were extraordinarily complex, but I got everything I wanted from Bill, and he was delighted with what he got from me. One weekend I took my wife with me and we spent the night at Bill's. I couldn't explain to her that it was all right that I didn't buy anything from him (when he was being totally hospitable and generous to us). She brow beat and threatened me into my one and only cash purchase from Bill, a lovely book on Ironwork.

And this book incident touches on the other facet of our relationship, the mutually shared, absolute love for blacksmithing. He introduced me to the age that I had missed, competing with Yellin, working with a master smith who did rails and gates for the Washington Cathedral, one with a beautiful hand forged Dolphin handle. His family founded and operated the renowned Gichner Ironworks in Washington DC.


---

My first blacksmith shop was in a corner of the old foundry building at the Appomattox Ironworks in Petersburg Virginia. I was the poorest of the poor, working hard, often in miserable conditions, making almost no money. My rent was 20% of profit. The landlord told me one day that he could get more income out of a rented portable toilet.

Bill Gichner showed up there one day, and he offered to show me how to make a leaf. Being pretty cocky, I thought: what's this, I'll humor him.

He took pieces of improbably small ¼ inch (7mm) round stock and repeatedly forged the point, neck,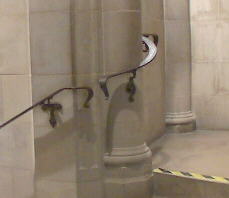 and body with raised center spine, and chevron impressions on both sides, long undulating, unique and beautiful leaves. He used the edge, horn, pritchel, and hardie hole, the cross pein parallel and at angle, with precision and speed. He did it again and again, in one heat.

I was stunned, and it was the unforgettable beginning of my work for many years with decorative leaf forms. I've told groups of people that I owe anything of merit that I did with iron to Bill Gichner. I told him that to his face once, and of course he scoffed. He wasn't going to let me soften him up with flattery, but it wasn't flattery, just the truth.
Gichner meets Greenwood
Railings in the National Cathedral

---
Say a prayer for a fine man that supported blacksmithing from its revival days.

- HWooldridge - Wednesday, 12/08/04 14:48:26 EST
---
In memory of Bill Gichner, I submit one of his sayings.
"The holding hand does as much as the hitting hand".
Frank Turley - Thursday, 12/09/04
---
I had the honor of knowing Bill Gichner for nearly 35 years as much more than just a merchant tool dealer. I've known his son-in-law Bob, a master woodworker, since 1964. Bill's image as a flinty trader (see above) masked a kind and generous, vastly knowledgeable master blacksmith with a teaching forge in his shop, and who always had time to answer a question or find a needed tool, or book for me and my family. He indeed charged full freight-- because he knew what his tools were worth. He had used them in his family's famous ironworks for decades before opening Iron Age Antiques in Ocean View, Delaware. Requiescat in pacem.

John Neary (1937 - 2011) - Thursday, 12/09/04
---
One you will hear often about Bill. Sixteen years ago, I , as a beginner, thought I had to have a straight peen hammer. Bill had one for $25. I had aquired many cross/ ball peens, and hadn't paid more than $5 for any . Money was tight, but Bill said "take it, and pay me when you can." I did , and used it to make some things I could sell and paid Bill back.

Tannehill conference, tailgate sales: Pick-up pulls in. Vultures descend to pick before truck stops rolling. (You know . You've been there) John Blackledge's truck. I'm digging thru a bucket, and come up w/ a nice flatter head.
"John, how much?"
"Five dollars", is his reply.
Bill across the bed hollers ,"I'll take it". Now, even though it was still in my hand, and I was needing one, I tossed it to him, out of respect. Anyone else (except Mr. Floyd) wouldn't have gotten it. An hour later, the flatter appears on Bill's tailgate with $85 on it.

Dan Tull, Georgia - ABBA, AFC, PSBA, OBG, SOFA - Friday 12/10/04
---
A dark, rainy and dreary day in D.C. on the banks of the Potomac. Suitably mournful for Bill Gichner's funeral.

Bruce Blackistone (Atli) - www.longshipco.org Friday, 12/10/04 09:45:32 EST