Francis Whitaker was well enough known that on Sun, 31 Oct 1999 the New York Times ran his obituary.

"Francis Whitaker, Blacksmith, Dies at 92"

Francis Whitaker died Saturday Oct. 23, 1999 at 10:00pm in Glenwood Springs, Colorado.

At his explicit request, he grasped a hammer at the moment of his death.

"Iron has a strength no other material has," Whitaker once said, "and yet it has a capacity for being light, graceful and beautiful. It has this capacity -- but no desire. It will do nothing by itself except resist you. "All the desire, and all the knowledge of how to impart this desire to the iron, must come from the smith."

Some of Whitaker's work can be seen at the Federal Reserve Bank of New York on Liberty Street in Manhattan, as well as at the former Central Savings Bank building at Broadway and 73d Street, as well as in Carmel, CA, Aspen, CO and Carbondale, CO.

Francis was named a National Heritage Fellow by the National Endowment for the Arts in 1997.

He believed his most important works were the extablishment of blacksmithing schools and helping young smiths get a start.

Whitaker was born in Woburn, Mass. His father was an architecture critic who became the first editor of the Journal of the American Institute of Architects. Through his father's connections, he was accepted as an apprentice by Samuel Yellin in Philadelphia. Later he would travel to Europe to work with

Relatives and friends recalled Francis Whitaker's words before his recent stomach surgery.. "Fix it," Whitaker told his doctors. "There is still so much I have to do."

Continued on Page 6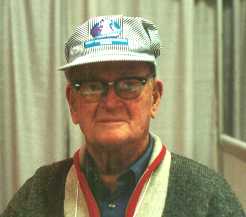 Francis at CanIron II, photo by Robert Miller
---
FRANCIS WHITAKER LINKS
---
ABANA Memorial Page
anvilfire! NEWS Vol.2 p.9
Francis Whitaker and the 1998 ABANA Chapter Ring Grill
anvilfire! NEWS Vol.4 p.2
Francis Whitaker, Tribute, signiture, grill specs.
anvilfire! NEWS Vol.14 p.7
Francis Whitaker at CannIron II.
National Endowment for the Arts Press Release
NEA 1997 National Heritage Awards - Francis Whitaker
Francis Whitaker Blacksmith/Ornamental Ironworker, Carbondale, Colorado Age 90, Born 11/19/06 (Extended Biography - incomplete)
The blacksmith's journey Down Under 03/28/99 - Glenwood Post
Blue Dog Forge, mention of Molly Ring obtaining forge. . .
Father Helias Forge, Francis Whitaker Gone Home, by Jim McCarty
---
SHOP FLOORS: A lot depends on the type of shop. Rammed earth is good for the feet and growing kudzu and other weeds. On the other hand Francis Whitaker, is adamnent about dirt floors being the best and only blacksmith shop floor.

-- guru Friday, 09/18/98