References and Links
Books : Technical and How-To
Metalwork Technology and Practice., McGraw Hill

Continuously updated since first written by Oswald A. Ludwig and published by McKnight & McKnight in 1943. Used by colleges and trade schools as an introductory text in metalwork and machine shop curriculums it is much more. Covers everything from educational prerequisites for jobs in metalworking to work posture and how to use every basic shop tool and the more common machines. Early editions are very rare but better for a traditional blacksmith shop. Later editions include most of the same information but have been brought up to date on modern technology and sensibilities. Unless you have grown up in a metalworking shop and are ready to retire there is a LOT to be learned from this book. Available in hard and soft cover.



Third edition 1955, 7th Edition 1982 (598pp) Bennett & McKnight, Peoria, IL.
Copies available for $10 to $110 (VG collectors).

By Repp and McCarthy, 1989, Macmillen/McGraw-Hill, ISBN 0-02-676460-1

Glencoe/McGraw-Hill ISBN: 0026764849 NEW $61.00.




Step-by-step Knifemaking - You can do it!, David Boye

This is a classic on modern bladesmithing. It you want to makes knives this is the place to start.



NEW! The Artist Blacksmith, Peter Parkinson, Crowood Press Ramsbury, Witltshire, GB.

A very good general blacksmithing reference. Recommended by the reviewer as a replacement for the two works below if you are only going to buy one book.



The Art of Blacksmithing, Alex Bealer

This is the classic on historical blacksmithing methods. Every smith and metalworker should study this book. However, this is not the be-all and end-all of blacksmithing references.



The NEW Edge of the Anvil, Jack Andrews, Skipjack Press.

More about how-to than Bealer and gets down to the brass tacks about starting a business. Highly recommended as a starter reference and companion to The Art of Blacksmithing.



Three by Cosira AKA the Countryside Agency, Great Britain

These books were written to preserve and disseminate basic blacksmithing techniques in a clear and concise manner and to be used as text books. They are referenced by almost every modern author on the subject of blacksmithing including those above. Now available in Adobe PDF format from the Countryside Agency (search for blacksmith).



The Wonder of Knife Making, Wayne Goddard, Krause Publications.

Master smith Wayne Goddard answers all your questions. Review by Bruce "Atli" Blackistone



The $50 Knife Shop, Wayne Goddard, Krause Publications

How to set up shop on a budget. Many very good ideas as well as much how-to. Focuses on cable Damascus.



Metal Techniques for Craftsmen, by Oppi Untracht

The standard text and reference for jewelery, silversmiths and non-ferrous metal artists. Covers many hard to find techniques, many illustrations of European and Asian work as well as tools and step by step processes.



The Pattern Welded Blade, Dr. Jim Hrisoulas, Paladin Press.

One of the top modern bladesmiths. Former CIA with a doctorate in metallography. This book is one of three. The others are The Complete Bladesmith and The Master Bladesmith. All are highly recommended.



Forging Damascus, Video by Jim Hrisoulas

A little slow, skips some details but is good for those that need to SEE rather than read.



A Damascus Blade from A to Z, Video by By Big BLU Productions

One of two featuring Mike Norris. Making a Damascus (laminated) steel blade from the billet to the final finish



The Craft of the Japanese Sword, Leon and Hiroko Kapp and Yoshindo Yoshihara

This is the BEST book I have seen on the subject of Japanese swords. Fourth printing, 1990; Kodanska International/USA Ltd., 114 5th Avenue, New York, NY 10011; - Atli.



Advanced Damascus Patterning, DVD/CD-ROM set by J.D. Smith.

High tech two disk set and on-line membership. Training for exotic laminated steel patterning. Not for newbies, priced for professionals.


---
There are many more books on these subjects but these are the ones we are most familiar with and can currently recommend for this subject. See our book review page for more and the bibliography of Swords of Iron, Swords of Steel by Bruce "Atli" Blackistone.

Other Crafts: Swordmaking and bladesmithing encompass many other crafts such as engraving, inlay, wood working, horn work, casting (lost wax and green sand) and non-ferrous metalwork (aluminium, brass, gold and sliver). Your library will have books on most of these subjects if you need them and there are many schools that teach these subjects.
Videos : Historical and Semi Technical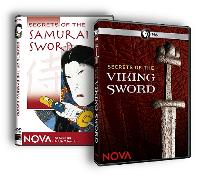 Secrets of the Swords
Two landmark videos delving into the history and technology of these revered ancient weapons.

Secrets of the Samurai Sword shows the making of tamahagane (characteristic steel) and explores the technical features of the steel in modern laboratories. The culture that developed these formidable weapons is explored. The DVD includes a Teachers PDF for teaching the subject and introducing basic metalurgy.

Secrets of the Viking Sword explores the mystery of a superior blade that appeared then disappeared from the historical scene. Ric Furrer of Door County Forgeworks discusses the making of the unique steel as he reproduces a viking sword for the first time in 1,000 years.

BUY Secrets of the Swords

Books : Reference
MACHINERY'S HANDBOOK, Industrial Press

Now in its 27th edition and in print for nearly 100 years this book has been called the machinists Bible. It should also be every mechanical engineer's number one reference. The section on steels and heat treating alone is worth the cost of the book to blacksmiths and bladesmiths. The guru recommends this book to blacksmiths on almost a daily basis. If you are going to have only ONE technical reference in your shop then this is the one.



ASM Metals Reference Book, American Society for Metals International

Covers thousands of ferrous and nonferrous metals. Includes alloying, strength, heat treating. Has many more metals and more details than MACHINERY'S. A must have reference for engineers, general machine shop operators and others needing details of a variety of metals.



ASM Heat Treater's Guide to Ferrous Metals, American Society for Metals International

This pricey reference is designed for professional heat treaters. If you are in business hardening and tempering tools or knives this reference can be very valuable.



Tempil - Basic Guide to Ferrous Metallurgy Chart, Tempil Division, Big Three Industries, Inc.

This chart has become one of the most important quick references in the metalworking industry. It is available free in 8-1/2 x 11" and also as a wall chart for a small fee. We recently found it reproduced in The $50 Knife Shop by Wayne Goddard. Shows the heat color temperatures, percentage of carbon, phase diagram, crystal size and describes each feature.

Tempil Division, Big Three Industries, Inc.
Hamilton Boulevard
South Plainfield, NJ 07080
USA


---
There are hundreds of references and texts on metallurgy. Those above are nearly indispensable in most metalworking shops.
Books : Historical and Esoteric
By the Sword: The Microhistory of a Weapon

By Robert S. Boyton. "Engaging, idiosyncratic history, ranges widely across centuries (from its Greek and Roman origins in war to contemporary Olympic sport" New York Times review.


FAQs and On-Line Articles
ALL of our FAQs and articles on anvilfire.com! eventually apply to the subject of bladesmithing. The following are the most specific that apply to this article.
Web Sites of Interest
Tools, Materials and Books
Blacksmithing Schools
Turley Forge Blacksmithing School The Granddaddy of Blacksmithing Schools

919-A Chicoma Vista, Santa Fe, NM 87507 * 505-471-8608
Write or call for a brochure and schedule. Click link for details.



John C Campbell Folk School Favorite of the late Francis Whitaker

Brasstown, NC, www.folkschool.org


---
There are many other blacksmithing schools or schools that have blacksmithing courses all over the country. For a complete list try the ABANA page
Credits
Eve and the Fruit of Knowledge

Sculpture by Daniel Dempsey, Wingina, Virginia. Cherry about 50". Photo by the artist.


---
Back to:
Sword Making
---