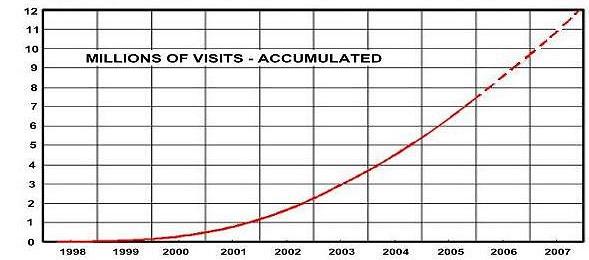 Growth of anvilfire.com During its First Eight Years
In the beginning we counted our traffic in hundreds of visitors per week. Today it is millions per year. As of October 2005 the traffic rate determined by our page counters is now over 2,000,000 million per year. Our projected growth at the current rate will be 3,000,000 per year by 2009. Our accumulated traffic in the next 3 years will equal the previous eight.

2,000,000 per year equal:

1.7 million pages served per month
167,000 Visitors a month
5,550 per day
231 per hour
4 per minute or one new login every 15 seconds.
~20 to 60 people visiting site at any one time.

3,000,000 per year equal:

2.5 million pages served per month
250,000 Visitors a month
8,333 per day
347 per hour
5.8 per minute or one new login every 10 seconds.
~30 to 90 people visiting site at any one time.

anvilfire.com traffic and growth rate and during its first eight years
These two smaller graphs while less impressive are the more important statistics. The top is the traffic rate. It has just passed two million per year and is climbing toward three million. The lower graph showing "rate of rate change" is actually the most important. It is the basis of our projected growth spreadsheet. Although this has been up and down in recent years it has always been a positive number indicating a continued increase in daily traffic. The average increase has been 0.260 million per year over the past 3 years. This constant increase is what the projected rates are based upon. The rate may increase or decrease but as long as it is a positive number we are growing. It has taken eight years of data collection to finaly be able to quantify these growth trends.
The anvilfire guru and his helpers field questions from people of every sort, not just blacksmiths or those that want to be. There is a steady stream of students, architects, designers, engineers, inventors, historians and the just plain curious. The majority however are male 16-35 and interested in every sort of metalworking.
On average the guru page archives over 1MB/month, the V.Hammer-In 400kb/month, and the Slack-Tub Pub approximately 500Kb/day (cleared daily).

October 22, 2005

---
NOTE: Hits are measured by a site wide counter that counts each user access but does not increment when they change pages.