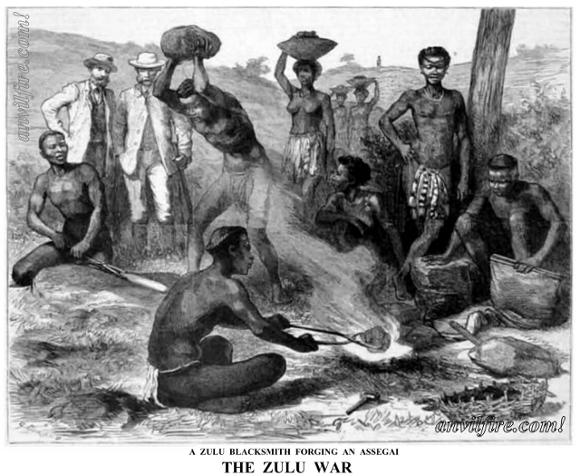 The engraving above was published in the British illustrated news magazine
The Graphic
February 23, 1879 a weekly publication printed (1869 - 1932).
Between the film and the illustration there are some minor differences several of which may be attributed to artistic license in the engraving. However, the differences are few considering the 58 years time difference. One is an artists representation of Zulu village life in the 1870's and the other a film of actual village life in 1932
In the film the blacksmith is holding the work with wooden tweezer type tongs. In an iron poor society that was also nomadic these make a lot of sense as they are easily replaceable with local materials. In the engraving iron tongs are being used. However, in the engraving it also appears that the smith in the foreground is handling a bloom (fresh iron ingot). These smiths may be smelting and refining iron, not just making spear points.
In the film there is a moment when another
pit forge
(and possibly a third) is seen in the background. Both shown have shield walls or a "fire back". This is difficult to discern in the engraving but we know from other primitive pit forges that the bellows and the operator need protection from the heat.
While the smiths in the film are being prompted (possibly directed) while being filmed it seems obvious that these men are actual blacksmiths. The fellow operating the wineskins is well practiced and at ease, he stops pumping at exactly the right time, the striker with the large stone hammer hits exactly where he is supposed and the smith does not flinch.
---
* King Solomon's Mines, from the novel by H.Rider Haggard, Directed by Robert Stevenson. African exteriors directed by Geoffry Barkas, photographed by Cyril J. Knowles. A Gaumont British Production, General Films Distributors Ltd., Staring Paul Robeson, Cedric Hardwicke and Roland Young with Anna Lee and John Loder.
---