---
THURSDAY at the Southeastern
Conference Madison, GA - Setup is under way and impromptu demos were taking place under overcast skies. Tailgater's were already making deals and many items had moved.
Continued. . . Page 3

---
FRIDAY at the Southeastern
Conference Ivan Bogg Demonstrated Damasucs making and Dan Boone made one of his famous dragons. Mike Boone forged leaves and will make a "Yellin" flower Saturday and will combine with jis father's dragon to make a sculpture. I was TOO tired to process the hundred or so photos I took . . . Saturday Anvil Shoot!

---
SATURDAY at the Southeastern
Conference Dan and Mike Boone combined their work in a unique first collaberative peice. Ivan Bogg and Ryan Johnson demonstrated Damascus and Shelton Browder demonstrated 18th century tool making. Tim Ryan performs Memorial Anvil Shoot honoring those we have lost in the past two years.
See Pages 7 - 8

---
PIEH TOOL CATALOG
NOW ONLINE!
Pieh Tool Company Inc. new dynamic on-line catalog is now up and running. (Due to technical problems the catalog is off line).


---
BullHammer Under New Management:
Bullhammer Technology, Inc. is no longer operated by its founders Tom Troszak and Denise Mills. Tom and Denise had no choice in the matter and want their past customers to know that they are no longer with the company.

Tom Troszak, an Asheville, NC blacksmith, was the designer of the original Bull hammer and the second generation of Bull hammers.
---
Carl Jennings died May 14th about 4:30 PM PDT. He had just begun his 93rd year. Those of us who knew Carl and his contribution to the artistic development of our trade know what a loss his passing is.
- Toby Hickman
Continued. . . Page 2

---
NEWS INDEX
[ REMOTE ]
---
Vol.1 (May-June 1998 - JYH)
Vol. 2 ABANA 1998 Conf
Vol. 3 Camp Fenby
Vol. 4 ABANA Late
Vol. 5 PABA Edition
Vol. 6 AFC Edition
Vol. 7 Virginia Edition
Vol. 8 Thanksgiving Edition
Vol. 9 New Year's 1999 Edition
Vol. 10 1st International Edition
Vol. 11 Gichners Iron Age Antiques
Vol. 12 Spring Fling, blowing the anvil
Vol. 13 Southeast Conference Part I
Vol. 13, p.2 SPECIAL NWBA REPORT
Vol. 14, CanIron II, Calgary, Canada
Vol. 16, Francis Whitaker, Eternal Flame
Vol. 17, Spring 2000 Edition
Vol. 18, Bill Pieh
Vol. 19, JYH Photo Contest
Vol. 20, June 2000 Knife Smposium
Vol. 21, ABANA 2000!
Vol. 22, October 2000 ABANA vs. FABA
Vol. 23, April 2001 Kiwi Case, Spring Fling
Vol. 24, June 2001 ABANA vs. SERBC, Southeast Conf
Vol. 25, May 2002 Camp Fenby, ABASA, CanIronIII
Vol. 26, June 2002 ABANA Conference
Vol. 27, September 2002 Epps Hammer-In
Vol. 28, Spring 2003 Events
Vol. 29, May 2003 WV Armour-In
---
Page 2 Carl Jennings
Page 3 Thursday SERBC - Madison, GA
Page 4 Friday SERBC - Boones Demo
Page 5 SERBC - Kaynes &amp Euroanvil
Page 6 SERBC - Ivan Boggs Demo
Page 7 - 8 Saturday SERBC - Anvil Shoot

---
Event Coverage Insert
Web Page Adoption Insert
Machine Design List
---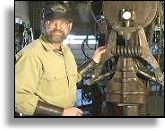 Dave Manzer
Little Giant Video, "How to cure the Bang, Tap, Miss Blues"
Now available exclusively from anvilfire.com!
If you have a Little Giant you NEED this video. If your Little Giant ever does the "Little Giant Hula" you REALLY need this video! Dave explains the bad behavior of many Little Giants and explains how to fix it.


Future Events:
Northwest Hammer In 2003 June 21-22: We have three themes this year. Metallurgy and heat treating (Devon Thomas and Bob Kramer), Easy to make folders (Ed schempp's "KINETIC PROGRESSIVE FOLDER" and Mat Disken), and of course Damascus (the rest of us).

If you're serious about folders, let me know and for an additional fee small fee, I'll get you set up to make a template here in the shop during the hammer in. (Limit 5 people). The cost for the two days is $150.00. My shop is only so big, so an early response will get you in. bronksknifeworks.com