Morgan Hall, Wilsonville, Oregon morganh@teleport.COM
Photos by Robert Miller Robert_Miller@mindlink.bc.ca
---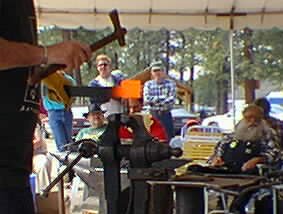 Voice signals were the order of the day as Uri would position top tools and indicate the type of blow with tone and inflection. Amit showed that he swung the only bi-lingual hammers in the world by working with one hammer in each hand and striking with one at the Hebrew command and the other at the English command.

Friday evening featured a slide show (with commentary) of Uri's work. Again the history and circumstances around each piece made it much more than an image on a screen.

Saturday produced a phenomenal amount of projects, stories, and observations. Explanations of how tilting a hammer causes metal to move differently, how and when a hammer is balanced, producing a set of compasses (dividers), several sets of tongs, and the philosophy and practice of punching holes filled the day.

Saturday evening brought a banquet, business meeting, and auction. Several of Uri's demonstration leaves brought quite nice prices, prompting him to remark that he should have gone into more aggressive production. Once auction item was a round bar with a hole punched 'his way.' The purchaser brought the item back up with the announcement that Uri had volunteered to make another on Sunday, so Jerry Culbertson, the auctioneer proceeded to auction off a "hole futures."

Sunday dawned cold and windy, but did not dampen the enthusiasm. A forged bowl, impromptu auction of Amit's "quick draw sledge holster" (used to help conquer the West) and forging a female torso out of channel iron kept the audience enthralled. Finishing by forging a nail, then calling up a boy from the audience to head the nail finished the conference. Placing an arm around the boy's shoulders, Uri announced that, "Here is our future!" and the Spring conference was over.

Striking the tents, loading the tools and forges, we left, looking to the future. The NWBA 20 year anniversary is coming up this fall!
---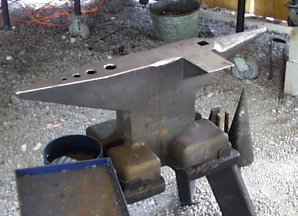 Tom Clark's Hoffi Anvil, AFC Conference
Photo by Jock Dempsey