"Iron is the fourth most abundant metallic element in the composition of the earth." Thus begins the introduction to a volume that I am glad to have in my own library.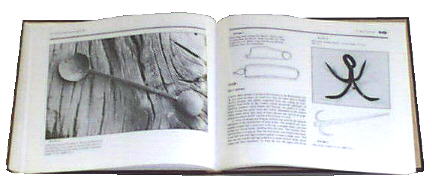 The authors have done a tremendous amount of research to assemble this volume. 199 pages, including Appendices, Glossary, Bibliography and Index. Divided into thirteen chapters and a conclusion, each chapter contains many plates and figures. The book provides a wealth of information concerning early Hispanic blacksmithing in New Spain. Many lists of tools and materials from Spanish archives are included.

The book is a little dry in some places, but that's typical of history books.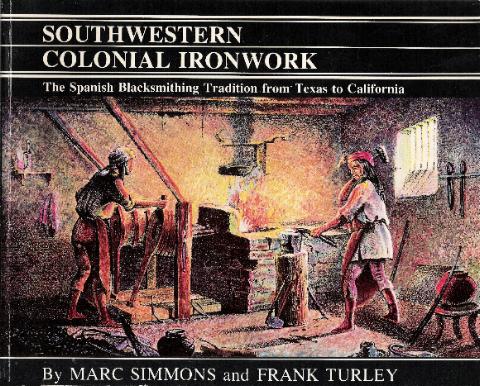 Soft cover edition colorized version of R.H. Kern's depiction of a smithy at Zuñi Pueblo. From Capt. L. Stiegreaves, Report of an Expidetion Down the Zuni and Colorado Rivers, 1854. Click for detail.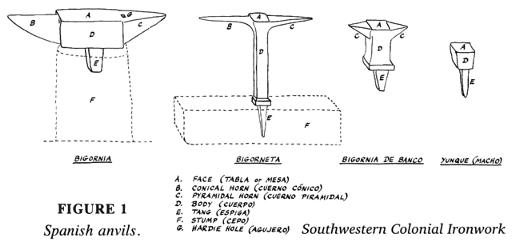 Types of Spanish anvils, their names and terms.
---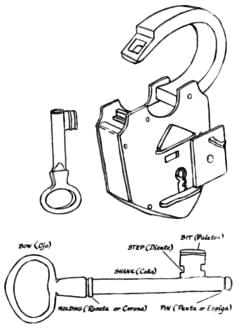 The section on 18th century locks and keys while not extensive is a good as any larger work. There are detail exploded and close up diagrams and photos of several rare old locks.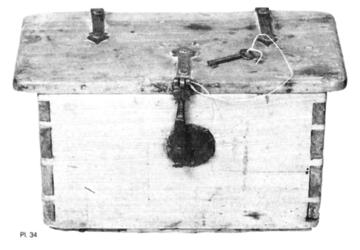 Originaly published by the Museum of New Mexico Press the new edition is produced by Sunstone Press, Santa Fe, NM.

NOW back in print!
Paperback only, $35.50

Order from:

The anvilfire.com Store

Frank Turley
919-A Chicoma Vista
Santa Fe, NM 87507
505-471-8608

Include a check or money order made out to Frank Turley.

Sunstone Press
ISBN: 978-0-86534-607-1
---
Paw Paws Forge Jim's web site. Turley Forge Frank Turley's web site.

---
BACK TO PAW-PAW's CORNER * BACK TO BOOKSHELF
Copyright © 2000 - 2007 by Jock Dempsey, DEMPSEY'S FORGE
Webmaster email: anvilfire webmaster