Review by Bruce "Atli" Blackistone
For anyone who has perused the drawings in Albert H. Sonnís Early American Wrought Iron (now, alas, out of print), and wondered how some of the original Colonial American objects may have appeared, this book will be of great use. The photographs cover a portion of Mr. Sorberís extensive private collection. For instance: in one of the general photos of the collection in the introduction there are eight wagon jacks in the background. We only get close-up photographs of six of them. Mr. Sorber specialized, when possible, on signed work, especially in the Pennsylvania area, so this is by no means a comprehensive survey. Southern artifacts are a mite scarce, as is any cutlery; and there is no military equipment or weaponry. He was also far more of a product collector than a tool collector, so this is not the place to look up those odd tongs that you found in the flea market.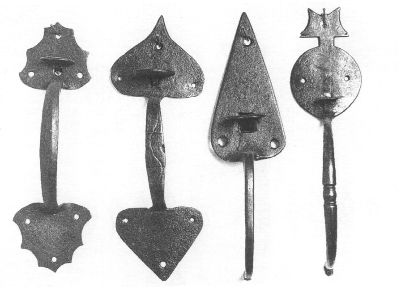 Suffolk Latches, The Sorber Collection
That said, I found the book both interesting and inspiring. The interest was in the grace and style that the early American blacksmiths were able to impart to their domestic products. It was also illuminating to have contemporary European samples for contrast (a lot of early American wrought iron was actually imported rather than of local manufacture). On the whole, the pieces of European origin were more ornate and fussier than those of "Cousin Jonathan." The inspiration came from observing the elegant solutions that these early smiths applied to the intricacies of their wares. Banding, welding and riveting as they went along, their practical methods got the iron joined and the job done with a minimum of fuss and bother. The lines are clean and the simple ornamentation is easy on the modern eye.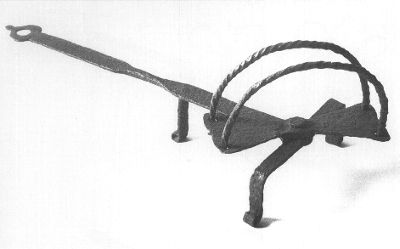 Classic Toaster, The Sorber Collection
There is not an overabundance of text to the book, and its strength lies in the photographs. As an aside for those who aspire to collecting ironwork themselves, a few weeks after buying this book I was in an antique shop in tidewater Virginia and spotted several kitchen and household/farm items that could have come out of this book. Prices ran from the $60 to $200 (US), so the originals would not be out of reach of the average collector. (Not that I bought anything, I have to save my money for tools and books!)
- Atli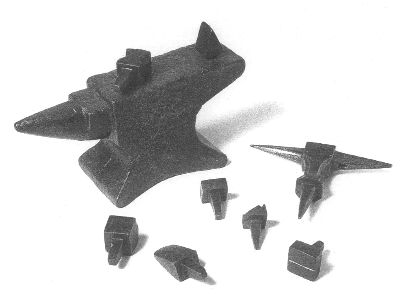 Blacksmith Tools, The Sorber Collection
---
Commentary:

The reason this review is so deliquent (I've had the book 2 years), is that I hate to say something bad about a work that so much time and effort has gone into. But I could not leave this unsaid.

The strength of this book may be its photographs but their reproduction is its weakness. All the photos have the same grainy look giving all the pieces the appearance of having the same coarse texture. The appearance is that of photos taken with very high speed film such as ASA 800 or better (Click the image above for a detail). It may be due to digital processing. It may be a matter of style. But it does not matter. The results are that the reproductions are not nearly the quality that is expected in a slick reference of this type.

- guru