Jocelyn Bailey
THE VILLAGE BLACKSMITH
32 Pages
56 Illustrations.

ISBN 0-85263-511-7

Review by Jim Wilson pawpawsforge.com
I had ordered THE VILLAGE BLACKSMITH by Aldren A. Watson from Barnes and Nobel. This is what I got. Oh well, win some lose some, and at least it's about blacksmithing. But $9.00 is a little steep for a 32 page pamphlet.
I expected since I was a little irritated by the goof that I'd not enjoy the book, but I was wrong. It's a pamphlet produced by Shire Publications for the Council on Small Industries in Rural Areas of England. Lots of pictures, and good text. It's not an instructional text, but it's not intended to be.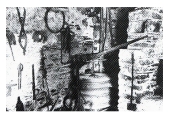 The series is designed to document some of the small industries that are changing and (in some cases) dis-appearing from the landscape. It gives an over view of the work of the Blacksmith and Farrier.
I'm still a little hacked over the price, but I'll give it:
One RD for interest.
---