Canedy-Otto Tool Catalog

"Price list number eleven"

Perfect (heavy paper) binding

188 Pages, Reprint of early 20th Century original

7-7/16" x 5" (189 x 127mm)

Review by John Neary
By hammer and hand, the old saying goes, all the arts do stand. But, as we all know, there's a bit more to it than that. There are a few other tools involved in getting a day's work done in an old-time coal-burning blacksmith's shop: such as a few tons of cast iron, in the form of forges, blowers, drills, punches, shears, shrinkers.
Some of the very best of these were built by an outfit name of Canedy-Otto in Chicago Heights, Illinois a century or so ago-- and built so incredibly well were they, that many of them are still in use to this very day.
Ironically, although these old beauties may be familiar to us-- I just used my Canedy-Otto "New No. 10" wall-mounted drill press again today, as I do most days, and the magnificent old 400 - pound monster chewed half-inch holes through 3/16" steel plate as easily as my grand kids go through peanut butter-- they nonetheless remain a mystery. Who was Canedy? And who was Otto? Why did they build their wares to such a high degree of quality? What happened to this company that made such fine equipment?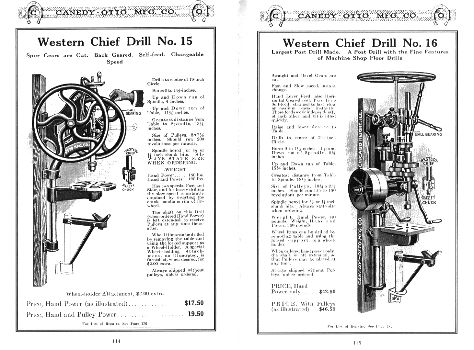 Those questions remain a mystery awaiting some future researcher. But, hark! Here to shed some long-awaited light on the Canedy-Otto enigma now come a trio of lovers of old tools: Bill Gichner, the grand old patriarch of American blacksmithing from Ocean View, Delaware, a tugboat skipper named Rob Whitehurst, and his friend Ed Lancaster, who is a Xerox sales rep and licensed auctioneer.
Whitehurst and Lancaster, working from an original they found in Bill's vast library of smithing books, have produced a gorgeous replica of a 188-page Canedy-Otto catalog — "price list number eleven" — date uncertain, but from what appears to be around the dawn of the last century.
Poring over this book is almost as much fun as visiting Gichner's treasure trove of a shop, Iron Age Antiques, in Ocean View. It is packed with detailed drawings-- and exploded parts schematics — of all of the tools mentioned above. Not just one or two pages of forges, but dozens of them, whole battalions of blowers, vast legions of drill presses, tire-shrinkers, punches, shears. The original catalog copy describes in minute detail the factory specs: the capabilities and dimensions of each tool, and states the prices, too. My "New No. 10" drill, for example, is not listed, but a near-duplicate went for $42.50 US in the hand-powered model and cost $150 if outfitted with an electric motor.
My Canedy-Otto Western Chief forge blower went for $28 in those days. The catalog answers one question that torments many of today's Canedy-Otto users, too: which way should the blower be cranked? Turns out it doesn't matter. Either way, says the catalog. Mine has grown accustomed to counter-clockwise since leaving the factory.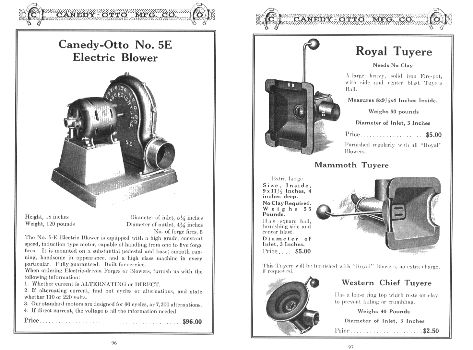 The book is available from Hotemper Publishing, list price: $19.95 -- but hurry, because Whitehurst and Lancaster only printed 200 copies! Says Ed Lancaster, "Since Rob is going to be spending a lot of time on the water" the best way to buy a book is from me via e-mail. S&H is $3.00. We are offering to sell the book direct for $15.95 plus the S&H, a $4.00 savings. We offer a wholesale price on a purchase of ten or more at say $12.95, shipped to one address, buyer to pay shipping."
Ed's E-mail address is elancas@aol.com
Rob is reachable when ashore at whthrst@bellsouth.net.
There is yet more good news for us old tool nuts, too: Whitehurst and Lancaster plan to do more catalog repros. Up next-- maybe: Champion equipment from the 1920s.
---
NOTE: The late Bill Pieh of Centaur Forge claimed that Canedy-Otto put themselves out of business by making too good a product and trying to compete with manufacturers that made much lower quality products. Bill claimed that everyone elses stuff was "oil leaking junk." Thus Champion and Bufalo are the better known but Canedy-Otto was and still is the best. - guru
---
Hotemper Publishing
Ed Lancaster elancas@aol.com


Price $19.95, S&H $3.00
ISBN ?

---

BACK TO BOOKSHELF
Copyright © 2001 by Jock Dempsey, DEMPSEY'S FORGE
Webmaster email: webmaster@anvilfire.com