REVIEW
by Jock Dempsey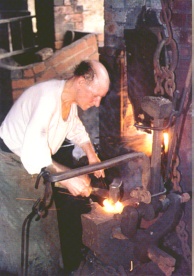 This is a wonderful little booklet on a somewhat archane subject. Luckily there are people like Ron Moss who have taken the time to research and record these quickly dissapearing techniques before they become a complete mystery.

For those unfamiliar with British industrial history the "black country" is an area of England where there was much iron and coal production starting in the 1600's. This area and the Iron Bridge Gorge on the Severn river produced much of the iron goods traded all over the world by England. Chainmaking was centered on Gradley Heath and the "Chainmaking Townships" south of Dudley.

For centuries, well into the modern era chain was made from wrought iron and forge welded by hand. In chain making factories there were forges and the specialized anvils and foot operated "Tommy hammers" used to dress the welds. Skilled workers produced miles of chain one link at a time.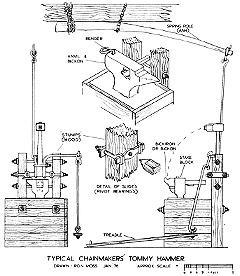 So what ARE those holes in the sides of chain maker's anvils for? Tooling obviously, but what type? The answers are here.

When making load chain it must rotate smoothly at each link and this requires dressing the welds inside and out. A tool called a bickern or bickiron fits in the hole and is wedged in place on its shank. The bickern is shaped to fit inside a specific size chain so it must be changed for each size. The shank of the bickern is fairly long extending a foot or more beyond the back side of the anvil. Hinged top dolly tools are attached to the shank and also match the chain size. These are struck by the smith, a striker OR with the use of a "Tommy Hammer" as seen in the drawing at left.
This is a great information packed book. It is full of interesting tid bits like a drawing of the anchor chain used on the S.S. Titanic, color photographs of the Mushroom Green Chainshop Museum, photos and information about the Women Chainmakers Lockout/strike of 1910. If you are interested in the history of technology this is a great resource.
---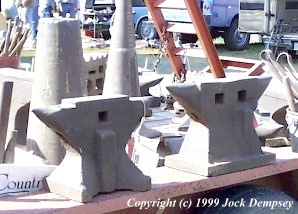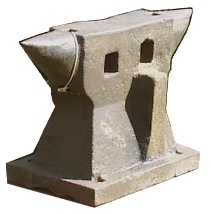 Chainmakers anvils seen at the 1999 Blacksmiths of the Potomac Spring Fling event. When these photos were taken I had no clue as to what tooling was attached to these anvils via the tooling holes in the side.
---
Published by:
Blakemore Publications
56 Lawrence Lane Cradley Heath, UK, B64 6EU

NO Available in the U.S.:



Price US 10.00 + S&H


Price R.R.P. £3.90
ISBN 0952662701

---

BACK TO BOOKSHELF
Copyright © 2004 by Jock Dempsey, DEMPSEY'S FORGE
Webmaster email: anvilfire! webmaster