REVIEW
by Jock Dempsey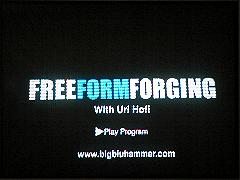 Instructional videos are quickly becoming an important part of our craft. However, many are amaturish and no better than home videos. This is not one of those. It was professionaly filmed and edited. It has smooth transitions between scenes and a pleasant score. There are no background distractions. It is a first class piece of work.

The video was filmed at the B² Design Power Hammer School in Moresville, NC USA. This is a wonderful roomy facility for producing any type of blacksmithing video.

Click for Quick Time sample Clip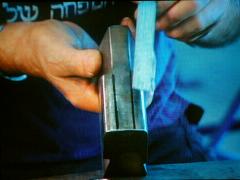 Uri starts with a very brief statement about himself and then immediatelly gets to work. The stock necessary and the forging methods are explained before the forging of each piece.

The Hofi system teaches the forging of elements that can be used as parts of a larger project. Learning a few elements immediatelly makes the new smith productive. With an arsenal of elements learned over time the smith can create beautiful works quickly and easily.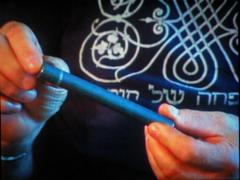 Right, Uri explaining the steps to make an element from the 5/8" piece of stock he is holding. Depending on the element the raw stock, the finished work and how the work is handled on the dies is shown.

The video is filled with detail images of steel being moved quickly and with great skill. The video has nearly an hour of closeups of hot iron being forged. Examples below, click leaf image for detail.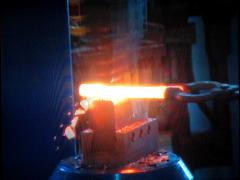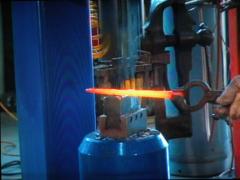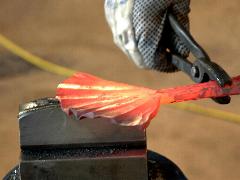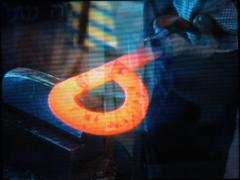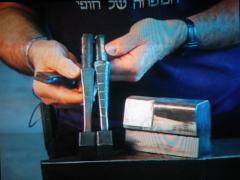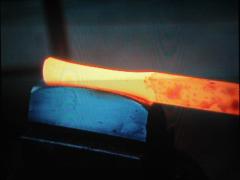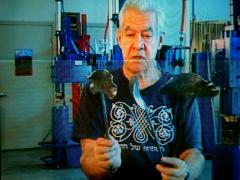 My only complaint about this video is a technical one. It is long and a chapter index would have been helpful. The DVD has 27 chapters and if you futz around with your DVD control you can jump to a specific chapter by number. However, most DVD controls do not make the chapter search function easy. PC software is better but still a pain. A print out with the elements covered in each chapter would be helpful.

This is the only video demonstrating the Uri Hofi die and forging system. Anyone using a power hammer can learn from it and profit from the information immediately. Anyone thinking about buying a power hammer can see what a good power hammer with the right dies can do. Anyone considering going to the B² Design Power Hammer School can preview the type of things taught there or use the video as a refresher when they get home.

Everyone can learn from watching Hofi work. It does not matter if you use a power hammer or not there is a lot to learn from in this video. Highly recommended.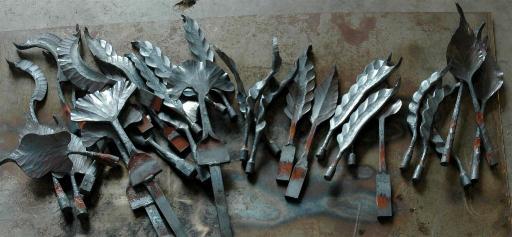 Some of the 150 elements forged by Uri Hofi during the filming of this video.
Each of these were forged in ONE HEAT. Click for enlargement.
LINKS
---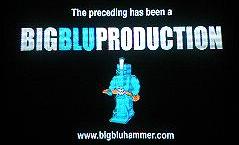 Big BLU Productions
Morganton, NC USA

Distributed by:
Big BLU Hammer MFG
Blacksmiths Supply


Price $49.95 US




---

BACK TO BOOKSHELF
Copyright © 2005 by Jock Dempsey, DEMPSEY'S FORGE
Webmaster email: anvilfire! webmaster