REVIEW
by Jock Dempsey
I was very impressed by this book. It is a well written, valuable resource.

Although I call myself a blacksmith I have been a machine designer and have a small (albeit primitive) machine shop. I have trained machinists and managed their work. I have worked in this industry for 30 years and I saw a lot in this book that was new to me. If I was still training machinists I'd make this a required book to study. I can even recommend it to our blacksmith crowd.

Most of what you find in this book you do not find in the standard texts on machine work or metal working. They are the kind of details that you usually pickup on the job or by lots of hard expensive trial and error. It is obviously the cumulation of a lifetime of experience in the machine shop.

Covering everything from basics to advanced techniques Harvey uses as few words as are necessary and wastes very little space in this book. Every page is packed with valuable information or photos. No space is wasted duplicating tables and charts that every engineer, mechanic and machinist should have in their personal copy of Machinery's Handbook. In fact the ONE chart in the book refers to the 50 pages of similar information in Machinery's. I wish other authors would follow suit and stop wasting paper with redundant information and just tell their readers GET Machinery's.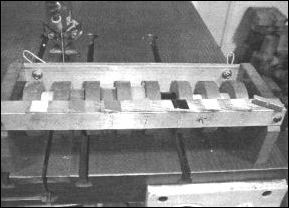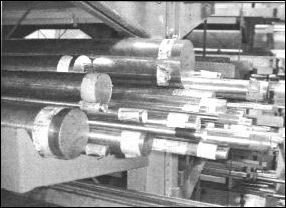 Figure 6-13 Colored tape can be used to quickly tag and identify raw stock.



Over 500 tips. . . 230 photos. This is one of those books that I tell people to STUDY, not just read. Think about each tip and its possible application in your shop.

Simple things that some worker's overlook like "More tools equals faster work". Having the right tool for the job already on-hand means less delays and making more money.


| | | |
| --- | --- | --- |
| Figure 6-6 A spring loaded stop used in a horizontal band saw allows the part to move a little when it is cut through so it won't jam the blade. | | Page 264Simple speeds and feeds chart. |

One point that I have a hard time getting workers to understand is also one of Harvey's critical issues, properly finishing parts. He explains why parts should be carefully debured and surfaces matched, edges rounded but not more than necessary and so on . . . I cannot count the number of times workers have handed me a hot, dirty sharp edged part to look at and I have just handed it back to them with only one comment, "Its not finished" and they don't get it (and not for the first time). Perhaps seeing it in writing from someone else may make a difference.

The book includes 8 detail drawings for making 5 useful tools that should be in every machinist's tool chest. These are clear, state of the art, CAD drawings designed to be printed A size for the book.

If you learn ONE new trick from this book it will more than pay for its cost. If you learn more than one you will have profited greatly.
TABLE OF CONTENTS (Chapters and Headings)

| | |
| --- | --- |
| | INTRODUCTION |
| 1 | WORK FAST |
| 2 | GET IT RIGHT |
| 3 | DO IT THE EASY WAY |
| 4 | MAKE 'EM LOOK GOOD |
| 5 | HELP FOR NOVICES |
| 6 | MORE SHOP TALK |
| 7 | THE CUTTER CAPER |
| 8 | THREADS AND THINGS |
| 9 | HELP FOR ENGINEERS |

| | |
| --- | --- |
| 10 | ROTARY TABLE MAGIC |
| 11 | TAMING WARP |
| 12 | BE SQUARE |
| 13 | MOLD MAKING TIPS |
| 14 | GET YOUR GRINDER GOIN' |
| 15 | SHOP MATH WIZARDRY |
| 16 | THE INCREDIBLE CNC |
| 17 | TELL ME SOMETHING I DON'T KNOW |
| 18 | ODDS AND ENDS |
| | APPENDIX 1 and 2 |
---
Published by:
ProShopPublishing.com
Garden Grove, CA



$39.95
ISBN 0-9743897-7-5

---

BACK TO BOOKSHELF
Copyright © 2005 by Jock Dempsey,
DEMPSEY'S FORGE
Webmaster email: anvilfire! webmaster