REVIEW
by Jock Dempsey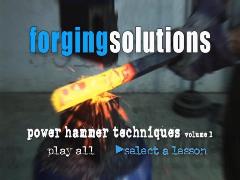 Instructional videos are quickly becoming an important part of every craft. However, many are amateurish and no better than home videos. Those by Big BLU Productions are professionally filmed and edited. It has smooth transitions between scenes and a pleasant score. It is a first class piece of work with a chapter menu so you can easily find what you want to see.

The video was filmed at Oak Hill Ironworks in Morganton, NC USA. The demonstrator is Amit Har-lev a talented Israeli blacksmith working for Oak Hill Ironworks.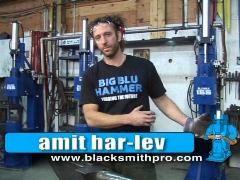 In this video Amit introduces himself and gets to work right away.

This video covers power hammer basics using good combination dies and auxiliary crown dies. There are 30 chapters. The techniques shown ARE basic but cannot be performed on hammers with sharp undressed dies or badly shaped combo dies.

Among the techniques demonstrated are drawing, shouldering, heading and many examples of texturing.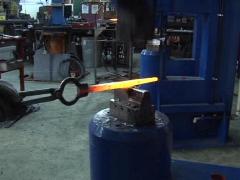 Forging a long taper working from near to far. Two tapers are forged, a long and a short demonstrating the fastest most efficient way to do it.

The video is filled with detail images of steel being moved quickly and with great skill. The video has nearly an hour of close ups of hot iron being forged. If you want to see HOW metal is moved this is a good way to see it.

Among the techniques demonstrated is the proper way to use a hardy. This is duplicated from Forging Solutions : Hand Forging Volume 1.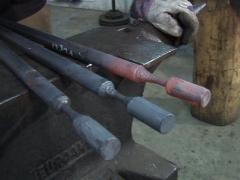 Amit demonstrates an interesting exercise of control on the Big BLU Combo Dies. He forges three identical pieces on the same die position creating no shoulder, a square shoulder on the isolated end and a square shoulder on the base bar.

Most common factory combo dies on old hammers are heavy fullering pairs and not very useful. The narrow section on the Big BLU combo dies and their careful radiusing makes them infinitely more useful than standard type dies.

Best quote, "Tongs are, ah. . . tongs."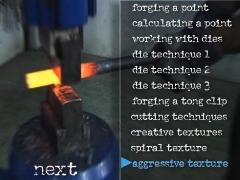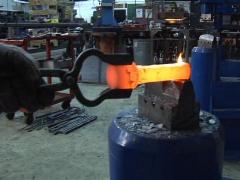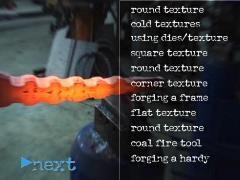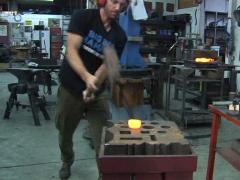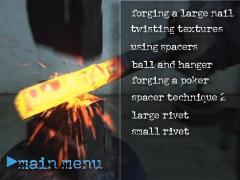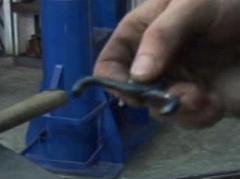 This video is designed to be part of a series. This one covers basic techniques that every power hammer user should know AND be able to perform on their hammer. Although the techniques are basic they require a good power hammer with good dies. The Big BLU die system is far superior to others including many copies.

A very good video for the price. I'm glad to have it in my library.

See also, Forging Solutions : Hand Hammer Techniques
---
Published by: Big BLU Manufacturing Co.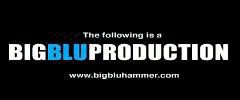 Morganton, NC

Distributed in North America by:
Big BLU Hammers and ArtisanIdeas.com

Price $39 US (two of the series for $70)
ISBN N/A

---

BACK TO BOOKSHELF
Copyright © 2007 by Jock Dempsey, DEMPSEY'S FORGE
Webmaster email: anvilfire! webmaster