Review by Bruce "Atli" Blackistone
I love books, but itís a rare day that I invest in such a pricey tome. Still, the subject was right down my muddy medieval alley, and with over 600 photographs and drawings I figured that I would find it of at least some inspiration. I was especially happy to be proven right, and it is now a valued inspiration and part of my reference library.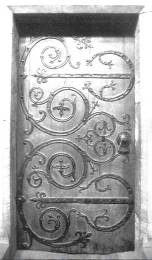 This book is a scholarly work, long on observation and cross-cultural comparisons and VERY short on technique. If you are not willing to study the text and do a bit of reverse engineering it could prove frustrating. Because different examples of varying techniques are drawn from different chapters and sections, patience is advised. To get the most out of the book you have to actually start at the front and work your way through, making an occasional marginal note on the way. Most of the apparent puzzles and gaps sort themselves out by the end.

RIGHT: "C" Strap hinges on right with 19th century elaborations on the left on the chapter house door at Ripon Cathedral, North Yorkshire. 1.16M X 2.15M. 14th century? Click images for enlargement.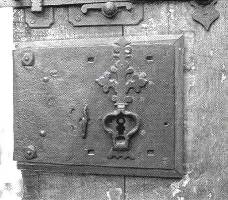 The period covered, 1050-1550, is a little light in the early stages, and I would, of course, be more interested in pre-conquest work. It is obvious from the book that there just wasnít that much to begin with, and much of that didnít survive the ages. Also, being decorative, the sampling is almost wholly ecclesiastical. Still, itís fascinating to watch how the work evolves over the ages, and the persistence of certain motifs through the entire period (and right up to the present day).

LEFT: Inner lock plate, Norwich Cathedral, Norfolk. 220mm(?) top and bottom, 220mm left edge, 250mm right edge. 1504-1529.

One of the highlights of the work is several chapters on stamped ironwork. This is a technique where certain decorative motifs, terminals and elements were formed by hammering the iron down into a die. (Or, perhaps, the die was hammered down on the iron. Itís sort of chicken vs. egg: was the iron cut with a chisel or with a hardy?) As mentioned above, there is very little on the actual details of the technique(s) used, and Iím looking forward to experimenting in this area. Others, more experienced than I, may leap to successful conclusions.