REVIEW
by Jock Dempsey
This book has long been a standard for blacksmithing students and is regularly recommended by Frank Turley of Turley Forge Blacksmithing School, "The Granddaddy of Blacksmithing Schools".

The contents are a fine distilation of technical data along with clear discriptions of the metals and alloys most commonly used in small shops. I often refer smiths to Machinery's Handbook for this kind of data but Machinery's is not written for the novice.

Metals for Engineering Craftsmen covers the fundamentals of metalurgy from a practical standpoint. Starting with metals and alloys it then goes on to explain how different alloying ingrediants effect a metal.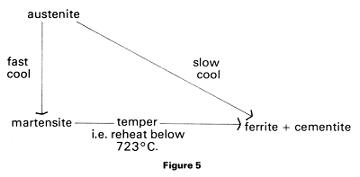 Various charts help present information in an understandable manner. Data from this and other references were used to create our Temper Color Chart
---
Published by:
*The Rural Development Commission / CoSIRA
London

Distributed in North America by:
ArtisanIdeas.com

Price $21 US
ISBN 0854070273

---

BACK TO BOOKSHELF
Copyright © 2003 by Jock Dempsey, DEMPSEY'S FORGE
Webmaster email: anvilfire! webmaster