Giuseppe Ciscato

Beds and Bedroom Accessories
Il Letto e Dintorni

Works by the Italian Masters of Wrought Iron

229 Pages, 340 images, 9-1/2 x 13 inches
Includes English language translations throughout.
Review by Jock Dempsey
Wrought Iron beds are a wonderful outlet for the artist blacksmith. Unlike architectural work they do not have to fit an existing structure nor do they need to be installed or meet building codes. We (and the public) also do not have so many preconcieved ideas about what color a wrought iron bed should be. Architectural work is typicaly boring black because that is what is expected or is "tradition". A wrought iron bed however can be gilded or any color in the rainbow. The finish is often as much part of the work of art as is the metalwork.

This book includes hundreds of examples of beds and other wrought items that can be used in the bedroom. It is a wonderful source of ideas for designer, decorator and smith. Each piece includes a biography of the artist and contact information.



Design by Giuseppe Ciscato (the author).
Pages 116 - 117. Click for enlargement.

Detail of realization by Orezte Vezzosi.
Click for enlargement.
In the second part of the book designers were asked to design the beds and then the designs taken to one or more metalsmiths. Both the original drawings and photos of the realizations of the work are shown. Above left is a drawing by Giuseppe Ciscato (the author) and to the right is a detail of the actual work by Orezte Vezzosi of Cremona, Italy. Description:
"Entirely hand-forged wrought-iron bed, without the use of a power hammer. Assembled with bands and rivets. Colored with antique-look varnish. Material used: round iron diameter 16mm, square iron 30 x 30."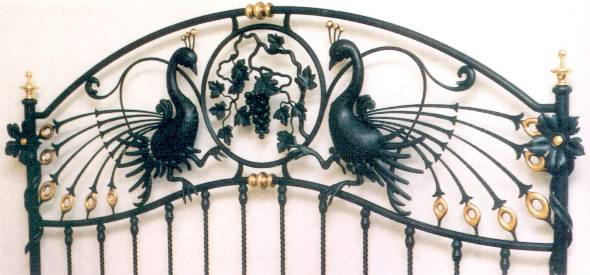 Peacock Bed by Alfredo Pinto.

Peacock Beds
by Maestro Alfredo Pinto, Brindisi, Italy. Wrought-iron with gold leaf.

Alfredo Pinto has work in the Vactican Museum and the Sistine Chapel in Rome as well as public works throughout Italy.

Click images for enlargement.
The works presented include classic master works such as the Peacock Beds above to clean simple designs as well a works of modern art.
| | |
| --- | --- |
| Pages 64 - 65. Click for detail of Baroque style bed by Giovanni Rosso. | Pages 84 - 85. "THE ROSE" design by architect Roberta Bini. Click for enlargement. |


Almost every page has one or more beautifuly reproduced photo of beds in place as well as exquisite close up details of the work. Like the previous review of Giuseppe Ciscato's The Italian Masters of Wrought Iron it was very difficult to select the images for this review. All the work is beautiful and it is impossible to descide what is best.
---
ALINEA editrice
Firenze, Italy

Distributed in North America by:
ArtisanIdeas.com

Price: $69.95 US
ISBN 88-8125-449-2

---

BACK TO BOOKSHELF
Copyright © 2002 by Jock Dempsey, DEMPSEY'S FORGE
Webmaster email: anvilfire! webmaster