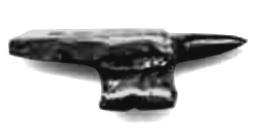 The Anvil Charm
I SAW the movie Himalaya about a hill tribe of Tibetans who were led by an old chief. They needed to take a yak train of salt bags down to the valley to exchange for grain before the winter came. The chief wanted to take his grandson on the trip but was concerned about the evil spirits that lived in the mountains. He took the boy to a shaman to get a protective spell. The shaman changed the boy's name to Pasang and put a small anvil on a cord around his neck. As they left the shaman, the grandfather told the boy he might be embarrassed by his new name but at least he was protected.
WHEN I e-mailed my son, who is a Tibetan scholar living in Nepal and asked what all this meant, he wrote,
"Dad, the name Pasang might be a family name for blacksmiths and I've told you that blacksmiths are not a very high caste in Asia. As a matter of fact they are so low that even evil spirits don't go near them."
Jim Moran, Bethlehem Forge, Delmar, NY
---
Postscript:

Bill Epps should know that his $20 Anvil -- iForge project # 75 is now protecting my grand kids.
---