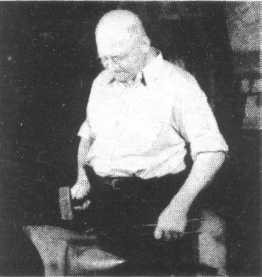 William Petersen
blacksmith
Taken from an old VISE-GRIP™ package.
The original locking pliers were patented by the late William Petersen, a blacksmith, who learned his trade in Denmark.
In 1924 Mr. Petersen founded a small family business in DeWitt, Nebraska, USA, to manufacture his unique hand tools. Today (1980), Mr. Petersen's "family" has grown to include his children, grandchildren, and hundreds of employees. His idea has been expanded to include many different VISE-GRIP tools that are used and respected by laymen and professionals throughout the world.
The quality of VISE-GRIP tools remains unchanged; they are still made with Mr. Petersen's dedication to old-world family pride and quality--the kind of quality you will not find in other brands that merely resemble the Original Locking Pliers.
---
VISE-GRIP is a trademark of Petersen Mfg. Co., Inc., DeWitt, Nebraska
Copyright © 1980 Petersen Mfg. Co. was owned by American Tool Companies, Inc. in 1998, now Irwin Tools.

HTML Copyright © Jock Dempsey, anvilfire.com