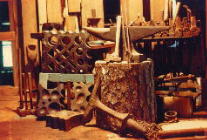 WELCOME to the anvilfire!
Virtual Hammer-In!
This page is open to ALL for the purpose of advancing blacksmithing.
Please read the RULES before posting a message.
NOTE: This IS NOT the Guru page!
---
WHY THREE FORUMS? Well, this is YOUR blacksmithing forum to use for whatever you wish within the rules stated above. It is different than the Slack-Tub Pub because the messages are permanently posted and archived.
This page is NOT a chat - it is a "message board"

Our chat, the (Slack-Tub Pub), is immediate but the record of it is temporary. DO NOT post permanent messages there. We refresh the "log" every 24 hours now and your message will be lost.

The Guru's Den is where I and several others try to answer ALL your blacksmithing and metalworking questions to us.


Please note that this forum uses an e-mail encryption system that prevents spam harvesters from collecting your e-mail address.
J. Dempsey <webmaster> Rev. 7/98, 3/99, 5/2k, 6/2k, Friday, 04/06/01 16:43:25 GMT
---
"New Sign": Rate Schedule..
Answers -- $1.00
Answers which require thought -- $2.00
Correct Answers --- $ 4.00
Dumb answers are still free..
Barney - Tuesday, 10/01/02 00:59:30 GMT
---
Quad State: I also got to attend the SOFA Quad State meet this weekend & had a good time, but only got to spend Friday & Most of Saturday there. A job well done by one & all. For once, I ran out of room before I ran out of money....
Mike S - Tuesday, 10/01/02 03:29:29 GMT
---
Hay Budden: There would be alot of folks interested in the Hay Budden, thats a great size not too big, not too small etc. Shop it around and figure what you would be happy with for it.
www.lameyknives.com
RMLamey - Tuesday, 10/01/02 15:36:27 GMT
---
Albert Paley & Wm Paley: Are they related? William Paley was a big exec at CBS until his death in 1991. I need to settle this one way or another with a friend. Thanks.
Frank Turley - Tuesday, 10/01/02 16:09:18 GMT
---
Check it out.
http://cgi.ebay.com/ws/eBayISAPI.dll?ViewItem&item=719714826
- Paw Paw - Tuesday, 10/01/02 20:19:36 GMT
---
check it out.: Hey, did you know that big circular wheel-rock thingy is called a "Sharpener"!!! Wow, I am learning more from Ebay every day . . .
Escher - Tuesday, 10/01/02 21:51:26 GMT
---
Quad State: Well, I was only down in Ohio for about 3 hours of shopping. Sure was a lot to choose from. Bought a blower for $60 and a vise for the same. Also got a few smaller items. Next year I figure to schedule in a few days down there so I can see the demo's. Just over a 5 hour drive for me, but I better do it again next year. And once again, blacksmiths sure are nice people. Everyone was friendly and full of info. Oh, one more thing. I got to see the Henrob oxy/acet torch in action! Man, that thing is sweet, kinda like a gas scroll saw for metal. It's kinda a micro cutting/welding torch, but the posssibilities of that thing just amaze me. Now if I only had about $4oo dollars to play with......









- Bob Harasim - Tuesday, 10/01/02 22:00:01 GMT
---
Escher:
(grin) C'mon, give Miss Julie a break, she sell more lingerie than blacksmithing equipment. And that pedal grinder looks interesting!
Paw Paw - Wednesday, 10/02/02 02:29:19 GMT
---
Frank-- the 1972 Who's Who (not always infallible, but...) lists CBS honcho Paley as having four children, none named Albert.
Miles Undercut - Wednesday, 10/02/02 04:07:42 GMT
---
Miles, That's what I thought. Too bad I didn't bet cash money.
Frank Turley - Wednesday, 10/02/02 11:20:56 GMT
---
Frank, and Miles:
A nephew, maybe?
Paw Paw - Wednesday, 10/02/02 12:54:59 GMT
---
Paw Paw-- somewhere on the Internet, betcha, there lurks an authorized bio for Paley the smith that states his pedigree. Maybe he even has a home page that does. My '72 Who's Who doesn't list nephews. (And, fact is, the book is not totally reliable, even though-- or maybe because-- listees do their own write-ups. So do not take the above as Gospel.)
Miles Undercut - Thursday, 10/03/02 04:14:37 GMT
---
Miles: I've known about the Who's Who for years. My comment was just conjecture. I'll see what I can find on the net.
Paw Paw - Thursday, 10/03/02 04:41:39 GMT
---
Albert Paley:
Found his web site, but no bio.



http://www.albertpaley.com/media.html
Paw Paw - Thursday, 10/03/02 04:46:23 GMT
---
RE Ebay: did I miss it when they made the pry bar a smithing tool...
MP - Thursday, 10/03/02 05:06:03 GMT
---
Paley Bio: Here is a link to Paleys bio. Tho it does not contain much info.
http://www.temple.edu/crafts/public_html/mjcc/local/history/biographies/b141.html
Ralph - Thursday, 10/03/02 12:04:18 GMT
---
Albert Paley:
Thanks Ralph. You're right though, not much there.
Paw Paw - Thursday, 10/03/02 13:13:01 GMT
---
e-bay: I used to keep a list of e-bayities; one of my favorite was for a set of "blacksmith tongues".

I did correspond with a couple of folks pointing out that their "early blacksmithing tools" needed to be about 2000 years old and the ones they posted pictures of were factory made.

People seem to get mad when you point out that their listings are in error. I particularly liked the "well how was I suspossed to know that" comments. My reply was why did you post something you *didn't* *know*! Couple of minutes web research would tell you a passle about what you are trying to sell and keep you from contravening the truth in advertising statuates.

Of course one of my best e-bay deals was from a fellow who *mispelled* *every* *keyword*. I was stuck out in the lab one night and ended up viewing the entire raw catagory item by item and ran across it buried and forgotton.

Just can't get the "blacksmith tongues" out of my mind though---that's gotta hurt! Sort of like doing blacksmithing by the braille method.

Thomas
- Thomas Powers - Thursday, 10/03/02 13:22:44 GMT
---
Ebay: I used to send corrections once in awhile. But almost invariably they really didn't seem to care. Ah well.


Escher - Thursday, 10/03/02 14:12:26 GMT
---
Escher:
Me too, and I got the same reactions. Now I just laugh at them.
Paw Paw - Thursday, 10/03/02 16:30:16 GMT
---
Apprentice Teacher: I live in Townsville North Queensland, Australia. I am looking for a job as an apprentice blacksmith. Write to me at ashbashwilly@hotmail.com for more information.
Ashton Willcox - Sunday, 10/06/02 02:00:48 GMT
---
Coal / Coke for Texas: Just an idea at this time. A couple of times this winter, I will be hauling oranges and grapefruit to Birmingham, AL and it occured to me that I could haul coal or coke back to Texas (stopping in LA). I understand that the Benergy "L" brand coke is in 2,000 lb bags. I could break it down and add a markup and shipping or same for B'ham coal, if anyone were interested. I am trying to make a living but realize that there would not be much money in this but maybe I could help some people out and pay for my fuel to go home? Anyone between B'ham and DFW and the Valley interested?

Thanks
- Tio Pick - Sunday, 10/06/02 17:33:38 GMT
---
Solid Steel Rivets : Hello, Everyone, I have a surplus of steel rivets in several sizes. If any one is interested, let me know.

Thank you,

Ford

- Ford Smith - Sunday, 10/06/02 22:32:36 GMT
---
Ford:
Are they steel, or soft iron?
Paw Paw - Monday, 10/07/02 02:15:33 GMT
---
Ford's Rivets: I could use some rivets, for sure! Either low-carbon steel or iron. What sizes do you have, and how many?
vicopper - Monday, 10/07/02 05:55:53 GMT
---
APPRENTICE: I just thought I'd refresh my add.

Is there anyone in Australia, North Queelnsland Townsville who would be willing to apprentice me. If you know anyone or could answer my name I would be grateful. If not thanks for your time.
Ashton Willcox - Monday, 10/07/02 08:21:32 GMT
---
rivits: Ford, smiths are always interested in rivits; what sizes, what type heads, how much, and what continent are you on?

Thomas
- Thomas Powers - Monday, 10/07/02 14:46:54 GMT
---
I'm Off: I'm off to an SCA-smith hammer-in in NW IN. Y'all play nice till I get back.

Thomas

- Thomas Powers - Thursday, 10/10/02 20:38:30 GMT
---
ANNOUNCEMENT

Anvilfire now has a foto gallery. You are all invited to join. Go to

http://groups.yahoo.com/

When you get there, type Anvilfire into the Search block.

Then join the group. The system will send me a message and I will
approve your membership. That's all there is to it.
Paw Paw - Friday, 10/11/02 02:32:34 GMT
---
Ford Rivets: Hey Ford Smith, folks can't contact you without your e-mail address. .

If you put it in the E-mail box it is encrypted and made a link to your name. The incryption keeps SPAM harvestors from grabbing your address.
- guru - Friday, 10/11/02 16:40:39 GMT
---
quotations: Anyone have any quotations from one of the literary masters they can share, I would like to start a little collection of them. Example: "In this world a man must either be anvil or hammer," Longfellow. Thanks in advance for your help.


- T. J. Marrone - Saturday, 10/12/02 02:04:49 GMT
---
Here are a few T.J.
"The hum of either army stilly sounds,
That the fixed sentinels almost receive
The secret whispers of each other's watch;
Fire answers fire, and through their paly flames
Each battle sees the other's umbered face;
Steed threatens steed, in high and boastful neighs
Piercing the night's dull ear, and from the tents
The armourers, accomplishing the knights,
With busy hammers closing rivets up,
Give dreadful note of preparation."
-King Henry V. Act iv. Prologue

"I saw a smith stand with his hammer, thus,
The whilst his iron did on the anvil cool,
With open mouth swallowing a tailor's news."
-King John. Act iv. Sc. 2. William Shakespeare (1564-1616)


"Shall the iron argue with the smith what it would be?
Or, shall the wrought iron reason with the monger
To whom it would be sold?"
-Benzaquen. Richard Hovey (1864-1900)


"With many a stiff thwack, many a bang,
Hard crab-tree and old iron rang."
-Hudibras. Part i. Canto ii. Line 831.


"Ay me! what perils do environ
The man that meddles with cold iron!"
-Hudibras. Part i. Canto iii. Line 1. Samuel Butler (1612-1680)


"Not with dreams, but with blood and with iron,
Shall a nation be moulded at last."
-A Word for the Country. Algernon Charles Swinburne (1837-1909)
Gronk - Saturday, 10/12/02 19:09:13 GMT
---
Ooops! Almost forgot my favorite quote. Though not smith related.
"Beer is our best proof that God loves us and wants us to be happy" -Ben Franklin
Gronk - Saturday, 10/12/02 19:16:58 GMT
---
Quotations.: There is a nice reference to the smith at work in Ecclesiastes (the Roman Catholic Biblical version?). I cannot find it in my King James version.
Frank Turley - Sunday, 10/13/02 12:53:27 GMT
---
power hammer class: Just back from a week long class on using power hammers at the New England School of Metalwork. Taught by Bob Bergman. Excellent time & we carried back 75 lbs of tools we made. As I'm still somewhat of a beginer, I learned a lot of basics. The school offers other courses as well. I give them the thumbs up for professionalism & depth of knowledge. They're in Auburn, Maine.
- Mike S. - Sunday, 10/13/02 14:56:59 GMT
---
quotations: "Don't burn your britches behind you" Anonymous
- R. whitehurst - Monday, 10/14/02 11:29:08 GMT
---
Viking stuff: Bruce (Atli)
One of the unsmith related newsgroup I belong to had this link posted. And as I know you have an affineity for Norse stuff this is something you might get a kick out of.

http://www.rathergood.com/vikings/
Ralph - Monday, 10/14/02 19:37:29 GMT
---
Quotations: The daughter of the farrier
could find no one to marry her,
Because she said
she would not wed
a man that could not carry her.

The foolish girl was wrong enough,
and had to wait quite long enough,
for as she sat,
she grew so fat,
That nobody was strong enough.

M. Goose
- JimG - Monday, 10/14/02 20:14:29 GMT
---
"Web Page Sponser": The North Bay Area Arts Council has put together a Web Page for me. It more along the lines of places I have been set up and doing demos. She as also linked the ABANA, Ontario Chapter of ABANA and this site Anvilfire.com. Of course my web page. So in short I guess I have made an statement(not sure if thats the right word)in this area about bringing back the pioneering ways of doing things. Mine is the first one to be done, mainly because its different. From what I have been hearing the only one that is being done. From their stand point everybody can cut wood, paint etc etc but its a little different in shaping,hammering out and bending metal in ways that we/blksmiths do. So keep hammering folks and strut your stuff. I have up here in North Bay Ontario Canada and done very well for a one man outfit. The site is www.nbaac.com click on other bottem left corner) and look for me. Click on my picture and have a look. Bigger shows next year and more of them.
Chow for now..ps its getting colder up here..
Barney - Tuesday, 10/15/02 01:28:16 GMT
---
Barney:
Especially good to see the CSI logo on there. That's what I call getting the word out. Well done!
Paw Paw - Tuesday, 10/15/02 01:43:29 GMT
---
"Yep": I thought so. I pass the word around up here all the time.People ask I tell them... It works for me.
Chow now and have a good day
Barney - Tuesday, 10/15/02 14:12:11 GMT
---
Buffalo Forge: hi group
i have a old buffalo forge, that iam trying to sell. it stands 32" tall the table is 27"x40" it does have the hood on it,with a hand crank blower its in vary good shape.iam asking $775.00 obo.my phone is 541-564-0423 you can email me for pics.
don hall - Wednesday, 10/16/02 01:55:02 GMT
---
Quotations: "But we stood at the Blacksmith's door at last, And he forged in the glimmering moonlight sheen A fetter of silver to bind us fast Lover to lover, at Gretna Green."
R. whitehurst - Wednesday, 10/16/02 04:41:39 GMT
---
buffalo forge: don: You may want to let us know where you are at as shipping for that kind of thing can get pretty pricey.
Escher - Wednesday, 10/16/02 15:49:56 GMT
---
forge: Good Lord! 775 for a forge!
Ralph - Wednesday, 10/16/02 17:24:17 GMT
---
Correction: 3Dog dropped me an note saying that the quotation I was minded of was not necessarily "biblical", but rather "apocryphal". He says Ecclesiasticus is the proper name of one of the books from an early group of books titled, "Apocrypha".
Frank Turley - Wednesday, 10/16/02 18:12:49 GMT
---
Correction2: Frank; the Apocrypha are books that are in some versions of the Bible but not others; so it depends on your version whether they are Biblical or not. (1st and 2nd Macabees anyone?) Now the Pseudographia are not in *any* version of the Bible.

OB BS Tubal Cain is listed as being the first metalworker in the Bible; I always swore that if we had a boy I'd name him Tubal Cain. My wife explained to me how that might be an appropriate name for him but not for me if I insisted on it!

Thomas Powers - Wednesday, 10/16/02 18:24:00 GMT
---
Thomas:
Sounds like another mackeral snapper to me. How about the book of Tobit? (grin)

I saw a bumper sticker the other day that I got a real chuckle out of. "If it ain't King James, it ain't Bible!".

Wonder what he'd say if he knew where the Bible came from?
Paw Paw - Wednesday, 10/16/02 19:53:54 GMT
---
...is what a good ol' boy told me once:
Frank Turley - Thursday, 10/17/02 01:27:46 GMT
---
Even worse:: ...is what a good ol' boy told me once, "If English was good enough for Jesus, it's good enough for me!"
Frank Turley - Thursday, 10/17/02 01:30:16 GMT
---
Frank,:
I think the worst I've ever heard was with reference to the King James. "If it was good enough for St. Paul, it's good enough for me!" And he MEANT it.
Paw Paw - Thursday, 10/17/02 02:58:00 GMT
---
Vulcan Anvil: I have a Vulcan Anvil with a cast oval stamp on each side that says Pat d Mar 15 75 and the word Vulcan above it, with a small picture in the middle of it. The Anvil weights 93#'s. Is this an old anvil? and what might it be worth?
- W.SAM - Thursday, 10/17/02 03:44:16 GMT
---
bible quote: Canon or not, here is the quote:

"The smith also sitting by the anvil,
And considering the ironwork,
The vapor of the fire wasteth his flesh,
And he fighteth with the heat of the furnace:
The noise of the hammer and anvil is ever in his ears,
And his eyes still look upon the pattern of the thing that he maketh;
He setteth his mind to finish his work,
And watcheth to finish it perfectly."
KJV Ecclesiasticus 38:28

And This from Isaiah 41:7: NRSV

"The artisan encourages the goldsmith,
and the one who smooths with the hammer encourages the one who strikes the anvil, saying of the soldering, "It is good"; and they fasten it with nails so that it cannot be moved.

Frank Turley, passage is in ecclesiasticus, not ecclesiastes. King James was written for the glory of a king, and contains much that you wont find in a lot of other versions.

TJ Marone, I have compiled such a collection, shall we collaborate? Do not forget the gold mine of "off broadway" quotations, Magazines and weeklys were far more polpular in the days before television, and it was in those days that a blacksmith was still a favorite subject. An example is this bit from "The American Ironsmith" 1937

"Under the spreading chestnut tree
A hallowed relic stands
The village shop is a memory
Like the old smith's sinewy hands.

The blacksmith's shop is vacant now,
weeds grow round the door
We see no waggon there, or plow,
Nor hear the bellows roar."

Or this from "punch" 1866

"So vulcan all his toil and stock
Must on war's task bestow,
And iron good for spade and share,
For sword and gun most go"

kinda spooky considering the era huh?
- michaelm - Thursday, 10/17/02 12:38:36 GMT
---
Wandered in .: Hello: I am a metalsmith with 25 years full time work behind me. I have made needles to ship anchors, forged iron , steel ,tool steels, die steels , lead, copper, bronze, zinc , alumium , titainium ,silver , gold , pattern-welded steel , mokume- gana , made wootz, refined copper, silver ,gold , platinum,set diamonds , raised up vases= teapots, made tools ,dies ,knives ,swords. armour, done reposse, kuftgari , damacening , engraving, chaseing , sunk coin dies, made machines . done a full range of machine work. very few things not done or tryed . I say all that by way of introduction , so you will understand where I am comming from. I would like to understand how this place works , it seems the answers to questions are sometimes from people with little background in the area asked about. Titanium forging was one area. Nobody said anything about nitride case building up , or about fluxing forgings to prevent this . Anyone who has had to machine a titanium forging can tell you about the hard "skin". So, I can help from time to time with wierd stuff. Ideas? Yours
Daniel Tokar
The Willow Forge
- Daniel Tokar - Saturday, 10/19/02 17:30:00 GMT
---
Q&A:
Daniel, Often folks wander in to the Hammer-In, don't read the introduction and then post questions expecting answers. They often get them BUT our Q&A page is the "guru's den".

This page is a free for all for buying-selling trading, telling stories and what-ever. . .

On the guru's page we TRY to answer all questions. Ocassionaly they are out of the range of our expertise. Few of us have exotic metals experiance (other than in ferrous metals and laminated steels). I also send folks that want priced or information on antiques or collectables elsewhere. Even though as smiths we deal with (and use) antique tools daily I just plain refuse to get involved in pricing of items that are more bizzar than the Stock Market.

I should probably reword the heading so that it is clearer that this is not our Q&A page. We are also looking at setting up a seperate FOR SALE page.

We always welcome those that have expertise in the field that are willing to answer questions. However, I AM afraid that at this point I cannot offer compensation other than a few perks given to those that regularly answer questions on the guru page.

OBTW - International Technical Ceramics sells a lot of ITC-213 for protecting exotic and nobel metals during heating and forging. It sticks well and stays on during the forging. But it is not slipery nor does it eat up refractories like flux.

- guru - Sunday, 10/20/02 19:49:14 GMT
---
Bender??: I need to get a tubing bender. Anyone have any suggestions? How about the Compact bender from Shop Outfitters?

http://www.shopoutfitters.com/

Thx's, Fred.
- Fred - Monday, 10/21/02 03:20:11 GMT
---
Tubing Bender:
Fred, it's a pretty thing. But. By the time you buy all of the available dies for it, you'll have invested $2,052 plus shipping and handling. If you have enough work to justify the expense, fine. But I'd think a while before I spent that much money. You can do everything the bender does, it just takes more time and effort without the bender.
Paw Paw - Monday, 10/21/02 04:24:13 GMT
---
Vulcan Anvil: The pattent date was used sometime between 1875 and 1890? according to Postman's "Anvils in America"---IIRC. So the anvil is a bit over 100 years old---but anvils don't get any "extra" cachet until they are around 200 years old---shoot I bought one that was made in 1828 once for US$5!

More important for price is the brand and the condition and your *LOCATION*. Vulcans are not in the top tier(s) of anvils but are definitely better than the lower tier!

I bought an 100# vulcan in *very* *good* condition about a month ago for $50---and sold it for $150 the next day to a fellow who liked the deal as well.

Thomas
- Thomas Powers - Monday, 10/21/02 14:57:58 GMT
---
Tubing Bender: Any other recommendations? Thoughts? I am fairly new at this and all ears. Thx's, Fred.
- Fred - Monday, 10/21/02 16:04:22 GMT
---
What kind of stock are you planning on bending? (i.e. thickness, degree of bend, etc.)
escher - Monday, 10/21/02 16:45:52 GMT
---
Currently, I am doing a lot of work in 1
Fred - Monday, 10/21/02 16:51:11 GMT
---
Tubing Bender: Sorry, a typist I am not.

Currently, I am doing a lot of work in 1" OD, 1/16" wall tubing. I currently need to make bends of 20, 35, 62, 90, and 180 degrees.

If I am going to spend big $ on a tool, I do not want to limit myself to just these bends and size.

On the other hand, I am open to any and all suggestions.

Thx's, Fred.
- Fred - Monday, 10/21/02 16:55:25 GMT
---
Tubing Bender: Have you ckecked at Harber Freight?
Last time i checked the had one for around 80 dollarsand it came with all the dies.
zern - Monday, 10/21/02 18:54:25 GMT
---
Tube Bender: Trade size 3/4" rigid conduit (for electrical use) has an OD of 1". Have you tried using an electrician's bender? It will do anything up to 90 degrees if your metal is not too stiff.
- Thingmaker - Monday, 10/21/02 19:30:14 GMT
---
Bender: The electricians benders come in Aluminum and Cast Iron. The Iron ones can be used for hot work, but are harder to find and cost more. Recomend Iron even with the higher cost.

- Jovan - Tuesday, 10/22/02 00:30:27 GMT
---
Electrician's Benders: A cast iron or steel "hickey" for bending rigid works well, too.
Paw Paw - Tuesday, 10/22/02 01:44:24 GMT
---
Scott Corbes, regular here at Anvilfire, admitted to hospital last night through the ER. Chest pains. Just got
message from his wife, she will keep me posted.
Paw Paw - Tuesday, 10/22/02 04:37:26 GMT
---
Benders: Fred, if you're doing a lot of bending, and the bends have to have accurate radiuses and sweeps, then you need a quality tool to do the bends. A Hossfield, American Bender, or the like will do what you need done (with the appropriate dies), and last nearly forever. These machines also have the advantage of being adaptable to lots of other bending jobs, on much heavier stock as well. They pay for themselves in time saved and by not having defective pieces. The hand benders, such as conduit benders, rely on a half-shoe die and eyeball judgement for degree of sweep. There is no adjustment for radius of bend, either. Hossfeld-type benders have degree rings with stops, adjustable radius, and can accept double-shoe dies. Do yourself a favor and get the Hossfeld or American, and have the right tool for the work. There is a location on the web somewhere that has some semi-okay plans for making your own Hossfeld-type bender for bending tubing to make wheelchairs. A Google search should find it for you.
vicopper - Tuesday, 10/22/02 13:38:57 GMT
---
Benders : if you are just tinking around any of the cheap benders are Ok --but if you are doing any thing that matters
the Hossfeld or Diacro bender is the way to go
the cheap benders all work throu the center of a yoke
withn means you have to take it apart to get the pice out and re assemble befor the next pice can be bent (way to slow for my shop ) i use two Hossfelds and two diacrows in my shop
- Bill E - Wednesday, 10/23/02 01:24:46 GMT
---
EZ Board: Could someone update me as to what is going on with EZBOARD and what I need to do to get back into CKB forum? I was there this morning lurking as usual but tonight they have made changes and I do not know what the address was... Just a semi-literate computer user...
- tio Pick - Wednesday, 10/23/02 02:30:00 GMT
---
D. Whitaker, please call me or contact me email.
Paw Paw - Wednesday, 10/23/02 05:44:43 GMT
---
EZ Board: Uncle-

try this:

http://pub42.ezboard.com/bcustomknifedirectoryforum
vicopper - Wednesday, 10/23/02 14:07:49 GMT
---
There was some confusion about the last name, (different email address), Scott Corbes is actually Scott Beshears. He's OK, scared the wife, though. (and a few of us)
Paw Paw - Wednesday, 10/23/02 14:19:32 GMT
---
I have a chance at a three piston compressor from a stuccoing machine. It is big however I think it might be for volume not for pressure. There is no tag or markings. I would like to use it for a shop compressor if it will make enough PSI's. I hope someone out there can give me some info. Thanks Keith
- Keith - Thursday, 10/24/02 00:18:34 GMT
---
Tio-I asssume that you meen the CKD forum if so the new address is http://www.ckdforums.com/index.php moved about three months ago...
MP
MP - Thursday, 10/24/02 00:40:41 GMT
---
Benders:
Pipe, conduit and tube benders are different. Pipe sizes are a nominal inside diameter that is most commonly a little larger than the nominal except in high strength pipe. The OD of all pipe is standard for different wall thicknesses. 3/4" pipe is 1.05" OD. This is just loose enough to let a true 1"OD tube kink when bent. To prevent kinking the dies must fit snuggly (zero clearance).

All bending hickies are for pipe sizes, not tubing.

Bend tightness varies with the wall thickness, temper and type of tube. Thick wall tube does not kink as easily thin so thick wall can be bent tighter. Much thin wall tube is work hardened and will no bend as well as soft. Welded tubing cannot be bent as tight as seamless.

Quantity is relative. High production calls for automatic hydraulic benders. Medium production on small tube can be done by hand but large tube requires some sort of power assist OR a very long lever (often 8 feet). Long handles also mean a large work space. 16 to 18 feet of clear space for 180 deg using that 8 foot lever. . .

I knew a fellow that bent sign frames from 3/4" and 1" tubing for over 50 years using wooden bending jigs build of construction grade plywood and 2x4's. This was a repeat job of a thousand units or so a year. . for 50+ years. Ends were crimped and punched for bolts on punch presses but the bending was all done by hand on those wood jigs. .

See our benders article on the 21st Century page. The style bender on the bottom of the 3rd page can be built of wood with side guides for making large radius bends in tubing.
- guru - Thursday, 10/24/02 05:31:50 GMT
---
Compressor: Keith-
All of the compressors that I've seen with three cylinders were multi-stage units that developed pressures around 175 psi. That doesn't mean it couldn't be a single-stage unit, though.

If it is a single-stage unit, all three cylinders will take in air at atmospheric pressure and their outputs will be into a manifold that can then be plumbed to a pressure vessel. In a multi-stage unit, a cylinder takes in air at atmospheric pressure then the output from that cylinder is fed to the input of the next cylinder so that it starts out woth pressurized air and increases the pressure from there. And so on. I have seen two-stage units where two cylinders were starting at atmospheric pressure and feeding the third that boosted the pressure to max. One typical clue is to look for piping between cylinders that has cooling fins on it. This is intercooling between cylinders because when air is compressed it is heated dramatically. The intercooling drops the temperature which increases the density of the air and also reduces heat/wear on the second stage. If you can describe the unit more clearly, we can probably make a better evaluation of it. Sounds like a good deal, either way...if the price is right.
vicopper - Thursday, 10/24/02 16:48:24 GMT
---
Compressors: Keith, odds are the compressor will run 100 to 150 PSI without problems. There may be some parts that need changed or adjusted, such as unloaders and regulators. Do make sure any tank you use has a rated working pressure above what you will be running the compressor at. I have an old telephone company compressor with a refigerant dryer all built into a nice metal cabinet that was ment to run continuasly using unloads with an output pressure of 8 psi for cooling and drying phone cable trunks. It now runs 150 psi. The tank is rated for 165 wpsi and the pressure relief valve is the same rating. It just took adjusting the unloaders and changing the regulator on the output. I still need to put a pressure shutoff switch on so the thing doesn't run continously but otherwise it works great. Good luck with your compressor, it sounds like a nice one.
Juterbock - Thursday, 10/24/02 16:53:39 GMT
---
compressor: Vicopper & Juterbock, thanks for the info the compressor does have a finned line running between the cylinders. It also has a 1/4" copper line between each one. What I guess is the last cylinder has a 1/2"+ line leaving it. There is no tank for it. Only one cylinder has an intake and no obviouse manifold the 1/2 line goes straight to the machine. Thanks for all the help, Keith.
Keith - Thursday, 10/24/02 23:55:50 GMT
---
Nice 50lb.Little Giant : Howdy folks!I have a dandy 50lb. Little Giant Trip Hammer for sale.It is complete with a nice motor and in fine working order.I have lots of photos available via email.It also has 2 sets of dies.The price is $3200.Cheers,Barry

- Barry Denton - Friday, 10/25/02 02:02:50 GMT
---
Barry: Whenever I see someone offering to sell something very heavy but they don't list the general location I always assume it's in Madagascar or Antartica and shipping will be 10 times the price minimum---otherwise they would have listed the location---right?

Thomas

Thomas Powers - Friday, 10/25/02 13:41:37 GMT
---
qwstion : Iam lookin for plans on how to make a small universle bendr for materil apx.length undetermined 2 eights - 3 quwaters of an inch maximum for gold silver platinum stainless niobium etc.. dose anyone have such plans or know the where abouts of such plans thanks: jeremy Simons
- Jeremy Simons - Friday, 10/25/02 20:14:55 GMT
---
Little Giant: Thomas- Barry Denton is Barubar Supply of Arizona.
vicopper - Friday, 10/25/02 21:12:01 GMT
---
Compressor: Keith-

It sounds like the unit is a multi-stage, with one cylinder feeding the next, as I described earlier. If you have an air tool distributor or industrial machinery supplier anywhere near you, I'm sure they could check it out for you. Many of the old-timers who work in such businesses will be able to recognize the unit and know its characteristics. Multi-stage units are designed to develop higher pressures, so you will probably need to get hold of the right pressure switch/unloader configuration to get the most out of it without burning up your motor. If the motor tries to start it under full compressive load, it would take many times the motor rating to start. Unloaders allow the motor to start against a lower resistance to facilitate lower electrical demands. You'll probably still need a motor of greater than 5 hp if you want to get any real use out of it. Be sure your pressure vessel and piping is rated for the pressure you expect to develop, with a safety factor of AT LEAST 150%! Exploding tanks and lines can be deadly.
vicopper - Friday, 10/25/02 21:21:11 GMT
---
Out of town today, back tomorrow. Reenactment, the Sgt Major rides again.
Paw Paw - Saturday, 10/26/02 10:15:16 GMT
---
Thomas Powers:

Distance ain't always the determining factor. I shipped an air hammer from Sweden for around $300.00. costs about the same to ship it 100 miles!
- grant - Saturday, 10/26/02 20:15:16 GMT
---
Keith:

The inlet should be on the larger cylinder, the outlet on the smaller. The 1/4 in. copper tube should be part of the unloader. Larger compressors usually have an unloader that just holds the intake valves open when it gets up to pressure. Saves starting up over and over.
- grant - Saturday, 10/26/02 20:20:09 GMT
---
COMPRESSORS: Large compressors, being made to run continuous by unloading the intakes offer some ability to change the horsepower. Because they are not started often and not under load, they can be run with a phase converter. Most, being belt driven, cab be changed to a larger motor, BUT you can also use the motor that came with it by using a smaller pulley on the motor. Many old single cylinder, double acting compressors were used for a wide range of outputs simply by turning them at a lower R.P.M. with smaller motors and at a higher R.P.M. with a larger motor.
- grant - Saturday, 10/26/02 21:04:39 GMT
---
Armor: I saw an armor in a store in Montreal, it kinda looked like a lorica segmantada, but it had bigger shoulders. It sorta looked like football pads. If anyone has seen it or has an idead what im talking about..could you please send me plans for it..thanks a bunch
- Patrick - Sunday, 10/27/02 19:34:07 GMT
---
Little Giant Location: Howdy! The 50lb. hammer is located in Skull Valley,AZ.which is 12 miles SW of Prescott,AZ.and 120 miles NW of Phoenix,AZ.
- Barry Denton - Monday, 10/28/02 03:12:41 GMT
---
Old post - SCA hammer in: Hi folks. Long time lurker, first time poster, on this site at least. Thomas Powers, ten or so days ago you had said you were going to an SCA hammer-in in NW IN. Why, that's where I am! This wouldn't by chance be anywhere near the Isaac Walton League in South Bend, would it? Just a little bit curious. Wouldn't know a little round guy named Ray Barretto would you?
Sorry to bring up old news. I'm a little slow, unable to lurk in real time.
- Eggleston - Monday, 10/28/02 06:08:06 GMT
---
SCA-Hammer-In: It was in Attica, near West Lafayette/Lafayette. Out in the boonies (several miles of gravel roads and a 1 mile gravel driveway) Nice place and nice people. Fellow is the Kingdom Equestrian Marshell IIRC. Good time and great food.

Grant; I've owned or helped move 6 powerhammers that were individually less than your shipping cost for that one. $300 is a lot of money for some of us...

Transported a possum this morning, though not to Australia. Now for the squirrels
- Thomas Powers - Monday, 10/28/02 15:15:54 GMT
---
Hi priced hammer: Man, I gotta grit my teeth when I hear of a $3200 50# little giant! Just last week we had a 100#er go for $800. Under power with a set of dies. Same for a nice little Iron worker. That "antique" market is just too high priced for me!
Wayne Parris - Monday, 10/28/02 19:18:43 GMT
---
Quakertown, PA: I am looking for a blacksmith who had a shop in the Quakertown Farmer's Market this summer. Does anyone know him or how I can get in touch with him? I eould appreciate any help at all.
- D. - Monday, 10/28/02 22:03:05 GMT
---
SCA Hammer in: Thank you sir, I know just about where that is. Last I heard that fella was involved in the swordplay, didn't know he had anything to do with equestrian. I've heard tell the food is always excellent. On an unrelated note - Good luck with the possums.
- Eggleston - Tuesday, 10/29/02 05:54:37 GMT
---
tumbler: Does anyone have any info, source, plans or ideas on building or buying a good tumbler? I'm getting tired of the wire brush.

- Louis - Tuesday, 10/29/02 16:41:04 GMT
---
Tumbler: Louis-

For stuff that isn't too big, a 5-gallon bucket of the type that drywall compound comes in will do pretty well. You can extend the life by lining the inside with steam gasket or rubber sheeting if you like, but those buckets are free most everywhere. All you need is a set of rollers to turnit, and you have a tumbler. Getting the right rotational speed is largely a matter of trial and error, but generally, slow will work better than fast. A scavenged motor from a junked washing machine or dryer if geared down two or three stages to about 60 rpm has worked for me in the past. Jackshafting that yields 5:1 for the first stage and 6:1 for the next stage will yield about 60 rpm if you start with a 1725 rpm motor. If you make a "cradle" type arrangement to support the bucket on its side, one of the rollers can be an idler and the other the driven roller. Old wringer washer rollers ought to work, or the rollers from a conveyer belt. Just figure the diameter of the bucket divided by the diameter of the roller to get the ratio. That is your second stage of reduction so you can figure the first stage accordingly.

For tumbling media you can use scrap iron, stones, marbles, special media, walnut hulls, etc. Experiment and see what works for you. I've also used a salvaged mortar mixer, but the racket was unholy!
vicopper - Tuesday, 10/29/02 19:59:02 GMT
---
Tumbler: Vicopper mentioned scrap iron. They used to use the "biscuits" punched out of structural steel for tumbling media. Today America's supply of scrap RR-Rail is rapidly being chewed up (litteraly in a hammer mill) in bedford, VA to make tumbling media for foundries. I suspect they sift out the sand and add the smooth worn pieces to the melt . . .

McMaster-Carr sells comercial tumbling media. It comes in all kinds of shapes and is made of vitrified grinding wheel type media.

Lining a tumbler drum with rubber helps the process and keeps corners from getting the most taken off while other places do not.

For a fine finish on small parts my father discovered that fine cut or torn up 3M wet-or-dry sandpaper works great.

Comercial tumbler drums are often hexagonal or octagonal. The flats help the parts tumble rather than slide. IF a tumbler runs too slow the parts will slide in the bottom and just wear one side curved. . If too fast the parts will be held to the surface and spin around and around. . .

Drums tilted at an angle can have parts put in and taken out while they run.

Concrete mixers make GREAT tumblers and turn the right speed for the size of the drum. The speed is relative to the drum size so the bigger the slower. . . NEVER reach inside one of these while turning unless the stirrer paddles have been removed.

My father has built tumblers using old automobile tires for the drums (30 to 32" dia). These turn 8 to 10 RPM (size DOES mater). Water is added to the mix to prevent dust. There is often a non-foaming detergent in the water.

- guru - Wednesday, 10/30/02 17:24:26 GMT
---
Slag: No hammer and anvil in this post, so please pass by unless you want to discuss lawyers. This is in response to what Slag replied to a post I made on the guru page.

Slag, where did I tar an entire group? Did I say ALL lawyers were bad? You accuse me of a method of thinking that does not require much mental energy? Is that defamation? Where did I defame you personally or an entire profession?

If you feel compelled to distance yourself from the rest of your profession, have at it! Up until your response to me, I had thought you were a pretty decent guy with lots of good stuff to add. Where and how you decided that I was talking about ALL lawyers escapes me. If you take the time to search the archives you will find me say that not ALL lawyers are bad. And Iím sure you will find me speak negatively about the process of generalization too.

You will also find me say that putting words in peoples mouths and making assumptions is BAD!

So, I hereby point out the FACT that you have made assumptions about my thought processes and have in essence put words in my mouth that cannot be supported by my words as written. You accuse me without merit! Congratulations on supporting your position!

Iíve made negative comments about lawyers in the past and I will do so again when it is supported by my experience and knowledge. Iíve also made negative comments about engineers. I donít discriminate.

Since you brought it up, I have some other things to say......

I know personally and have been involved with patent attorneys. Numerous times. On both sides of the patent fence. Iíve been involved in many patent applications and Iíve been involved in lawyers interactions defending against claims of patent infringement. Like John, I agree that by and large, patent attorneys are a more intelligent group than the average attorney. However, much of the patent application verbiage proposed by the patent attorneys or used in claims of patent infringement could NOT be supported by logic or fact. The cost of the patent attorney far exceeded the cost of the patent application in all cases. Does that happen ALL the time? I expect not. But it IS prevalent.

It is a FACT, well recognized by all engineers I know, and parroted by many patent attorneys, that ANYONE can buy a patent in the USA. itís just a matter of verbiage and what you can claim. Massage it until you wear down the reviewer. All billable of course. Patents have turned into an accountant and attorney game, not a true invention protection. Itís a setup by attorneys to give them something to litigate and get fees on in the future. Of course, I do admit that this is an engineer viewpoint. Heck, we only come up with the ideas, what do we know? Attorneys produce what real goods? What came first... The Inventor or the patent attorney? Is a patent attorney required for a real invention or the production of real goods? If so, why?

You said ďthere few sadder spectacles than watching a layman defend himself in a court of law or file a self-written patent applicaion.Ē

Look at what you said for cripes sake! It is a sad spectacle to watch a layman defend himself in a court of law. Are you personally proud of that? I agree! It IS SAD! That the legal process has been complicated well beyond right and wrong and respect for others. There is no responsibility accepted or infused by lawyers for assuring that the right and wrong, and the common good, as defined by the majority of society, are held as paramount. Who has complicated the legal process to the point you so clearly define? The layman? If the law makers are at fault, what is the prevalent prior profession of law makers?

Why should the legal process be so complicated that the layman cannot defend himself?

Why should an inventor not be able to write his own patent application successfully?

How about this? Why not have lawyers consult with the clients to help them state their case in an effective manner, but REQUIRE the client to do all the talking. Lawyer doesn't speak to the court, but could stop the process to consult if the client is being ineffective.

In England, businessmen and engineers are AFRAID of the collusion of lawyers. They are AFRAID to invent.

It is a FACT in the engineering and business community that many good ideas are never pursued because of potential liability. That is to some extent the greed of human nature of the general public, but the greed is ENABLED by lawyers!

Regarding government being a problem too..... I agree. Government is squashing invention as well as job creation. Jock had it right in his post about coal and steel. To Wit, I, along with my boss, the owner of the company, are meeting with representative candidates tomorrow to discuss the governments role in business.

What is the most prevalent prior profession of politicians? I personally see the reform in jury awards to be a token attempt to appease the public/media. The general public does not realize that they pay for the legal fees and awards as hidden in product cost.

Has there ever been any discussion or law limiting lawyer fees?

Where does the average attorney yearly salary fall compared to the average American takehome pay? And the average American professional with similar IQ?

Will you agree that in addition to poor communication, much litigation results from GREED?

Where was it written that trials MUST have an outcome where one party loses? Given that sometimes itís poor communication that results in litigation, why would that mean someone has to lose? Where is the logic?

In a jury award situation, does the lawyer typically get a percentage of the award or is it flat fee? What incentive does the legal profession have to limit awards?

Who has the ability to inflame a jury or calm a jury down besides the judge? If a jury gets inflamed, who usually does it?

ďMany attorneys are not happy making outrageous monetary claims but they unhappily go along with it. They are compelled to do so. To do less is professional negligence.Ē Again, look at what you said! Not to make outrageous monetary claims is professional negligence? Who came up with that one? What logic?

Are there good lawyers with integrity? Sure there are. I think you probably are. But until the legal code of ethics holds the common good to be paramount, and ENFORCES it, there will be a high percentage of parasites with the primary goal of money and winning the case. Human nature.

Donít like negative comments about lawyers? GOOD! DO something about it. And thank you for doing something about it. In advance.

Please never make the mistake about accusing me and assuming for me in the future. You are not qualified to guess what is in my head and what my intentions are.

But please, ask away if you would like me to clarify.

Iím really curious about how you decided I was talking about ALL lawyers and YOU in particular.

- Tony - Wednesday, 10/30/02 22:26:31 GMT
---
Safety: The following articl is cross posted with permission from the original poster.

There's an interesting article in the Oct 25 Chronicle of Higher Education called A Killing Fog. It tells how a temperature inversion
together with fumes from zinc smelting killed a bunch of people back in 1948, apparently mostly from the fluorine given off by
using fluorite in the zinc refining process. Since fluorite has been recommended as a flux additive for forge welding stainless alloys,
I thought some of you may be interested to know that the health effects don't apparently damage the lungs directly but rather
travel through the bloodstream and damage the heart and other organs instead. Workers only worked 3 hours per day in the zinc
plant, apparently because of the tremendous health hazards it presented. Remember that next time you're working with galvanized
steel. The article isn't available on the web without a password but all college libraries probably would have a subscription. Keep
safe!
Paw Paw - Thursday, 10/31/02 03:09:31 GMT
---
response /// lawyers /// etc.
Apologies are in order I misunderstood your phrase "... so many greedy parasitic lawyers..." to be a generalised put down of a whole profession. I did not mean to "put any words in your mouth" and I regret that it may have looked so
As you pointed out you did not mean that and have written to the contrary, in the past, at this site. (I wasn't aware of those writings or I would not have misunderstood what you wrote).
I did not say, nor infer that you attacked me personally. You did NOT do so.
That seems to be your misreading. (Communication can rapidly get muddy, and turn into miscommunication.)
I would like to make one point . Most lawyers are not greedy or parasitic. It may look that way, as the slime, of the profession, get an inordinate amount of media and public attention.
You bring up several points worth replying to.
Court costs or patent office fees are small in relation to the cost of having a professional write up a patent application. Most patent lawyers and/or patent agents have double expertise. Nemely law and an advanced science or engineering degree(s). That combination of qualifications is bound to be uncommon and thus expensive. e.g. Chemical patwent lawyers only do chemical patent law and agency, thus narrowing the field of qualified personnel even more.(for example medical specialists are similarly expensive, such as cardiac surgeons etc.)
Regular, non technically trained, lawyers are not qualified to write patent applications as they do not have the technical background required to do so nor can they qualify to write the patent agent exams. Similary general lawyers will charge much more to process a house sale than the fee costs of filing the deed of sale, etc. Therefor a lawyers bill will be much higher than the court or government fees.
You rightly point out that anyone can "buy" a patent in the U.S. That applies for any patent office in the world.
An unscrupulous patent professional, can narrow the scope of the claims (which are the legal fence for the invention), to such an extent that the coverage is virtually nill. We call them nuts and bolts claims, in the business, and they are not commercially worth anything (they are very easy to get around). But in my decades in the business that behaviouris not very common.
Patent attorneys do not have to manufacture litigation. There plenty of companies ready to steal an invention and copy an idea. I know of very few patent lawyers that have to pursue litgants to get business.
Patent litigation is horrendously expensive and almost no individuals can afford it. It does not pay a patent professional to draft a patent with holes, in it, in order to foster future litigation. They are more likely to be sued for negligence for such a stunt.
A strong patent is necessary in order to protect an invention from infringing manufacturers.
It takes between 3 and 5 years to learn the art of drafting effective patent calims that will stand up to an attack by an infringing company through their lawyer. (just for the exercise try to describe a cup in words, it sounds simple but it is surprisingly difficult.)Laymen write lousy claims that usually do not hold up in court.
Anyone who defends themselves (including lawyers), do not have the perspective to adequately do a good job. Also, lawmen are rarely versed in the law, and can make huge errors.
Laymen pleading against other laymen, in a court of law, would allow the superior public speaker a huge advantage over the chap that does not have those skills, and may communicate poorly. Hence the need for an advocate.
Good lawyers never permit their clients to hold press conferences, no matter how innocent the client, because reporters (and also skilled lawyers) can distort what the client says or quickly get them confused and have them say damaging and often incorrect things that could ruin their case (or defense). The uttered statement may not even be factually correct. Yes a client needs a lawyer to defend him against a D.A. or another lawyer.
The law is written by the legislature not by lawyers. Admittedly some of it is overly complex but most of it is complicated because it reflects the complexity of modern affairs and a long line of jurisprudence. All languages are inherently imprecise and open to interpretation. A long line of past cases clears up some of that ambiguity of standard legal phrases. Those phrases look like superfluous junk, but it may very well be very important.
Most lawmen are not versed in the law to be effective self advocates or advocates for others.
I do agree with you that human greed is the root cause of too much litigation. (it is best seen in Wills law, incidentally).
Some legal jurisdictions have limits to the percentage that a law firm can charge a client. In Ontario, we still do not have contingency payments. People have to pay by the hour. That primitive position, keeps most of the middle class out of the court room. They lose, even when they have a legitimate case that should be compensated. The very poor have some legal aid and the wealthy can afford their day in court. Patently unfair.
Incidentally, a client can complain if they feel that they have been overcharged by their attorney. The procedure is called "taxing of costs" and lawyers fees have been cut down when they found to be excessive.
Judges are under a duty to prevent inflammatory questioning or evidence (e.g. gruesome crime scene pictures) if it would tend to distract the jury so they would not judge the accused on the merits of the case at bar. Similarly, a judge can stop abusive questioning or conduct by anyone in court including lawyers and witnesses.
Also, the client's lawyer is there to protect his/her client, by objecting, if the judge does not do so.
I hope that I have constructively addressed most of your points.
Again I apologise for misreading a phrase that you wrote and put "words in your mouth," that was never my intention.
I have taken up enough of the Guru's bandwith on this subject and will not post anything else on it. Please feel free to e-mail me, should you wish to make/discuss any further points or observations. etc. (as indeed we have done so, today)
I hope the rest of the site's denizens have gotten some useful information from this correspondence.
SLAG.
slag - Thursday, 10/31/02 04:13:37 GMT
---
"The Tony & Slag Dialogue": Well and eloquently stated on both parts, gentlemen. My compliments. Best regards, Paul "3dogs" Wilson
- Paul "3dogs" Wilson - Thursday, 10/31/02 09:02:39 GMT
---
The slag and tony show: At various times and places I've been a metalsmith, a cop, a signpainter, a forensic investigator and a contractor, so I know from personal, up-front, first-hand, genu-wine experience that ALL engineers are over-priced and anal-retentive, ALL lawyers are deceitful, over-priced and anal-retentive, ALL cops are donut-eating, minority-bashing bullies, ALL sign-painters are drunkards and ALL small-businessmen are over-worked, under-paid and being continually screwed-over by the corrupt, money-hungry, power-tripping, neo-fascist politicians. ALL of the preceeding is the Gospel Truth, I swear! (GRIN)

Almost ran out of hyphens here in Paradise, the U.S. Virgin Islands
vicopper - Thursday, 10/31/02 12:00:09 GMT
---
Shows over: But Vic!!! I'm free! And darn cheap at that price!

I know what you mean about sign painters. I think it's the fumes.

Grin!

Slag, OK, on we go to better topics. And I'll try in future to be clearer that I don't generalize. But I wish you would have addressed ALL the points and questions. Big Evil Grin!!

Doctors? They have it easy. They get to bury their mistakes. Must be in cahoots with morticians.
- Tony - Thursday, 10/31/02 13:06:24 GMT
---
Law: Last time I saw a breakdown on the "training" of the folks in our legislature, a degree in law was by far the greatest grouping. So much so that any committee drawing up a law would have several lawyers in it and be voted on by a large number of lawyers.

So the argument that lawyers don't make the laws seems a bit specious...

The fear of liability has impacted my daily life and my pursuit of happiness both on my own account and on the account of other people who limit my actions---eg: can't walk the piles at the scrapyard anymore.

OTOH law is the protector of people as well as corporations---more of a double-edged sword.

OB: moving the screw press today---only 1 company of riggers is allowed in the building and nobody can use powered equipment except them Oops this is back to law again...
- Thomas Powers - Thursday, 10/31/02 14:42:35 GMT
---
Wayne's Hammers: Howdy Wayne! I'll be happy to buy as many Little Giant Hammers in top working condition that you want to sell me for $800 a piece.Send me an email and I'll get a truck out to you right away to pick them up.You can save the advertising.Let me know.
- Barry Denton - Friday, 11/01/02 03:27:23 GMT
---
Hammer: Barry, I wish I had em to sell you. These tools went at auction. It seems that that was all the market was willing to bear. I have seen them go for as much as $2200 at auction but it was a complete new rebuild by LG themselves with not even enough time on it to mark up the paint.

That E-Bay has driven up the cost of equipment beyond reason. Now collector and antique prices dominate the market because E-Bay has become the standard place to check what thngs cost. I mean REALLY $3.50 to $4.00 / lb for anvils, new cast steel anvils sell for about the same price, and you get to chip the edges yourself!
- Wayne Parris - Friday, 11/01/02 16:13:00 GMT
---