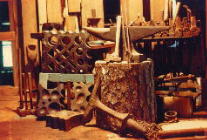 WELCOME to the anvilfire!
Virtual Hammer-In!
This page is open to ALL for the purpose of advancing blacksmithing.
Please read the RULES before posting a message.
NOTE: This IS NOT the Guru page!
---
WHY THREE FORUMS? Well, this is YOUR blacksmithing forum to use for whatever you wish within the rules stated above. It is different than the Slack-Tub Pub because the messages are permanently posted and archived.
This page is NOT a chat - it is a "message board"

Our chat, the (Slack-Tub Pub), is immediate but the record of it is temporary. DO NOT post permanent messages there. We refresh the "log" every 24 hours now and your message will be lost.

The Guru's Den is where I and several others try to answer ALL your blacksmithing and metalworking questions to us.


Please note that this forum uses an e-mail encryption system that prevents spam harvesters from collecting your e-mail address.
J. Dempsey <webmaster> Rev. 7/98, 3/99, 5/2k, 6/2k, Friday, 04/06/01 16:43:25 GMT
---
St Louie: Well I done been to the big city, yessir made er to Stlouie and back!

Shaw Garden is a very lovely place that gave my wife waay to many ideas. Went to the arch but didn't ride up maybe next time. Saw LaCledes landing during a war of the bands, it was crowded. Back home ready for bed.
- Mills - Tuesday, 09/03/02 02:51:59 GMT
---
Steel: Hey i just started out and i asked hwat kind of steel to use for tools and weapons and i was told 1095 carbon steel.... i'm hvaing trouble finding this could someone give me some good advice?
HammerFall - Tuesday, 09/03/02 17:53:13 GMT
---
Steel: I just started smithing.. i was told to use 1095 carbon steel for tools and weapons..... i can't really get a hold of any, can anyone give me some good advice?
HammerFall - Tuesday, 09/03/02 18:00:55 GMT
---
Anvils for Sale: I have 2 anvils for sale. One is a Fisher "Eagle" that weighs about 200 lbs or maybe a little bit more. It has some chipping on one side, but is in great shape otherwise. Comes with a cut-off hardy forged from H-13 tool steel which has been hardend and tempered. The second is a 130 lb Moushole. This anvil has a pretty fair size chip out of one side and quite a few nicks in the face. The face is about 1/4 thick. I have ground out some of the nicks. This is probably a little older anvil, based on its shape. It is shorter stubbier looking than the newer patterns. This anvil would make a good starting anvil. I'll take $300 for the Fisher and $150 for the Mousehole. I would be glad to deliver them at Quad State, or you could pick them up at my shop. I can email pictures, but it may take a day or two to get them.
Patrick
- Patrick Nowak - Tuesday, 09/03/02 18:07:51 GMT
---
Quote of the Day: For PPW..

The shortest and best way to make your fortune is to let people see clearly that it is in their interest to promote yours..

Later folks and have a good one....
Barney - Tuesday, 09/03/02 23:23:12 GMT
---
1095: HammerFall, Water hardening drill rod comes in 3' lengths, scale free. You can get it from MSC, Travers Tool, Enco, and other similar catalogs. It is sometims sold at welding supply places. It usually has 0.95% to 1% carbon (high carbon). You need to learn how to heat-treat it.
- Frank Turley - Wednesday, 09/04/02 00:58:28 GMT
---
1095: You can buy about any size 1095 you want from Admriral Steel. They also have many other steel selections. I find 1084 a bit better for blades, a bit of manganese helps it harden well and a tad less carbon lessens the chance for edge chipping IMO. At times 1095 can tend to shallow harden if you waste any time and lose heat on the way to the quinch tank. With all that said, 1095 is excellent makes a fine blade, and can take some cool temper lines, but it can be a bit trickier than some of the other steels. Just remember, when you reach critical temp. go to the quinch tank immediately, and make sure your quinchant it heated properly to help the transformation. Email me if you need any help.
www.lameyknives.com
Machinehead - Wednesday, 09/04/02 02:38:47 GMT
---
1095 from admiral: They don't sell it in 4' x4' by 18gauge sheets though.
- mattmaus - Thursday, 09/05/02 14:40:48 GMT
---
Tool and Alloy Steel:
Hey guys! Our On-line Metals store sells A-2, D-2, O-1, S-7 and W-1. Also 4130, 4340, copper, brass, aluminium and plastics all cut to length or in small quantities.

We don't make much on it but it DOES support anvilfire!
- guru - Thursday, 09/05/02 15:25:37 GMT
---
S7: guru i didnt see the S7 listed, please email me with stock sizes and price.
www.lameyknives.com
Machinehead - Thursday, 09/05/02 22:16:39 GMT
---
S-7 Tool Steel On-Line Metals: Under Titanium and Tool Steel

Tool Steel Drill Rod (round only)

S-7 1/8 through 1-1/2" dia. (1/16 and 1/4" variable increments).

1" x 36" - 51.17 + S&H (example price)


- guru - Friday, 09/06/02 00:47:29 GMT
---
AUCTION! :
There are a number of items on the Auction page. A very nice hand made hammer by Bill Epps (I've fixed the photo so you can see it), Damascus Videos and a book. More coming soon!

If you registered for the auction and didn't recieve or respond to the registration mail then you are NOT an active bidder. . . Mail me from your registered e-mail address and include your username. I'll activate your account.

Some folks miss the "respond to" step OR if there was a typo in your email address then would not have recieved the registration mail. It can be fixed.
- guru - Friday, 09/06/02 01:01:41 GMT
---
Gary, Indiana: Peter Jennings ABC "In Search of America" caught my attention last night. That poor city...between 1968 and 1987, 20,000 jobs were lost at US Steel. During the same period, 1/3 the population left, and thousands of houses were abandoned.
Frank Turley - Sunday, 09/08/02 14:29:29 GMT
---
check out the auction page
Bill E - Monday, 09/09/02 14:34:21 GMT
---
Journeyman's journeys: I posted this on Guru's page, Jock emailed me and said I should post it here as well...

I am planning an extended "road trip", doing the journeyman thing. (As soon as I have the air fare and visa's and whatever else the USG needs -proof that I am not part Ossewa ben Latenga's organisation!)

I'm thinking of covering the right coast, maybe going as far west as Texas / Arkansas. The idea is to work one to two weeks at a blacksmith, earning enough money to cover busfares etc to get to the next smithy. I need volunteers to take me in and pay me a nominal wage (bed and a meal will be nice!) In return I will work hard, suck up as much knowledge as I can, and empty your supply of coffee.

I am a full time smith, so you need not worry about a rookie coming into your smithy and breaking the tail of your anvil!

In addition to blacksmithing I can cook a decent meal, do fine cabinetmaking, make high quality knives (forged and stockremoval )

If you are interested in a bit of cultural exchange (I'll teach you to curse in Afrikaans!) please email me. Because I have to work out a route that makes some sense, please add the your state and town as well.

I am thinking of staying a total of six months, depending on how many smiths I can get interested, beginning in March / April next year.
My website, needs some updating
Tiaan Burger - Monday, 09/09/02 21:28:36 GMT
---
Journeymans Journey: Sounds like a great adventure Tiaan, but only as far west as tx? How are you going to explain to your sister-in-law that you were on the continent and didn't get to see her?
- JimG - Tuesday, 09/10/02 14:59:01 GMT
---
New Email: Click on link (re posted by -guru)
- Dan Tull - Tuesday, 09/10/02 20:14:07 GMT
---
I'm rebuilding a champion no.1 power hammmer that originally ran off a line shaft. therefore I had to fabricate a motor mount and jackshaft assembly. the hammer is a slack-belt style. I'm currently getting ready to have a 2.5" wide belt made up for the final drive but I'm not sure how much slack to leave in the belt. the snug dimension around the two sheaves is 94 in. how much do I need to add to that?
tim brown - Tuesday, 09/10/02 20:43:02 GMT
---
My Meyer Bros. 50 # originally ran off a line shaft, was fitted out with a motor mount and a motor that now drives it with the two quite tight-- no slack-- fan belts it came with . (Set-up apparently was working this way long before I got it 11 years ago.) Ditto my Royersford drill press runs fine with a tight--no slack-- drive belt.
miles undercut - Wednesday, 09/11/02 04:30:56 GMT
---
Slack Belt:
Miles.. . the belt is the clutch in this case. Must be loose.

Normaly you want 1-1/2 to 2" extra belt length with the idler NOT deflecting the belt so it can hang off the pulley. You are always better off with extra so it can be shortened if necesary. Belting manuals generaly don't give specific lengths because part of maintaining flat belt equipment was having the tools to make the splices yourself. Trial and error (or fitting on the machine) was often part of the process. The bigger the machine the greater the amount of slack.

When "tight" (the clutch fully engaged) if the belt is leather it will be about 1" shorter than the theoretical length (measured around the idler) and only about 1/2" shorter if a hard cotton belt.

Run your tape around the pulleys and engage the clutch idler to deflect the belt (tape) about 2" from straight. This SHOULD be about the right length. You need to alow for belt stretch and tension under full load. So the clutch idler should be able to travel another couple inches from where you figure is "normal".

The width you gave sounds a little wide. Normally the belts have LOTS of room on the sides. 3/8" to 1/2" on each side in the rimmed pullies.

Remember that the motor should turn so that the side of the belt that pulls is NOT the clutch side.

- guru - Wednesday, 09/11/02 05:10:46 GMT
---
Jock-- I defer to the gurissimo, as always, as always, but... that hammer has been running this way since the 1940s. And the Royersford could not be happier. Nor could I.
I know, I know, it's probably playing hell with the babbit. Dunno. It's all sharp to date.

miles undercut - Wednesday, 09/11/02 06:31:55 GMT
---
belt: Tim- keep us posted on the Champion project. Im picking one up in about 2 weeks, luckily it was set up for a motor from the factory in the late 20's. Im looking forward to getting it set up in the shop.

Miles- i believe the only reason you need slack in a Champion is the strap is critical and acting an active part in the control of the hammer. In the Little Giants that isnt the case.
www.lameyknives.com
Machinehead - Wednesday, 09/11/02 13:54:57 GMT
---
Belt slack: I also needed that info! Thanks Guru and Tim! " Seek and ye shall find..."
Tiaan Burger - Wednesday, 09/11/02 20:13:26 GMT
---
Compressor and air hammer: I am scrambling to get a compressor for my new air hammer, and I am looking for imput from people who have an air hammer. Specificly a Bull air hammer, I am getting a 75# hammer, and they reccommend a compressor that develops 20-25 CFM of free air @100 PSI, and Denise @ Bull said that they run the hammers in the shop @150PSI.

So since I am running low on funds:-) I am wondering if I can get away with a smaller compressor. I talked with someone in the Slack-tub who said they were running their big Bull on a 5hp compressor, and I wanted to talk more with him about his experience it.

Or better yet if someone has a big compressor that needs a good home:-) I could take the compressor off you hands:-)

Shane Stegmeier
SJJ Farrier Service
Merelion's Lair Forge
Fionnbharr - Monday, 09/16/02 14:01:31 GMT
---
Compressors: Fionnbharr, The biggest problem people have running air hammers is insufficient air. They also do not realize that most piston/electric air compressors have a 50% (or less) duty cycle. They overheat and rapidly wear out if forced to run constantly. The second biggest problem is manufacturers trying to make their hammers look more economical by down rating the necessary compressor size.

A lot depends on how your hammer is going to be used. If it is going to be used daily as a production machine then a small compressor is NOT suitable. If it is an occasional use machine and you are not going to be forging long lengths of stock or doing heavy forging then you can "get away" with a small air compressor.

On a small cylinder 100# hammer you can "get away" with a 1HP air compressor for a half dozen blows. But then you will need to wait for it to pump back up. Nice toy. . but not a productive machine.

Depending on the class of work, a power hammer will keep an operator busy full time if fed billets constantly. The constant supply of billets usualy requires a gas or oil forge. Full time means NON-STOP. . .

One problem folks have with big compressors is the need for 3PH power. One solution is a pair of matching compressors. Two 5HP compressors cost only a little more than a single 10 HP machine. But they also come with a total resevoir capacity greater than the single compressor so some of the cost difference is offset. And the key thing is that they are available in single phase.

Several years ago I had an article on the power hammer page comparing different air hammers. Installed cost was one of the comparisons. This included compressor and foundation if recommended by the manufacturer. At the time we used a 5HP compressor for all the hammers even though some were trying to claim that a 3HP Kmart compressor would do the job. The exception was the Chambersburg Utility hammer and they recommended a 10HP compressor for a 100# hammer.

Everyone seems to think the new air hammers do not need a heavy foundation. Folks will purchase a 50# Little Giant and then dig a hole for a yard of concrete to set it on but they will buy a new air hammer and set it on the bare floor! . . . The LG has a 15:1 anvil to hammer ratio but most of the "new" air hammers have 9:1 at best. The LG has a heavy cast frame and transmits half the energy (for the same size hammer) as the lighter hammers. Does this make sense?

Small hammers (up to 500#) do not necessarily need a special foundation but it reduces transmited vibration which is a fatique factor to the operator and can possibly do structural damage to a building. A good foundation adds to the efficiency of the hammer as well as reducing transmitted vibration.

There is a big difference between what hobbiests can "get away with" and what a business needs to do to be competitive.
- guru - Monday, 09/16/02 15:45:43 GMT
---
Horseshoe nail rings: Hello, can anyone tell me where I can order simple horseshoe nail rings in bulk? I recently lost my supplier and I'm looking for another one. Any help would be greatly appreciated.
- Jack - Monday, 09/16/02 18:00:21 GMT
---
Horseshoe nail rings: Centaur Forge carries them.
Paw Paw - Monday, 09/16/02 18:09:28 GMT
---
Propane Forge: I have big dreams my friends, and plans for a propane forge/oven.

Let me give you the low down, I've been looking on the net for some ideas on a propane forge, most of the ones out there use a insulating fiber blanket. However there is a problem, the fiber blankets get eaten by borax and other fluxing agents. Thus I search for fire brick or casting material. On the bright side since I'm near a beach I have additional insulating material, once I get the core done I intend to pack it in 4-6 in of sand to reduce thermal shock on the brick. The propane burner itself should work fairly well and the materials are readily available. Since I'm looking at about a 8" by 42" cylinder (for the purpose of heating a 3.5 ft. blade evenly for the purposes of tempering and stress releif). In addition I intend to keep some bricks aside for the purposes of an insert to block off half the forge when doing smaller work (an additional valve for the propane as well, I intend for the burner to branch off into 4 diff openings on the forge, each will have a seperate ball valve at the opening )
I intend to use this for doing knife work and possibly swords, however if anyone thinks this needs to be scaled down feel free to tell me why, I wouldn't have posted if I did't value your input.

I can't see any reason it won't work, but any modifications or suggestions are welcome. Be advised, half of this is an experment to see what I can do.

Marc Banks - Tuesday, 09/17/02 21:47:36 GMT
---
Brick Forges: Mark, we have several brick forges on our plans page. My own "big" forge is brick. The primary difference between blanket and blrick is that refractory bricks are HEAVY and a stack of them is REAL HEAVY. So brick or castable refractory forges tend to stay where you build them. The weight difference is VERY significant. I recently built two small melting furnaces. One is blanket lined and can be held supported easiy by one out streatched arm. The other, while only a little larger is made partialy with castable refractory and it takes two people to move it. My "big" forge weighs areound 800 pounds and takes a crane to move.

The high density refractory is also less efficeint an insulator. So brick forges take longer to heat up. However, once they have soaked up a lot of heat they give it back.

If you use bricks in the normal fashion making a 4 to 4-/12" thick wall then you only need a small amount of exterior insulation. I like using "heat shields", a layer of sheet metal with an air space between the refractory and the metal. Circulating air will cool the shield. Two shields and inch apart stop almost all radiant heat.

If you use the bricks the thin direction then you will need significant exterior insulation in order to be able to work near the forge. In this case sand is a bad idea as it will push the brick inward. Gas forges also vibrate from the burner resonance and the sand will flow between cracks as well as pushing things around. Common sand will melt in a forge making a sticky glassy surface. For insulation you can use insulating bricks (they are light like styrofoam), refractory blanket (1" over 4.5" brick, 2" over 2.5"), or heat shields. Vermiculite is also used but is diffcult to contain (like foam peanuts).

I recently experimented with adding large quantities of vermiculite to castable refractory. It worked OK. . BUT it made the refractory VERY weak, it took a long time to cure and had no strength at all until it was fired. My original plan was to use 100% castable for the forge lining and then 50% cast as a shell around THAT. It will work but the outer insulating layer will be very weak and need some kind of support.

Refractory bricks are available from construction suppliers. High temperature and insulating bricks, and castable refractories are usualy only available from foundry suppliers or ceramics suppliers.

When multiple burners are used and are going to be used in various combinations they cannot be fed from a common source. It is best to build individual burners with seperate fuel valves.
- guru - Tuesday, 09/17/02 22:45:49 GMT
---
Sign: No matter
How busy I am
I am never
Too busy to stop
And talk about
How busy I am

This was in my buddies shop in Sharon Ontario Canada.
" Les Stanleys Forge"

Barney.. I asked if I could share it and he said "sure go for it"..
Barney - Wednesday, 09/18/02 01:03:45 GMT
---
Air Hammers and Compressors:-): Thanks Guru. I am hoping to really get to use the hammer for production (and probably abuse it a little with some bigger stock than it is rated for, I have some ideas using 2" square stock:-) So an insufficient air supply would really annoy me:-) The reason I went ahead and ordered the bull because I wanted the control and versitility that they offer, and it would be foolish of me to piddle away money on a wimpy air compressor, after dropping as much on the hammer itself as I did, if after all that I could not work faster!!!

I will look long and hard at how I am going to set up the shop, and if I can pour a reinforced foundation for the hammer I certainly will... I had hoped to set the hammer inside the main part of the shop , but it would be a lot easier to do the foundation in the porch that I added on the shop this spring. Maybe I can keep the dirty work on the porch, and leave the compressor and the cleaner work inside the shop. (If I can get the shop sealed up well enough, then I will be able to heat it, and dehumidify it, and bring home the metal lathe my father inlaw has said I can use if I get the shop sealed up properly, not to mention it will be easier on the air compressor:-)

Unless I can find a nice used Quincy, or other good industrial compressor, then I will likely go with a Quincy Air Master compressor with a 7.5 hp Baldor motor which will generate 22.4 CFM @ 175PSI Not as sexy as the monster 20hp 3pph Quincy I wanted to get at Morris Rezman in Chicago, but I can afford the 7.5hp. I couldn't afford both the 20hp, and the static phase converter, and the plumbing to get the air to the hammer:-)

I would be very interested in that old article on power hammer comparisons, sounds very interesting, even if it is now a little out of date:-)

Thanks, Shane
Merelion's Lair Forge
- Fionnbharr - Wednesday, 09/18/02 03:45:45 GMT
---
Propane forge: Give some thought to making several of forges if you are doing sword work, perhaps one for welding, one for forging and one for heat treating as the requirements for each differ and trying to make *one* forge that does it all will not result in the *best* forge for each. IF you are not planning to go pro with this set-up having a large thermal mass will really cut into your start-up time as it will take a while to come up to temp, the fast re-heat does not make as much a difference as you will probably need a break in hammering anyway (if you have a trip hammer this of course changes) You can spend a lot of money on gas paying to heat up more than you can forge at a time and it's not real good for the steel as well.

Thomas
- Thomas Powers - Wednesday, 09/18/02 14:27:22 GMT
---
Sad news:
Charlie Sutton, Canadian blacksmith, and a moving force behind the CanIron celebrations passed away September 16th, after a bout with cancer. Charlie wrote UNDER THE SPREADING CHESTNUT TREE, a basic blacksmithing book that teaches a lot in a little bit of space. Charlie will be missed.
Paw Paw - Wednesday, 09/18/02 19:25:17 GMT
---
New Grand daughter:
Grand child #24 arrived this morning at 0530 hrs.

Raeanna Leigh Fitzgerald.
7lb 12 oz
Paw Paw - Thursday, 09/19/02 16:12:14 GMT
---
Congrats Paw Paw: hats off to ya Paw Paw!
www.lameyknives.com
- Machinehead - Thursday, 09/19/02 16:31:00 GMT
---
Not me, ain't none of my doing? (grin)
Paw Paw - Thursday, 09/19/02 17:00:20 GMT
---
Static Phase converter: Fionnbharr. IIRC you only get around 2/3 to 3/4 the rated power of a three phase motor with a static phase converter. . . So you are unlikely to get full pressure & volume from your compressor. I'm sure that if I'm wrong the Guru or someone will correct me.
John Lowther - Thursday, 09/19/02 20:02:35 GMT
---
Phase Converters: Yes, you get less motor power BUT an air compressor would still produce the same pressure and volume IF the motor ran and didn't burn up. Although induction motors are not sychronous they must run within about -5% of sychronous speed.

Generally phase converters are not recommended for high torque air compressor motors. Even with compression release air compressors have high starting loads due to the mechanical inertia of the flywheel, crank and pistons. To run a large compressor on a phase converter (static OR dynamic) you would need to replace the motor on the compressor with a larger one.


- guru - Thursday, 09/19/02 21:58:40 GMT
---
Tim Shackleford,

Email reply to you keeps bouncing.
Paw Paw - Thursday, 09/19/02 23:41:04 GMT
---
Propane Forge: Thanks for the input, and Grats to Paw Paw!
Marc - Friday, 09/20/02 11:41:30 GMT
---
BGOP SPRING FLING: Due too a conflict with Easter , BLACKSMITH GUILD OF THE POTOMAC'S SPRING FLING 2003 will be changed to the FOURTH weekend in April,03. APRIL 26-27,2003.
- BGOP - Saturday, 09/21/02 17:20:58 GMT
---
Spit Jack: Looking to purchase a working spit jack. Anyone know of a source to purchase such an item?
- Brad Harris - Sunday, 09/22/02 16:56:24 GMT
---
Advice Re Gift Shows: Hello everyone.
I just posted a question on the Guru's page and Paw Paw has replied with great advice. I am now submitting my question on this forum to hopefully get a response from as many as possible. My question is : What advise do you have about gift shows? I was selected to enter a larger juried gift show and I want to make a good first impression. It is my first show. Do you have advise re booth display, colors, hot items, what makes a good impression, etc... I would appreciate all of your input from your experiences.

Thank you kindly!
Louis - Sunday, 09/22/02 17:07:18 GMT
---
Anvils: If any of you have a 110-175 pound anvil you want to get rid of, just let me know. My lil' 44 pounder just isn't cutting it. Thanks
007
Bond-JamesBond - Sunday, 09/22/02 22:03:45 GMT
---
Louis:
More info on the guru's page.
Paw Paw - Sunday, 09/22/02 22:20:47 GMT
---
Booth Design--Louis: Louis-

If I knew exactly the show you wre going to be in,and the current situation in that area, I could design you a booth with no problem. I spent several years designing and building trade-show booths for all sorts of customers from one-man operations to outfits like Motorola. The situation at the time dictates what the design should be, but some general rules apply.

Your booth is the first impressionof you that your customers will get. You only get one chance to make a good first impression. Make sure the view of your booth from the average distance tells people what you want. This means that first, you need a sign. If people will be viewing it from a distance, keep it simple, one or two words. "Blacksmith" or "Ironwork" or some such. If it is viewed from closer in, you can use up to six words. More than six and you've lost them, they won't read it at all. Check out billboards to see what I'm talking about.

Your booth should be dramatic enough to command attention, but not garish or cheap looking. Strobe lights are fine for topless shows, but inappropriate for a blacksmith. Put larger pieces up front, where they can act to chum in people. Keep the smaller stuff inside the booth area on table displays or on the back wall. Since your booth is 10' deep, I would suggest that you build a back wall that can display things as well as provide an area behind it where you keep extra stock, your lunch, etc. Hollowcore doors covered with fabric make a cheap and quick back wall that can also be re-arranged into display walls if you're in a shallower booth. You're a smith, you can figure out how to make some easy clips to hold it all together and upright.

If the show is indoors, you will want some type of lighting. Small halogen spots that clip on work well, but don't use any bigger than 50 watts. If you need electricity, let the show sponsors know in advance. Some big venues have weird union regs that prohibit you from assembling anything that requires tools or plugging in an extension cord. Find out in advance.

Use colors that show off your work. Stainless or polished work looks best on black, maroon, navy or dark green. Black stuff looks best on medium gray, natural canvas or earth colors. No prints or patterns, ever! Cover your tables with drapes that hang to the floor. Storage underneath that doesn't look cluttered that way.

Have your portfolio with you! Have business cards. Dress for the venue. If you have the equipment, 8x10 pictures of really special pieces make good decoration, but only use a few.

If you're not sure of the clientele at a particular show, try to have things in a range of prices. We're getting close to season for Christmas shopping, so have some small items under $30.00 that make good gifts. Have bags for your customers to carry things off in. If you don't have a way to take credit cards, try to get together with another vendor who can run them for you. People always spend more with plastic. Don't forget to take change.

Finally, be prepared to listen to a lot of "My Grandfather..." stories. I know everybody has, or had, a grandfather, but I had no idea that they were ALL blacksmiths until I did my first show! :-)

If you need more, email me. I hate to take up all of Jock's bandwith with my endless prattling.


vicopper - Sunday, 09/22/02 23:17:31 GMT
---
Thank You VICOPPER: I cannot thank you enough for your time and advice. Better then gold.
Louis - Monday, 09/23/02 05:22:52 GMT
---
Booths: Louis, Just one more little word. Make sure you spend several weeks cranking out what you're going to sell. Don't procrastinate. It really looks bad to have a couple of marshmallow forks and a keyring or two.
Frank Turley - Tuesday, 09/24/02 03:47:19 GMT
---
"Booths": vicopper... very well said. Took some notes. I don't much into stuff, but the info is nice to store away..I am more to the outside demo world..

Barney
Barney - Tuesday, 09/24/02 23:42:12 GMT
---
Grandpas & Grandmas: I've said in the past that if you took all the people who said their grandpa was a blacksmith and all the people who said their grandma was a Cherokee princess, put 'em in a space bubble and sent 'em out, there would be very few people left in North America.
Frank Turley - Wednesday, 09/25/02 22:38:13 GMT
---
October 12-13, 2002, Battle of Hastings Medieval Faire: Located this year at Marietta Mansion, 11 AM to 4 PM. Admission for the public is $5 for Adults, $2 for Students age 4 to 18.

Hastings XXXIV this year is scheduled for October 12 and 13th at Marrietta Mansion in Prince Georges County, outside the D.C. Beltway around the 3:00 mark. The Longship Company will have the faering boat there, and I will be working at my early medieval forge. The entire event will be more of a medieval time line, with the 11th Century only one of the periods featured. More information can be gleaned at:
http://www.larp.com/midgard/faire.html , or at www.markland.org .

If you can make it, it's a lot of fun. If I'm not beating iron or explaining sailing with a square sail, you'll find me in the shield wall at the top of the hill.

Ut!


Go viking!
Bruce Blackistone (Atli) - Thursday, 09/26/02 03:00:08 GMT
---
Off to Quad-State: Bye see y'uh there or I'll be back on Monday (fair warning...)
- Thomas Powers - Thursday, 09/26/02 20:56:30 GMT
---
automatic forging hammers for the making or demaskus steel knives or blacksmithing information on making knives,: Me and a friend or looking at making knives, we or just in the learning stage any information would be nice. Plus we or looking for a some forging hammers and equipment.
Marcus Kortan - Saturday, 09/28/02 13:29:43 GMT
---
Damascus: is named after the middle Eastern city of the same name. The modern form is more properly called laminated or patern welded steel.

Hydraulic presses and rolling mills are the prefered equipment for making laminated steels. They disturb the developing pattern less than hammers. See our book review page for rolling mill plans.

Some of the best references on the subject of laminated steel are by Jim Hrisoulas. See our review pages.

Several of our advertisers sell power hammers and one sells a small rolling mill.
- guru - Sunday, 09/29/02 07:05:06 GMT
---
Hay budden anvil: Want to sell a hay budden anvil. Good shape and has the number 248 on it. Possibly the weight? Any idea of worth??
- Kevin Lindberg - Monday, 09/30/02 01:18:10 GMT
---
anvil: Naw kevin that was its original retail price, $2.48 back in '02. No them buds are prime anvils why they retain their original retail right up to this very day. SCUSE ME ya'll wanta hold it down? I'm eddicatin over hyar. They got no couth, Kevin jist ignore'em. No I was sayin whilst most would not give you much over original retail except for a pristine anvil I will, to hep you out, more than double your price to $5 American. And I won't ask you fetch it neither I'll come get it you just tell me where.

*the author is not responsible for the use or misuse of his postings on the Internet.

Seriously, where are you? Shipping will restrict the value somewhat but there are probably enough within 100 miles that it will be a moot point. I'll let the experts chime in on how to assess your anvil. If you can post a couple of pictures it might help.
Mills - Monday, 09/30/02 16:46:09 GMT
---
Hay Buden:
Kevin,

That 248 is the weight of the anvil. Had Budden is one of the better anvils made in America. Send me some pictures via e-mail, and I'll help you arrive at a fair market value. No, I'm not interested in buying it, I've got too many anvils now.

Mills needs an enema real bad! (big grin)
Paw Paw - Monday, 09/30/02 17:27:32 GMT
---
Hay Buden: I may be intersted if the anvil is good shape. Please e-m
ail me sone pitures and I will see if intersted Thanks jojo
My e-mail is jorotenberry@yahoo.com
jojo - Monday, 09/30/02 17:41:13 GMT
---
Back from Q-S: Well I'm back from Quad-State and while the weather leading up to it was pretty miserable *during* Quad-State it was sunny and mild. (This was a problem as I've got a sun burned tongue from it hanging out while I was drooling on stuff I couldn't afford---though I did get a couple more hammer's from the Lynch collection and some other stuff I was needing but hadn't realized.

Our flaming anvil went over real well---we took some copper tubing and formed it around one of my anvils then silver soldered both ends to a pipe fitting and drilled a mort of small holes in it (smaller ones near the fitting and larger ones away from it to try to balance out the flame length).

It provided a glorious light!

Thomas
- Thomas Powers - Monday, 09/30/02 18:08:50 GMT
---
Hammer-In at Frontier Culture Museum Staunton, VA:
Saturday October 19, 2002 - 9am 4pm

Lee Sauder and Skip Williams will be there making bloomery iron. Jim Slining will be there demonstrating blacksmithing. Forging contest (make a set of tongs to hold 3/8" flat in advance). $100 first prize, $50 second. Iron in the hat and the usual living history demonstrations.

I'm going to try to make it! Good excuse to make a pair of tongs. . . :)

- guru - Monday, 09/30/02 18:21:38 GMT
---
Whatever it takes to get it home. I have not been happy since Bills Hammerin. I want a heavy anvil, bad. Been daydreamin of getting a Pink Peddinghaus. That Harbor Fright Roosky is getting a work out. I am starting to feel the diff between that and my HB. Been using Jocks anvil stand design as well. Have some heavy rubber used for horse trailers that I am going to see if will stop it from walking on Concrete, in the dirt no problem.

I do have some GREAT coal now. Poco from WV sittin at a friends place. Hog Heaven. Got a BIIIG Box of it. :) Chuckle, a really big box.
Mills - Monday, 09/30/02 19:22:50 GMT
---
Pocohontas Coal:
Mills, what did I tell you about Poco coal?
Paw Paw - Monday, 09/30/02 20:07:11 GMT
---
Poco: yessir I was burnin up 7/8 sucker rod cause I wasn't ready for it to get that hot that quick. And for the smaller stuff a little blast every now and then to bring it back up. 5/16 rd would almost ignite with constant blast I have been using. Forged for 4 hrs got a handful of clinker, a bunch of coke, this stuff swells!, and total garbage that I dumped at the end could fit in my hat. It almost tempts me to go east of the Missisippi. ... where Coal is good quality, anvils are plentiful and cheap and you don't need hammers or sights,,,duck and ==di=di=mao==>>>>:)>>

I am still hoping to come across some good lower cost charcoal to use in town. I enjoyed the pleasing aroma as did my neighbors. Sparks are a major draw back though. It is better to put up with smell than the real danger of fire from a forge. To that end if I find a good source of charcoal I will design my forge with spark arrestor somehow. A sidedraft hood with screen on the top even for a portable seems the way to go to put the sparks where you want them.

Mills - Monday, 09/30/02 21:27:05 GMT
---
"New Sign": Rate Schedule..
Answers -- $1.00
Answers which require thought -- $2.00
Correct Answers --- $ 4.00
Dumb answers are still free..
Barney - Tuesday, 10/01/02 00:59:30 GMT
---
Quad State: I also got to attend the SOFA Quad State meet this weekend & had a good time, but only got to spend Friday & Most of Saturday there. A job well done by one & all. For once, I ran out of room before I ran out of money....
Mike S - Tuesday, 10/01/02 03:29:29 GMT
---
Hay Budden: There would be alot of folks interested in the Hay Budden, thats a great size not too big, not too small etc. Shop it around and figure what you would be happy with for it.
www.lameyknives.com
RMLamey - Tuesday, 10/01/02 15:36:27 GMT
---
---