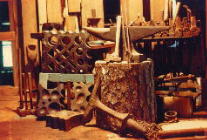 WELCOME to the anvilfire!
Virtual Hammer-In!
This page is open to ALL for the purpose of advancing blacksmithing.

June 2004 Archive Uncomment this and delete block below when archiving.
---
WHY THREE FORUMS? Well, this is YOUR blacksmithing forum to use for whatever you wish within the rules stated above. It is different than the Slack-Tub Pub because the messages are permanently posted and archived.
This page is NOT a chat - it is a "message board"

Our chat, the (Slack-Tub Pub), is immediate but the record of it is temporary. DO NOT post permanent messages there. We refresh the "log" every 24 hours now and your message will be lost.

The Guru's Den is where I and several others try to answer ALL your blacksmithing and metalworking questions to us.


Please note that this forum uses an e-mail encryption system that prevents spam harvesters from collecting your e-mail address.


J. Dempsey <webmaster> Rev. 7/98, 3/99, 5/2k, 6/2k, Friday, 04/06/01 16:43:25 GMT
---
Thomas P-- Could you please post the name of the outfit moving your stuff? Have four tons of smiting gear to get from Santa Fe to some place with water.
Smartleigh Smitten - Monday, 05/31/04 11:03:44 EDT
---
anvil history?: I'm trying to find the aprox. age of my anvil. It is a (Vulcan Arm & Hammer R.B US PAT 01F)these are one one side and on another side is what looks like +0 or 10
- aaron - Monday, 05/31/04 13:27:37 EDT
---
Aaron,:

Manufactured by the Illinois Iron & Bolt company sometime between 1875 and 1969. Send me a set of pictures of the anvil and I'll try to narrow that down for you a bit.
Paw Paw - Monday, 05/31/04 21:29:58 EDT
---
Melissa, I have a car for sale, can you tell me how much it's worth? With *no* details as to age, condition, size, maker, configuration all I can tell you is I personally have seen coal forges sell from $5 to $1200.

Smart, How soon? You might get a deal if they could pick up your stuff after dropping off my stuff in Socorro NM. I hope to move it around mid june.

I am woking with "Industrial Machinery Asset Service" in Columbus OH. Send me e-mail if you have trouble locating them---they might give me a cut in rate if they don't have to deadhead home!

Thomas
Thomas P - Tuesday, 06/01/04 00:29:21 EDT
---
#200 Bradley?: Anybody have any weight specs for a 200lb Bradley hammer?
I recently located a real sweety that appears to only need cleaning and a plug. I would like to hear from owners of similar Bradley's.
Glen G. - Tuesday, 06/01/04 01:23:03 EDT
---
Thomas P-- Many thanks for the swift response! I'll keep the company name on file. But mid-June would be too soon, and I think I want to head northwest, not east, anyway. Maybe they have associates in the biz locally.
Smartleigh Smitten - Tuesday, 06/01/04 01:43:52 EDT
---
Jaded, jaundiced. . : VI, those were the words I was looking for.

When I graduated from high school I was a pretty darn good artist. I had wasted most of my school years drawing anything and everything but mostly girls. . . I also painted, did sculpture AND was good at the craft of the same. Toward the end of school I started reading the biographies of all the modern artists as well as keeping up with the current art world. It was the height of POP-art and Andy Whorhol was king. King of the BS artists. . . He had been proceeded by the likes of Jackson Pollock who had bamboozled the art world into believing that dribbling paint from on high onto huge canvases was art.

I once was visiting an art museum and there was an art instuctor lecturing on the symbolism of a Jackson Pollok. . Here was a BS artist lecturing on a BS artist creating another generation of BS artists. . . I almost rolled over laughing and would have if I had not been with small children.

What Jackson Pollok REdiscovered is that random splotches of color can be pleasing to the eye. There is all kinds of random art in nature as well as manufactured items such as woven patterns decorative prints. A drop of oil on water creates beautiful colors and patterns, but it is NOT fine art. What Jackson Pollok and Andy Whorhol did was use phycobable to make people believe there was some great mysterious depth to their craft and that if you didn't understand it you were somehow lacking in intelegence. IT was the Emperors New Clothes. There was something wrong with you if you didn't see what wasn't there.

Anyway, to sell ART is a great deal different than selling craft. Art is very difficult to price. Often one piece will be the only great work by an artist in their lifetime. What is that worth? Meanwhile the craftsperson just makes what they make and hope to make a fair profit and decent living.

AND there is a whole huge argument about the difference between the two. Indeed many craftsfolk ARE artists and many artists are fine craftsfolk but there are also both who are neither. My distain is for the artist that does not understand the craft of their work an turns out a shiddy product that will not last. Modern art is full of these. . . . So what is a great work worth if it is temproary? Not much.

So I quit fine art for the above and a variety of other reasons. I still draw and paint ocassionaly. But my skills are not what they once were. And I produce art mostly to please myself or for anvilfire. No BS.


- guru - Tuesday, 06/01/04 15:56:23 EDT
---
Bradly Hammer Weight: A 200# Bradley what? They made numerous styles of hammers.

200 Upright Strap (metal helve) = 6,800#
200 Upright Helve (wood helve) = 7,800#
200 Cushioned Helve (unguided helve) = 10,200#
200 Compact (vertical guided toggle) = 5,700#

I probably need to put together a table with all the specs. . .
- guru - Tuesday, 06/01/04 16:14:27 EDT
---
Glen G Bradley hammer: Which one are you looking at getting, a friend has some info (parts list pictures). For the Bradley upright helve hammer weight 7800#s; for the 200# upright strap hammer weight 6800#s 7 1/2 hp required on both, rubber cushom helve 200# weight 10200#s (minimal info on this one). I could most likely get copies if you needed, send an email with anvilfire/bradley hammer in the subject line.
Daryl - Tuesday, 06/01/04 16:49:34 EDT
---
I was on the phone too long, guess I should check before I post.
Daryl - Tuesday, 06/01/04 16:54:25 EDT
---
Bradley: Glenn-
When you said the hammer needed a plug what did you mean? All the Bradelys are mechanical and the term plug seems like it would apply to air or steam hammers.

Patrick
- Patrick Nowak - Wednesday, 06/02/04 18:44:10 EDT
---
Charcoal Briquets: Been experimenting with the store bought stuff some number 10 cans with ends removed & wide slots cut in the sides to stick metal into and help control the draft and deepen the fire bed. Have been able to bend some light metal and do a bit of brazeing. Burned the end off of a slender metal hook I was forming to hold papers. Consistancy and control seem to be my major problems. Perhaps time and working with the fire and metal will allow me to do more with this fuel. For now I am making do.
JD - Thursday, 06/03/04 06:11:40 EDT
---
The Mantra of the Newbie: God, grant me patience, and do it NOW !!!!!
3dogs - Thursday, 06/03/04 16:04:25 EDT
---
The Blacksmith's Mantra: "It's only pain"

Thomas
Thomas P - Thursday, 06/03/04 16:33:48 EDT
---
Pain: Pain is a relative thing, and not a relative of mine. Mortimer Snerd.
Ritch - Friday, 06/04/04 17:23:16 EDT
---
TRIP HAMMER FOR SALE: I've got a 25 lb., belt driven trip hammer for sale. It is approximately 100 years old and in mint, operational condition.
I've also have a belt driven cut off saw. Equal in age and condition.
As I am unable to post a picture here, email me and I can send you pictures back. I am located in NE Washington state.
I'm asking $2500.00 for the hammer and $900.00 for the saw. Let me know if you are interested by email at kevinkliewer@aol.com

Kevin Kliewer - Sunday, 06/06/04 17:22:02 EDT
---
Champion Triphammer: I have recently acquired a Champion Blower & Forge Co. Trip hammer and was wondering if anyone has any information on, or experience with such a hammer. The head seams to be comparable in size to a 25 lb. Little Giant. The dies are turned in-line with the bow spring so that you stand in front of the hammer when using it. The left side of the frame is marked "CHAMPION BLOWER & FORGE CO. LANCASTER, PA. U.S.A. NO 0 PATD JULY 1 02" The right side is the same except it is labeled "NO 1." This seems unusual unless perhaps Champion used a universal frame for two sizes of hammers. Any information on this hammer's history, age, etc. will be appreciated.

Thanks,
Jason A. Lonon

- Jason A. Lonon - Monday, 06/07/04 07:02:38 EDT
---
Champion Hammer: Jason, Sorry I missed your question on the guru page.

The large number cast on the hammer is the right number. Sounds like they accidentaly used the wrong tag on the casting for the patent number. They made three sizes 0, 1 and 2.

It is impossible to date the hammer except that the company went out of business in the late 1950's. But the hey-day of these machines was the 1930's.

The Champion is a very good machine. The belt clutch is much more controlable and reliable than the Little Giant cone clutch.

Champion was one of the big three of blacksmith suppliers the others being Buffalo Forge and Canady-Otto. Whe carry catalogs on CD for all these folks. See our book review page for details.
- guru - Monday, 06/07/04 10:57:56 EDT
---
Spent the weekend putting up the ceiling for my wife's spinning studio---by myself. I did find a panel jack, else it would not have been done. The load of insulation I bought off a fellow down the road ndid the ceiling without a single piece of fiberglass fluff leftover and at about 1/3 the cost of the thinner stuff I was going to buy! Now it's mostly R30 with a few R19 pieces that snuck in.

Even with the panel jack my arms feel like they've been holding stuff up over my head for the last couple of days and I really like working in 90 deg heat in the mask, long sleeve shirt and long pants.

Oh well it'll pay off, has already since my wife saw the quote for my smithing stuff move...

Now I get to tape, mud and paint it! My stuff will probably sit out with a tarp over it until *my* shop gets built---of course with the hyperthroid rabid Weimerdoberrots guarding it...

Thomas

Thomas
- Thomas P - Monday, 06/07/04 13:17:39 EDT
---
Thomas:
I never really minded putting up the dry wall, but I would NOT do the finishing. I hired someone else for that.
Paw Paw - Monday, 06/07/04 13:19:50 EDT
---
Treadle Hammers: I haven't been on this site for a while.

Before he got slammed-dunked, Ed Long did ask a question. (See below.) He got a reply and a half. Since this is my favorite subject, I'll throw in my two cents:

Treadle hammers CAN hit hard. Some treadle hammers don't hit as hard as they might because their stroke isn't very long. Most treadle hammers don't hit as hard as they might because you have to fight the springs.

Some treadle hammers make you jump up and down to operate them, because the treadle is a direct linkage to the arm, and adjusting it is difficult.

Check out the Grasshopper, as it has none of those defects. Drawing out is pretty easy on the Grasshopper. No, it won't replace a power hammer, but it sure will replace your arm!

If you weld, the Grasshopper is not excessively difficult to build. Check the link to the info from Cameron Stoker for info on that. (If you DON'T weld, hang fire. I'm making good progress on a no-welding-required treadle hammer with features that ain't been seen before...)

I don't know where you're from. If you're anywhere near NJ, I'll invite you by Marshall's shop to try out the prototype Grasshopper.

================================

Just wondering if anyone can tell me how effective a treadle hammer is? I've been a traditionalist all along and what I beat out I BEAT out. Only problem is, lately I seem to be the one taking the beating. I don't really want to lay out the big bucks for an air hammer until I know for certain if one of my boys will want to keep the shop running. But it sure would be nice to have something to give the old right arm a rest from time to time.
- Ed Long - Thursday, 05/06/04 23:40:59 EDT

================================

Treadle hammers and Cable: Treadle hammers are great for use with tooling, not so hot at drawing out. That said, I made some wide-radius drawing dies for mine that do help quite a bit. I'd say it's about five times easier than doing it by hand, whereas with an air hammer it's about one hundred times easier than doing it by hand. Unless you can get a treadle hammer cheap (I did), the extra expense of a power hammer may be worth it.
Alan-L - Friday, 05/07/04 10:06:49 EDT

================================

Ellen -
I considered a treadle hammer for some time. I worked with one a couple of times at JCCampbell Folk School. I found that holding a piece of working temperature steel in one hand, a tool in the other hand while standing on one foot and pounding up and down with the other foot was a little more complicated than my balance is up to anymore. I kept my eye open for a good price on a power hammer and found one.
Paw Paw - Sunday, 05/16/04 23:16:03 EDT


Treadle Hammers
- Bruce - Monday, 06/07/04 14:38:03 EDT
---
Folks,

I had a problem with my email system this evening and in the process of solving the problem, several messages got deleted. If you have sent me a message in the last couple of days and haven't received a reply, would you please re-send the message?
Paw Paw - Tuesday, 06/08/04 01:26:44 EDT
---
Help: I need to get ahold of Dimag (Paul Dimmagio). I've managed to lose his e-mail in the last couple of years. Does anybody know how I can reach him?
torin - Tuesday, 06/08/04 12:37:45 EDT
---
Help: Torin email me at my home addy and I will send on Pauls email as I have it at home.
Ralph - Tuesday, 06/08/04 14:35:43 EDT
---
Looking for Old Wrought Stock: I need some old wrought iron-preferably larger dimension-3/4 inch or more-square or round or whatever shape you might have. Call 415-850-4304.
Jefferson Mack - Wednesday, 06/09/04 02:14:24 EDT
---
Old Wrought Stock: Jefferson Mack: Someone recently posted that there was wrought iron stock (~1" square?) available in western PA. I read the junkyard (keenjunk.com) and theforge (you can subscribe at the ABANA site, I think), so it was probably through one of those.
- Bruce - Wednesday, 06/09/04 08:56:39 EDT
---
J-M, my rigger may have some 1" WI plate in large sheets, should I ask about it? (in OH though it could get shipped to NM pretty easily with my shop load)

Thomas
Thomas P - Wednesday, 06/09/04 10:52:43 EDT
---
Thomas:

You might want to clarify your use of the term rigger. (grin)

It's a parachute rigger who packs the parachutes for use. PTree can explain it to you.
Paw Paw - Wednesday, 06/09/04 12:36:38 EDT
---
Don't get your shrouds in a twist, I'm referring to the fellow who will load the heavy parts of my shop, triphammer, flypress, etc and make sure they will travel nicely. It's the common term for that profession too, probably more of them that P packers...course there were a few old cartoons with *anv8ls* being packed in the parachute bag instead of the chute...what's the terminal velocity of a 165# peter wright...

Thomas
Thomas P - Wednesday, 06/09/04 14:15:30 EDT
---
Thomas:

The same as for an enclosed mass of 165# of bull feathers! (grin)
Paw Paw - Wednesday, 06/09/04 15:03:25 EDT
---
Fellow down the road raises longhorns; I'm sure he would be happy for you to stop by and pluck as many bull feathers as you wanted---shoot he might even sell tickets!

I'd guess that outside of a vacuum that how tightly they were enclosed would make a difference to the cross sectional area.

I gotta go make a difference to my cross sectional area it's birthday cake time...

Thomas
Thomas P - Wednesday, 06/09/04 15:57:03 EDT
---
Thomas: The magnitude of terminal velocity depends on the weight of the falling body. For a heavy object, the terminal velocity is generally greater than a light object. This is because air resistance is proportional to the falling body's velocity squared. For an object to experience terminal velocity, air resistance must balance weight. An example that shows this phenomenon was the classic illustration of a rock and a feather being dropped simultaneously. In a vacuum with zero air resistance, these two objects will experience the same acceleration. But on the earth this is not true. Air resistance will equal weight more quickly for the feather than it would for the rock. Thus the rock would accelerate longer and experience a terminal velocity greater than the feather.
Paw Paw - Wednesday, 06/09/04 15:59:22 EDT
---
Thomas:

Happy Birthday, you old methane expulsion!
Paw Paw - Wednesday, 06/09/04 16:00:37 EDT
---
Terminal Velocity: Um, Paw Paw, doesn't area presented to the relative wind have something to do with it? Otherwise your parachute wouldn't do much good. . .

The anti-gunners would have people believe that bullets shot into the air return to earth at muzzle velocity, however the terminal velocity of a bullet is a small fraction of that at which it emerged from the muzzle. A good friend of mine while young and foolish conducted an experiment wherein he fired a 30-06 held in a vise with the bore carefully adjusted to vertical. While he did take the precaution of wearing an old style army helmet, he did manage to get himself bruised a couple of times, but nothing what even penetrated his shirt, nevermind skin. . .

Jester - Wednesday, 06/09/04 17:12:08 EDT
---
From one who has fallen at upwards of 250 miles per hour, and as slow as a steady 80 mph, I can testify that in air, the frontal area and weight are both a factor. In my birthday suit(with a chute, VBG) in a bullet shape, I could do over 250 straight down. In a wedge shape, with arched back to develope lift I could get 1 foot forward for each foot down, at about 250 mph along the 45 degree path.This is called a MAX-TRACK. I did this in shows for the ARMY about a hundred times. Did the diamond track. Two guys with smoke grenades track in opposite directions from 12,500' and turn back at half way. Then cross at about 500mph, leaving a 2 mile tall and 2 mile wide smoke trail. Very exhilarating! In a very big, inflatable jump suit, with a dead spider shape, I fell at something like 80mph or so.

As far being a rigger, yes I suppose I can be called a rigger, as I have the FAA license for parachutes, and also have participated in enough heavy machine moves to probably qualify for the other kind of rigger.
ptree - Wednesday, 06/09/04 20:21:18 EDT
---
By the way,
as one who has been hit by a stray bullet, anyone who shoots up in the air, in any manner that will not produce a solid hit in a backstop, is a canadate for MY anger. If you think you might hear Pawpaw's strop, wait till you hear my preprations for correction of idiotcy! That stray round dislocated my shoulder from swinging my arm around, swole up my hand to twice size,took a chunk of bone from my left thumb, left my left wrist a bit weak and could have easly killed me.
Gun control is hitting what you aim at, and having it stop there!
ptree - Wednesday, 06/09/04 20:27:04 EDT
---
Ahh not *my* birthday; but that has never stopped me from eating cake when invited---gotta keep my cross sectional area up! And after 5 months of eating my own cooking 19 times a week *any* free food is a nice change.

Gotta go work on my wife's studio; unfortunately the move of our household goods seems to have fallen through and my planned reunion with my family is now up in the air again. Luckily the shop move is independent of the house move!

Thomas
Thomas P - Wednesday, 06/09/04 20:56:50 EDT
---
Jester,:

See PTree's explanation. If you want the full presentation, I can do that for you. It's been years since I taught that, but I suspect I can find it.


PTree,

> Gun control is hitting what you aim at, and having it stop there!

D'Accord. You haven't heard the rounds racking for that situation, but it has been known to happen.

Once for a .45 ACP that missed my head by less than a foot.

The First Sgt. tackled me just as I was taking aim. Then the First Sgt. testified at the court martial of the idiot who discharged the "stray" round. Guilty as charged.

Paw Paw - Thursday, 06/10/04 00:38:28 EDT
---
Stray Rounds: A few months ago I was doing some yard work and heard a shot, then a zipping over my head followed by a small branch in the nearby tree falling, then another shot, then zip and thunk on the roof of my house, my wife, 8 months pregnent was sitting under that roof, I called her from my cell phone to get her away from that side of the house as I ran toward the shots, two more shots, my wife answered the phone, I told her to stay put in the "tone that does not provoke questions", knowing there is a chimney between the shots and where phone was, I started shouting to stop shooting as I got to the tree line where the shots where comming from. It was a couple kids (14-15) shooting at squirrels. After jerking the .22 rifle out of a shaking hand there was a long, loud talk with lots of words that I would not repeat in most company, let alone polite company. I marched the two kids, to the house and made them explain to my wife why they were putting her and our onborn childs life in danger. Later that day one of the kids was knocking on my door with what I assumed to be his father, the kid appoligised for being stupid and his father asked for the gun back promising his son would never touch it or another firearm as long as he lived.
Shack - Thursday, 06/10/04 11:27:10 EDT
---
Shack,
I'm glad no human damage was done! I do not think I would have been restrainable had it been my pregnant wife involved, kids or not. My experience was that the bullet struck mid way between the wrist and thumb. As I had broken the wrist 6 weeks previously, I had a metal stayed wrist imobilizer on, and I think that is why the wrist was not broken. I have some permanet weakness in the thumb, and a nifty knotch in the bone. The bullet that struck was never recovered, and several more came thru in the next few minutes. Fired to far away to hear the report, and they were subsonic by the time they came thru.
ptree - Thursday, 06/10/04 17:19:29 EDT
---
One reason I've liked living in masonry homes---much more stopping power, especially my last one with structural rather than facade brick.

Haven't had to make "use" of that property---that I know of but it can happen *anywhere*

Thomas
Thomas P - Thursday, 06/10/04 18:30:06 EDT
---
pnuematic hammer: I have 24 each Fast Bak pnuematic hammer cyliners complete with all the valves and ready to go to the right folks. will send pictures on request and will take offers on one or all.
www.bidumup.com
Bob Crowder - Thursday, 06/10/04 19:26:20 EDT
---
Power Hammer: I am looking for a used Little Giant Power Hammer if anyone has seen one lately..many thanks please contact me at jacob.kinkade@pope.af.mil
- J Kinkade - Friday, 06/11/04 02:00:17 EDT
---
J kinkade---does it matter if the shipping cost will be several times the buying price? If so listing your general location would be a help. There are usually a dozen triphammers for sale at Quad-State in Troy OH if you can wait till the end of September.

Thomas
Thomas P - Friday, 06/11/04 10:58:23 EDT
---
Thomas P.:
J Kinkade is located in North Caroling, at Pope Air Force Base.
Paw Paw - Sunday, 06/13/04 17:27:17 EDT
---
Thanks Paw Paw, I'll stop looking for hammers on the west coast of australia for him!

Thomas--a tad testy as my new Dr is taking my new insurance out for a spin tomorrow and so ha me on a bread and water diet---but I don't get any bread either
Thomas P - Monday, 06/14/04 10:12:23 EDT
---
Thomas:

How did you like the telephone pole? (evil grin)
Paw Paw - Tuesday, 06/15/04 17:52:26 EDT
---
On steel scrap prices.
I think that the Guru's rant may be a little bit more political than accurate. Yes, any war drives prices up. Thats a given. But also the increase in housing starts drives plywood prices up. The plywood market has been volatile for many years. I know as I bought bunks of 5/8" cd for years at a rate of 1 to 3 a month for crating. There is no ryhme nor reason to that market period.
As to the steel market, the Chinese buying every bit of scrap they can, did drive up the market, as did the fact that our own ecomony is building steam. The Chinese economy is building, and they have to have scrap just as our mini mills do. As the need has increased more than the supply, prices go up.I have seen the steel required at my plant almost double on a monthly basis latley, all new demand.This steel has to come from somewhere. By the way, none is munitions or going to Iraq as far as I know. New steel always lags in an increasing market. In the 25 years I have been in industry, I can think of several times steel has been hard to find, and several times that stainless has been the same way. War was not the cause then. Might be part of it now, but to lay all the blame there is in my humble opinion, not quite fair.
A fair answer is to say " scrap prices are set by the law of supply and demand" To find prices the scrap yards use one of two trade magazines that post the spot market prices in various cities. Big scrap generators can neogatiate a contract basing the pricing on the spot pricing for a particular grade,on a given day. Small generators must accept the yard price, and that is smaller.

All the above is based on my opinion and observations. Your milage may vary. America is great because, I can state my opinion, in public, and not have a death squad drag me off, no matter how far my opinion might stray from that accepted by the Government or others!
ptree - Tuesday, 06/15/04 17:55:59 EDT
---
Scrap rate: well guru, you seem to know alot on the political side. Im not going to point any fingers. So in any previous war rebar would have been in high demand? So rebar is in high demand this year and in the ones to come. If a company has lots of rebar that is overstock then there in good?
- Mike - Tuesday, 06/15/04 18:54:58 EDT
---
Rebar: Mike,

Rebar is getting expensive because the cost of the scrap it is made from is rising astronomically. Much of the rebar sold in this country is made in Mexico, China, Japan and elsewhere. We're selling them our scrap and then buying it back for a lot more money.

As ptree pointed out, it is a supply and demand situation. As Jock pointed out, this is, at least in part, driven by the war in the mideast. How much I'm not sure, but I feel comfortable in saying that there is a relationship there.

As for rebar being in high demand in any previous war, why would that necessarily be the case? The rebar is needed in reclamation efforts, primarily. In WW1, ferrocrete was still a new idea and rebar was not a big commodity. In WW2, the steel mills here were in good health and at peak production from the war effort, and so able to keep up with peacetime demands. In Vietnam, there was no rebuilding by the US after we departed. I would imagine that Chairman Mao and his boys got their rebar from the USSR, though I don't know.

The situation with plywood was triggered before the Iraq nonsense by the huge hurricane damage situation a couple of years ago in the southeastern States. The feds bought incredible amounts of plywood for FEMA tasks; at the same time, a prolonged drought in several areas brought about massive timber losses due to forest fires. Subsequently, the Iraq war has required vast quantities of plywood, driving the prices up even further. It will be some years before the prices stabilize, if there are no more drought/hurricane problems and the oil war ever ends. I'm about as pessimistic as Jock on that one, I'm afraid.

One of the benefits of being a decent blacksmith is that one can make do with almost any steel that can be had. Smiths in third-workd countries have been doing this for centuries. If our politicians don't catch on pretty quick, the U.S. will be a third world country in a few years, with our citizens performing service jobs and menial tasks for those in other countries who better understand the realities of an ever-shrinking world. Once again, I'm not terribly optimistic, as life at the top (where the politicians live) is rarely touched by the vagaries of the economy.
vicopper - Tuesday, 06/15/04 22:51:11 EDT
---
Viruses:

Yesterday broke a record for the number of virii received in one day, with 396 coming in. But today is already almost two hundred, so the record might not last long.
Paw Paw - Wednesday, 06/16/04 11:22:00 EDT
---
Paw Paw, evidently my Dr doesn't like patients that can complain---they stuck me with an IV and then told me "this may sting a bit" and injected some stuff in the IV, I remember saying "Oh WOW!" and the next thing I knew I'm in recovery. Nothing obvious was found during the spelunking; so I guess I'm good to go for a while.

You know what is really nice though---*FOOD*, after the prep diet even my cooking was tasty!

Got up this morning and was out at 6am an did an hour's worth of work on my Wife's studio; life is *good* when they allow you to *eat*!

Thomas
- Thomas P - Wednesday, 06/16/04 11:46:09 EDT
---
Thomas:
You're lucky, I was awake through the whole procedure. I'm glad everthing came out right. (grin)
Paw Paw - Wednesday, 06/16/04 12:49:51 EDT
---
Paw Paw; did he grease his elbow? My wife's mad at me, she had her's done "awake" too.

By this time next month my shop should be on the road to my new house! I don't think my wife will allow me to bring the anvils into the bed with us...

Thomas
- Thomas P - Wednesday, 06/16/04 17:05:14 EDT
---
Thomas,:

I don't think he did. I with your wife, I'm mad at you too! (grin)
Paw Paw - Wednesday, 06/16/04 17:16:25 EDT
---
Scrap Steel & China.: Scrap Steel & China
3 months ago a high level group from the People's Republic of China, ( = P.R.C.), showed up chez nous, (a small group of buccaneer capitalists), requesting scrap steel, iron ore pellets and iron ore scinter. They wanted to buy whatever we could supply. No limit.
We got to work making calls and to cut a long story short their fever pitch interest started to go lukewarm fast. So did their request.
What had intervened was that the P.R.C. government had taken a close look at their trade/yuan outflow and issued an announcement that their raw material imports should be cut back substantially, as things were heating up too much.
The price of scrap iron etc. began to slide, and should drop more in the next few months.
China is the largest importer and has been mostly responsible for the steady price rises for the last year. (incidentally most of the scrap is refined and used to manufacture consumer goods for the likes of Walmart etc).
Southeast Asia has been denunded of scrap ferrous metal. Everyone and his/her poodle have been scouring the countrside for the metal.
As for us, no sympathy is needed, it is a matter of time before the demand will pick up and all that work has allowed us to set up the commercial connections for the time when they re-enter the market. (I suspect sooner than later).
Regards to all.
SLAG.
- SLAG - Wednesday, 06/16/04 20:26:54 EDT
---
Bellows: Does anyone know where I can find a set of plans for bellows. I dont need any specific size. I can adjust appropriately for my needs. Any help is greatly appreciated.
James Bullock - Wednesday, 06/16/04 20:43:04 EDT
---
Good news, Slag, thanks. I have not been in a Wal-mart for over two years now, and encourage others to likewise boycot.

James Bullock: Plans for bellows, among other good info, are available in "The Blacksmith: Ironworker and Farrier" by Aldren. PPW will post the ISBN soon, no doubt, as that is a fairly common question and answer.
Alan-L - Wednesday, 06/16/04 21:36:37 EDT
---
James:

Alan was right, I've just about memorized the ISBN. (grin)

ISBN 0-393-32057-X

It has a complete chapter on building a double chamber great bellos, and another one on building a masonry forge. Both have dimensions, but that's no problem to alter, as you said.
Paw Paw - Wednesday, 06/16/04 21:51:03 EDT
---
Oops!:

James, sorry I forgot to mention that I got mine through Barnes and Noble for less than $20.
Paw Paw - Wednesday, 06/16/04 21:52:10 EDT
---
Bellows: Excellent. I will be ordering the book on payday!!! Thank you gentlemen
James Bullock - Wednesday, 06/16/04 23:58:46 EDT
---
space for rent:
Workspace available in professional blacksmith/welding shop. Includes 4X8 foot table with 2 inch plate steel top, Lincoln MIG welder (wire feed with co2/argon sheilding gas), access to propane forge and power hammers, drill presses, piranha ironworker, torches, hosfeld bender, tumbler, abrasive cutoff saw, large band saw, hydraulic press, forklift, compressed air and lots more. Must pay for your own consumables and gas. 8am to 5pm access M-F. On site receptionist, bookeeping and phone service available as well for additional fee. $1000 per month. Call 415-550-9328.
On site receptionist, bookeeper and phone service available as well.

mackmetal.com
- Jefferson Mack - Thursday, 06/17/04 00:18:07 EDT
---
Oops, too!: That's Aldren A. Watson. Don't know why I didn't finish it.
Alan-L - Thursday, 06/17/04 08:24:19 EDT
---
Alan,:

Oops again! I didn't even notice the missing parts of the book name.
Paw Paw - Thursday, 06/17/04 09:19:42 EDT
---
GURU- photos: Guru, I have posted photos of my French anvil in the yahoo photo section for your, and everyone's, perusal. I posted something a while back, and you said you were interested in photos for something you were writing, I think?
Anyway, included are various pictures of the anvil along with damage and cracks. Apologies if the photos are not of the greatest quality.
Dan - Thursday, 06/17/04 14:04:49 EDT
---
GURU- photos: Sorry, I think the photos were too big. Anyway, they are not up yet. I shall seek tech advice from the qualified, and try again.
Dan - Thursday, 06/17/04 14:36:31 EDT
---
Anvil: One last post. First, I am a different Dan to the one posting about an old anvil, and will henceforth refer to myself as Dan P. Second, does anyone have any tips on reconditioning hardy and pritchel holes? When I grt the photos up, you can see that they are really buggered.
Dan - Thursday, 06/17/04 14:44:38 EDT
---
Reconditioning holes: Dan,

I've not had to do it, but if I did have to, I would do it this way:

For pritchel hole, I would use a carbide cylinder burr to counter bore it to a larger size about 1/2 to 3/4" deep and sleeve it with a piece cut off an old rifle barrel or other tough steel. I would let the sleeve "float", rather than having a really tight interference fit, so that it could be changed if it wears or you want a different sized pritchel hole. You could make a whole set of inserts, different sizes, even square hole nail header inserts. This is such a great idea I think I should patent it.

I don't know why you couldn't do the same thing with the hardy hole. Have it cut larger with and EDM machine, then make insert(s) for it. Since all tools for the hardy hole should have a shoulder that puts the force on the anvil face rather than the hole, there should be no problem with this concept. Jock is a better engineer than I am and may have some thoughts on this, but it seems valid to me. You could then use several different sizes of anvil tools in one anvil. I'm telling you, this could be the start of a new trend in anvils. Remember, you saw it here first. (grin)
vicopper - Thursday, 06/17/04 15:35:58 EDT
---
French Anvil:
Dan, I haven't been able to get into the Yahoo site for months. Seems that my 6.0 IE browser is not compatible. . . If you want me to see images you will have to mail them directly to me.
- guru - Friday, 06/18/04 09:00:04 EDT
---
Scrap Iron:
What people do not realize is that scrap iron is a national resource and should NEVER be exported from any industrial nation. To create that scrap has cost us environmental damage, lives, fuel and other great costs. It is MUCH MORE of a resource than raw ore, fuel, manpower. To ship this resource to other nations who in turn return it to us as finished goods should be a crime. Nations that use OUR wealth to benifit THEIR economys are much smarter than we are as a country. We have no leadership, no vision, no future.

- guru - Friday, 06/18/04 09:05:37 EDT
---
Politics in an Election Year:
One of our members sent me this. It sums things up nicely.

A friend of mine who politically is a middle-of-the-road Democrat, but is fair-minded and respects good thinking above all, sent this column to me. It's by columnist Charlie Reese, who for years now, has been a conservative columnist, both at the Midland (TX) Reporter Telegram and now at the Orlando Sentinel. I commend it to you all, whatever "side" you may usually take. Here's what she said in her preface note:

"If you know the writer and his strongly conservative reputation, you should find it eye opening. Note particularly what he says about John Kerry. The conservative journalists Robert Novak and William Kristol happen to be saying the same things."

_________________________________________________________________

Vote For A Man, Not A Puppet

Americans should realize that if they vote for President Bush's re-election, they are really voting for the architects of war - Dick Cheney, Donald Rumsfeld, Paul Wolfowitz and the rest of that cabal of neoconservative ideologues and their corporate backers.

I have sadly come to the conclusion that President Bush is merely a frontman, an empty suit, who is manipulated by the people in his administration. Bush has the most dangerously simplistic view of the world of any president in my memory.

It's no wonder the president avoids press conferences like the plague. Take away his cue cards and he can barely talk. Americans should be embarrassed that an Arab king (Abdullah of Jordan) spoke more fluently and articulately in English than our own president at their joint press conference recently.

John Kerry is at least an educated man, well-read, who knows how to think and who knows that the world is a great deal more complex than Bush's comic-book world of American heroes and foreign evildoers. It's unfortunate that in our poorly educated country, Kerry's very intelligence and refusal to adopt simplistic slogans might doom his presidential election efforts.

But Thomas Jefferson said it well, as he did so often, when he observed that people who expect to be ignorant and free expect what never was and never will be.

People who think of themselves as conservatives will really display their stupidity,
as I did in the last election, by voting for Bush. Bush is as far from being a conservative as you can get. Well, he fooled me once, but he won't fool me twice.

It is not at all conservative to balloon government spending, to vastly increase the power of government, to show contempt for the Constitution and the rule of law, or to tell people that foreign outsourcing of American jobs is good for them, that giant fiscal and trade deficits don't matter, and that people should not know what their government is doing. Bush is the most prone-to-classify, the most secretive president in the 20th century. His administration leans dangerously toward the authoritarian.
It's no wonder that the Justice Department has convicted a few Arab-Americans of supporting terrorism. What would you do if you found yourself arrested and a federal prosecutor whispers in your ear that either you can plea-bargain this or the president will designate you an enemy combatant and you'll be held incommunicado for the duration?

This election really is important, not only for domestic reasons, but because Bush's foreign policy has been a dangerous disaster. He's almost restarted the Cold War with Russia and the nuclear arms race. America is not only hated in the Middle East, but it has few friends anywhere in the world thanks to the arrogance and ineptness of the Bush administration. Don't forget, a scientific poll of Europeans found us, Israel, North Korea and Iran as the greatest threats to world peace.

I will swallow a lot of petty policy differences with Kerry to get a man in the White House with brains enough not to blow up the world and us with it. Go to Kerry's Web site http://www.johnkerry.com and read some of the magazine profiles on him. You'll find that there is a great deal more to Kerry than the GOP attack dogs would have you believe.

Besides, it would be fun to have a president who plays hockey, windsurfs, ride motorcycles, plays the guitar, writes poetry and speaks French. It would be good to have a man in the White House who has killed people face to face. Killing people has a sobering effect on a man and dispels all illusions about war.



- guru - Friday, 06/18/04 09:07:25 EDT
---
Politics : I say hogwash to that drivel about Kerry.
Ralph - Friday, 06/18/04 09:12:25 EDT
---
Third World Countries:
Economicaly a third world country is one that:

* Exports raw materials to their detriment.
* Imports more manufactured goods than they export.
* Imports a majority of their fuel needs.

Where do WE stand in this picture?

The balance that makes you "top dog" in the economic wars is very delicate and the advantage is easy to lose. At one time the little Island of Crete was the economic dynamo of the Medeteranian. They (the Minoens) fell to a natural disaster. When Great Britian "ruled the waves" and had colonies world wide that small island country dominated the global economy and controled much larger countries. Their banks still have tremondous global power even though their economy has not completely recovered from the world wars and the great depression. It is unlikely that they will ever be top dog again. In South East Asia a microscopic island country dared to face the power of the US and really thought they could win. Today Japan is the econimic dynamo of the region and dominates large and VERY critical segments of our economy.

Now, imagine the world's most populous nation, with a huge land mass and great resources of its own finally getting its political problems sorted out and focusing on nothing but becoming top dog economicaly. China is set to dominate the world economy. Russia COULD have been the big threat but they are dominated by criminal enterprises that have no organized national agenda. China on the other hand has a nearly unified people and a strong central government. Every time they build a new factory or start a new power plant they are closer to their realization. In the past decade they have opened thousands of factories and have been building hydro power dams and power plants like WE did in the 1930's. When 10% of the Chinese have automobiles they will have more than we do in the US. What will THAT do to the global demand for oil?

Having long term economic goals that are sustainable and do not alienate the world is THE most important thing our government can do. Today we have no plan other than to try to grab more control of the Middle East oil fields. This is turn is going to result in a century or more of hatred and terrorism against us. In thousands of years there never has been and probably never will be peace in the Middle East. The only way to win this battle is to stop medeling in other countries afairs and by ALL MEANS stay out of the Middle East.

Imagine if the BILLIONS we have spent plundering Iraq and the BILLIONS more to come had gone into alternative energy research and sustainable resources. The END of the oil economy is coming SOON and every penny we put into the Middle East is wasted.

Ralph, I agree that the democrats have no vision or plan or REAL canidate but "W" is the polar opposite of what we need. I think we would be better off randomly picking ANY one individual as our "leader" than electing anyone in politics today.

- guru - Friday, 06/18/04 10:19:32 EDT
---
The Oil Economy: I have an old 1918-1919 Dykes automotive repair manual. Comparing how simple, reliable, etc. the electric car was at that time compared to the gasoline engine (by their own admission the electric was superior) makes me wonder where we would be now if we had gone after electric instead of gasoline. Economics I can not understand. I have bits of coloured paper in my wallet, and depending on the colour they are worth more or less than others. And then there are Farmers going broke with fat cattle in the pasture, and the bins full of grain. I don't know where we are headed when wealth is measured on paper, or now by electronic impulses.
JimG - Friday, 06/18/04 11:38:48 EDT
---
Jimmy G ...You haven't lost IT: Eloquently put.


- Daryl - Friday, 06/18/04 13:13:14 EDT
---
I can't agree that we've "plundered" Iraq; as far as I can tell it's all gone *into* Iraq and nothing has come *out*. Now several large American corporations are making a good bit off of what's going on; but it's not coming from Iraq, it's coming from *us*.

OTOH there is one "hidden" export the US is known for: knowledge! There's a reason so many foreign students come to America to attend our universities (and help the balance of trade quite a bit!) Not to mention that "the best and the brightest" often stay on and become Americans.

Thomas who now works for a research group paid for by the NSF.
Thomas P - Friday, 06/18/04 13:52:19 EDT
---
Politics:: Time for my .02 cents. John Kerry, is and has always been anti-gun. Anyone in office who trys indirectly to abridge the constitution will not get my vote. We have gun rights, and the people in office must understand that. And history tells us that anytime a government disarms its people, the government becomes overwhelminly corrupt. I will not vote away my rights like that. I really wanted Alan Keyes for president. He understood the constitution and was for following it. And there are ways to change the constitution, but unethical double speak by politicians is not the way. Unfortunately, we have to vote for the lesser of two evils more ofen then not. And now getting back to President Bush. I don't agree with him 100%, but I don't agree with anyone 100%, not even my wife. And one man is not totally responsible for this country, not by a long shot. Sure, a president can do a lot, but economic trends can be underway for years, and take years to change. And if congress works with a president or against a president, that affects the changes a president can do. But presidents always get the credit, or the blame, when in truth it is more complicated than that. I now retire to my normal lurk mode. :]
Bob H - Friday, 06/18/04 15:44:01 EDT
---
War In Iraq: Guru et al:
I respectfully must disagree with one of your interesting political theses. The true Muslim, (one that takes the Quran seriously and literally), has NOT just begun hating us since Bush was president. Surely partisan memories are not that selective! They have been at war with the 'West' ideologically since the 600's A.D. They have simply been re-emboldened into action since Tehran during the Carter days. Make no mistake, they do not hate us because we are white, rich, arrogant, greedy, immoral or just rude, (all of which have at least some merit). They hate us because we are not Muslim. There are no negotiable areas to dialoge about. Their goal is a Wahabi theistic government as was in Afghanistan and in Sudan now. Muslims will kill other Muslims, including Sadat, to try to bring about the demise of secular free governments no matter what the ethnicity of the people. This current war against "terror", (really against fundamentalist Islam), can only end in a military solution. We can debate endlessly about oil, Abu Graib prison, and WMD, but the war is on and our President has chosen to take it to the enemy rather than wait for them to bring it here yet another time. Any future president that retreats will signal our unwillingness to respond and is an invitation for more and greater threats.

Otherwise, I sure enjoy this website!!.

Tom H.
- Tom H - Friday, 06/18/04 16:00:14 EDT
---
Bob H if I understand you, you won't vote for Kerry cause he is abridging the 2nd admendment but will vote for Bush who is abridging the 1st, 4th, 5th and I'd have to check up on a couple of others, besides international law.... your definition of "lesser" seems a bit odd.

(I wanted McCain---didn't agree with all his views but felt like he would be honest about them---better to have an honest enemy than a dishonest friend!)

I wish we had a true conservative running, you know one who is for seperation of church and state, supports the constitution and it's admendments, is against big government, against deficit spending---things that *used* to be espoused by the republicans but have gone by the wayside lately.

I might have to vote libertarian, again,

Thomas
Thomas P - Friday, 06/18/04 16:48:08 EDT
---
Politics: I wrote and then deleted a rather lengthy diatribe on my views about Bush and his untergruppenfuhrers. I'd rather discuss metalworking or even cooking than drag politics into a venue that I come to for enjoyment.

I cannot vote for the President, since I am a resident of a Territory and not a State. I encourage those who can vote to read the Constitution and, before you vote, decide how much of the Bill of Rights you are willing to sacrifice.

NO other document is as fundamentally American as the Bill of Rights, nor as fundamentally human. Those who would try to dismantle that fine document, are NOT those who should hold the reins of power, no matter how strenously they vow that they are acting in the interests of "national security." As a police officer, I want to convict criminals. I do NOT want to do it by using the Midnight Knock, the Star Chamber or any of the other unconstitutional methods the federal government is moving towards.

Henceforth, I will keep my own counsel on politics in this venue.

vicopper - Friday, 06/18/04 18:05:36 EDT
---
Tom H: Tom H; I think there is little merit in debating what a "real" Muslim is as a means to formulate foreign policy. Aside from that, there are many things that many people do not know about Islam, so how can one really hold open conversation about it? And Wahhabism was, by the way, born out of the very reaction to wealth and arrogance you describe as NOT being the reason for militant Islam.
Dan P. - Friday, 06/18/04 18:21:39 EDT
---
Metalworking: I just moved offices and found out that the dragon headed "cubical hook" that I made to hang over a cubical wall and hold my coat/hat/lunchbag will need to be opened up a bit.

What other items have folks made to bring smithing into their "day job"---given that their day job *isn't* smithing...

(I also have my "negotiating your way to yes, remedial class" club hanging on my wall---its a dragon head made in 3/4 stock with the rest tapered and twisted then curled up on the end--one of my "example" pieces that somehow ended up at the office and has stayed...)

Thomas
Thomas P - Friday, 06/18/04 18:23:30 EDT
---
I voted my first time for Lyndon Johnson...and I thought Viet Nam had this country divided. I have never seen America so polarized. It is not a healthy divide; it is getting ugly and lies are increasingly promoted as reality by both parties. I wish there was a man who I could honestly support rather than voting for the lesser of two evils. I think we need to take this country back from the Republicans and the Democrats. They have both squandered their time in office.
- Quenchcrack - Friday, 06/18/04 18:32:34 EDT
---
So far, I have a coat rack that is usually hidden behind my door, a skeleton knife/letter opener, a steel knot made from 1/2
- Quenchcrack - Friday, 06/18/04 18:54:21 EDT
---
OOPS: Not sure why that happened:
1/2" round as a paperweight, and a branding iron shaped like our company logo (a Longhorn Steer).
- quenchcrack - Friday, 06/18/04 18:56:21 EDT
---
I usually just bring in some of my projects for show and tell, whether they want to see them or not! As I am a carpenter, my job site changes frequently. I did for a while have one of my toilet paper holders installed at the job site. Been thinking of making another one with a base. I kind of like to have something like that laying about, so the customer might think of adding some blacksmith work to the house. I don't sell any of my smithing projects, I just refer them to a friend who does that for a living. I do trim work for a living, and smithing for fun.
Bob H - Friday, 06/18/04 21:32:50 EDT
---
David Manzers new video: Just recieved my copy of Dave Manzer's new powerhammer video and I must say I really enjoyed it, a good video to purchase, and the projects he goes through would let you earn back the purchase price of the video with one sale
- Pook - Friday, 06/18/04 22:15:11 EDT
---
Dan P: A quick trip down memory lane as in Pearle, Berg, and now today Paul Johnson, is certainly a part of Islam that we SHOULD have "open conversation" about, even if we do not know all there is to know about the Quran. But again I suggest that our President is making the only legitimate response he can. National security is the main, (and some say the ONLY), responsibility of the federal government. No part of your reply seemed to refute that. In fact, most of the anti-Bush/Cheney/Ashcroft/Rumsfeld comments on this board seem to sidestep national security. While I also suggest that virtually none of us has actually lost any of our Bill of Rights due to the Patriot Act or any other part of the war on terror, the anti-gun forces actually are the clearest example of a real loss to a part of the Bill of Rights.

The upcoming elections will be pivotal concerning our future. I hope we all can focus on issues of REAL importance. Check out the Catholic voting guide, for example, (and I am not Catholic by the way). Money is NOT the all important factor in life, even for blacksmiths.

Anyway, I suppose this board is not the best place for politics, but Guru brought it up so I guess we can respond.

Might see you all in Richmond in a couple of weeks.

Tom H
- Tom H - Saturday, 06/19/04 00:21:06 EDT
---
Metalwork at work: I used to have an engraved steel triggerguard on my desk, but it walked out one night. There's a miniature anvil atop the computer, an 18" spike with a pierce-and-pass-through loop on the end for use as a stringing stake, and sometimes the screensaver is a slideshow of stuff I've made but can't legally bring to work. I need to put some hooks in there.
Alan-L - Saturday, 06/19/04 08:16:20 EDT
---
One post on politics etc, and then no more form me.
Kerry killing men
- Ptree - Saturday, 06/19/04 08:21:03 EDT
---
Well that post didn't go thru!
That was to say,
Kerry killing men "face to face"? As a fast boat commander, he would have had as likley a chance to kill face to face as a bomber pilot. Have a hand in killing, at long range? Yes. Pulling a trigger? Not likely. Face to Face? did they have a boat boarded?
- Ptree - Saturday, 06/19/04 08:24:50 EDT
---
PTree:

According to the citation, Charlie was wounde, Kerry beached his Swift Boat, jumped out, ran and shot Charlie in the head grabbes his rocket launcher, ran back to his boat, climbed back in and backed away from the beach. Supposedly Charlie had been wounded by the boats .50 cal. Supposedly, all of this was under fire. Surpisingly, no one else on the other two patrol boats saw or heard any other firing.

How many people have you seen "wounded" by a .50 cal.?
Paw Paw - Saturday, 06/19/04 09:34:23 EDT
---
Tom H: Your first post seemed to imply that as Islam is inherently antagonistic against non-muslims, the solution would be to wage war against Islam. I presume you meant it to be more nuanced, but that is, none the less, what you wrote, equating Islam with Wahhabism.
Concerning national security, the entirety of the US' problems in, and from, the Middle East stem from two things; oil greed and the legacy of the Cold War. Previous to that, Islam's clashes with the west were either a response to colonialism, or, before that, a hegemonical struggle with the Russian, Austro-Hungarian of Eastern Roman Empire (Byzantium]. They were not anything to do with religion.
The point here is that people such as yourself are under the impression that is some fantastical clash of east and west, when there is actually only a clash of the greedy with the profoundly misled. The shame is that there are people being used by both sides, and until you are able to formulate a better argument for agression in the Middle East than your [apparently not very well informed] personal opinions about Islam, I am unable to take your side against someone with equally naive opinions about the US.
PS It's not my intention to be rude in calling you uninformed, just part of my argument.
Dan P. - Saturday, 06/19/04 17:15:51 EDT
---
Politics: I find it difficult to figure it all out. Kerry apparently lied about his war record. Dubya apparently lied about even being in the service. Bush cannot articulate an original thought. Kerry articulates out of both sides of his mouth. Kerry has not sponsored a single piece of significant legislation in his entire Senate Career. Bush has no Senate career but did nothing helpful as Gov. of Texas. Neither the Republicans nor the Democrats have anything to boast about regarding the Environement, the War on Terrorism, job creation, or international trade. Like I said, the two National Parties have hijacked our Democracy and passed legislation soley for the purpose of staying in power. We need to clean house, and senate, folks. The last time I could vote for someone I respected, Jimmy Carter was elected. And I didn't vote for him!

And with that, I officially withdraw from any further political commentary. Vote your conscience!
quenchcrack - Saturday, 06/19/04 17:20:21 EDT
---
Vise stand: Just got in from the barn. Been out there working on my vise stand. I've got a 2 foot square piece of plate steel for the bottom. I welded on a 4 or 5 inch square pipe [didn't measure] for the support column. Still need to weld on a heavy piece of plate steel to the top of the column for the support bracket to be bolted down to. And I drilled a 1 inch hole in another small piece of steel to hold the post at the bottom. Might even get the rest of it together tomorrow. Depends on what other projects I need to work on. Oh yeah, the wife wants the new stove swapped out with the old one. I just might get that in tomorrow. If I know what's good for me!
Bob H - Saturday, 06/19/04 23:02:51 EDT
---
Dan P: No offence taken. I don't know everything about everything, (but I try to keep up the illusion for the family!), but actually I do not consider myself completely uninformed about the current Middle East situation. Interestingly enough, we both seem to be somewhat informed but the information seems to come from differing perspectives! Anyway, since Khomenei(sic) in the 1970's, Islam is somewhat divided between those that take the Quran literally, ('death to the infidel', etc), and those that take it somewhat 'spiritually'. The fundamentalist IS inherently antagonistic against non-Muslims. This is similar to the typical difference in Christian interpretation of the Bible between, say, typical Episcopal and typical Southern Baptist. The Christian fundamentalist takes the Bible literally, (Hell, Rapture, 'Jesus is the only way', etc), while the liberal Christians tend to interpret the Bible as metaphor, everbody goes to heaven, etc. The fundamental Muslim movement is currently growing and the goal is a Iran/Sudan/Taliban style government. That is why they killed Anwar Sadat and they do not hesitate to kill anyone, including fellow Muslims, who do not agree with their particular form of Islam. Bombs go off in Turkey, Malaysia, Saudi Arabia just like everywhere else. Why do you think they are so willing to kill the Iraqis that try to get on the police force? They do not want a free democratic Iraq. They do not AT THIS TIME believe they can militarily defeat America but AT THIS TIME are using their dramatic events as recruiting tools. The immediate goal is to consolidate the Middle East in the Taliban model. Turkey, Egypt, and Saudi Arabia are squarely in their sites. Secondly, wipe Israel off the face of the earth. THEN renew their ancient efforts to spread over their neighbors in Europe and Africa. The current religious fervor is in response to the Ayatollahs (sic) who have challenged them to stand up for Allah, (in what they see as the 'End Times'), Allah, who is disgusted with the ineffective liberal form of Islam. While today the world still has many more of the liberal type, this majority is not the problem. While we can debate endlessly about the nuances of this majority, the growing minority must be dealt with immediately. Whether they have 'hijacked' a beautiful peaceful religion or not is irrelavant. IN THEIR WORLDVIEW, their actions are indeed purely religous. We can like it or not, accept that fact or not, but that is the reality of their position. They are not killing us over oil. (Are we not buying enough? Or too much? Or???) They are killing us to bring glory to Allah. We have nothing to negotiate with. What could we offer that is better than glory in heaven? Believing that the one pointing the gun at our head is wrong will not prevent him from pulling the trigger! This is unlike any major world threat in history. Respectfully, many people understand this reality.

Anyway, we could go on and on I suppose. I appreciate your thoughtful comments. Thanks. I will re-examine the facts of both of our perspectives.
- Tom H - Saturday, 06/19/04 23:58:59 EDT
---
Politics: QC, It doesn't matter who you vote for - you end up with a politician!
- Big A - Sunday, 06/20/04 07:04:34 EDT
---
Politics: Big A, Sad but true. That is exactly what needs fixing!
quenchcrack - Sunday, 06/20/04 08:57:28 EDT
---
Just to point out a few last things for your consideration; Khomenei is the current spiritual head of Iran, in the 70's it was Khomeini, who founded a SHIITE government, which is not the same as Wahhabism or "fundamentalist" Islam as it is known in the Media. In fact these two types of Islam are quite antagonistic to each other. The debates concerning the nature of the Quran have been going on rather longer than since the 1970sm too!
Furthermore, Saudi Arabia is the HOME of Wahhabism! It already has a Taliban style government! Do you not read news papers???
The fact that you are so very ill informed, confusing what you have read about SHIITE Ayatollahs with the actions of SUNNI fundamentalists, Khomeini with Khomenei, etc. etc., is what is so worrying here. You will cast your vote
in light of what you think you know about the situation, but you are NOT INFORMED! You have either been misled, or you have neglected educate yourself concerning world politics. WE NO LONGER HAVE THE LUXURY OF NOT CARING ABOUT WHAT GOES ON IN THE WORLD! Because, sooner or later it going to come back to us, like 9.11. People do not go crazy just because. They go crazy because there is no other way out, and that is how a lot of young men in the Arab and Muslim world feel these days.
So, please, don't vote for an aggressive government until you are fully informed about what is going on in the world.
Dan P. - Sunday, 06/20/04 11:20:39 EDT
---
Dubya's lies and the Coming Draft: Don't forget his Texas educational revolution which consisted of not letting the kids that they thought would not do well on the standardized testing take the test by keeping them out of the high school grade level where they test (Junior year). After being a sophmore for two or three years they bumped them up to seniors then pushed them out without a diploma. Scored skyrocked and it was declared a great success.

This was a house of cards built on lies and was the one of Dubya's big "accomplishments" that he ran his presidential campaign on. In his inauguration speach he spent several minutes on how good "teaching to the test" was (which ALL teaching professionals have considered cheating for over a century) and that he wanted to bring his educational revolution to all of America.

NOTE: It has been common in all American schools that have had artificial testing goals put on them (largely by Federal programs) to NOT test students with "identified" learning problems. 20-30 years ago it was only the severely retarded that were not tested but now it is often any child that has been misdiagnosed with ADD because they are fidgity and would rather be outside than couped up in a class room, or a child with any kind of disciplinary problems.

If this had been the rule 35 years ago any of us hippies or artists would have been refused the ability to take college boards. *I* would have been one of those people because I grew a beard my senior year and my high school principal thought it was wrong and threatened to expell me if I didn't shave it off. Having long hair and a beard (looking like all the paintings of Jesus Christ) was considered to be one of those rable that protested the draft and the war in Vietnam. The powers that be at the time would have loved to have prevented every high school age protester from taking the tests necessary to get into college and getting an educational draft deferment.

The big complaint that vets have against Kerry is that he came home and protested the war. MILLIONS of us did. Nixon ignominiously pulled us out because we were on the verge of a REAL revolution here at home. Peaceful protesters had been killed and things were rapidly getting worse. We had our own militant groups here ready to use terriorist tactics against the US government.

Now we are in another war that cannot be won (6,000 years of Middle Easter history says it cannot). Soon, probably during his inauguration speach if he is reelected, Dubya will be announcing the reactivation of the draft. The news that tens of thousands of soldiers that have completed their term of service and are not being let go says the government MUST reenact the draft or pull out of Iraq now. Dubya will NOT do this until he is safely reelected.

THEN we will be back in a Vietnam era situation. However, if you try to protest this time you may be called a terrorist, labled an enemy combatant, and become one of the many "disappeared".

We are on the verge of very bad things happening if we do not stop and reevaluate the facts of the situation and accept the truth (if it can be found). The truth:

Oil bought from the Middle East has mostly proped up Kings, Emiers and Dictators that do not distribute the tremondous wealth of this windfall to their people. The largest companies involved in this process are American or British. We support and arm Israel when they are right or wrong, we supported the Shah of Iran and he used our money to man secret police, We supported Saddam Hussain in his war against Iran and we supported the Talaban against the Russians in Afghanistan. We have since turned against Iran, Saddam Hussain and the Talaban. After Desert Storm Bush Sr. asked the people of Iraq to rise up against Saddam Hussain and we turned our back on THEM.

This not only makes US the symbols of oppression it makes us untrustworthy villians who stab their allies in the back. THIS is what the man on the street in the Middle East sees when he sees American troops. He knows that TODAY we might be his friend but tomarrow we may be bombing his house. He also knows that when we leave, our oil money will just prop up another unpopular government and his life will probably not be better than before we came.

Peace, democratic goverements. These would be good things in the Middle East. But we are wrong if we think we can bring those things to people that do not trust us or like us.
- guru - Sunday, 06/20/04 12:18:26 EDT
---
Dan P. / guru: You all are 'spinning'.
Fact: Fundamentalist Muslims are trying to enforce their worldview with extreme force beginning in the moderate Muslim countries as Pakistan, Turkey, Egypt, Jordan, etc.,. You can find that in the newspapers as well. Is not the recent Rhiyad attacks causing concern today in Saudi Arabia?
Fact: Their root motive is religious. Religious fanaticism is not the same thing as "crazy".
Fact: They commit atrocities on 'infidels', especially westerners in order to attract more followers and it seems to be working. Ask the Spaniards or the folks in Bali.
Fact: If America ignores them, they will NOT go away.
Fact: America is one of a handful of countries today that is in a position to meaningfully resist them.

America and it's political process and participants are hardly flawless and never have been. But, that is the human condition. On the whole, the 'American experiment' is one of the few shining examples in all of world history. I urge you all not to fiddle while Rome burns. War is horrible but history shows it to be a constant. This is not an excuse but a fact. Can we really expect our troubles to be over if we retreat within our four (quite porous) walls and occupy our energies endlessing debating what is right and wrong when we have no perspective of the big picture.
We may not see a free Iraq. We may not see peace in the Middle East. We will never have pure politicians. Ultimately, regardless of how the White House has to 'spin' the justification for the recent events, we are at war against the terrorists and they themselves made the declaration.

If the president is wrong in his response to 9/11, what should we HAVE done instead?

By the way Dan, I appreciate your responding and I am re-examining the history of Al-Qaeda and the apocolyptic Muslim message that became more widely known in Tehran in the 1970's. My comments were initially sparked by the guru indicating that America is hated in the Middle East thanks to the Bush administration. (06/18/04 09:07:25 EDT) I contend that it goes back much farther than that.

Again, I urge all to look up the Catholic voter guide, or whatever it is called, and at least consider what things ought be non-negotiable issues, and none of them have to do with money.
- Tom H - Sunday, 06/20/04 13:45:01 EDT
---
Politics:

This will be my ONLY message on this subject. Two things I want to mention.

1. Subject: A Saint

The Kerry folks asked the local priest to mention in his homily that Kerry is a saint.

The priest, a devout Catholic, began his homily by saying,

"John Kerry is a crook. John Kerry is a liar. John Kerry is a fraud. John Kerry is an adulterer. John Kerry is one of the worst Catholics I have ever met. But - compared to Ted Kennedy - He's a saint"

And finally,

2. Take a look at:


www.SwiftVets.com
Paw Paw - Sunday, 06/20/04 16:32:21 EDT
---
Tom H.: As my final offering on this subject, I can only further recommend that you educate yourself on the history of the Middle East and Islam. Your apparent refusal to do so [you still have not grasped the difference between Shiites and Sunnis, nor that neither of these two sects of Islam have an "apocalyptic message"] is a pretty poor show. I'm not asking you to take my word for it. These things can be looked up in an encyclopedia, or on a reputable news website. Indeed, the hatred of the US does go back further than Bush, but why don't you ask why so many of the 9.11 hijackers were Saudis? Why don't you ask why the US government is such close allies with that autocratic, officially WAHHABI state if they care so much about secularism and democracy?
You will cast your vote, probably still without taking the effort to inform yourself of the situation, and yes, people in Madrid and Riyadh will pay for it. Think about that, please. And while you're at it, think of Afghanistan and the state it's in, think of starving children waiting on US promises, and then give yourself a pat on the back, because you helped make that happen.
Dan P. - Sunday, 06/20/04 18:39:48 EDT
---
Dan P.: Dan, Respectfully you have dodged the issue in every post so far.

Fact or not?: Iraq and Afghanistan were in a pretty sorry state before the Marines landed. Yes? No?

Fact or not?: America has been attacked multiple times, culminating on 9/11 by religious motivated radical fundamental Muslims. Yes? No?

Fact or not?: Carter, Reagan, Bush 41, and Clinton did not respond clearly or forcefully and the attacks escalated. Yes? No?

Fact or not?: Bush 43 has responded differently in the hope that we will not endure another 9/11. He may be successful or he may not, but the previous four administration's policy were obviously not. Yes? No?

Fact or Not?: The Al-Qaida types are not in it for the 'money' and so can not be negotiated with in the usual secular manner. Yes? No?

Whether you are aware of the 'End times' message that the literal jihadists are responding to or not does not change the fact that they are.

Again I submit: Since the similar responses of Carter, Reagan, Bush 41, and Clinton did not prevent Sept 11:
WHAT DID OUR PRESIDENT DO WRONG?
- Tom H - Sunday, 06/20/04 19:01:24 EDT
---
No no no, not Politics..: No, not politics, I said lets talk about Parlor Tricks!

Gawd.....I remember when this used to be a place to talk about blacksmithing...................
quenchcrack - Sunday, 06/20/04 19:26:10 EDT
---
Well, got my wife's stove swapped out for her. So that meant I had time to finish my vise stand. I've painted the bottom, and will clean and paint the rest tomorrow. Should work out pretty nice. I'm going to mount it with bolts into lead sleaves, so I can remove it if I want. I'll probably have it in the middle of the room, so I have room all around. When I had my little 6 X 8 blacksmith shack, that was a problem.

Next weekend I'm off on Sunday to help do a demo at a farm museum 2 hours from here. But I like showing this stuff to the public. Heck, them's the one's that think I know what I'm doing!

Never even heard the name Wahhabi. But I have been enjoying the political discussion. But it does show just how confusing the whole thing is, and in truth, there is no simple answer. One thing I have heard about the Saudi government is that they really are not our friends. We threaten their government simply because we promote democracies. A kingdom does not want to see democracies thrive in it's neighborhood, where it's own people can see the freedom's enjoyed in that style government.
Bob H - Sunday, 06/20/04 20:02:46 EDT
---
Bad Feelings: Seems to me that the fundamentalist Muslims are still pistoff about the Crusades, which, come to think of it were a pretty fanatical piece of work, too. Seems awfully easy to use one's perception of the Diety to perpetrate all kinds of bad stuff against those with differing "religions", particularly if their presence isn't convenient to those wishing to impose their concept of "progress" on someone else's homeland. Gee, didn't that happen right here in the USA ? The Army/government tried all kinds of different tactics, including allying themselves with the churches to destroy the culture of the indigenous peoples in order to subdue them. All that having been said, I remain politically conservative and Christian, but certain elements of my DNA won't let me forget. GO figure. Thus ends my annual political rant/ramble.
3dogs - Monday, 06/21/04 11:38:18 EDT
---
Tom H/ Guru: Tom H; Let's forget it, Tom H. Were not going to change each other's minds, and this is a blacksmithing forum any how.
Guru; Do you actually want photos of a french anvil? Its just that I'm working with huge photos and a slow computer, so unless you actively want them I won't bother.
Dan P. - Monday, 06/21/04 18:00:19 EDT
---
All:

Yes, this is a blacksmithing forum. But as long as folks are polite to each other, even when they dis-agree, no subject is really off limits. So far the conversation has been pretty polite, though I've gotten a bit concerned a couple of times.

But flame wars I put out just as fast as I can.
Paw Paw - Monday, 06/21/04 18:08:59 EDT
---
Paw Paw: I heartily agree with you on your last staement and thank you for the link to the SwiftVets. It confirms something for me.
The only flames I care to see are when I start the forge. Carry on. I got your back..... Even though you don't need me.
- Larry - Monday, 06/21/04 19:32:01 EDT
---
Tom & Dan:

Sometimes we just have to agree to dis-agree and go on from there. Over the years I've learned that it is possible to do that with mutual respect and everybody is better for the exercise.

Larry,

The day I don't need someone to cover my back hasn't arrived yet! (grin)
Paw Paw - Monday, 06/21/04 21:54:38 EDT
---
Camp Fenby: Camp Fenby: For those of you in the VA, MD, DC area that may be interested in the Longship company's Camp
Fenby this weekend we have a public accessable link (below).

Note that most of the big chain motels within 30 miles are filled. As Atli notes, it is laid back fun. Plan on coming to
participate, not just watch. I will be doing brass casting again if the mosquitoes don't carry me off. . .
anvilfire.com/longship.co/
- guru - Tuesday, 06/22/04 08:47:52 EDT
---
Camp Fenby:
I forgot to mention, Paw-Paw will be there too with the portable forge! Come one, come all.. . .
- guru - Tuesday, 06/22/04 09:04:17 EDT
---
French Anvil:
Dan, I have been collecting anvil photos for an article on the history and development of anvils world wide. Yes I can use them if you give me permission.

So far I have numerus colonial (English/American) anvils, images from Diderots, a Greek Vase painting, German and Austrian as well as modern anvil photos. Some are photos I have been given, some that I have taken (such as on the PeddinghausAnvils.com and Kohlswa.com sites). I recently had someone send me a wonderful photo of an antique French anvil (1500-1600's).

I am close to putting the article together (but cannot promise anything).

IMAGE SIZES: If you are editing BMP's they are HUGE compared to uncompressed JPEG's (about 5 to 10x). Compressed JPEG's can be much smaller (75% compression = 1/2 file size).
- guru - Tuesday, 06/22/04 09:05:45 EDT
---
ABANA conference:
I will be there too. . I have already setup the NEWS pages (over 20) and hope to post images daily.

The folks at BigBLUhammer.com have generously paid my fees. They are also bringing Uri Hofi to demonstrate the Big BLU.

- guru - Tuesday, 06/22/04 09:23:39 EDT
---
Politics: If you are disgusted with both Bush and Kerry, take a look at Michael Badnarik, the Libertarian candidate, especially if you live in a "Safe state" for either side.

Badnarik believes that gun control means being able to hit your target. . .

Badnarik will put an end to the "Forever War". . .

Guru, My apologies if this is not appropriate. If so please take appropriate action.

Badnarik for President
John Lowther - Wednesday, 06/23/04 16:43:30 EDT
---
Hi gang, I have a 4 burner lp forge for sale, it is very large and has a blower on it. Been asking $350 but if you can get it off my trailer by 25th of this month I will take $300. I can be reached at 765-397-3887
- Stiffy - Wednesday, 06/23/04 17:46:15 EDT
---
Politics: OH NO...Doom and Gloom...It sounds like this site has been taken over by Michael Moore :( Lets all get back to the real issue...Blacksmithing.
- Keith - Friday, 06/25/04 05:28:30 EDT
---
Terrorism: Whatever the reason for middle East terrorism, I find it ironic that it's probably some of the money we have paid them for their oil that has given them the monetary ability to wage war on us.

We should have left them alone and "poor". We did not. And maybe we couldn't. Business interests and the politicians they pay in THIS country and other countries are to blame for where we are more than anything else as far as I'm concerned. Once again, the desire for power, money and sex are at the root of the evil.

At the end of the day, those who are willing to kill in the name of religion MUST be stopped. Or we will have no chance of peace.

How we got here is history to be learned from. The immediate task is to stop those who chant God is great right before they saw the head off another human.

Don't get caught up in the trash lies that the media feeds us. Use your own head.


- Tony - Saturday, 06/26/04 23:26:28 EDT
---
Kids and worries: Dawn and I just got word from our son ( USMC) that his unit will be leaving for Iraq in 4 weeks. This was a bit of a suprise as we had heard that they were not going to be going to Iraq till after the first of the year, if at all.
Hopefull he and his squad mates have learned all they need......
Ralph - Sunday, 06/27/04 00:35:41 EDT
---
Ralph's son: That is the way of the military. We were like mushrooms. Feed a steady diet of horses*** and kept in the dark. Keep good thoughts and tell him to use his training combined with commonsense. I'm sending a little good energy your way. Yeah. Anybody who really knows me, knows I'm about half spooky. But it has worked for me for 54 years.Here's hoping it will work for him too.
- Larry - Sunday, 06/27/04 18:53:55 EDT
---
Spooky et al: Thanks Larry. Thanks. I am sure hoping that the Corps has not driven out his common sense. It seemed to be lacking on his last trip home ( just a week or so back).
Ralph - Sunday, 06/27/04 21:20:26 EDT
---
Welding Question: Welding rod question (well, ALMOST blacksmithing!): Do they make 7018 in 5/64"? Or is there a decent substitute? This is for a crack in the front end loader supports for an ancient Ford 1500 tractor....I am limited by a 30 amp circuit breaker in what current I can use to weld the darn thing....Thanks!
Ellen - Monday, 06/28/04 21:32:01 EDT
---
Duty:: Well did my civic duty as a blacksmith yesterday. We did a demo at a farm museum about an hour and a half from home. Had a good turnout, both in visiters and smiths demonstrating. I made a fire poker, a large lantern holder, a blow pipe for fires, a nice coat hanger from a horsehoe, and a small drive hook. Gave away the hook to the flintknapper demonstrating his stuff. And I made a small arrowhead from the knappers stuff. Dan sat right next to me and taunted me, so I had to go and make one. Knapping is another one of my hobbies, and it was teasing me to see him knap and not do it. Had a good time. And one of the lady smiths,who I showed how to make fire with flint and steel, was there. She has been showing everybody how to make fire with flint and steel now. So now I am going to make up a bow drill kit and give it to her along with lessons for making fire by friction. I love it.
Bob H - Monday, 06/28/04 22:19:42 EDT
---
welding: Ellen, ancient tractors are hard to repair part wise, but you should be able to weld it back together. Do u know what type of stell or metal the lodaer is made of? The tractor is very old? then it has served its duty!!
- Steven - Monday, 06/28/04 22:26:21 EDT
---
fire by friction: I list every fire by friction...... I rub the end of the strike anywhere match on somthing rough.. works like a charm.(VBG)
Ralph - Tuesday, 06/29/04 00:09:07 EDT
---
Steven: It is the tractor frame where the front end loader bolts on which is cracked. From grinding on it and looking at the sparks I would say it is simply a mild steel, nothing exotic or high carbon in the alloy. It's just that the nature of front end loaders and old hydraulics is that there is not only stress but also some shock to the weld area. I think part of the "antiquity" of the tractor is heavier than designed for service. I imagine it dates from the 1960's....just a guess. It is a diesel, with a compound gearbox. And, yes, it has served it's duty but the owner is not in a position to replace it at present; about half the time I am the one to use it so it gets handled a bit more gently then......
Ellen - Tuesday, 06/29/04 00:44:31 EDT
---
Ellen: A 1960's model tractor ain't old. We got a bunch of them around here. In fact 1940's and 50's 8N's are very popular around here with all the small hobby farms. 7018 sounds about right. I would try 1/8 inch though. You can get them to work if you have 30 amps. Also take a grinder and vee out the crack pretty deep. Lay a root weld then build up with additional passes until above existing plane.Won't be the first one to get patched up from loader shock.
- Larry - Tuesday, 06/29/04 22:31:59 EDT
---
Rick,

Envelope arrived in todays mail, many thanks!
Paw Paw - Wednesday, 06/30/04 12:36:28 EDT
---
Casting in forge: Since ive been making alot of knives recently I started adding finger gaurd above the handle. Now here is the question. Anyone know a good way to set up the forge for casting aluminium and brass from scraps? Ive casted in a trashcan furnace I made but its a hassle to use. So any advice on how to get a fire set up to melt down aluminium,brass,and copper in a forge will help a ton.
- Dan Crabtree - Wednesday, 06/30/04 13:20:59 EDT
---
I cast knife fittings using my forge. I just make a "Mt Fuji" fire lay around the crucible with a good thick layer of coke underneath it. I've cast copper, silver (fine, sterling, and coin), brass, bronze; usually in several oz ammounts.

Safety for metal casting is a lot more stringent than for forging. In forging gravity and the hammer are the energy sources for bad behavior, with molten metal just a hint of water can have it chasing you out of the shop and if it catches you, well you can end up a stunt double for Mr F. Kreuger....

OTOH you can make a small gas forge on it's "side" to hold a crucible for casting.

Thomas
Thomas P - Wednesday, 06/30/04 13:29:21 EDT
---
tractors: well old tractors are very popular, the are complicated with parts etc. I watched tractor square danceing.
- Steven - Wednesday, 06/30/04 20:15:24 EDT
---
Belt Grinders: Ive been looking for a good belt grinder for a beginner. I dont have very much money to spend so aprox anything up to 300$. Im going to be using it for knife making so any info would be well apreciated.
- Dan Crabtree - Thursday, 07/01/04 00:31:28 EDT
---