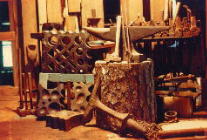 WELCOME to the anvilfire!
Virtual Hammer-In!
This page is open to ALL for the purpose of advancing blacksmithing.

May 2004 Archive
---
WHY THREE FORUMS? Well, this is YOUR blacksmithing forum to use for whatever you wish within the rules stated above. It is different than the Slack-Tub Pub because the messages are permanently posted and archived.
This page is NOT a chat - it is a "message board"

Our chat, the (Slack-Tub Pub), is immediate but the record of it is temporary. DO NOT post permanent messages there. We refresh the "log" every 24 hours now and your message will be lost.

The Guru's Den is where I and several others try to answer ALL your blacksmithing and metalworking questions to us.


Please note that this forum uses an e-mail encryption system that prevents spam harvesters from collecting your e-mail address.


J. Dempsey <webmaster> Rev. 7/98, 3/99, 5/2k, 6/2k, Friday, 04/06/01 16:43:25 GMT
---
Paw Paw: I'd be delighted to have you ride with me anytime.

I have one of the Harbor Freight 4.5" angle grinders and it has given me good service. At that price one can buy 3 or 4, and then not have to slow down your work to change disks or flap wheels......nice.

Side note: I learned to sew on my Grandmother's Singer. It was a treadle machine and actually it produced a very nice stitch. You could sew modest leather on it. And, it was beautifully decorated with rococco paint scrolls.....
Ellen - Saturday, 05/01/04 01:03:50 EDT
---
Grinders: Paw Paw,

I used to buy Milwaukee and Porter-Cable grinders, after I gave up on Makitas. My employees were trashing the Makitas in a few weeks and the others would last a few months. At best.

I had one Porter Cable left working when I quit being an employer, and it lasted until I started back into smithing. After it died, I took aflyer on a cheepie from HF, for $19 on sale. I still have it. I bought a half dozen of the blue ones from them a year or so ago when they were on sale for ten bucks, and I still have three of them, my brother has one and I killed one or two. They seem just fine, but the orange one fron HF is smoother, quieter and more powerful than the blue ones. Twice the price, too.

My orange one quit running the other day, so I took it apart just to see how it was built inside. Dam well put together, actually, all ball and needle bearings. The problew with it was that one wire had come loose from the switch. Just a loose set screw on the terminal. Easy fix, works fine.

My last Porter Cable was autopsied and was not one bit better built, in fact it was not as good. And it cost just three times as much as the HF orange one would at full price. The switch in it was NOT screwed in, it was crimped and poorly so. I lost a lot of respect for Porter Cable's quality and gained a goodly bit for HF's.

The big enemy of small high-speed motors is heat. Having three or four of the things allows me to keep switching off as they warm up, so they have time to cool down without stopping the work. They last a lot longer this way, too.

The rest of the time I keep a grinding wheel in one, a wire cup wheel in one, a flap disc in one and a sanding disc in one. No changing wheels when working progressively finer finishes, jus tpick up a fres grinder. At $10 or $20 each, it is just good economics to have several. And a real joy not to have to futz around changing heads all the time.
vicopper - Saturday, 05/01/04 01:18:37 EDT
---
Elen & Vic:

Multiple grinders, each with a differenrt head was one of the things I was thinking about when I ordered two. But what really got me was the fact that some time ago a ham footed helper steppe on my DeWalt grinder in the truck. Broke that stupid paddle switch. I took it to the local Power tool repair facility. An authorized sevice center for DeWalt. They had to order a new switch and since the cord had been mutilated a couple of times they ordered a new cord, too. (which I agreed with)

$42 dollars! I could have bought 4 of the HF blue one and had coffee money left over!


Paw Paw - Saturday, 05/01/04 01:34:22 EDT
---
Ellen: Treadle Sewing Machines,

Sheri has two. One I salvaged out of an old sewing machine sales and repair store that I was cleaning out for one of my commercial clients with I was running the "Mr. Fixall" business. The other is a White that has all of the gold leaf decoration. It was her grand mothers. I found the White company on line, sent them the serial number. It is is perfect operatiing condition, has all the attachmens, a bunch of spare needles (which are still available) and was manufactured in 1907.


Paw Paw - Saturday, 05/01/04 01:42:17 EDT
---
Paw Paw: Both Singer and White are great machines. It's amazing what you can do on them.

Yes I think the Harbor Freight angle grinders are good. Some of their stuff is good quality, some is not, it helps if you know a bit about tools before you shop there.
Ellen - Saturday, 05/01/04 02:06:20 EDT
---
Mo'Sewin' Machine Stuff: I have one of the old (1924) Singer freearm patch machines, made in Scotland. Real handy machine; you can go up a sleeve and sew on a shoulder patch, or stitch a fancy design on the leg of a cowboy boot. That is, after you learn to coordinate pumping the treadle and steering the presser foot at the same time.
3dogs - Saturday, 05/01/04 04:03:02 EDT
---
3dogs:
> coordinate pumping the treadle and steering the presser foot at the same time.

That might take a while!
Paw Paw - Saturday, 05/01/04 10:26:28 EDT
---
Sewing machines,
My Grandmother, born in 1886, had a White treadle machine, and as she was a seamstress, used hard until she gave it to my mother in the 60's. my mother used it until it was worn out, and it went into the basment. I still have the machine, and the treadle base. Up in the rafters of the shop. Pawpaw, if any parts of the machine can help you maintain yours, let me know. By the way, that machine sewed for about 30 children in its long, hard life. I beleive that I heard my grandmother say she gave $17.00 for the machine new, prior to WW1.
ptree - Saturday, 05/01/04 12:05:57 EDT
---
Ptree,:

Sheri's grandmother's machine is in excellent condition. Lord knows how many people it has made clothes for, Grandma Sikes was a social worker who frequently made clothes for the people in her case load. The machine actually looks new.

No I'm looking at the old salvage machine (which also works) with a scroungers eye. I wonder how hard it would be to run a belt from the treadle mechanism to a blower pulley? Hmm...

I've got a picture somewhere of Sheri in costume working with the treadle machine one year at the Museum of Applachia. I'll have to see if I can find it and put it on Yahoo for a short while.
Paw Paw - Saturday, 05/01/04 12:10:26 EDT
---
No = Now: PTP,PP!
Paw Paw - Saturday, 05/01/04 12:10:51 EDT
---
Pawpaw,
Many use the cast iron base from the old sewing machines for a hall table, but I can't do it. I likewise have thought of using the treade base for something working. Have thought of a treadle grinder, or blower drive for demo's. Ah, great minds think alike!
ptree - Saturday, 05/01/04 15:12:27 EDT
---
Pawpaw,
By the way, I learned to sew on that old machine in Jr high. Later, when I was learning to be a parachute rigger, boy did I have trouble with getting used to a high speed industrial machine! One tap on the treadle and you had several inches of stiches!
ptree - Saturday, 05/01/04 15:15:24 EDT
---
Japanese weeding knife.
Anybody know what one of these is supposed to look like? Got a request for same. Supposed to have a serrated blade.
ptree - Saturday, 05/01/04 15:16:44 EDT
---
Ptree: If the machine didn't work, it would be a lot easier to convert it to something else, but durnit it still works and it still has all of the attachments.

That's the thing that surprised me, both machines have all of their attachments in the drawers.

Making the transiton to powered machines would have been a job.
Paw Paw - Saturday, 05/01/04 16:06:14 EDT
---
Treadle Machine: Paw-Paw one of our local musiums has tucked away in the basement a sewing machine base that had been coverted to a fret(scroll) saw it works great for cutting out small copper,brass and thin sheet metal (had the chance to play with it while doing some restoration on other items) the slow speed of the blade made all the differance to control. Next time I am there I'll see if I can get some pics if you are interested.
Mark P - Saturday, 05/01/04 20:35:51 EDT
---
Treadle Machine: If anyone wants it, I have a opperating White Treadle sewing machine in my garage. I found it at the local recycle center an could not bare to see it crushed. It is free for the asking. The cabnet was broken when it was dropped off the truck, and it needs a belt. But even the pieces of the cabnet are all there.


- habu - Saturday, 05/01/04 21:19:25 EDT
---
continued : my E-mail did not post so here it is habu68@yahoo.com, I am located just north of Denver Colorado (longmont)
habu - Saturday, 05/01/04 21:22:47 EDT
---
cabnet=cabinet bare=bear tho the thought is ammusing. PTP

habu - Saturday, 05/01/04 21:37:35 EDT
---
Well, I think the posts here on treadle sewing machines illustrate a valuable point: some of our old technology is as good as the new...or better. How can you knock something over a hundred years old that still gets the job done?
Ellen - Saturday, 05/01/04 22:21:05 EDT
---
Ellen,:

Can't knock it! One of these machines, I may look at sewing buckskin with hmm...

But blacksmiths are more likely to be able to use "older technology" than most folks.
Paw Paw - Saturday, 05/01/04 22:37:34 EDT
---
Treadle power: You caould always use the treadle base to power a small lathe built from the parts of the sewing machine. A small bench lathe is reaqlly a handy thing to have at times, and a very reasonable thing to power by treadle. I believe Jymm Hoffman has a treadle powered lathe in his shop, and the third world is using them everyday.

Mike (habu) is right about the value of a slow scroll saw for cutting sheet metal. I have a Rockwell scroll saw that I bought twenty or so years ago for the sign shop, that has a variable speed DC motor. It will run full power at as little as 16 strokes a minute or up to 2000. A terrific saw that they no longer make, sadly. I do recall that it was pretty expensive, around $600-700, but it payed for itself a hundred times over ten years. I love good tools!
vicopper - Saturday, 05/01/04 22:50:39 EDT
---
Habu: Curious.
My daughter was born in Longmont......
Ralph - Sunday, 05/02/04 03:01:48 EDT
---
Canady Otto:
Fuzzy we sell a Canedy Otto catalog on CD. See our book review page and store.
- guru - Sunday, 05/02/04 13:04:52 EDT
---
Sorry, Jock,:

I didn't realize you had the Canedy Otto CD. I've got the catalog, but have not picked up the CD yet. Somehow I missed it when it came out.
Paw Paw - Sunday, 05/02/04 14:55:28 EDT
---
weeding knife: Ptree,
check out this link (if I did things right) for a japanese weeding knife. I know I've seen them in leevalley, but can't find one on their site.
weeding knife
JimG - Sunday, 05/02/04 16:06:08 EDT
---
Nail rings: I use # 12 draft horse nail. I have a piece of stock I use to size and bend the nail cold.Its like a ring sizer. I trick the kids, I ask them to give me their finger and place in to the vise. Its fun to see their eyes grow as I turn the vise. I generlly give them away to the little ones just quiltly watching me. I sell them in a small pouch for 1$. Good crowd pleaser alround.

Cheers Barney
Barney - Sunday, 05/02/04 16:44:07 EDT
---
Weeding knife
JimG,
I think that is exactly what they want. I'll make it with a RR spike handle, but the blade the same.
Thanks
ptree - Sunday, 05/02/04 18:15:02 EDT
---
Weeding knife: Try the Garrett Wade catalog.
- Ritch - Sunday, 05/02/04 23:48:50 EDT
---
Sewing welding hats: I have some great flower fabric and some raggedy ann stuff I would like to make into some nice pipefitter-type welding hats with a bill. I have one red one already, but I do not want to take it apart with the prospect of not getting it back together again. If anyone has a pattern or something they could e-mail me I would be grateful
Thank You
Young Blacksmiths(WIP)
- Joe R - Monday, 05/03/04 03:58:06 EDT
---
Ptree wouldn't a RR spike handl;e make it awfully heavy to lug around and use?

Welding Hats: you've done a burn test on the fabric, right?

Thomas
- Thomas P - Monday, 05/03/04 11:09:31 EDT
---
burn test: they are alright when it comes to burns , plus I have flame retardent spray that i will use on them. Most of them time when im wearing my welding hat I am smithing and just using it as a convenient plac to store my safety goggles, oxy welding goggle etc. also works as a great headband and keeps the sun off my ears and/or neck. which is important becuase I am a redhead
Young Blacksmiths(WIP)
- Joe R - Monday, 05/03/04 14:43:33 EDT
---
Good that you thought about it; I use a 100% wool felt hat with a wide brim I feel that it adds character when I'm smithing.

A back flap like the Foreign legion caps had might help your neck if you'll be a lot in the sun.

Thomas
- Thomas P - Monday, 05/03/04 16:16:28 EDT
---
Guru, While at Tybee Island, GA 4H camp I noticed a large painting inside one of the buildings. A Right Whale and her calf; signed by Patrick Dempsey. Perhaps your son? If so, A small world indeed.
Tone - Monday, 05/03/04 17:51:56 EDT
---
Treadle Lathes: Vicopper, unfortunately, I do not have one, wished I did though. Glad to hear someone thinking positive thoughts about me. Maybe one day I will.
- Jymm Hoffman - Monday, 05/03/04 23:59:25 EDT
---
Skin protection: I have to think about it all the time. I have history of skin Cancer on both sides of my family... to adapt from Uncle Atli's Ultra Thin Book Of Wisdom... sunburn, while historically accurate, is not necesarily a desirable outcome....lol hope you don't mind Mr. Blackistone

I would give my left pinky toe, and possibly my right one to never sunburn again...lol
Joe R - Tuesday, 05/04/04 01:41:48 EDT
---
Horseshoe nails: Barney Thanks I have some #12 nails on order from Profetional Farrier Service in Oakville, they shold be here late today (I love overnight post) we'll see how my new bending jig does with them.
Mark P - Tuesday, 05/04/04 08:54:41 EDT
---
Hmmm seems like nailing Joe R's pinky toes to the basement floor would make him happy...

Thomas---just trying to be helpful!
- Thomas P - Tuesday, 05/04/04 14:26:07 EDT
---
Sure Thomas: if it meant no more sunburns I could take the pain...lol
though I might howl a bit
Joe R - Tuesday, 05/04/04 14:38:00 EDT
---
Anvil Repairs: Today I finally got a good anvil. Its a 108 LBS Peter Wright. Its alot better compared to a no name 20 lbs. Well anyway The anvil has seen better days. It was literally burried under dirt almost fully covered. This may have kept rust away but its been in my family a very long time. It has a chunk missing about 2 in x 3 in in the form of a triangle about 1/2 of an inch deep in the deepest part along the edge. How could we reface it. We figure we could stick weld using a high quality steel stick. If this will work what type of stick. It works good as is but I would like to fix it because its been in the family a long time.
- Dan Crabtree - Tuesday, 05/04/04 22:24:42 EDT
---
Dan,:

Personally, I'd just polish the face, remove any mushrooming from the sides with and angle grinder, and radius the corners of the face. That would take care of at least part of the missing chip. I would leave the chip alone, simply because it's part of the history of the anvil.
Paw Paw - Tuesday, 05/04/04 22:47:38 EDT
---
Paw Paw: Ive already polished it for the most part. The chip if kind of big and starts at the horn and goes down 3 in. to about halfway down the face into the largest mass area of the anvil. One side is still good but do you think This will effect it much. The price of this anvil was unbeatable too. 0$. Ill get some pictures of the crack tomarrow and post them on a web page and let you take a look and see what you think. I never thought of leaving it as the personality of the anvil. I thought people might think it was junky with the chunk out of it... but thats just ignorance.
- Dan Crabtree - Tuesday, 05/04/04 23:02:30 EDT
---
Dan: You can send me the pictures as an attachment to an email. I'll be glad to look at it for you.
Paw Paw - Tuesday, 05/04/04 23:49:38 EDT
---
Ive been looking up some history on Peter Wright anvils and from what i understood they stopped making them in 1920 unless im wrong. I think there is a date printed on the anvil. Anyone know a way to clean it up and make the number visible after it has been worn badly.
- Dan Crabtree - Wednesday, 05/05/04 00:46:27 EDT
---
Dan,:

Scrub the sides down with a scotch brite pad. Wipe them down with a damp rag and wait for them to dry. Then use a piece of thin paper, and the side of a pencil lead to do a rubbing. You'll be surprised at how much more you will be able to see. Also, look at the front of the foot under the horn and see if there is a number there.
Paw Paw - Wednesday, 05/05/04 01:11:20 EDT
---
Old Anvils: I am using an old farriers anvil, seems really old, has a lot of mushrooming near the toe. Has what looks like a clover sculpted into the side. Has two pritchell holes and a 1 inch hardy. Also has what looks like a small trumpet or a cleaver sculpted underneath the clover... I will soon post pictures on my web site, when I can get some AA's for the digital that is... Would love to know what I have been working on... thanks

p.s. Any historical value is pretty much lost since someone decided to stick weld the side with their initials really large. Thinking about grinding these off and feathering it invisible though.
Joe R - Wednesday, 05/05/04 02:00:14 EDT
---
Nails: I get mine from Prof Farrier in Orangeville.. Also overnight express. I use a small ball been hammer with light taps. Works well .. Also use a very small pair of vise grips to hold the nail. Cheers and have fun..

Barney - Wednesday, 05/05/04 16:02:51 EDT
---
As some of you may know I recently recived a family heirloom anvil. It belonged to my great grandfather (god rest his soul) who lost his eyesight while blacksmithing when a peice of scale flew up and hit him in the eye. Just reminding you all how VERY important it is to wear saftey glasses.
- Dan Crabtree - Wednesday, 05/05/04 17:55:15 EDT
---
Thanks Dan: Will wear em all the time now, not just when I am forge welding... need an air conditioner in mine though, I hate having hot eyes
Joe R - Wednesday, 05/05/04 18:50:53 EDT
---
Grandfather was a Blacksmith: OK, I have to throw in my two cents worth on this one. Ithink a few of you are overlooking the fact that blacksmiths were very prolific in bygone days. Where do you think all the used anvils and equipment came from that you use now? In my area, up until the fifties there were at least seven blacksmiths that I know of. Given the fact that some of these men had large families (one had thirteen, another had seven) there are right now at least sixty people in this area that can truthfully say "their grandfather was a blacksmith". This area was logging/farming area and there was LOTS of work for smiths back then. My grandfather specialized in logging sleds and wagon repairs. An old guy down the road specialized in shoeing horses. But they all smithed whatever was needed to keep machines working, logging crews producing, and whatever else it took. I know that from an urban viewpoint, where art blacksmiths are front and center, visualizing how much work these old smiths did and how essential they were to local economy might be a far stretch of the mind. But when you consider that poking fun at people that say their ancestor was a blacksmith is akin to someone poking fun at a person thirty years down the road who says their grandfather was a mechanic. Mechanics are slowly being phased out by the "computer technician service specialist" who no longer has to diagnose a vehicle, just the same way that mechanics and welders and tool factories phased out the original blacksmiths.
Yes, my grandfather was a blacksmith. No, he never made a rose petal or a garden gate, but the work he did was essential and a lot of the sleds he made are still setting in barns and sheds today, a testament to a bygone day and another time when men took pride in doing a good job.And I'm damn proud of him.
- Ed Long - Wednesday, 05/05/04 19:38:30 EDT
---
champion blower: I've been working on an old champion blower I hve most of the rust of using soda, water, and a battery charger but I can't get the shaft that attaches to the fan to turn. I don't want to break the cast but I can't see If it has a woodrift key in it or not. Does anyone know a good reference or know off hand????
PS my grand pa was a smith too and the closest he got to art was welding a cyclebar together with borax he collected himself.
- Erik Lynde - Wednesday, 05/05/04 22:49:54 EDT
---
Ed Long:
Re: My grandfather was a blacksmith.

Very well and truly said, Ed.
Paw Paw - Wednesday, 05/05/04 23:31:34 EDT
---
Re: Free books: Paw Paw reposted a message from Norm Larson a couple of weeks back about the free books being published by the Countryside Agency. When I tried to download them I got an error, which I reported. Pete from the CA has written to say they have now tracked down the error and they will be fixing the affected PDFs over the next few weeks.

So if you have not managed to download them (http://www.countryside.gov.uk/NewEnterprise/Economies/craftpublications.asp), please bear with the CA and try again soon.

- zed - Thursday, 05/06/04 10:51:46 EDT
---
Made in USA: Recently a student from Malaysia walked into a Radio Shack with the intent to buy gifts for his people back home. He asked the salesman to point out stuff which was made in USA 'cause China, Japan, Taiwan &c. were all "nearby." The only things the salesman could come up with which were made in USA were Mag Light flashlights and software.

- John Lowther - Thursday, 05/06/04 12:30:02 EDT
---
Blacksmiths as grandparents: Ed, partially true. It also depends on where you are. I know that there were not many blacksmiths in this area early on as( Near Portland Oregon) it was cheaper to use the Hudson Bay smiths while they were here. From the research I have done in the area I now live I know there were smiths in the area, but not in the numbers that your area had. So I guess what I am saying is it is situational. Smiths were not nearly as prevalent as other trades so it is logical to assume that there will be fewer descendants of them than say hostlers, or storekeepers or innkeepers or saloon keepers etc. Especially farmers.

My grandfather was a mechanic/farmer/blacksmith in Arkansas. He did this as he had to due to the fact that the nearest town was about 10 miles away Later in life he mostly worked on cars but still smithed as many of the oldr cars had stuff that were not found in parts stores. I say he was a smith, but in all honesty I am betting he was probably less of a smith than I. I mean that he did not do it to learn new stuff etc. But only to get a specific job done at the time and also as a Scot he was most likely rather thrifty and saw no reason to pay someone else.... :)
Ralph - Thursday, 05/06/04 13:35:34 EDT
---
I think one of the problems is just exactly what you mentioned---folks remember their Grandfather doing a touch of smithing down on the farm and so he's a *smith* to them---he might not know how to forge weld, draw out a plow point or properly temper something, (by testing the steel to see what he's got and how it needs to be worked); but he's a smith...

My *great* grandfather was the smith for Cedarville AR---I never knew him though and all hsi equipment has vanished over the years.

Thomas
- Thomas P - Thursday, 05/06/04 14:19:28 EDT
---
Arms are killing me trying to find nice feather hammer or spring/hydraulic hammer
- David Lange - Thursday, 05/06/04 15:30:51 EDT
---
Thomas:
There is a lot of truth in what you say as well. I tell folks that I started learning to smith from my great grandfather and grandfather. That's true, BUT my great grandfather was just enough of a smith to keep his farm machinery working. My grandfather started out on a farm, became a blacksmith, then a machinist, then a tool and die maker, and retired as the Master Tool and Die maker at DuPont corporation at DuPont City, West Virginia. (His life story is the story of the industrial revolution). Great grandpa Johnson could do a forge weld, but didn't like to do it, and I doubt if he EVER did anything "artistic".

Paw Paw - Thursday, 05/06/04 15:33:51 EDT
---
One of the old time smiths in our area was a man named Allen who was also one of the best farriers around. One morning an old chap showed up at his shop and watched him work for an hour or two. Eventually Allen finished what he was working on and asked the old guy if there was anything in particular he wanted.
"I just came down to see if you could shoe my team ,"was the response. The old guy had almost a ten mile trip to get to Allen's shop.
Allen walked to the shop door and looked around. there wasn't a horse in sight.
"Where'd you leave your team at?" he asked.
The old guy walked to the door and stood scratching his head for a moment.
"Well, danged if I didn't forget to bring them."
This was one of Grandfather's favorite stories
- Ed Long - Thursday, 05/06/04 18:07:24 EDT
---
Ed:
I'll bet the guy never lived that down! (LOL)
Paw Paw - Thursday, 05/06/04 19:39:41 EDT
---
Just wondering if anyone can tell me how effective a treadle hammer is? I've been a traditionalist all along and what I beat out I BEAT out. Only problem is, lately I seem to be the one taking the beating. I don't really want to lay out the big bucks for an air hammer until I know for certain if one of my boys will want to keep the shop running. But it sure would be nice to have something to give the old right arm a rest from time to time.
- Ed Long - Thursday, 05/06/04 23:40:59 EDT
---
Logging cable: Been forging a knife out of it. Seems like pretty high carbon stuff. quench in water it cracks, been using old hydralic fluid. i have it forged down into a billet and folded it over once. Any idea to carbon content? I would like to know how I should heat treat it for best results. Thank you
- Joe R - Friday, 05/07/04 03:04:55 EDT
---
Treadle hammers and Cable: Treadle hammers are great for use with tooling, not so hot at drawing out. That said, I made some wide-radius drawing dies for mine that do help quite a bit. I'd say it's about five times easier than doing it by hand, whereas with an air hammer it's about one hundred times easier than doing it by hand. Unless you can get a treadle hammer cheap (I did), the extra expense of a power hammer may be worth it.

Cable: This comes in various grades, and can range from 1050 up through 1095. Sounds like yours is in the higher range. I'd stick with the oil quench and treat it like 1095. If it's lower carbon, that won't hurt it.
Alan-L - Friday, 05/07/04 10:06:49 EDT
---
Ed; since you are a traditionalist you are using a couple of strikers right? A single person blacksmith shop is *NOT* "traditional" "historical" or "authentic".

Using power tools *is* very traditional. It's kind of interesting to look at all the water wheel driven tilthammers shown in "De Re Metallica" from the 1500's

A small triphammer will still provide a lot of character to forged parts---if you want it to and is not much more expensive than a treadle hammer ---actually I've owned 3 triphammers and they have all been cheaper than the treadle hammers being sold at Quad-State...

My advice: visit a shop with booth tools and try them on something you commonly have to do.

Thomas
- Thomas P - Friday, 05/07/04 11:47:33 EDT
---
Alan: Know what kind of patterns appear with an acid etch? I am hoping that the cable will have good designs because of the combination of folding and since it is made of all those tiny wires
Joe R - Friday, 05/07/04 17:43:20 EDT
---
Joe R
Cable makes a nice pattern without folding, but I haven't seen it folded. It already has such a busy pattern that I never thought to fold it. Try some unfloded, and do you folded and compare. I would be interested in the results.
ptree - Friday, 05/07/04 19:01:57 EDT
---
While neither of my grandfathers were blacksmiths, one was a master molder in a foundry, and as an apprentice, forged and machined the leg vise I now have!
ptree - Friday, 05/07/04 19:04:26 EDT
---
Joe, if you fold it more than once or twicew the snakeskin pattern often starts to disappear.

Thomas
- Thomas P - Friday, 05/07/04 19:26:06 EDT
---
Thomas, okay, maybe not traditional in YOUR sense of the word, but in my neck of the woods , tradition was one or two at the most in a shop. I can historically document this statement by the simple fact that my family has lived in the same area for 175 years and being farmers/loggers, they were all involved with blacksmiths in one way or another, and the stories pass down...Let's see, Billy P worked alone, Hiram L worked with one son, the Duffy brothers (two) ran one of the busiest shops around, and so on. Yeah maybe I'm from WAY back in the woods but we had our own way of doing things, and in all my years (and my fathers and grandfathers) there ain't none of us ever saw a trip hammer of any kind. Not meaning to belittle the experiences of anyone else, now don't get me wrong. But I've made a ton of horse gear and sleds, wagon wheels, whatever, over the years and I've done it all by hand.
- Ed Long - Friday, 05/07/04 19:53:10 EDT
---
traditional.....: Ed, this just proves the point I always try to make when I hear folks say 'traditional' Apparently in your neck of the woods traditional is very different from most other areas.
As labour was always much cheaper than materials so strikers etc were used extensively, or trip hammers etc.

But traditional is such an ambiguous word. Traditional as to what? 2004? 1904? 1804? 1004? 0004? It all depends on what time frame folks mean. And this garbage about how smiths of old would have turned up their collective noses about moderen equipment... hogwash. I am fairly certain that if 'Joe SMith' from 1545 had access to a modern power hammer or welding equip etc he would jump on it in a heart beat ( assuming of course you could convince him it was not a tool of the devil) Smiths were historically the most advanced technologists of their day.
Ralph - Friday, 05/07/04 20:50:35 EDT
---
etched cable: What ptree and Thomas said. No folds will give you a diagonal twist-looking pattern, one fold will produce the snakeskin effect, five or more folds looks kind of like wootz IF you can get the pattern to come up. Cable is usually a subtle pattern, since there's no alloy contrast. What you see in the etch are decarb lines between the wires. Generally speaking you won't see the tiny wires very well in the etch, just the big bundles.
Alan-L - Saturday, 05/08/04 10:04:03 EDT
---
More cabulation:: Some makers wrap nickel wire around the cable when they start, following the grooves in the surface. This makes very bright alloy contrast when etched. Jim Hrisoulas has been known to make his own "cable" using 5 to 7 rods of different alloys and diameters twisted together, then forged out. This gives the snakeskin effect AND alloy differences, for a pattern with much more "pop" to it. I like plain cable for the subtlety, myself.
Alan-L - Saturday, 05/08/04 10:08:10 EDT
---
Ralph,
I think more than just historicaly (unless you consider that we're tommorrows history) technolgly advanced. I was one of the first memembers of the Sask Craft Council to be serious about using a website as a selling tool. Plus look at what we are doing with CSI and anvilfire. Organising an international nonprofit organisation, setting up a board of directors, and a voting system that all done online?
To say nothing of all the work the Guru has done here answering questions, and the archives?
I don't think any smith in history has had access to the amount of information that is just in the archives. (for free no less!) I'm proud to be part of CSI and what it is doing. It is exciting to see where we are going using new technology. Hopefuly we can get enough others thinking the same way and keep this resourse availible.
JimG - Saturday, 05/08/04 11:03:29 EDT
---
JimG/CSI: Nice plug! Wish I would have thought of it.
Folks listen to Uncle Jim. CSI is where it is at. We want you to be a part of our growing family.
Ralph - Saturday, 05/08/04 11:46:42 EDT
---
HELP!!!!: This is Jack's Fiancee, Hope. I am having a BIG problem forgewelding some copper cable. Garey built me a great gas forge but now that I have it, I can't seem to get the copper to weld. Any suggestions?
- JackFrost - Saturday, 05/08/04 13:50:02 EDT
---
Ed, "traditional" os sort of a red flag to folks interested in the historical background of things---look at traditional cooking for many places in europe it includes tomatoes and potatoes---*new world* plants so we automatically know that that receipe is post 1500. What it comes down to is that "traditional" usually works out to how things were done within the last 100 years

My great grandfather was the smith in a small ozark town in Arkansas. He knew about triphammers and used a striker even hiring day labour when he had a big job.

Isaac Doss had been a smith for over 60 years when I met him in the early '80's. He worked alone in his "retirement with several triphammers in Berryville AR, used to talk about taking the stuff around to sell in a horse drawn wagon on the dirt road that's now an interstate! He had help back in the days when it would pay to have it.

Are your family traditions going back before the depression? Many multple person shops became one man shops when there wasn't money to pay the workers....

Where are you at that they hadn't heard of triphammers? They sure were known in NM, Montana, AR, OK and other "not the center of the world places I've been...

In medieval times your *wife* might be helping in the shop---cause we have guild rules that women can only work in the shops of their Father or Husband...

Thomas
- Thomas P - Saturday, 05/08/04 14:43:22 EDT
---
Was a very good day. Bill Phelps from Hillsville, Va, and Joe Rotenberry, also from Hillsville, Ntech and Whitesmith from Charleston, WV, Myself from NC, and Rich Waugh from the Virgin Islands. took turns demonstrating, and had a great day
Paw Paw - Saturday, 05/08/04 21:08:41 EDT
---
OK, Thomas, to keep you happy I'll change the traditional to primitive. Will that soothe your sensibilities?:-)
I live in an area where the major industry has, for the past three hundred years, been logging. And logging, up until about twenty years ago in this area, was done with horses. In fact the first harvesting machinery brought in here was promptly burnt to the wheel hubs. And where there are horses, there must be blacksmiths. (I think this is in the Bible somewhere :-) ) At one time in my fathers day, the litle town to the west of us had four working blacksmith shops. The town wouldn't be a half mile long stretched along the highway. And no, they did not include trip hammers. The contents of three of them are in a local museum, and the fourth burnt.
The old chap my grandfather started working under gave all his gear to his grandson before he died at age 93. I now own most of that stuff, having bought it from his grandson before he too passed away, and nope, no trip hammer.
The local wheelwright's shop once turned out numerous wagons, buggies, sleighs, cutters, you name it. The family let the old shop run down considerably and finally donated all of its contents to the museum, where they constructed a building exactly like the shop originally was and installed all the machinery, steam engine and all. And you guessed it, no trip hammer.
It seems to me that trip hammers may have had a direct link to larger, more urban shops. Dunno, could be wrong.
And yes, my family lived in this area during the depression. We've owned this farm for 175 years.
- Ed Long - Saturday, 05/08/04 22:14:31 EDT
---
175 years is pretty good for North America! My family would always get run out of town long before that...Coure when I was over in europe I did visit places that had forges that had been in the same place for 600 years...being upgraded as technology moved along until finally they were turned into museums full of flypresses, lufthammers, drophammers, etc run off water, (went out of business in the 1970's)!

Get a hold of the blacksmith's calender---lots of small country shops with a hammer or two lurking in the backgrounds---it's what Little Giant was famous for---not having the best hammer but selling to small shops on time payments.

Thomas
- Thomas P - Sunday, 05/09/04 01:19:51 EDT
---
Candle Stick: Tomarrow is mothersday and I had 3 $ in my pocket... What to do. I bought a card and then headed to the shop. I used 1/4 in rod and forge welded the top and twisted them leaving 3 in of wire at the bottom. I then curved these outward and rolled them back towards the stick. Then I cut out a circle of sheet metal smoothed the edges and added bees wax. Turned out butiful. Very nice project and im suprised it came out as good as it did for me only having a few months experience.
- Dan Crabtree - Sunday, 05/09/04 01:45:26 EDT
---
forgot something: I need to start proof reading hehe. After the circle is cut out you can punch a hole and rivet it down. I wasnt having luck riveting so I brazed it on but what ever you want is fine.
- Dan Crabtree - Sunday, 05/09/04 01:47:03 EDT
---
Dan, good for you! Handmade gifts are the best, they show you were willing to put in effort to make something unique to present to a loved one.

JimG: a very truthful statement, well stated, about the incredible amount of information available on this site...financially supported at the moment by 94 paying members a $52/year and running at a deficit. This can't continue without help from other folks willing to spend 15 cents a day. A lot of folks are paying over $40 a MONTH for cable or satellite TV.....
Ellen - Sunday, 05/09/04 17:36:10 EDT
---
I should have mentioned that Jock has set up PayPal to support monthly or semiannual debits to your credit card so you can be a supporter and member of this valuable organization with having to come up with $52 in a lump sum....
Ellen - Sunday, 05/09/04 17:37:50 EDT
---
with = without. Darn computer can't spell or do proper grammer. Anyway that is a tad over $4 a month...or $26 on a semiannual basis.
Ellen - Sunday, 05/09/04 17:40:04 EDT
---
I'm looking for the address to send membership funds for CSI. Being from outside the US I'll have to send an International Money Order, but I'm not sure who to put on it name wise. Also, do I use the Dempsey Forge address? Paw Paw? Jock?
- Ed Long - Sunday, 05/09/04 19:01:37 EDT
---
Ed,:

Can you send it through PayPal?
Paw Paw - Sunday, 05/09/04 19:39:20 EDT
---
CSI payments: Ed,
I just called Jock on the phone, had a nice (from my perspective anyway) visit and set up monthly payments through the creditcard. Last international money order I sent cost me $5 in fees and I'm not one of those spendthrith Scots ya know!
(last statemen comes complete with apoligies to spendthrith scots)
JimG - Sunday, 05/09/04 21:30:48 EDT
---
A few post up you can read about the candle holder I made my mother. Well I gave it to her and she was so happy she cried. Handmade gifts truly are the most thoughtful
- Dan Crabtree - Sunday, 05/09/04 21:55:19 EDT
---
JimG: Hoot Mon, I'm one of those frugal Scots, and I nae take offence at your comment; rather be proud of being frugal! Some folk dinna ken the value of a cent.
Ellen - Sunday, 05/09/04 22:47:21 EDT
---
JimG: Actually, we have a story (a true one) in my family where thriftiness paid huge dividends. My paternal grandparents emigrated here from Scotland.....in the Spring of 1912. Being thrifty, they naturally traveled "Steerage". Grandmother wanted to travel on the brand new Titanic; Grandpa found another ship leaving a few days earlier for a slightly cheaper price, for which he bought tickets. I think of that whenever people deride folks for being thrifty. VBG!
Ellen - Monday, 05/10/04 00:00:10 EDT
---
Handmade gifts: Way to go Dan!

I suppose, if you're going to make your Mama cry, that is the prefered way to go about it. (grin)

On the subject of handmade gifts, I had to throw this in. I came home last night about 4 AM and saw that my youngest daughter was up. I went to her room and found her sitting in the floor with numerous scraps of cloth scattered about, sewing a pillow for her Mom. Jessica has never sewn a day in her life, but was bound and determined to finish her project before Mom woke up. When went into the kitchen this morning, there was the pillow, an attractive patch-work piece, with the word MOM cross-stitched across the face. Having gotten used to Jessica's autistic quirks, it didn't really surprise me that she picked up sewing without any instruction. I 've seen her tackle similar tasks in the same fashion. What puzzled me was what she stuffed the pillow with, as I couldn't imagine anything we had available for her to use. Well, when I got out of the shower and went to get dressed, there was not a single pair underwear in my dresser! On the bright side, Barbara has a beautiful pillow. I just won't tell her what's in it, unless she asks.

Fellin' just a tad drafty,
Eric
eander4 - Monday, 05/10/04 02:05:18 EDT
---
Paw Paw, regarding PayPal, I haven't been able to e'mail ANYTHING on this computer since buying it (second hand) a year and some ago. Even had a tech in to look at it and he got it to work for about a day and a half and then I started getting "illegal operations" and "error" messages everytime I open the e-mail section. Ah well, save a buck lose the bank roll. Right now opening the e-mail section of my browser causes the browser to shut down completely.
- Ed Long - Monday, 05/10/04 07:55:20 EDT
---
Eric & Ed: Eric,

I suspect that a trip to the store might be in order! (grin)

Ed,

And for you, I'd suggest a new computer. Or else, a wipe and re-load of your operating system and all software. Sounds like there is somthing REALLY flaky going on.
Paw Paw - Monday, 05/10/04 09:01:20 EDT
---
cutting torch: Drug out my little torch set, blowed larger holes for a trailers latches. Small bottles, but the torch worked well.Should be able to convert to large bottles if I ever use that much
- Ritch - Wednesday, 05/12/04 18:19:26 EDT
---
About Email not working. Is it outlook express that doesnt work or sites like yahoo? Are you using a isps email like aol computer attached to a router. There is a way to fix the email problem please respond and ill help work through it
- Ben Christy - Wednesday, 05/12/04 19:19:21 EDT
---
All:

I'll be out of town from tomorrow morning until either late Sunday evening, or Monday morning. Y'all behave while I'm gone, I don't want to have to spank anyone when I get back! (grin)
Paw Paw - Wednesday, 05/12/04 21:08:01 EDT
---
Gas prices: Haven't had a chance to get on here lately so I know I have missed some good stuff. I'll have to do a bunch of reading before long.
The reason I am posting now is an email I received from my son today.Seems as if there is a grass roots movement afoot about the gas prices. May 19th is the day. All you have to do is not buy gas that day. If enough people curtail buying that one day the overall drop in sales will become evident to the head honchos. Might do some good, might not. Won't hurt to see.

Sorry if I stepped on any toes or if this is inappropriate. Just wanted to pass it along. Thanks Jock and Paw Paw.
- Larry - Wednesday, 05/12/04 21:21:00 EDT
---
Steel roll mill: I have completed most of the parts needed to build the McDonald Mill with the exception of the pullies (drive train) and frame. In other words, I'v completed the hard part. At this time I would like to sell the whole lot as a starter kit for someone interested in building the Hugh McDonald Steel Rolling Mill. I know I'll regret it, but I'v got way to many projects going in the shop and I have to clean it out for renovation. All parts are machined within strict tolerances. I would suggest to someone that is interested, that you purchase the plans yourself (plans not included). You will need this to complete the project. I would label all parts for easy identification. If interested send me an email. Thanks.
- Keith Barker - Thursday, 05/13/04 07:26:30 EDT
---
Keith, what continent are you on? Shipping might be a tad pricy if you're in South Africa and I'm in NM, USA...

What kind of price are you thinking of?

Thomas
Thomas P - Thursday, 05/13/04 10:34:10 EDT
---
Thomas P: Sorry to hear about your tooth ache. Try putting some oil of clove on it if you cannot get to a dentist right away.
Shack - Thursday, 05/13/04 11:23:27 EDT
---
E-Mail: Ben Christy and Keith Barker, it helps to leave an e-mail address!. Keith price and location will save a lot of headache.

Type your e-mail address in the E-Mail box below the input window. Our system requires you to have javascript working. E-mail addesses are encrypted in the forum to prevent spam harvestors from getting them.
- guru - Thursday, 05/13/04 11:28:28 EDT
---
Steel roll mill: Thomas, sorry, I should have stated that I was located in upstate NY. Not far from historical Cooperstown. Have not put together a price yet. I thought I would put some feelers out. Tonight I will go over all the parts and get some detailed photos and post them in the Anvilfire Photo Gallery. Folder named "Keith at..."
Keith
Keith Barker - Thursday, 05/13/04 11:34:59 EDT
---
Second Hand Mail Problems:
Ed, Sounds like a virus infected computer. OR one that WAS and in the process someone trashed the mail system deleting files. You need to do an Operating Sytem reinstall, OR Download a copy of Eudora and install it. If your browser works Eudora should work.

You should also do a good virus scan before installing a mail program just in case they didn't clean up the mess properly. Generaly folks that get viruses and wreck their system have more than one.

Eudora.com
- guru - Thursday, 05/13/04 11:37:40 EDT
---
Tradition! (coming from Tevye on the roof top in a bold baratone):
I've railed on this subject more than a few times and should put together a LONG pointed FAQ. So again I will add to what Thomas and Ralph had to say.

Who's traditon when? What brief snapshot of time? Starting, ending?

In Europe in the 1500's there were shops with tilt hammers and dozens of workers. They used water power and every "modern" convienience of the time.

Half a millinea prior to that in the Medeteranian it was tradition for many workers to do so naked. Hows THAT for a tradition? It was a tradition MUCH longer than whatever your grandfather's traditions were.

Long before America was invaded by Europeans they had a long history of specialization in smithing and a farrier was NOT a blacksmith. It was only on the American frontier and in rural shops at the end of the horse drawn era that most smiths were also farriers. The "general" blacksmith was a NEW American breed needed where there was a small pool of skilled workers doing a wide range of tasks. It was one of the shortest of technological "traditions" in history.

At a time when Europe was industry poor China was producing iron by the tons at a time. This was a technological advantage that was lost but it makes for OTHER traditions centuries before Europe's. India had a vast metalworking culture that predated Europe's.

In a vast majority of the world for the majority of history it was traditional for workers to sit on the floor and work at pit forges. It STILL IS! In Japan today the master smith sits at his near floor level anvil while strikers stand to get a good swing. . . This working method is still common in the Middle East and throughout Southeast Asia.

Is this much LARGER LONGER, GLOBAL historical tradition the "true" traditional working method that we should all adopt?

The MOST important tradition ow the Western blacksmith shop was that smiths often invented new tools, techniques and machines and were ALWAYS the quickest to adopt the newest most efficient tools. If you look at the Sears blacksmith's tool catalog of the early 1900's (your great grandfather's era) there are more Lathes and engines than anvils and forges!

Little Giant did not sell the MILLIONS of power hammers between 1900 and 1940 they made to "modern" blacksmiths. They sold them to your great grandfather's generation!

If YOUR tradition in YOUR "neck of the woods" is poverty, ignorance and backwardness should you continue that "tradition"?

So? What "tradition"?????

Primitive? You making your own steel, then your own files and saws? Ah. . no modern adbrasives, high speed steel drills or wire brushes alowed either! Try THAT and see how much you enjoy it.

And why the heck are you spouting off about traditionalism using the most profound, revolutionary, cutting edge technology that has come to the metalsmith in 6,000 years?

Now where is my atomic punch? (Isaac Asimov, 1945)


- guru - Thursday, 05/13/04 12:30:41 EDT
---
Thanks for the good thought Shack, went to the dentist Tuesday and Wednesday, getting two crowns and they are only doing one at a time with a two week wait for the crown to get made and shipped (the downside of small town living) between *each* crown. So I've got one tooth upset from being hacked on with a burr and the other one is still upset cause it needs a crown and won't get worked on for 2 weeks. Trying not to grind my teeth thinking that my share of the bill is still more than the most expensive triphammer I've ever owned...

On the bright side though all that ibuprofen sure helping with the muscles stressed putting up the studio walls for my wife and the star drill work is getting me back in shape for the arrival of my smithing stuff sometime next month---I hope! And I don't really need to eat so negative reinforcement is *good* for me...just glad the family is *not* around while I do my famous grizzly with a sore tooth impression.

Thomas
Thomas P - Thursday, 05/13/04 14:20:50 EDT
---
Traditions?: Hellwidem. I'll make mein own traditions.
3dogs - Thursday, 05/13/04 18:14:02 EDT
---
CSI is the best tradition! Weld it? Absolutly use Tig, unless mig is better. But then again maybe submerged arc or Gmaw. Then again Ox/gas may be better, or perhaps forge welding? If you want to weld it, a CSI expert, or ten, can tell you everything you might need to know.
Want a real tradition? Join CSI
ptree - Thursday, 05/13/04 19:33:23 EDT
---
3Dogs thanks for the suggestion---I didn't have a "topical" for the injections---can't stand mint and just about *ALL* the dental products are mint flavoured. I chewed out the assistant for using mint flavoured floss---she'd have my lunch on her except that I hadn't had it yet. I guess I'll bring in some unflavoured next time I go in...

Another one I received is to apply ethanol to it, swallowing any runoff is suggested...doing it at work is *NOT*!

Thomas---*not* holding out for traditional blacksmithing dental work!


Thomas P - Thursday, 05/13/04 19:55:48 EDT
---
Tradition: One thing I think has allways been tradition in a comercial Blacksmith shop (meaning not a museum)has been to do the job in as quick a way as possible to make a profit
JimG - Thursday, 05/13/04 20:34:28 EDT
---
Where did machinests come from?: Any good Smith, not hobiest or artist, can tell you that it is the ends not the means that lets a smith survive. No affence to any one. I'm in my middle tweinties and started as a cnc carpenter moved to metal then to high production factory to trying my brains at Smithing; the one thing that has always been the same. get it done fast, get it done right, and get it to the guy who needs it so he can continue life.
Getting back to tradition (or in some cases someone else's bad habits) is one of two things: An EDUCATION to see how it was done to better how its done now; or a romantic idea of how "hard life" is more enjoyable than the lazy times of late. The way I understand it is that a smith was not a guy who worked metal but a guy who solved a problem or made life easier. The smith just happened to be able to mold steel to help in the prosses. The smithing I have been exposed too the smiths knew how to build a house, raise a barn, build a wood cart from start to finish, build a retaining wall from feild rock. Not much credit is given to the intelligence of a smith. He is the equivalent of the modern engineer, machinest, carpenter, mill right, all in one.

Sorry for the rant just tired of people thinking smithing is historical and useless except for history lessons or for the simple minded.
- Erik - Thursday, 05/13/04 23:18:42 EDT
---
tooth pain: clove oil works but xylocaine hydrochloride works better (that's what dentists use to freeze our mouths.) The drugstore stocks it as Oragel, and/or some other name. (it's used for treating infants gums when they are teething).
I feel for you, I've been there.
SLAG
- slag - Friday, 05/14/04 02:20:31 EDT
---
Wrought Iron: : Hey, if anyone would be interested,I was up at my uncle's the other day and found that he has a PILE of 1 1/4 inch twisted wrought iron re-bar and some 3/4 and 1 inch too. It seems to be in lengths of about 10 to 20 feet. I thought it was wrought and he said it was from an old bridge and that when he cut some of it, it seemed to have grain to it and slag in it. Would anyone be intested in some? I live in North Western Pennsylvania near I-80 and it would be reasonable.
Thanks BooBear
Gary - Friday, 05/14/04 10:22:57 EDT
---
Teeth and iron: Thomas, the ethanol works best at concentrations above 45% by volume. Don't go over 75% by volume without professional help!

Gary, I suspect you'll be deluged with interest. If I were close I'd take you up on it. Are you calling it by the right name when you say rebar? The old square rebar with the little diamond-tread design isn't wrought, but it's decent steel.
Alan-L - Friday, 05/14/04 10:58:24 EDT
---
Gary, notch a piece and break it and look at the break. if it has a greenstic "fiberous" look to it and not a fine grained "sandy" look to it, it's wrought. Please double check. The fellow I know that sells it does this on every piece (saves a bit of time and wear on the bandsaw he cuts it with too) ensuring that it's WI sometimes things got mixed up a bit during the change over years...

I'm going to mention this on another board (primal fires) where they like WI.

Thomas
Thomas P - Friday, 05/14/04 11:35:33 EDT
---
Gas day off: This has been tried in the past, but it only gives some individual comfort that you "did something". Unless you stay home for one day, the biggest reaction you'll get is from the gas station owner, who'll say, "See you tomorrow." You'll need to buy sooner or later and that day will see a spike to offset the dip.

Also, depending on the size and traffic of the gas station, fuel is not delivered daily, so it may not even get noticed then. And since billings are usually monthly, the distributor won't even notice, much less the head honchos.

The only way to attack the big guys' bottom lines is to sell your truck, SUV, ... and get a Prius. Then carpool with that. Turn your heat down in the winter, up in the summer, change to wood or solar. Invent new forms of energy transfer (fuel cells, hydrogen, ???). Etcetera, etcetera. Remember the 70's?

-Marc

- MarcG - Friday, 05/14/04 12:13:06 EDT
---
Gas Day-Off: Marc,

Well put, and appropriate, too. If less people drove gas-guzzling SUV's to get across town to work everyday, the demand would be far less than it is. The US has had artificially low fuel prices for years while the rest of the world paid $3-4 a gallon. Travel to any foreign country and see how many SUV's are on the roads where gas is $4/gal.

The goal should be less to attack anyone's bottom line, and more to conserve non-renewable resources and improve air quality.

Yes, I do own a pickup that gets only 18 mi/gal. I also do most of my commuting on a motorcycle that gets 55 mi/gal. Economical AND fun. (grin)
vicopper - Friday, 05/14/04 13:58:11 EDT
---
To Guru, Thomas, and a few others.
A few days ago I posted a question regarding treadle hammers. I made the mistake of using the word "traditional". I didn't know then that this word is patented and owned by a precious few who know all there is to know about blacksmithing. Then I made the further error of using the word "primitive". Another BIG mistake. One gentleman did give a few wordss of advice on hammers. The rest of you jumped with both boots onto my back over your definitions of tradition. No sage words of advice over the question at hand, just flat out slams and rebukes that I , a meager peasant in the land of giants, would dare to use one of your hallowed words. (of course no one looked at what I was actually trying to say, you just took it and run with it.)
Mr. Guru, a few points regarding your dissertation:
I did not ONCE suggest that anyone should give up their modern tools to "sit on the floor" to smith. I merely stated that I do my work by hand, and I don't see the need of this being blown out of proportion this way. ( I recall seeing on this sight a reference to the smith at Williamsburg smithing by hand, and he was viewed with something akin to awe for it).
You refer to the power hammers available at the turn of the century as being my great grand fathers time. Actually this would have been my grandfathers time.( Always helps to know what you're talking about before you start).
The tradition in my neck of the woods being "poverty, ignorance, and backwardness" comment? I agree wholeheartedly that this area is indeed a socially and economically depressed area like many that rely on the boom and bust cycle of resource based economy. But to refer to us as ignorant and backward merely to make yourself look more impressive as a "guru" is the lowest form of low.
Primitive statement? Once again, I was trying to turn aside the attack of Thomas and get to the question.
And lastly, I was not "spouting off" about traditionalism. I asked a damn question on a public forum. I was attacked. I responded in kind. I don't give a rat's ass if Jesus himself had a trip hammer. i just asked the question about the treadle hammer. if you or your kind can't answer it in a civil manner, what are you doing touting yourself as the Guru for.
Just one more point before I leave because my freedom of speech bit is probably about to die. When I first starting visiting this site, and my e-mail actually worked, I was the recipient of ten seperate e-mails telling me that if I wanted to talk blacksmithing I would be better off chatting with other smiths at other sites because of the bigotted and ignorant manner in which Mr. Dempsey treated people on this site. I see now what they were talking about.

- Ed Long - Friday, 05/14/04 17:08:03 EDT
---
I thought i did put down my email address it should be there now sorry bout that.
- Ben Christy - Friday, 05/14/04 17:10:07 EDT
---
Ben Christy: and Again
Ben Christy - Friday, 05/14/04 17:10:48 EDT
---
Frankly Ed, I don't think *any* of us got as personal in our "attacks" as you have; so this seems like the soot calling the smoke black...And I would have to say that if the area you are from did not make use of items common even in other areas known to be remote and "backwards"---like the hill country of the Arkansas Ozarks that I hail from, well how would you describe it?

The use of a treadle hammer is much less traditional than using strikers or a triphammer. if you don't like the answer I guess you have to go back and change things!

If you do want to research use of treadlehammers in history I suggest you look for the term "oliver" and I believe it does get mentioned in "Practical Blacksmithing" by Richardson and in conjunction with the Sheffield Knife Smiths.

Personally I have seen only a couple in all my research these last 20 or so years. One in the shop of Emmert Studebaker that was definitely a commercially available product and one in a picture that was definitely home built. *Neither* of them looked like a modern treadlehammer. Rather they looked like a sledge being swung by a mechanism and powered by foot pressure on a pedal or bail..

Yes, you stepped "unawares" into a long going discussion on traditionalism---but I don't know of a smithing forum that *doesn't* have one of these lurking around---just wander across the street and look in the archives for "True Path", "Twisted Path", etc.

*NOBODY IS INFRINGING ON YOUR RIGHT OF FREE SPEACH* This forum is *owned* by someone and you don't have any "rights" with regards to it. Just like I don't have any rights to come into your house and start spewing profanity. You can be asked to leave or even thrown out but this is no bar to your right of free speech; just as throwing me out of *your* house isn't infringing on my rights.

You can start your own blacksmith's forum and run it to suit yourself! after years of getting battered by folks who have very fixed opinions you may get a tad tetchy yourself.

Thomas who is perfectly happy to have the Guru edit, delete or add to this post, it's his *job*!
Thomas P - Friday, 05/14/04 18:44:01 EDT
---
Ed, Ed, Ed: Ed boy howdy did you really step in it.
You asked a question and the question itself WAS answered. BUt also several of us talked about 'traditional' as that is such a widely thrown about term used mostly by folks who do not generally know better. Nothing personal. I know all I was trying to do was explain you need to clairify what you mean by traditional as it really does matter what YOU intend or mean by the term. Traditional to Thomas is different than it is to PawPaw as it is to Atli or myself as we all demo at 'historical' events all from different time frames and or geographical areas.

If you can not deal with constructive critiques then please do leave, as for all the emails you got from folks warning you about this site Bah Hum bug pure hearsay. I have been here since the beginning and I have not seen ANY of the allegations you clain EXCEPT from others coming in from the outside...... perhaps such as yourself, I hope not. I hope that you will sit back look around and honestly ask yourself where else will you find the resourses and info about smithing, metal working etc.
Ralph - Friday, 05/14/04 19:28:10 EDT
---
Settle Down All!: We all know how easy it is to be misunderstood even in face to face conversation. It's even worse here where there is no immediate feedback. Every one of us has some hot button that get's us riled up but we all also share a common love of smithing. It's fine to have strongly held opinions and I don't think everyone is going to agree all the time but it doesn't do any of us any good to jump all over each other without a little give and take first so we understand what's being said. Let's try and save the anger for the politicians- blacksmiths have it hard enough already.
SGensh - Friday, 05/14/04 21:15:51 EDT
---
Catching up, calming down: First, an answer to a post that was missed several days ago: JackFrost's fiancee', Hope, asked about forge welding copper cable. The answer is, you aren't going to be able to do it. Copper will oxidize so rapidly and thoroughly that you can't get a forge weld unless you use an inert atmosphere. I don't know of any flux that will do the job. I haven't tried fluorspar flux, but I seriously doubt if that would help since the copper will melt before the flux becomes really active. And copper conducts heat so well that the entire piece will melt all at once when trying to get a section up to welding heat. even TIG welding copper can be a real challenge at times.

Secondly, I think Ed Long got jumped all over a bit excessively. I have read and re-read his posts and I didn't see anything that merited real criticism. Yeah, he seemed a bit defensive about his family traditions, but we're all a bit tetchy when it comes to family history. Heck, just ask a number of folks here any question about the WBTS and see the reactions.

At the end there, Ed got extra miffed and blasted back very caustically. Not acceptable, no matter how deeply he felt his outrage over the responses he got earlier. All parties to this unfortunate episode need to rethink their positions. It is okay to disagree, but not okay to stoop to ad hominem attacks; stick with challenging beliefs and statements, but leave personal attacks out of it. To do so only fosters the sort of ill feelings that rarely go away.

Life is too short and too challenging without cutting off potential allies because of a perceived slight that may have been unintentional or misinterpreted. There are enough real, worthwhile obstacles without tilting at windmills. Yes, most of us have strong feelings about this website and strong feelings about our particular aspects of metal working. Strong feelings are good, harsh words are not.

I am one of the more opinionated, stubborn, crude and abrasive people that I know and, if I can manage to keep it civil, it should be a piece of cake for the rest of you who are much more reasonable than I am. Remember, we want people to come to this site and benefit from it. A casual observer who stumbled in here in the midst of that last debacle would very likely form a rather low opinion of us and pass by the rest of the site. None of us will be diminished by giving the other guy the benefit of the doubt.
vicopper - Saturday, 05/15/04 00:40:55 EDT
---
Neither of My Grandfathers Were Blacksmiths!: Picking up on another thread from when I was away-

Printer, house painter, rebels, regicide, petty nobility, rapacious gentry, plantation owners, slave holders, postmaster, general store owner, mercer, real-estate salesman, bugeye skipper, Vikings, clergy, "Gentlemen", but nope, no blacksmiths that I could find!

And with a name like mine, you'd think... but no blacksmiths.

"Be the first; start a trend." (A Funny Thing Happened on the Way to the Forum)

"I wouldn't say anything behind your back that I wouldn't say to your face. I'd just say it a lot NICER to your face!" (Uncle Atli's Very Thin Book of Wisdom)
Bruce Blackistone (Atli) - Saturday, 05/15/04 01:18:54 EDT
---
Vicopper: I second your post just above. I can find all the anger I care to deal with just trying to drive in rush hour traffic. None of us needs or wants or deserves it here. Lets all share out opinions civilly and with good manners.

Gasless day of the month: exercise in futility. If the price of gas really bugs you, then you might contemplate there have been no oil refineries built in the lower 48 since about 1973. And, we let states and cities set the additives they choose to use to oxygenate fuel. Phoenix uses MTBE in summer, one of the less common mixes. Hence fuel in the city is currently $2.15 or so for regular, and just out of the valley it is less than $2.00. I note that in yesterdays Wall Street Journal that about 15 proposed liquified natural gas terminals have been killed by cities afraid of terrorism. We need to clean up our own act before we start whining about the oil producing nations inflating our prices. A particular pet peeve of mine is that we build houses 50 or more miles each way from our jobs and then whine about the gas shortage.

Finally, there are alternatives to low mileage vehicles: motorcycles, bicycles and horses come to mind. I have one of each and can recomment them heartily. I also have a 3/4 ton pickup, but I try to drive it sparingly....
Ellen - Saturday, 05/15/04 01:58:56 EDT
---
Ed Long: I know a few local smiths who earn a living at their trade, and they **all** have treadle hammers in their shops. They are a great tool, and I will be buiding one myself ASAP. I also like power hammers, but they are more expensive and more complicated, so I think a treadle hammer is a great place to start. I would also like to have a power hammer, I think I would favor an air hammer, but I need to do more research.

I personally think you have a right to speak your mind here, just as others due. But I think good manners apply to all.
Ellen - Saturday, 05/15/04 02:16:57 EDT
---
Thomas and Ed: There are a couple of pictures of an old style treadle hammer at this site (link below). It's a nifty "swinging sledge hammer" design.

Eric
www.beautifuliron.com/old.htm
eander4 - Saturday, 05/15/04 04:33:14 EDT
---
Ellen Got an ad for the Meyer Machine Tool co. the other day. A treadle hammer that can be converted to air.Neat flyer w/ Blacksmith Journal.Atli , I still want you to look up the Molly Hatchet album with the Viking illustration. You're welcome. Big smile
- Ritch - Saturday, 05/15/04 20:57:23 EDT
---
Ellen, I know what you mean---I don't even live in the same town as where I work! Course the 7 mile drive is considered *busy* if I see more than 3 cars...OTOH my boss is building a house over 80 miles away. Wife doesn't like small town living.

Eric, thanks for another example to add to the databanks---though I would think if they were working *large* stock they would hook up with the mill---like Sagus's tilt hammers.

Ellen; folks keep mentioning that they are going to get a treadle hammer cause it's cheaper than a trip hammer. I've had 3 triphammers so far and they have all been cheaper than buying a treadle hammer!

Get a treadle hammer cause you need one. Search out a deal on a triphammer if that is what you need.

I have a triphammer, flypress and will be building a treadle hammer. I'm telling myself that I don't need a hydraulic forging press or rolling mill---but if I run across one for less than a C note I may weaken...(don't laugh my first triphammer and my *large* flypress were both less than $100 and the flypress I bought only a couple of years ago.)

Thomas Don't get your knickers in a sort of oliver twist!
- Thomas Powers - Sunday, 05/16/04 00:45:38 EDT
---
Thomas: I'm afraid most of us can't match your ability to find bargains, it seems to be of legendary stature. The tradle hammer appeals to me for several reasons including being able to use it without power, and it seems like a good learning experience before moving on to larger hammers. The power hammers I was thinking of are like the Big Blue, and they seem to run over $3k plus shipping...I already have a perfect air compressor, a two stage Devilbus with 80 gallon tank and 7.5 hp electric motor, produces lots of air.
Ellen - Sunday, 05/16/04 02:14:20 EDT
---
Blacksmith vs. Farrier: I don't know how many of you watched the Preakness Stakes today, the 2nd leg of the Triple Crown in Thoroughbred racing...but, as thrilling as the race was there was a downside. One of the horses, Imperialist, overstepped with a hind hoof while parading in the paddock just prior to the race and pulled off his left fron shoe.....now, there are probably 3+ million people watching just before post time, and so the cameras and reporters follow the horse back inside while, **gasp** a blacksmith is summoned to reset the shoe. They must have mentioned the word "blacksmith" to describe the farrier at least a dozen times. We'll never overcome this publicity, we might as well all put a hoof rasp, nippers, clincher, and a few horsehoes in our toolkit henceforth. I'm afraid the crowds would all go home if they watched me nail a shoe back on, it takes me over 30 minutes on my Thoroughbred when he throws one in the boonies, and then I walk all bent over for the rest of the day, muttering to myself "celebrex, celebrex, where are you?" VBG. This "blacksmith" had the shoe back on in less than five minutes by my watch, an amazing performance....and the horse ran well, finishing with all four shoes still on.

Anyway, I do believe we have a real good chance at a Triple Crown winner this year, Smartey Jones took the Preakness by 11 1/2 lengths, a track record, beating the old record of ten lengths set in 1873.
Ellen - Sunday, 05/16/04 02:26:56 EDT
---
Mo' tradition: I'm considering setting up a traditional Nazel 3B in my traditional shop in my traditional residential neighborhood. Y'all are welcome to attend the traditional tar'n'feather party given in my honor.
3dogs - Sunday, 05/16/04 05:19:50 EDT
---
anvil?: Take a peek at this Teutonic curiosity!

http://cgi.ebay.de/ws/eBayISAPI.dll?ViewItem&category=303&item=4302455041&rd=1#ebayphotohosting

I love looking at anvils (amboss) on German ebay (ebay.de). They seem to have an aweful lot of anvils in that country! Some day I will have to make a trip.
- Dan - Sunday, 05/16/04 09:25:49 EDT
---
and another thing...: My French anvil has light but extensive cutting on its legs. I could not for the life of me think what they were, until I read somewhere (on the internet, I think) that smiths used test their chisels on their own anvils!
I sometimes think that we idolize the smiths of yesteryear, and I think it is they who should idolize those trying to practice the craft nowadays. They had it easy! And were obviously comfortable enough about abusing their anvils, aswell, though I'm sure it was probably a minority of smiths who did so.
Dan - Sunday, 05/16/04 09:35:45 EDT
---
Weird Anvil: Dan,

My guess is that someone accidentally busted the horn off of a wrought iron European pattern anvil and then welded up a mount for it. An anvil that has no face, has an obstruction under the horn, and is screwed to a bench as high as a leg vise seems pretty limited in use to me. More like a hefty holder for the hardy or bickern. But then, I'm not German, so what do I know?(grin)
vicopper - Sunday, 05/16/04 10:28:35 EDT
---
wierd anvil: Yeah, that's what I presumed had happened. I thought it was funny that someone would have the patience and desire for such a bizarre set-up!
There is another nice looking anvil on auction, 280kg, which has curently attracted the princely sum of 1 Euro (which is about a buck), no reserve!
Dan - Sunday, 05/16/04 11:33:16 EDT
---
All: Cripes! I go away for three days and the whole world blows up in here.

I don't think anyone INTENTIONALLY insulted Ed, and I do think he jumped back a good bit harder than necessary. But that's just my opinion.

Ellen,

I considered a treadle hammer for some time. I worked with one a couple of times at JCCampbell Folk School. I found that holding a piece of working temperature steel in one hand, a tool in the other hand while standing on one foot and pounding up and down with the other foot was a little more complicated than my balance is up to anymore. I kept my eye open for a good price on a power hammer and found one.


Paw Paw - Sunday, 05/16/04 23:16:03 EDT
---
Steel Roll Mill: I just uplaoded some photos of the Steel Roll Mill parts that I spoke of earlier. You'll find them in the Anvilfirefotos folder named "Keith at...". I am asking $400.00 for the set of parts. If any one is interested, I have a detailed list of the parts that I have, with Drawing/Page numbers that refer to the Hugh McDonald Mill Plans. I would be happy to Email this list to anyone who requests it.
Keith
Keith Barker - Sunday, 05/16/04 23:33:09 EDT
---
Paw Paw: What kind of power hammer did you get? I have used a treadle hammer with top and bottom fullers to shape the rattlesnake tail I made from an old hoof rasp. It worked great! I think using the tradle with top and bottom dies and just holding the work with your tongs is not all that difficult, other operations you could run out of arms real quick...VBG.
Ellen - Monday, 05/17/04 00:57:40 EDT
---
PPW's Pwr hammer: Ellen I think somewheres in the NEWS area Guru has pics of PPW's hammer.
Ralph - Monday, 05/17/04 04:11:50 EDT
---
Ellen:

Go to the Power Hammer page and on the right hand side punch the link to User Built Hammer. It's the NC JYH, also called The Big Green Machine.
Paw Paw - Monday, 05/17/04 10:14:19 EDT
---
Ein Deutches Anvil, Molly Hatchet Viking: Actually it looks lik a horn that was never forged on! Except, when do they punch the hardy hole? I would guess after all major forging.

Ritch:

It's a Frank Frazetta Viking! Look at thows MIGHTY thews! ("What's a thew?") Run for your wives! They'll be throwing their semi-clad bodies at his feet in languorous poses!

Back t'work!
Bruce Blackistone (Atli) - Monday, 05/17/04 10:54:07 EDT
---
Oops!: Left out the link:


Molly Hatchet Viking
Bruce Blackistone (Atli) - Monday, 05/17/04 10:56:43 EDT
---
Bruce, Take off the Molly Hatchet and put if behind your desk with this caption "Don't make me angry---you wouldn't like me when I'm angry"...

BTW do you ever get the chance to wear the T shirt to work that says, in latin, "If Cesear was still alvie you would be chained to an oar!"

I wore my one that says "You should hear the names the voices are calling you!" to work---everybody wanted to get one!

I think that for Father's day I'm getting the t-shirt of a penguin in a yellow jumpsuit holding a katana with "kill Bill" underneath it---we're a split windows/linux shop here...

Thomas
Thomas P - Monday, 05/17/04 11:53:56 EDT
---
Viking: Glad you saw it Atli. He'd make a great bill collector, would'nt he? Forging today will be tomato cages.Wish me luck.
- Ritch - Monday, 05/17/04 12:52:34 EDT
---
Tomato Cages: Forge them strong, Ritch; you know how viscous tomatoes can be when they get out!

Thomas: I have posted the saying from Grant Sarver in my cubicle: "Good, Fast & Cheap; Pick Two"

I also have the poster of the shot-up ship from Master and Commander with a caption of: "Luxury Carribean Cruise: Come aboard this luxurious 200 foot sailing yacht for a wonderful Carribean adventure. Wide choice of berths from the exotic "crows nest" to the economical "orlop deck." Excitement guaranteed. Powder and shot provided."
Bruce Blackistone - Monday, 05/17/04 13:07:13 EDT
---
Come aboard and prepare to be im*pressed* eh?

Working on my wife's studio is really helping me get my hammer swing back to basics. Using a star drill to do the anchor bolts---about 2000 hit's per---really allows me to work on relaxing my grip and make full use of the hammer's "bounce" even so I usually do it in batches of 100 to 150 taps---I miss the time the steel takes to re-heat a regular minivacation!

Yes I know a hammerdrill would be faster and easier; but it's over an hour's drive to rent one (each way) and the cost is a bit high---two mortgages and the teeth work and the move makes bouncing the hammer seem a good compromise. I may wear out the star drill before the job is done---it's appreciably shorter, I'm saving the upsetting pieces to use in a billet later---I *ALWAYS* wear safety glases--except when asleep.

Picked up a nice ballpein at the Habitat for Humanity Re-sale Shop, and a 2" steel ball---helped a lot with the fleamarket withdrawl symptoms...

Thomas
Thomas P - Monday, 05/17/04 14:21:01 EDT
---
THOMAS P: Or is it Thomas Henry ? "Before I let that hammerdrill beat me down, I'm gonna die with my stardrill in my hand." RE: safety glasses in bed; Maybe you never heard of the Sandman ? Sleep safely, Thomas.
3dogs - Monday, 05/17/04 14:46:01 EDT
---
PPW's Hammer: Ingenious! Somebody have an inventive moment.
Ellen - Monday, 05/17/04 15:19:00 EDT
---
have = had.
Ellen - Monday, 05/17/04 15:19:37 EDT
---
Ellen:
Inventive moment: Steve Barringer and Ray Clontz both did.

I've replaced the original hammer. It was just a piece of 4" heavy wall tubing filled with sand. I replaced it with a piece of 8" solid Round, and it hit's MUCH harder with a proper anvil.
Paw Paw - Monday, 05/17/04 15:43:36 EDT
---
15 years ago when I was first hired in we had a group meeting where they discussed safety and mentioned that the company used to buy safety glasses for all employees; but now that most were programmers and didn't go onto the factory floor you had to get your management to sign for them---I look at my boss who knew about my hobby and before I could open my mouth he said "of course you're getting them!

Company paid for that set and every other one till they dropped the safety glass program totally. I had to finally buy a pair of glasses on my own and was sweating the cost of the safety lenses till I found that the cost of the safety frames were so much less than the "fashion" frames that they coverd the difference and then some.

I'm *very* nearsighted and so wear glasses even to swim (perscription dive mask...). People have suggested I look into laser surgery; but they don't recommend it for folks as bad as I am *and* I like to show folks my old pairs of glasses with the chips, scratches and burns on them---I *LIKE* having that polycarbonate between my eyes and the slings and arrows of outrageous fortune---I even have a faceshield I wear *over* my glases for some activities!

Thomas
Thomas P - Monday, 05/17/04 16:37:15 EDT
---
Thomas P,
Started working in industry as a co-op in 1978. Still do. So far the score is;
1. flying molten steel vs glass lens, lens lost.
2. explosive pressure release of air with oil and silca dust vs two glass lens, both lens lost.
3. flying weld fire ball vs glass lens, lens lost.Happened twice.
4. shattered carbide tool vs polycarbonate lens, two lens lost.
5. ball bearing shattered vs polycarbonate lens, lens lost.

please note that while the lens was damaged/destroyed in every case, the worst injury drew a few drops of blood, and the worst case of acne ever seen on an adult.(The acne was from the gas driven dust/oil, drove it into the pores of the skin)The acne also was ONLY in the areas of my face not protected by the glasses.

Life is too short to spend any of it dead, injuried, or in jail. A quote now in uncle Atli's very thin book of wisdom.
ptree - Monday, 05/17/04 20:58:19 EDT
---
Glasses: I just got home from work today where a man almost joined the blind owl club. A club for those not wearing glasses during an accident. He was washing parts at an inclosed comercial washer (big dishwasher all enclosed) normally he doesn't wear glasses over there, no one normally does but those blessed with bad eyesight. A ribbon bur from a cold cut saw was thrown acrosses the shop by a grinder it melted thru the lens of the glasses he just put on after i was rudely synical about his lack of saftey (give'n' the new guy a hard time). I think he got my point about allways wear your safety glasses when on the floor. He came out without injorry except his all knowing pride.

It's nice to know that there are people out there as annal about safty as me. I'm glad everyone here seems to allways tell people to put on your glasses and wear hearing protection.
- Erik - Monday, 05/17/04 23:58:46 EDT
---
Glasses: I believe it was our much beloved PPW who stated: "you can walk with a plastic leg, you can get a plastic hand to function, you can't see out of a plastic eye." Hearing is the same way. Once it is gone, it is gone. I have lost more than I would like to have simply because I did not grow up exposed to ear protection and have done all sorts of stupid things without ear protection. I jealously conserve what is left.

Head protection is important too. I see lots of folk riding bicycles and motorcycles without a helmet. I have never...knock on wood....had a motorcycle accident, but when I was racing bicycles competitively I destroyed three helmets. Without them I would either be gone, or be a vegetable. You decide.
Ellen - Tuesday, 05/18/04 02:54:37 EDT
---
Erik :
Ellen told the truth and quoted me almost exactly. What I actually said was, "You can walk with a wooden leg, you can work with a plastic hand but you can't see crap with a plastic eye!" (See, Ellen is more of a lady than I am a gentlman.) When I was 15, I raced motorcycles professionally. And I've ridden them off and on most of my adult life. I've destroyed no less than 5 helmets, including one high performance Police motorcycle helmet. The fact that I was wearing them is why I've had so many closed skull injuries. If I hadn't worn the helmets, I wouldn't have had the closed skull injuries.

I'd be dead.

Like Ellen and a lot of other folks in here, I've got some hearing loss and a lot of Tinnitis. If I'd worn hearing protection, I wouldn't have either the hearing loss OR the Tinnitis.

And I'd be able to hear my great grand children cry and giggle.

As Ellen said so well, "You decide."
Paw Paw - Tuesday, 05/18/04 10:26:05 EDT
---
Hearing damage is cumulative. What this means is that wearing protectors is for more than just smithing. I wear them mowing the lawn, using the table saw, on airplane flights, doing construction, rocking teething babies, in high noise computer operations.

Get a pair that are comfortable and get used to wearing them! They really help tune in the voices too!

Thomas
Thomas P - Tuesday, 05/18/04 11:19:37 EDT
---
Hearing protection: One place folks rarely think about wearing hearing protection is in the car while commuting, but most cars are loud enough at highway speeds (particularly in the high frequencies) to cause a decline in high frequency hearing, especially if you have a long commute. I buy Howard Leight(sp?) bell shaped foam earplugs to keep in the car. The ear is an amazing thing: Even with 33dB SPR ear plugs in, I can still hear sirens & train whistles. Mumbling convenience store clerks are another matter. . .
- John Lowther - Tuesday, 05/18/04 13:35:18 EDT
---
Hearing protection also: In my area you sometimes need earplugs while driving to protect against car stereos...
Anybody know what sort of exposure I've had that has resulted in my beginning to lose the middle frequencies but not the high or low ends?
Alan-L - Tuesday, 05/18/04 14:17:45 EDT
---
Hearing loss: Alan,

That range of loss is from percussive noises mostly, and to some extent just plain old getting older. Hearing specialists call it the 4000 cycle notch loss. I have it.

I developed mine from machine shop work, gunfire and loud rock music workingin bars, and passing the half-century mark has really exacerbated it. I now need hearing aids, and the only ones that will work well are the fully digital 3-microphone ones that cost three grand...each. Naturally, health insurance pays exactly the cost of the hearing exam, and NOTHING towards the aids. So I keep on saying, "Huh?" a lot.

Personally, I would like to see a bounty offered on those jerks who drive down the road blaring their "music" into my car. I could easily retire on the bounty.
vicopper - Tuesday, 05/18/04 15:02:40 EDT
---
feelin' notchy: Well, since I'm 34 I'll put it down to running a thousand rounds a week or so through a .22 rifle as an ignorant youth, thinking that a .22 wasn't loud enough to hurt anything since my ears didn't ring afterwards. At first.

I agree on the bounty for overly loud car stereos. Heck, I'd do it as a public service! As a recent comic strip said, "If I wanted to listen to his music I'd be in the car WITH him."
Alan-L - Tuesday, 05/18/04 17:01:16 EDT
---
Alan: A .22 produces enough percussion to injure ears, cumulatively, esp. if pistol or high velocity rounds. Sub sonic rounds in a longer barreled rifle are easier on your ears, but still can do the job on them. So can wind noise from open car windows, motorcycle noise, even with a full face helmet you should still wear earplugs, ringing anvil is really bad, so is circular or table saw, etc, etc, moral is: If ANY doubt wear hearing protection. I guarantee you won't like tinnitus and the other symptoms which follow.

Vic, we can take turns driving and shooting. Probably collect more bounty money here in Phx. than in Paradise. If the bounty is halfways decent we can both retire in a week or so... VBG! There should be a bonus on the bounty if its rap music.
Ellen - Tuesday, 05/18/04 18:15:37 EDT
---
garden knife: The garden knife that LeeValley Corp. sells is called a "japanese farmer"s knife". Log on to www.leevalley and type the above phrase and it will come up. Click again and you will get a larger picture of it.
My wife swears by it.
Regards to all,
SLAG.
slag - Tuesday, 05/18/04 19:00:33 EDT
---
www.leevalley should read www.leevalley.com
slag - Tuesday, 05/18/04 19:01:38 EDT
---
Ahh the temptation to ride around in an old car and EMP a few loud stereos---and car computers...

Thomas
Thomas P - Tuesday, 05/18/04 19:18:30 EDT
---
Earplugs help, but don't do it all. Get a pair of muffs-- they block harmful vibes that are causing damage via rattling in directly through your noggin via the bone zone behind your ear. Shop around and get a pair with the max DB attenuation you can find.
Smartleigh Smitten - Tuesday, 05/18/04 19:32:36 EDT
---
ears: Heh,
Even tho I like my motorcycle to have a 'certain' rumble to it, I do not like the LOUD crackle and pop on many. Also I ride with ear plugs. Amazing how much better you can hear the motor with out the wind in your ears. It is not always the actual noise that hurts you. Just the buffeting of the wind can do it...
Of course I made sure that my wife read the same article about hear loss as I ddi, the one about how males lose the hi freq sounds first, and as a result often times actualy and truely can not hear a womans or a childs voice as well... (VBG) So far has not worked but ......?
Ralph - Tuesday, 05/18/04 21:40:15 EDT
---
Ralph: Nice try but no cigar! Dawn and I have been trading emails on your......well, I won't say it here....VBG! Anyway I sent an email to both of you about 3 hours ago. Let me know if any questions. I may not be back in the office tomorrow, but Thursday for sure......
Ellen - Tuesday, 05/18/04 21:44:25 EDT
---
For those interested in ear muffs for the shop etc, I have a pair that are very comfortable,have a behind the head band so they don't get in the way of a welding helmet, or respirator, and cost about $10. The best thing is that they are a snap to install on the head. Most people do not apply earplugs correctly. Who of you has read the insertion instructions? To correctly insert most ear plugs requires compacting the foam between CLEAN fingers, then inserting in the ear canal while hold the outer ear up for over the head with the other arm. While the Nrr rating indicate test results for noise reduction, and almost all the muffs show Nrr's of 23 to 26, this is a more realistic number than the Nrr of 33 for earplugs as they arn't usually inserted correctly.
Both my Father and Grandfather went deaf from noise exposure. I got smart in my 30's and wear hearing protection to run anything that would require a raised voice to be heard around. That folks is the Safetymans rule of thumb. If a raised voice is required to be heard, then so is hearing protection.
Life is too short to spend any of it Dead, Injuried, or in jail.
ptree - Tuesday, 05/18/04 21:52:36 EDT
---
I am in washington state and am wondering if anny one is going to the blacksmithing conference in Enemclaw.I am planing on going and wanted to know if annyone here has been there befor.
- Treavor - Tuesday, 05/18/04 22:53:19 EDT
---
ABANA: Can I get into the tailgate area in Richmond this coming summer without paying for the full conference?
- Tom - Wednesday, 05/19/04 00:29:48 EDT
---
Japanese weeding knife: Ptree,
I saw your request in the Hammerin. I believe what you're looking for is called a kama. It's an ancient Okinawan hand scythe. Not much to it. I spent four years in Okinawa, and bought a pair of them in a garden store. Most references on the net refer to their use as a martial arts weapon. I've seen fancy-looking serrated versions in martial arts catalogs, but they're made out of aluminum and are for demonstration purposes only. Check out the link below, or search for "Okinawan Kama". Hope this helps you.

kobudo.okinawa.free.fr/weapons/kama/
Matt - Wednesday, 05/19/04 02:13:59 EDT
---
Cigars: Ellen, got it. Thanks. Not sure if Dawn has it yet. I will ask.
Ralph - Wednesday, 05/19/04 03:08:05 EDT
---
It would appear that efforts to incorporate csi as a non profit corp. have collapsed. Any CSI members who are interested in the preservation of this site are invited t0 visit the CSI members business forum and participate.
Ellen - Wednesday, 05/19/04 03:50:10 EDT
---
Garden Knife: Lee Valley Tools - Japanese Gardeners Knife

Price is in $CDN. You can also select $US as part of the on lin shopping features.

The link is(also below):

http://www.leevalley.com/garden/page.asp?page=10504&category=2%2C44245&SID=&ccurrency=1

Sunny, and +9 Cel. north of the Lake (Ontario.)

First time trying to post a link (hope it works.)

Don
www.leevalley.com/garden/page.asp?page=10504&category=2%2C44245&SID=&ccurrency=1
Don Shears - Wednesday, 05/19/04 08:48:23 EDT
---
Say What? Whatcha Say? Ne'er Mind...: Had I any "venture capital" money, I'd put it into stocks for hearing aids and tatoo removal equipment companies; as the "X"ers and "Y"ers get older and change their minds, about body art (especially since skin is an unstable media) and have to keep turning-up the car stereo systems past "11", there will be money to be made.

I'm glad I like bagpipes, since I hear them (and the crickets) all the time. These days I use muff-style hearing protectors not only for hammer work, but for most of the power tools, which all seem pitched to match fingernails on a blackboard of late.
Bruce Blackistone (Atli) - Wednesday, 05/19/04 09:21:16 EDT
---
forum: Where is the link to members forum? Humidity free for the taking here in Arkansas.Ellen, wife and I are taking the Grand Canyon R.R. from Williams in the fall. Any thoughts on their blacksmith exhibit?
- Ritch - Wednesday, 05/19/04 11:59:52 EDT
---
forum: To access the members forum, Ritch, join Cyber Smiths International, http://www.anvilfire.com/sales/members.htm
www.anvilfire.com/sales/members.htm
JohnW - Wednesday, 05/19/04 13:33:29 EDT
---
To All CSI members: looks like Guru has resolved the impass re: incorporation and non profit status. All members should read the business forum (in the CSI members only section of the pull down menu above right), and voice your opinion...it will help a lot. Thank you
Ellen - Wednesday, 05/19/04 14:31:53 EDT
---
Ritch: I think you will enjoy the train ride. They didn't have a blacksmith exhibit when I did the ride, but that was just a few days after they opened. I would expect the exhibit to be very worthwhile, those old locomotives do require maintainence and a lot of parts are no longer available. I don't think a steam locomotive has been made in this country since about 1950, that's quite a bit longer than the cessation of Little Giant production....if you are up for a short hike, go down the South Kaibab trail a mile or so....not difficult....the views are much better than the Bright Angel Trail, and not nearly as crowded; also, South Kaibab is a ridge trail, so you will get more breeze.
Ellen - Wednesday, 05/19/04 14:36:37 EDT
---
Thank you: Ellen, thanks for the advice. JohnW have joined. Still waiting for the paper work. We are going to Albuquerque on the way back for the baloon fiesta. Put a few miles on the motorcoach. May have to finance the gas!!!
- Ritch - Wednesday, 05/19/04 15:06:36 EDT
---
Beating on the ears:: I didn't mean to imply I was still blasting away without protection, that phase of life only lasted from ages 14-16. Then cars and girls took my full attention! I've worn muffs rated at 30db for any and all power tool/shop/lawnwork activity as well as for shooting since about age 18, when that nasty little ringing started showing up spontaneously...

Ralph, I need a copy of that article! My wife has developed the habit of speaking to me in a normal conversational tone when I am in a different room, or while I'm washing dishes, then getting irate because I don't respond. I could get away with it if my high-frequency hearing wasn't better than hers...
Alan-L - Wednesday, 05/19/04 16:11:46 EDT
---
Ears: Alan, I will look but this was about 10 or more years ago.....

Ralph - Wednesday, 05/19/04 19:14:24 EDT
---
Ritch, you'll be about 1 hour north of me when you are in ALBQ. Don't know if I will have the shop and bloomery up by then summer is the "off" season down here. Though it's nice to take the steel out of the forge fire and stick it into the sunlight to heat it up a bit...

Thomas
Thomas P - Wednesday, 05/19/04 19:44:21 EDT
---
Matt,Don Shears,
Thanks for the leads on the japanese gardeners knive. I am making a gardeners knive now that is somewhat like the the Lee Valley type but in a solid steel forged from a RR spike.
ptree - Wednesday, 05/19/04 22:12:44 EDT
---
Just a note to anyone who might be interested. Ed senior who posted here from time to time drowned in a canoeing accident while running rapids yesterday. He was three days shy of his 65th birthday.
- Edward Long Jr. - Wednesday, 05/19/04 23:17:59 EDT
---
THANKS, PAW PAW!: I was going back over the posts above and realized I had made an egregious oversight that needs to be corrected.

The week before last I attended a conference in Nashville, a necessary drudgery connected with my job. However, the weekend after the conference I flew over to Winston-Slaem and spent a couple of days with Paw Paw and his lovely wife Sheri. The warm hospitality they showed me was absolutely wonderful; I felt as though I had just popped in for a visit with old friends or family, rather than meeting face-to-face for the first time. What a joy after days of dealing with bureaucrats! To top it off, Paw Paw arranged for a huge Celtic festival to be held in my honor at a state park.

Okay, I know the Celtic Festival wasn't really just for me, but Jim and Sheri managed to make it seem that way. Paw Paw got Jock Dempsey, Glenn Conner and his son Sean, Joe Rotenberry and Bill Phelps to come in from Virginia and West Virginia, all to participate in a hammer-in and demonstration. That was truly a treat for this peer-starved smith from the middle of nowhere! A more friendly and helpful group of smiths would be hard to imagine, and it did wonders for my mind.

I did stay up into the wee hours talking with Jock and Paw Paw and Glenn after supper though, and it was a bit of a stretch to crawl out of a cozy bed at 4:00 a.m. to catch a plane home. I don't know how Jock and Glenn managed to drive home after that long day; it was all I could do to hit my bed squarely.

Anyway, my sincerest thanks go out to Paw Paw, Sheri, Jock, Glenn, Sean, Joe and Billy for making my trip a memorable one. Blacksmithing and bagpipes, who could ask for more?
vicopper - Wednesday, 05/19/04 23:24:03 EDT
---
Condolences: Ed Long,

My sincere condolences on the passing of Ed senior. While it may be inevitable, we are never really prepared for it when it happens. If there is anything that I can do, please let me know.
vicopper - Wednesday, 05/19/04 23:43:01 EDT
---
Ed Long:
Durnit! I actually thought something else, but this is a family forum.

I am so sorry to hear about your Dad. Ed and I had corresponded a couple of times, and I always found him a pleasant and congenial person. Rest assured, he will be missed and you and your family will be in our family prayers.

I've lost both of my parents to the ravages of time. It always hurts, and the hurt never really goes completely away.
Paw Paw - Thursday, 05/20/04 00:44:44 EDT
---
Our second semester of shop class was metalworking. So like any blacksmith would be I was ready to excel. I awnsered every question flawlessly (even taught the teacher a few things!). But Then when the day came to turn in our plans for our project I turned in a set of anvil tool plans that included 1 in
- Dan Crabtree - Thursday, 05/20/04 00:53:58 EDT
---
I Hate Sheet Metal!: (sorry about the post above I forgot my name so it cut me short.) Our second semester of shop class was metalworking. So like any blacksmith would be I was ready to excel. I awnsered every question flawlessly (even taught the teacher a few things!). But Then when the day came to turn in our plans for our project I turned in a set of anvil tool plans that included 1 in square high carbon metal. When I turned the plans in he says it was a sheet metal project and I had to use sheet metal. Well I was going to make an oil burner because I was into metal casting at the time and its the only project I could find that required sheet metal. Well I knew it wouldnt work but I need as many credits as I can because lets just say im not good at algerbra... Im good at math but letters are not ment to be added and subtracted because when you do that you get words. hehe. Well Mid semester we had a chisel making contest. And I ended up teaching the whole class how to make their chisels... Our teacher is awsome but he seems to pick 1 or 2 favorites and excludes everyone else at times. Well My chisel was one of the best but now its end of semester and my oil burner is unfinished. After thinking and thinking I figured I could skip school and try to fix the mangled piece of sheet metal that I had murdered with a hammer trying to get it right (see im a blacksmith that doesnt like screwing around with metal that is under 1/4 in thick I dont even consider it real metal by my standards.) Well I found a candle stick I made and its pretty good. Im gonna turn it in and lets hope he excepts it! Pray for me! haha. IF he does im sure ill get atleast a B.
- Dan Crabtree - Thursday, 05/20/04 01:01:09 EDT
---
Edward Long Jr.: Please accept my condolences on the passing of your father. It is never easy; we are never ready. It may of some consolition that he passed in good health, doing something he enjoyed, and not wasting away in a bed for the better part of a year like my father did.
Ellen - Thursday, 05/20/04 01:44:11 EDT
---
Ritch & Grand Canyon: You will also want to take a few minutes and stroll throught the El Tovar hotel, where Teddy Roosevelt stayed, and just to the west of the El Tover is the Kolbe Bros. photographic studio. I don't know if they are still showing the 1916 B&W movie of the Kolbe Bros. running the Colorado River the length of the Grand Canyon (238 Miles), but if they are it is worth watching it. I regret you won't have the experience I had as a child, watching that B&W Silent Filem being shown.....and narrated by Emory Kolbe (circa 1958). The Kolbe Rros. would take a picture of a mule train headed down into the Canyon, with their passengers, and then one of the brothers would run down the Bright Angel Trail to Indian Gardens, which had good water, not hauled in in tank cars by the railroad, develop the negative in the small darkroom they had there, then make a number of contact prints (they used an 8 X 10" view camera) and run back up the Bright Angel Trail ( a total round trip distance a tad over 8 miles), and have the finished prints ready to sell to the tourists who had ridden the mule train down into the camera. I do call that working for a living. No wonder the brothers lived in their 80's and 90's respectively! Talk about exercise!

A trivia side note: in the mid 1920's or 1930's, I can't remember which, National Geographic mounted an expedition to climb one of the "cut off" geologic formations (they are called temples) to study animal life there in the thought that being isolated there might be prehistoric species present. Emory Kolbe volunteered to lead the expedition, and was turned down, because he was "too old." Some weeks later National Geographics team climbed the selected "temple" and scrutinized it for prehistoric life forms. They didn't find any. What the did find, was a rock cairn, with a tin tobacco can buried in it. There was a note, which said "already been here, checked it out, nothing of importance here....signed Emory Kolbe".

Moral: don't insult a rugged individualist like our forefathers were.....you WILL regret it!

If they have an NPS interpreter relating the "tall tales" of Captain John Hance, you will enjoy listening for a moment. He was a Good storeyteller! He spent his last years as a guest of the Fred Harvey company, they furnished him a room and meals and he told his tall tales to the tourists of the 1920's....
Ellen - Thursday, 05/20/04 03:00:51 EDT
---
ridden the mule train down into the CANYON. Yaarg!
Ellen - Thursday, 05/20/04 03:03:36 EDT
---
Thomas, as we get close to October, hopefully we can arrange to drop in. We have a Razorback on the front license plate, may help your property values.BOG! After the wife does Taos, we may need a job to get back home. You can make a solar forge! Few reflectors and Bam!
- Ritch - Thursday, 05/20/04 11:20:18 EDT
---
Ritch, I come from AR; but only mention it when it's to my advantage...We're from the NW corner of the state---where the oak trees branch and the family trees don't!

Thomas
Thomas P - Thursday, 05/20/04 14:26:47 EDT
---
Remember T.P., just because you're divorced does'nt mean you are'nt still cousins!
- Ritch - Thursday, 05/20/04 15:48:49 EDT
---
Thomas: >from the NW corner of the state---where the oak trees branch and the family trees don't!<

Pop used to say that same thing, being as he is from Eureka Springs. Sometimes I think he became a chemist because he already knew how to build a still before he got to school. (grin)
vicopper - Thursday, 05/20/04 15:50:10 EDT
---
VIC:

Guess who else knew how to build a still before he went to school. Same guy keeps a couple of fair sized sheets of copper and a couple rolls of copper tubing for emergencies.
Paw Paw - Thursday, 05/20/04 16:00:08 EDT
---
Hearing Protection:
I had been borrowing my teacher's pair every time I used something loud... but I recently bought my own, which I now wear when doing most anything except blowing glass or using slow sanding tools. The $4 Harbor Freight ones are EXTREMELY comfortable and fit nicely even over glasses. If you do not already have hearing protection, BUY SOME! Don't make me yell (BoG)

Thomas, re: EMP,
Not to mention cellphones and DVD players!
T. Gold - Thursday, 05/20/04 17:12:31 EDT
---
Thomas, re EMP,
Figured how to pulse the emp, and still drive away?
Think diesel? Aww, how to directionally pulse emp. Worth a bit to the star wars bunch.
ptree - Thursday, 05/20/04 19:20:21 EDT
---
ptree, I keep asking Tesla at every seance but he just keeps laughing at us, so I'd figer I'd go to the all the "getting rid of stuff" auctions down here at places like Los Alamos, Holloman, Sandia, etc until I run across what I need, just hope they don't lump it in with all those alien artifacts...

Thomas (my last employer had been accused of working with alien tech...)
Thomas P - Thursday, 05/20/04 19:27:53 EDT
---
water in combustion,
Just a random thought, but a few years ago I worked on bits of projects to boost combustion turbine generator set output on hot days. I'm talking utility sized turbine generators that are used for peaking loads. They are often brought on line only for the hottest part of summer days when everybodies air con comes on. Unfortunatly, that is also when the gas turbine is last effeicient, as the mass flow is the lowest when the air is hot. So, as we made boilers, and ice making equipment, we decided to try cooling the inlet air by running a huge heat exchanger in the inlet. We used a million gallons of ice in about an hour. Melted it all cooling the inlet air down to about 40F from high 90's. Works and is still used, but where the air is dry, a simple system of water fogging nozzels causes a temp. drop as the microscopic droplets evaporate to vapor. Much cheaper. The water vapor reduced the effeiciency a bit, but the temp drop more than made up for it. Did have to insure that no droplets made it into the compressor section as rapid errosion of the blades occured.
Does water vapor reduce combustion in a forge, can't say for sure, but I doubt that a measurable drop occurs.
ptree - Thursday, 05/20/04 19:30:31 EDT
---
directional EMP: I thought of that in a desperate wish to get rid of an opposing dormitory's window-mounted stereo systems as a physics major in college. Best I could come up with was a superconducting magnet-induced parabolic field. Had I ever managed to come up with such a beast, no doubt I'd be working out at Sandia now...
Alan-L - Thursday, 05/20/04 20:06:26 EDT
---
EMP Rifle: The first guy who invents one and gets it to market for under a grand will have me as a loyal customer. It only has to be capable of taking out a car stereo at 50 yds to make me happy. I'd rather have that than a new Glock! (grin)
vicopper - Thursday, 05/20/04 22:27:16 EDT
---
Anvil needed: Hello you guys,
I am new at this forum and new at blacksmithin. I would like to buy an used anvil but in really good conditions. As I am just a roockie I do not want to repair the anvil but to have one ready to bang on. Also, if it is in the Tampa Bay area or close location would be perfect so I do not have to spend money on shipping it.
Thank you
Alfredo Alamo
- amalgam - Thursday, 05/20/04 22:42:50 EDT
---
Vic: > EMP Rifle: The first guy who invents one and gets it to market for under a grand will have me as a loyal customer. It only has > to be capable of taking out a car stereo at 50 yds to make me happy. I'd rather have that than a new Glock! (grin)

Speaking of new rifles.

I bought a Model 1860 Henry in .44 Mag tonight. Brass Frame and all. (grin)
Paw Paw - Friday, 05/21/04 00:15:02 EDT
---
Amalgam: You should take a look at new anvils at Euroanvils, you can get to their website by using the pull down menu at the top right of this screen, they are listed under advertisers. That way you will know the max any used anvil is worth. Frequently, a new anvil is cheaper than a used on in some parts of the country...another option is the 110# RUSSIAN anvil from Harbor Freight, NOT the Chinese ASO they sell. You will have to call around to local stores to see if the have the Russian anvil, it is cast steel and no longer listed in their catalog. These go for a bit over $100, and it will be a good enough anvil to get you started. There is a review of the Russian anvil here in the 21st century section, also some other articles on anvil types and tips on buying a used anvil.
Ellen - Friday, 05/21/04 02:49:21 EDT
---
tools : just statring need tools but can't afford new will make if i get blueprints or buy cheap used
- pyro3256 - Friday, 05/21/04 03:30:08 EDT
---
pyro tools:
Goto the iForge with the NAVIGATE anvilfire dropdown at the top right. There are alot of how tos on making tools.
Shack - Friday, 05/21/04 10:37:11 EDT
---
BTW ptree instead of diesel, I was thinking "faraday cage"...

Like I tell folks---you don't have to be a rocket scientist to be a blacksmith---but I know several who are!

Out here the evaporative cooler AKA swamp cooler is the primary method of house cooling, I got two myself and will be installing them in the studio and shop (I think I'm gonna gussy the shop up by calling it an "at-liar" cause that's where the Liar's at!).

Haven't fired up (watered up?) the ones on the house yet, it's only been in the 90's...but the breeze has been up and the temp drops rapidly at night that opening the windows and using a fan works well enough that I'm sleeping under a comforter and a doubled heavy wool blanket. I don't usually get indoors at home till it's too dark to work outside anyway.

Thomas---I get to go to a fleamarket this weekend! picked up a hot cut for $1 and a pair of tongs for $3 and 10' of 3/4-1" WI round stock there in previous visits!
Thomas P - Friday, 05/21/04 11:54:09 EDT
---
Fleamarket Goodies: In all my trips to NM, I've never gotten wind of any good fleamarkets with smithin' goodies. Just as well, I guess, what with airport security paranoiacs and baggage weight limits. S'pose I could make 'em believe that a 10' bar of WI was just a REALLY stiff flyrod ?
3dogs - Friday, 05/21/04 14:47:40 EDT
---
3dogs: Tell them it's a deep sea rod for catching sharks. Most of them are so stupid they'll never know the difference.
Paw Paw - Friday, 05/21/04 17:18:48 EDT
---
3 Dogs, Course not! They've been saving them for me!

Had a thought yesterday and asked my wife to talk with a Columbus OH used machinery dealer about the shop move.

Nice folks, I've delt with them several times on "small stuff" and they treated me as if I was clearing out their wharehouse. Anyways the idea of moving heavy dirty smithing stuff seemed like business as usual and their guesstimate quote was about a quarter of the next lowest.

Rigger comes out Monday to look things over and as soon as it
gets written up I'm on a plane for OH to pack like mad---need to palletize it all.

Thomas
Thomas P - Friday, 05/21/04 17:35:07 EDT
---
Thomas: Swamp coolers work great just about anywhere in the Southwest until the urban area gets large, golf courses go in to be water daily, fake lakes, lots grass, square miles of black aphalt, then the humidity is too high for them to work, and the urban "heat sink" doesn't cool off at night.

If you have a day's spare time you might want to take a look at Lincoln, and White Oaks in NM. Both are interesting and within 100 miles of you.
Ellen - Friday, 05/21/04 18:33:24 EDT
---
Most folks in my neighborhood seem to landscape with dust and dogs; so I'm probably ok for a while.

I'm pretty busy until we get all moved in down here with the sudio built, wired, plumbed and the shop cobbled together; but I'll keep those in mine for when the year cools off.

Thomas
Thomas P - Friday, 05/21/04 19:38:37 EDT
---
Faraday cage Thomas? On wheels or tracks? Gonna breath? Besides, if its pulsed, and directional, bounce should not be too bad. Maybe get a richocet and take out a boom box blaring on the sidewalk! VBG
ptree - Friday, 05/21/04 21:14:42 EDT
---
Swamp coolers: Thomas,

Yeah, I lived with those in both Colorado and Arizona. What Ellen says is right on the money. In Phoenix, they didn't work all that well due to the egregious water waste going on all over the vally. Anyone who tells you that Phoenix is a dry heat is lying or misinformed.

If using swanm coolers to cool your shop, remember that you need to be very very vigilant about rust. I discovered that a swamp cooler will rust everything in a matter of a couple of weeks if they're not well oiled or varnished. As bad as the salt air here in St. Croix, almost. The rust from a swamp cooler is less deep than salt air rust, but just as quick. That was in Phoenix. Where you are, you may get more cooling with less humidity developed in the shop, but be watchful until you know what it is going to do.

A very workable solution to the rust problem that I found was to use a fairly small air conditioner that had a swamp cooler arrangement to cool the condenser coil and compressor head. That makes a 12,000 Btu a/c perform more like a 20,000 Btu unit. As a side benefit, it makes the a/c unit last about twice as long. In Phoenix, it decreased my cooling costs to about half of what everyone else in the neighborhood was paying. When your cooling bill is as much as $500/mo, that makes a huge difference.

I never got around to trying my idea of using a little window a/c unit to precipitate the water out of the output from a swamp cooler, but I suspect that it might work to some degree. I doubt that a small one would be able to remove all the moisture, but it might drop it enough to forestall the rust problem.
vicopper - Friday, 05/21/04 21:32:39 EDT
---
Blacksmith Shop Questions: Im getting ready to build a blacksmith shop since ive been smithing for 4 months and frankly my back is starting to hurt a bit from carring a 120 LBS Peter Wright anvil back and forth every day. Well Any suggestions for materials to use. Here are the conditions where I live in IL. It gets very hot in the summer here. And It gets really humid. I would like a shop that can be dehumidified and also kept relitvly cool (about in the 80's) In spots away from the forge. My ideas where just plywood and a window for an A/C. Any suggestions or how is your shop set up?
- Dan Crabtree - Friday, 05/21/04 23:39:30 EDT
---
dan crabtree: Where abouts are you located in Illinois? I am in the peoria area.
dunchadh - Saturday, 05/22/04 05:29:05 EDT
---
Blacksmith Shop Construction:
1) You can never have enough space.
2) You can never have enough headroom
3) Concrete may be hard on the feet but it is infinitely easier to move machinery on.
4) You WILL have machines (power hammers, air compressors, drill press in your future, plan on the space and electrical hookups.

Items one and two are often limited by budget, do the best you can. Headroom is often overlooked and does a LOT for you. Tall ceilings:

1) Better ventilation, smoke and heat rise
2) Room to build and to flip long bars
3) Needed for a sky-hook.
4) Help dissapate sound (loud noises).

If you have EVER tried to rig something to lift off a truck you have suddenly found that 20 feet overhead is NOTHING! It looks huge but hoists and rigging eat up a lot of space and so do truck beds. I have 16 foot ceilings in my shop with a mono-rail flush to the ceiling. Sounds like a lot until you try to get a power hammer off or on a truck.

Think big barn.

The problem in North America is we have tropical summers and near polar winters. Construction must take into consideration both extreams. The more insulation the better. Thick insulation in the roof does more to reduce heating from the sun and cooling in the winter. Mass tends to help average things out. That is why brick or concrete construction is good if you can afford it.

Forced ventilation helps in the summer. Vent fans big enough that you can feel the breeze are one of your best investments. As many windows or shuttered openings as you can afford are a great help.

A sky hook was mentioned earlier. . . ANYTHING you can lift a load with is better than nothing. My shop has a mono-rail and two two ton hoists. Used together with a bridge beam they can lift 8,000 pounds (and have). But it is often used to move anvils, vises and other considerably smaller loads. I HAVE moved 300 pound anvils with my back but it would kill me today. . .

Lighting is another thing you cannot have enough of. Windows help in this respect but you do not want direct sunlight. Plan on lots of long florescents.

WARNING! Do NOT forget to get lights with lew temperature ballsts unless you can afford to heat your shop/

Blacksmith shops have been setup in Teepees and open air grass huts. Open air shops without walls have the advantage of not being space limited and are the cheapest to build. Depending on where you are in the world you MAY have to consider security. If theivery is going to be a problem and every opening must be locked then the design of your shop must reflect it.

Humidity and rust are a problem inside buildings as well as out. Oil or constant redressing of tools (I do both) are normal for blacksmith and machine shops unless you can aford year round heating and air conditioning.

- guru - Saturday, 05/22/04 18:40:19 EDT
---
dunchadh: I live near a small town called Lebanon. Its about 6 miles from trenton (im guessing) and a 20 min drive from O' Fallon and Fairview Hights.

Guru. Thanks for the info. We have an old barn that isnt currently being used for anything except storage. Ill ask my dad if I could use that and Ill add insulation and such. There is enough head space and floor space. It doesnt have lighting but that can be easily taken care of. one fear I have though is its an older barn and the wood is dry and there is alot of hay and straw in some spots. Ill ask my dad and see what he says. Im using a coal forge so smoke is definetly a problem.
- Dan Crabtree - Saturday, 05/22/04 21:08:07 EDT
---
Windows in Blacksmith Shops:

Southern Maryland conditions, of course, and it's a converted tobacco stripping house, but windows on every wall except SOUTH are really useful You can adjust light and ventilation according to weather. Also, when playing with fire, always plan some sort of a back exit. It doesn't have to be big, but it does have to be quick!
Go viking!
Bruce Blackistone - Saturday, 05/22/04 23:06:17 EDT
---
Dan Crabtree: Is your father named Steve?
dunchadh - Sunday, 05/23/04 07:27:22 EDT
---
Fire hazzards and OLD buildings:
This is a serious problem. I live in a 200 year old Grist Mill that is about as flamable as spilled gasoline. I have a small shop in the back but it has nothing that makes sparks except a SMALL bench grinder. One time I had someone flick a cigarette ash out the door that didn't make it. . About two minutes later there was a serious column of smoke. If I hadn't been there that would have been the end. This is now a no-smoking building.

The biggest hazzards are things that throw sparks out of your work area. Angle grinders are the worst, cutting torches follow. Blacksmithing (forging) itself is pretty harmless in comparison. The scale falls at your feet where you are aware of it and hot cut offs and punching biscuits are pretty much the same. When you work alone it is easier to keep track of such things than when you have help.

When working with spark throwing devices it is normal to have a "fire watch" of two to four hours after the event. This is difficult to do every time so fireproofing is to great advantage.

In an old barn you must look closely at the soil. Often this is so full of organic matter that it is combustable and MAY smoulder for hours until it reaches something more flamable. A layer may need to be dug out and replaced with clay or sandy soil, or a concrete pad poured over it.

Walls can be covered with sheet rock. This is non-flamable and the light color reflects light nicely. You can also use brick verneer INSIDE to provide a fire proof surface. Sheet metal sheathing also works.

When I built my shop I went to a great deal of trouble to find old steel window frames (they don't make them anymore). Where these are framed-in in the welding area I planed to cover the wooden sills with sheet metal to the sheetrock and then cover the corner with angle iron. Nice and spark proof.

Indoor shops often have wooden floors. Sealing and painting reduce the risk of fuzzy edges catching fire. Sheet metal tacked down around the anvil and in front of the forge protect the floor from hot pieces and scale.

The point is to look at what you have. Study it while imagining sparks flying everywhere. Then address the hazzards. Debris, rotting wood, weeds, birds and rats nests are all highly flamable and tend to smoulder for hours from a small spark.

THEN be prepared to put out fires. Small fires are a normal occurance in a welding or blacksmith shop. Fire extinguishers are good to have. However, galvanized FIRE buckets filled with sand are cheaper, will put out all types of fires and you can refill them. These are normally hung on a bracket (like a fire extinguisher) at a convienient height and clearly labled. The fire inspectors may want a fire extinquisher but the sand bucket WILL GET USED.

- guru - Sunday, 05/23/04 17:00:04 EDT
---
Brand New: My brother and I have been interested in blacksmithing for our whole lives now, I am 20, he is 22 and we are ready to start. We are currently in college, and home for the summer, we will be setting up a workshop behind our garage, but we need to know what we need. We both have welding experience, but being college students, not much cash. Whats the cheapest way to start, but not start out wrong? We dont have $1000 to drop on an anvil, more like $100, can we find one? And if so, where? Also, any info for starting out would be appreciated, thanks.
-Drew and Nate
P.S. We are located in Western MA, just outside of Springfield MA.
- boy1984 - Sunday, 05/23/04 21:29:51 EDT
---
Brand New : My brother and I have been interested in blacksmithing for our whole lives now, I am 20, he is 22 and we are ready to start. We are currently in college, and home for the summer, we will be setting up a workshop behind our garage, but we need to know what we need. We both have welding experience, but being college students, not much cash. Whats the cheapest way to start, but not start out wrong? We dont have $1000 to drop on an anvil, more like $100, can we find one? And if so, where? Also, any info for starting out would be appreciated, thanks.
-Drew and Nate
P.S. We are located in Western MA, just outside of Springfield MA.
- boy1984 - Sunday, 05/23/04 21:30:22 EDT
---
Boy1984:

First things first. Go to the guru's page (drop down menu in the top right hand corner) click on and read CAREFULLY the article title GETTING STARTED IN BLACKSMITHING. That will give you a LOT of good information. Then come back here and ask questions and we will try our best to help you understand.
Paw Paw - Sunday, 05/23/04 23:20:57 EDT
---
Boy 1984: If you use the pull down menu on the top right of your screen, go the 21st Century section, and you will find a lot of information which will be helpful, including "Getting Started", several articles on anvils, how to buy used, how to piece together out of scrap (you said you could weld), and a review of the Harbor Freight Russian Cast Steel Anvil.....these are still on the shelves in some of the Harbor Freight stores, but not in the catalog. Do not confused with the cast iron anvil they carry from China; it's not worth having.

Also, if you will check the links, and the Abana.com listed towards the bottom of the 21st Century section, you may well find a chapter of blacksmiths in your area. If you can attend a meeting there you will get more information than in six months of studying on your own.

Finally, an anvil can be many things. Many folks get started with a piece of scrap steel, round or square, 4" to 6" in diameter and weighning over 120#, set vertically in the ground this will make a good anvil for getting started.

You will need some method of heating your steel, and urban areas it can be difficult to burn coal. You can make an inexpensive forge ...see the Brake Drum Forge plans elsewhere on this site....and if you burn charcoal (not briquettes) you will get a good, hot, clean fire with very minimal smoke. Keep a package of hot dogs handy in case the fire dept. shows up....grin! Propane forges are nice, but unless you want to build your own they can be a bit expensive for a beginning smith. My local chapter had a workshop on building propane forges, and I built one there for $75, total. It works great!

In the end, you are only limited by your imagination and determination. Good luck, feel free to ask more questions here.
Ellen - Monday, 05/24/04 00:17:28 EDT
---
Fire Extinguisher: I scrounged up some water extinguishers that work pretty well for my forge. These are stainless steel units that hold two or three gallons of water and are pressurized to 100 PSI with shop air. They are only Class 1 ( paper, wood) units but if I set a gas can on fire I'm boogeying anyway. They also work well for spot quenching, that's why I have two. One for fires and one to play with.
- bgott - Monday, 05/24/04 00:35:48 EDT
---
dear guru, i am a real fan of blacksmithing, from brasil.
on the 28th i will be going to denver co, and after that i'm planing a honeymoon with my wife and will have a chance to visit some places in the us. does anybody wants a visit from a brasilian blacksmith?
- rodrigo - Monday, 05/24/04 07:32:41 EDT
---
Mouse Nests and Anvil Size:
I'll second the Great Guru on mouse nests, I nearly had a fire from a mouse nest behind one of my dishing stumps catching a stray spark. Mouse nests were actually prized as tinder when folks used flint and steel, so they have a high flammability.

When a neighbor told me about a pesky blacksnake the previous weekend, I caught it for her, trotted down to the forge, and let it loose inside. As well as trying to burn down my forge, mice also tend to urinate on the tools, causing them to rust; and we won't even start on Hanta virus, (which is not endemic here, YET, but is a problem in many other locations in the U.S.). Given a choice, I find the snake(s) less bothersome and much less destructive than various gnawing rodents. (And the squirrels in the forge attic better look out too!)

Anvil Size:

Another factor to consider is: what size work you're planning to do? If you intend to work with ½" (13 mm) or less, some of the smaller farriers anvils (~70 pounds/32 k) tend to be plentiful and sometimes cheap. I will add that you can always work smaller stuff on a large anvil; but having a starter anvil to become your backup, demonstration or fine-work anvil is no bad thing either.

Sunny and warm on the banks of the Potomac.

Go viking: www.longshipco.org

Camp Fenby; a laid-back medieval arts and crafts weekend, June 25, 26 and 27.

Visit your National Parks
Bruce Blackistone - Monday, 05/24/04 10:51:59 EDT
---
I'm having a sort of race with a local bird and my carport to spinning studio project---whether she will fledge out the latest crop before I close it in or not---my money's on the bird!

If I had my druther's my shop would be stone and steel---*1* stone, the steel would be for the rolling crane...

Met a smith at the Las Cruces Fleamarket, he was down from Nothern NM. Said he never sold much down in LC and while I was there two fellers came by and wanted a tripod for their campfire. He said he didn't know how to make one and if they came up with a drawing he he could...if my shop was down here...

Told me another smith was working for a TV star up near Taos and the job had passed the $100K point.

Thomas
Thomas
- Thomas P - Monday, 05/24/04 12:37:17 EDT
---
Steve Parker,:
Contact me e-mail, please.
Paw Paw - Monday, 05/24/04 14:56:03 EDT
---
Bruce: Good idea on the blacksnake! Around here a bullsnake is a good catch, they will take of rattlesnakes, too. Used to be lots of them here, now too many houses in in the Valley.
Ellen - Monday, 05/24/04 20:21:34 EDT
---
ABANA: Someone posed a question either here or across the street last week about whether you could get into the tailgating area of the ABANA conference if you were not a paid attendee. I missed the answer. Does anyone know?
Brian C - Monday, 05/24/04 21:33:19 EDT
---
Inexpensive 'European Chisels: I am a Sucker for European made tools,
Thought I might pass this on.
Major Surplus; http://www.majorsurplusnsurvival.com
is offering 2 hotchisels $12.95. catalogue nr. 86525
Major does not realise what they are and is calling them "Scrap Hammers".

I was surprised to see mine are marked "Armee'Franise".
Maybe a little different design to what many think a hotchisel is to be, Whatever, its French afterall.
Seriously, A nice tool for cheap, Just get used to its smaller striking surface and the fact that its pre ground to relieve the mushrooming of its soft-ish striking surface.


Håkan - Monday, 05/24/04 22:37:10 EDT
---
smithing: hey i have made a small leaf spring treadle hammer what does every body think of it
finfd it at http://www.benttwistedandhammered.com/pages/2/index.htm
bent twisted and hammered
- a.c.scott - Tuesday, 05/25/04 04:37:55 EDT
---
Kilt Wearer, took a quick glance at the page and didn't see it; which picture is it on page 2 so I can blow it up and get these worn out eyes to work.

Thomas
- Thomas P - Tuesday, 05/25/04 14:16:27 EDT
---
a.c. scott....I cut and pasted the full adress and did not find any treadle hammers.
Ellen - Tuesday, 05/25/04 17:28:34 EDT
---
Cosira Books: Can be downloaded from:
www.countryside.gov.uk/NewEnterprise/Economies/craftpublications.asp
Paw Paw - Tuesday, 05/25/04 20:47:24 EDT
---
Colors of heated steel: I would like to ask if anyone knows how to get consistent coloring "ON" steel. I have tried every heating method but can't seem to get any consistency or control color seperation. Is there a product similar to flux that can be used to color the top layer of the steel? I am doing laser cutting on 14 gauge steel and want to color the items I cut out.
Any help would be appreciated.

Thanks

Tom
tlj2@northerntel.net
Tom - Wednesday, 05/26/04 21:31:48 EDT
---
Coloring Steel: Tom,

Try using some gunbluing liquid like Birchwood Casey's Cold Blue. If that will give you what you want, then you can look into making a sizeable batch of something similar but cheaper.
vicopper - Wednesday, 05/26/04 23:06:36 EDT
---
coloring steel: the heat method of coloring is only an oxide layer and as such is rather fragile and will not usually last. Do you mind me asking what the end use is to be? Perhaps enamaling would work? Dorothy Steigler and her daughter demoed several techniques of this for flowers and leaves at the 2000 ABANA conference.
Ralph - Wednesday, 05/26/04 23:29:03 EDT
---
Tom: You can also buy steel browning solutions which give a nice, antique appearance. Try www.brownells.com, they carry all sorts of metal finishing products for guns. If you like the browning solution and have a lot to do, it's not hard to mix up. I don't have the exact formula anymore but the main ingredients are: nitric acid, copper sulfate, and distilled water......
Ellen - Thursday, 05/27/04 00:29:44 EDT
---
The rigger that's giving us a quote on moving my shop stuff mentioned to my wife that he has a couple of powerhammers himself, Chambersburgs!, that he wasn't using---I mentioned to my wife that we should see if he wanted to sell one...she was not amused till I pointed out that in a hammer lacking area like NM it might help pay for the move...

Thomas
Thomas P - Thursday, 05/27/04 14:46:27 EDT
---
Under priced?: This year I have some sculpture and artistic wall hangers at a local greenhouse for sale.Well I had no clue as to what to ask for and every one that i talked to said to up my price by about 40%.(the thing I was hoping to sell for 1600 dollars is now at 2450).Well this is all nice and all, but now i took bunch of forged hooks for hanging plants over and have no idea the going price on this type of thing and I think I owe it to the rest of the hammer gies not to under price this stuff.The hooks are made from !/2,,,,,7/16 ,,,,3/8 sq stock nice hot twist in one two and three directions.,Also in the mix are round stock 5/8 and 3/4 dia about 6'' long made into nice hooks(these were harder to make I think). All in all thay look as nice as any I have seen photos of.Any price guide lines?
Thanks to all in advance.Dan
Dan - Thursday, 05/27/04 15:13:04 EDT
---
Dan, are those canadian dollars, Hong Kong Dollars, South African Dollars...location makes a difference!

Thomas
Thomas P - Thursday, 05/27/04 16:07:14 EDT
---
US dollars.440 miles north of Chicago Ill.USA
Dan
- Dan - Thursday, 05/27/04 21:44:25 EDT
---
Dan, a lot depends on your target customer and who your competition is in the area. Are you selling to people that buy hand-tied "Oriental" rugs for thousands, or machine made knock-offs for hundreds? See the Colonial hardware section on the following site for an idea of what a "Specialty Retailer" might get for a 3" hook.
www.tremontnail.com/catalog.htm
Gronk - Friday, 05/28/04 11:03:50 EDT
---
On the archeological metallurgy mailing lists it was just mentioned that companies like Tijou used to spec their railings by the *ton* rather than by panel or by foot, course that was around 1700 A.D....

Some examples of the work of this period can be found at www.christopp.co.uk go to restoration & look at
Okeover (Bakewell circa 1710), Chatsworth (Tijou 1690), Grimsthorpe (VanBrugh 1736) , Newburgh (early eighteenth)

I'd like a ton of Tijou---to go please

Thomas
Thomas P - Friday, 05/28/04 11:27:37 EDT
---
Gronk, and to think there are all those folks out there who don't know that there are local smiths right happy to hand forge their hardware at a competitive price!

Thomas
Thomas P - Friday, 05/28/04 14:30:12 EDT
---
power hammer and blower combo: Check out the Traditional (grin) powerhammer and blower set up at this site. look at the four links that are titled blacksmith*
power hammer
habu - Friday, 05/28/04 15:04:17 EDT
---
Coal Source(s) in Ontario: I was checking out the web site of David Robertson. Under the 'Technical' button was info on coal sources in Ontario. I've also posted this in Keenjunk's forum.

The link is:

http://www.artistblacksmith.com/

Sunny, 18 Cel. with broken cloud cover north of Lake Ontario (Trenton.)

Don
www.artistblacksmith.com/
Don Shears - Friday, 05/28/04 15:34:35 EDT
---
power hammer: habu, did you see the steward handy ? wonder what it does besides a vise and anvil?
Ritch - Friday, 05/28/04 18:57:54 EDT
---
Stewart handy:
almost looks like a drill of some sort too...
HavokTD - Friday, 05/28/04 22:38:52 EDT
---
Habu,
I want a power hamer /blower like that!
ptree - Friday, 05/28/04 22:41:25 EDT
---
Yes Thomas, I think about that often. The nail factory is 20 minutes from me.
Gronk - Saturday, 05/29/04 07:20:04 EDT
---
Ausi Steam Show: Habu, That appears to be a Little Giant EZ or clone (I think) and hit or miss engine. The blower is a third (seperate) piece of equipment running off a common jack-shaft running both the hammer and blower. The whole is mounted on one wooden skid as a unit.

The first public demonstration of a power that I saw was at a steam show (part of the Ferrum VA Folklife Festival). The fellow was running a 50 pound little giant from a BIG self propelled farm engine. No guards, no fence, no distance to the anvil. The fellow had to push people aside to get to machine or anvil while carrying hot iron. . . .

Nifty pics.
- guru - Saturday, 05/29/04 16:05:49 EDT
---
Pricing:
WOW! $17 for a so-so forged hook . . (Tremont). And a bad dark photo that I wouldn't buy from. . . maybe I should shut down anvilfire and go back to smithing. .. On the other hand they have a stamped out butterfly hinge (ugly) for $8/pair. You never know.

Pricing often varies by location. You can ask a LOT more (have to) in New York, Chicago, DC. . than in Minnot, Kalamazoo. . . Of course some of the price reflects the cost of rent for the shop.

You NEED to price your work based on how long it takes, cost of materials and HOW MUCH income you must make. If you start at needing $50K US/year then your hourly rate MUST be $100/hr. I've written on this many times before and I will not repeat it but it works out. If you charge half that rate you make much less than half the number above.

The majority of blacksmithing is CRAFT WORK. It is not art. You charge for craft work what it takes to make a living.

IF you are very efficient and TIME how long it takes to make those hooks you MAY find out that you cannot afford to be making hooks OR that you customers could not afford them.

IF you are VERY fast and make 10 hooks/hr. (including finishing) then you have to charge $10 each. If a shop needs a cut then ADD their percentage. All of a sudden those $17 Tremont hooks look about right. But most smiths do not get that kind of money for hooks AND they should be buying them from a low wage country and marking them up instead of making them themselves. . . . (another issue).

Art work, sculpture and such are different. However, even this it is a competitive market. AND it is location dependent. AND it is very subjective and depends on your reputation, where you went to school and MOST important, how big a bull s-----er you are. The quality of the work has nothing to do with the price.

If you are handsom (or intresting), charismatic and have a great line of phyco BS then you will be paid well. If you are an ugly troll and can't speak without spitting then no matter how good your work it is headed for the land fill.

Sound cruel, pessimistic? It is the way the modern art world works. It is why I dropped out of art about the time I left high school. Later I thought blacksmithing would was a way around the art world line of BS. But it still exists in our world too. Stick to craft and sell your work for an honest price. Much less heartbreak.
- guru - Saturday, 05/29/04 16:46:14 EDT
---
Pricing: Jock,

Your view comes across as just a wee bit jaundiced, but I certainly can't argue with it one bit. After busting my tail for four years to earn my art degree in Metalsmithing, I set out to make a living at it, and very quickly discovered that everything you said is right on the money.

The Art world is populated by pundits and sages that have NO creativity or craftsmanship but feel compelled and qualified to judge the work of others. The competent, the craftsmen and the simply creative are swept aside in a rush to applaud the trivial crap produced by a few charismatic iconoclasts with a glib line of BS and an unconscionable ability to shuck the gullible like ears of corn. Aeshetics have been replaced by effete snobbery and gimmickry. Cleverness has replaced craftsmanship. That is why I gave up metalsmithing for twenty or more years and only got back into it recently.

Nowadays I don't particularly give a rosy rat's heinie about what the pundits think or what the "cognoscenti" do or say. I whack on hot iron to please me and no one else. Of course, this almost guarantees that I will NEVER make any money at this, but then I don't have to. For me it is a very rewarding way to occupy my mind and my hands and produce a few things that me and mine can use and enjoy. Don't get me wrong here, I wouldn't mind if Bill Gates came along and gave me a million bucks for something I made, of course. Sadly though, I'm too ugly, too boring and far too ordinary to intrigue much of anyone besides myself. (grin)


vicopper - Saturday, 05/29/04 21:58:52 EDT
---
Az Demo: Piehl Tool Co. in Camp Verde Az is hosting a hands on demo Sat. June 5th from 8 AM to 2 PM. Gordon Williams will be demoing, and all who want can have a go at the Anyang Air Hammer which will be there.
Ellen - Saturday, 05/29/04 23:51:35 EDT
---
cutting propane tanks: Hello i am looking to cut the bottom of a 60lbs propane tank( fork lift type) I have concerns reguarding the danger involved in acheiving this task.

I plan on emptying the tank, removing all fittings, flushing with water and cutting using grinder, band saw , and if necessary torches. I have also considered filling the tank with nitrogen as it is readilly available to me.

Has anyone done this type of operation before? Is this the correct process? Any feedback would be greatly appreciated.
Etienne St-Onge - Sunday, 05/30/04 15:35:47 EDT
---
cutting tanks: I have cut alot of tanks, barrels etc. despite alot of precautions, Alot of people scream that I am a STUPID S//T for it too.
Normally I flame or plasma cut, sometimes I use a saw.
Your milage may vary,,,
Basically I do the same way you mention, Remove the fittings & wash it out. But I have a giant tub to fill with water to flood AND submerge the vessel into, Then cut just a small portion of exposed vessel at a time.
Sven
- Sven - Sunday, 05/30/04 21:19:32 EDT
---
Tank Cutting: The only safe way to cut a fuel gas tank is to have someone else do it, while you are far, far away. (grin)

That said, I cut them. I get ones from my propane supplier that have been disabled and have been sitting outside, open, for a year or more. I use an abrasive blade or an oxy/acetylene torch, but the torch is only a last resort for when I run out of abrasive blades. It is remakably easy to have unburnt acetylene build up inside a closed vessel while cutting, suddenly reach ignition point and explode the tank. When that happens, it is automatic and instant revocation of birthday. Just because I've been lucky in the past doesn't mean you should try it.

If yuou insist on cutting a tank with a torch, Sven's method of flooding with water is a good idea, as long as you are mindful of the possibility of generating a steam jet or explosion that can still maim or kill you. Try to get your local propane supplier to cut the tank open for you if you can. No matter what it costs, it may turn out to be the cheapest health insurance you ever bought.
- vicopper - Sunday, 05/30/04 23:48:44 EDT
---
FORGE FOR SALE: : Yes i have a sale if anyone is interested. I have no use for it, I am a HOrseshoer and do not need a coal forge but am in the market for a propain forge. if interested please e-mail me at ifyoufeelfrogy101@hotmail.com. Thank you.
- Melissa - Sunday, 05/30/04 23:55:07 EDT
---
FORGE FOR SALE: : Yes i have a forge for sale if anyone is interested. I have no use for it, I am a HOrseshoer and do not need a coal forge but am in the market for a propain forge. if interested please e-mail me at ifyoufeelfrogy101@hotmail.com. Thank you.
Melissa - Sunday, 05/30/04 23:58:05 EDT
---
Forge for Sale: Yes i have a forge for sale and am wondering how much it would be worth to someone?

Melissa - Monday, 05/31/04 00:07:01 EDT
---
Dunchadh: Sorry internet has been down for 3 days. No his name is Mike or Michael and his brothers name is Joe.
- Dan Crabtree - Monday, 05/31/04 01:36:46 EDT
---
Shool Show: HI,
My brother (a chalkie) has asked me to perform a show for a group of 13 year old school students. Has nayone ever done this - got any ideas?

Thanks,
Pat
Pat - Monday, 05/31/04 05:38:59 EDT
---
Thomas P-- Could you please post the name of the outfit moving your stuff? Have four tons of smiting gear to get from Santa Fe to some place with water.
Smartleigh Smitten - Monday, 05/31/04 11:03:44 EDT
---
anvil history?: I'm trying to find the aprox. age of my anvil. It is a (Vulcan Arm & Hammer R.B US PAT 01F)these are one one side and on another side is what looks like +0 or 10
- aaron - Monday, 05/31/04 13:27:37 EDT
---
Aaron,:

Manufactured by the Illinois Iron & Bolt company sometime between 1875 and 1969. Send me a set of pictures of the anvil and I'll try to narrow that down for you a bit.
Paw Paw - Monday, 05/31/04 21:29:58 EDT
---
Melissa, I have a car for sale, can you tell me how much it's worth? With *no* details as to age, condition, size, maker, configuration all I can tell you is I personally have seen coal forges sell from $5 to $1200.

Smart, How soon? You might get a deal if they could pick up your stuff after dropping off my stuff in Socorro NM. I hope to move it around mid june.

I am woking with "Industrial Machinery Asset Service" in Columbus OH. Send me e-mail if you have trouble locating them---they might give me a cut in rate if they don't have to deadhead home!

Thomas
Thomas P - Tuesday, 06/01/04 00:29:21 EDT
---