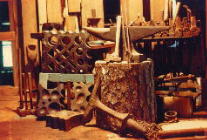 WELCOME to the anvilfire!
Virtual Hammer-In!
This page is open to ALL for the purpose of advancing blacksmithing.

March 2004 Archive
---
WHY THREE FORUMS? Well, this is YOUR blacksmithing forum to use for whatever you wish within the rules stated above. It is different than the Slack-Tub Pub because the messages are permanently posted and archived.
This page is NOT a chat - it is a "message board"

Our chat, the (Slack-Tub Pub), is immediate but the record of it is temporary. DO NOT post permanent messages there. We refresh the "log" every 24 hours now and your message will be lost.

The Guru's Den is where I and several others try to answer ALL your blacksmithing and metalworking questions to us.


Please note that this forum uses an e-mail encryption system that prevents spam harvesters from collecting your e-mail address.


J. Dempsey <webmaster> Rev. 7/98, 3/99, 5/2k, 6/2k, Friday, 04/06/01 16:43:25 GMT
---
Weekend projects: Well guys I finally found some one to rival my own inherint curriosity. This weekend I went to a wedding reception and by the powers that be I found a bright eyed lad sitting in a corner making chainmail! I found out that he was the brides youngest brother, and he has been after his pop to help him become a blacksmith. I really enjoyed telling the youth how he and his dad could get him set up for under ten bucks. Later I found out that logan has several learning challenges and that he seems only to be able to learn thing hands on. Also his folks have wanted to encorage his dreams from the start. This was a pleasure for me to hear and Help him start his feet on the right path. He lives in MO
in a little town called Climax Springs. I have no Idea exactly where that is, but if any one would be in his area and would like a willing and apt pupil, please email me and I'll try to get ya'll in touch.
dragon-boy - Monday, 03/01/04 08:35:04 EST
---
Hands-on learning: DB, Remind the lad and his dad that mucch of the beautiful ironwork in New Orleans was produced by "ignorant" slaves.
3dogs - Monday, 03/01/04 11:06:26 EST
---
Peace and quiet?: Do mine eyes decieve me? do we honestly have peace and ... gasp... quite?
dragon-boy - Tuesday, 03/02/04 16:29:05 EST
---
All,: I posted this message on the Slack Tub Pub about Baby Anvil:

20:36:22 No matter what our circumstances, a hospital stay is expensive. In lost wages if nothing else. I've got a signed manuscript copy of TRB 1 that I'll auction off to the highest bidder, all proceeds to be sent to Jr. Strasil, to be forwarded to Baby Anvil as a love gift.

The auction will close at 2400 EST this date. If you would like to donate, "to the cause", send your check, money order, what ever you can afford to:

Jr. Strasil
211 W. 17th St.
Falls City, Nebr.
68355

Paw Paw - Tuesday, 03/02/04 21:18:24 EST
---
All,:

I should have mentioned that bids can be placed in the Slack Tub Pub, bidding closes at 2400 hrs, this date, EST.

Other donations are most welcome, and much appreciated. Send as above.
Paw Paw - Tuesday, 03/02/04 21:23:45 EST
---
Baby - anvil donation's : Paw-Paw / Jr , consider the check in the mail bloke's ,,,
That's assuming that u'll take AUSSIE $'s .........:)
- chopper - Wednesday, 03/03/04 03:20:31 EST
---
Nasty Viruses:
There is a new e-mail virus out that purports to be from YOUR ISP. I just got one from the "Anvilfire.com team" at http://www.anvilfire.com/ warning ME that I needed to read the attached ZIP file using the provided keycode. . . . All very official sounding except there is no "team" just ME. . .

Apparently this virus is very sucessful because I am getting a flood of them as well as related viruses with attachments.

Note that even though ZIPed viruses have been around for a year the anti-virus people have not found a solution to detecting them. The one above used a random key to encrypt the file and then included the key in the file. You will recieve one supposedly from YOUR mail service including a link back to them and a possible return address of support@yourmaildomain.com. . .

One or more of YOU, our readers, are infected with this virus.

The only protection against e-mail viruses is YOU. Anti-virus software does not work. You must educate yourself in the way these things work and NOT open suspicious atachements. If you are using MS Outlook Express you are risking having the software do the dirty work without your help.


guru - Wednesday, 03/03/04 09:34:00 EST
---
Baby Anvil: Hey Paw Paw, I hate to point out my ignorance, but how would I find your posted message about Jr. Strasil?
- JohnW - Wednesday, 03/03/04 12:17:35 EST
---
John,:

Just scroll up on the page. It's the fourth message up from your message. (grin)
Paw Paw - Wednesday, 03/03/04 13:20:47 EST
---
Okay: Oh, okay, that message. What's this about hospital and Baby Anvil? Are Jr. Strasil and his wife having a baby boy, and did they name him Anvil?
- JohnW - Wednesday, 03/03/04 13:34:39 EST
---
John,:

No, there is a ladysmith that has demonstrated on iforgeiron. Cheryl is her first name. She is also a member of the pub, and uses the "handle" of BabyAnvil. She had a massive heart attack late last week while she was in the dr's office. She coded (died) and they had to defibrulate her FIVE times to get her back.

She had surgery yesterday to install a pacemaker and a defibrullator and is coming home today because she has no insurance. She'll be on 100% dis-ability.
Paw Paw - Wednesday, 03/03/04 14:11:40 EST
---
FS:Li'lGiant: After an industrial accident, I am now so disabled that I can no longer practice my art. Therefore, I am offering for sale my 100lb. Little Giant. It runs fine. 220v 1ph. $2800.00. In Oakland Ca.
- robert - Thursday, 03/04/04 12:56:26 EST
---
NC-ABANA : Anyone going to the NC ABANA meeting in a couple weeks?
shack - Thursday, 03/04/04 13:10:57 EST
---
Thomas P.: It must be you. Works just fine for me. Perhaps you weren't aware of the embargo on information to those who get to go to wonderful places while the rest of us have to stay home and work? (grin)
vicopper - Thursday, 03/04/04 13:33:45 EST
---
Thomas:

Don't pay any attention to Vic, he's just jealous. (grin)

I've been having the same problem, and so has at least one other person. It seems to be related to the size of the Cache in Netscape. I dump my cache, and it works fine for a while.
Paw Paw - Thursday, 03/04/04 13:54:46 EST
---
White screen: Personally I think it might have something to do with old age!)
dragon-boy - Thursday, 03/04/04 15:03:57 EST
---
White screen: Hmmmm seems to me vicopper who lives in a wonderful place is just trying to stir the pot... (grin)
Ralph - Thursday, 03/04/04 16:27:08 EST
---
DB:

I'd offer you a suggestion, but this is a family board! (grin)
Paw Paw - Thursday, 03/04/04 16:56:26 EST
---
Now now Pawpaw. I'm sure that DB is aware that the alternative to old age is available to all, and that if he would like to visit, that sevaral of the more mature veterans on this site will help him to experience this alternative. :)(that "mature" part was good wasn't it?)
ptree - Thursday, 03/04/04 17:00:15 EST
---
White screen:: Thomas,& PawPaw.
I think that the white screen is only Guru's attempt at putting both of you in the Archives. Grin,Grin.
You two have been here so long, He does not want to lose you.
Overseas?,Cross-Country? Sure. We know that you are just trying to take some time off.
GRIN,GRIN!! Throw all the Knives you want to,I have my Armour on. Grin,Grin!! Here come some Free knives!!!! LaLaLaa,LaLa.
DanD Skabvenger - Thursday, 03/04/04 17:23:24 EST
---
PTree:

Mature is a lot safer than old! (grin)
Paw Paw - Thursday, 03/04/04 17:55:23 EST
---
Pawpaw, I thought it was rather clever to describe us as mature. Mere children might use the O word, but we know better.
ptree - Thursday, 03/04/04 20:42:18 EST
---
PTree:

I won't argue. (grin)
Paw Paw - Thursday, 03/04/04 22:01:15 EST
---
Bound for Miami Monday: Any of this crew in Miami? I'm doing a Monday-Wednesday project in that neck of the woods.
Bruce Blackistone (Atli) - Thursday, 03/04/04 23:41:59 EST
---
Old: Well child or not, I am not afraid to call it like I see it..... PPW you is OLD! (VBG) Ptree, since I have never had the pleasure of meeting you I will reserve my opinion til a later time.....(smile)

BTW Nathan is now in Hawaii. Likes it much better than Camp Pendleton. Will be going out for some jungle ops training for a month later this year ( July) in Okinawa. Then on a 'float' or as us navy folks would say, a WestPac.
Ralph - Friday, 03/05/04 00:33:51 EST
---
Miami: Bruce, you can not fool us. You just found a way to have the government fund your Spring Break trip......
All the Fl smiths I know are much farther north.
Ralph - Friday, 03/05/04 00:35:05 EST
---
Ralph,:

I see that I need to send Dawn a message about you and the red head you were eyeing in Flagstaff.

I do know how to get even. (grin)
Paw Paw - Friday, 03/05/04 01:01:28 EST
---
All,: Folks,

The following is from today's AMERICA IN UNIFORM. It's confirmation of
a story we had heard, but didn't know the truth of:

**************************************

This from the Bogalusa Daily News and written by reporter Andi Cook.
Thanks to the 10 folks on that Southwest Airlines flight who "stood up"
for our soldiers.

PINE ó "Mom, I'm home," are words Jackie Branch didn't expect to hear
from her son Chase Branch until May. Chase is a specialist in the 205th
Engineer Battalion of the National Guard that was deployed to
Afghanistan in July 2003, and is scheduled to return home in May 2004.

When Jackie's doorbell rang at 12:53 a.m. Jan. 26, she didn't know what
to expect. She sent her husband Randy to the door.

She heard, "Oh, my God," followed by, "Come quick, Jackie."

She refused to go to the door, afraid that something terrible had
happened. When she finally came to the door to find Chase there grinning
from ear to ear, she was overwhelmed.

"I almost had a heart attack," she admitted. "He came in and gave me two
dozen roses. It was like a dream; I just wasn't expecting it."

Chase came home unannounced on a seven-day leave as a surprise to his
family. He originally expected to arrive at the less threatening hour of
noon, but a patriotic act by ten Americans made his midnight arrival
possible.

Chase and nine other members of his battalion traveled home on leave
together. They left Kandahar, Afghanistan on Monday morning at 1 a.m.
After crossing the international dateline, they arrived in Baltimore,
Maryland at 5 p.m. Their flight into New Orleans was not scheduled to
leave until 8 a.m. Tuesday.

Now that they were on American soil, the boys were impatient to get
home. They began to go from concourse to concourse searching for a
quicker flight home. Southwest Airlines had a flight for New Orleans
that began boarding as the boys spoke to the airline representative, but
the flight was completely booked.

A man in line to board overheard the conversation and asked, "Are you
boys going home?"

They told him they were. He offered to give up his seat for one of them.
The passenger behind him in line noted that he was in no hurry and
offered his seat as well.

The motto of the 205th is "leave no man behind." The boys thanked the
two passengers but said they would wait until all 10 could board. At
this, eight other patriotic passengers offered to sacrifice their seats
so the boys could get home earlier.

"I got to spend 12 more hours with my son because someone made a
sacrifice," Randy said in an emotional voice. "I just wish I could thank
them for those precious hours they gave us."

The Daily News contacted Southwest Airlines and a customer service
representative indicated they will do some research and see if there is
any way they can put the Branch family in touch with the men and women
who sacrificed their seats. The representative had no idea whether they
would have the needed records or whether privacy concerns would allow
the information to be released.

In the meantime, the Branchs and ten other families are enjoying
spending a few days with their sons.

"It was really a shock when I answered the door," Randy admitted. "It
was a great surprise, but I have to admit it wasn't the kind of surprise
I like. I told Chase I missed out on the joy of anticipation because he
didn't tell us he was coming."

Chase's sister, Cherish Crockett, was the only family member in on the
secret and she didn't know until Chase called her from Baltimore as he
boarded the plane. He asked her to pick him up at the New Orleans
airport. The eight-month pregnant young mother left her preschool child
with her parents, pleading illness and the need for a good night's
sleep, to pick up Chase and a fellow Pine boy, Cass Gerald, who also
arrived home to surprise his family.

Chase said he chose to come without telling anyone because he didn't
want his family to get their hopes up and then be disappointed if his
leave was canceled. He said he was originally scheduled to come home on
Jan. 5, but his leave was delayed for three weeks. By surprising his
family, he saved them three weeks of anxious waiting.

Chase brought another surprise home with him, two American flags that
flew over the base in Afghanistan for a day. He purchased the flags and
signed a flag roster at the base to schedule a day when the flags would
be flown. He then brought the flags home and donated them to two local
schools. One went to Angie Junior High School where his father is the
principal. The other went to his Alma Mater, Pine High School.

******************
Paw Paw - Friday, 03/05/04 07:57:45 EST
---
America In Uniform: Thanks Jim.
Ralph - Friday, 03/05/04 10:42:54 EST
---
mature: Pawpaw,me sainted father said,"Never mess with an old man.You'll find out how he got to be one."Great story about troops.By the way, some V.F.W. posts are sending "ditty bags"(remember those) and the U.S.O loves cash donations.Still trying to make that rose.Last one is a wall hook.
- Ritch - Friday, 03/05/04 12:36:55 EST
---
Anti-Junket Rule of Thumb: My usual pattern is Kotzebue, Alaska in October or November and Tucson or New Orleans in August. Canaveral in July is rather amusing, too, with a wide variety of entertaining mosquitos. I don't know what went wrong, but they insist that I come down right now!

I'm sure I'll be punished later for this imbalance of Karma.

"Government travel: except for the pain, it's a pleasure." (UAVTBoW)
Hangin' Out with the Alligators AND Crocodiles!
Bruce Blackistone (Atli) - Friday, 03/05/04 16:00:27 EST
---
Ritch,:

When my step father realized that I was going into the Army whether he wanted me to or not, he started teaching me several "sayings" and teaching me the logic BEHIND the saying. For example:

"Take care of your troops, and your troops will take care of you."

"Lead by example. It's easier that way."

"Good fighters live, poor fighters die."

And other's as well, some of which can be found in Murphy's Military Law.

I've never forgotten any of the "sayings" he taught me. I'm still alive and without meaning to brag, I'm a good leader.

I've just been appointed Brigade IG NCO of the local Brigade of the United States Army Volunteer Reserve. That's a Command Sergeant Major slot. I can't lead in the field any more, but I can still handle the paper for those who do.

Some of you know that I turned a similar slot down not too long ago, I didn't feel that I could handle the field work any more. The Commanding General found this slot and requested me to take it.

I couldn't turn him down twice.
Paw Paw - Friday, 03/05/04 16:33:57 EST
---
Congrats Pawpaw!
As far the rest of you children, AT EASE THOSE MOUTHS IN REFERENCE TO THE SERGEANT MAJORS AGE! Otherwise he is likly to send some old crippled sgt to handle his light work.:)
Note to those that know, that was command voice, and the sgt does not use a knife! :)

CSM Pawpaw, did I do that right?
ptree - Friday, 03/05/04 17:05:06 EST
---
HOOAHH!: You'll always be useful to the CG, who else has the wherewithal to tell him when he's wrong?Thank you.
- Ritch - Friday, 03/05/04 17:45:21 EST
---
PTree:

Pretty close to right. (grin)

Ritch,

Thank you!
Paw Paw - Friday, 03/05/04 18:04:18 EST
---
Paw Paw:
Thanks, and congrats and thanks!
- Tony - Friday, 03/05/04 19:14:39 EST
---
Tony,:

Now I'm confused! (Why is that not a surprise to me? grin)
Paw Paw - Friday, 03/05/04 20:05:24 EST
---
Paw Paw: Congratulations, it's good to see a general officer with horse sense. Just don't let it eat up all your "fun" time! Sometimes the more you do, the more that is expected, vicious circle!
Ellen - Friday, 03/05/04 23:09:26 EST
---
Paw Paw:
Sorry for leaving some words out.

Thanks for the airline story post and congratulations on the new position and thanks for serving.

Does that make more sense? grin.
- Tony - Saturday, 03/06/04 04:28:14 EST
---
Ellen & Tony:

Ellen, I'm a bit strange, to me duty comes first and always has. But I'll still be around. Thank you for the congratulations and I agree about General Officers. Thing is, I've known Gen. Mike since he was a 1st Lt. He was my platoon leader for a while.

Tony, yes that makes more sense. (grin) My honor to serve.
Paw Paw - Saturday, 03/06/04 10:45:25 EST
---
Paw Paw : I know that it's not SOP to present a salute non-com to non-com. But here is mine. Be well.

habu - Saturday, 03/06/04 14:57:29 EST
---
Hangin' with the Gators: Bruce, I just passed throught he Glades on my way from West Palm to Alva Thursday and back to Lauderdale yesterday. Spent the night on a friends boat on the Caloosahatchee River. It seems it's the begining of mating season for the Alligators so they are making some noise. It reminded me of the sound of bullfrogs here in the northeast. Have a great trip- I hope your weather is as good as mine was. I wish I had had time to stop for a hike instead of rushing through to the airport.
SGensh - Saturday, 03/06/04 15:19:04 EST
---
Habu,:

You know better than that. (grin) Thank you, anyway.
Paw Paw - Saturday, 03/06/04 17:07:04 EST
---
Actually,:

There are circumstances where NCO's can and should salute each other. One circumstance is an NCO's parade, as in Chapter 10 of Book 1 of TRB. (although saluting is not mentioned in that chapter, that's the type of situation).

In my new postion, I'll be the second ranking NCO in the Brigade. If the Brigade CSM is not present, at an NCO's parade, the other NCO's would salute me and I would return the salutes.

There are a couple of other special situations where the same rules apply. All officers dead in combat is one.

But any man that salutes me in combat may very well die at my hands. Saluting in combat just identifies the leaders to the enemy.

Squad leaders salute and report status to the platoon sergeant in formation, the platoon sergeants salute and report status to the first sergeant in formations. When the First sergeant reports to the company commander, the CO orders "Officers Forward". The platoon leaders come to the platoon command position and the NCO's automatically fall to the rear of the formation to serve as file closers. All proper salutes, when given, must be returned.
Paw Paw - Saturday, 03/06/04 17:19:14 EST
---
Salutes: And one more that Paw Paw didn't mention: Whoever wears the Medal of Honor, always gets saluted, by officers as well as enlisted men. Although most recipients of the Medal of Honor don't make it out alive. It is awarded postumously. Here is my salute to the MOH!
Bob H - Saturday, 03/06/04 19:21:01 EST
---
MOH: I had the pleasure of getting to know Joe Foss, who lived here until his passing a year or so ago, MOH for aerial combat in the Pacific early WWII. He was truly an inspiration to know, served his country in war, was governer of SD, president of the NFL, president of the NRA.. a humble man who had a wonderful sense of humor. He said he came very close to being an ace in two air forces....26 Zeros, and he was shot down 4 times, one more would have made him an ace in the Japanese airforce.
Ellen - Saturday, 03/06/04 20:03:17 EST
---
Oops I think that was "commissioner" of the NFL......
Ellen - Saturday, 03/06/04 20:45:02 EST
---
Bob,:

Saluting the MOH is a tradition, not a regulation. I don't think I have ever failed to follow the tradition. I knew two MOH winners, Lawrence Joel and Benny Benividez. Both fine men, I'd be proud to serve with either one of them.
Paw Paw - Saturday, 03/06/04 23:18:01 EST
---
MOH: Paw Paw, Wasn't Benny the medic that went into a rescue mission with nothing but a knife? Saved many men and was wounded several times. I cried when I read that story.
Bob H - Sunday, 03/07/04 10:35:44 EST
---
Info on Benny's Citation of MOH: FOr those who are interested.....

I would like to get an early start on the salute.
I would like to salute those who are and who have served in war and peace. Those who have sacraficed not only blood sweat and livfes, but sacraficed time from family. Those who missed their childs first workds or steps birthdays and holidays, so that we who are free can continue to be free.

With eyes clear back straight and head high I render this salute.
www.mishalov.com/Benavidez.html
Ralph - Sunday, 03/07/04 15:16:17 EST
---
CSM Paw Paw: Sorry about getting in on this late. I have been too busy to come on line.

Congrats, Paw Paw. While CSM shields are impressive, I bet the hash marks on your sleeves are even more. CSM. Is that three steps below God or two?
- Larry - Sunday, 03/07/04 16:29:31 EST
---
Bob H., Ralph, Larry: Actually, Benny used every weapon he could get his hand son, including a knife. The enemy soldier he "subdued" after he was clubbed twice with a full force rifle butt stroke he subdued with a knife. THROUGH the sternum into the heart.

Benny was a "Muhco malo Hombre!" if you made him angry, and one of the finest soldiers I have ever been privledged to know.

Ralph, There you have it, in typical abbreviated military fashion. If you can read between the lines, you'll see a fine man.

Larry, Seven on the left sleeve, nine on the right sleeve.

It depends on which step God is standing on. He might step down a step or to to deliver orders. When He does, you can bet your boody I listen and respond with "Yes, Sir!"

Paw Paw - Sunday, 03/07/04 18:17:45 EST
---
Benny: PPW,
Yup.
I am betting that he did not say much about his own efforts.
Seems to me that generally those who get medals usually do not really talk up their own efforts so the facts are often times fairly dry and scant.
Reading citations becomes an art.... :)

Reminds me of a movie. Wish I could remember the name. It was Korean War movie. A LT ( who was a historian) was assigned a patrol. The team really had no use for him as he was just a college kid with no experince ( sound familiar Jim?). Aby who the patrol was trapped in an ambush yada yada. LT using lessons learned for history and personal bravery saved the team and got them out when High command had written them off as lost....
Last bit was the team walking in heads high with pride. Everyone was asking how they did it with a green so and so LT.... They said he was great etc. Meanwhile you hear a voice over of the LT report to his CO. Sounding like they had just gone for a walk and saw a small enemy patrol instead of a whole division....
Enoug rambling from me. Need to go get Dawn up and to the airport.
Ralph - Monday, 03/08/04 07:28:20 EST
---
Funnies: Sure like the new funnies in the Home page. The last I seen was the ring in the nose. Few high school kids have them. Sure would like to make them a bigger one...

Cheers.. Snow is leaving very slowly
Barney - Monday, 03/08/04 12:45:00 EST
---
Ppw & all "mature" individuals: What is it that your wife says? Something about, "little boys growd up tall."(BOG)
Any way, I know i'm late but Congrats again. Thanks as well for the news report. May others read and be inspired to like activities!
- Dragon-boy - Monday, 03/08/04 14:31:50 EST
---
well,: what happened to the email addy?
Dragon-boy - Monday, 03/08/04 14:32:36 EST
---
I have an anvil: I've inherited a blacksmith's anvil, and I'd like to know what it is worth. It is a single horn and measures apprx. 24" outermost top to opposite outermost top. The base is about 16" H x 4" W x 16" L. The rear top has a round hole and a square hole. On the side is an imprint in the shape of a large diamond , and inside the diamond are imprinted the letters meXica, with the lettering starting out small at the left, large X in center, and diminishing to the right.
- TewDawgs - Monday, 03/08/04 17:28:39 EST
---
I inherited an anvil, about 175 lbs. single-horn. Top has a round hole and a square hole at the rear. Dimensions are apprx. 24" end-to-end (top) and 16" end-to-end (base). The base is about 16"H x 4" W.
On one side there is a large imprint in the shape of a diamond. Inside the diamond is imprinted the word MEXICA.
It belonged to my father-in-law's father, who was a blacksmith. I would like to find out its worth.
TewDawgs - Monday, 03/08/04 17:36:18 EST
---
Sorry for the duplicated post above, folks!
TewDawgs - Monday, 03/08/04 17:39:12 EST
---
That anvil...: actually says "treNton", but for some reason the center "N" is made to look like an X. It's one of the better brands, but as with anything its value depends on its condition. If it's trashed it's not worth much, if it's mint it's worth a good bit. I'd suspect it's somewhere in between! In other words, more info, please. Is the face in good shape; i.e., any chips, cracks, dents, swayback, weld beads, torch cuts, or other of the assorted crap that happens to old anvils? No bondo, I hope!

You aren't 3dogs minus one, are you ? (big grin!)
Alan-L - Monday, 03/08/04 19:49:27 EST
---
PPW:: 1. Congratulations on CSM.
2.Any update on Baby Anvil?
3.Power back,soon,hopfuly.
- Skabvenger - Monday, 03/08/04 19:58:29 EST
---
Skabvenger: !. Thank you. I feel a lot more useful now than I did a few days ago. Not being able to serve was making me very depressed.

2. Home, and while moving slow, doing well.

3. Rough night last night. Windstorm came through, winds 45 - 50 MPH with gusts to 70 MPH. No real damage here, some stuff blown around, but there were 60,000 homes and business here and in the next city east with no power. We were one of them. Has only been back on for a couple of hours.

Paw Paw - Monday, 03/08/04 21:43:16 EST
---
Funnies....: Barney, will tell my wife. The cartoon is not hers per se but the web page that hosts the strips is.
Ralph - Monday, 03/08/04 23:53:41 EST
---
for a starting vice?: are there any particular brands that you would avoid for a blacksmithing vice. for a beginner are post vices worth the extra cash? for a bench vice would you suggest the jaws opening to a width over 6 inches or is that a good size? are there any particular things on an anvil that doesn't come standard, i.e. how they fasten to the bench, bolt, screw etc. or any other tips you could offer me on buying my first vice?
Luke - Tuesday, 03/09/04 00:43:52 EST
---
Luke: I personally don't have any brand preference. The most important thing, if you opt for a bench vise is make sure it's steel and the heavier, the better (heavy bench too!). A few good swings of the hammer will turn your average bench vise into scrap. The post vise is designed so that the leg transfers the stress of impact to the ground, putting less stress on the vise itself, or for that matter the bench. For that reason, the post vise is much prefered for blacksmithing. Truthfully, the post vises aren't that expensive. I've picked up several on eBay for under $100 that have served me well. Sometimes it's a crap shoot, since you can't inspect the screw for wear and make sure all the parts are there (spring, mount etc.) but I've been lucky so far. You can also pick them up from tailgaters at blacksmith meetings. Often, they're slightly more expensive, but you can ispect the goods before purchase!Again, with post vises, the bigger the better, but for a beginner on a budget, the 4 1/2" jaw width would probably suffice. You can always buy a bigger one later, as your skills develop. A blacksmith can never have enough vises (and most have a number of vices as well).

As for anvil mounting, there are as many different ways to mount an anvil as there are blacksmiths. Many use some combination of straps to wrap around the base and bolts to fasten the straps to the stand. The most important thing is that it is secure and stable.

Eric

Eric
eander4 - Tuesday, 03/09/04 03:36:50 EST
---
OOPS!: I guess I only needed to sign that once.

PTP...errgh.
eander4 - Tuesday, 03/09/04 03:38:27 EST
---
That anvil may not be a treXton, I've seen a mexican cast iron anvil with that label IIRC so check the ring and bounce on it and perhaps Paw Paw can do the paperwork and look it up in Anvils in America and tell me I'm wrong, again....

As for postvises: in my old neck of the woods they were *cheaper* than getting a good used machinist vise, and a bad machinist vise is pretty worthless for smithing...

Thomas
- Thomas P - Tuesday, 03/09/04 06:44:46 EST
---
Anvil:

Before I can look it up, I need to see a picture of at least the trademark. And all six views would be better. Left Side, Back, Right side, Front, Top and Bottom.
Paw Paw - Tuesday, 03/09/04 11:15:34 EST
---
vises: A decent post vise will do a lot of good work for you, IF...

Any vise must be mounted so that you have decent access to it from as many different sides as possible. You also need enough room around it to be able to clamp a bar in it and swing the free end around to bend it. Or put a long piece in it to saw off a piece. Whatever you mount the vise to, be it a bench or a post, that surface MUST be absolutely solid and unmoving. Nothing will cause you more aggravation that a vise that moves when you use it. When you mount it, put a piece of 1/2" or so steel plate on the floor with a hole drilled in it to accept the leg pin on the vise. This will distribute the load on the floor and avoid cracking or spalling.

If you find a good deal on a post vise that is missing the mount or the spring, get it anyway. Mounts and springs are easy forging projects. What is important is that the vise have a good screw and thread box. All the rest is fixable, but screws and thread boxes are more than yu'll want to get into.

Machinists' vises are also good to use, and can sometimes be found reasonably priced for used. Look for good brand names like Parker, Reed, Prentiss. One that weighs a hundred pounds or more will work fine. These vises were used for chiseling work, called "chipping", in foundries and machine shops.

The inexpensive vises sold by the big box stores, Harbor Freight, etc, are made of cast iron and will break the first time you really stress them. Good big vises are made from malleable or ductile iron with steel jaw inserts and screws. New, a big chipping vise of good quality will cost around a thousand bucks.

It is nice to have more than one vise so that one can be mounted at a level appropriate for filing (about 38 - 42" high) and the other mounted lower for hammering, or about anvil high. The more vises the better, the bigger the better.
vicopper - Tuesday, 03/09/04 11:19:49 EST
---
Vises,
Another good old brand, often found in large chipping vises is Columbian. Where I used to work we had hundreds of these in 200# and up. Biggest was probably 500#. Another excellent vise is an old two jaw chuck off a lathe. These are some times available in junkyards. We used 16" and 18" two jaw chucks mounted vertically on low tables for assembly of very large valves. Sent many to the scrap yard when we moved to the new plant. Wish I had one now. Did get some of the smaller vises.

And yes Pawpaw, I'm a man of several vices:)
ptree - Tuesday, 03/09/04 22:44:53 EST
---
Vises: When we started, I found two nice post vises on Ebay for about 45 to 70$ each, shipping added a small amount. One 4" and 6", both very heavy, and in great condition. We welded some 2" sq tubing to make a stand for one and it is sweet. New they are big$$.
Richard - Wednesday, 03/10/04 08:52:45 EST
---
BabyAnvil: Be sure to tell her that she may qualify for free medication, just have her tell her Dr. or whatever that her income is down due to illness, and the drug companies often make medication available for free to those who qualify. This info is often not shared if you do not ask. It is a safe bet that if the got an implantable defib, and a pacemaker, she is going to be on some big $$ drugs. The drug Co. do this to ease their rotting concience from overcharging everyone else I bet. The paperwork end is often a bitch, which is why it is not always mentioned, our group actually has a full time person that does the paperwork for us, we just give her a list of meds and the name and she does the rest. You should feel free to email me if you or BabyAnvil wants more info, I would be happy to help out. I may be new at this smithing stuff, but dammit I know a thing or two about this screewed up healthcare non-system we have...
Richard - Wednesday, 03/10/04 09:03:20 EST
---
Paw Paw, sorry I 'm late on this but I just found out, CONGRATS!!!! CSM, that is as close as you can get to God in this life and I know you will be with him in the next! Congrats again!
Wayne P - Wednesday, 03/10/04 09:29:25 EST
---
stamps: I would like to make a trademark stamp. How to and what to make it out of. I have a coil spring.
- Gerry - Wednesday, 03/10/04 11:14:02 EST
---
stamps: I would like to make a trademark stamp. I have a coil spring. Information is appriciated
Gerry - Wednesday, 03/10/04 11:16:32 EST
---
Stamps: Gerry,

There is an iForge demo on touchmarks. Demo #65, titled "Matrix". It shows how to make touchmark stamps, eye punches, etc.

Flea market cold chisels, center punches, coil spring, all make good punch stock with the proper heat-treating. So be sure to check out the articles on heattreating on the 21st Century page. Both iForge and 21st Century are accessed through the drop-down menu at the upper right of the screen.
vicopper - Wednesday, 03/10/04 11:44:52 EST
---
On vises,
Another very good vise is a Wilton machinists vise. This is not the less expensive Tradesman, but rather the one with the barrel shaped body. A new 6" jaw model, without the swivel base will be about $600 new. I had a 6", bought new in 1981 that was used daily in an R & D lab for 21 years. still perfect when I shipped it and my job to Texas. I had made tool steel jaws, with 1/8" diamond teeth, heat treated hard, to hold things as we hand torqued them to as much as 2400 foot pounds. Thats 1 engineer, and 3 very big co-ops on a 13' cheater! The jaws moved sideways, but held, and returned to prefect alignment. I dream of a 8" Wilton, next to a 500# Trenton, to go with a.......
ptree - Wednesday, 03/10/04 20:15:30 EST
---
Wayne,:

Thank you. I'm a bit worried about the next go-round, I've got some pretty big bills to pay.

Came back a day early folks, just couldn't stant to be away from my friends.
Paw Paw - Wednesday, 03/10/04 21:35:07 EST
---
Paw Paw, I know you don't need this said but I'll do it anyway for other folks who may be out there: try to concentrate on the person and not on the bills, they will still be there after *he* is gone.

I went through this with my inlaws, losing then in sequential years. It was very rough on my wife as it is truly a day in which ones universe changes. It was rough on the hospital too, my wife is the oldest of 12 and all the families gathered. The nurse came in and said "only the immediate family"---and nobody in the packed room moved. They finally gave us our own waiting room and asked us to visit in batches....She had 52 grandchildren when she died of lung cancer.

We're going to Munich again tonight. If I get a chance I will have a candle lit for him at the Frauen Kirche.

Thomas
Thomas P - Thursday, 03/11/04 05:42:25 EST
---
Thomas:

You've mis-understood. I haven't lost anybody recently, Sher and I are now the Matriarch and Patriarch of our respective clans.
Paw Paw - Thursday, 03/11/04 09:27:46 EST
---
Sorry Paw Paw; skimming inbetween the paying work is confusing me more than normal, the stark bier has nothing to do with it!

Thomas
Thomas P - Thursday, 03/11/04 10:46:48 EST
---
Thomas:

No problem, I just couldn't see what had confused you. No, it's not the stark bier, I've drunk a lot of it and I don't remember ever being confused by it. (wry grin)
Paw Paw - Thursday, 03/11/04 13:17:11 EST
---
Paw Paw: Thought there had been enough off-topic rambling in Jock's bailiwick, so I'm bringing this here.

We had a serious assault here a few years ago wherein a gentleman was nearly killed when struck by a pool ball thrown at him. I'm glad they didn't try to outlaw pool balls; the bumper sticker that comes to mind would have been laughable. (grin)
vicopper - Thursday, 03/11/04 21:28:00 EST
---
VIC: Ralph and I thought the same thing.

Can you imagine an eight ball. thrown hard, striking the temple? Bet that's what happened.

Would have been a bumper sicker/snicker! (grin)
Paw Paw - Thursday, 03/11/04 22:27:00 EST
---
Baseball Bats:: A few years back NYC proposed banning the sale of baseball bats, seem they can be used in gang wars and muggings. Little League parents put a stop to that nonsense. Everything can be a weapon, the most important is the mind.
Ellen - Friday, 03/12/04 00:37:25 EST
---
The *MIND* is the weapon; all else is just implementation details.

Ban Plumbing, pipes are just too dangerous to have around our kids!

Thomas "Heavy Food, Heavy Beer, Heavy Sleep!)
Thomas P - Friday, 03/12/04 06:14:42 EST
---
Ellen and Tom:

Actually both of you are preaching to the choir. As I tell kids at a demo, the blacksmith's most important tool should remain hidden, but it's located between the ears and right behind the eyes.
Paw Paw - Friday, 03/12/04 09:34:58 EST
---
Bubper sticker?: Umm, "8-balls dont kill people...people playing pool kill people"?
RFraser - Friday, 03/12/04 10:08:18 EST
---
Bumper Snicker: I remember a day with "8 balls" DID kill people... but I think the bumper snicker would be "When balls are outlawed, only outlaws will have...."
- MikeM-OH - Friday, 03/12/04 10:59:37 EST
---
weapons....: Shoot might as well outlaw hands and feet, even if you have no martial arts training. I am fairly certain that given the motivation and half a chance I could insure that someone would not be alive just with my hands. But then again I paid attention way back when in scholl and sorta remember where the 'critica;' areas are.
To me these new laws are just a sign that an end to the PC idiocy is coming to an end. More and more crazy stuff and the people will decide to change it. A good start will be actually thinking about who we have representing us ( for those of us in the world who have that luxury)
Ralph - Friday, 03/12/04 11:27:28 EST
---
CSI: how long after I join CSI can I get to all the goodies?
shack - Saturday, 03/13/04 00:07:00 EST
---
Shack,:

Doesn't usually take too long, unless Jock is really bogged down.
Paw Paw - Saturday, 03/13/04 00:22:28 EST
---
Treadle hammer: Anyone out there know where I can get the Clay Spencer Inline Treadle Hammer plans. The one using the roller blade wheels. I tried to contact him using an e-mail address from a web site I found but the address was no good. Any info. would be appreciated.
Hoof - Saturday, 03/13/04 23:22:12 EST
---
Treadle Hammer Plans: Hoof,

E-Mail coming your way.

Rich Waugh
vicopper - Sunday, 03/14/04 00:21:14 EST
---
Treadle Hammer Guide Wheels:
Hoof, if you don't have the wheels to guide the head, the Surplus Center has some 2" polyurethane wheels with 1/2" bore steel roller bearings for .49 each. Item #1-2284 www.surpluscenter.com 1-800-488-3407. The wheels fit good on a 1/2" bolt and should roll nice once the heavy grease is worked out.

How much do skate wheels cost anyway? They would probably have less friction. I've never seen any.
- Tony - Sunday, 03/14/04 21:07:29 EST
---
Treadle hammer: Thanks Tony for the poly wheels info. Skate wheels can be cheap to expensive. I used to roller blade quite a bit a few years ago(approx.125 miles a week)They come in various material compounds and the bearings are purchased separatly and the higher the abec rating the higher the cost. I bought a set(8)for 65.00 a few years ago, about mid priced. The higher abec rating the faster you can skate. I don't need that for a treadle hammer. The poly wheels you speak of are probably perfect. Hey, the price is right.

Thanks Rich for your E-mail also.
- Hoof - Monday, 03/15/04 00:13:11 EST
---
to guru: I met you at Dan Boone's hammerin and got you talking to Roger Duncan about 00 Fe. Roger had a fatal heart attack this weekend. Thought you might like to know.
- John larson - Monday, 03/15/04 20:04:05 EST
---
John Larson:

Guru knows, he found out about the same time you did, I think.
Paw Paw - Monday, 03/15/04 20:13:10 EST
---
Hoof:

You are more than welcome. I bought 40 of them because I know I'll need them some day. This is how the useful stuff pile grows. Grin. Let us know how they work if you get some. I only unwrapped one and it looked good, but was stiff at first. Did run true and the urethane looks good.
- Tony - Monday, 03/15/04 22:46:06 EST
---
help : im doing a report on the world of 'smithing and its history canu guys help me ?
- jay - Tuesday, 03/16/04 20:57:22 EST
---
swords (duck and run): I hope this question about a "Sword" won't get me laughed off the forum, but does anyone know how to loosen one stuck in a scabbard? My father-in-law gave me an old sword that he bought at a garage sale, and it is firmly trapped in its leather scabbard. I know less about swords than Bladesmith, LOL, and don't know if I have a "find" or not. Would the use of saddle soap on the leather do any damage to its historical value, if any? Where might I go to find out more information about the type, age, etc. The handle seems to be wrapped in linen with cork in the butt end. pictures are posted on the user page.
- habu - Tuesday, 03/16/04 21:02:17 EST
---
Habu:

It isn't sword questions that get my Irish up, it's idiots. You are not an idiot.

That looks like a French Rapier, with a jury rigged hilt. Can't tell more, till we get the blade out of the scabbard. I rub the scabbard down with some Neatsfoot Oil, and see if that loosens the blade first. If that didn't work, then I'd let a LITTLE wd-40 trickled down along side the blade.
Paw Paw - Tuesday, 03/16/04 21:13:02 EST
---
Jayl, :
That's a mighty broad subject, since the history goes back approximately 6,000 years. Try to get the instructor (teacher, proffesor, whatever) to narrow it down a little for you, then come back and we'll try to help you.

Paw Paw - Tuesday, 03/16/04 21:14:45 EST
---
Paw Paw : Two quotes, the first was on a plac over my desk in the Air Force: "Enlisted men are stupid, but very cunning and deceitful and bear considerable watching," an 1894 officersí manual. I did my part as a young airman to live up to the standard. grin

The second: "Dont argue with an idiot, they will only
drag you down to their level and then beat you with experience"

habu - Tuesday, 03/16/04 21:57:12 EST
---
thanks: im reading a book and its set in the mid to late 1800's and im fasinated by the process im a chef in training but this is very cool
jay - Tuesday, 03/16/04 21:58:38 EST
---
uh: he just wants some info about that time and why this prfession is so important
jay - Tuesday, 03/16/04 21:59:47 EST
---
Jay,:

If you like that book, you might enjoy THE REVOLUTIONARY BLACKSMITH. You can find a link to it in the pulldown menu on the topr right hand side of the page. Go to the STORIES page and click on the link there to TRB.
Paw Paw - Tuesday, 03/16/04 22:17:52 EST
---
Chapter six: Pawpaw, when do we get chapter six, snivel, whine,sob.
- Ritch - Tuesday, 03/16/04 23:13:54 EST
---
Ritch:

Ask Jock, he's got it.
Paw Paw - Tuesday, 03/16/04 23:17:18 EST
---
Chapter Six: Mr. Jock sir, I know you are busy, (its always hectic at the top) but could we please have chapter six?
- Ritch - Tuesday, 03/16/04 23:25:00 EST
---
Habu: My personal favorite is: "I will not engage in a battle of wits with an unarmed man." Winston Churchill, (I think)
3dogs - Wednesday, 03/17/04 04:54:42 EST
---
Stuck Sword: Hmmm, might be rusted in and require more extreme measures. A lot of swords should not be kept in their scabbards, especially those made of leather. Some are better than others, but some tanning is ill-suited to be compatible with steel on a long-term basis.

Escalate gradually (I like the neatsfoot oil idea). If that doesn't work, use a bigger hammer!
Bruce Blackistone (Atli) - Wednesday, 03/17/04 09:38:46 EST
---
Habu:
The important point in Bruce's comments is Escalate gradually.

The scabbard (if it can be salvaged) is an important part of the value of the sword.
Paw Paw - Wednesday, 03/17/04 10:04:20 EST
---
History of smithing: this is a great topic to explore but way broad. You might look at early smithing as "Smith as Magician", the middle part as "Smith as craftsman" later part "Smith as technologist" and finally "Smith as Artist"

Such things as King Tutankhamen was buried with a minature set of tools made from iron,(and an iron dagger) the brief mention of iron in Homer's works, the nmilitary use of iron in ancient times merging into the common civilian use.

Mention the old story about why smithing is the king of all the crafts, how isolated areas depended on the smith for all ferrous items used in their daily life. The specialization of smithing and the numerous guilds of the middle ages, (special mention of swords and armour and the fact that a normal smith would never have made any, spears, arrowheads yes, swords and armour no) Smiths as important parts of the industrial revolution and the flowering of smithing as an artistic craft in the arts and crafts movement.

You will have to dig for the info yourself; but this might give you a roadmap of some points to cover.

Guru---was this too much? (policy of this site is to not do folk's homework for them)

Thomas
- Thomas Powers - Wednesday, 03/17/04 12:31:44 EST
---
Thomas:

Personally, I don't think that is too much. It gives a good, broad over view, without the details.
Paw Paw - Wednesday, 03/17/04 15:27:44 EST
---
NC-ABANA 3/20: Is anyone here planning on attending the meet this weekend?

Shack - Wednesday, 03/17/04 16:09:43 EST
---
thanks: your help is appreciated and im sorry if i over-steeped my bounds ill use the link for the book up top thanks.
jay - Wednesday, 03/17/04 17:09:44 EST
---
Paw Paw, I've worked with a few folks trying to write stories with smithing an important part and it's been interesting to say the least!

I *always* advise them to find a local smith and *do* some smithing, most seemed to have no interest and I fear their books will reflect the fact that they have no kinesthetic appreciation of the craft (did I spell it that way on purpose?)

The strangest one was with a fellow writing fantasy who wanted to work out ways that a water dwelling furred creature (think intelligent human sized otters) could smith. without heat stroke or singeing...

Thomas (Smith as artist goes way back, I rather like Tijou's work, but I wanted to present it in discrete waves...)
- Thomas Powers - Wednesday, 03/17/04 17:56:59 EST
---
Shack:

I will probably be there, and I think Jock will also.
Paw Paw - Wednesday, 03/17/04 19:00:49 EST
---
Jay,:

I don't think you over-stepped, Jay.
Paw Paw - Wednesday, 03/17/04 19:01:18 EST
---
easy swege: My smithing mentor Paul Thorne showed me this a while back. you just go the the junk yard and get an old acetyline tank or some similar tank, and cut the bottom 6 inches off. the bottom is really neato for making armour, or any other dishing you need to do.
Chadith - Thursday, 03/18/04 20:36:44 EST
---
Chadith: Oxygen tank! Acetylene tanks are full of pumice and acetone...
Alan-L - Thursday, 03/18/04 20:53:34 EST
---
think about it!: This is another of those topics that crops up periodically, and needs to be addressed. CUTTING TANKS IS DANGEROUS!

Acetylene tanks should never be cut by anyone other than the welding gas supplier. Period. Acetylene is explosive in a wider range of concentrations than any other gas I know. This means your chances of having your birthday revoked are really, really good if you try to cut one by any method at all. Why risk it?

Oxygen tanks, because of their much higher pressure rating, are made of heavier steel and are a thousand times safer to cut, but you can still blow your self to the promised land if you don't do it right. The tank MUST be purged, and filled with an inert gas like argon, nitrogen or CO2 before cutting, even with a saw. This applies to ALL tanks you want to cut.

Cutting closed vessels (tanks) with oxy-acetylene cutting torches is always risky, because you almost invariably introduce some unburned acetylene with the flame. This can reach the flash point concentration and launch you into the next life. A sabre saw, an abrasive saw or a chisel and hammer are much, much safer. Even oxy-propane cutting is safer, as propane has a much narrower range of flammability proportion with air than acetylene does. NONE OF THE METHODS ARE SAFE IF THE TANK IS NOT PURGED AND FILLED WITH INERT GAS!

Many people think that washing out a tank and then filling it with water makes it safe to cut. This is simply NOT true. Fuel gas tanks can still flash with water in them, giving you a jet of superheated steam that removes flesh from bone quicker than a flensing knife. That is IF it doesn't simply explode in your face.

If you absolutely have to have a section of tank, go to your local supplier of whatever comes in the type tank you want. When they de-commission tanks, they usually punchor blow a hole in them so they can never be re-filled. Get an old one that has been sitting around a good while. THEN wash it out with soap and water a few times, allow it to dry, fill it with inert gas and cut it with a saw. DON'T cut it with a torch, ever.

One simple source of inert gas for purging is either dry ice (frozen CO2) or a CO2 fire extinguisher. Remember that CO2 is slightly heavier than air, so the opening in the tank should be at the highest point when purging and cutting.

REMEMBER:

You will inevitably hear stories from old-timers about how they have welded and cut on tanks full of gasoline, diesel, whatever. They may tell you it is safe if the tank is full, or if there is no air in it, etc. THIS IS SIMPLY NOT TRUE. The ones who did the same procedure and got killed aren't around to tell you just how incredibly, unbelievably STUPID they were, are they?

This rant brought to you by a well-wisher who wants to see you live a long and productive life.

Rich Waugh
vicopper - Friday, 03/19/04 09:22:23 EST
---
Sorry, got sidetracked and didn't add the safety rant. If I were to cut the bottom off an old oxy tank, I'd see if I could find somebody with a big horizontal bandsaw to do it. And even then ONLY if the tank already had a hole in it and was purged. I was in a scrapyard once when a scrapper came out with an oxy-acetylene torch and started cutting up oxy tanks without even cracking the valves first. I left quickly, listening to the sizzlesizzlesizzlePOW! pop pop pop noises it was making. Never heard about an explosion, so I supposed he survived, but I didn't want to be anywhere around just in case.
Alan-L - Friday, 03/19/04 10:10:03 EST
---
NEED SPACE to CREATE?: The Crucible: A Nonprofit Educational Collaboration of Arts, Industry, and Community located in Oakland, CA offers work-only ARTIST STUDIOS for rent! Approx. 250 sq. ft available on a monthly basis. 24-hr access and lots of amenities: access to tool room, 25ft ceilings, skylights, 120 volt 20 amp circuit, free labs, discount on classes, and more! Visit www.thecrucible.org or call 510.444.0919
www.thecrucible.org
The Crucible - Friday, 03/19/04 15:07:28 EST
---
Crucible: I wonder if a feller could build hisself a nice big ol' coal fire in the middle of one of those studios.
3dogs - Saturday, 03/20/04 02:39:31 EST
---
3dogs,
Do you suppose you could bring in a 50# LG and rn it on the massive 20 amp 110 circuit?
ptree - Saturday, 03/20/04 09:36:25 EST
---
I suppose if you feel lucky you could cut up old tanks...whatever you use will produce sparks and heat.....sort of like storing a keg of black powder and 5 gallons of gasoline under your bench grinder or chop saw, right where the sparks will fly.....great way to see your neighborhood from 200 feet in the air.
Ellen - Saturday, 03/20/04 17:21:09 EST
---
Just spent two days working on becoming long pig jerky by the simple method of attending an outdoor implement and junk auction bout 1-2 miles from my new house. 80's, light wind, SUN and only 1 tree on site and it without leaves. I did wear long pants, long sleeves and my disreputable hat---the gray one so I'm not looking like steel at low forging heat...

Saw 1 post vise there, stopped paying attention after it reaced 4 x what I paid for my last three vises in OH. The ASO's went for under $1 a pound save for one with a pritchel hole large than the hardy hole. looked to be 125#-150# max, but the auctioneer said it looked 200# to him and it went for about US$250, sigh, the little cast iron swage blocks went arond US$60 and a heavy cast iron
- Thomas Powers - Saturday, 03/20/04 22:10:22 EST
---
Sorry but it cut off my post: Just spent two days working on becoming long pig jerky by the simple method of attending an outdoor implement and junk auction bout 1-2 miles from my new house. 80's, light wind, SUN and only 1 tree on site and it without leaves. I did wear long pants, long sleeves and my disreputable hat---the gray one so I'm not looking like steel at low forging heat...

Saw 1 post vise there, stopped paying attention after it reaced 4 x what I paid for my last three vises in OH. The ASO's went for under $1 a pound save for one with a pritchel hole large than the hardy hole. looked to be 125#-150# max, but the auctioneer said it looked 200# to him and it went for about US$250, sigh, the little cast iron swage blocks went arond US$60 and a heavy cast iron "rivet forge" with free standing buffalo 100 blower went for $350...

OTOH I bought a working old coal stove for US$30 and a pile of junk containing two iron balls (5.5" and 5.75") and a couple of AT&SFRY test gauges plus wrenches, dirt, rust and a bunch of odds&ends---plastic electric fence standoffs anybody? for US$5

Not worth the 2days but it was a nice break from work.

Tomorrow I forge! (given that the wind dies down)

Thomas
- Thomas Powers - Saturday, 03/20/04 22:12:35 EST
---
Ladies and Germs, any experience with the three in one Smithy machine? Please let me know how it has held up.Muchas gracias.Thank you.
- Ritch - Saturday, 03/20/04 22:40:46 EST
---
welding compounds: I just ordered some welding compound that says it will weld at light red heat, it sounded to good to be true, I just started blacksmithing so I dont know what to buy. But I got it from centaur forge I guess I can trust them. It really sounds like snake oil to me, but if you get the time can some one tell me if that stuf works
- Treavor - Saturday, 03/20/04 23:16:41 EST
---
beginners : how do you feel in general about beginners,
- Treavor - Saturday, 03/20/04 23:22:43 EST
---
Ritch:

Personal opinion here. Three in one machines normally do three different things, none of them well. Dedicated machines are much more effecient, and accurate.
Paw Paw - Saturday, 03/20/04 23:48:30 EST
---
Treavor:

Beginners are welcome at anvilfire, they are a large part of why the site was started. People who ask sensible questions, politely, will get answers in the same way. Answers here tend to be a little slower than the guru's page, but answers are available on both sites.

On the other hand, people who come across as abusive or abrasive sometimes get the same kind of answers. (grin)

In other words, politeness counts more than experience.
Paw Paw - Saturday, 03/20/04 23:51:13 EST
---
Treavor: Centaur forge is a reputable vendor, and their information tends to be fairly accurate. As to forge welding, much depends on the steel to be welded, the preparation (scarfing) of the surface, and the qualities of the fire to be used. Temperature is not the only factor....in general, in a propane forge, with "normal" steel, slippery orange is the color to look for, and borax, sometimes with some additives is a fine flux.

Treavor, we **all** started out asking questions. Some more erudite than others. As Paw Paw said, politeness will yield greater rewards in the answer department. Most folks here are glad to help. If, however, you start out by "I wanna mek a swoooord from old beer cans", the answers will tend to be sharp.
Ellen - Sunday, 03/21/04 07:44:54 EST
---
Treavor: Concerning beginners. I've been a beginner for 2.5 years now and the folks here have been MOST helpful. Keep firmly in your mind what both Paw Paw and Ellen said and all will be right with the Universe.
Centaur. I've made a few purchaces from them and found them to be excellent to deal with. May I ask which welding flux you bought? It it the EZ weld? I only get about 1 out of 5 welds to stick and few of those are what you might call pretty. :-) Course I'm using plain borax and should practice a whole lot more. I'd be curious as to how you make out with it.
Gronk - Sunday, 03/21/04 11:00:38 EST
---
welding : the one I got was called cherry weld, I have tried a borax for laundry that dosn't have anny additives, but it is the kind that dances arround and gets all fluffy when heated, I have faild about 20 welds with it, rainging in temp from bright orange to lemmony yellow and yellowish white,
- Treavor - Sunday, 03/21/04 14:37:54 EST
---
welding: I am wondering if the stuff I am using is bad or, as I am inclined to belive, I am doing it wrong,I start out heating to lemmony yellow then I knock and brush off all the slag and put in enough borax as i need to cover the welding aria with a thin layer, I now think I need more borax on the weld,heat to lemmon and remove from the forge then hit the weld with a fairly good hammer swing, causing the flux to fly out on to me a little, I have never had a sucessfull weld, and I allways use the same stuff. if you find anny errors point them out, thanks for all the help.
- Treavor - Sunday, 03/21/04 14:52:09 EST
---
Treavor, what type of forge are you using? Coal or propane. It makes a difference in your technique. Coal is fine, but fire management is crucial. Also, what flux are you using? I find EZ weld works better in Propane forges than in coal, but that is just my experience.....plain 20 Mule Team Borax works well in most environments. It's also one of those "experience" things; you need to stay with it until it works. In general, hotter, without oxidizing, is better, and you don't need a large hammer. When things are right, you'll get plenty of "flying" flux. Sometimes a lighter hammer and a few quick taps will get the process going quite well. In fact, if everything is right, the steel seems like it wants to stick together on it's own.....
Ellen - Sunday, 03/21/04 15:08:12 EST
---
Treavor, I neglected to mention that speed is also important, and it may help to lay a hot piece of steel on your anvil in advance so it is not quite as much of a heat sink. I generally heat up a chunk of 1/2" plate and lay it on my anvil, and knock it off just before I do my weld...watch out for the dog and the cat when doing this!
Ellen - Sunday, 03/21/04 15:14:29 EST
---
Treavor, a final thought: do you wire brush your steel when it is hot, just before applying your flux....this helps...a lot.
Ellen - Sunday, 03/21/04 15:17:09 EST
---
Treavor: Are you using the same stock to weld with? or different pieces? I had some 1/4 rd that I couldn't get to stick for nothing. Frank Turley demoed for us in October and he was doing fine by a quick brush at red heat, then flux with borax AND EZ weld, bring it up to heat til the steel was the same color as the heart of the fire. The point when the steel becomes 'invisible'. I watched a tape of Dorothy Steigler who used borax exclusively but her test for weldability was if the flux would sling off of it when removed from the fire. But that corresponds pretty well with the temp that Frank Turley used. In listening to those who have done more than I and what I have observed is the temperature is the prime ingredient with other stuff being added to fit your preferences. There are some things that are weld killers such as striking too hard in your haste to not lose the heat and fumbling with the steel in your haste to not lose the heat. Iff you are using mild steel. Once you move into alloys then some adjustments must be made. Some spring stock whipped up on me cause I forgot that part.
Mills - Sunday, 03/21/04 15:24:40 EST
---
Welding: And always make sure the two pieces to be welding match in color. And once you stick your weld, finish working it at a welding heat, or very near that. One nice way to practice forge welds is just to use one piece of steel, bent over on itself, forming a loop. Get the parts lined up, heat, brush, and flux. Then make sure both match colors and tap them together. No fussing with trying to get two different pieces of steel lined up and dropping your tongs.
Bob H - Sunday, 03/21/04 16:46:58 EST
---
Dies For Sale: H - 13 tool steel
10 degree taper, 20 degree taper, Radius Combo, Full Combo
Fits Bullhammer


PF - Sunday, 03/21/04 20:31:54 EST
---
Lindsey books: Went to a Michigan Artist Blacksmith demo yesterday. Fella there brought in a box full of catalogs from Lindsey Publications. They sent them to him free, to pass out to people like us. Sure is a lot of nice stuff in there. Many of the same titles I see mentioned on these pages. I may be ordering a few of them. But be waarned! If you don't have enough time for all your hobbies now, you might not want to look at the catalog. Too many neat ideas in there.
Bob H - Sunday, 03/21/04 20:39:03 EST
---
Treavor: Welcome to Anvilfire! We enjoy beginners here. Heck, I've been a beginner for about thirty years now and they put up with me (most of the time). Sincere questions will always get a sincere answer from me.

On your welding question: The most common mistake I see is smacking the weld too hard on the first blow. At the right heat, the metal is just barely below molten at the very surface. The addition of flux removes the oxides and tends to drop the melting point a few degrees at the surface. When you clobber the thing too hard, you not only blast all the flux out of the joint, you blast that sticky surface stuff right out, too. So, no weld.

When everything is just right, you can touch two pieces in the fire and they'll stick without hitting them, so you can see from this that a hard blow is not necessary.

If you're doing a faggot weld, or a weld that is wired together, bring it from the fire to the anvil quickly and smoothly and hold it just a bit above the anvil, rather than setting it right on the anvil. That way, the anvil doesn't act as a heatsink. Then give it one or two quick, light blows with a light hammer, driving it down onto the anvil and compressing the joint just enough to stick the weld. If things look right, give it another blow or two and then back to the fire. Try to do your finish work on a weld at near welding heat.
vicopper - Sunday, 03/21/04 21:29:31 EST
---
BOB H/ Lindsay Books: I've dealt with Lindsay often, over the past 20 years, at least, and have never been dissatisfied. One tip, though. If you buy Lindsay's books from some dealer at an event, and then try to exchange it with Lindsay directly, because you can't find the guy you bought it from, prepare for some opposition. IMHO, you're better off buying from the ol' phart directly. BTW, don't forget about the North American Model Engineers Society show April 24 & 24 (i'm pretty sure of those dates, check their website) , in Southgate, MI. See ya there, mebbe. 3dogs
3dogs - Sunday, 03/21/04 21:35:03 EST
---
BOB H: OOPS, April 24 & 25
3dogs - Sunday, 03/21/04 21:37:58 EST
---
Treavor: It always helps to weld with a clean fire. Clinker and ash can kill a weld. Try to do your welding practice at the beginning of the forging session rather than a the end...your fire will be "cleaner". Just one more of the many variables (including LUCK) involved in making a successful weld.
- gerald - Sunday, 03/21/04 21:53:30 EST
---
welding : I should have mentioned this befor but I am using a propane forge, and 20 mule team borax, what I am trying to make is a folded steel knife blade , that may be too advanced for me but I am a particularly stubborn kid, thanks for the tip about brushing the steel, that may be what I was missing all along.also I am using high carbon steel, I heard that it dosn't take as mutch heat to weld high carbon as it does mild steel, is this true
- Treavor - Sunday, 03/21/04 23:06:19 EST
---
Treavor welding compounds: I used easy weld also with variable results. Then taking a welding class from Bob Patrick, I found out why. Use it spareingly and don't rush it. Heat the steel and apply the compound. Bring up to a welding heat slowly giving the compound time to blend with the surface. I've got some cherry compound but haven't got to it yet, still using Easy Weld that I bought several years back. A large can will last the hobyist a long time. I imagine the cherry would be used the same.---------On your borax the moisture in it makes it bubbleing on the surface. Try keeping it dry in a closed container. Many bladesmiths doing pattern welds actually dry there borax in a oven at 400 degrees then smash it back into a fine powder. Keeping it inside a closed container and dry.
- oldtrail - Sunday, 03/21/04 23:13:47 EST
---
welding magic powders: I use exclusively borax for forge welding. I will first admit not all my welds work, but I have a greater number of sucssessful welds than not. I have even had some reasonable luck welding with out flux.
Honestly I think the flux matters much less than the smith.
Technique is king here.
And you will not get that with out practice ( correct PPW?)
I try to tell smith beginners ( and not a few old-timers too) every time you are at a forge you MUST do/attempt at least one weld. otherwise you will never get the right technique.
Ralph - Monday, 03/22/04 03:18:17 EST
---
Ralph,:

It's like riding a bike, If you once do it, and practice, you will always know how. I do think that some fluxes make it easier than others.
Paw Paw - Monday, 03/22/04 09:01:34 EST
---
Treavor, yes high carbon welds at a lower temp than mild steel; burns at a lower temp too! This is the trick to pattern welding to get a temp where both high and low carbon steels will weld but is not in the burning range for the high carbon steel. One way around this is to use two different alloys of high carbon steel, say L6 and 1070, whose welding ranges overlap more and let the alloying differences make the pattern.

Thomas
Thomas P - Monday, 03/22/04 12:00:27 EST
---
New Smithy: I am starting my own blacksmith shop, I've never done anything to work with metal before, I have no one to teach me so i am reading and getting as much info from sites and people i meet online as possible. I am hopeing there will be some people here that can tell me what I need to know to start off. I need to know the termonology for smithing, what it means to fuller something and all sorts of things if anyone knows where i can find a very extensive vocabular site, ive checked anvilfire's glossary but it doesn't have everything on there. If you have any information for me please e-mail me at Ncdiver@charter.net

- Danaan - Monday, 03/22/04 13:34:26 EST
---
welding hi carbon: the MOST INPORTANT thing in welding it to have the stack CLEAN!!!
It took me a long time to get that :)
I start by grinding all mateing serfices. I do this with a 4 1/2" angle grinder and use a very course disk (I like to think that all the little groves make getting the weld easier) then I wipe every thing down with acatone or breakcleaner (to get rid of oil and grinding dust) then I clamp the stack in a vise and tack the corrners with a welder/ or wire the stack as tight as I can.
In the forge I heat to a red heat and flux, I try to heat only enough to get the flux to flow any higher and the steel starts to scale. into the fire then up to a orange heat and wire brush and reflux (trying be be sure that there is no scale that did form) back in and up to welding temp (be carfull that all of the bars are at the same temp and don't rush, the out side of the steel and the outer layers will heat first making it look like every thing is at temp) I go to about a bright orange or light yellow heat (a good rule of thumb is the higher the carbon the lower the temp) pull it out and wack it to set the weld then go over the weld a few times with the hammer and when the heat drops to a dull orange wire brush and flux then back in the fire. do the same thing untill the hole billet is welded over laping the welds each time. if re stacking grind and prep as before.
after the billet is welded work it at a welding temp and stop when it gets to a bright red heat! I like to flux the billet untill I start to forge to shape. one other thing if a bar in the middle moves when welding, don't try to forge it down, grind it out. when drawing out use the bigest hammer you can swing(with out hurting your self) the bigger hammer will help to keep the edges from becomeing cold shunts by moveing materail in the center of the bar. when heating look for spots that heatup or cool down faster those will be spot that he weld didn't take, heat flux and reweld to fix.
hope that helps
MP
MP - Monday, 03/22/04 13:42:09 EST
---
I must not be awake yet ...lots of typos ..sorry
MP
MP - Monday, 03/22/04 13:44:02 EST
---
MP: Actually, I think you had fewer typos and transpositions than you do when you're awake. I certainly had no trouble following what you said very easily. Well written, sir!
vicopper - Monday, 03/22/04 15:43:18 EST
---
Cutting Tanks: When I took a welding class offered by the Air Force, the instructor took a small balloon and filled it with a neutral ox/Ac mixture until it was about 4" in diameter, and touched it off with a flame from the torch. The shock wave broke two floresent light bulbs out of roof of hanger that would hold a B-52. My ears rang for a week.
Ox/ac cutting of enclosed containers is best left to those who are close to the end of their life cycle.

There are old pilots and bold pilots, but no old bold pilot.
habu - Tuesday, 03/23/04 11:08:39 EST
---
Vicopper: thanks....I think?
MP
MP - Tuesday, 03/23/04 11:28:04 EST
---
Habu, may I respectfully point out that *ANYBODY* O-A cutting enclosed containers is closer to the end of their life cycle than they may believe.

Off to Chile for a week of training with no time off for fun....sigh

Thomas
Thomas P - Tuesday, 03/23/04 12:32:25 EST
---
Stuck sword update: Today I extricated Excalibur from its scabbard. After a week of soaking in Neatsfoot oil,I struck upon the idea of using compressed air at the opening of the scabbard. It slipped off like the paper on a soda straw.
It is obvious that this is a very old sword because it is rusted clear thru the chrome plating. (grin) My 3# sledge has a better balance and the hilt seems to better fit the hand of a 4 year old.
But alas, with age, my goals have changed, is there anyone out there who could instruct me on the proper way to re-forge my trusty weapon into the beer can from which it came.

Thanks to one and all
Habu
habu - Wednesday, 03/24/04 00:26:32 EST
---
Habu: I'd sure be interested in some pictures of your new baby. (grin)
Paw Paw - Wednesday, 03/24/04 00:38:52 EST
---
grinder: Ok, I hesitate to do this. But rest assured the link does not go to a page on my site where anything can be purchased or even offered for sale. In fact all you will see is a photo of my new 2x72Ē belt grinder. I built this thing a few days ago and am very pleased with its performance thus far. Any comments would be welcome and I apologize in advance for anyone I may offend with this post.

beltgrinder
rick - Wednesday, 03/24/04 02:47:01 EST
---
PPW - Sword: I posted pictures on the gallery. The size of the hilt makes me want to believe that this is a child's sword from a military academy. In my hand there is no way to hold it. The tip is bent, and there is a wave in the fullering on one side. The edge is unsharpened. The hilt is lose. There are no makers marks. other than that it is a fine piece of workmanship. (lol)
habu - Wednesday, 03/24/04 04:00:37 EST
---
Rick's Grinder: Welcome back, Rick! Let me be the first one NOT to jump on your case this time (grin!)

I like the freestanding idea, since I have way too little benchtop space. Is it bolted to the floor? I tend to lean on grinders pretty hard when roughing things out, and I'd hate to have one fall over when running. I've been chased around the shop by a red-hot tomahawk head, I wouldn't want to be chased by a 36 grit belt!
Alan-L - Wednesday, 03/24/04 08:32:36 EST
---
I"M OFFENDED !: (because it's not mine) Nice job, Rick.
3dogs - Wednesday, 03/24/04 08:59:51 EST
---
Rick,:

That's a nice looking job! Where did you get the wheels you used? (if you don't mind sharing the information)
Paw Paw - Wednesday, 03/24/04 10:12:33 EST
---
Rick: Welcome back, that's a GREAT job!
Ellen - Wednesday, 03/24/04 18:16:21 EST
---
Rick,
Neat belt sander. Does it have a rubber contact wheel? It looks like the tension adjustment,is maybe the top rear wheel.How did you arrange the tracking?
ptree - Wednesday, 03/24/04 20:06:03 EST
---
Rick: Very nice looking grinder! I'd be delighted to see a few more pictures of it, so I can steal good design ideas from you. (grin)
vicopper - Wednesday, 03/24/04 20:48:32 EST
---
grinder: Thanks guys, itís a great little grinder. Lets see if I can answer all the questions.

Yes you can bolt this unit down, mine is not but the base is filled with led and has non skid skateboard tape on the bottom. I made the base in this manner so I could swing the grinder back against the wall when not in use. I havenít had a problem with it moving, but holes are there for mounting it down.

Yes, it has a 10Ē grizzly contact wheel as well as the platen. The ones I am selling comes with both standard.

The tracking wheel and tensioning wheel are one in the same. There is a t-screw on the back to adjust the tracking. You may notice that the tensioning wheel is a valve spring from a 350 Chevy engine. I have 15 gallons of these springs so I figure I had better use them when possible.

More pictures are on my website. When I can get a non-com site up I will post the link here.
rick - Thursday, 03/25/04 02:55:40 EST
---
Rick:
Posting a link in response to a question is not the same thing as posting a link for advertising purpose.
Paw Paw - Thursday, 03/25/04 13:43:03 EST
---
Paw Paw: Sorry, just didnít want anyone to feel I was trying to backdoor the rules. Here is the link to the belt grinder page.

belt grinder
rick - Thursday, 03/25/04 14:04:15 EST
---
Rick,:

There's a subtle difference between "backdooring" the rules and answering a specific question. Far as I am concerned, answering a question is legitimate. If anyone dis-agrees, I'll take the heat on this one. (grin)
Paw Paw - Thursday, 03/25/04 14:08:40 EST
---
Backdooring: Rick,

As one who is usually pretty hair-triggered about jumping on lameoids who try to get free advertising, I will say that you are being scrupulously fair here. More than you need to be, actually. Since you were answering a question about the grinder, there is no reason no to post the link for folks to look at all the pics of the grinder, and the rest of your website as well.

It is when people come on here and post things like, "Check out my big discounts on blacksmith's tools!" that I and others get a might tetchy. Sharing information is one thing, being crass is another.

You have committed no sins that I can see. Actually, I almost wish you had, just so I could give Paw Paw some heat. (big grin)
vicopper - Thursday, 03/25/04 15:33:53 EST
---
Rick: Very nice job. Hope you find a market.
Ellen - Thursday, 03/25/04 15:36:10 EST
---
Heat and PPW: vicopper, give him heat anyway. You know and I know that he deserves it. If not for this then for something else even if we do not know what.
Ralph - Thursday, 03/25/04 15:59:45 EST
---
Ralph,:

AHEM!!! You were saying?????

(grin)
Paw Paw - Thursday, 03/25/04 16:59:01 EST
---
Greetings from Chile! Saw a lot of nice ironwork in Santiago yesterday; but was whisked away to the top of a remote mountain at first light today---did spot some scrap up hear so my ALMA project knife looks like a go---I'll weld up a billet from scraps I've scrounged at the various sites I've been to while working on the project.

Thomas from La Silla Observatory, Chile
- Thomas P - Thursday, 03/25/04 17:08:57 EST
---
Thomas:
Good to hear from you! Stay safe, and brag on the blade when you finish it. (grin)
Paw Paw - Thursday, 03/25/04 19:30:37 EST
---
TO BUY TOOLS: I am a 14 year old boy who is interested in blacksmithing. I would like to buy tools to start and learn how forge weapons and armor. If there is anyone who can help please email me. Thank You Addison
Addison - Thursday, 03/25/04 23:50:56 EST
---
Heat.....: PPW
Shirly you do not want me to blab do you, PPW? (grin)

Thomas
Glad to see you got to Chile OK. Just remember you are high up, and take appropreate care.

Ralph - Friday, 03/26/04 01:12:03 EST
---
Addison and tools: Addison,
I would suggest very strongly that before you start buying tools( it can get expensive) that you read the "Getting Started" section here. ( look in the pull down menu in the upper right side of page.) Also I would suggest quite strongly that you locate local smiths and see about trying to work with them for a bit to see if it is really something you are interested in.

Now for the most important thing.
SERIOUSLY RECONSIDER YOUR IDEA OF MAKING WEAPONS! At least til you have had some experience doing general forging. Weapons are cool in concept, but in reality they are somewhat boring and useless. But Think about making the tools that you use in your shop. Think about making steel and copper roses for your lady. Think about the joy and pride you will have when you see items you have made being used.
Now with that last thought, think about how you will feel if a weapon you made is used for what it is really intended to be used for?

Personally I do not care if weapons are made. I make some knives ( 99% are kitchen or camp knives ). But I get greater joy out of the use that my candle holders, pot racks and other items are given.

Back to tools. If you go and visit and hopefully work with other smiths for a bit you will get a clearer picture of what tools you need. What tools you would like, and what tools you will dream of having.
Now I know you are only 14, and as such it is a tickleish thing about letting folks know where you are, but there is a link in the LINKS area ( pull down menu upper right) that has a listing of ABANA chapters and so you will more than likely find a near by group.
Just in case, I am just west of Portland Oregon. If you are near and are interested, I can either help you or help you get hooked up with one of the many local smiths in the area.
Ralph - Friday, 03/26/04 01:23:04 EST
---
Sublet or Share Well equipped forge in Lake Co., Calif.: Retreat to the hills for a project, great situation, or sublet part time...
forge, 2 hammers, tig,mig, 40 ton press...220v..
Rent is $350/mo for nearly 1/2 of entire shop.....negotiable.
Near stores and restaurants and Harbin Hot springs..Town of Middletown.....2 hrs from SF...Stay on site if you have a camper.....Share w/one other easygoing smith.....
e-mail for more info....
Thanks
Mark
- mark - Friday, 03/26/04 04:30:40 EST
---
Forge info: My email is mark_ameba@yahoo.com
mark - Friday, 03/26/04 04:32:06 EST
---
Addison,:

Let me add to Ralph's excellent advice that there are no "magic" tools. Teens today seem to be looking for the one "magic" tool that will make them an excellent smith.

There is no such thing as a "magic" tool. You can have all the great tools in the world, and you still won't be a smith until you have learned to use them, and use them well. And the learning will take years, not hours or days.
Paw Paw - Friday, 03/26/04 09:29:15 EST
---
Another Point for Addison:

Addison, what Ralph and I said was NOT intended to discourage you. We want to and are willing to help, but first you have to know and understand the truth. That's the point that we are trying to make.

When an individual asks sensible questions, (and your question was sensible, though a bit naive.) we will always try to help.
Paw Paw - Friday, 03/26/04 09:52:35 EST
---
Addison/Paw Paw: There is a Magic tool, It is found behind the eyes and between the ears and as the doors to the tool these should be protected. First Tools bought should be a GOOD pair of safety glasses and hearing protection. see the I forge demo #66 and the anvil fire store.(navigate anvilfire above right)
I'm sure this is one time that I can disagree with Paw Paw and not hear the sound of steel on stone.

habu - Friday, 03/26/04 10:00:54 EST
---
Habu,:

I hadn't thought of the question from that angle, but you are right. No steel on stone. (grin)

For me to forget the mention of safety equipment and iForge Demo #66, is inexcusable. Thank you for catching it.
Paw Paw - Friday, 03/26/04 10:26:47 EST
---
ppw: It must be the "Maturity" setting in!(BOG)
dragon-boy - Friday, 03/26/04 14:37:40 EST
---
Addison: I'm a Wide Area Network Admin by trade, a fairly technical and arcane field by most standards. I've been at it for about 10 years. I started Blacksmithing about 5 months ago. I've learned more in those 5 months then I did in any two years of professional work or training. If you can find joy in learning every time you pick up a hammer and have the patients to see progress in every failure, then you should find this very rewarding. If you don't have the patients or don't care to learn, do something else.

I've read it here many times and I know it to be true, smithing is way too much work if it isn't fun.

Mike Trahey - Friday, 03/26/04 14:50:07 EST
---
Advertising, Thomas the Far Traveled & Teenage Projects: Of course there are exceptions for advertising is non-profits and the National Park Service. After all, youíve already paid for the NPS! (Öand after the congressional hearing yesterday, it looks like I wonít be joining Thomas the Far Traveled in any overseas travel, either! Ouch!) (p.s. Not my department, not my fault, not my problem except I get to share in suffering from the consequences! Ah, government travel: except for the pain itís a pleasure.)

Addison: Tools are always a wiser choice for starting out. (WARNING: All statements are generalizations.)

First of all, people seldom get busted for making tools.

Secondly, when a tool fails you may spoil a project. When a weapon malfunctions or is misused, it results in injury or death.

Thirdly, Tools are useful and creative and constantly in use. Wise folks only use weapons as a last resort, and most of us hope we never have to use them outside of practice. Practice with tools develop many of the same skills needed to properly and safely wield a weapon, but with lower risk.

Fourth, you can make beautiful, workmanlike tools as easily as a weapon, but if itís just functional, nobody will make fun of you for an ďuglyĒ tool. Ugly weapons are a double disgrace, both offensive and dangerous!

Lastly, a lot of schools will not allow their shops to be used to make weapons, and many wonít allow anything of that sort to be even brought on school property. Schools do not normally object to tools.

Learn to make tools, learn to enhance your skills. When youíre older, and more experienced, and 18 or older, you can concentrate on weapons if you so wish. Start simple and work your way into it; itís less painful and youíll be happier. Look at all of the projects on the iForge page (ignore mine for right now) and see what you really like.

Good luck.

...so visit your National Parks, huh? They already belong to you!
Bruce Blackistone (Atli) - Friday, 03/26/04 15:22:49 EST
---
Bruce,:

Darn good advice!
Paw Paw - Friday, 03/26/04 16:35:48 EST
---
power hammers: what is the differance between a 50 lbs giant and a 50 lbs meyers hammer
- Randy - Saturday, 03/27/04 00:16:17 EST
---
Prrof, then Pots: Gee, it doesn't read as smooth as when I sent it; but I hope it does some good. Maybe we can edit it into the FAQ.

"Tools are weapons and weapons are tools; all are dangerous in the hands of fools." (UAVTBoW)
Go viking!
Bruce Blackistone - Saturday, 03/27/04 00:26:25 EST
---
Addison: Listen, tools are where we should all start to develop the skills needed for making weapons. Weapons are cool and look good but if you are lucky you will never use one. Tools are cool and get used all the time. Start slow and work your way up to the big stuff.


rick - Saturday, 03/27/04 00:47:59 EST
---
Curcible (SP): Hey everyone. Im new to smithing and ive recently built a coal furnace. Its about 6 in diameter and im sure will work great. Only problem is i dont know what curicible to get or where to get it. Please help.
DanCrabtree - Saturday, 03/27/04 01:25:47 EST
---
Good Metal for blades: Ok before everyone jumps on me for being new and wanting to make blades let me get this out in the open. Ive made blades before. Ive made very large medival weapons (halberd,spear, bastard swords, ect.) but they where all with a cutting toarch and now i lable the cutting toarch as a "Cheaters Tool" just for the simple fact how easy it is. What i want are some softer metals and not nessisarly for just blades but many other things. A low crabon rating is great but i dont know what a good one is. I know they recommend about a 65 carbon rating for swords but I want to make knives and dagger to get started ( I learned my lesson with my first attempt to forge a sword which failed because i wasnt resposible enough to keep an eye on my metal and it melted. Well also tell me where to get it. And if you can also suggest a good curcible for smelting in my coal furnace. Im very very internested in all type of metal working. Well I hope i can be a part of the website in the future. Please help with this though.
DanCrabtree - Saturday, 03/27/04 01:38:38 EST
---
Dan,:

It would be a lot easier to direct you toward a place to buy steel, if we knew approximately where you are located.
Paw Paw - Saturday, 03/27/04 02:30:23 EST
---
Cruicible and steel: Dan,
I am unclear as to what it is you are doing? furnace, forge, smelter? which?
If you have a 6 inch diameter forge then what are you callling a cruicible? Or are you looking to do some castings using your forge as your heat source?
Ralph - Saturday, 03/27/04 02:34:45 EST
---
Crucible:: Dan, if you are looking for a crucible to melt metal for casting, one of our sponsors, Centaur Forge, carries them. I'd also check with Pieh Tool. But if you haven't done any metal casting, be warned. Hot liquid metal is something to to be very wary of. Wear all the protective clothing necesary. As Vicopper so notes, it can take off flesh faster than a sharp knife.
Bob H - Saturday, 03/27/04 09:43:31 EST
---
Molten Metal Blues: Yes, I have said before and will say again, molten metal is dangerous. Not only does it remove flesh from bone faster than a razor-edged flensing knife, it totally destroys the flesh and, to some degree, the bone below it. If I peel the flesh from you with my knife, you can get it stitched back together pretty neatly. If you peel your flesh with molten metal, the doctors have to start flensing it off of some other part of your anatomy to have anything to work with to repair the damage you caused with the metal. So you get to have much more than just one session of prolonged healing and attendant pain.

Anyone who thinks top quality protective clothing is expensive (it is), should price even low-quality plastic surgery and hospital care. When you do that, you'll quickly come to the decision that the protective gear is VERY cheap insurance. HOWEVER...The first prerequisite for a safe encounter with hot metal is to THINK, PLAN and PREPARE. If the brain is not engaged, the body will soon become damaged, regardless of protective gear.
vicopper - Saturday, 03/27/04 22:57:51 EST
---
Mayer Brothers:-): They are essentially the same hammer, and depending on when each were made, could have been made by the same people:-)
The Mayer brothers started the Mayer Brothers company, and made the 50 Little Giant, they continued to devilop it and got into other manufacturing concerns like trucks and tractors got in finacial trouble, and got kicked out of their own company, went and started a couple other companies to directly compete with their old company, and evential the company they ran was bought and sold and then bought by the original company that made the hammers in the first place... It is all in "Pounding Out The Profits" a great book for power hammer afficianodos:-) so a Mayer Brothers, a Little Giant, a Mayer, a Muloch, a Murray, and a Murco are all basicly a Little Giant hammer. The last new little giant was made in 1984. They were made for over 100 years, the larges ones ever made were 1000#, but they never made that many of them, and they were only offer for a short time. The standard 5 sizes were 25, 50, 100, 250, and 500. They also made an "easy" helve hammer, and a "singletree" upseting hamer for a short while.

Properly tuned with appropriate safety guards, and a brake they are good hammers, not the best, but certainly the most common power hammer available. And there are still parts available for them... The later cone clutches can be a little sticky, so keep them clean and leaking oil from every orifice:-)
Fionnbharr - Sunday, 03/28/04 00:28:13 EST
---
Casting Safety: One of my drinking buddies at the NPS has done some medium scale foundry work. His tales have convinced me that I'm much better off doing small-scale sword furniture, and only dealing with a pound or two at most, than to tackle anything ambitious (swivel guns, falconets, etc. ;-)in the larger ranges. It's amazing, he said, how much floor space 20+ pounds of molten brass can quickly occupy, and that you want to desparately evacuate!

Small is good; less is more...
www.longshipco.org
Bruce Blackistone (Atli) - Sunday, 03/28/04 00:51:13 EST
---
Cruicible & Steel: Sorry for the confusion i have both. I have a forge and a furnace. Today at an atique store i bought a heavy lead melting put but i burnt a hole in the bottom trying to melt aluminium. I saw them at centaur forge and i will most likley get them from there. And about saftey im very cautions in what I do when I do it. Im ordering in a leather apron so thats one less thing to worry about.

Now im still trying to find out what carbon of steel to use for blades, tools, projects, ect. I want some softer metal so I can get use to using the anvil (this is for forge work)

And I got 2 new questions. Ive currently have a small 50 Lb anvil. I want something much bigger though. Ive checked all over and couldnt find one but could I get one casted at a foundry (just not to confuse anyone with my post above i do not want to cast my own anvil) Im shooting for about a 150-200 LB anvil. So would getting one casted be a good idea?

And for the last question. For my old air system on my forge I used a shop vac exaust. Well shop vac burned out so now we are considering using an air compressor with a air control valve. Anyone think this is a good or bad idea?
- DanCrabtree - Sunday, 03/28/04 01:21:28 EST
---
Cruicible & Steel: Sorry for the confusion i have both. I have a forge and a furnace. Today at an atique store i bought a heavy lead melting put but i burnt a hole in the bottom trying to melt aluminium. I saw them at centaur forge and i will most likley get them from there. And about saftey im very cautions in what I do when I do it. Im ordering in a leather apron so thats one less thing to worry about.

Now im still trying to find out what carbon of steel to use for blades, tools, projects, ect. I want some softer metal so I can get use to using the anvil (this is for forge work)

And I got 2 new questions. Ive currently have a small 50 Lb anvil. I want something much bigger though. Ive checked all over and couldnt find one but could I get one casted at a foundry (just not to confuse anyone with my post above i do not want to cast my own anvil) Im shooting for about a 150-200 LB anvil. So would getting one casted be a good idea?

And for the last question. For my old air system on my forge I used a shop vac exaust. Well shop vac burned out so now we are considering using an air compressor with a air control valve. Anyone think this is a good or bad idea?

Oh and im located in Southern IL
DanCrabtree - Sunday, 03/28/04 01:22:28 EST
---
Treadle Grinders: Does anyone here have experience with the old treadle style mill wheel grinders? Are they worthwhile? What to look for, care and feeding, etc? I found one at what I think is a reasonable price that seems to be in pretty good shape, but I have not seen anyone expound on their virtues, like they do on post drills and vises. Are they a good tool or better for garden decorations. Thanks
habu - Sunday, 03/28/04 02:06:21 EST
---
Dan Crabtree: RE: your shop vac. Buy another one, a good one. It would take a lot of compressor to equal the VOLUME output of that shop vac during a sustained forging session. Besides, you can't clean up the shop as safely with a compressor. (Grin) As far as casting an anvil goes; The cost would far outweigh the benefit, considering patternmaking, quality control, heat treatment,etc. etc. Cast iron anvils suck, does your foundry have the facilities to properly cast steel ? Start shopping. Go to the ABANA web site and check into the Illinois clubs, you could very likely locate a very serviceable anvil through them for a whole lot less than what you had planned. Besides then you'd have more money to buy the other goodies you're gonna need. Start out simple and cheap, who says you have to have a genyoowine anvil type anvil. An anvil can be nothing more than something heavier than what you're trying to forge. If you start out simply, you are forced to improvise, something that smiths are noted for. Therein lies the education. Too many people go all ass wild, spend a ton of money and think that since they have all this stuff, they will be "instant smiths". They are soon disappointed. Good luck, you've come to the right place, and all the answers will come to you if you pay attention. Just have your eyes and your mind open when they arrive. This might be more than you bargained for when you asked your questions, but you DID ask for our opinions. Get started right, end up right. Best wishes, 3dogs
3dogs - Sunday, 03/28/04 02:31:20 EST
---
Dan did you say you carefully checked up on stuff before you did it and then say you tried to melt Al in a lead pot? (Generally made of cast iron and so not up to the heat for other metals save for tin---esp if used in a forge that has a
- Thomas Powers - Sunday, 03/28/04 08:23:45 EST
---
hot spot!)

Casting an anvil is a great idea and should only cost double that of buying a good one new---if you have it done right! Almost all of us have had the same thought, looked into it and none of us have had it done...

Treadle grinders were designed to *sharpen* edged tools and *not* to grind away metal. Even 2 hundred years ago they were using large water powered grinders for that. DO NOT RUN ONE FAST an exploding grindstone can kill you!

Gotta start class here in Chile

Thomas
- Thomas Powers - Sunday, 03/28/04 08:32:44 EST
---
Hate to tell you, Dan, but that leather apron isn't gonna help much if you spill a crucible of molten aluminum on your shoes. Look up foundry protective gear. EuroAnvils on our advertiser list has already gone to the trouble of casting you a good steel anvil for much cheaper than you could have it done locally.

Go to our getting started page and read most of the list of books you will find there. All your questions may be answered at the library! Not that we won't answer them, but it's helpful if you've done some background reading first.

If you're anywhere near Carbondale there's a very active smithing group there, look 'em up on the abana-chapter.com link in the pulldown menu at the top right of this page.

Alan-L - Sunday, 03/28/04 08:53:57 EST
---
Demo Ideas: I'm going to be doing a demo for a group of cub scouts in the near future. I thought I'd tap the more "demo-experienced" minds out there and ask what type of demo projects have been well received when dealing with a younger age group.

Eric
eander4 - Sunday, 03/28/04 15:09:09 EST
---
Eric,:

You need to keep it short and simple for Cub Scouts. Their attention span is not very long. Things like S hooks, beam hooks, so on. If you can make a few pre-cut Fredericks crosses (iForge #56) they are quick to open out and always a crowd pleasers. I hide the cut end in my hand, and ask the crowd, "Can anyone see what's in this piece of iron?" The crowd says "No". Then I say, "Guess I'll just have to get it hot and see." As I put it into the fire, I flip it end for end, and put the cut end into the fire. When I bring it back out and open the cross up, you can hear the gasps, and "How the heck did he do that????" (grin)
Paw Paw - Sunday, 03/28/04 17:51:11 EST
---
Guru: Thanks, Jock, for putting a picture of my hammer in your newsletter.
- John Larson - Sunday, 03/28/04 18:53:37 EST
---
John,:

Jock doesn't read this page very often, I kinda keep track for him. I'll pass your meesage to him.
Paw Paw - Sunday, 03/28/04 19:22:17 EST
---
simple branding irons out of heavy gauge wire impressed the youngin's last year, have the "hard" ones pre made and then just hot bend the easy ones to brand their number on a give away piece of wood.

Nails worked too.

Don't remember that demo at their camporee much---it started the day I was laid off after 14 years...

Thomas, much happier working for the National Radio Astronomy Observatory
- ThomasP - Sunday, 03/28/04 20:24:12 EST
---
Practice: during some down time over here I was bored so I took my pad of blank paper---don't leave home without it! and drew a series of parallel lines about 1" apart---then drew gate ideas, got about 10 of them, then looked them over and decided I wanted to do 3 of them for real, started sketching details of how I thought they should be done, then break was over and it was back to herding bits

Now I *really* want my large post vise, triphammer and my arc welder (need to make a couple of fixtures for bending stuff the hard way in a nice even manner repeatedly, sigh several months at the earliest before the shop moves...

Thomas
- ThomasP - Sunday, 03/28/04 20:31:36 EST
---
Cubs and demos....: Depending on how many and how good you are. nails.... they can then each get one of thier own.
Actually I would usually make about 5 nails and have a can full of nail premade...... That way I couls demo hooks or crosses or other stuff....
I also used to talk about how the metal was hard. But I could bend it with my little finger..... and then show them... after I heated it up. Then that leads into explaining how the metal gets soft sorta like play-doh...etc etc.....
I will admit I have done about a zillion demos at FOrt Vancouver.....and so I have a fairly large varaity of demos I do... Probably like PPW does. One for kids, one for teens, one for older folks, one for pretty ladies.......(grin)
Ralph - Monday, 03/29/04 02:23:49 EST
---
demo: Did one at a local school several years ago. Just made a simple snake out of barstock. It went real well and the kids loved it.
- Rick - Monday, 03/29/04 04:03:48 EST
---
Ralph,:

> one for pretty ladies...

Ahem! Let's not talk about that, I get in trouble with Sheri every time I have a red headed lady watching me demo.
Paw Paw - Monday, 03/29/04 12:47:14 EST
---
another demo idea: Back in Texas during the 80ís I did several demoís making arrowheads. Its quick and easy. I would make up a bunch and give them out as trinkets at the end of the demo. Demonstrate a few being made but have a can full on hand to pass out. Just another idea!

- Rick - Monday, 03/29/04 16:26:42 EST
---
Thomas Powers: I believe I met you at SOFA's September event at R. Smith's feed. Did you recently travel in Bavaria to the famous castle that inspired the Disney animators(Neu----stein)? If so, did you notice the huge carriage barn at the bottom of the hill on which the tour center is located, the structure with all the big rocks on the roof? My memory from about ten years ago is that each of the dozen pairs of doors had super-elaborate forged hinges. I have one feeble photo of it and I have never been able to find another. It would be very cool if you happened to captured a good picture to share with us here or across the street.
- John Larson - Monday, 03/29/04 20:09:56 EST
---
Dan Crabtree: Melting aluminum in a lead pot. In addition to aluminum melting hotter tahn lead, it will dissolve iron once it's molten, even though the melting temperature of iron is higher than aluminum. The major aluminum alloy used for beverage cans contains iron - it's added mostly by adding a briquette made of iron and aluminum powders - dissolves quite readily.
- Gavainh - Monday, 03/29/04 23:16:41 EST
---
Demos: Last night I did a killer demo for the 2 oldest Granddaughters (4 and 3 years old). 1/4" rod was used to make each girl a leaf. Mom (my daughter) was in the house with the wife and baby granddaughter. In the shop, just watching the fire "come up" was a demo in itself. Then one girl had to pee, and the other was hot. Try and do this sometime in your own shop. This stock burns up quick. Took the youngest one back to the house twice for bathroom. I told them that the leaves were for them. So then every 3 seconds I was asked " whats that stuff? " referring to different things in the shop. When I got the oldest girls leaf made, I gave it to her. At 4 years old, she may just remember this day. Her 3 year old sister may not. I made her leaf next. They were holding their ears at first from the hammer noise. The really remarkable thing was this: when I was done with her leaf, the oldest granddaughter asked "can I have a turn ? " and I said "when you get a little older you sure can ! " I'm 50 years old (don't start on me lol) and I have a 14 year old kid from the community that I plan to teach the trade - freely. This question from my granddaughter made me feel, well, hard to describe but really great. When I get started teaching the 14 y.o. I hope to learn from him as I hope to learn from my granddaughter. Never pass up an opportunity to teach a kid or learn from them. It's good for your heart and digestive system. I might add that the 14 y.o. attended a demo at the county fair last year and he handles a hammer well. He has heart, savvy, manners and ain't all mixed up in the head. He could care less about weapons or fancy movie junk. I look foreward to working with him. The 4 y.o. granddaughter, I get to mold. I really don't know if she has the best eye hand coordination just yet but we'll work on that as we go.

Life is too short to stay pissed off at the morons. Too many good folks to have fun with.

Steve (Ten Hammers) O'Grady
- Ten Hammers - Tuesday, 03/30/04 10:23:06 EST
---
Steve,: Good memories are made that way.

> Life is too short to stay pissed off at the morons. Too many good folks to have fun with.

Well said!
Paw Paw - Tuesday, 03/30/04 10:52:23 EST
---
Steve: Nice way to start my morning, thanks

here is a fun read:

Modern Blacksmithing
RATIONAL HORSE SHOEING
AND WAGON MAKING

WITH RULES, TABLES, RECIPES, ETC., USEFUL
TO MANUFACTURERS, BLACKSMITHS,
MACHINISTS, WELL-DRILLERS, ENGINEERS,
LIVERYMEN, HORSE-SHOERS, FARMERS,
WAGON-MAKERS, MECHANICS, AMATEURS AND ALL OTHERS WHO HAVE OCCASION
TO PERFORM THE WORK FOR WHICH THIS BOOK
IS PRIMARILY INTENDED


by
J. G. HOLMSTROM

Every thing from fire building to Intemperance. Advice to a the young smith and the treatment of hog colera. nice overview of the trade at the begining of the 20th century.
Modern Blacksmithing
- habu - Tuesday, 03/30/04 11:08:41 EST
---
Quote from Holmstrom: "A blacksmith once paid a high price for a receipt for hardening granite tools. The receipt was, aqua, one gallon; chloride of sodium, four ounces. This receipt he kept as a secret and the prepared compound he bought at the drug store, thus paying 50 cents for one gallon of water and four ounces of salt. The real worth is less than a cent. It is said he succeeded remarkably well with his great compound, which he kept in a jug and only used when anything like granite tools were to be hardened. The reason why he succeeded so well was because of his ignorance concerning his compound, not because it was not good enough. I hold that it is one of the best compounds, in fact, the best he could get. People in general like to be humbugged. If they only get something new or something they don't know anything about, then they think it wonderful."

I love it!


Steve, great story. A perfect start to the day.
Alan-L - Tuesday, 03/30/04 12:00:47 EST
---
Demos:
About the time I started anvilfire I sent Paw-Paw a drawing of a "twister" to let kids twist hot iron. The drawing is posted on the 21st Century page.

The idea is to use a long (safe) handle and a method to quickly clamp the hot metal. Use vise grips to clamp one end. A long 1/2" socket wrench extension works for the other. Drop in a short piece of 3/8" hot steel and let them twist away. Not that the divice needs to be anchored to the ground.

Lacking the right tools I do the same with an eight or ten foot length of 1/4" bar. Bend a foot long turning handle on one end, heat the other, clamp the hot end in the vise and let a kid (outside your fence) twist the bar. You can do a hand full before the bar gets too short.

Otherwise whatever you demo needs to go as fast as possible. Most adults will only watch for 5 to 10 minutes MAX. However, SOME kids will watch for an hour IF you keep intresting pieces of hot iron moving quickly.

- guru - Tuesday, 03/30/04 14:15:48 EST
---
Iron Kiss Hammer:
John, glad to post it. Sorry for the lousy photo and delayed posting. Bright sunlight is hard to get good shots in. Hope to see you at the ABANA conference. It is going to be a big year for new hammers and changes in hammers.


- guru - Tuesday, 03/30/04 14:18:12 EST
---
Air Systems: I already posted something similar but i think i need a more in depth question and awnser. I was using a shopvac as an air system but i think do to over use (im addicted to blacksmithing i think) it burned out the motor. Now our shop has a good air compressor. Now I could make bellows but it seems like not only making the bellows but using them is alot of work. I dont have the money for a high priced hand crank blower. Im willing to only spend about 150$ if needs be. Here are options I though of

1. Air Compressor w/ air control so its not always a fast burst

2. A new shop vac. A good one so it doesnt burn up.

3. Bellows if not to hard to make and use ( I dont mind work but if there is some way around this ill take it)

4. A cheap blower that will have the same strength as the shopvac or air compressor


Now on a diffent note since i havent been here for a while and just read over some of the post. About the lead melting pot. I was told it was a cuciable but once we brought it home we realized that the extra heavy feeling bottom was really just lead left in from a prior use from the last owner. So it was an honest mistake.
- Dan Crabtree - Tuesday, 03/30/04 16:50:20 EST
---
Dan,: Most used, working condition hand crank blowers in this area sell for between $75 - $100 USD. That's well within your budgeted amount and a lot cheaper to run than a vacuum or compressor.
Paw Paw - Tuesday, 03/30/04 16:53:41 EST
---
Questions from an aspiring Blacksmith: Hello, I have been interested in blacksmithing for a while but I don't plan to start for a while I am only 14 so I don't think I could get a forge and all the other equipment. But I was talking to my older sister about it today and she said there isn't much need for blacksmiths anymore. So I told her I could do it as a hobby and sell the stuff I make online or at craft fairs. So I was wondering if blacksmithing is still used a lot now days?
- Luke - Tuesday, 03/30/04 17:12:52 EST
---
RE: Luke: Alot of need. No. Still useful. Yes. You would be suprised by how much money you could make off of blacksmithing as a hobby. Once you master it your work could sell for a load of money if it is good enough. Ill use someone I know as an example but i wont reveil his name. He makes turkey calls and is one of the best people at it. It cost him about 100$ to make a good one and he gets paid about 1200$ for each. Yes thats ALOT for a turkey call. Now same thing applies to blacksmiths. Yes its a dying trade but there is is a profit that can come from it if you keep it up. Also once you master it you can have classes which some can cost up to 100$ a day. You can get aprintices (SP) to to pay to learn the trade. And im sure there is more because im not an experienced blacksmith but I know their is money in it.

And also about being 14 and wanting to wait to start.... Now is the perfect age. Forge is easy to make. Basically make a metal box with a hole in the bottom and fill it with coal and hook a shop vac too it. use a piece of rail road track as an anvil. Its a load of fun. And a word of advice is dont stand in the smoke if your using coal or any other fuel for that matter. I got a little sick because of it but it was because of bad wind changes. Any more questions ill be glad to awnser.
- Dan Crabtree - Tuesday, 03/30/04 17:34:43 EST
---
Aspiring smith: Luke,
In the truest sense there really is not much need for blacksmiths. BUT there are a lot of us. Many do try to make a living at it but usually also do stuff like weldind or other types of fabrication metal work. Some just make little money are happy. Some very few make a reasonable living at it. But we all seem to do it as we love it. There are many challenges to doing this both physical and practical.

As for being too young to start or have your own forge.... now that is something you will have to take up with your folks. I know several smiths who started much younger than you.
Building a forge is not too hard nor is finding one. ( altho it might more costly to find a ready built one)
You would also need at least one hammer. Something to use as an anvil and something to hold the smaller pieces of hot metal with ( tongs) PLUS safety gear for your own body.
If you are serious about wanting to learn find out if there are any groups in your area ( I am betting there are) and go to a few meetings if you can. Talk with the other smiths, have your folks go as well. Also there is possibly some form of State or even Federal park that has a smith living history event.
Ralph - Tuesday, 03/30/04 17:41:35 EST
---
Dan's blower:
Another option is to go to a junkyard and get the heater fan from a junked car. It will be 12 volt DC, but will put out enough air. A shop-vac is WAY too powerful for anything you'd need to do. Take a hair dryer and remove the heating element. Get a small (4 to 6 inch diameter) squirrel-cage fan from an HVAC shop. I know a guy who uses the fan from an old Xerox machine as a blower, and has to choke it down as it's too strong. Blowers abound, in other words.
Alan-L - Tuesday, 03/30/04 17:52:05 EST
---
RE: Luke: Yes I forgot to include that its not something you could go to the forge every day and bring home 50,000$ every year but its a nice little thing to do on weekends and not a bad way to bring in a 100$ or so while having fun and learning. And I feel stupid for rushing and not including the most important thing in the shop

SAFTEY FIRST!

You will be dealing with extremly hot metal. hotter than welding or toarch cutting (atleast it feels that way to me) Good welding gloves are a must but you still cant pick up the metal with your hand depending on how close to the red hot part you are. Tongs are another must in a shop. Easy to make as well. There are may ways to make them shown in the Iforge section. Get some GOOD! cross pein hammers. Dont go over board but dont buy a 4$ hammer. I made that mistake and almost made some serious property damage and im lucky I didnt make any physical damage. Long story short the head flew off the handle and almost hit my dad and his truck. Another smart move that you dont see often but is always a good idea is tape down your hammer heads using duct tape. just wrap it around the head and handle a few times. Its not pleasing to the eye but its a good thing to know that the hammer head wont fly off and make you loose an eye. ALWAYS wear saftey glasses because not only do they make you look cool but they keep your eyes safe (from king of the hill). No but scale can fly up and hit you in your eye at any random time while hammering. Particles can be in the smoke and get in your eyes. And while pouring coal in sparks can get in your eyes (very unpleasent). A leather apron is a good thing to have especially if you plan to do any smelting (btw ill tell all of you how it goes i will get all my supplies in on april 5th). And in my comment about using a shopvac earlier it will work but way too much power. It can melt your metal and ruin your work if you dont keep a constant eye on your metal. it also waste coal. Any other questions I will be glad to awnser to the best of my extent. And more experienced smiths feel free to correct anything i said that isnt true or i should have said.
- Dan Crabtree - Tuesday, 03/30/04 18:23:03 EST
---
To those looking for blowers, try
Burdens Surplus Center, many surplus blowers, and their are online.
Check with the local copy machine repairman. they use many and may have left overs from junked machines.
Harbar frieght has sawdust systems that have a nice pressure blower, and they go on sale for about$90 USD

ptree - Tuesday, 03/30/04 18:23:18 EST
---
blower: I have used the 12 volt heater fans for many years. I power and control the speed of mine with a good battery charger. They hold up well and work great.
- Rick - Tuesday, 03/30/04 19:36:47 EST
---
Blowers:
I'd also mention that one of our advertisers, Kayne & Son, sells a 112 CFM forge blower for about $90. They also have a smaller one that's a bit cheaper.
eander4 - Tuesday, 03/30/04 19:46:34 EST
---
Blowers: Kayne and Son, an ANvilfire advertiser, sells a relly nice electric blower for $90. About 110 cfm, at 36 oz pressure, which is just right for a medium sized coal forge. Steve Kayne and his wife are great people to do business with, as well.
vicopper - Tuesday, 03/30/04 19:47:14 EST
---
Okay, so Eric beat me to it.
vicopper - Tuesday, 03/30/04 19:47:44 EST
---
Blacksmith: Luke and Dan, you can also follow your interest in blacksmithing into a career as a metallurgist. Like blacksmiths, theres probably less need for metallurgists than when steel was king in Pittsburgh, PA. But there are still a lot of jobs out there in all sort of industries looking for metallurgists. You can still find work in steel, brass, superalloys, heat treating, auto parts manufacturing, tool manufacturing (Crescent-Excelite for example), powder metallurgy, etc. If you want a better idea, go to monster.com and search for metallurgist or metallurgical engineer. You get to learn more about metals, sometimes have acess to neat scrap to play with in your home forge, and it's not a major that graduates 5000 people a year in the field. There aren't a lot of schools with metallurgy programs, but even the leading ones don't have large classes -the last I was aware a typical school would have a graduating class of metallurgists that was between 15 and 25 people. Note - some of the schools now call it materials engineering rather than metallurgy because they work with plastics, or ceramics as well as metals. Also Dan, strictly speaking any metal you're forging is going to be less hot than the same metal molten - what you're probably feeling is the open flame temperature (radiant energy) of your forge which is going to be hotter than molten metal and there is going to ba a lot more of it compared to that put out by a welding torch.
- Gavainh - Tuesday, 03/30/04 22:54:47 EST
---
Straw built smithy: Does anyone know of the name or website of the guy who built a new smithy a little while back and he used straw in the consruction of the walls? I've lost his webpage and I really would like to ask him a few questions about his experience with using the straw.

many thanks
Stephan P - Wednesday, 03/31/04 06:12:59 EST
---
Straw built smithy: Does anyone know of the name or website of the guy who built a new smithy a little while back and he used straw in the consruction of the walls? I've lost his webpage and I really would like to ask him a few questions about using the straw.

Many Thanks
Stephan P - Wednesday, 03/31/04 06:15:25 EST
---
straw smithy: This might be the guy. I can not find his web page that talks about it yet.
www.rkc.ca/woodhill/
Ralph - Wednesday, 03/31/04 12:09:04 EST
---
straw smithy: Stephen, even if the link Ralph gave isn't the guy your thinking of, email and ask him. Galen is a friendly guy who I'm sure would be more than welcome to answer any questions you have. (if he isn't tell him I'm dissapointed in him)
JimG - Wednesday, 03/31/04 13:15:20 EST
---
Apprenticeships: I am a 13 -year-old deeply interested in blacksmithing and I'd like to know if anybody is taking apprenticeships in Bakersfield,CA
John Meneses - Wednesday, 03/31/04 16:03:23 EST
---
New Cucrible: Hey as some of you know im gonning to give casting a try.

Well my cucible came in today and I know the dangers of dropping a curcible full of molten brass or aluminum. Now heres my question

Would it be ok to reherse my pouring with water. I know it is important to keep all moisture out of curcible. So would this be bad?
- Dan Crabtree - Wednesday, 03/31/04 19:25:31 EST
---
Dan,:

NO! If even the tinyest droplet of moisture remains in the pores of the crucible, it WILL explode!

VERY bad idea! (Sorry for the shouting, but I don't want you to get hurt. I've had a lead pot explode at me and it is NOT fun. My guardian angel was working overtime that day.)
Paw Paw - Wednesday, 03/31/04 19:39:36 EST
---
Yes I was in Bavaria a couple of weeks ago and noticed the barn with the multiplicity of hinges on it. No I don't have a good photo of it--or the ironwork on the Neues Rathaus in Munich, etc. (BTW I prefer the hinges used in Ludwig II's Neuschwanstein, and the company that made them in the 1870's is still in business in Munich according to the guide!)

Just back from Chile today.

Thomas the tired
- ThomasP - Wednesday, 03/31/04 19:57:18 EST
---
Paw Paw: Thanks alot! I always check with what I do before I do it. this time it turned out to be a good decision. Well Im gonna head over to the shop now that i got my awnser and bake and make some aluminum ignots.... I got an 8x6 storage area filled with my grandpas beer cans i gotta go through. Thanks again Paw Paw.
- Dan Crabtree - Wednesday, 03/31/04 20:01:32 EST
---
Dan,:

Make sure none of those cans have any liquid in them, or you can have the same Vesuvius type problems.
Paw Paw - Wednesday, 03/31/04 21:52:37 EST
---
Good point. I didnt start smelting tonight but im pretty sure i got all the moisture out from shipping. I put it in forge for about 30 mins with the blower on very low (kinda hard to get a good blast im only using a air compressor) Then I put it in furnace for about another 30 mins until the bottom got red then it was time to call it a night. I got it out of furnace and brought it inside and put it in a dry spot.

Now I got a question.

When using a curcible do you heat it up until its red hot or do you put some metal in at first. Or can someone direct me to a good instructional site on casting. Also do you think ill be able to get the furnace to a smelting heat with an air compressor? Its the built in type that auto shops use (my smithy is outside the auto shop). Also im using a type of flowerpot furnace. Its a small trashcan filled with concrete and a cavity in it with a pipe entering at the bottom for air. If your woundering what type of curcible i have its the 7 lb cucible from centaur forge.
- Dan Crabree - Wednesday, 03/31/04 23:01:49 EST
---
Dan, :

There are a lot of foundry sites on the internet that would be better able to answer your questions than I can. Some of them are:

http://www.backyardmetalcasting.com/index.html
http://www.budgetcastingsupply.com/
http://www.hernironworks.com/index.html#products
http://www.foundry-supplies.com/
http://www.mifco.com/
http://home.c2i.net/metaphor/mvpage.html
http://www.miniaturemolds.com/
http://neymetals.com/
http://www.princeaugust.ie/
http://www.purityalloys.com/Default.htm
http://www.dutkins.com/index.cfm
http://www.foundry101.com/
http://www.buildyouridea.com/index.html


More than you wanted? (grin)
Paw Paw - Wednesday, 03/31/04 23:49:31 EST
---