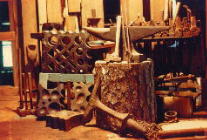 WELCOME to the anvilfire!
Virtual Hammer-In!
This page is open to ALL for the purpose of advancing blacksmithing.
Please read the RULES before posting a message.
NOTE: This IS NOT the Guru page!
---
WHY THREE FORUMS? Well, this is YOUR blacksmithing forum to use for whatever you wish within the rules stated above. It is different than the Slack-Tub Pub because the messages are permanently posted and archived.
This page is NOT a chat - it is a "message board"

Our chat, the (Slack-Tub Pub), is immediate but the record of it is temporary. DO NOT post permanent messages there. We refresh the "log" every 24 hours now and your message will be lost.

The Guru's Den is where I and several others try to answer ALL your blacksmithing and metalworking questions to us.


Please note that this forum uses an e-mail encryption system that prevents spam harvesters from collecting your e-mail address.
J. Dempsey <webmaster> Rev. 7/98, 3/99, 5/2k, 6/2k, Friday, 04/06/01 16:43:25 GMT
---
Hi, I'd like to learn the art of blacksmithing in order to create medieval armors and become professional, but it's really hard to find an apprenticeship! I'm french and I'm a hard worker and i'm ready to move all around the world! If you have some informations to give me, it would help me so much! Thank U

Vincent LERDU
hugz at freesurf.fr
LERDU - Friday, 03/01/02 10:38:47 GMT
---
OABA member: Murray,did that forge come from bob dunn?
- Bullfrog - Sunday, 03/03/02 14:53:49 GMT
---
Looking for coal fire forge Im new to blacksmithing any help would be appreciated.
harris - Sunday, 03/03/02 17:34:34 GMT
---
Looking for coal fire forge Im new to blacksmithing any help would be appreciated.
harris - Sunday, 03/03/02 17:44:05 GMT
---
Medieval armor: Vincent, some grumbly advice.
Most of the crazy people in this world that REALLY want an armor (Iīm that crazy myself) seldom have the money to pay for one and end up making their own arms and armor, not to seldom very good ones. The market for hand-made high-price arms isnīt that large. If the demands for the stuff some way got higher you would then have to compete with experienced part-time smiths thats been in the trade for decades. Most of them would go full time professional if they thought they could suvive on doing just the fun stuff (not having to do fences or industrial gates 99% of the time).

All this said - good luck and try it anyway!
- Olle Andersson - Sunday, 03/03/02 17:49:19 GMT
---
Blacksmithing rendevouz: Hi you all smithys!
We do have a blacksmithing rendevouz either the first or second weekend in september in Blaubeuren, Germany (itīs close to Ulm, between Stuttgart and Munich) For more and detailed information, please contact me via e-mail
www.guettler.org
- Freddie Guettler - Monday, 03/04/02 15:51:59 GMT
---
Blacksmithing Rendevouz: Looks like the e-mail adress is not working correct:

Please try this one: f.guettler at guettler-krieg.de
sorry!

Thank you,

Freddie
Freddie Guettler - Monday, 03/04/02 15:54:37 GMT
---
Looking: Harris; what country you in? Makes a difference!

Unless you have more money than time/skills I'd suggest building one. Pick-up brake drum is a common beginner forge starting material along with an old blow drier to push air.

Thomas
- Thomas Powers - Monday, 03/04/02 16:43:17 GMT
---
Mr. Powers I still use a brake drum forge and have been for about three years now, mind I use coke not coal.It has never failed me.
Bullfrog - Monday, 03/04/02 21:49:18 GMT
---
BDF's: Mr Powers is alive and well in NM; I'm just Thomas Powers.

I've made and used brake drum forges; but moved on to other home build ones cause the stuff I do is easier with a different size/shape. For generally small stuff they are quite nice. I even built a removable "fence" for one to get a neep fire for welding up billets in, (6" wide sheet metal bent in a circle with a gap where the ends meet and a "mousehole" opposite the gap for long pieces)---that forge was my "totally built for under $10 including blower and speed control and required only a 1/4" drill and a hack saw to build---*no* welding required! Fellow kept wanting to borrow my forge cause building one was "too expensive" or "required too many tools"; so I did one that didn't!

I started using a rectangular forge around 1982 and got to like it so when I built my portable demo set up I went with it. The "table" was a door from a WWII horizontal boring machine dumped down a bluff. We cut a hole in it to fit the round firepot made from the axle housing from a 1937 banjo rear end---you can find them used as jackstands and I got two at the flemarket for $3---had the "spare" for about 15 years so far---the original is going good and is on it's second table. The "door" has curved up sides and we welded up channels on the ends and near the firepot that I can drop strips of sheetmetal in to control the depth of the fire or to get long pieces in. The legs are demountable and the whole thing is pretty light and easy to move. I generally use it with my large double action bellows less often with the hand crank blower.

My advice start with what's cheap and easy and make a list of what *you* want/need in a forge and start scrounging parts for it, then make it and repeat as necessary!

I've currently have 5 forges all good for different things, If I have to do just 1 I will generally use the forge that's easiest to get to; If I have to do a bunch I'll set up the forge that does it best.

Thomas
- Thomas Powers - Tuesday, 03/05/02 15:49:05 GMT
---
center of circle: Here's a simple way to find the center of a round object.
1. draw two lines through a circle. About half way between the center and the edge. helps if they are roughly perpendicular.
2. bisect the lines.
3. now draw right angle lines through the bisected line's center.
4. where they cross is the center of the circle.

Now, if you have a simpler way to do it, I'm sure I will hear about it.

lsundstrom

Larry, why don't you just bisect one of the right angle lines.
L.Sundstrom - Wednesday, 03/06/02 21:19:49 GMT
---
lost e-mail: Slag,
Finally got to the back of the smithy, spent too much time at the auctions this winter. I have the photos and measurements of that blower for you if you still want it.

The OABA is having the May meeting in Kingston at the MacLachlan Woodworking Museum
Located at 2993 Highway #2 East of Kingston
http://www.city.kingston.on.ca/visitors/museums/maclachlan/index.asp

drop me an e-mail if you still want the blower
mparkinson2 at cogeco.ca
vulcan-forge at cogeco.ca
Mark


Mark Parkinson - Saturday, 03/09/02 18:07:39 GMT
---
hammer molding: would like to know more about the word, Recwaza (french word). Somewhat to metal hammering. Could you all tell me any more.
- Brian Jolly - Sunday, 03/10/02 17:45:04 GMT
---
Military Through the Ages Next Weekend: Military Through the Ages, Jamestown Settlement, Virginia.

Saturday and Sunday, March 16 & 17, 2002

This year the Anglo-Saxon camp will be running the "Anglo-Saxon Armory". I'll have my double-bellows forge there and we will be working on (and explaining the techniques of manufacture and the use of) weapons, tools and hardware as part of our interpretation of the mid 6th century settlement of Briton. (We like to think of it as the "Age of Arthur" from the other side!) On top of the metalwork, we'll be doing wattlework, spinning, weaving, cooking… the usual camp/settlement activities.

There will also be a forge in the Viking Camp (Darrell from Wareham Forge (http://www.warehamforge.ca/) is coming down from Ontario!), and last year there was a colonial forge in the suttlers' area and a portable forge in the German WW-II area. Add to that the forge set up in James' Fort and the Anderton Forge in Williamsburg and there should be enough to keep any visiting smiths busy taking notes and chatting for a good day.

Hope to see some of you there. If you swing by, ask for "Thegn Edward".

Visit your National Parks (The real Jamestown is right next door): www.nps.gov

Go viking: www.wam.umd.edu/~eowyn/Longship/

Jamestown Settlement Link
Bruce Blackistone (Atli) - Monday, 03/11/02 04:04:12 GMT
---
Recwaza: Brian, I don't think I've ever seen a French word with both a W and a Z in it. Sounds german.

Perhaps you mean repouse' or repousse'?

This is the process of making shallow "bas relief" sculpture in sheet metal or light plate. Annealed sheet metal is backed up with a tar/was mixture called pitch. The metal is then hammered and chased to create the sculpted surface. The pitch flows out of the depressions but continues to support the metal. At some point the metal work hardens and the pitch no longer provides sufficient (or flat) support. The pitch is melted off and the metal annealed. Then the pitch is repoured and the work continues.

The pitch can be purchased from art material suppliers or made from scratch. Its consistancy varies with the thickness of the metal and type of metal. The stiffer the metal the stiffer the pitch. A common recipe is roofing tar mixed with an equal amount of dry plaster of Paris or fine sand (you melt the tar to add the filler).

Similar processes are done using a sand bag to backup the work and smiths often use hard metal, wood forms or just the anvil suface.
- guru - Monday, 03/11/02 17:23:38 GMT
---
Anvils: I have just got started in Smithing. I have a railroad tie I a using. I am looing for a good anvil. Do those anvils made in China work OK. I have heard both ways
- Vaporlockut - Monday, 03/11/02 21:54:03 GMT
---
Gas vs. coal forge: I have a small coal forge made from a plow disc and some refractory cement, however, I just moved into a residential area and I am concerned about my neighbor's lack of tolerance for coalfire smoke. I am considering a propane or natural gas forge, but I have only seen gas in a box shaped setup. I don't think I could work in a box shaped forge because as soon as I make a bend, my metal would not fit inside the box for reheating. Does anybody know of an open hearth-type gas setup? If so, would it be more efficient to use natural gas or propane? Are there any plans available to build one? I would greatly appreciate any information.
Chris - Monday, 03/11/02 23:40:18 GMT
---
Anvils: Vaporlockut....save your money, rather than spending it on a china made cast iron anvil. Your railroad rail is better. Let the group know where you are located & maybe they can let you know where to look for a real anvil. Farm estate sales are good places to start looking. That's where mine came from.
Mike S - Tuesday, 03/12/02 04:11:57 GMT
---
Gas vs. coal forge: Chris you may want to consider Charcoal as well. Gives off the smell of a good barbecue. Not the briquets but real hardwood stuff they make for restaurants generally.
Escher - Tuesday, 03/12/02 16:58:49 GMT
---
"Anvils/ Coal etc": My anvil also came from a farm sale. Also I bought one from our local hardware store. They get theirs from St Jacobs Ont. I have also used charcoal in a pinch works well for me. Sometimes I mix 50/50 save the coal. I don't forge weld here, just heat,bend and hammer out shapes etc..I still have my RR Rail.. Later all...
www.vianet.ca/~barney
Barney - Tuesday, 03/12/02 19:44:11 GMT
---
Chris, You can design a gas forge to suit yourself the tube version so beloved by knifemakers is not the only way---look at the sheet metal heating forge on the armour making link! A gas forge can be a pile of firebrick that you re-arrange to suit the work. One commercial gas forge has a flat table of firebrick with a slot in it, over the slot is a suspended row of firebrick so you have almost complete freedom in 2 dimensions. One caveat: the less
Thomas Powers - Tuesday, 03/12/02 20:39:47 GMT
---
recwaza: Brian
I just looked up "recwaza" in my books and got no result. I use the "Harrap Modern", French-English, English-French dictionary. It's a 2 volume set whose combined width (of their spines) is close to one foor wide. This toe-breaker have listed more than three quarters of the blacksmith words that I have had to look up, for the French portion of the International glossery the Guru is putting together. If you are certain that it is a French smithing word I can ask some of the local French-Canadian smiths I drink beer with.
slag - Wednesday, 03/13/02 04:50:36 GMT
---
Slag. I have a funky book from 1943, "Dictionary of Science and Technology" by Maxim Newmark, Ph.D., Philosophical Library (Pub.) NY. It has English, German, French, and Spanish words, but it's not perfect. Some of the definitions are spurious. Anyway, it says that in Franch, a lap weld is, "soudage `a clin". In the wink of an eye?
- Frank Turley - Wednesday, 03/13/02 13:39:28 GMT
---
Anvils:: Vaporlockut, run an ad in your local paper under items wanted. I have picked up two trentons, two peter wrights and a hay-budden in the last year all under $1.50 a pound by doing this. You never know who has something tucked away in an old barn until you ask.

Cool and dry on the banks of the Columbia.
- Clint - Wednesday, 03/13/02 13:54:45 GMT
---
Anvils: Thanks for being so nice LOL!!! It finely good to get a direct answer. I live in Utah about 45 miles north of Salt Lake. If anybody knows of a good used one near by let me know
Vaporlock UT - Wednesday, 03/13/02 15:16:16 GMT
---
anvils: Hello, I have the same problem, Don't want to buy a boat anchor anvil (cast iron China) but can't find a nice used one reasonably priced. I have my switch track (7" tall) but heavy pounding takes a toll on the wrist because of rebound (rr rail is so springy) and no flat surface. I'm "WAY" new to the trade but have been "fashioning" things from metal and wood all of my life, just never forging my own steel. Blacksmithing is like a childhood dream for me and now I have the time and the materials to start. Any help is GREATLY appreciated.
TBONE - Wednesday, 03/13/02 17:54:40 GMT
---
TBONE:
If you will weld two pieces of slab steel at least 1" thick between the rail and the foot on either side of the web, you can take a lot of that springyness out of your rail anvil. The other approach that works well is to cut the ends of square and stand it on end. Useing that way it's a lot less springy. And you'll be surprised at how much work you can accomplish on that relatively small area.
Paw Paw Wilson - Thursday, 03/14/02 01:50:24 GMT
---
TBONE:
That should be one piece on either side of the web, for a total of two pieces. (grin)
Paw Paw Wilson - Thursday, 03/14/02 01:51:10 GMT
---
THANKS PAW! I knew hookin up with you guys would be cool. I can't believe I didn't think of that. I guess thats why you make the "big bucks"(grin). Next dilemma, a friend of mines factory is being demolished and he's doin the demo so he gave me a bunch of stuff to construct my own forge. Refractory brick (a whole crate 'bout 30 bricks), 2 solid granite sinks (20"wx24"lx12"d) and a huge peice of 3/8" plate steel 36"x36" and a 6" squirrel cage blower and at least 200# of round and bar stock most of it I think is 8180 cold roll but for "free", hey can't complain. Anyway, can I use one of the granite sinks for the frame of my forge? by lining it with the ref. brick and secondly- how can you tell if refractory brick is any good? looks as though the crate got water damaged and the brick is a yellowish brown instead of the brite white. I have two brand new bricks and the color and consistency are "way" different, but again, "IT'S FREE". ONE more question, he gave me two old fork-lift "fork arms" (the peice that slides into to pallet), would you know if that steel can be cut and forged to make blades? I have pics of all of this if someone would like to help. Thanks again
TBONE - Thursday, 03/14/02 13:03:07 GMT
---
Sorry I lied, the sinks are 30"Lx16"Wx8"deep. tey're on 30"angle iron stands. I'de like to use one as a forge and the other as a quench tank. Thanks
TBONE - Thursday, 03/14/02 13:23:52 GMT
---
TBONE:
There are very many grades of refractory brick. Yellow/brown is a common color for brick that can handle a higher temperature than common yellow/white insulating fire brick. Mineral coal clinker sticks to some refractory brick and can be a problem as knocking the clinker off the brick can cause you to crack the brick.

Heat the bricks slowly if they have any water in them. Even water you can't see. Trapped steam can make refractory explode to varying, but potentially dangerous, degrees. New brick will generally smoke some as the various binders cook off.

For thermal expansion and cracking reasons, I would tend not to use the granite sinks for a forge.

Forklift fork is generally quite strong alloy steel. It will forge harder than mild steel by quite a bit. Without knowing the actual alloy of the fork, you may have some difficulty getting the quench and temper right to make a really good blade. Then again, you may get it just right. Grin.
Tony - Thursday, 03/14/02 16:08:47 GMT
---
Tbone: did you real meen 8180? I just looked it up and that is a realy funky alloy everything but VA. in fact my ref dosn't even have it (only has 8145 and 8115) the break down is aproxamitly 0.80 C, 0.75 Mn, 0.35 Ni, 0.45 Cr,0.10 Mo. if it is 8180 save it or trade it as forgeing that is going to be a Big pain in the back side. it has enough carbon to be a tool steel and that alown would make it hard to forge. it could be useful to use for tools though.(swages hardie tool punchs etc)
MP
MP - Thursday, 03/14/02 16:50:56 GMT
---
TBone: If it is a real granite sink, (soapstone was more common), I'd preserve it for other uses. As was mentioned heat/cool can crack the rock and leave you out a nice sink.

For a coal forge the hard firebrick are the way to go, gas forges often use the soft firebrick but many will use a piece of the hard stuff for the floor since it's much tougher.

Have you though of using the Fork Lift Tine as an anvil? Often of 4140 steel they make much better anvils and triphammer dies than knives; a good sized tine will have some mass in it too! Cut one up and stick a piece upright in a 5gal bucket of cement to make a small but good anvil face; lay another chunk ontop of a stump to get a good straightening anvil---nice set-up for doing knives.

Thomas
- Thomas Powers - Thursday, 03/14/02 17:20:00 GMT
---
Fork tines: TBone, I have been waiting a long time to find some scrapped tines from the plant I work at. I will chop the drawn part off, and have a slab that will be perfect for an anvil face about 2' + long. Take a ball pein to the tines, and tap them gently ( to see how hard they are ). Also, try a file. These may be real nice for an anvil face. No horn, no holes, so what. :) Nice and flat, and good stuff to forge on. Building a stand will be your choice of materials. Good luck.


- Steve O'Grady - Thursday, 03/14/02 20:35:27 GMT
---
You guys are great Thanks! I will be attending my very first ABANA conference this year as I am from Germantown Wisconsin and LaCrosse is fairly close. I look forward to that in June. I will join ABANA and ANVILFIRE before then. I'm real excited about ALL of this (pretty weird for a 39 year old)I started making my first set of tongs today. BABY STEPS but soo COOL!! Thanks again guys. The fork lift tines are going to be anvil faces for all different projects as well as hardies and other tools when I DO get a "REAL" anvil. One question: Earlier Paw Paw told me to weld slab steel to my Switch Track anvil to reduce springieness, could I use leftover hunks of the fork tines? Steve O'grady, where are you located? I'm only gonna use one of these and your welcome to the other (I can get more too) if your close by or I'll bring it to LaCrosse if your going. My Email is tbonemhd at msn.com I'd be glad to help out. I can send pics of them and you can decide. Thanks again guys
TBONE - Friday, 03/15/02 13:17:24 GMT
---
TBONE:
Pieces of fork will work fine.

Another good piece of steel to keep an eye open for. Any time you see an old garage or sevice station being torn dowe, stop and find out what they are going to do with the old lift arms from the hydaulic lifts. The ones that swive.
they're an 1 1/2" thick about 6" wide and 24" long. Good steel. I keep a 12" piece sitting on one of my benchs for a bench anvil. Works fine.
Paw Paw Wilson - Friday, 03/15/02 18:47:03 GMT
---
RR-Rail Anvil: Turn it on end. Its a small target but it puts the mass under the hammer where it belongs. No springyness. See my iForge demo on RR-rail tools.
- guru - Wednesday, 03/20/02 01:23:09 GMT
---
easy to make forge: hi
here in maryland i havent got acess to a forge
since now ive gotten by with a blowtorch, but anyways is there an easy to make forge, dosent need to be too big but then again we all out grow stuff
it also needs to be moveable, and everything must be easy to come by (recycling center stuff!)
thanks
- mark the green - Friday, 03/22/02 23:00:55 GMT
---
"Post Drill": I have post drill.. Made By Kitchner Forge and Blower Con. Here in Ontario Canada.. The # of the drill is No 614.. I am looking for a picture of the auto feed lever.. Mine has the lower end broken off. Which I guess rides on the forward gear wheel. I scanned the lever and can sent it to anybody that may have one.. Its not thumb nailed so it may be a bit large.. Or does anybody have this drill that can sent me a picture ? Other than that it works well. Have it hooked up to a eltric motor and turning at appox 500 rpms..I turn the feed by hand for now.. Change the chuck to a 1/2" jacob.. All well here in North BAy Canada, (Ont)

Barney
Barney - Sunday, 03/24/02 02:33:08 GMT
---
Chuck for post drill: I have a post drill that has a chuck that looks like it was made for drill bits having the same size "back end" Looks to be about 1/2" hole. Does anyone know where I can find a 1/2" chuck that has a straight tail that will fit in and be secured with the bolt that is there? thanks
- Mark - Monday, 03/25/02 02:20:27 GMT
---
Blacksmith Drills: Barney send me the picture as well as a picture of the machine with the lever installed. Many of these devices made in Canada were made under US patents and are the same as either Buffalo or Champion.

Mark, All these old machines took "blacksmith bits" that all had 1/2" shanks with a flat for the screw.

You can fit a standard Jacobs chuck. Standard Jacobs brand chucks found on many machines come with replacable arbors OR a threaded fit. For those with a tapered shank the shank is removable and is itself held in the chuck by a short "Jacobs taper". 1/2" arbors are available to fit.

Those with threaded bodies normaly take standard National Fine (UNF) threads. You can make your own arbor for the 1/2"-20 threaded chucks with a cut off stud or bolt. For other sizes it would need to be machined.

Twice I have put new chucks and arbors on old hand crank drill presses where I paid three or four times the cost of the drill press for the chuck. I never regreted it. They are a great tool made better with a Jacobs chuck.

Another option is to take a bunch of 1/2" stock and make adaptors for standard drills. Drill it for tight and true for the drill and cross drill and tap for a small set screw. It would be best to drill on a small lathe. Do not drill any deeper than the shank of the drill (preferably about 1/8" less. You are probably not looking at making very many. With 1/8" as the smallest and 7/16" the largest that is only six if you use 1/16" increments. On the 7/16 I would use Loc-tite "press fit" instead of a set screw. The flat for the holding screw will cut just to the bit and hold it so it doesn't need a seperate set screw.

- guru - Monday, 03/25/02 04:52:49 GMT
---
Old Drill/New Drill: I met a fellow at the knifemakers guild show who had electrified an old post drill to save money. While drilling a tricky bit on a knife he reached up to turn the advance wheel *without looking* and fed two fingers into the gears. $2000 dollars later, no work out the door for weeks and two never be the same fingers he let on that perhaps it wasn't a cost savings after all...

Please be very carefull "modernizing" old equipment; customizing yourself should only be done with the proper equipment in a sterile setting!

Thomas
- Thomas Powers - Monday, 03/25/02 21:39:52 GMT
---
I just posted a review and sales information on a great new CD from Bill Lynch. Its has the complete 1920 equipment catalog including forges, drills, benders and power hammers. There is also added material such as fliers and patents for Champion equipment.

Check it out on our book review page the
Jock D. - Monday, 03/25/02 22:01:49 GMT
---
Modifications: As the old catalog above will show these old machines also came with belt and motor drives and no extra guards. Typical of the times.

Yeah, it was the "good old days" when our sort were expected to be partly crippled, missing an eye, toes or fingers or some combination of same. . .
Jock D. - Monday, 03/25/02 22:08:38 GMT
---
"chuck": I use a 1/2 Jacobs chuck. It fit my drill.. Threaded a bolt in it that matched the bolt hole chuck of the drill.. Works great.. Now for the missing auto feed.. Still looking..

More snow today....... Bye all..
Barney - Wednesday, 03/27/02 02:16:22 GMT
---
Thanks Guru: Thanks for the information on installing a chuck onto the old post drill!!! I'll eventually get it functional. It was $30 well spent for something in such good shape. I'm not totally mechanically inept....but sometimes I have mechanical brainfarts.


www.geocities.com/mmwoodnglass/
Mark - Thursday, 03/28/02 01:47:09 GMT
---
"Feed Arm": Thankyou much Guru.. AUto feed arm made and works well.
Snow slowly melting here.. Bright and sunny out


Barney - Sunday, 03/31/02 13:19:37 GMT
---
Demonstrating:

All,

My demonstration schedule is listed on my home page. Look at the left side menu for it.

I'd be more than happy to see any of the folks who either read or post here. Heck, I might even hand you a hammer and say "Make something!" (grin)
Paw Paw Wilson - Sunday, 03/31/02 19:01:55 GMT
---