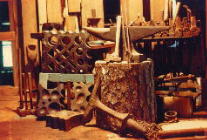 WELCOME to the anvilfire!
Virtual Hammer-In!
This page is open to ALL for the purpose of advancing blacksmithing.

February 2005 Archive
---
WHY THREE FORUMS? Well, this is YOUR blacksmithing forum to use for whatever you wish within the rules stated above. It is different than the Slack-Tub Pub because the messages are permanently posted and archived.
This page is NOT a chat - it is a "message board"

Our chat, the (Slack-Tub Pub), is immediate but the record of it is temporary. DO NOT post permanent messages there. We refresh the "log" every 24 hours now and your message will be lost.

The Guru's Den is where I and several others try to answer ALL your blacksmithing and metalworking questions to us.


Please note that this forum uses an e-mail encryption system that prevents spam harvesters from collecting your e-mail address.


J. Dempsey <webmaster> Rev. 7/98, 3/99, 5/2k, 6/2k, Friday, 04/06/01 16:43:25 GMT
---
---
Ellen: I agree with the advice on the trailer you received earlier. I live in rural central Kentucky and hauling tractors and machinery is just a way of life here. I'm not familiar with the Ford you have purchased but I do own a 995 Case tractor which is rated at 58 horses. A lot of weight, too much for a bumper hitch. Also, when you load for transport try to center the weight mass over the axles. Double chain, loop a heavy chain from one front corner of the trailer back to the front axle and then back to the other front corner. Take up all the slack you can then kick it in neutral and run chains from each back corner with load binders. Keep stretching until all chains have evened out and are tight. Then remember to put the tranny back in a lower gear and lock down the brakes. Take the time to make it tight, because you don't know what evasive actions you might have to take to dodge that fool out there that cuts you off.
- Larry - Tuesday, 02/01/05 00:17:11 EST
---
Larry: Thanks for advice on trailering. That is the worrisome part now for me. I have a receiver hitch for my horse trailer with 2" ball so that would probably work for a short haul on level ground, but I think trailer jacks on the back of the trailer for support while loading the tractor might be A Good Idea. Seems like the gooseneck would put more weight over over the rear axle of my truck (3/4 ton Dodge 4X4) and also those trailers seem to be built a bit more stoutly. A lot of the ball hitch trailers are "car haulers" and I think a bit light in the frame. Manual says tractor weighs 4800#, and that is before the front end loader and the Gannon grader box, plus whatever is in the rear tires. Once I get it loaded I will run it over a scale so I will know for future reference.

Your chaining advice is extremely helpful, thank you. I am scouting the woods for someone who has a trailer and has hauled these items before for some hands on training. Then I will have a better idea when I go looking for a trailer of my own.
Ellen - Tuesday, 02/01/05 01:35:24 EST
---
I'm a grampa: Just had to tell some folks. My daughter had a beautiful baby girl last night. Caitlin Rose and mom are both doing great.

FredlyFX
http://fredlyfx.com
FredlyFX - Tuesday, 02/01/05 03:25:39 EST
---
FredlyFX:
Congratulations to all! For you, now the fun begins!
Paw Paw - Tuesday, 02/01/05 08:32:29 EST
---
Forge construction notes: I just thought I'd post some notes on the recent construction of my coal forge...I have a gas forger, used to have a coal forge and wanted both!

Ready made forges are kind of pricy and both time and money are hard to come by so I tried to be sort of economical with both.

I purchased a heavy duty firepot and tyre from Centaur (about $150)

I thought for sure I had a couple of old vacuum cleaners laying around to scrounge a blower out of but I sure couldn't find them. I have an old furnace blower that's huge but the thermal break was tripping when we tried to use it in the barn last summer so I decided I didn't want to build a box for it and just have it die on me. I spent a little more than a half a day looking for a blower and decided what I had in time would have baught several blowers so I broke down and ordered the 164 cu ft/min ($100) blower from Kayne and Sons. Nice blower with an air gate already on the input.

I had some angle iron and bar stock around but I baught some 1/4 inch plate for the top and a piece of 14 gauge sheet metal for the super sucker hood. The angle iron I had was enough to build this and a stand for my gas forge, BTW.

I don't have a good way to cut a hole in the 1/4 inch plate so I paid to have the steel distributor do it. It wasn't cheap but probably no more than a pile of cutting rod for my arc welder sould have cost (not to mention running it at 225 amps for who knows how long) and I got a nice clean round hole. I probably had $100 in steel and some other assorted hardware...saw blades, nuts and bolts and a pile of welding rod.

I used 4 inch flex for the blower. It slips right over the flange on the blower and I made a flange for the tyre end with a piece of scrap 14 gauge and a piece of flat bar stock. The harth is 34 by 34...hmmm just big enough to make it a pain to get it out the door. I'm wondering now if I should have droped the pot down lower to give it more depth but I aint changin it now.

I spent the better part of 2 weekends putting everything together including building the hood (a whole story in itself). Naturally church and a few other things ate up some of that time not to mention it's been real cold and since I was welding I had all the doors open. The cold slows me up a bit.

I guess I have about $350 cash in it and a couple of good days work. I guess you could do it cheaper with better scrounging but considering what a store baught forge with a hood costs, though, I thought the way I did it was a nice compromise between saving time and saving money.

The only thing not done is the flew but I haven't made up my mind where I'm going to run it. I've got lots of trees in what are otherwise the best places and I might wait till warmer weather to go at it.

I thought about putting some hangers up and running the flew out the door and up and just taking it down when not in use so I can close the door. I'd be able to re-use just about everything when I run it permenantly. Any one ever do something like that?

Anyway, if I want to work outside it's ready to build a fire in but I don't want to work standing in snow! Of course working outside is a pain at night too!
Mike Ferrara - Tuesday, 02/01/05 09:11:47 EST
---
FredlyFX,-Ellen: Congradulations Grampa,my 2 yr old grandson brightens my day.All the best.
Ellen,take a look at the local truckstop,the folks who haul equipment on lowboys and floats have chaining figured out,you will get the idea and some pointers.I chain rubber tired machines before landing the attachments to the deck ,I like the rubber as squat as I can get them,then just float the bucket on the deck.WARNING-Don't wear anything risque in a truckstop parking lot.
crosspean - Tuesday, 02/01/05 09:24:07 EST
---
All,: OK, folks, I'm outta here for a few days, should be back by Friday or Saturday of this week. Y'all behave yourselves while I'm gone.

Ellen, smack their fingers if they start a fight!
Paw Paw - Tuesday, 02/01/05 10:36:55 EST
---
Ellen-- When trailer-shopping take a peek underneath to see just where the cross-supports are placed. And how many. You might want to use that trailer for lugging aroung or bringing home other stuff, such as that irresistible bargain 50-pound Little Giant you happen upon one day, and the 1,800 pounds concentrated in the center of the bed might not safely match up with what the car hauler designers built. Big Tex has others beside car haulers, and will design and build whatever you want.

Miles Undercut - Tuesday, 02/01/05 11:23:40 EST
---
FredlyFX: Congratulations!

Crosspean, thank you for the info...
Ellen - Tuesday, 02/01/05 12:16:56 EST
---
Miles Undercut, also much thanks for your input...
Ellen - Tuesday, 02/01/05 12:18:20 EST
---
Withdrawal: Due to being busy at work and the weather I have not been in my forge in a couple months except to fight rust and clean up cat mess, since they think the dirt floor is just a big litter box. I need to proof it against critters, but again, there is not much time for stuff like that. Anyway, what do ya'll do about the shakes from forge withdrawal if you cannot get out and pound hot steel?
Shack - Tuesday, 02/01/05 13:17:39 EST
---
Shack, I built a 1 fire brick forge and hot forged silver nd made nails for a wood working project down in a drafty basement.

Thomas
Thomas P - Tuesday, 02/01/05 13:27:40 EST
---
Re: Withdrawal: Shack-- I hear ya, man! My anvils have been rusting for the past five months while I'm in Sicily. Yup, it hurts! I've bought seven hammers here to fight off the shakes, they seem to help a bit. Haven't broken any furniture yet!Hang in there!
Koomori - Tuesday, 02/01/05 13:36:01 EST
---
anvil rescue: Koomori,
You need to tell me where your anvils are. I provide a service such that they will be de-rusted and cleaned and loved on, by the application of hot metal.
Only small possible issue is that they may be so happy here that they will not want to go back.
Ralph - Tuesday, 02/01/05 18:17:34 EST
---
Beaudry Power Hammer: I saw this ad in a local trader magazine,thought it may be of interest to some one,300lb Beaudry PH complete,set up for line shaft but has motor.located in south western ont,just N of Lake Erie.Nice fella to talk with.519-866-3629.I asked him if it was OK to post his number.
crosspean - Tuesday, 02/01/05 19:25:07 EST
---
TRAILER: ELLEN-- A goose neck will tranfer a little weight to the front end. They are a lot better. You keep pileing weight on the tractor and you might need to get a tandem dually trailer. A heavy duty tandem is good to about 6500 lbs after that you really should go up in trailer size.

The WIFE is fine.
Sandpile
- sandpile - Wednesday, 02/02/05 00:07:08 EST
---
wife is fine: WooHoo! That is good news indeed!
Glad to hear this.
Ralph - Wednesday, 02/02/05 00:47:35 EST
---
Help on How to get started.: I am a half way through my senior year in high school. I have been interested in crafting things out of wood and quickly got hooked on knifemaking. I had the experience of making a knife once although it snapped after quenching. A I am interested in many aspects of cold weapons. But my problem is this. I am starting on a project to do research on the history of swords and various sword designs though the eras. Information is easy to find, but how do you actaully get started on making a sword, meaning where can i find a place where i can freely work and have some one mentor me. Do i try to find a bladesmith or what?
If you could answer this, I would really appreaciate it, maybe some place(in the Bayarea) you know where someone like me can get started.
Thank you for your time.
- Alex - Wednesday, 02/02/05 03:55:53 EST
---
swords : Alex,
if as you say info is easy to find then you should already know how to get started.
As others have so eloquenly stated here in anvilfire ( look in the archives) making a sword is like making a knife the same way driving a peddle car is to driving in teh Grand Prix.

Also to be honest if you are half way thru your senior year and this is supposed to be a project, I rather doubt you will have time to finish.
As for blade makers in the Bay area. Look on the ABS web site as they list where the Masterblade smiths are.
Ralph - Wednesday, 02/02/05 04:57:55 EST
---
Alex, sounds like you didn't temper that blade after quenching. BTW this is an international forum and may I point out that "the Bay area" is not specific even in America---Boston, Hudson, Chesapeake, etc.

If you want to make swords you start out by making knives, when you have that down pat and you can make the metal do what you want then you start making longer blade---lots easier to make your mistakes on something you can make in a weekend than on something you have a month of work in!

I would suggest you look for the local ABANA group and attend their meetings/hammer-ins and learn who is working in your general area and get friendly whith them. Remember for liability reasons some folks will not be able to let you work in their shop but they still can give you advice on what you are doing.

I assume you are a steady reader over at the sword forum and have studied Hrisoulas' books on blademaking, one of the few people who go into details about swordmaking in bladesmithing books.

Thomas
Thomas P - Wednesday, 02/02/05 05:04:30 EST
---
From the MOB list:

The History Channel will be presenting Modern Marvels: Metal.

Airs on Wednesday, February 2 at 8:00pm ET

"They constitute the very essence of the modern world; the cadence of our progress sounds in the measured ring of the blacksmith's hammer. From soaring skyscrapers and sturdy bridges to jet planes and rockets, metals play a key role.

Our journey begins before the Bronze Age and takes us into
the shiny future when new metal structures--engineered at a molecular level to be stronger, lighter, and cheaper--shape human progress, as they have since man first thrust copper into a fire and forged a tool. "

And me stuck watching MTV in German...

Thomas


Thomas P - Wednesday, 02/02/05 10:57:30 EST
---
Swords; Alex::
Check out some of the swordmaking information on the Anvilfire Armoury (on the pull-down menu on the upper right of the page). Also, get the books listed in the bibbliography, read themn and then go back and study them. It will save you a lot of time and frustration; but it will also take some effort.

Good luck.
Bruce Blackistone (Atli) - Wednesday, 02/02/05 12:22:08 EST
---
POWER HAMMERS: : For sale Nazel 2B electro pneumatic hammer rebuildable condition, and Meyer 40 lb. Easy hammer runs well and has a new motor. Located in Ontario Canada, (519) 699-4319.
www.forgeandanvil.com
Dean Piesner - Wednesday, 02/02/05 12:44:07 EST
---
RE: Anvil rescue: Ralph: Gosh, thanks! I'm overwhelmed by your generosity. They're located in my front yard smithy, next to a pepper tree, north of San Diego. Just look to the left as you go up my driveway, ya can't miss it. Oh yeah, watch for a spotted Great Dane in the yard! ;-P
Koomori - Wednesday, 02/02/05 13:10:08 EST
---
Great Danes: ALmost every Great Dane I have had a chance to interact with were big ole cuddle dogs. (g)
Hmmm San Diego is not THAT far from the Portland area....
Road trip!
Ralph - Wednesday, 02/02/05 14:02:51 EST
---
Sandpile: Very glad to hear the surgery went well! Prayers do help.

I was thinking a trailer should have a load capacity of 10,000#. Those seem reasonably common around here and leave a nice safety margin. I've found out to move it short distances it is legal to just drive it here. Part of our agricultural heritage. Early Sunday AM is best if going any distance, and I need to move it 8 miles and take corners easy....I really appreciate all the advice and help I have gotten here. Very nice!
Ellen - Wednesday, 02/02/05 14:20:53 EST
---
Forging in the Bay area: Alex- as you have probably read if you have spent any time studying here, to become a bladesmith or swordmaker, you must first become a competent blacksmith. In the SF Bay area, you can take classes at the Crucible- this is a nonprofit fire arts center in Oakland, with classes, gallery, and studios.
www.thecrucible.org
I highly recommend you go take their intro to blacksmithing class.
- Ries - Wednesday, 02/02/05 14:59:32 EST
---
WIFE TRAILER: I have 'MOMA' home and resting. She is as tough as a BO-DARC' post.
Ellen when moving your tractor(driving). ALLWAYS carry your bucket a couple feet off the ground and tilted back towards you. Never carry the bucket, where it would stick, if a hose broke. I had a friend in MONTANA, JIM SITES, ANGUS breeder. He had been clearing his neighbors road of snow. He broke a hose, while in road gear and flipped the tractor over, forward and it landed on him. Can not be to careful.
Sandpile
- sandpile - Wednesday, 02/02/05 15:35:13 EST
---
Sandpile: Thanks for the tip; that's what I normally do but it is good to reinforce my thinking......glad to hear your wife's surgery went well.

I want to get a trailer, but I would like some time to shop and educate myself. Maybe rent one or two different kinds and try them out first. Cheap insurance.
Ellen - Wednesday, 02/02/05 16:55:01 EST
---
RE:Great Danes: Ralph: OK, you got me there! He's a big and mean-looking pussy cat, but the look on visitors' faces when he nuzzles his face into their crotches is priceless! It's a Dane thing.
Sandpile: Glad to hear your better half's doing well.
Koomori - Wednesday, 02/02/05 16:55:36 EST
---
trailers: Ellen
It seems as if 10K might limit you in the future. I mean once you start getting into BIG Power hammers. (smile)
Ralph - Wednesday, 02/02/05 16:58:45 EST
---
Ellen's tractor: Ellen - Did you wear a mask when you bought that tractor? Mid size tractors are going for a BIG premium around here - Hobby farmers are figuring out that the little 20 horse tractors take too long to do anything, but the 100+HP tractors the full-time farmers are getting rid of are too thirsty. I could have easily bought a 100+ horse two wheel drive farm tractor for what I wound up giving for my 52 horse 1967 Allis. . . Of course everything that touched that 100+ horse contraption would need to be bigger, heavier and more expensive than ones for my 52 horse. . . Of course, while the Allis' base weight is only around two and a half tons, the loaded wheels put it well beyond the load limit of a typical car trailer. . . Of course most of the 100hp tractors are five tons + which would make a trailer with one at, or perhaps past the towing limit for my eldery full ton.

On trailers, I've started looking for someone who builds a 10,000# gooseneck equipment trailer with a hydraulic slider for the axles.

The guy who delivered an ISO container to my place had a big semi-trailer version. . . By sliding the trailer axle forward the end of the trailer would drop to the ground for loading & unloading. Running it back to the rear brought it back up for driving. Slick.

John Lowther - Wednesday, 02/02/05 18:26:13 EST
---
trailers: My folks have an old 20'x 8' Neckover gooseneck trailer,double axle,single tire. My stepdad bought a wooden bridge for the timbers. He loaded it so heavy that the pickup was doing wheelies over railroad crossings. Another time, he built 4 foot sides on it, and had an excavator fill it to over flowing with wet dirt. (Did i mention he's a bit eccentric?) When it was filled, all his pickup would do is groan, so we hooked my diesel Ford to his rig, and pulled the whole mess up a steep hill like a train. His rear-end gears puked halfway up the hill, but the moral of the story is the trailer is pretty near indestructable, in my mind.
mike-hr - Wednesday, 02/02/05 18:29:43 EST
---
Sandpile: Glad to hear the better halfs surgery went well!
Brian C - Wednesday, 02/02/05 19:02:53 EST
---
power hammer motor: Im building a power hammer similar to the North Carolina JYH. I have both a 1/2 hp motor, and a maytag duty cycle (runs 10 minutes rests 20 minutes)motor, I don't know its hp. what would be the best one?
- Bjorn - Wednesday, 02/02/05 19:39:52 EST
---
Sandpile: Great to hear your wife came through with flying colors. Make sure you keep waiting on her for awhile. I'd say hand and foot for about six months ought to do it. Don't want to spoil her too much.
- Larry - Wednesday, 02/02/05 19:57:20 EST
---
John, I paid about half of what a used Kubota or similar 20 HP is selling for around here. I borrowed the mask from the local IRS office (grin!).

Mike HR.....I had an uncle that decided coal was too expensive delivered (this was in the 1950's, coal at $14/ton delivered) he took his GMC pickup to the mine and filled it up, blew both rear tires and Lord knows what other damage....all to save maybe $10. Not too bright.
Ellen - Wednesday, 02/02/05 20:39:06 EST
---
BETTER--HALF: Thanks, everybody.. HELEN is doing alright. considering.
SHE said "Honey I just feel so bad, having you wait on me, hand and foot". BUUTT she sure had a goofy looking grin on her face, makes me thing she might not have been sincere.BOG.
Sandpile


- sandpile - Wednesday, 02/02/05 22:17:05 EST
---
Ellen: One thing I did learn driving tractors is that speed is bad on paved roads. The overhung weights of the bucket and grader box put a lot of moment on the rear wheels and bumps in the road tend to get the whole rig bouncing. The thing can get to oscillating like a yo-yo after a short while. That lightens the front end unpredictably and the steering gets real squirrely, real suddenly. Start early, drive slow and, if it starts bouncing, slow to a crawl and then ease back it up again. This probably isn't as much of a concern with ballasted tires, but I never drove one with those.
vicopper - Wednesday, 02/02/05 22:40:16 EST
---
Ellen, as Vicopper pointed out, on pavement these thing do porpose. The liquid filled tires will help some.You will also find out if there is any looseness in the front end pretty quick. Also remember that a front end alignment on a tractor is sort of a by guess thing.
Fork prints will go snail mail tommorrow.
ptree - Wednesday, 02/02/05 23:44:47 EST
---
Sandpiles Wife: Sandpile, glad to hear everything went well. Thats a load off both of you now.

Steve
- steve parker - Wednesday, 02/02/05 23:54:09 EST
---
Beaudry Hammer Book: Does anyone have a copy of a manual for a Beaudry? I am willing to buy a copy(of your copy)
Coalforge - Thursday, 02/03/05 00:41:51 EST
---
metal finish: Hi guys, I'm currently working on a gate project that the Home owner would like to be finished in a color similar to the dull blue that the metal turns right out of the forge scale and all. Its a typical picket gate but with organic vines/leafs growing on it. The problem is that the gate frame and pickets are tubing and I would rather not have to put them all through the forge, So is there any other products or chemicals such as gun blueing (never used it) that would achieve the same sorta coloring?
- Chris Pook - Thursday, 02/03/05 03:09:07 EST
---
Hmmm, I have had an "interaction" with a Great Dane that was not a cuddly slobbery kind. Some kinfolk had gotten it because it had been abused and the pound was going to put it down. It stretched a chain to get me walking outside the "danger line" and I have a nice scar where the canine tooth went down to bone on my arm---they just moved the danger line a few more feet out---till it got loose and killed their sheep then it got the hot lead application...

But an enclosed loader with an electro magnet should work....

Thomas

Thomas P - Thursday, 02/03/05 06:42:44 EST
---
Thomas P: Sorry to hear about your bad experience. I had a similar experience with a German Shepherd as a kid. I'm surprised the pound let it go, they're usually pretty good about screening out bad eggs. The real shame is that the dog was made that way by its previous owners. As for my mutt, once visitors are allowed in the yard by a family member, he's very friendly towards them.

Sandpile: If your wife is still on heavy medication, be advised she may not remember her first few days after surgery next week. My wife's had quite a few surgeries, and remembered nothing of those first few days afterwards a week later, even though she spoke coherently the whole time.
Koomori - Thursday, 02/03/05 08:16:23 EST
---
dog interactions: About the only time I have ever been bitten by a dog was a pair of Dalmations. It was my fault too as they wanted to play and I was not aware of that and I ran. Got bit in the back of the right armpit ( hmmmm that is the arm pit that had the cancer.... I wonder... smile) Since I was only 10 at the time and did not remember all I had learned about dogs I am glad they were not more agrresive.
Had a German SHep snap at me. ANd since I was already on a short fuse at the time I grabbed the dog and threw him on his back and then got a mouthful of his throat and growled.
Every time I went to vist my buddy his dog would be real nice. SOmething to be said about esablishing 'A' male status. (grin)
Ralph - Thursday, 02/03/05 13:26:41 EST
---
A girl can never have too much trailer. Keep in mind that a Nazel 3B weighs 5 1/2 Tons.
- 3dogs - Thursday, 02/03/05 14:58:26 EST
---
Little Giant 50 Rebuild: I recently became the owner of a Little Giant Power Hammer (50 Pound) and am beginning the assessment, rebuild, restoration process. I have a multitude of questions and checked the Power Hammer Page here but found no Forum with information, How To's, opinions or specifications Except for the useful links to other websites.

Did I miss the AnvilFire internal bulletin board/Forum for Power Hammers? Or is this Virtual Hammer-in Forum the right place for all my "idiotic" questions? I don't want to clog the wrong portal.. as they say.

.

.
CCHarper - Thursday, 02/03/05 17:53:22 EST
---
CCHarper,
No question is idiotic. Yes this is a good place for hammer issues.
Sid S. has the LG rights currently. I can not find his contact info. I know it is here somewheres. Perhaps one of the other hammer owners ( I am not a pwr hammer owner) has Sid's info.
Sid is very helpfull.
Ralph - Thursday, 02/03/05 18:58:39 EST
---
Idiotic Questions: CCHarper,
Always remember Jim's life rule number #2 "a stupid question is easier to answer than a stupid mistake is to fix."

In addition to Sid's website Richard Kern (I think) has a book on rebuilding the little giant. Also on tuning and using you can't beat Dave Manzers powerhammer videos. They are available through anvilfire store.
sid's homepage
JimG - Thursday, 02/03/05 19:07:49 EST
---
Well i have a job on weekends again. And in the summer maybe. A local contrsuction excavating company that my dad worked for. I worked there over the summer in the yard but after my dad quit i wasnt sure how friendly the boss would be to me but i stopped in to say hi the other day and i have a job again. He was really good to me though. I could drive all the mack dumptrucks and work on the trucks and equipment. We did 2 brake jobs, 1 tranny,1 clutch, 1 engine on trucks over the summer so ilearned quite a bit. Hes got 6 mack r models on the road and a beatiful Pete tractor with a 550 cat in it. So now ill be able to weld there so i can practice stick and ill have money. Killing 2 birds with one stone. And i dont have to use my rod.

Decided to ditch that TIG. Wiring would have easly cost me 500 plus 450 for the welder plus 400 to get it set up. It would have cost me at least 1400 to get it set up so im just gonna buy an engine driven. I can get a nice older bobcat for 1000. Then i wont have to worry about wiring or anything else. Sorry for rambling.
Chris
- Chris - Thursday, 02/03/05 19:34:16 EST
---
dalmations: in my opinion, and experience, dalmations are very very protective pets. they will usually pick 1 or two "masters," usually a younger boy or a woman, and then usually not play too friendly with anyone else and tend to get really upset and mean if you touch their "master" or if you raise your voice to them or anything like that. my uncle once had to get stitches because he put his son in a timeout and this caused his son to cry, the dog immediately latched on to my uncle's hand and tried to tear it off. I have had similar experience with a friend's dalmation when we were playing football in his backyard (I think i was 13 at the time). we were playing kind of rough and all of a sudden I had a dalmation chewing on me.

has anyone else had similar experiences with dalmations? I think I read somewhere that this is pretty typical behavior of their breed.
- dan P - Thursday, 02/03/05 19:37:59 EST
---
Dammit, people! It's not NICE to make Paw Paw fill up to tears. I came how to a stack of checks, and now have over $750 in checks alone, and I don't know how much Rich has got, but I do know that there is more on the way.

Blacksmiths are a lot nicer people than most folks would ever realize!
Paw Paw - Thursday, 02/03/05 19:39:15 EST
---
I was bitten in the face as a pre-schooler by a Dalmation. My brother had a great dane. 170# of really dumb, usually vicious dog if you were a male. Especially if you were a non-caucasian male. This dog would try to take the throat out of most any male if it was in the doorway. Once in the house everything was pretty ok. Course if would indeed want to sniff your crotch, then snort and raise her head. This would lift my 96# girlfriend clean off the ground.

Worst case for me? My then 4 year old being mauled by a sherpard. 90+ stiches/staples on the top of a 4 year olds head. That will drop you to you knees when you round the corner into the emergency room, having been told the he had been scratched by a dog!
ptree - Thursday, 02/03/05 20:22:40 EST
---
anvils for sale: 173# Peter Wright with flat face, edges normal wear, nothing bad, good anvil for $200.oo. 105# Trenton with flat face nice crisp edges. There hasbeen some buildup with hardface rods, good job . Booth have a good rebound $110.00 on Trenton . I have pictures if interested
- nick - Thursday, 02/03/05 20:39:13 EST
---
Went out squirrel hunting once, and the landowners friendly Dane also wanted to go. So I put my .22 to the side, and stood in the trail to try and stop the dog. That was like trying to stop a Mack truck. After checking for injuries, I slowly got up off the ground. I figured if he wanted to go hunting with me, then that was the way if was going to be.
- Bob H - Thursday, 02/03/05 21:03:52 EST
---
Where about nick? If you were close ill see about that Peter Wright.

Dalmations are nasty dogs. I was at a party and they had 2 dalmations and they were inside but there was a door with glass windows. The dogs were watchin everybody and the one jumped through the glass to attack my dad so the dog got lucky. No damage done to my dad and the window just pushed out. I have a half collie half st bernard that is the best dog i have ever seen. She listens so good and theres not a mean bone in her body. She is pretty protective but she wouldnt bite someone unless if they attacked me or my mom.
Chris
Chris - Thursday, 02/03/05 21:23:10 EST
---
ANVILS: NICK --What part of the world are you located in??? I would be a buyer,if we are close enough.

Sandpile
- sandpile - Thursday, 02/03/05 21:52:09 EST
---
Fisher anvil: I would like to buy a Fisher anvil in nice condition and around 200 lbs. I have two 120 pounders I have used for years, but would like something bigger.
John Scarlett - Thursday, 02/03/05 21:52:42 EST
---
HEY I WAS FIRST! ;)... Nobodys around Jersey anyway. Actually i might have an anvil if everything works out alright. If you are anywhere in or near Jersey i might have a Peter Wright. But shipping for 170 pounds wouldnt be too pretty.
Chris
Chris - Thursday, 02/03/05 21:55:32 EST
---
Shipping: Whine, whine, whine. I bought a Fisher anvil, (in New Jersey), a 250# for $350. Then I paid to have it shipped to the Virgin Islands. I somehow doubt that much of anyone would have to ship one farther than that, at least in most cases. If you want something, you do what you have to, to get it.
vicopper - Thursday, 02/03/05 22:17:05 EST
---
Dogs: I haven't really had any bad run-ins with a dog, even though I'm not nearly as good as my father was with them - he could charm a junkyard dog who'd growl, snarl, bark at any and everyone - he'd have them on their back getting their belly rubbed and loving it in 10 to 15 minutes.
Most unusual story I've experienced was with a friend's dog, a german shephard/irish setter mix, gorgeous dog - looked like a solid black setter with the expanded skull/forhead of the shephard. Anyway, a neigbor and his brother-in-law came over for a beer. The dog would not let the brother-in-law in the house. Totally atypical behavior for the dog, as once you were introduced it was generally OK. ( I was a close friend & he thought of me as just another one of the pack.) About 10 days later we heard the brother-in-law killed his wife.
- Gavainh - Thursday, 02/03/05 23:44:54 EST
---
this and that: JimG, thanks I knew someone would have Sid's info.
Ralph - Thursday, 02/03/05 23:47:53 EST
---
anvil for sale: I am in Lakewood Ohio 44107 thats a suburb of Cleveland to all interested. I worked for sometime with both anvils and they served me well. I would like to buy another blacksmiths forge and blower so this is my fund dept. Pickup is best for the buyer, cheap . I will ship at the buyers expence. Ups hundred weight would drop the Treton at your door for a workable price. The Peter Wright would go freight if not pickup inperson. I would put on pallet and take to the depot. I could help with finding shipper but since its at your money I would prefer you to handle that end.
nick - Thursday, 02/03/05 23:55:00 EST
---
DOGS--ANIMALS: I was raised by a dog trainer. My dad was a gifted animal trainer. Not to good on kids but great on animals. BOG He succeeded in making trainers of us(ALL) including my kids. We have had dogs and horses that were un-believable. The ALFHA part is for real. About the same amount percentage-wise, in animals and people, are bullys. Just the same as left and right-handed, pertains to warm-blooded things. The concept of friendly, respectful, encourging, positive and rewarding, when the right answere is found. I have found horses and dogs that did not have self-respect and there-fore were unable to give respect. This is very rare-- but if my dog does not like someone or another animal, I don't trust them either. I once had a horse that deceided he did not like this guy that was day-working for me. The horse was proven right.

Sandpile
- sandpile - Friday, 02/04/05 00:05:43 EST
---
Anvil for sale: Nick,

I sent you an email about your anvil. Did you get it? Either way lets talk...if you still have it!

Mike
- Mike Ferrara - Friday, 02/04/05 18:49:53 EST
---
Sandpile: Horses and dogs are both excellent judges of character. They sense things we miss. My dogs add to my feelings of security at home and at my cabin, on horseback rides etc. I have 3 German Shepherds. The male is 110#. No fat.
Ellen - Friday, 02/04/05 19:08:38 EST
---
HELP My puter crashed .And I,m ashamed to ask on this forum, but does any have the addy for Sparkies blaclsmith forum. Thanks RudyH
- Rudy Hinkle - Friday, 02/04/05 19:17:09 EST
---
RUDY-- ME friend what is it worth to you??huh www.forgemagic.com I just could not keep a craving man from the water.GRIN
Sandpile
- sandpile - Friday, 02/04/05 21:15:22 EST
---
Across the Street: Rudy, It's forgemagic.com

SGensh - Friday, 02/04/05 21:17:42 EST
---
ELLEN -- Hving spent most of my life with my hand ona cow's tail. I have had some wonderful and some not so wonderful experiences with cow-dogs(push and hold), horses, and saddle mules. My wife and kids could write the most humorous stories, and some of them would even be the truth.BOG I had one horse, that was a watch-horse, he did not want any other horses and not many people close to me. Sure do miss that ole hoss.

Sandpile
- sandpile - Friday, 02/04/05 21:24:22 EST
---
I received another check today for the Keith Barker Fund. Thanks, Bob!

We're going to keep the fund open till Jock returns, because the checks have to go through the CSI account at his bank. So we've got a few days left for those of you who are busy to get your check in the mail.
Paw Paw - Friday, 02/04/05 23:03:46 EST
---
Dogs: When a kid (14) in the philippines I had a German Shepherd that was an ex-Russian war dog. Her handler sold her in Harbin to pay Gambling debts, she was purchased by American missionaries who brought her to Manila ahead of the comunists. When they found they could not take her to the US because of regs. they gave her to me.

She was an excelent judge of character. I took her to school and she would lay on the floor by my desk. There was one student she could not stand. If she saw, or smelled him she would go into alert mode. Then I was forbidden to take her to school. This was the only person on campus to whom she reacted in that way.

One day this guy attacked me with a balisong knife for something I was alleged to have said. (This is a fight I ran from.) The student was suspended, but returned the next term. A few weeks later he attacked the Principal with a knife. He didn't know thet the principal, though now greyed, had been in a tough gang in the Manila slums when he was a kid. The next thing this tough knew he was face-down, dissarmed, on the floor. The last I saw of him was in a cage on the back of a police jeep heading out the campus gate.
John Odom - Saturday, 02/05/05 08:49:35 EST
---
John:: John, while in the Philippines, you didn't happen to study Arnis, did you? My first Karate instructor was a Philippino, and also taught us stick fighting. And as I type this, on my desk in front of me, is a souvenier from my visit to Clark AB. I've got a nice little knife I picked up from a smith there in Angeles City.
Bob H - Saturday, 02/05/05 21:24:59 EST
---
Paw Paw: Did you get my check for Keith? Sorry it couldn't have been bigger. If you didn't get it I will send you another one.
Ellen - Saturday, 02/05/05 22:45:29 EST
---
Check's in the Mail: ...and it's not chain mail, either.

Paw Paw:

Went out this morning, even though it was ready last Tuesday; it just gets busy around here.
Bruce Blackistone (Atli) - Saturday, 02/05/05 23:57:20 EST
---
Keith Barker Fund: Ellen, yes, I got it. Several people have asked me not to name them, so I've been TRYING (and not succeeding very well) to let folks know when their checks arrive.

Bruce, Great, and I thank you.
Paw Paw - Sunday, 02/06/05 00:56:31 EST
---
air powered hammer?: I am looking to build a very powerful air powered hammer. I already have a 25 lb little giant. It works great, but I had the joy of using a home built air powered hammer that had the power to flatten 1/2" sq solid with no effort, (3-4 strokes). Very powerful! unfortunately I do not have acccess to this hammer again but would love to build one of the stength. If anyone could help me with plans and where to get the ram, controls, & the like it would be greatly appreciated. I still love the little giant, but the control of the air powered unit was unbelievable. You can e-mail me at MyArtisticIron@aol.com. Thank you so much. This sight is fantastic!
www.ArtisticIronandAluminum.com
Michael - Sunday, 02/06/05 01:20:49 EST
---
4 strokes to flatten 1/2 as powerfull? I'd call that light duty. 1 stroke to flatten 1" is getting towards medium---above that they don't let me near them as they do not have OSHA approved Drool Containment set up---I had to change my pants after I saw the stuff Patrick's working around...

Thomas
Thomas P - Sunday, 02/06/05 08:34:48 EST
---
ThomasP, a heart attack if you were near a 25,000# Erie steam powered drop hammer?
And was the pants change to the infamous brown camo?
ptree - Sunday, 02/06/05 10:49:25 EST
---
Ptree, naw I just get too excited and want to mark the equipment as *mine*

Thomas
Thomas P - Sunday, 02/06/05 12:20:43 EST
---
Philippine cutlery: I never studied martial arts. I used to have a beautiful dagger made by a Moro smith in Cotobato city. It was made of the outer race of a tank ball bearing and would cut Philippine centavos and still shave. it had an ivory handle and silver trim. (My grandfather had gotten the raw ivory in India in the '20s) It was taken from me by the Glendale CA police. When you are 16 with parents 8,000 miles away you can't fight the cops.
John Odom - Sunday, 02/06/05 18:28:50 EST
---
Air Hammer: Heck, I can flatten 1/2" square with 4 strokes of a hand hammer, easily. A small Kinyon-style air hammer of 50-75# will do that in the time it takes to blink. A really good utility hammer like one of John Larson's Iron Kiss hammers will do it in one hit.

Check out the ABANA plans for the simple Kinyon-style air hammer. It's a good starting point, at least.
vicopper - Sunday, 02/06/05 19:16:47 EST
---
Tractor: Many thanks to all here who kindly offered wonderful advice and suggestions on moving it. I learned a lot. Actually, I moved it during rush hour here and got on the freeway. Never had to get out of 2nd gear to keep up with the flow.
VBG!

Truth is when I put the word out a friend of a friend came forward with a 20' flatbed gooseneck equipment hauler, chains, binders, all the good stuff. He had me drive it up on the trailer, and back it off when we were done as he said I would understand the process better after I did that. He was right. Now I know how it is done.

Spent about 3 hours on it after moving it today, and it is everything I hoped it would be, and more. Ordered the shop manual, so will be educating myself and asking more ignorant questions here about maintainence.

Thanks much guys, you are the BEST!
Ellen - Sunday, 02/06/05 22:34:55 EST
---
Keith Barker Fund:

Two more checks in today. Thanks Dave & Mike!
Paw Paw - Monday, 02/07/05 18:10:18 EST
---
tig welder: I have an oppertunity to aquire an older (20+yrs) P&H tig welder for "free". Except that it has a bad capacitor, and current owner has not been able to locate one.Welder is model # DAR 200H FGW. Can anybody give me some advice about locating parts?
cedarhillforge.com
- Jeff G. - Monday, 02/07/05 21:36:22 EST
---
Jeff G - capacitor-- If He still has the old one, check to see if it has voltage & MFD marked on the case. If it does You can probably get a replacement from an industrial motor rebuilder. If not, find out who the welding supply shops in Your area use for service work, and see if they have or can get a schematic, if they can, they could allso supply the capacitor.
Dave Boyer - Monday, 02/07/05 22:15:03 EST
---
wooHoo!: WooHoo!!!!!!
Just got off the phone with Nathan. He is out of Iraq ( currently in Kuwait) Will be there for about a month, and then on a slow boat to Okinawa. Then fly to Hawaii. They expect to be in HI by mid May.
Needless to say Dawn and I are VERY VERY relieved.
Actually Nathan sounded rather jazzed as well. You would almost think he was tired of being shot at and mortared.........
- Ralph - Tuesday, 02/08/05 12:55:32 EST
---
slack tub pub: I would like to know how to access the slack tub pub.I have registered there. I can read the posts but my screen shows no place to type. Any help would be appreciated.
brian robertson - Tuesday, 02/08/05 18:43:23 EST
---
We moved the storage and shop buildings onto the new pad today. Took 2.5 hours. It pays to hire the pros! Pictures are on the AFoto page, but I can't leave them there more than a day or two, they take up too much space.
Paw Paw - Tuesday, 02/08/05 19:34:51 EST
---
Paw Paw: Nice pix. I especially like the "acorns". Like to see the pole barn when it goes up, please.
Ellen - Tuesday, 02/08/05 19:40:52 EST
---
Michael/air hammer info: If you can still visit the hammer you used, get the dimensions and components specs, take some photographs, do some plans, and copy it if you can. It must have worked well for you and with that recommendation I think the best strategy is to clone it.

If you can no longer access that hammer, get a set of ABANA air hammer plans--widely known as Kinyon plans after Ron Kinyon, the donator and early air hammer guru.

Before any fabricadabracation, make sure you have quality plans by talking to someone who has built one. Once the plans are right, the hammer will turn out to your liking.

I've built a large number of Kinyons, sons of Kinyons, and grandsons of Kinyons. I started out like you are. Have fun.
John Larson - Tuesday, 02/08/05 20:15:39 EST
---
PAW-PAW-FOTOS: PAW-PAW are the FOTOS in the member-ship-only?? If so I'm out-a-luck.
sandpile
- sandpile - Tuesday, 02/08/05 20:28:22 EST
---
Ellen,:
Can do, will do. If all goes well, the first section should be up by noon tomorrow. Then they move the powerhammer, forge, anvil, post vice, and the acorn tables into place.

Then I call the guy in and find out how much the rest of the shelters to complete the pole barn are going to cost me.

Sandpile, yes they're in the members foto section. Jock is researching, trying to find software so that we can set up a section right here on Anvilfire and not have to fool around with the Yahoo yahooes.
Paw Paw - Tuesday, 02/08/05 22:30:44 EST
---
Paw Paw's Photos: Pawp,
I thought the yahoo user gallery where the pictures are is open to all? Not just the CSI membership.
JimG - Wednesday, 02/09/05 10:27:26 EST
---
JimG I think he was referring to *yahoo* membership...

Thomas
Thomas P - Wednesday, 02/09/05 10:46:16 EST
---
It was the "I'm out-a-luck" comment that had me confused, that's open to anyone (once pawpaw aproves them) isn't it? (once pawpaw aproves them)
JimG - Wednesday, 02/09/05 11:35:14 EST
---
FOTOS--YAHOO: I have a YAHOO member-ship. I ain't about to use it. Every time I go over to YAHOO. I end up with a bunch nasty things in my 'putor'. ME and this INFERNAL MACHINE have a very precarious working agreement at best. #1 has moved all the heavy objects out of my reach. I have a recording that I punch, when I am about to trash this thing. The recording plays " NOW: HONEY DON"T LOSE YOUR COOL" that saves the BETTER HALF the trouble of monitering my treatment of this machine. GRIN(KINDA)

Sandpile
- sandpile - Wednesday, 02/09/05 13:53:31 EST
---
I'll be Broadcast on Public Radio this Weekend: I sent a note to Studio 360 on Public Radio International a month or two ago. They have a standard feature about "How a work of art has inspired me." I did a stretch (well, I guess it's a work of art) and sent an e-mail mentioning the movie "The Vikings" and how I grew interested in Viking vessels, after I saw it back in 4th Grade in 1958. (Mom thought it would be an educational movie for a young lad like me; little did she know…) I then explained how one thing led to another, resulting in the founding of the Longship Company and our many adventures with its several vessels.

Well, they called me back last week, and interviewed me for half an hour over the telephone. How much will actually get into the segment is hard to guess, but I expect we might pull at least a ten minute spot.

I know they broadcast twice in the D.C. area on WAMU at 4:00 p.m. Saturday; and on WETA at 11:00 a.m. on Sunday. (Local times and listings can be found at their website, above.) They also tend to repeat certain stories and have a story archive on their web site. This means that IF they really liked the interview it will continue to generate interest for quite some time. (…and it's a lot cheaper than a Super Bowl commercial and targeted at a possibly more responsive audience.) I hope you can catch it, but if you can't they have a play-back option at their website archives, as well as a link to the LSCo website and maybe a picture of some of our vessels.

Studio 360, Public Radio International
Bruce Blackistone - Wednesday, 02/09/05 16:32:20 EST
---
Yahoo photo site: I have a yahoo membership and use it all the time for several groups. I also have a program called "Spybot Search and Destroy", which combined with regular cookie deletion keeps the computer pretty clean, even using Yahoo.

NOW would someone give us the URL of the photo site where Paw Paws photos are posted??
John Odom - Wednesday, 02/09/05 16:58:44 EST
---
Photos: John,
The photo site can be accessed via the drop down menu in the upper right corner of this page calle 'User Gallery (yahoo!)"
Pawpaw will have to approve your access for it. (I think)
JimG - Wednesday, 02/09/05 17:16:10 EST
---
OK, I posted a few pictures of what we did today. These will all be gone by Saturday night, they take up too much room.
Paw Paw - Wednesday, 02/09/05 19:49:23 EST
---
Verbal Viking: Bruce, Congratulations. And you didn't even have to dress up for the interview!
SGensh - Wednesday, 02/09/05 19:49:29 EST
---
pics?: ok, so where do we go to see the pics spoken about? I was just getting used the the process at our beloved but now gone bvj.....
- Opie - Thursday, 02/10/05 01:19:28 EST
---
So Bruce you expecting this to result in 100% funding cut for the arts leaving more money for the Parks????

It was books that got to me rather than movies...

Thomas
Thomas P - Thursday, 02/10/05 04:50:23 EST
---
Opie:

Top right hand corner of the page, Pull down menu, scroll down to User Gallery.
Paw Paw - Thursday, 02/10/05 07:39:45 EST
---
That Yahoo photo page: I normally try to conceal my ignorance, but this time, I really need help. I can't find the aformentioned drop-down menu.

To which page should I go to look for this dropdown menu?

At the top of my screen for the "v-hammer-in" is a brown bar. On the right is a "Slack tub pup status" and below it what appears to be a drop-down. This drops down and is empty.

HELP
- John Odom - Thursday, 02/10/05 10:02:17 EST
---
John: I'd suggest dumping your cache and trying again. It sounds like you have a very old copy of the page in your cache.
Paw Paw - Thursday, 02/10/05 11:15:14 EST
---
Need Bellows Built ASAP: I work for a children's museum in Wichita, Kansas. We are building a simulated blacksmith shop from the Renaissance time period. We need to have a bellows custom made that is is 36.8 inches from its snout to its round end, and 22" wide. The radius of the round part is 11". It needs to be very durable and functional. I can go into more details with anyone interested in discussing this project. I would like to have the bellows finished and delivered by February 28. Please contact me ASAP if you have interest, information, questions, suggestions, etc.

Thanks!
Exploration Place
Cindy Stanford - Thursday, 02/10/05 13:37:45 EST
---
John: Click on this link...
User Gallery
Cindy Stanford - Thursday, 02/10/05 14:11:08 EST
---
Thanks to all. I had refreshed, AND dumped the cache before I asked for help. It works now and I have joined, pending approval.
- John Odom - Thursday, 02/10/05 14:34:17 EST
---
Inspiration; Movies and Books: Thomas: So what was the book that inspired you?

...and the rest: Did a book or other work of art inspire you to get into blacksmithing or other jobs or hobbies?


http://www.nps.gov
Bruce Blackistone (Atli) - Thursday, 02/10/05 16:39:19 EST
---
Inspiration:
I'm not sure... lots of different things, most of which I'm not too proud of (Grin). The sound of the anvil's ring was one. I also wanted to "mek a soord"... but very rapidly disabused myself of that idea when I started looking through Anvilfire and grew entranced with the pictures of flaming forges and power hammers (BoG). So I guess you could say I was inspired by several different things.
- T. Gold - Thursday, 02/10/05 17:44:48 EST
---
inspiration: Bruce,
oddly how I got into smithing was due to a faulty memory.
I read a book call Jonny Tremain when I was in 2 or 3rd grade. I somehow managed to mis-remember my whole life what the craft was that Jonny was working at. ( silversmith) So that means for about 25 years I thought it was blacksmithing and so I finally decided to get into smithing. Then I re-read the book...(grin)
Ralph - Thursday, 02/10/05 17:59:53 EST
---
Inspiration: None of the above. It was the family connection.
Paw Paw - Thursday, 02/10/05 18:01:34 EST
---
inspiration: My wife worked for an attorney who is really into old time crafts. His wood shop full of antique tools drew me in and that led to smithing eventually. After I had spent a fortune buying tools everywhere I could find them, I had to redeem myself with the wife, so I quit my Govmt job and started poundin iron. The first thing my wife said was "I'm proud of you. Now you've got a real job".
- Jeff G - Thursday, 02/10/05 18:36:04 EST
---
Inspiration: There were two (yes two) working blacksmith shops between my home and the high school I was attending. I caught the bug by stopping by and watching....and smelling the coal smoke. There was also a working smithy not too far from my grandfather's farm which seemed to be a social center for the little town, more so even than the barber shop. Then, I became interested in muzzle loading long rifles......

Ralph, I have a copy of the Disney movie version of Johnny Tremaine. It is still good entertainment.
Ellen - Thursday, 02/10/05 18:43:26 EST
---
Inspiration: This going to sound corny, but I was doing a web search on a welder I was thinking about buying and this site came up (or maybe it was the own across the street). Anyway, I started reading and thought "this sounds cool!"
Mike B - Thursday, 02/10/05 18:52:08 EST
---
Awfully quiet: Have missed something? why is it so quit around here.
- Dan Crabtree - Thursday, 02/10/05 18:55:32 EST
---
nevermind....: I didnt know that the Keith Baker Family post was always moving to the bottom. I thought no one posted since the 24th, sorry about the mix up. anyways im off to the shop.
- Dan Crabtree - Thursday, 02/10/05 18:57:06 EST
---
Inspiration:: My father got very sick when I was young,to support ourselves travelling rural ont, we worked on,bought and sold,and generally horsetraded,animals,tractors and machinery,even had a llama once.My love for tools and equipment stayed with me,building sawmills to super Hiways most of my life.Started to read about blacksmithing,got a computer and found sites like this[I was overwhelmed with the info]Havent looked back since.
crosspean - Thursday, 02/10/05 19:04:26 EST
---
Inspiration:
I hung out as a preschooler at the historical site at the end of the street I lived on then. Being a ragamuffin looking sort, I fit in well, and he allowed me to work the bellows for him. Loved it from then on. Long spell away, then apprenticed as a goldsmith in Germany in the 70's. Came back from the ARMY, went to work in metal working factories, but got it bad when a neighbor bought a rivit forge and anvil. Heard the ringing, wondered over, and that was that.
ptree - Thursday, 02/10/05 19:11:51 EST
---
Ralph & Ellen: Your posts have stirred a small patch of my memory that I haven't visited in awhile. Was Johnny Tremaine set in the Revolutionary Era. I seem to remember a Disney movie about a young apprentice involved in the war who worked in a silversmith's shop. About the only part I really remember is where he falls, spilling molten silver and thrusts his hand into it. Same one?
- Larry - Thursday, 02/10/05 19:13:03 EST
---
how we got into all htis: PPW,
My grandpa died when I was 5 and since Dad was in the Air Force we were never really around. Pity as in addition to being a farmer and a auto-mech he was a self taught smith.
Sure wish I could have really gotten a chance to talk with Papa Doug...... But in addition to the book and a few other items he sorta inspired me .

Larry you are correct it was set during that period of time. Actually one of the older appreintices set Johnny up for the 'accident'
Kinda odd how your mind can convince itself of something. ANd then find out it was a good final result with faulty input. (grin)
Ralph - Thursday, 02/10/05 20:18:36 EST
---
Inspiration: I grew up in the Philippines. Dad was a missionary Editor at a large publishing plant, This was just after the war when there were burned-out tanks and other junk steel all around.

One day the cast-iron Bull gear (18" Dia) on the big Mehlie Press shattered into many pieces. Experts were consulted and welding was deamed not feasible. Telegrams to the US indicated 6-month delivery for a new one. Meanwhile periodicals had to be printed.

The Janitor (who was also a barber and cut all ourr hair) went to the plant superintendent and stated "Mr. Leland, if you like I will make new gear for th big press." Mr. Leland said "Anatolio you are out of your mind. you can't do that, you are just a janitor!" to which he replied "Before (meaning before the war), I was a BLACKSMITH! I can make!

He did, too in 5 weeks. From steel plate salvaged from a shipyard, using mostly hand tools. He wore out a LOT of hacksaw blades and files. His gear ran smoother than the original and cost less than the replacement that finally came in 8 months from the US. The factory gear was never installed and Anatolio never pushed a broom again.

I spent hours in his shop which was built behind the printing plant. I then realized that the smith was the "king of craftsmen". And I've ben Hooked ever since.
John Odom - Thursday, 02/10/05 20:54:01 EST
---
Inspiration: I actually started out as a siversmith/goldsmith, but I mostly did forged and raised pieces because I fell in love with hammers when I was just a kid. Our family was kinda low on the economic totem pole back then and Pop did the necessary remodeling and repairing as I watched. He was happy to let us kids use any of the tools, so we all grew up with a love of DOING, rather than watching.

There was an old guy near the house that had a kind of country garage where he did auto repair, smithing and even a bit of shoeing. Line shaft equipment run by an old hit-n-miss engine and an acetylene generator in one corner. I spent hundreds of hours watching him work and pestering him with endless questions. I guess some of it stuck with me.
vicopper - Thursday, 02/10/05 21:12:37 EST
---
NEVER GOT OUT: HE HEH, Instead of getting into, I never got out. Still don't know much about blacksmithin. Buutt-- was raised on an old starve-out ranch. We did not have enough money for store-bought-anything. We made mower parts and plow-parts. Beat our plow-disc out by hand. Made the pull-bars that we broke on the old one-way plows. They are curved and have several holes in them. Gate hinches and door latches. Granpa and Dad always found something else to do, when we had to beat the edges out on twenty(cold) five disc. I never dreamed I would be beating on iron for fun. He Heh, Grin. The world is round, you end up right back where you started.BOG. All that one handed(six lbs)hammering made that bronc-riding look pretty good.Grin.

Sandpile




- sandpile - Thursday, 02/10/05 21:17:40 EST
---
Getting into Blacksmithing: Lots of different reasons - grew up in and around farms so tools & use were a given, one of the earlier memories was Dad taking me with him when he went to visit Mr. McKissick (spelling is questionable) who lived in the next town over & ran a blacksmith shop, I was probably about 5, Dad about 47, and MrMcKissick in his 60's or 70's. Became a metallurgist in college, was always interested in blacksmithing but was caught with a "fencing bug" and all sapre cash went to support that sport/hobby. Finally, had some friends in the SCA set up a forge about 5 years ago, went, started hammering & dispensing metallurgical whys to some of their questions and got hooked on doing it. Mostly weekends, and not as proficient as I'd like to be, but slowly getting better.
- Gavainh - Thursday, 02/10/05 23:16:49 EST
---
How We Got Here...:

Ralph:

Holy cats, Jonny Tremain! Not an inspiration for my blacksmithing, but I remember the book vividly, and it certainly tied in with my developing love of history. Our 6th grade teacher read it to us (~ '61) and I still remember the cracked crucible and the fact that they were working on the Sabbath, and how the fingers healed together, maiming him.

I don't think I ever saw the movie...

Some fascinating stories here.

Dan Crabtree:

Don't feel bad, I was snookered for three days by the same thing!
Visit your National Parks (this time I've got it right!)
Bruce Blackistone (Atli) - Friday, 02/11/05 00:09:33 EST
---
Inspiration: Be that I am 15 and started about a year or so ago I was inspired by video games (yah, I know it sounds really stupid.) I started working with metal when I was about 12. I use to cut swords out of flat stock and grind them with a 6 inch bench grinder. Eventually though the oxy/act torch ran out and the grinder motor burned up. Funny thing is that the torch quit running when I was making the forge. All of this was done in my families 50x50 shop. Eventually I built a forge a year later. A friend wanted a katana sword and I was going to cut it to shape and bend it. I then started my search for an anvil. My uncle has really nice anvil probally about 150 lbs or so. It sitting on the floor of his shop covered in dirt to this day because he wouldnt let me have it. However a few days later I went over to the shop and found a 120 lbs Peter Wright sitting outside, I was my great great grandfathers. I got it. The face is worn down to about 1/2 inch or so but it works great. My friend who wanted the katana saw the first thing I made and forgot about it. Well 8 months later he sees my damascus knives. Guess what hes asking for again..... haha. Well thats a somewhat short summary of my blacksmithing history.
- Dan Crabtree - Friday, 02/11/05 00:38:46 EST
---
Inspiration: My initial inspiration was a tour guide at a German castle I visited while a 9-10yo on one of my father's Army assignments in Bavaria. The guide pointed out a set of huge, like 10' long, decorative hinges on a gate and said - "This is the art a blacksmith does. He was the honest artisan, usually the most honorable, and least of a fop." Yep, that is a real quote (originally in German).

I didn't know what a blacksmith was, nor a fop. When I went back to school the following week I went to the library and looked up blacksmithing. A book by Alex Bealer, "The Art of Blacksmithing" was the perfect title. I ordered a copy through the interchange but the book never arrived at the library before we came back to the States.

I was riding in the back seat of a car, traveling through rural Kentucky on the way from Georgia to Ft. Knox, Kentucky, when I saw a man bent over putting shoes on a horse on a sign for some restaurant. I remembered the book. When I got to the base, I found the library, and again ordered a copy through the book sharing system.

Three years after first being "bitten" by the curiosity of what the art a blacksmith really is, I got Alex Bealer's book. I forced myself to read the book all the way through, without stoping and trying any of the obviously possible suggestions. By the following weekend I had a coffee can blown with a hairdryer under a car brake drum using home made charcoal from discarded pallets. My first tool.. was a Grade 8 bolt 1/2" UNC with the head flattened to use as a hardie in the hole of an old automotive lift arm. I have kept that first anvil (lift arm) and 1/8th inch thick bolt "hardie" for over 25 years.

Thanks Mr. Alex W. Bealer... I have your Third Edition on the same desk that holds this computer.
.
CCHarper - Friday, 02/11/05 00:44:01 EST
---
Inspiration?: I can't rightly say when I was first inspired. I remember asking my mother if I could build a forge under a tree out past the chicken house when I was about ten or so. Of course she said no. My father had worked in a blacksmith shop back when he was young and would tell stories of building sleds and wagons. That and all the old cowboy shows must have planted the seed, but it took a long time to sprout. I didn't start until about six years ago when I bought my anvil and built a brakedrum forge. Now if I could just find time to use them more.
- Larry - Friday, 02/11/05 01:31:36 EST
---
Inspiration: Howard Pyle---with the good pic's. Also "The Burnished Blade"don't remember the author---ran across a copy just last year or so and re-read it. The smithing parts held up pretty well now that I have been smithing for over 20 years!

I got in through being interested in arms and armour; took MatSci classes at college cause I was interested in ferrous metallurgy of blades and armour then later I met the SCA folk and they said "make your own!" and it was down the slippery slope from there...

My first smithing book was Weyger's "The Modern Blacksmith" his scrounge and improvise style fit right into my poverty---my original copy has big black fingerprints on a lot of the pages. I bought the re-print collection to have one to show new smiths.

Thomas
Thomas P - Friday, 02/11/05 06:07:34 EST
---
the trek: man this is what i needed.........reading all these stories of how everyone 1st started on the trek that never ends....i quess i started out because i wanted ta make my own blades--- was bout 14 /15 then........started grinding files on a 6inch craftsman grinder........ .my how small event change our lifes forever,,,,,,,,,,,, thanks to all that wrote those awesome postings
- peter b - Friday, 02/11/05 07:40:31 EST
---
Inspiration?: I guess you could call it that. I was 20 or so and out of work. I happened by a stable where I used to ride and the owner (the son of the owner when I used to ride there) recognized me. We got talking and I mentioned that I was looking for work. He offered me cash work cleaning stalls. As time went on I did more and more around the barn and he offered to teach me to shoe horses. He taught me to make shoes and a few simple tools like for punches and pritchels.

One day I was in the shop and got tired of making shoes so I took an old rasp and pounded it into a snake (something I had seen in a magazine). The first one was ok but not exactly what I wanted so I made another that I was really happy with. To this day the first one sits on my fathers end table and the second sits on mine. Old Bob about went through the roof when he found out I was in the shop burning up coal and not turning out any shoes. LOL

I ended up with a busy shoeing business and didn't make much other than shoes. I did make a branding iron some one wanted to buy as a christmas present and tried my hand at some custome bits a customer asked me to make but I lost my butt on both money wise. Lots of work, I didn't know what I was doing and I didn't charge near enough.

I eventually got a degree and a desk job and went to shoeing part time. When the job moved me out of state I quit all together. I kept my anvil, hand tools and shoeing box though. Several years later I married a girl who had horses so I started shoeing again. A while later and I decided I needed another forge. Since then I seem to be making everything except shoes and the garage is turning into a pretty decent blacksmith shop. This year I made a bunch of Christmas presents...door knockers, crosses, heart hooks, hoof picks ect and a guy wants me to make him a pot rack.
- Mike Ferrara - Friday, 02/11/05 08:38:56 EST
---
Inspiration: My Dad is a Orthotist(hand crafted orthopeadic braces). Worked at it for 50 years, and I grew up in his shop. Paw Paw has seen pictures of his work. I worked for him off & on for several years, but I wanted to do the police thing. So 25 years after leaving home I get this itch about smithing and decide to give it a try. I was amazed at how much metal working info came back to me from those days in his shop, once I got started. Fortunately Daddy is still with us and I pick his brain yet today.

By the way, when I first mentioned starting to forge, Dad said "why would you want to do that, that was the first task I had when I went into the brace business. Forging knee & ankle joints all day. That isnt anything but damn hard work". :)
Brian C - Friday, 02/11/05 09:48:37 EST
---
NEOSHO Spook Light: Back in the 60's, some friends and I one night, drove out on a country road near Neosho, MO, and watched a mysterious glow from where we parked our car. The glow was maybe 200 yards away, and it came and went. All kinds of explanations have been given: swamp gas; space aliens; spooks.
Frank Turley - Friday, 02/11/05 10:06:19 EST
---
Dan: It doesn't sound really stupid that you were inspired by the game; I think it commendable that you have gone beyond the game to research, and grow acquainted with, the physical and historical reality.

CC Harper: My copy of Bealer is on the shelf of my computer desk at home, too.

Thomas: Howard Pyle's "Men of Iron" was my Scholastic Book Club pick in Junior High. Too bad about the movie version "The Black Shield of Fallsworth (sp?)". I think that's the one where Tony Curtis states, in a broad Brooklyn accent: "Yonder lies duh castle of my fodder." Oh well, that's Hollywood!

Let me know if you remember the author of The Burnished Blade.

Everybody- more fascinating stories, and an interesting variety.
Go viking!
Bruce Blackistone (Atli) - Friday, 02/11/05 10:36:20 EST
---
Bruce It's "The Burnished Blade, Schoonover, Lawrence" hardback copy on abebooks for $1.25...used to carve wooden swords from palm fronds while in grade school vacations to Fla. Funny everyone in my family has a knife---if you marry in we give you a good pocketknife as a wedding or Christmas gift...

Brian, spent some time talking with a fellow who was the smith for a major hospital back around WWII---lots of add shaped splints and braces needed...

Thomas
Thomas P - Friday, 02/11/05 11:25:36 EST
---
FRANK. We lived in MO. two different times, five years each time. In the late 60's and early 70s, then from 92 till 97. It was always interesting, when the SPOOK LIGHTS, come up. The OZARKS were for the most part, settled with SCOT and IRISH stock of people. They have a certain amount of PAGON superstitions. They have several different beliefs about the reasons for these mysterious lights. Many-a-new-man, has been frowned upon for being a non-believer. Grin. I was not one of them, they can think and believe any way they want. BOG. BUUTT-- It is a little spooky when if looks the lights aare moving and circleing through the woods.

Sandpile
- sandpile - Friday, 02/11/05 12:23:45 EST
---
Johnny Tremaine: The book is excellent, and the movie is quite good too. Probably quaint by todays standards, you know all that hard work, patriotism, banding together to make a free county, but it is still one of my favorite movies, esp. when my spirits are low. It is still available to be purchased, I've seen it on Amazon.
Ellen - Friday, 02/11/05 12:31:58 EST
---
Inspiration: I read an article in the paper about the last professional blacksmith in the town I grew up in retiring. He was sorry that he couldn't find anyone to teach the craft to, and that put the bug in my head. He talked about doing restorations and that just sounded interesting.

Then, about 2 years later, another article about a blacksmith in the town I now live in giving lessons through the town's community education program. I signed up before they had the forms ready.


- MarcG - Friday, 02/11/05 13:24:44 EST
---
Chains: Recently had to tow my wife's sedan home from SantaFe about 40 mi away- part way along ,while starting up from a pullout bay, the strap broke. I spliced it together and got us home. When I went to the autostore to buy a tow chain as a replacement the salesman insisted that chains are dangerous and I ought to be using a strap.

Is this so and why? I always thought that a stretchy strap stores a long of energy and if it snapped at the wrong time could be very nasty.
adam - Friday, 02/11/05 14:06:03 EST
---
Start smithing: What got me started was Weyger's book and Ron Reil's web page. I had been making woodworking tools out of wood with cold ground blades. I learned a little bit about heat treating but forging seemed way out of my range. Weyger's book and Ron's page showed me how accessible the craft could be. In retrospect, Weygers book is not the best beginner's manual. He was an enormously skilled man and he gives his readers too much credit but he makes it clear that there is nothing mysterious about smithing. The next big push for me was when Jimmy Treadwell took it upon himself to give me a Saturday in his shop. We didnt do all that much (I got tired easily :) ) but just the experience of being in a real smithing shop and seeing how it was done gave me a big boost. Then my family connived to send me to Frank's school - probably the best 3 weeks of my life. I would do that every year had I the time and money.

So I had a lot of help - more than I had reason to expect - but that's not unusual in the US smithing community
adam - Friday, 02/11/05 14:18:12 EST
---
Re: Chains: Im no expert on this by any means but here is what I have heard. A car weighs alot. A chain is heavy and steel. When tension builds up say a link in the chain breaks or it comes un hooked the tension on the chain can cause it to fly around and possibly hit someone. However this is usally caused by careless mistakes. There was a guy around this area who was towing a big concreate truck using either a cable or a chain. It snapped and sliced on of his legs off. How ever straps might be more liable to snap, maybe not. Aparently its better to have something that flexs because it makes it easier to pull them out. I dont know any of this for a fact. This is just what I have heard and I have little experience with it.
- Dan Crabtree - Friday, 02/11/05 14:42:44 EST
---
STRAP-CHAIN: ADAM> The thought behind the strap versus chain. The chain or strap will break, either could and would be dangerous. A strap is a lot more forgiving in start-ups, won't jerk bumpers off and pop necks nearly as bad as chains. Sounds like what you need to do, is go up in size(a couple) on your nylon strap.GRIN
Chuck Bennett
- sandpile - Friday, 02/11/05 14:46:55 EST
---
Adam:
"but that's not unusual in the US smithing community"

How very true that is! I've learned a lot about the US blacksmithing community in the last week, and all of it good.
Paw Paw - Friday, 02/11/05 17:16:15 EST
---
Adam: Strap vs. chain, my .02 cents. There are different sizes and grades of both chains and straps. If you use the right grade and size of chain it will be fine, also for straps. Many folks use chains that are too small and made from inferior steel and have bad experiences. Straps can also be too small. Straps can also degrade from u.v. rays and time. Chains tend to remain constant in their strength. It also helps to drive smoothly, no matter what you are using. Personally, I think a 3/8" chain is the minimum to tow anything, and 1/2" is better. May I suggest a google of "transport chains" and visit a couple of websites like 1st chain supply(there are others) and you will see the differences in grades and breaking strengths. You can also order chains from these folk and know what you are getting.
Ellen - Friday, 02/11/05 17:57:29 EST
---
I meant to say google "tow chains"......
Ellen - Friday, 02/11/05 18:01:44 EST
---
On chains versus straps.
There are several reason straps now are the preferred item sold for towing:
1. cheapness.
2. light weight
3. stretch allows ease in starting without doing damage to the vehicles involved when unskilled operators are involved.
4. did I mention cheapness?
As a parachute rigger, we used different grades of webbing, in different amounts of layers to achieve the desired result. A parachute harness for a man MUST stretch to prevent injury during opening shock. The bridle line that connects a drag chute to an airplane or car MUST stretch to prevent the failure of the structure during opening. I have seen new bridles on F4 Phantoms snap when the drag chute was used. Thats 4 passes of 10,000# rated web, for a total of 40,000# tensile on an air vehicle that only weighs about 40,000# max on landing! Snatching a bogged vehicle requires a force much higher than the vehicle weight. I have pulled the bumpers off military vehicles with chains when they were bogged. Note that the vehicles had very heavy attachment for the bumpers, as they are designed for towbars to be used.

As Ellen noted nylon degrades from sunlight. Badly degrades. On 1.1oz./yard ripstop nylon fabric, that used in the parachutes Pawpaw used, a brand new chute will lose 50% of its strenght in a few hours of strong sunlight! the straps are thicker, but degradation from sunlight is severe, as is ozone and gasoline etc. Get a good strap, keep it in the bag it came in, out of the sun, and be careful.
ptree - Friday, 02/11/05 18:38:27 EST
---
Tow chains: Something very common here is to use 2 chains with a tire between them.
It takes a bit of timing, but if possible use the vehicle being towed to do the braking.
JimG - Friday, 02/11/05 18:51:17 EST
---
chains vs straps....: heh, when one of my cars need towing I call AAA. And let them deal with it.
But back when I could not afford AAA I used straps. And chains. Depened on what I had and also what was being towed.
Ralph - Friday, 02/11/05 19:15:06 EST
---
Stuff: Maybe 15 years ago I drove by the only blacksmith shop I had ever seen, and told my wife I'd work a week for free for that man if I had a chance to learn something about smithing. Now I go there to play once a month. But I've always worked with my hands, starting as a kid. And when I saw a notice in the paper for a 4th of July demo on smithing, I made sure to be there. Spent the whole time talking to the smiths, and asking questions. They finally put a hammer in my hand and got me to helping. Now I am friends with both, and also go to ronnyvoo with one of them.

As far as straps, I got my lawn tractor with the snowblower stuck on our hill this winter. So I had my wife pull me up with a strap hooked to the quad. So what did she do? Lit out like a bat outa you know where, never looking back. Yeah, I got up the hill, but there were a few bad words echoing about that night. At least it was a strap. I'm sure something would have broken if it had been a chain.
Bob H - Friday, 02/11/05 19:54:22 EST
---
Blacksmithing community: Adam:
"but that's not unusual in the US smithing community"
Paw Paw:
"How very true that is! I've learned a lot about the US blacksmithing community in the last week, and all of it good."

I have to chime in here.
I too, have learned much these last few weeks about the US Blacksmithing community. These days it's way to easy not to help someone when they're down, or even give someone advise. Our society has conditioned us to not to. "Don't help it may be a scam", "Don't give advise or you could get sued", "Don't do anything, it's just safer" They scream this message everyday.
Then there are the unique few who will with out reservation step out of the masses and stretch out a hand to you.
I remind my boy's everyday that the world is full of these people. I sit them down at Deb's computer and show them this site and tell them that all these people are our friends and that they are helping us, and that everything will be ok. That alone has been a huge help. That, and they still think Dad is superman. Here's to hoping they stay young forever.
Sorry for the long mushy post, but I just needed to let you all know how much your help has meant to us.
Keith Barker



Keith Barker - Friday, 02/11/05 20:40:12 EST
---
Straps & Chains: For my money, I'll take a strap over a chain if towing on pavememt and the strap is in good shape. For rough off road work give me a chain and wire the hooks down tight with light wire.
You might want to check the local regs before starting any towing job though. In Kentucky it is illegal to tow any vehicle or machinery unless there is a solid fixture between the tow vehicle and the towed one. About the only way you can get this done is thread a chain through the center of a heavy pipe and pull both ends up tight. My friend runs a little country garage and was doing an emergency tow-in with just a strap one afternoon and had made it thirty miles out of Lexington into the country. A couple miles from his shop, he was stopped by a State Trooper and informed he was performing an illegal act. He got out of it, but we are very careful about how we tow things now.
- Larry - Friday, 02/11/05 20:42:48 EST
---
BOYS: KEITH> You just keep on conducting yourself, in such a manner as to keep those boys knowing their DAD is superman, and When that grow up they will bust their butts to make their kids think they too, are SUPERMAN. Thats what is great about this 'OLE SMITHIN COMMUNITY'. We know we can do something when it needs to be done. As for you and those boys "When the going gets tough, the tough get going". GLAD!! we could be of an small assitance.
Chuck

- sandpile - Friday, 02/11/05 22:04:39 EST
---
Still More On Towing--Here in Pa. it is illegal to ride in a vehicle in tow, BUT when I was a kid, lacking in respect for law & most everything else, My friends & I towed a lot of cars with chains & cables. They transmit a lot of shock every time they fetch up after going slack, which is often unless both drivers understand how to keep tension on the chain. Nylon strap or rope will stretch 25 to 50 % before failure when new. This absorbs a lot of shock, lowering the forces greatly & if You do manage to tear it,the free end whiping around does less damage because it is a lot lighter. Those yellow tow ropes in auto stores are polypropelene, real rigging straps & slings are nylon or dacron, none of them can take UV exposure. For comparison,3/4 nylon 3 strand rope breaks at 16000#,but a lot less when wraped around a small diameter.
Dave Boyer - Friday, 02/11/05 22:54:46 EST
---
CARVING: I know this not blacksmithing but we do animals and snakes and heads. WWW.THECARVINGPATH.COM There is a man from SWEDEN---CORNEL SCHNEIDER has a intro. on this site and a link to his web-site. This is one trip that is worht the trouble.Grin
SORRY JOCK---Sandpile
- sandpile - Friday, 02/11/05 23:57:02 EST
---
John, that was a GREAT story. I had heard other accounts of the Filipinos' prowess as very resourceful smiths and, mechanics in general. My father, who was an aircraft mechanic at Clark Field, told me long ago of the native men who made guerilla weapons, even some full auto, from scrounged parts and materials.
- 3dogs - Saturday, 02/12/05 00:03:30 EST
---
I use old rock climbing rope for occasionally towing cars. It is very strong and stretches just the right amount. My climbing gym goes thru about 6,000ft of it per year so I always have some around. Great for lashing down loads in the back of the truck too.
- dief - Saturday, 02/12/05 00:20:39 EST
---
Towing & pulling: I've seen broken rigging straps, chains and cables. Any of them can break under the wrong conditions. The big difference from a safety standpoint is the relative masses of the different load lines. A nylon strap whipping around after breaking under 3,000# of load has waaaay less energy than a 1/2" proof coil chain that broke under 30,000# of load. The nylon will undoubtedly bruise hell out of you if it connects as it whizzes by, but that chain will clean your head right off your neck without even slowing down. Makes you stop and think, doesn't it?
vicopper - Saturday, 02/12/05 03:02:57 EST
---
Keith Barker: Speaking for myself, I'm happy to have the opportunity to help you out any way that I can. Doing so does me at least as much good as it does you, you know. If there is anything else we can do besides what we're already doing, just ask. Please.
vicopper - Saturday, 02/12/05 03:08:30 EST
---
Homemade Forges and Trailers: I've been on the road for a bit -- a drive from Idaho to upstate New York, and finally got back online.

First comment is on home-built forges. I once found a rock-saw table built of heavy plate, with two upright arms that made great supports for mini-cranes for supporting long stock. A bit of torch cutting and a Centaur firebox, and I still use the darned thing today.

Regarding trailering a heavy load, I just finished a 2,600-mile trip across the country, dragging 17,500 pounds behind (and on top of) a 1966 International Harvester 1-ton flatbed (and the truck had 315,000 miles on it at the beginning of the trip; the engine has never been touched). Don't try that with the 2005 Dodges, folks -- you'd blow a tranny or rear end or something. I actually had the whole mess weighed at a truck stop in Wyoming -- 23,700 pounds, with the old truck weighing nearly 6,000 empty. I do have to admit it sucked crossing the Continental Divide in granny gear. Also, I learned a few new hand signals on the New York Thruway for going 40 in a 65 zone. You Easterners aren't very polite. Out West, we simply shoot irritating obstacles.

I'm in upstate NY now (also known as Hillaryville), and would love to run across a few local smiths. Y'all are more concentrated in this part of the country than out west.

Nice to be back online, and to read the boards. This site is a literal goldmine of information.

AK

AK_ID - Saturday, 02/12/05 10:36:35 EST
---
Inspired: When I was 14, I went to a family reunion in Waynesburg, Pennsylvania, on the old Pratt farm. While all the adults were shooting the breeze and the kids were playing, I found my way into the huge barn on the property. One portion of the barn contained a complete ol' timey blacksmithing and horseshoeing shop. I was enthralled and transported into another dimension; I actually "felt up" most of the hand tools. An eidetic time.
Frank Turley - Saturday, 02/12/05 10:48:46 EST
---
Keith Barker: I'll try to chip in a few dollars Monday. I admire Keith for his efforts as a single dad -- I did the same for more than 17 years, and it ain't easy. Any man who stands by his kids is admirable in today's world. God bless you, Keith. Your kids will honor you in later years for being a good dad (please expect some trauma in their teen years, but they get over that in time). By the way, I'm in Amsterdam now, not too far north and east from New Berlin. If Keith owns his property, maybe some of us could get together to help frame up a new home? Just an idea.
AK
AK_ID - Saturday, 02/12/05 10:54:24 EST
---
chains: Thanks for all the comments on this issue. In light of what has been said, it seems that a properly rated strap in GOOD condition is the right way to go for me. The strap that failed had been lying in the back of the PU truck cooking in the southwestern sun for many months.
adam - Saturday, 02/12/05 12:42:18 EST
---
Towing: No matter what is used (chain, straps etc) it is prudent to use the proper material for the stress involved. If you have a failure, it is most likely because you did not take something into account.

Chain failures are most likely related to twisting, kinking, abrasion, bad connections, or using too light weight a chain for the job at hand.

Plastic straps are available in many strengths and configurations, but you will not find heavy duty, or industrial duty straps at WAl-Mart or the auto parts store.

Cable or wire rope is a option, but only if you choose a configuration, size, and strength proper for the job at hand. The way the rope is terminated on the ends has a major effect on the load strength. Thimbles are a must.

No matter what device is used, ALWAYS check it's condition before it is used. Stretched links, abrasions, frayed strands, etc are indications that the strength of the material is compromised.

Failures in pulling situations should not be the norm or even the occational occurances. Failures should only be very rare, with NO failures being the objective.

Just make sure that everyone goes home safe at the end of the day.



BTW, Overhead lifting is a whole 'nother critter.
- Conner - Saturday, 02/12/05 20:00:43 EST
---
Pulling Safety: I've broken straps, chains and cable in pulling situations. All of them store elastic energy and ALL of them can cut you in half. And it happens so fast, you have no time to react.

While I agree that straps are generally far safer, we know a guy who was in the wrong spot when a strap come off one vehicle pulling another vehicle out of the mud and the strap took his leg off right below the knee. They sewed it back on, but had to take it off a year or so later because they couldn't get the pain under control. And they were standing off to the side. Just not far enough off to the side. Be careful with ANY stored energy.

That said, I use strap for almost all tows and pulls. Bought some military 6 layer nylon strap from the surplus place. 60 feet long for the real heavy pulls. Great setup. 360 continuous feet of strap wound around big pins on the ends with sewn collars to hold it together. No stress risers like loops. The splice is in the middle. Same place had 300 foot rolls of good 1/8" by 2.25" nylon. Have 5 of those rolls left. We go through a lot of strap playing in the mud. As has been said, keep it out of the sun. Also keep it clean. Mud and dirt in the fibers act as an abrasive and wear down/through the fibers. When it's not supple anymore, derate it or throw it away.

For something the size of a pickup, the strap should be at least 3 inches by 1/4" if there is any chance of a jerk.
- Tony - Saturday, 02/12/05 21:20:25 EST
---
Inspiration: The first forged work that really caught my eye was the "flame" finial atop a fence we used to pass riding in the car when I was just a kid. This was the sort of zig zag tapered end of a bar passing through the horizontal member of a fence. It may well have been around a cemetary. As time went by I found myself looking at forged and cast decorative metal work more and more. As it turned out I found myself in the business of fabricating metal in addition to doing woodwork. Eventually fabricated metalwork became the primary part of my business. I found that I could not accomplish everything I wanted to do with metal just through fabrication so I started heating steel with my torch and beating it over an improvised anvil. Once I started there was no turning back and though I'm only a poor smith I've acquired or built many of the necessary tools and I've been practicing for years in the hope of one day being able to approach competence in this craft. It's a pursuit I expect to take the rest of my life.
SGensh - Saturday, 02/12/05 23:15:07 EST
---
SWBA MEETING: FRANK> How was the meeting. Did you make it??

Chuck
- sandpile - Sunday, 02/13/05 00:16:16 EST
---
INSPIRATION: My cousin and I thought it would pretty neat to fire up the coal forge in our GRANDADDY'S small shop (8'X 12'), which was attached to the barn. We lived 20 miles from the fire dept. A windmill does not pump much water. We had the green and black smoke a-rolling-out the door of the shed. Mom looked out the window and saw the smoke. She ran to the shed, reailzed what was going on. She grabbed a bucket of water, we had setting there, doused the coal fire. She then inspired us boys with elm switch. We agreed with her that we would never do that again.

Sandpile
- sandpile - Sunday, 02/13/05 00:30:53 EST
---
Little Giant: I am looking for information on a base for a 25 lb Little Giant. What is recommended for sound and pressure?
Thanks,
Dan
www.whitehartforge.com
Daniel - Sunday, 02/13/05 00:35:48 EST
---
My, this turned into quite the dissertation; I've certainly learned a lot! What a wonderful medium we have here.

Some final thoughts for what they are worth.

Ralph made an excellent point. AAA provides towing service, and many insurance policies provide this service also. This is often a good alternative for several reasons. If a quick stop is required, it makes no difference whether you are using strap or chain, it can be difficult. Also there is the matter of legal liability, especially in an urban environment. Finally, if you are towing a vehicle with an automatic transmission, it doesn't take a very long tow before the transmission of the towed vehicle can be burned out. Those are the reasons commercial tow trucks tend to winch
- Ellen - Sunday, 02/13/05 06:02:40 EST
---
Towing: Lost the header and end of my post, so here goes:

commercial tow trucks tend to winch "towed" vehicles up onto a flat bed and proceed with the "tow".

In a rural, hunting or camping environment, a lot of folks carry a stout chain and a "come-along". With the use of a handy tree or a parked vehicle a mired vehicle can often be eased out slowly, and there is an opportunity to monitor the process to reduce the risk.

Finally, again in the rough environment, many failures are due to dead batteries. Lead acid batteries degrade, building up residue on the bottom, and bouncing around can complete the short. I personally use a gel battery, an Optima (available at Costco and other distributors) which helps to reduce this problem. Also, the gel batteries give you some warning as they age....you get the slow down in starter motor speed, not the complete "click" failure with a lead acid battery. In hunting and camping situations, a "jump pack", also available for about $50 at Costco (and other suppliers) is nice, as it will start vehicles which don't want to be jumped by another vehicle. Once running, the alternator provides enough juice to keep going. These units often have a built in air pump, which has some good uses as well.

Your mileage may vary....but be careful! I'm sure others here can elaborate on this aspect of the topic if there is any interest....
Ellen - Sunday, 02/13/05 06:12:33 EST
---
pulling and winching: when winching pickups out of the mud, we always throw a heavy jacket on the winchline (the coat of the stuck person usually works best). If the line breaks, it folds itself in half over the coat, cuts down on broken windshields.
mike-hr - Sunday, 02/13/05 14:23:36 EST
---
little giant base: I have a 50# Little Giant and it sits on a base of 4 6x6's with two bolts running crosswise through them to hold them together, hammer lagged to the base. 4 inch concrete floor underneath
Been using it like this for 2 yrs now with out any problems
- Jeff G. - Sunday, 02/13/05 16:04:24 EST
---
test
Ellen - Sunday, 02/13/05 16:13:09 EST
---
Car Starting Methods : This story was told to me by my mother and father.In the early 60's my father running late for an apointment,or work,found that the starter had gone on his car,he had battery power but no starter.Now it being an early automatic car,it could be push started if you could get it going approx 30 MPH.He came in the house and proceeded to explain the situation to my mother, asked if she thought she was up to the task,and would she get her car and help him on his way.Mother agreed and dad got into his car,she lined up and dad looking in his mirror braced for impact.Now in my mothers defense,she always admitted to thinking that 30 MPH was a little fast,and only hit him at about 15 mph.
crosspean - Sunday, 02/13/05 20:33:59 EST
---
I used to work in the oil patch where connections were usually done by "throwing the chain". Saw the chain break once, by the grace of God it was a cold day in the dead of winter and the fellow it hit had enough layers on it didn't do more than break a bunch of ribs. Accidents where you talk of hook weights over 100,000 pounds and hp over 4K and heights over 90' are often more the "clean up with a hose and get back to work" kind. Getting into the sites taught me to keep 20' of log chain, 40' of wire rope with loops on both ends. a heavy duty comealong, a chunk of pipe and a sledge handy in my old ex phone company van; could usually get it out of anything I got it into but it would take a while...Finally wore my comealong till it was getting stupid to use it; so I bought a new one and used the screw press to make sure I wouldn't be stupid....again...

Thomas
Thomas P - Sunday, 02/13/05 20:47:26 EST
---
lonesome shop tools: THOMAS P.> Tis-a-shame, that you are back so soon. I run several different plans through me head. Buutt> cou'nott come up with a good one. Skunk in the house. Power-outage.
Alas ye tools WERE still safe.

- sandpile - Sunday, 02/13/05 21:35:29 EST
---
How to build it: I've been taking a few classes on blacksmithing, so i've had a little exprience. I'm about to go out on my own with this and i was wondering if anybody had any pointers for the kiln? shape, what I should aim to burn? if any of you have any suggestion or opinions please contact me...

Ookamiashi@yahoo.com
Jason (Bullet proof) McKairnes - Sunday, 02/13/05 22:00:20 EST
---
Kiln?: Jason, what do you need a kiln for? Are you going into ceramics? Gonna heat treat flint for knapping or gonna temper your steel in it?
Bob H - Sunday, 02/13/05 23:52:32 EST
---
Blacksmiths in South Africa: I am very interested in blacksmithing. I would very much appreciate it if someone can give me some info regarding studying the trade in South Africa. I've searched and have co far come up empty, until this website. Any info or tips would be greatly appreciated.
Blessings,
Ez
- Ezmari - Monday, 02/14/05 00:09:03 EST
---
Ezmari:

There are at least two other blacksmiths in SA, Bertie Rietveld and Tom Nelson. I'm not sure where they are located, and at least one of them has had some serious health progblems. They were trying to start a SA Blacksmith's Association at one time, I don't know what ever happened to the idea.
Paw Paw - Monday, 02/14/05 11:25:03 EST
---
Jason ; take off your Al foil hat---I'm having trouble reading your mind as to what you plan to do with the forge and so don't know if I should advise you to make a 1 soft firebrick forge and use propane or to dig a 10' long trench forge in the back yared and burn charcoal.

Some info on your area, (cities have a liking for propane or charcoal forges, in the country coal is OK---most places) might help too as your fabricating skills and equipment.

Thomas
Thomas P - Monday, 02/14/05 13:31:50 EST
---
For those of you who are farriers, Could you give me some Idea of what it would take for a blacksmith to become a professional farrier?
dragon-boy - Monday, 02/14/05 13:31:58 EST
---
Dragon Boy: I speak only as a horse owner who can, if absolutely necessary, get a shoe or two on my own horse. The hardest part, in my opinion, is working with the horse, and trimming the hoof. You are working under a large animal, who probably does not know you, and so you have to have a good interaction, and also keep the horse from "leaning" on you.....you get tired fast if you try to muscle the horse. Trimming the hoof takes practice, knowledge of the equine foot structure, and practice, as well as good (very good) properly sharpened tools.

Might I suggest finding a farrier in your neighborhood and making a deal with him to ride with him for a couple of days, pull off some old shoes from a horse, watch him trim and work with the horse, and fit the shoe to the hoof. Then, if you are still interested, there are schools available where you can learn more.....just seems like you might want to "test the waters" before you invest money. I am sure others here, who have much greater knowledge, especially those who have farriers, like Frank Turley will provide you with more information....

As a blacksmith, you will start with a good advantage in knowing how to shape the shoe and work with hot metal....
Ellen - Monday, 02/14/05 14:27:12 EST
---
Farrier Qualifications: ...and you need good knees. I had a friend who took the course at the college in Kentucky (memory fails) and was in the business, and did nicely at it too; but his knees gave way within a couple of years and he went into aircraft mechanics.

When folks ask if I do horses, my stock response is that that takes a farrier, which is a person with real talent with horses. As a Viking, we just consider a horse another food source! ;-)
Visit your National Parks; Grant -Kohrs Ranch Blacksmith Shop
Bruce Blackistone (Atli) - Monday, 02/14/05 16:00:10 EST
---
My stock reply is that "Horses are bigger than I am and dumber than I am---and that's just too scarey a combination for me!"

Funny thing, I stopped by a friend's place of business---restaurant and tire repair (for real!) and was sitting out in the sun, breeze makes short sleeves just a tad cool when sitting in the shade, and we were talking, no customers of either type in at the moment and he mentioned that up the road a-ways there was a bentonite pit, pay a couple of bucks and fill up the pick up. He also mentioned that one of his friends had checked and the abandoned coal mines still had a lot of good hot burning clean coal you can pick up and across the river is the iron ore deposite (goethite) and right up the road 2 miles is the pearlite mine---didn't know about any of this when I accepted the job down here but *someone* seems to want me to smelt iron...

Thomas
Thomas P - Monday, 02/14/05 17:56:36 EST
---
Thomas: There are lots of interesting mineral sites near Socorro. Just don't get a craving to collect smithsonite from the Kelly mine at Magdalena unless you work out something with the owners.
Ellen - Monday, 02/14/05 18:58:53 EST
---
Dragon Boy: Living in Central Kentucky, I am surrounded by horses. I know a farrier or two also. One trims and shoes at several farms around the area, thoroughbreds that is. The best description he ever gave me of the profession is ( It's the only job he knows of where you work all day with your butt higher than your head waiting for something to kick you between the eyes.) The knee problems are also very real. He has already had his operated on.
- Larry - Monday, 02/14/05 20:30:46 EST
---
This one might be a little late considering its 9:38 PM on valentines day but anway here is how I make my roses. Its a combination of 2 methods. In the I forge section of this website there is a demo for a russian rose. I use this for the interior petals. I then use a layer of sheet metal cut to look like the exterior rose petals. I cup it up, weld in the interior pedals. Add a stem as you prefer and your good to go.
- Dan Crabtree - Monday, 02/14/05 23:39:34 EST
---
Farrier Knees: About thirty years ago I used to cold shoe my own horses. My back gave up long before before my knees got sore!
Big A - Tuesday, 02/15/05 06:25:58 EST
---
on the career change: Thanks guys. I came to the sudden realization yesterday that I am very disatisfied with the corporate job I have and while I'd love to become a professional blacksmith, I know that i don't have the real skills there to truly shine... Let alone support the family! I had the thought flit through the attic that perhaps I could still do something with hot metal and that ofcourse led to farriering. You've all given me some food for thought, and I have requested some info from the more local horse schools. I don't do anything lightly and this truly will take a lot of prayerful thought.
Thanks again,
Joshua Langfitt

dragon-boy - Tuesday, 02/15/05 09:33:22 EST
---
farrier skills: While some blacksmithing skills are very useful to a farrier the main focus of a farrier is the horse. Today many farriers do very little forgework. Those aren't the best ones in my opinion but you can buy lamost anything ready made. First you need to be something of a horsemen/lady in regard to handling them, anatomy, gaits, pathology, injury treatment and so on. After all that it's of course very handy to be able to turn a nice shoe or build some of your own tools. It's phisically hard work and the question isn't whether or not you'll be injured but rather when and how bad. There's really only a narrow overlap between the skills of a blacksmith and those of a farrier.
Mike Ferrara - Tuesday, 02/15/05 10:42:46 EST
---
Career change:: Joshua: I take it from your post you are asking for opinions so here is my 2c.

I am a strong believer spending my life as I see fit and not as others tell me too. You only get the one ride and there are no refunds at the end if you are dissatisfied. That said, let me make some points for the "con" case.

Hobby or part time smithing supported by a "real job" is a very good deal. (A real job is where you earn a decent living without having to work too hard). You get to do what you want when you want and your job will pay for most of the toys you need. If you are just not into it this month or you decide to shift to copper smithing, repousse or even farriery its all up to you. If you take into your head to build a replica of the Eiffel tower but with forge welds instead of rivets, well thats your bidniss.

On the other side. You will be on a treadmill. There is rent to pay and perhaps wages too. You may have fancier toys but there will be loan payments to make. You will have to turn out what your customers want and they dont know the difference between a forge weld and epoxy. You may find yourself filling an order for hundreds of flamingoes plasma cut out of 1/4" plate and spray painted hot pink when really you are dying to work on your Eiffel tower. What happens when your back goes out or you develop tendonitis in your hammer hand? You will work any way because you must and possibly ruin your health. Farriery may be different but many smithing shops find that to make any money they have to hire help and you end up managing workers and doing paperwork when really what you wanted was to swing a hammer. In any case your success will have as much to do with your business skills as it will your craftmanship. You may find this has become a poorly paid version of the corporate job that you tried to escape. Turning pro can be a way of transforming something you love into something you hate.

Not to say that it has to be this way. There are people in this forum who have made a success of smithing as a business and love what they do. Just to say you should think twice and look hard because things often seem more attractive from afar.
adam - Tuesday, 02/15/05 11:51:23 EST
---
Joshua; how tall are you? Folks I know that lasted longest at the Farriery business tended toward the powerful build but not very tall---less back problems.

Really I would say that if you are not already involved with horses you have a long row to hoe to get to be a *good* shoe'r

Thomas---off to Estrella tomorrow!
Thomas P - Tuesday, 02/15/05 12:08:01 EST
---
Well as I said folks, I AM in a research mode! Ya'll have been very helpful. Adam hit on my biggest fear in that I'd get into this and come to hate what I used to love doing. Mayhap I should just seek out a better fitting (read better paying)job. Ofcourse that too would only succeed in less time at the forge for play....... Either way I go it's a long row Mr. Powers.
dragon-boy - Tuesday, 02/15/05 14:07:10 EST
---
Blacksmithing Career: I also was woundering about turning blacksmithing into a career. How would one go about doing this. Im not serious about do this, im only 15 and have about 1 year of experience but it has crossed my mind from time to time. Ive already got a large 50x50 shop and many of the tools required. The only thing we really dont have is a plasma cutter, I ussally just use a diegrinder in place of a plasma cutter. What would the normal project be for a full time blacksmith? Railings? Artistic blacksmithing? or whatever comes up? Ive just been curious about this myself.
- Dan Crabtree - Tuesday, 02/15/05 14:46:17 EST
---
Johsua,
I might say that for now keep the bread earning job, BUT start working your butt off to learn more about smithing and get you skills to a point where you might feel more capable of doing it for a living.
This way you can find out fairly quickly if you are in fact suited for this. Just my wooden nickles worth
Ralph - Tuesday, 02/15/05 14:51:58 EST
---
Are you skipping school too?
- Bjorn - Tuesday, 02/15/05 14:52:43 EST
---
Dan what *type* of full time blacksmith? Depending on the type is what they would consider a "normal" project. From the ones I know the answer would be "do sculpture" "Make Knives" "Ornamental work" "Teach blacksmithing"

I had the luxury of serving as an apprentice to a sword maker for a year and learning that I loved the craft as a hobby but would not be happy doing it for a living---working with the devil spawned end users for one thing...

Thomas
Thomas P - Tuesday, 02/15/05 17:20:09 EST
---
ThomasP,
come on say what you really think of the end users of mordern swords!

Ptree in the land of big camelbacks.
ptree - Tuesday, 02/15/05 17:37:46 EST
---
Skipping School: Haha, no not today. I was in computer graphics when I made that post.
- Dan Crabtree - Tuesday, 02/15/05 17:38:02 EST
---
power-hammer: this power-hammer is for sale.
Infos here:
http://www.soluquip.com/hammer_forg...5kg_ref1081.htm

It was buid in the 50-60'S not sure. A Hammer from France, it was considered the french Beche.
For questions or more infos, please e-mail us.
Thank you.


- Antoine - Tuesday, 02/15/05 17:56:17 EST
---
ptree: ptree email headed your way.
Ralph - Tuesday, 02/15/05 18:19:15 EST
---
Smithin' for a living:: Well, if'n ya wanna smith for a living, not only do you have to have the skills and tools of a good smith, but you are going to need some great people skills. Can ya sell ice to an Eskimo? Can ya do accounting? You've got to be able to accuratly estimate a job for materials cost, as well as labor costs, as well as a time table for completion. Or if you were to only sell completed goods, you better have just what the buying public wants at that time.

Me, I got a day job. Smithing and knapping are my fun hobbies, that I do when I want, and make what I want. Works fine for me.
Bob H - Tuesday, 02/15/05 20:37:34 EST
---
Farrier Skills: My Brother-in-Law,Charley Force, who is a fair hand with a horse, reminds that if at all possable to leave your teeth in a coffee cup on the pickup dash board. Claims that it keeps down the overhead. BOG
habu - Tuesday, 02/15/05 21:17:17 EST
---
Project Ideas: Today my dad went out to the welding supply house and picked up some bar stock for me. I made a mistake and wrote down I needed 2 x 1/4 inch bar. Its some pretty heavy stuff. Any Ideas for what to make out of it. Im working on a medieval style strap work hinge. Any other Ideas what it would be good for?
- Dan Crabtree - Wednesday, 02/16/05 00:40:25 EST
---
Hinge Stock:
Dan, 2" by 1/4" is perfect for HD strap hinges. . . especialy if you are splitting it for medieval type hinges with scrolls. Yes, it IS a lot of work to do by hand (they were and are). 2 x 3/16" works but is a little light at the hinge end. The real thing tapers in thickness to about 1/8" from flattening to make wider ends. It is also the right size for plates to go behind door pulls. Chamfering the edges makes it look thinner. The thickness is needed when using flat head screws unless you are using very small screws like on modern hinges.
- guru - Wednesday, 02/16/05 11:44:11 EST
---
Making a living smithin':
The problems of the artist blacksmith are the same world wide. I found in Costa Rica that virtually every building had a significant amount of ironwork in fencing, gates over doors and window grates covering every opening. But 99.99% is fabricated, mostly plain bar arc welded together. For a smith to sell forged work he must demonstrate that it is much more beautiful than the welded work AND produce it efficiently enough to compete with the non-forged work. This is REALLY tough in a country where there are thousands of farbicators in competition with each other working as efficiently as possible already. In the pricing competition they have gone to using thin wall tubing, pipe and 3/8" bar (instead of 1/2" and 5/8"). Not very secure but it is what the customers are willing to pay for.

They also have the same problem we have here, the component folks are moving in giving the fabricators the advantage of forged pieces that are mass produced (sometimes not very well). The Italian components are now manufactured in Mexico to take advantage of the low wages and non-existant benifits and saftey rules. . . China will be next.

SO, even in this custom hand craft work you must be so efficient that you can out compete slave wage, EVEN in the countries where you can hire people at a couple dollars a day. This means hydraulic ironworkers, power hammers, the best welding equipment AND the skill to setup and use them efficiently. You cannot just be an artist.

All the customer often sees is the silouete of the work not the texture and joinery. You really have to SELL that quality of workmanship that the customer does not understand or see. And in the end you must still compete with an inferior product. It is tough and many fail at it.

It helps tremondously to have architects and builders sell your work as part of the contruction of a building. However, you MUST perform, late delivery is not tolerated. That is the advantage that the fabricators have. They do not waste time on artsy designs or setup. They take the pieces and put it together and are DONE. So not only must you compete in costs you must also compete in TIME. YES, you can often sell the point that superior work takes longer but you MUST deliver.

Sadly it is this point that loses many jobs for the artist blacksmith. Historicaly we have a reputation in the industry for delivering late, needing repeated materials payments and extensions. If you cannot produce the work, do not have the operating capital, then don't take on the job. OR if you have the job sold, find another shop that can help you complete the job on time. You may APPEAR to make less money but in the long run delivering on time will bring more jobs.

If all this seems harsh it is not, it is LIFE. Do not get into architectural work unless you can produce. There are lots of other areas you can do ironwork in that is not quite so demanding. Furniture is a great market and usualy the only deadline is your own. Lighting fixtures are also a good business but have the technicality of usualy needing to be UL and or CSA approved. Firetools and hardware still sell but there is a lot of competition in the field. And to make a living making relatively small items you need an outlet like a big chain store or catalog operation . . and with those come production schedules and delivery deadlines.

Being the proprietor of a one person operation is tough. You can only blame yourself for the failures. Most of us end up working much longer and harder to make less money than we would working for someone else. . .
- guru - Wednesday, 02/16/05 12:16:20 EST
---
Inspiration: Odd thing. Grew on a farm in SoDak, Dad and Uncle did farm welding, I never really took an interest. Got to college, never really thought about it. Then I come home one Easter ('91 or '92) and a buddy of mine (who was taking a Blacksmithing class for a Mechanical Agriculture degree) wanted some help with his homework. So, I wandered over and we spent 6 hours messing around with this little brakedrum forge (6in across, tops) and a 40# anvil.

Unbelieveable amounts of fun.

So, I started collecting books and planning (living in the big city without a garage, tends to dishearten). Found out about the local guild and things have gone up from there.

One of these days I expect to make something worth showing people . . . could happen. ;-)}
Escher - Wednesday, 02/16/05 12:17:32 EST
---
Making a Living: Dan, if you are serious about making a living as a blacksmith, you need to do a lot of studying. I know, lots of people think by doing a manual craft, you can get away from the academic stuff, but it aint really true.
To be the owner of a blacksmithing shop today, you need a lot of tools, for sure- as the guru says, hydraulic ironworker, power hammer, and lots of welding gear- tig, mig and stick, are the bare minimum. I know a lot of pro smiths, and while there are a few who still mostly work by hand, the vast majority have 100 grand worth of equipment.
I would reccomend studying the guys who are making a living. One good way to do that is to read the anvil's ring- it has a lot of articles about the high end, professional smiths. And Abana conferences also often have a lot of the pros hanging about.
There is a graduate degree program at Carbondale- Southern Illinois University- in blacksmithing. I have met a lot of the grads, and many of them make their living as blacksmiths.
There are a lot of niches in pro blacksmithing- architectural ironwork, public art, toolmaking, knives, metals manufacturing (like Daryl Meier and Phillip Baldwin) Industrial blacksmithing, historical recreation, making small items like furniture and candlesticks.
There are paying jobs as a blacksmith employee- you dont have to be the boss, or a one man shop. Here in the west coast, I can think of 20 or 30 shops that employ 1 to 5 or more smiths. But they want skills. Carbondale grads get snapped up. And you need to be willing to move to where the work is, which is usually where the money is. And those areas arent cheap. Places like Napa Valley, or NW Washington, seem to have lots of larger working shops. And there is always the big dog- Stone County Ironworks, in Arkansas- although they are down from their peak of over 100 employees, they still have something like 60 people working there.
If you study blacksmithing, at lots of workshops at places like John Campbell, Penland, Peters Valley, study history and art, study welding, machining, and business, and then work for some pros, there is a good chance you could make a go of it. All of which takes time and dedication.
But just hang out a shingle, in a medium income rural area? I kinda think that would be one tough row to hoe.
- Ries - Wednesday, 02/16/05 14:37:22 EST
---
Charlie Force: Habu, The one and only Charlie Force who used to shoe horses in the rundown Los Alamos "horse area"...in the 1940's? Charlie regaled me with hilarious shoeing stories in 1970 at Fairview Hospital in Española, New Mexico, as my second son was being brought into the world. He moved up north soon after our meeting.
Frank Turley - Wednesday, 02/16/05 23:37:11 EST
---
Making a living: Dan, it's not blacksmithing, but there is a steady though not great demand for metallurgists. Depending on where you choose to go you have the option of playing around hot metal - forge shops as where Patrick works, or other options - I currently work in quality in an iron powder plant. (Also seriously thinking of finding a more directly metallurgical job.) Requires an interest in science, computer skills such as using Excel, Word, databases, etc. and an interest in solving problems/controlling processes. Usually a lot of people skills involved as well. Pluses - pay is decent, you get to work around metal (preferably ferrous from my viewpoint) negatives - you are tied to a business.

On the neat equipment side, I can say I was the process engineer for the largest vacuum furnaces in the world for about 4 years - 150 feet long, and 14 feet in diameter. Made some changes to the process that improved them and improved the products they produced. They're have been plenty of times when the jobs were a real drudge too.

Note - just a talking/thinking point for someone thinking of college/career. Metallurgy has been good to me, and blacksmithing is fun & I can usually figure out what I did wrong because of the metallurgy.

I suspect QC & Patrick can say much the same.
- Gavainh - Thursday, 02/17/05 00:31:43 EST
---
metalurgical degrees: Also one of the best bladesmiths had a Metalurgical degree. A PHd to boot. I imagine that Jim H uses his knowledge to produce the best he can. (smile)
Ralph - Thursday, 02/17/05 12:48:53 EST
---
Linux: Is anyone here familiar with Linux? I'm trying to learn, just to get away from Microsoft's monopoly. This is posted from my Linux machine.

If you can answer a few questions mail me
John Odom - Thursday, 02/17/05 20:17:27 EST
---
Folks,
for some odd reason I did not think of doing something untill tonight. I did a google seach on my son.
And I found an article with him in it.
http://www.military.com/NewsContent/0,13319,FL_battles_112504,00.html
First off I am not certain but I am fairly sure that in the pic at the top the 3rd Marine from the front is Nathan.
www.military.com/NewsContent/0,13319,FL_battles_112504,00.html
Ralph - Friday, 02/18/05 01:36:17 EST
---
Charlie Force: Frank, Charle ran the Goodwin quarterhorse ranch for a number of years in pojoaque and wrangled for the Mundy ranch before that in Chama, he can spin a tale, if he's done half the things he says he has he would be be a legend in his own time. For ten years he was the rodeo announcer at the mescalero apache indian reservation in ruidoso. He and Gen are living in TorC after 20 years in utah. in 1970 he must have been at the hospital for the birth of Karen she just had her second baby last thursday.
habu68 - Friday, 02/18/05 02:29:29 EST
---
Demonstration Clothing: This April my friend and I who both blacksmith are going to do a demonstration at an elk meat sale. Its the same weekend as the randayvoo (SP?) and its right next to the place. I wish I could attend the randayvoo, I might stop by on break or something to visit some of the blacksmiths there, so if your an IL blacksmith keep an eye out for me. Anyway. What clothing do you ussally wear for demos? Its not a period things so I dont have to do anything to out of the ordinary. Yet, I dont want to be standing out there blacksmithing in baggy jeans and a tee shirt like I normally do. Aye, talk about looking out of place at the monthly hammer ins (ahhh, the pains of a young blacksmith) Also what do you do about saftey glasses? I tend to look stupid wearing them but i would rather look stupid than not be able to look at anything at all. Is there another option? Well, the place is near fort de charters in Illinois. The guy who is in charge name is Dale, cant remember his last name right now. Its great elk meat, and many other things, they might be selling antlers for you knife makers who need some handles. Hopefully some of the nearby blacksmiths can stop on by if your in that area.
- Dan Crabtree - Friday, 02/18/05 03:05:15 EST
---
Safety Glasses:
I'm nearsighted. My normal wear "safety glasses" for operations that don't generate lots of particulate stuff are my eyeglasses. Their lenses are made of polycarbonate plastic. Sound familiar? It's the stuff that's in bulletproof windows. Good stuff. If I'm cutting with anything, grinding, whatever, I either wear a shatterproof face shield or a pair of safety goggles with vents. For forging, eyeglasses are fine -- if something comes that close to my eyes I usually have other concerns. If I'm going to be doing something dangerous I'll put on safety glasses.

So in summation, usually my eyeglasses are my safety glasses for forge work. You should be able to find some folding safety glasses (as opposed to goggles) that will do fine for you without looking too stupid. It may help to think of how you will look without eyes, as you mentioned. (Grin) Consult your local hardware store/welding supplier.
- T. Gold - Friday, 02/18/05 03:29:57 EST
---
Dan, I know smiths who wear shorts and a halter ( woman) and not much else. But I personally wear long sleeves and levis or other cotton work pants. ANd boots.
Ralph - Friday, 02/18/05 03:30:19 EST
---
glasses and forging.
Well I am fortunate in that I do not wear glasses....yet( I am a young man still... only 44)
But I do wear safety glasses. My preference are for glass lenses. Polycarbonate is good for impact but if you do much welding then you WILL get scale and molten flux on them and even glass scars but MUCH less than plastic
Ralph - Friday, 02/18/05 03:34:23 EST
---
What to Wear?: Generally, for civilian gigs I wear heavy blue jeans and a long sleeved shirt, wool in winter, cotton in summer, and avoid melting polyesters. Add high leather boots, leather apron, gloves, and safety glasses. In the summer I sometimes wear a wide-brimmed leather hat (a good place to park the safety glasses) and a cap in the winter.

(In the forge, though not in public, I add a kerchief for the smoke, ash and dust; and shooter's ear-muffs for the noise. It looks silly, but I've found it to be effective, at least by the "Black-booger and ringing ears index." Besides, in the forge things are enclosed, the work's longer and steadier, there's more smoke and noise, and you don't have to pause to answer questions from the public.)

On the other claw, one of my medieval blacksmithing associates goes about in a pair of tights. That's it… No apron, safety glasses, shirt… I will say that he's a very skill smith, but…

For my medieval gigs I wear the same apron (some things never change) gloves and safety glasses. http://www.larp.com/midgard/02h26.jpg Because I'm working light stock at demonstrations, the safety glasses are the Daisy shooter glasses, for BB guns; they're light, unobtrusive, and have excellent visual quality.

My Civilian Rig
Bruce Blackistone (Atli) - Friday, 02/18/05 10:29:07 EST
---
New Anvil: I am going to be purchasing a new anvil, my 55lb ASO from Harbor Frieght does not cut it anymore. What should I look for? How can I tell if an anvil is hardened? I don't want another ASO but I do need to keep the cost down.
Thanks
Tom
Tom - Friday, 02/18/05 13:18:18 EST
---
New Anvil: Tom : does "new" mean "new to you" or "brand spanking new"? IMO the european imports from Euroanvils and Oldworld anvils are now so cheap that it just doeant make sense to buy a second hand anvil unless you really know your anvils and you find a nice deal. I have only heard good words about the euro imports. they are selling for about $2/lb. You get a real anvil with all sorts of nice features (square bick, multiple pritchel holes, forging shelf ...) and it's brand new. Most importantly you KNOW you are getting a good tool - if you buy 2nd hand you are always gambling to some extent.
adam - Friday, 02/18/05 15:25:53 EST
---
demo wear: Dan Crabtree.
First on the subject of safety glasses. There are enough different styles of safety glasses to suit, from the old fashioned BC's style with the mesh side shields to the wrap around style much like a biker might wear. They are NOT safety glasses unless you find "Z-87" or "ANSI Z-87" on them. Period. Regular prescription glasses, even polycarbonate lens are NOT safety glasses. To qualify as safety glasses, the frames must retain the lens under impact load, the lens must withstand the same impact load and several other tests. While prescription glasses may be better than nothing, they lack side shields, and are a much lesser protection than the real thing.
Real, non-prescription glasses can be had from $3.00 and up. Cheap. For those who only need a cheater lens in the bottom, several of the makers are providing a variety of powers for close up vision help in cheap glasses, starting at about $8.00. Always go with the polycarbonate lens as the are the most shatter resistant, and also filter out much of the uv that damages the eyes. If grinding, splatter on the lens means that you forgot the face sheild that you should be wearing to protect you face as well as your eyes.

I tend to wear a wide brimmed hat as most people seem to expect a blacksmith to be in bibs and a hat. I fail them on the bibs as I wear a logo shirt for my shop, that was printed on a heat transfer on ironed onto a tee shirt. Free advertising.
Good luck.
ptree - Friday, 02/18/05 17:30:44 EST
---
Linux: Thanks to all who responded. I've got the dual boot system running with the GUI. Still a lot to learn but the critical part is done.
John Odom - Friday, 02/18/05 17:53:09 EST
---
Dan: The Anvilfire store has excellent safety glasses at a reasonable price. I like both the clear and the tinted as looking into a forge can be hard on your eyes after awhile.

Forging attire: blue jeans and Wrangler Men's workshirt, long sleeved. Leather boots, Justin work boots usually. A leather apron when doing a lot of forge welding (splatter).

The hat is optional. I'm thinking of getting a red one with horns, like Thomas has. Just need to see a good picture of it posted somewhere (hint).
Ellen - Friday, 02/18/05 18:12:14 EST
---
Red Hat Pictures:: Ellen, be careful of what you ask for. You just may get it. I have given witness to the red hat, and believe me, it ain't pretty.
Bob H - Friday, 02/18/05 20:49:49 EST
---
Bob!!!: You got it all messed up. That hat is right pretty. Close your eyes and imagine Ellen. Bright red felt in a semi mountaneer style with a wide brim. Two polished spike buck deer antlers in front and a curly little pig tail in the back. The hat is gorgeous. Thomas underneath it is what ain't too pretty.
- Larry - Friday, 02/18/05 21:07:15 EST
---
Forging duds: I have two modes of dress for forging. The first is for serious forging, where scale and dross are an issue. That consists of jeans, Justin work boots, tee shirt, safety glasses, ear muffs and a left hand glove. I used to weaer a long-sleeved shirt until I realized that I didn't need it for warmth and slag had a nasty habit of finding the sleeve placket and crawling in with me. Slag doesn't stick to bare, sweaty skin.

For really hot weather forging, I sometimes wear shorts, sandals (or bare feet) and a glove. Glasses and muffs, of course. Some care is required with this outfit, obviously. I will note that the only scars I have are from hot scale getting in a shoe with me, never from the sandals or bare feet. Your mileage could certainly vary, and I am NOT recommending this.

Oh...I do have one other scar, from the time I terminated a pesky moth with the O/A torch...ruined a perfectly good t-shirt, too. DON'T try this one at home, kids. (grin)
vicopper - Friday, 02/18/05 22:10:51 EST
---
PURTY LITTLE HATS: ELLEN Sug-- Don't be bash-ful like THOMAS P.. He just put little ole button horns up there. When you start yours go find some forked horn small buck antlers and a right bright hat. I would put a mini-horses tail on it, if it was me. Sorrel or shiney black. If your going to do it, do it right, huh. You would have a good conversation piece, bound to get some comments.GRIN. Be better if you shot the deer and pulled the hair out of your own horse.Grin.

Sandpile
- sandpile - Friday, 02/18/05 22:52:19 EST
---
Ellen,:

Don't put a horse's tail on your hat! These guys are trying to make you the butt of an old joke. You do know what's found under a horse's tail don't you? A horse's 4$$.
Paw Paw - Friday, 02/18/05 23:47:11 EST
---
HATS: ELLEN I am not pulling your leg. The same thing is under a hog's TAIL too. I just think a cowgirl would look better with horse-hair tassel. What self-repecting cowgirl would put a pig's tail on her hat. If you were a mountain-man you would use a coons' tail. GRIN
- sandpile - Saturday, 02/19/05 00:04:37 EST
---
slag and skin sticking: vicopper,
I must be the odd ball. All but one of my more 'serious' slag burns were in fact on sweaty bare skin. So I wear long sleeves all teh time when forging.
YMMV
Ralph - Saturday, 02/19/05 00:31:24 EST
---
About Polyester: Several years in a row My daughter gave me a wool or flannel shirt for christmas that was lines with some sort of quilted manmade fiber. I never wore them because they were too hot for other than work, and too nice to wear in the shop. Finally after I had about 5 of these hanging in the closet, I decided to put them to good use and started wearing them to the shop. One day I was welding with the overshirt hanging open. I looked down and saw the flicker of flame where the lining had caught fire. I immediately patted it out with my hands, and in that moment of utter clarity remembered why you never, ever wear polyester. For those unenlightened ones out there, it melts and sticks to your hands like glue.
- Loren - Saturday, 02/19/05 03:52:12 EST
---
More on Polyester: Many years ago I was wearing a t shirt containing polyester under coveralls while gas welding some tubing. I was bent over the bench and a spark got into the partially unzipped coveralls seting the t shirt on fire. I saw a little flame so I stopped welding and straightened up to see what had ignited. Thats when the burning shirt which had been hanging away from me got plastered onto my chest and stomach! I was lucky and the burn left no permanent damage but I will never wear anything but all cotton when working since then. I don't like emergency rooms!


SGensh - Saturday, 02/19/05 12:55:22 EST
---
Forge update: Just completed a new gas forge - after building a long string of prototypes each of which rotted out fairly quickly I built this one as a keeper. Its a very small trough forge. the burn chamber is a 3" wide by 5" long x 4" deep. It is set into a box 13.5" sq and 8" deep, I have cast a variety of removeable grills that slip into the mouth or top opening of the burn chamber. I throw some scraps of castable refractory in to bottom of the trough to promote mixing. The idea is to get a very hot, concentrated fire and then arrange fire brick and kaowool on top of the box to form a chamber to suit the work so that it works more like a coal fire than a furnace. I run the forge at welding heat. This design generates a fair amount of back pressure and isnt really suitable for an atmospheric burner IMO. In fact the previous version died because hot gas forced it's way into the innards of the forge and rotted them away. I am fixing to set the whole thing into a table covered with firebrick so that I will have a 24" sq hearth on which to work. This is an idea I got from Porters book on gas burners and forges.

I am very pleased with the way this design has worked out. Some time soon I hope to post some drawings and photos to better explain what I have done - a verbal description cant really do the job

Something I would still like to try is a vortex preburn chamber.
adam - Saturday, 02/19/05 13:11:08 EST
---
Bodging attire-- For those of you welders and burners who are into body adornment, open-topped cowboy and motorcycle boots can provide some really interesting infections and scars in the ankle and instep area, especially when worn in conjunction with jeans that have convenient holes around the knees for the glowing slag to drop down through. Unbeknownst to many Carhartt dealers, the company now makes a line of shirts, pants, jackets, out of Indura, which is flame resistant. See their website for details. FYI, molten steel sticks to Nomex, one eval I saw sez.
Sebastian Chippinghammer - Saturday, 02/19/05 14:40:36 EST
---
Polester: A woman in the lab where I worked set her polyester medical style uniform on fire. I took her to the hospital after I put out the fire. I helped the docs remove the gobs of melted polyester which tooks big gobs of skin and flesh with them. She was never able to work again. I wear only cotton or wool in the shop.
John Odom - Saturday, 02/19/05 19:05:52 EST
---
SLAG BURNS: My favorite cousin, was cutting a 1" hole in a plate 1" thick. The plug fell out hit something and bounced into a hole in DICK'S lower pant leg, it went inside the top of his boot leg. He fell over backwards and grabbed the boot off as fast as he could. He was way late, it burned all the way to and into the bone. He was months and months healing the wound. Luckily it did not burn any tendons or ligaments. You never want to work in the shop with your pants in your boots or with holely pants.

Sandpile
- sandpile - Saturday, 02/19/05 19:51:55 EST
---
Burns: Yep.I worked for a few years at a fabrication and erection company. We did alot of torch work and there was always a few hot slugs lying around. I had on a pair of practically new Red Wings one day, lace up type. Cut out a slug for a bolted connection and paid no attention to the dropped slug. Finally noticed smoke flying up from my foot and by then it had burned upto the insole. I wore those boots another year. While sitting around talking to a a friend one day with my legs crossed, she asked me what the hole in the sole of my boot was for. I looked at her real serious and told her it was a place to carry spare quarters. She believed me.
Another thing, if your going to be torching alot, you might as well by a pair of rawhide laces for your boots. The splash will eat regular laces up fast.
- Larry - Saturday, 02/19/05 20:08:09 EST
---
Estrella SCA: Well I hope Thomas' hat and tent are waterproof if that is where he is this weekend. Over 2" of rain here in the last 30 hours.

I kind of had Viking horns in mind....I'll skip the tail, horse or otherwise....
Ellen - Saturday, 02/19/05 23:51:51 EST
---
Adam's new forge:
Adam, is this the current mark of the Rubble-Roaster? (Grin)

For a vortex preburn chamber, put a good gasket on your blower's shaft or increase its separation and feed the gas into its intake... be careful of burnback. I am completely serious.
- T. Gold - Sunday, 02/20/05 02:17:49 EST
---
Burns: Larry-

My Red Wings also have a custom feature. A notch in the outer edge just the right size to hold your cigarette or pencil when sitting with your leg crossed. :-)
Brian C - Sunday, 02/20/05 09:17:40 EST
---
rubble roaster: TG yes Rubble Roaster v II :).

Do you have any experience with preburn chambers? I'd be grateful if you would share any knowledge or sources you have. Since I am thrashing about in near dark.

Thanks
adam - Sunday, 02/20/05 13:50:07 EST
---
My almost new Red Wing lace-ups caught a piece of something sharp right smack upon and therefore through the welt stitching that holds the sole to the upper and it's coming rapidly undone. I am hoping those great cobblers at Komito Boot Repair in Estes Park, Colorado can save the boot.
Sebastian Chippinghammer - Sunday, 02/20/05 14:32:18 EST
---
Work Boots: This talk of work boots I thought I should mention Viberg Boot in Victoria, B.C. If any of you are up there check them out. They are the only boot company that actually carries my size (small) that I have ever found. They are quick to make up orders and are most likely the only boot that logggers buy, They also make up boots to your spec's,

I have no affiliation with this company just found them by word of mouth, a great Family business. I have never found a better quality boot.
Viberg Boot
- Daryl - Sunday, 02/20/05 15:12:15 EST
---
Re burn safety, when the coal fires need cleaning, they normally throw out mucho red-hot ash. One of my students worked with such fires with bare arms, and soon his arms were pockmarked. When I took notice, I said,
- Frank Turley - Sunday, 02/20/05 18:36:38 EST
---
Continue story, burn safety: "What the hell happened to your arms?" He replied with a shrug, "Flying ash holes."
- Frank Turley - Sunday, 02/20/05 18:38:52 EST
---
Sebastian: I dunno if you can talk Steve into working on a pair of boots as plebian as Redwings. Thirty years ago, he wouldn't touch anything lowlier than Galibiers. (grin)
- vicopper - Sunday, 02/20/05 21:31:05 EST
---
Boots:: At the last plant I worked at the production welders wore sheet metal guards that covered the toung & laces of there boots, seems the spatter would wreck a pair of boots in a day or two otherwise. Of course I have seen boots repaired with safety wire & shim stock, but that may only happen in the Pa. Dutch country.
Dave Boyer - Sunday, 02/20/05 23:18:20 EST
---
Vicopper-- I wonder about that, too. I had a pair of Fabianos fixed up by them (and a great job they did, too!) some time back and I think I asked then if they worked on lesser quality boots and it seems to me they said yes. Maybe that's changed? Or maybe I mis-heard? Or mis-remember? We'll see.
Sebastian Chippinghammer - Monday, 02/21/05 01:51:57 EST
---
Rubble-Roaster:
Adam, by pre-burn chamber do you mean an actual chamber where the burn takes place, or a mixing chamber before the actual burning zone?
T. Gold - Monday, 02/21/05 02:44:38 EST
---
rubble roaster: I am thinking of a vortex chamber in which the mixture is actually burned.

Not only is propane hard to mix, but its also hard to burn. For complete combustion the propane molecules have to be cracked into smaller components. This happens at around 500F (I think) and takes time. In a conventional tube forge some of the propane doesnt have a chance to finish it's combustion inside the chamber.

IMO cracking is the main advantage of preheating the mixture - (schemes that divert some of the hot exhaust to heat the incoming mixture). But I don't have a practical way to incorporate this in my forge design. Also, my earlier experiments with this idea showed that once the forge gets to welding heat, it can be hard to control flash back as the incoming mixture gets too hot. I think the gas/air mix flashes at around 800F. Forges, unlike kilns, operate over a fairly wide range of temps - 1600F to 2400F and things behave very differently at the hot end from the way they do at the cool end.

Another scheme to preheat is to draw off some of the hot exhaust and mix it with the cold incoming mixture. I have seen pictures of kilns where this done by routing a small channel from the burn chamber back into the mixture inlet tube. The venturi action of the fast moving mixture will draw in hot air. This is an interesting possibility but it doesnt solve the mixing problem. Modern automobile engines do something similar.

So, at the moment, I think its easier to have the burn actually start in the vortex chamber and then flow into the combustion chamber where it can complete the burn process

This is my thinking so far but its likely ill informed and confused. I sure would welcome any comments
adam - Monday, 02/21/05 10:49:16 EST
---
boots: anyone know of a boot maker that has a leather cover for the laces and "tongue".thanks
- rugg - Monday, 02/21/05 13:06:56 EST
---
Preheating/premixing:
Adam,
The solution to this can be found in most glassworking crucible furnace... only preheat your air, and let the propane be preheated separately in a refractory block. Drop me an email and I will send you some sketches.
T. Gold - Monday, 02/21/05 14:22:41 EST
---
Rugg, just go to you local shoe repair shop or cobbler & have him make you one. There aren't as many around as there used to be, but you can find them.

I grew up in my fathers shoe repair shop. I can recall him doing all sorts of costom work for fire fighters and welders. He used to rivit the stitch line for steel workers free when they bought new boots from him. This way they didn't fall apart when the stitches had all burned through.

FredlyFX
http://fredlyfx.com
FredlyFX - Monday, 02/21/05 15:01:27 EST
---
Rugg,
Have you considered external meta tarsel guards/ They cover the laces, and your delicate foot bones from dropped objects. I wear Iron Age shoes of this type at work, and the old pair at home in the blacksmith shop. They are rated for 75 ft# of impact. When you drop something, it almost always hits behind the steel toe, and then these meta tarsel guards are golden.
ptree - Monday, 02/21/05 19:40:15 EST
---
Fireproofing your lace: rugg,

What you need are a pair of leather spats or gaiters. Simple to make if you have a rivet setter for leather. Velcro is an option for fastening them, if you put the Velcro on the back side where it doesn't get melted by welderberries.
vicopper - Monday, 02/21/05 20:28:06 EST
---
re: Estrella SCA: Ellen - only 2 inches - hardly enough to wet the dust down by Pennsic Standards - Gavain, who survived Pennsic 4, where the site was declared a national disaster area, before we got there! The low spots were under 4" + of water from the hurricane, and since that one was in Northeast Ohio there were plenty of level & low spots.

Adam - preheating - much easier and safer to preheat the air - think counterflow designs of the exhaust versus the incoming air. Of course, you do know when you preheat, you increase the burn temperature which while more efficient generates more NOX? (Nitrogen Oxides=pollution)

re: Leather spats/gaiters - they used to make them for steelworkers - I suspect if you get hold of a safety catalog and check, someone is still making them. I know wrist gauntlets are still made - similar construction, but mor used for cut protection.
- Gavainh - Monday, 02/21/05 22:20:38 EST
---
stuck jaws: I recently aquire a post vise used of course. The screw mechanism works finr but will not open the jaws. Any suggestions as to what migth be causing this would be great.
Timbootz - Monday, 02/21/05 22:42:01 EST
---
Stuck jaws: I'm going to assume that your vise has a spring in it. If so, the hinge at the bottom of the vise might be rusty enough that it will not move freely. My first vise was like that. You will need to drive out the pin, take out the front jaw, clean it up and apply some grease and reassemble. And there is always the possibility that you have bad threads on the screw.
- Jeff G. - Monday, 02/21/05 23:35:16 EST
---
Boot lace covers/ Rugg: When the fingers of a pair of chrome tanned welding gloves start getting all hard and crispy, the backs and cuffs often are still a good source of material for making yer own lace protectors, particularly if the backs and cuffs are of one continuous piece. Been getting away with that one for years.
3dogs - Tuesday, 02/22/05 05:24:31 EST
---
Finishing anf fireing up the new forge: I posted earlier about the construction of my forge and the super sucker hood (plans from this site) because so many folks come on here asking how to (including me).

Last week I finished getting the flew in and fired it up. I've built coal forges before but they were outside forges. I kind of drug my feet about the stack because from what I've read doing it to code would require a class A chimney and even then I'm not sure about what code has to say about an open fire indoors. Of course a forge doesn't run all day when your not there like a furnace does either.

I've also read that bends are no good and the pipe should go directly up through the roof. Well, I believe that would be best but I didn't want to cut holes in the building.

I used the heaviest 12 inch pipe I could get (don't remember the gauge). I removed the glass from a window and replaced it with wood. I cut a hole for the pipe leaving several inches of clearance around the pipe and used steel angle brackets to hold the pipe centered in the hole.

A 90 takes the pipe out the window and another turns it up along side the building. I made a bracket to hold the pipe several inches away at the roof and a support that runs from the window ledge up under the outside 90. I probably didn't need the later but it makes me feel better.

Unfortunately there's a big pine tree on that side of the building but I figured I'd see how things worked and cut the tree down if I have to. Also, on the day that it started to look done I only had enough pipe to get about 2 feet over the peak. I made a rain cap and stuck it on, again fuguring that if I didn't have enough draft I'd just slap another 2 ft piece of pipe on top.

It was an extremely windy and gusty day and a little vervous...I first burned some card board in the pot and the hood sucked up the smoke like nobodies business. So...I built a coal fire, got it HOT and even did some welding. There was ZERO smoke in the shop. When the fire is running at welding temps the stack gets hot but not too hot to touch and since you don't keep the fire that hot continuously the average temp of the pipe above the hood is only warm.

One nice thing is that if I decide to remove it all I have to do is pull it down, replace the window glass and you'd never know it was there. The bad side of course is that if I burn the building down I'd expect an open fire without a super-duper industrial grade chimney and smoke evacuation system will be frowned upon. Comments?


Mike Ferrara - Tuesday, 02/22/05 10:11:19 EST
---
Surplus Oxygen & Acetylene Tanks: As a non-profit educational organization, the Longship Company accepts donations. Recently, we were given a 150 hp "Black Max" outboard (which we're more than willing to trade for something more useful to a Viking ship [needs work]); and while we were there, the new house owner asked if we could also use a batch of oxygen and acetylene tanks, abandoned by the previous tennant (along with the outboard motor). Our crew took one of the acetylene tanks (mainly because it was smaller) and hauled it away (I gave him all the warnings about upright storage and "do not cut").

So, here's the question: They're old, but they're free, and she'd be delighted to have us, or any of our associates, haul them away. Since O/A is not exactly within our Viking age framework, what would y'all advise, or would any of you be interested in them for yourselves. (Or should she just report them as hazardous waste, and we shouldn't touch them?) Your sage and collective advice is, as always, welcome.

They're located within the Washington suburbs and we'll be happy to trade for anchor chain or other ships hardware. :-)
Longship Company, Ltd.
Bruce Blackistone - Tuesday, 02/22/05 11:02:07 EST
---
boots: fred', 'dog, vic', 'tree: thanks for the tips; metatarsal sheilds are a good idea, as are the cobbler and glove ideas. i remember seeing a guy with lace covers; he did a lot of foundry work. forgot to ask him as i was paying attention to him forge welding some billets...
- rugg - Tuesday, 02/22/05 11:37:58 EST
---
You go off to do a bit of under water camping and they start messing with your hat! I was cussing myself off bigtime for forgetting the Koi for the Koi ponds in the tents in our campsite.

Bruce, I've seen quite ancient Acetylene tanks still in use---as long as they are not "dinged". The O2 tanks may be harder to move without the papers and will probably require hydrotest....but make great bells and dishing forms for armour making...or pots...

BTW the real wool felt hat is part of my safety equipment. My regular eyeglasses are "safety glasses" got the stamp on the lenses and everything but flyash and scale can come over the top of them. The low sitting hat prevents this.

I think a horse tale would be a great thing to help deal with pesky flies---some folk attract them, right Sandpile!

But would smell bad when it got drug through the fire.

I'd suggest wearing a nice wool tunic and trews for forging...

Thomas
Thomas P - Tuesday, 02/22/05 13:14:44 EST
---
Gaiters: GAITERS - check around for the 'GanderBrand' catalogue. this company's located in Edmonton, Alberta. In the catalogue there's a good selection of leather welding clothing including gaiters and spats. McMaster-Carr carries the Ganderbrand line; or did, a couple of years ago.

I have their long leather welder's apron, goes from the base of my throat to my knees (I'm 6' 1").

http://www.ganderbrand.com/ - This site is presently under going 're-construction' and should be up again shortly.

Overcast and -3 Cel. North of the Lake (Ontario.)

Don

www.ganderbrand.com/
Don Shears - Tuesday, 02/22/05 15:39:46 EST
---
Bruce - What size are the tanks? Do they have a gass company name, or "customer owned" on the neck collar?
- Dave Boyer - Tuesday, 02/22/05 21:52:58 EST
---
LSCo & Tankage: I'll be forwarding all tankage questions to our Donations Officer over the next couple of days. I'm only the facilitator. ;-)
Bruce Blackistone (Atli) - Wednesday, 02/23/05 00:49:22 EST
---
Vicopper-- I spoke with the nice man at Komito today. You were right. Alas. He says the husky needles they use and the robust thread pops the synthetic welts on Red Wing and other work boots.
Sebastian Chippinghammer - Wednesday, 02/23/05 02:20:56 EST
---
Queens Cross Anvil: I have had my anvil for 50 + years and would like to find out its history and at the same time its approximate value.
many thanks for your help.

Ian Roberts - Wednesday, 02/23/05 04:38:51 EST
---
Sebastian: In this case, I'm sorry I was right. Maybe you can find a shoe repairman who can handle it. Were this forty or fifty years ago, I would know just the place to send you, but times have changed and the service industries just aren't what they used to be, I'm afraid. Maybe you're planning a trip south of the border? There are many industrious and capable leatherworkers in Chihuahua, Sonora and Baja California.
vicopper - Wednesday, 02/23/05 08:24:02 EST
---
Ian: I've had a truck for over 30 years now. I'd like to find out it's history and at the same time it's approximate value.

That's not much information to go on, is it?

Tell us about your anvil, and we'll try to answer your question.
Paw Paw - Wednesday, 02/23/05 08:34:07 EST
---
Tool Makers: In 1999,the Early American Industries Association put out a volume titled, "Directory of American Toolmakers", 1,176 pages, edited by Robert E. Nelson.

I was always curious about IRON CITY tools and vises. My leg vise has the star of David with IRON CITY stamped within on the movable leg. Turn outs the company was located in Pittsburgh from 1854 to 1958, and was listed as Iron City Tool Works.

Other makers listed are Heller Bros, Champion, Atha, Buffalo, etc. Many listings have a brief history as to who the founders were, where the tools were made, and how long they were in business.
Frank Turley - Wednesday, 02/23/05 12:00:09 EST
---
Vicopper-- I much appreciate the sympathetic words. I think I'll try local cobblers, and if nothing materializes, I'll drill some eency appropriately spaced holes, slather it with Barge cement, stitch it, and if that fails, I'll rivet the sole to the upper. Attn.: Red Wing Design Dept.: 'Twas a stupid way to build a work boot.
Sebastian Chippinghammer - Wednesday, 02/23/05 12:09:27 EST
---
shoe repair: Sebastian, Foxfire book #6 tells you how to repair shoes
- DanD skabvenger - Wednesday, 02/23/05 17:57:00 EST
---
Iron City: I have a small vise from that mfr. I always wondered about the six pointed star. It seems to me unlikely that a manufacturer would have chosen this symbol inadvertantly.
adam - Wednesday, 02/23/05 20:09:19 EST
---
Iron City: I've often envisioned a Jewish entrepreneur stepping out of his office/loft where he could look down and survey the manufacture of his vises, hammers, and top-bottom tools.
- Frank Turley - Wednesday, 02/23/05 20:24:15 EST
---
I'm making some bar-b-que forks, about 18" long. What kind of finish would you reccomend putting on them?
Ray - Wednesday, 02/23/05 20:45:38 EST
---
DanD-- Thanx. Problem is, these have Vibram soles, you see, and those wonderful cleats that help so much on wet rocks and slippery gravel scree (but which also have a strange, almost electromagnetic attraction for dog poop) make doing a line of stitching all the way around through the welt a problem. Fear not. I'll think of something. Maybe I will have them bronzed like baby shoes and send them to Red Wing as a monumental reminder of a former customer.

Sebastian Chippinghammer - Thursday, 02/24/05 01:10:24 EST
---
bbq forks: Alot of the guys that I know who have made them use cooking oil on the tines, and spray enamel on the handles. Just be sure that you don't spray the tines. REALLY nasty taste!!!
- james - Thursday, 02/24/05 03:29:35 EST
---
VIBRAM SOLES: It has been my experience that the Vibram sole is one of the most dangerous things ever produced by the hand of man, particularly in a steel mill environment. Although it is a given that oil on a steel floor presents traction problems, that stuff is slicker'n snot on a Teflon doorknob. If a person were to be looking for a way to set a record for getting their arse to the floor, Vibram would be the stuff to use.
- 3dogs - Thursday, 02/24/05 10:10:43 EST
---
vibram red wings: Speaking as one who works in the mud quite a bit, I have to agree with 3dogs. A deeply cleated sole of ANY sort is a liability on any kind of terrain but dry packed dirt. I have had to special-order my redwings with a smooth sole. Smooth but soft rubber will stick like glue to rocks and concrete, and mud (and doggy-doo) slip right off when you scuff in grass or gravel. They also keep you from tracking nuts and bolts into the house from the shop, as there's no tread for stuff to get stuck in. Best of all, you need never worry when you stomp a roach that you'll miss it twixt the cleats!
Alan-L - Thursday, 02/24/05 10:28:55 EST
---
The star of David was also used as the proof marking for Wilkinson Swords and may be found in christian heraldry as the seal of solomon---it wasn't restricted only to jewish uses, just like the swastika can be found in American Indian and Japanese uses centuries before the Nazi's co-opted it. Gotta be careful when trying to apply modern viewpoints to past history...

Thomas
Thomas P - Thursday, 02/24/05 12:51:24 EST
---
Making Leaf Veins: I made a leaf veiner yesterday. I used a section of axle and ground in veins using a die-grinder. Only problem is that I cant seem to get the veins to rise up. I also have a hard time keeping the leaf centered on the veiner. Any tips for how to do this.
- Dan Crabtree - Thursday, 02/24/05 14:37:59 EST
---
Red Wing Boots: A good while back, 15 yrs.?, Red wing would resole their boots for like $30 a pair. Take'm back to the dealer and ask, the worst he could say would be no.
smitty7 - Thursday, 02/24/05 15:24:34 EST
---
Leaf veining: The mostl likely cause of your problems is one of surface area vs force applied. When the veins are cut into the die, the flat area is what is moving the metal, trying to force it up into the veins. Your surface area is way more that way than if you are trying to impress the veins into the work. You'll have to whack the snot out of it with a sledge hammer or use a lot of blows with a hand hammer if you are going to get any movement at less than about a welding heat. If you make the die so it only fits half the leaf at a time, you cut the required force in half. If the die only has to incise the veins into the leaf, then the required force drops to less than 1% of what it takes to raise the veins.

I've found that one way to sort of get around this is to make a hardie tool that has the veins incised in it and then forge the leaf stock on the die. The veins are built gradually as you forge the leaf out of the raw stock so you don't need to apply all that force at once. It also makes it easier to keep the work indexed on the die when you can see what you're doing.
vicopper - Thursday, 02/24/05 15:47:42 EST
---
Star of David: The association of the six pointed star with the Magen David is ancient - probably dating back to the first temple. AFAIK when it does appear in Christian symbology it retains it's original association - (as the "Seal of Solomon") But this is not the point really. It's a simple geometric shape, trying to claim exclusive ownership is a much like claiing" we invented the triangle"

My point is that in the USA circa 1900 most Americans would have recognized this as a Jewish symbol. Given the prevalence of anti semitism (along with every other kind of racist and ethnic bigotry) in the US at that time, it seems unlikely that it would have been used except with full knowledge of it's symbolism and to make "statement". Merchants and manufacturers are most eager to sell their wares and try hard to avoid giving a customer any reason to dislike their products. Look at the lengths modern manufacturers go to present a bland friendly face and to disguise the fact that their products are made in China or where ever else outside the USA. Even if the symbol did mean something completly different to the owner of this business, it must have crossed his mind that people would see it as a Jewish Star and some of them would buy elsewhere just because of it. Why lose the business.

So I find it curious.
adam - Thursday, 02/24/05 16:42:37 EST
---
Can you explain your reasoning that by 1900 most American's would recognize it as being jewish? I don't think my grandparents or great grandparents ever met someone who is jewish as they were rural small farmers and did not travel to cities.

Thomas
Thomas P - Thursday, 02/24/05 19:40:57 EST
---
Jews and recognition: It's been a long time since I read Harry Golden, a Jewish author from North Carolina. He wrote "For Two Cents Plain" and formerly edited "The North Carolina Israelite". As I recall, he claims that in early times, when white, 'Anglo', rural southerners met up with Jews, be they merchants or itinerant traveling salesmen, they loved having in depth dialogues, one with the other, especially about the "Old Testament".
Frank Turley - Thursday, 02/24/05 20:06:57 EST
---
Recognition: Thomas,good question and that might be the explanation - that he sold to rural communities where recognition was not likely. Interestingly though , US census data (http://www.census.gov/population/censusdata/table-4.pdf)shows in 1900 the population was almost evenly divided between urban and rural - slightly in favor of rural but tilting rapidly towards urban. But , this mfr was located in Pittsburgh and his attitudes would likely be based on his experience there. I find it curious :)

adam - Thursday, 02/24/05 21:33:39 EST
---
Vibram Soles: I'm glad it's not just me. I used to (still do sometimes) wear dress shoes with Vibram soles to work. Only took me a couple of falls to learn I had to avoid the white lines when crossing the street in the rain.
Mike B - Thursday, 02/24/05 21:38:42 EST
---
MEDIA DISTRIBUTION: Outside of the larger metro areas of the WORLD, there was very little dist. of the large city papers and hardly any radio. The only radio in the rural areas were turned on for an hour to listen to the news, then turned off to save the battery. They really did not know they were supposed to hate anybody, except maybe the Shanty IRISH and CATHOLICS. Grin The star of DAVID was a symbol of quality, show them on DOZENS of products brought around by peddlers for years and years. It was way into the 20th century before the big city papers were distributed wide enough to cause the hate and discontent that be came prevalent, after WW1.

Chuck
sandpile - Thursday, 02/24/05 21:59:32 EST
---
Gee, guys. I think Vibram is groovy. But I'll defend to the death your right to wear smooth soft rubber wherever you please.
Sebastian Chippinghammer - Friday, 02/25/05 02:11:23 EST
---
FREE Oxy-Actylene Cylinders:
Bruce, These are often leased cylinders and may not properly belong to the property owner or the previous owner. . . Some welding supplier may be looking for them.

Ocassionaly the suppliers name is on the collar on the oxygen cylinders. Otherwise it is on a sticker or is stenciled on and may have dissapeared.

If the cylinders ARE abandonded and empty of gas then they may just be scrap. However, actylene cylinders are filled with pumic rock AND acetone. The gas becomes disolved in the acetone to be non-explosive. An "empty" acetylene cylinder is still full of a very flamable fluid. .

Scrap oxygen cylinders are handy for making gongs and the tubing is quite handy. The folks that scrap them use a saw to cut them to pieces after removing the valve.

- guru - Friday, 02/25/05 14:12:29 EST
---
Bohunks: Good save Sebastian - as an aspiring bohunk I was all set to be mortally offended there.

Actually, I do come down on this side. The demagogues only inflamed prejudices that were already in place. IMO, bigotry and prejudice is the natural human condition - anything else takes work and discipline.
adam - Friday, 02/25/05 14:15:19 EST
---
Magen Duvid: Next time you see a USMC dress sword, check out the etching on the blade.
3dogs - Friday, 02/25/05 15:24:00 EST
---
Babbitt Damming Material: I recently came across a referance to the use of Playdough (tm) as babbitt damming material. comments? If it can be used it would shorten my lead time on a project.
- habu - Saturday, 02/26/05 12:53:50 EST
---
Babbitt: It's worth giving it a test. I blocked my pour with "cheesy", woodworkers filler, a powder mixed with water, and it held up.
- Frank Turley - Saturday, 02/26/05 14:26:24 EST
---
Babbitt Follow up: I tried Playdough as a damming clay and it worked fine, however, care should be taken as it does contain some water and it gave a small amount of splatter as the pour was started. I would NOT recomend it in a pour with a closed end, ie: tube or pipe. The "cooked" playdough hardened at the seal and did not soften,but it cleaned up easly with water. At $2/lb the price was right. Full protective gear for casting is a must whenever casting metal. Your mileage may very...
habu - Saturday, 02/26/05 16:48:32 EST
---
Babbitt information: Some information that I found useful on babbitt bearings was a reprint of the Manolia Babbitt book that can be found at the following link in PDF format.
Magnolia Babbitt Book
habu - Sunday, 02/27/05 21:19:59 EST
---
Well there was an ACW re-enactment just down the road this weekend, we claim the dubious distinction of having the only recorded *lance* charge of the civil war at the battle of Val Verde using lances captured from mthe mexicans and then taken from the federal armoury by confederate troups.

One of my neighbor's kid biked down to watch the fun and came back with part of a "lance" (dowel rod from a closet to my eye) so we fired up the forge and forged a chunk of pipe into a spearpoint for his lance; nothing fancy but I expect a lot of grounds going to get areated in the next couple of weeks!

Thomas
Thomas P - Monday, 02/28/05 11:35:32 EST
---
Cavalry Forge: Folks,

If anyone knows where I could beg, borrow, buy, or as a last resort steal a US Army Cavalry forge within the next couple of months, I'd be most grateful.


Paw Paw - Monday, 02/28/05 12:24:34 EST
---
help on Champion post drill: I have a Champion No. 97 post drill, mostly there and in
generally good shape. It's missing the thrust bearing,
though, and a few other small miscellaneous bits. I'm looking
for someone who has one of these and also has a digital
camera and a bit of willingness to help me out as I try to
figure out how to make the missing pieces. Thanks!
- Grant - Monday, 02/28/05 14:08:06 EST
---
HOLY SMOKES !!!!!!!: My fellow smiths, It has been brought to my attention by no less an authority than The New England School of Blacksmithing, our dear friend and brother, Frank Turley, is far more worthy of our esteem than he already is. It seems that we have here in our midst, yea, even on this very website, THE WORLD"S OLDEST LIVING BLACKSMITH!!!!! In the latest N.E.S.B Course Description Booklet, they state that Frank's school in Santa Fe has been in operation since 1070 AD, which would make him about 973 years old. Do you realize that that makes him just a shade older than Paw Paw? If nothing else, he's a heckuva lot better preserved.
3dogs - Tuesday, 03/01/05 11:03:05 EST
---
a shade older than Paw Paw? : Inconceivable!
JimG - Tuesday, 03/01/05 11:58:12 EST
---