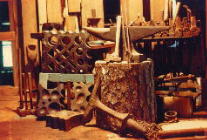 WELCOME to the anvilfire!
Virtual Hammer-In!
This page is open to ALL for the purpose of advancing blacksmithing.

January 1 -15, 2005 Archive
---
WHY THREE FORUMS? Well, this is YOUR blacksmithing forum to use for whatever you wish within the rules stated above. It is different than the Slack-Tub Pub because the messages are permanently posted and archived.
This page is NOT a chat - it is a "message board"

Our chat, the (Slack-Tub Pub), is immediate but the record of it is temporary. DO NOT post permanent messages there. We refresh the "log" every 24 hours now and your message will be lost.

The Guru's Den is where I and several others try to answer ALL your blacksmithing and metalworking questions to us.


Please note that this forum uses an e-mail encryption system that prevents spam harvesters from collecting your e-mail address.


J. Dempsey <webmaster> Rev. 7/98, 3/99, 5/2k, 6/2k, Friday, 04/06/01 16:43:25 GMT
---
---
Farewell to the Junkyard: A few minutes ago I made my last post in the Junkuyard. I'm going to miss the place across the street. While I know that Neil didn't quit for economic reasons I'd like to ask everyone here to think about how easily we could lose this forum too. Please, if you think that being able to communicate with other smiths and to share ideas is important to you, consider a membership in CSI the voluntary group that helps to support this site. Right now the financial burden to maintain this site is borne by Jock. He is NOT making money at it! Help us keeep this site alive by becoming a member in 2005.
SGensh - Friday, 12/31/04 23:49:36 EST
---
Amenities, etc.: Yup, We do in fact have a "Comfy Chair" in the new cave smithy. And an ottoman to go with it. Only one short nap in it so far. I really do sit in it when I'm sketching or thinking. We have this party on the ice nearly every year and request people bring old furniture to sit around the fire on the ice. The Comfy Chair is a left over from a previous year. Normally we burn all the furniture at the end of the night. This one needed to be saved. A lovely Calf poop green in color and the Ottoman is brown. Most of the stuffing was torn out of the back of the chair by our female lab since she likes to make "nests". She doesn't understand she has been fixed for many years now. So I have another cushion stuffed in there. Only the best.

The boy and I were talking today about putting an old microwave that doesn't restart until it cools off, in there for popcorn. When the weather gets warmer, we may move a rusty old fridge in there.

Ground hole Outhouses are now off limits here in WI. You may be surprised how well just a 5 gallon bucket with good seat works. With only an occasional user, the bucket never gets full and doesn't smell nearly as bad as some porta-potties you may have been in. For heavier uses, a plastic 55 gallon drum cut to the appropriate height, with plywood top and good seat, works good. Just keep the inputs to the usual output, and toilet paper only and it composts just fine on it's own. So says your friendly licensed Master Plumber. grin.

The problem we have with outhouses is the porcupines. They eat anything that has plywood or stain on it. Must be a delicacy for them. I'm not joking when I tell you we have had visitors while using the facilities. And porcupines are fearless. What attacks a porcupine? Our latest outhouse at the hunting shack is railroad tie frame with miscut metal bulding siding for sides and roof. The porkies still eat their way under the door sill to get at the plywood floor. They do leave prodigious output behind however. How appropriate.

Alan, some rocks can be charged too. But work with me here! Grin!
- Tony - Saturday, 01/01/05 00:01:31 EST
---
Happy New Year to all of you.
Brian C - Saturday, 01/01/05 00:11:30 EST
---
Heather then we are sorta neighbors.
I am just west of Portland in Hillsboro. Perhaps once my health recovers a bit more I will swing down y'alls way.
BTW do you know Allan Flashing? I know of him but have not yet met him.

Ralph - Saturday, 01/01/05 00:45:13 EST
---
The New Year: Happy New Year all. Just struck 2005 out here in Cali. Man I cant wait to get back to PA. Contract is up in 2 and a half months then I am long gone!. Night folks

Adam
stormcloud_2 - Saturday, 01/01/05 04:20:42 EST
---
Keenjunk: Keenjunk is officially gone. Now we know what it is like to lose a favorite site. We need to make sure that does not happen here. Support CSI, and the voluntary dues are tax deductible. Thank you.
Ellen - Saturday, 01/01/05 06:13:57 EST
---
Tony: Happy New Year.

Tony, there are ads in the back of magazines like Popular Science for incinerator toilets. Do they work worth a darn? Pricey? There's a book out on the vanishing American outhouse. I started in one of those in rural Minnesnowta a looong time ago. Two adult-height seats and one for little kids. A real luxury building. (-: As I recall a sprinkling of lime tends to help things. The favorite high jinx of teen agers on Halloween was to tip the outhouses over.

- John Larson - Saturday, 01/01/05 08:31:28 EST
---
Rutterbush: A get to gether sounds good, I don't have any ideas though. I am interested in the blacksmithing class you mentioned. I need more info as to how when and where. I got serious about building my hammer yesterday. Cut the steel moved it into the shop and started tack welding it together. Now I need some plumbing parts, so I'll head for the flea Market to see what I can find. I was going to stay with keenjunk until the bitter end but my puter crashed last night. every body else must have the same idea. Gotta go
- Rudyh - Saturday, 01/01/05 09:23:49 EST
---
TONY, you visit my house one time and then go home and decorate in traditional southern manner. Gee, what a compliment. I still can't understand why you northern types can't wait for the water to freeze just so you can build a fire on it.

As Ellen said Keenjunk is officially gone, but I just can't delete the bookmark. It's like that dog eared book that you pick up to flip through. Thank goodness the bookmark for this site has been stationed next in line for years.

Big Ugly, the dog, is having her own form of withdrawal. She has faithfully stood beside my chair growling in a low rumble at the picture of Cassius the Rottweiler when I clicked on Keenjunk. Now she stands beside my chair with a slow motion tail wag and that head cocked to one side waiting for the picture to pop up. I've put a dog on the screen saver to pacify her. She does the low growl, wags her tail and wonders off to sit in her early southern provincial chair and watch Animal Planet.

Life goes on. Happy January the ONE to everyone.
- Rutterbush - Saturday, 01/01/05 09:47:02 EST
---
New Year: I think I will head out to the forge shortly and fire it up. Gotta start the new year off in the right way, ya know. I better go warm up my anvil first. It is 26* now, but yesterday was 55*, and melted all our snow. I keep the shop at about 45*, but that anvil sure sucks the heat out of small stock unless I warm it up a bit. I'll just lay my halogen light down on top of it for awhile.
Bob H - Saturday, 01/01/05 11:07:58 EST
---
New Year: Well another year has gone buy,I did the usual for me,spent some time reflecting and looking forward to what adventures this next year may bring,Im thinking steam boat.At midnight I treadled the hammer 5 strokes and tapped the anvil 5,listened to CBC ring in the year,it was nice,Big Blond had to bartend a party so I was alone in the shop,fireworks up and down #8 hwy,and the neighbors yelling at the top of their lungs.
Keenjunk will surely be missed,it became a daily part of my routine,lurking not posting,I have been a member here for awhile,lurking mainly,I am looking forward to getting to know more of you this year,and the keenjunkers can only add to this site with there humour,wit and knowledge.
Cool and overcast in the Niagara Penninsula,tolerable temp and the snows all gone,heading to the shop.
Brent.
crosspean - Saturday, 01/01/05 11:18:34 EST
---
55F, and raining in S. indiana. 24" of snow, and the rain now and for the next week make everything soggy to the max. At least it is warm, and like crosspein and others off to the shop to start '05 off right.
ptree - Saturday, 01/01/05 11:30:11 EST
---
chargeable rocks, etc.: Hey, I never said you couldn't charge a rock (grin)! We have some good engineers, but we also have a few who are always surprised that anyone checks up on them. You'd think that after the 20th time the new would've worn off...

John Larson, the traditional southern response to halloween outhouse tipping is to move the outhouse over about four feet yourself before dark. Be ready to throw a rope 'round about midnite! What do you need for a 250-300 lb Fisher? Shoot me an email by clicking on my name under this post. If that doesn't work, I'll post the whole thing again. Thanks.

Adam stormcloud 2: Not a bad cigar yesterday, thanks! Know what you mean about California. Spent half a year in Gilroy, which was about half a year minus a week too long. No offense intended to any 'fornians here, just not my cup of tea. Gotta have my OWN kind of mountains.

The forge will be ready to go in a few hours, if I get away from the computer.
Alan-L - Saturday, 01/01/05 11:52:04 EST
---
STEVE RUTTERBUSH: There were very few email addys after you sighned off. You might not have WAYNE P.s His was about the only one after you called it a night. Glad JOCK still has this site.
- Sandpile - Saturday, 01/01/05 13:28:36 EST
---
Sandpile, Chababy sent me the list that showed up after I signed off. I have everybody that was interested in being on the contact e-mail list. If I remember correctly there are 115 names on that list. Thanks for letting me know what went on. I couldn't wait another three hours to see Keenjunk plug the plug. Nothing on TV but infomercials and I've seen most of them twice. Gotta get busy putting 115 addresses on the e-mail server. Thanks again.

JOHN LARSON, e-mail headed your way.
- Rutterbush - Saturday, 01/01/05 13:47:27 EST
---
That was supposed to be... I couldn't wait another three hours to see Keenjunk PULL the plug.

POST THEN PROOF
- Rutterbush - Saturday, 01/01/05 13:50:31 EST
---
Powerhammer: Hi,
I have a nice 25# Lttle Giant power hammer I would like to sale for $2000. I am outside Orlando and would need it to be picked up in the next couple of weeks.
Thanks,
Greg
- Greg - Saturday, 01/01/05 14:54:24 EST
---
We've lost a friend. It's always hard, even though we are left with good memories and a circle of contacts we made through that friend. We didn't even know he was sick until a week before his demise. Keenjunk is gone, and will be missed.

Neil explained his reasons: fast approaching his 85th birthday, time and energy flagging, his technical helper mired down in paying projects. And, beloved Cassius had been gone for some months or years, even though we saw his happy face every time we logged on.

There were offers to help. Folks from this website offered to keep it going, as it was. Others asked if financial help would keep it alive. All to no avail.

Websites like Keenjunk are a labor of love, and dedication, usually on the part of one individual. When he grows older, tired, has health or job problems, the website disappears. A great loss to us all.

About a year ago, Jock Dempsey, Alpha guru of this site broached the same topic to the members of CSI (our voluntary dues of $1 a week help to pay some, not all, of the costs).

After much discussion it was decided by the membership that Anvilfire should be incorporated as a non-profit educational website, so that it could continue past the time, efforts, and goodwill of just one person.

That has been done. We are incorporated, the non profit application has been filed with IRS, and indications are good that this resource will endure. Officers have been elected, and a board of directors is in place.

However, it takes the efforts of volunteers, whether financial, or those who can contribute of their time, to keep this site going. At present we have 102 members. That brings in about $5,000 per year. There is a shortfall of several thousand dollars. Also, Jock, our Guru, does all of the site maintainence. On a computer that is six years old. He also tries to do enough work to pay his rent and buy his groceries.

So, the bottom line is: this site can endure for the forseeable future. But not without help, financial and otherwise.

I ask you to consider supporting this website in any way you can. If you click on the navigation window at the top right of the screen, and go to the "Store", you will find how you can join and help preserve this site. Now is a better time than after the obituary has been set in type.

Thank you. Please don't let Anvilfire go dark like Keenjunk did last night.
Ellen - Saturday, 01/01/05 16:59:02 EST
---
My day: The warm weather was too nice to waste by hanging around the house. I used it to revamp the front end of the shop and get the new lay out table installed. It will work nicely for me, and I already enjoy the floor space it freed up.

BTW, I did some calculations of weight based upon .2836 pounds per cubic inch. A 4"x36"x84" piece of steel weighs 3430 pounds. The 1" stuff used for sides, ends, and bulkheads comes to 2300 pounds, by my guesstimation. So the total is 5730, which jibes with my forklift's grunt capacity.

I did an inventory of my anvil stash, which was under the layout table that I took out. I relayed it to Steve Gensheimer, who has first dibs. I'll see him next weekend, probably, and thereafter I'll know what's available. For the nice Fisher's I want $2/pound, the rare stuff is higher, and some stuff that needs top plate welding will be a lot less. Contact me by e-mail, please, so that others aren't irked.


John Larson - Saturday, 01/01/05 17:06:11 EST
---
Email out to you, John Larson. Thanks.
Alan-L - Saturday, 01/01/05 18:02:23 EST
---
Today: Well, I did go out to the forge and I made a heart hook, the same as Bill Epps demo on Iforge. Only better. Yeah right. Probably took me 3 times as long, and I had to redo the weld when that popped loose. But I did get it done, and it will go to the iron in the hat at our next club demo. After that I managed to chainsaw quite a few trees out back, good weather for that today. Tonight the freezing rain is in the forecast, then up to 52* for tomorrow. Strange winter weather lately here in Michigan.
Bob H - Saturday, 01/01/05 19:09:59 EST
---
Keenjunk: Well, Keenjunk is gone,we will all miss it. But life goes on
regardless. I have lurked here before, posted questions at
guru"s den. Hope I can add my two cents worth of help when
I might actually beable to, instead of allways asking for
it. I have been a full time smith for only 4 yrs. hobbying
before that. Rang my anvil 5 times for Neil and Keenjunk at
midnight last night. #1 actually understood God love her!

- Jeff H - Saturday, 01/01/05 20:58:19 EST
---
candlesticks and winikoff: Has anyone seen the nice candlesticks on a mantle in Archit. Digest this month, They ROCK! If anyone knows, could they be identified on thishar forum I would like to see more of their work.

For those of us who never communicated with or knew Neil Winikoff, I feel we have lost a chance to know him, I had no idea he was 85. Could someone educate us on who he has been to the American Blacksmith Community? Thanks!

- andrew - Saturday, 01/01/05 22:21:13 EST
---
John Larson's Anvils: John, I'm not at my home computer so I may not be able to retrieve your message until Monday. I will be seing you at Gichner's next weekend but I'll try to be in touch before that. Thanks for the opportunity. I won't keep anybody waiting unnecessarily. Steve
SGensh - Saturday, 01/01/05 22:43:25 EST
---
Fly presses: Hi- I would love one of John Larsons power hammers, problem is, the noice[of any power hammer]. I have a chance to buy a #4 flypress for 350.00. Need freeing up.
Is the flypress able to do the same work as the power hammer[minus the speed of course], and hoe available is
tooling? Jeff H
- Jeff H - Saturday, 01/01/05 22:45:14 EST
---
New Here/ JunkYard: Hello everyone, some of you here know me. I took the advice of others and came over here to see what was happening. Looks good so far. First time here.

Well the Junkyard is gone for good. I will miss going there everyday like I did for a little over three years.
Glad Jock has this place for us to go. Thanks Jock.
I checked till the end for posts. I put up the last one as far as I know.
- steve parker - Sunday, 01/02/05 00:00:20 EST
---
HI STEVE PARKER Thanks for the tongs and acorns. Tell LIBBY I like the YU-GI-OH cards. I hope you all had a good CHRISTMAS and NEW YEARS. I will put my name on these tongs. So I will not lose them. Thanks again, TANNER
- Sandpile - Sunday, 01/02/05 00:16:42 EST
---
Opulent Outhouses & the Feds: I tell everybody that just about every law or regulation, in isolation, makes perfectly good sense. It's only when you try to put them all together that they cause trouble and contradictions.

The outhouse at Delaware Water Gap was over the top; but any federal construction is going to be more expensive, normally, than commercial. Because it belongs to the whole country, we tend to put up VERY permanent structures, with at least a 50-year lifecycle (before replacement or major renovation). Commercial buildings run 30 years or less, and I've seen some that are gone in 20. Secondly, we have to obey EVERY regulation that anybody has come up with- safety, handicapped, recycling, unions, pollution, erosion, whatever you can think of, we have to do ever-so-much-better ('cause if we don't, somebody will nail us, 'cause we should...)

Lastly, on this project, all of the overhead that anybody could think of got pig-piled on the project. A lot of overhead is still paid for, but never seen by the customer or stockholders in commercial construction, some is shifted about, some is absorbed by amortization, ot tax breaks, or depreciation, or higher maintenance costs, and it's not an issue if a building is expensive, just so long as it makes lots of money, too. However, a park is not a money-making enterprise, and after expending a large amount of up-front money, the taxpayer seldom asks how much it will save in reduced manpower and maintenance costs or reduced environmental impact. This one still remains as an example of a good idea gone amok, but we do learn from mistakes. In the commercial sphere the Boards of Directors just shrug it off as cost-of-doing-business and go about their business.

As for us, even my eldest daughter knows how to use a cat-hole, but then we don't get a lot of hikers through our farm, not all of whom know how a bear does it.

Actual Blacksmithing Content (since few of us really desire expensive outhouses):

Forged a shaft for a friends drop spindle, based on one I saw in the Ashmolean museum in England. The original had an iron shaft and a crystal bead as a whorl, I substituted a large glass bead she had found. It's amazing how tricky it can be to forge thin, long objects sometimes, the tend to go all noodly on you. Can't wait to hear how it performs when she tries it out for fine linen or silk.

Warm and wonderful in the 50s on the banks of the lower Potomac. Like a lovely autumn day.

Go viking:
Bruce Blackistone - Sunday, 01/02/05 01:24:42 EST
---
Well....It's a deep subject: I was reading the posts on new year's eve and I decided to visit keenjunk for the second time in my web browsing, it was happenstance that I ended up their the first time. I didnt know why the site was going down until just now. There are a lot of sad people because of it. I am an IT man, I love the net, its what I do for the Marines. I build networks and make them tick. I do a little of this and a little of that in other tech areas, I also build computers too. I would love to donate my time to the sites out there that do good things for good people, like anvilfire and the yard. I am not a member of this site but I will be soon. I bought the book that Mr. Wilson authored, I read that 2 bucks go to this site, its all I could do for right now, I couldnt sit back and just eat bandwidth and not give back so I did what I could. Well time to turn in, I have 24 Hr duty post tomorrow. Semper Fidelis Anvilfire.

Adam Scott
stormcloud_2 - Sunday, 01/02/05 03:36:32 EST
---
Archives???: I missed some of last weeks stuff, is there a way to go back and read it. Is the hammerin archived?
- Stephan Pawloski - Sunday, 01/02/05 05:16:55 EST
---
Happy New Year, all!
Stephan Pawloski; Saturday morning, just before I pressed the reload button to make sure it REALLY was gone, I saved the last page of Keenjunk. If you like, I can email it to you. It only goes to 11:30 EST, but it has a lot of the final stuff on it.
There's an antique tool sale in Richmond this weekend. The missus & I went over in the afternoon to check it out. I found a set of 2 foot shrink rules for pattern making & a teeny jeweler's vise for Louise's birthday next week.(You gotta love a wife who appreciates tools as birthday presents!) We got weekend passes so we can peruse some more.
There's a guy selling some of the Lindsay books there. Anybody looking for something? I'll check back before we go in a couple of hours.
Thanks for accomodating us wandering Junkers, Jock.

- Tom C - Sunday, 01/02/05 10:04:46 EST
---
Stephan Pawloski: This page gets archived on a sort of monthly basis. Look at the posting window at the bottom of your page. Just left you'll see a column of buttons. Second from the bottom is "archives" which will offer you archives of both this page and the guru's den page.

Alan-L - Sunday, 01/02/05 10:09:54 EST
---
Shrink rules: Congatulations on the find Tom. I have never found shrink rules at a sale. I recently priced a new 24" 5/32 rule, it was $220. Luckily the foundry decided they wanted 1/8 shrink on this castng.
- JNewman - Sunday, 01/02/05 11:07:32 EST
---
Junk yard hammer: A quick update.
I have now run the updated 45# mechanical hammer that is on the power hammer page, catalog of user built hammers, about 10 hours. Basic changes from the pictures are an increase from 32# to 45# on the ram, and a replacement of the belt drive to a compact spare on an axle bearing unit. I find the compact spare tire clutch drive to be a wonderful improvement. The new 3hp motor may also be part of the change. I do find the somewhat slower stroke rate to be better for me. I have been making long gentle tapers from coil spring stock for small utility knives, and then spreading the blades. Very controlable. It is still not an air hammer, but the utility is much improved, and the total cost in $ is low. I do have a lot of time invested, but that is written off as stress reduction :)
ptree - Sunday, 01/02/05 11:12:28 EST
---
shrink rules: $220! Yikes! I got 3 of them for $30. 1/4", 1/8" & 3/16".
For folks who don't know what they're for; When you make a pattern for making molds you have to make it bigger to account for the metal shrinking when it cools. Different metals shrink different amounts, so a well equiped pattern making shop has rules for each metal the foundry pours. I've been looking for shrink rules for years & these were the first ones I've ever even seen!
I've heard tales of jokes being played where somebody switched a normal rule with a shrink rule, but the ones I got yesterday plainly say "shrink 1-4 to a foot" on them.
Hey John Larson, when are you coming down for your shop tour of the Richmond environs?
- Tom C - Sunday, 01/02/05 11:43:25 EST
---
CSI: I've been a member of CSI for almost two years now. At first, I thought, why should I pay for something I get for free? But then I realized just how much I read here, and how much that would cost me in books. And all the information available here, given with personal experience, just for the asking, is such a gold mine. I help out doing demo's with MABA, and I help teach smithing to people at our local meeting. I've gotten so much free instruction from so many different smiths, that this is just one way for me to pay my dues to the blacksmithing community. And we have seen Keenjunk close down, we sure would not want to lose this site. So, anyone else want to pony up and join CSI?
Bob H - Sunday, 01/02/05 12:00:28 EST
---
I've bought most of my shrink rules from retired patternmakers but I have bought some new ones but the price has gone up in the last couple of years. Those three you picked up are three of the most used rules. As Tom said the shrinkage varies depending on the metal being cast, it also varies depending on the shape of the casting, the type of sand the foundry is using and even on the moulding method. the foundry uses.
Crosspeen are you an OABA member? Where in the Niagara Penninsula are you? I am in Hamilton.
- JNewman - Sunday, 01/02/05 12:17:16 EST
---
nonBS: Morning all, nice to see all the keenjunkers here. Thanks to
the guru for this forum. Nice to have a place forus to go.
I asked earlier about a flypress vs a powerhammer. I have to make a decision soon as the press will be sold to someone
else. Tom C/ Sandpile/Rutterbush/ any experience on a flypress? Only problem with me owning a powerhammer here is
the noise. Thanks guys.
- Jeff H - Sunday, 01/02/05 12:24:00 EST
---
Flypress : Jeff I have a flypress and it is a very usefull tool but it is not a power hammer. A manual flypress is not a tool for drawing out. I have used mine a lot for bending, and have used it for sinking bowls, punching and chiseling. It can also be used for swaging, setting tenons, etc. Lloyd called me about a flypress that was frozen up a few months ago I think they wanted a lot more for it at the time. If it is the same press the weights are missing as well. I don't think it is a bad deal but it is not a bargain at that price.
Time to get to work.
John
- JNewman - Sunday, 01/02/05 13:15:10 EST
---
Powerhammer again!!!: Well I'll try this again and give contact info in the script. I have a 25# Little Giant powerhammer I would like to sell for $2000. My E-mail is seagiant@gobigwest.com
Thanks
- Greg - Sunday, 01/02/05 13:29:02 EST
---
Flypress: Jeff H, I have an old flypress and as JNewman says it's a wonderful tool but it's not really a substitute for a powerhammer. I use mine for the same sort of things he described. I also find myself using it to form into urethane. I'm sure your wife would find lots of forming and punching uses for it with her tinsmithing.

Make sure that the press you are looking at has a fast lead screw and that it it salvagable before you part with your money. These things do turn up so don't jump on the wrong one espescially if what you really want is a way to do the drawing out which the power hammer excels at.
SGensh - Sunday, 01/02/05 13:46:23 EST
---
JEFF H: If your looking for a power hammer and a little short for cash? The RED RECLUSE put up a bunch of good pics of a very simple and inexpensive treadle hammer. If you did not print ROGERS very good pics, I have a full set. The fly press is the cats meow for making circles,cups dished things and pressing with urethane. I make buckles this way, with a hydraulic press. --Sandpile
- Sandpile - Sunday, 01/02/05 14:14:25 EST
---
JeffH: you may have already done this, but if not, go to the menu at the top right of this page, to iForge, and check out demos 160 thru 165, there is a lot of good info and pix on flypresses and tooling.

I don't have a flypress, or a power hammer...yet. Would like to get a treadle hammer first, then a fly press, and by then I should be ready for a power hammer. All I have to do is find, time, money, and room enough....VBG!
Ellen - Sunday, 01/02/05 14:19:19 EST
---
Noise of power hammers.
While a power hammer is naturally a noise maker compared to a flypress, there are ways to quit them down.
I built my own power hammer, and it was very noisy. Step by step I have quitened it down. It now makes much less noise than a 4" side grinder. I will try to take some decibel readings if you are interested. The steps to a quit hammer that I went thru were;
1. I put in a heavy foundation. As I have a dirt floor, a slab resonating is not a problem, but I put in a fairly massive hunk of concrete.
2. I put heavy urathane conveyor belting under the hammer to isolate it from the concrete.
3. I filled the column with steel shot. Until filled the column acted as a bell! After, dead, no ring.
4. I stiffened the safety hood as it was oil canning, and I isolated it from the frame with scraps of the urathane belting. This was the final step.
My house is about 100' from the shop, with my kids bedrooms facing the shop. At first, the hammer would awaken them even with windows closed. Now, no complaints even with the bedroom windows open and the shop door open. The side grinder still is a no-no when they are asleep. My Trenton will waken them if the bedroom windows are open.
ptree - Sunday, 01/02/05 14:25:56 EST
---
Glass Eyes: Question of all here: has anyone here done forging and used glass, like from a marble, to "dress" it up? I have seen a couple of items made that way, technique is basically you forge your item, like a wall hook or similar, then prepare an area a bit bigger than a marble, punch a small hole (well you can drill it if you like), set the marble there, and heat in forge till the marble starts to melt and enough of it has flown thru the hole to hold it in place....just looking for some feedback and idea sharing. Thanks!
Ellen - Sunday, 01/02/05 14:27:26 EST
---
ELLEN: Ralph explained to me how he melted glass for highlighting metal. Of course, that was several years ago. He was putting marbles in the split crosses. Hopefully he will explain for you.
- Rutterbush - Sunday, 01/02/05 14:53:15 EST
---
Tanner/Sandpile: Tanner, glad you like the tongs , acorns and the cards libby sent you. Hope you have fun with them all.
I will tell her what you said.

Well, its good to see the regulars from the junkyard here.
Like I said before, I will miss it. Its gone so now I have to move on. I have visited several other sites since then. I think I will spend some time at several of them.
My time off is over today and its back to work tomorrow.
Got some things done around the place that needed done.
Never got out in the shop while I was off though.
But I will get my fix this week for moving some hot metal.
Have three six pound sledge hammers to make this week.
Should have them done tomorrow. Figure the weight for the shape they need to be and forge them out. Punch the holes and drift to size and shape for standard handles.
Dress the faces and heat treat them. Making them from 4140. Will quench in oil.

- steve parker - Sunday, 01/02/05 15:08:56 EST
---
Don Shears: Outhouses - a favourite haloween prank was also to move the outhouse back a yard or so down the path. You can imagine the result(s).

Incinerator toilets - expensive to run and load limited in incineration cycles.

Composter types - are meant for steady loads (;) a party or sudden influx of guests can overwelm the holding tanks bacteria for a while. With odourous result; kitchen scraps also can go in, but if the lid isn't kept closed (fruit) flys will move in as well.

I seem to recall that the original HARROWSMITH magazine had during its run an article about non-sewage/septic systems with a good listing of their stengths and weaknesses.

Don - Sunday, 01/02/05 15:12:01 EST
---
Don Shears: Oops - rushed posting with bad spelling;
haloween = halloween;
overwelm = overwhelm; and
stengths = strengths.
Don - Sunday, 01/02/05 15:18:40 EST
---
John Newman. Glad to see you found this site, didn't know if you knew that Keenjunk went down. Are you going to the OABA meeting this Sat? I talked to Leo on Tuesday and will confirm with him this week as to whether he is coming or not.Do you want to ride together again, as I will have to drive Leo anyway.
- Bob Cook - Sunday, 01/02/05 15:42:09 EST
---
Composting toilets: www.backwoodshome.com and use the search feature, they have articles and advertisers for them, good source of info, also I believe Lehmans has some info on them in their catalog. Not cheap, backwoods home had an article on how to build one.....

Rutterbrush, thanks, yes, I've seen a couple of pix that Ralph had posted a couple of years, ago, beautiful, mostly looking for ideas on applications for the melted marbles, the technique is pretty simple, just keep it in the forge for the right amount of time....not too short, not too long, just like a lot of forge applications.....grin! Different types of marbles can yield different effects, too....just hoping to hear from some folk to get some new ideas for applications of the technique....
Ellen - Sunday, 01/02/05 15:42:27 EST
---
Glass and forging: Ellen the answer is YES.
Once I am healed up I will go out and redo the shop so that I can work out of the rain and then I will try to take notes of all I do so that others can have an idea.

What Rutterbush was talking about is fairly simple.
In the iForge demo area there is a demo that Bill Epps did about a Fredrich Cross. Using that as my base I then dress it up and clean up the hole in the center so there are no sharp points. Heat the Cross to a DULL red. Place the glass on the hole and then place back on forge. ( I was using coal and I just opened up the top of the fire) and a SLOW gentle air blast. The glass will all of a sudden look very much like honey. Remove from fire. Then to get a nice even dome on both sides flip the cross back and forth till the glass is smooth. About this time it will also no longer be plastic.
Also I will have covered the fire again. Once the glass is not plastic I set on top of fire being carefull to keep glass off of the coal.
With NO air this allows a slower cooldown. Once 10 mins or so have passed I then set aside ( usually place in a vice ) Until it is cool.

Also if you make animal heads you can punch the eyes a bit deeper and place small shards of glass in and slump it just like the cross.

Use your imagination and have fun
Ralph - Sunday, 01/02/05 15:46:46 EST
---
Ralph, thanks the animal head eyes is a great idea! I'll try that on one of my rattlesnakes. And on my horseheads and longhorns.....

Hope you get better soon.
Ellen - Sunday, 01/02/05 15:56:42 EST
---
RALPH: I missed something> What happened to you, hurt or opperation? I hope I don't miss your glass demo.
Sandpile
- Sandpile - Sunday, 01/02/05 16:06:10 EST
---
archives - thanks guys: Rutterbrush and Tom C, thanks but I was referring to the anvilfire forum archives. I too copied the last page of posts from the KJ and I also saved the archive page from the "wayback machine" but even those archives seem to have been erased. I guess the junkyard is sinking with her stories as well.

Alan L, thanks for pointing out the archive button. I can't believe I missed it.

Let's hope that day #2 goes better than the first day of this new year. With the new year starting with the HMSS Junkyard sinking and ending with my truck being broken into at night at work. Maybe I should look into installing an air propelled hammer system that *modifies* the likes of the punks breaking in, of course I'd be put on a mighty quick trial for that so instead I think I'll compromise and get a car alarm and wire it into my Grover air horns. Then I'll just have to follow the trail of pee to their houses. Sigh, this world is crumbling already. *gets off of soapbox*


- Stephan Pawloski - Sunday, 01/02/05 16:33:15 EST
---
Shrink Rules: Shrink rules are also used in the forging industry. I have several that I use at work. They use them mostly in the inspection Dept and the machine shop. They use them alot for checking hot forgings. I have seen them in !/8 and 3/16 shrink scales.

Slumping glass into holes is a neat addition to our work. Have seen some of it done before but never tried it myself. May have to in the near future

- steve parker - Sunday, 01/02/05 16:36:08 EST
---
Flypress: Jeff, These are a very useful tool but they do not replace a power hammer. They also do not replace a treadle hammer but come closer than to a power hammer. A small rolling mill is also a VERY nifty tool but it does not replace a power hammer (see our book review page for the McDonald Mill plans).

See our iForge demos on flypresses and press tooling. You will see a LOT you can do. But also note the things you cannot do. As mentioned, drawing or forging where there are large changes in cross section is a job for a power hammer or forging machine.

The other thing to consider is your type of work. Some small metalworking shops use nothing but presses (fly presses, punch press and hydraulic presses). But in a blacksmith shop where you want to do tool making or large decorative ironwork projects a power hammer is a necessity to make a living.

All machinery has its best use and most has a limited range to what it is best applied. You have to think about your needs and go from there.
- guru - Sunday, 01/02/05 16:41:52 EST
---
Ralph, Keenjunk, Happy New Year: Ralph- Hello neighbor! You are certainly welcome any time you can make it down this way. I hope that you are feeling better soon.

I feel like a complete idiot- I was under the impression that 12/28 was the last day for the junkyard, so that was the last time that I posted. I will miss it terribly...Thank you and best of wishes to you, Neil, if you are out there.

I am very grateful for this site and will support it in every way that I can. Happy Belated New Year to everyone here. I was at the forge all day yesterday, and wasn't able to check in.
HeatherK - Sunday, 01/02/05 16:42:21 EST
---
Ptree's JYH: Send photos and I will update the article. It will take much less time than getting the first article posted.

- guru - Sunday, 01/02/05 16:42:54 EST
---
JYHs: There are several additions to the JYH index. I have been dreaming power hammer for some time. I have not decided on the pneumatic or mechanical approach yet. I have a bunch of 12" heavy H beam pieces up to 7' long. The stuff weighs 75 lbs/ft. At first I thought this was too heavy, I was thinking Kinyon style then. I would love to trade one of these pieces to somone for a heavy piece of plate for a hammer base. I am goimng to start looking bor big pieces of shafting for an anvil. Meanwhile I'm keeping the air vs mechanical option open.
John Odom - Sunday, 01/02/05 17:27:33 EST
---
I spent my morning stringing flexible conduit and wiring circuit breaker and switch for the new-to-me hanging-type oil burning hot air furnace. I was working on the furnace project last week and Tuesday my furnace man proved it worked and gave me a to-do list. I'm still waiting for stove pipe at the local trusty, dusty hardware store.

This afternoon I did my monthly stint doing demo blacksmithing at the historic site by my house. Very few visitors today. I tried my hand at making a "ram's head" scrolled top on flat strap pickets. They kept getting better. Another couple of dozen and I might have a better idea of how to proceed. My ambition is to be half as good as Josh Greenwood. His piece that pops up at log in is my inspiration. I saw him demo this at BGOP's Spring Fling, and Nol Putnam said they are really hard to do right. My memories and notes of Josh's steps are nonexistent.
John Larson - Sunday, 01/02/05 18:01:54 EST
---
J Newman: Hi John we have met,I was at your shop with a boom truck one day and bought a couple items,I am interested in meeting the folk at OABA,I have your # will give a call this week and get some info,nice to see you here.Brent

crosspean - Sunday, 01/02/05 18:09:06 EST
---
OABA meeting: I do remember you Brent, give me a call, the OABA meeting this month is in Ingersoll just outside of Woodstock. The host of the meeting has a John Deere tractor Museum there on his farm with about 60-70 tractors. I believe Bob Cook has a few demonstrators lined up including a blacksmith who worked in the same Blacksmith shop as Bob for 55 years.
Yes Bob I will be at the meeting I will let you know later in the week about carpooling. I will remind Leo when he drops by this week.
- JNewman - Sunday, 01/02/05 18:44:41 EST
---
Ralph' info: Sandpile, and anyone who did not know ( mostly folks from over in the Yard)
I had a melanoma decide to move into some lymph nodes ( right armpit) Fortunately I caught it and once all the nodes that side were removed the cancer was only in ONE of them.
Then I had to start a drug treatment ( interferon A)5 days a week for 4 weeks now I am done with that but have 47 more weeks of self-injections 3 days a week.
At the same time as all that I also had Rad treatments to thte right armpit area. So now that they are finally done this is good, and my armpit can start to grow new skin as all the old skin is gone.

Also I have only done glass demos in person, as I am still trying to figure it all out.

HeatherK, do you know Mike-hr? He is in the K Falls area.
Ralph - Sunday, 01/02/05 19:09:33 EST
---
Ellen and glass: Ellen,
at the 2000 ABANA conference Dortothy Steigler ( and her daughter) were demoing forge enamaling. You can get enamaling powder and it can be done in a forge. At the demo tho it was not working as well, so Dorothy used a Henrob torch. Since using a torch requires 3 hands she asked for a volunteer. Let me tell you the question was still floating in the air before I was there. (grin)
I mean how else are you going to get to ask questions?

Did the same sorta thing at Lorelie Sims that conference. Heh, Heh. Pretty ladies all.
Ralph - Sunday, 01/02/05 19:13:16 EST
---
adam: John, If you are new New Mexico I have plate & shafting that might be useful for your project
adam - Sunday, 01/02/05 19:45:22 EST
---
Adam:: Thanks, I live in east TN, That is a long way from NM. I used to travel through there regularly, but most of my relatives in CA have died and fuel is so high I just stay home. Perhaps someone in this side of the country has some they might trade.
John Odom - Sunday, 01/02/05 21:06:00 EST
---
RALPH: My heart and prayers go out to you. I have had three pre- melanoma places carved out and went back for seconds on two of them, but no melanoma. I hope you are left handed.(grin) We will keep you in our thoughts. ADAM; Where at in NM? I am in DALHART TX. 36 miles from CLAYTON, NM.
- Sandpile - Sunday, 01/02/05 21:40:33 EST
---
John Odom.
I have some lovely very large axles that will make a nice JYH anvil. 2 sizes to choose from 454# and 250#. These are as forged, made from 4140, and have a nice forged flange on one end. I am located in S. Indiana.
ptree - Sunday, 01/02/05 22:21:44 EST
---
flypress/OABA: Guru- thanks for the flypress info, I think a treadle hammer would be the best addition for the shop. Seams it
would be much more versatile.

OABA- Don, do you have room for one more? I can helpwith
gas too! Wasn"t goin alone, gas too much for me right now
but the car pool thing sounds great. Jeff H
- Jeff Haffner - Sunday, 01/02/05 22:42:23 EST
---
flypress/OABA: Guru- thanks for the flypress info, I think a treadle hammer would be the best addition for the shop. Seams it
would be much more versatile.

OABA- Don, do you have room for one more? I can helpwith
gas too! Wasn"t goin alone, gas too much for me right now
but the car pool thing sounds great. Jeff H
- Jeff Haffner - Sunday, 01/02/05 22:42:25 EST
---
John Larson: John, one of these days I would love to get your way and go to Jsh's shop to meet him. I have seen some pics of his shop. He has some really nice equipment to work with.
Back to work tomorrow after a much needed rest. Will be good to get back.
- steve parker - Sunday, 01/02/05 23:00:20 EST
---
John Larson: I'm glad you've kept up the daily journal now that you're over here. I found that I really looked forward to reading that every day and I was afraid it was going to end with Keenjunk.

If I'd known when I was there that you were going to sell off some of your Fishers I would have snatched up that nice big one. I'm sure Steve wouldn't have minded lugging it back in the trunk of his fancy German car. (grin) (I ended up buying one on eBay, and got a tremendous deal; even with the shipping it came to less than $2/lb.)

I'm thinking of taking a couple weeks vacation time next month so I can get the powerhammer finished. That, of course, means I'll be bugging you with a fresh batch of questions. It also means I'll have to buy a new air compressor, but I'll burn that bridge when I get to it.
vicopper - Sunday, 01/02/05 23:13:36 EST
---
Iron crosses of the cemetaries: Hello,
I just watched a very interesting show on PBS. It was about the Iron Crosses of the German, Russian, and Urkranian imigrants. The crosses where made by the local blacksmith most of the time, but in some areas people would travel great distances to get a cross made by a "cross maker". These smiths had very distictive styles and this made their crosses stand out a little. Very few of these crosses are made today. But oh my, the artwork put into these crosses! Check it out! Most of these where made from what ever was on hand for material. Some had unusal items or pieces added by the blacksmith either of his own accord or by the request of the family. These crosses are starting to attract the attenion of the National Historical Society. I found it to be a very interesting subject. Here are some web sites to check out. One is the North Dakota State University Web page about the crosses. The other is a site on where to get the tapes about the crosses. There isn't much on blacksmithing it self, but it has a lot of history about the "cross makers".

http://www.plainsfolk.com/ironcross/

http://www.lib.ndsu.nodak.edu/grhc/order/tapes/pcpvtape.html

Thanks
Richard Jensen
Jensen Bros' Smithery
richard Jensen - Sunday, 01/02/05 23:24:53 EST
---
RICHARD JENSEN-- There was a lady writng a book on the IRON CROSSES. There was alot of comments and some good links to pics. of a bunch of grave yards full of IRON CROSSES. It was quite interesting, probably the same links you have.
- Sandpile - Sunday, 01/02/05 23:47:28 EST
---
Ralph: Glad to see you are noticing pretty ladies again. That's a sign of a good recovery!

I understand that cleanliness and godliness are both required to do glass enamelling....grin!
Ellen - Sunday, 01/02/05 23:57:48 EST
---
RICHARD JENSON: I wrote what I was thinking instead of what I meant to say. They may be different links. GRIN. Any way they were very interesting and the links in the ARCHIVE may be some more of them. Sorry about that.
- Sandpile - Monday, 01/03/05 00:01:03 EST
---
keenjunk: RUTTERBUSH: If you did not get my address off KJ, and add it to your list, please get it here and add it to all the rest. Thanks.

Mills: How do you get to the International Archives of KJ ?
I have not been able to get into ANY of the archives for at least 4 days. Would like to download all of them to disk. I had started to read all of the archives, and had never gone to the current pages of the KJ forum, tell the 29th., or the 30th. when I could not get into the archives. Thanks.

Jock: Thanks for the e-mail with your phone #, and that I could call anytime. I will get with you about the books.
I know I want Paw Paw Wilson's book (are there 2, or 3 book's in this set ?) as soon as I can get it, but I think I might have to wait on the "Anvils in America" due to money constraints, this soon after Christmas.
Thank you for this site.

Wally Verbeck
Cleveland, Tx.
circlevforge (someday !)
- Wally Verbeck - Monday, 01/03/05 01:07:15 EST
---
e-mail address: wallyv@tech-stars.net
Wally Verbeck - Monday, 01/03/05 01:10:27 EST
---
Newbie Forge Question: Hello all! I am very new to the fine art of blacksmithing, in fact, to say that Im still green would be an understatement as I have virtually no real exposure to it. I have read through most of the FAQS and whatnot on this site and others and have selected a few projects to whet my feet. Firstly, I need to build a forge, and since Im still learning, and space is limited, Ive decided that the "drum brake forge" is probably a good place to start. I know that I can get drum brakes from the local auto parts stores, and the legs I can get from the Lowes/Home Depots, but Im not quite sure about the rest of the parts. Can these be obtained at Home Depot? If so, which general section of the store would they be in? If not, what kinds of stores may carry something like that? I still need to track down a small anvil and some basic begginers hammers, but any advice and/or help you all can offer me in the way of finding the parts I need would be greatly appreciated! Thanks!
Sincerely,
-Johnathan clayborn
Johnathan Clayborn - Monday, 01/03/05 02:24:28 EST
---
Johnathan, rather than going to a "Home Despot" or "Slowes" I'd find a local junkyard that scraps everything, not just cars & establish a relationship with them. Not only will they have all the things you need for a forge at a per-pound price, they'll have raw material to make your projects from once you get set up. Most small junk dealers are friendly & if you tell them what you're up to will probably help you find stuff.
That being said, there are places that have been fined for environmental stuff or hit with insurance restrictions who won't let you roam freely so don't tke that personally; it's the suit-happy times we live in.
As Tony & everybody else in the metalbanging community will tell you, a good junkyard is better than money in the bank.
Tom C, gettin' back to work by the James.
- Tom C - Monday, 01/03/05 09:24:29 EST
---
Trunk Use: Rich, It wouldn't have been the first tool to ride back there!
SGensh - Monday, 01/03/05 09:38:52 EST
---
New forge: Johnathan, try to stay away from the big home improvement stores if at all possible. Find a little family-owned hardware store if you can. They may be a little more expensive, but they will have a better selection of real tools, not just flashy tool-shaped objects. They may even have actually used what they sell!

The above advice is just for when you absolutely have to have a storebought item. Junkyards are the way to go if you can find one. Also look in your phone book for industrial suppliers, machine shop supplies, plumbing warehouses, steel fabricators, and in short any kind of place that caters to real industry rather than homeowners.

Also, before you build the brakedrum, can you get coal in your area? Worth checking on!
Alan-L - Monday, 01/03/05 09:59:42 EST
---
Thanks. : Thanks for all of the help this far. I live in Phoenix, AZ, so Im fairly certain that I can find most things here, but just in case I cannot, what alternative types of fuel and forges are available and easy to make for the beginner such as myself?
Johnathan Clayborn - Monday, 01/03/05 10:04:29 EST
---
Sandpile, I am in the north, Los Alamos which is near Santa Fe.
adam - Monday, 01/03/05 10:39:45 EST
---
Johnathan, try to think outside of the big box store; they joy of smithing is that you can make or adapt stuff yourself and so are not tied to what some company *thinks* is right for you!

An auto repair place will probably have *free* used brake drums---why buy a new one?

For hammers and other tools look for a fleamarket.

I always pick up a couple of spare handles when i find them cheap so I can buy the fifty cent hammer heads and put a dollar handle in them to suit myself rather than pay $5 for a hammer and still have to re-handle it cause the one they slapped in it was "not acceptable" ojnce a fellow was trying to get me to pay top dollar for a hammer he had cause he was harping on the fact that he had put in a handle that cost more than what I wanted to pay---so I pulled out the handle and handed it to him (it was that badly put in!) and said I would buy the head if he subtracted the cost of the handle...

Two ways to go that may be easier and are more neighbor friendly are: propane forge and charcoal forge. Lots of info out there on both, Ron Reil's website on gas forges is probably the best to get you started on propane and Primal Fires is a set of ezboard forums that are "neo-tribal" and do a lot of work with charcoal forges.

I'll be bringing a forge to Phoenix in Feb for the SCA's Estrella War.

Thomas
Thomas
Thomas P - Monday, 01/03/05 11:38:50 EST
---
Ralph, Rutterbush: Ralph- I have not had a chance to get up that way to meet Alan Flashing yet, though I would like to. I am not familiar with a Mike in the Klamath Falls area.

Rutterbush- Could you please add me to that list, I forgot to leave my info on the Keenjunk site. I will leave my e-mail -let me know if you need additional info. Thanks!
HeatherK - Monday, 01/03/05 12:16:18 EST
---
Rutterbush: Oops, ahking@ echoweb.net
HeatherK - Monday, 01/03/05 12:18:30 EST
---
Wally Verbeck: I did get everyone that wished to be put on the e-mail list. Your name is there.
- Rutterbush - Monday, 01/03/05 12:18:57 EST
---
E-MAIL ADDRESSES and SPAM:
To the former Junkyarders:

Our public forums use an encryption system to prevent SPAM harvestors from automaticaly gathering email addresses from them. If you click on the person's name it will be decoded AND launch your mail client if your browser is properly setup.

This is not a perfect system. It prevents machine harvesting but not individual harvesting. And yes, spammers in low wage countries DO go through forums and gather email addresses manualy. They also sign up for private forums ESPECIALLY on Yahoo and other "free" forum sites. THAT INCLUDES cutesy unformated email addresses like "guru AT anvilfire DOT com".

Lists that include these type addresses are sorted and manualy repaired. It is not hard or time consuming, I have done it for a client.

Posting email addresses in an open forum even in the text without a mailto: link or with broken formating garuntees it will be picked up by spammers.
- guru - Monday, 01/03/05 12:41:31 EST
---
HeatherK, RudyH: HeatherK your address will be added to the list if it is not already there. I'm at the college of welding knowledge at this time so when I return home I'll check.

RudyH, I'll post the meeting times for the smithing class when I'm informed of them. The tentative meeting time is Wednesday evenings from 6:00PM till 9:00PM. That has not been written in stone at this moment. George Matthews will be teaching.
- Rutterbush - Monday, 01/03/05 12:47:08 EST
---
Happy New Year: I wish you all a happy, healthy and prosperous new year. Also, while I am genuinely sorry about the Junkyard's fate, it is nice to have lots of company over here. :)

Support CSI - this site needs YOUR help - thank you
adam - Monday, 01/03/05 12:54:06 EST
---
Scrounging: Scrounging is the way ro go. Today my scrounging was especially blessed, actualli it was my scrounging of early december that was blessed today. I was GIVEN two pieces of 2" thick Kaowool each piece 24" X 48". A refractory contractor was starting to go through the stuff they brought back after cleaning up from a big job. He remembered that I couldn't afford the new stuff when I priced it at his office in early Dec., so he called me when he saw this come back. It had already been charged to the job.

I expect this to greatly improve the performance of my gas forge.

John Odom - Monday, 01/03/05 13:00:44 EST
---
New forge: Johnathan:
As noted by others this is a scrounger job. In modern blacksmithing if you don't have a lot of money to spend on tools or want more than you can afford it is good to hone those scrounging skills.

If you look at my first forge in our getting started article it was made from mostly scrounged junk from home with the exception of the 3 pipe legs. I built this before I had heard of a brake drum forge using old auto wheels. In fact I think they work better than a brake drum. But the point is to build with what you FIND and not get stuck on specific plans. Thinking on your feet and creative substitution is the way of the junkyard builder.

Forge pot substitutions:

Steel auto wheels with few holes or spoke cutouts.
Large auto or small truck brake drums.

Both the above should be FREE from many auto garages. Brake drums can only be machined so many times and wheels get bent. If your local shop doesn't have one today they will tomarrow. Ask them to save you a couple.

Small cast iron sinks have been used. They need some filling but they work.

Disk plow or harrow disks. These make a stylish looking forge. They will work better if you can make a depressed center "fire pot" to make a deeped concentrated fire.

OLD (FREE!) Hot water heater tanks and shells. Now, these take a little work but you can build a forge with a hood and have a slack tub left over. Strip off the sheet metal, remove the fiberglass insulation and discard in trash. Cut the top (usualy convex) top off the tank for a forge pan. You can cut with a saw or chisel. It is a lot of work but it can be done. Using a cold chisel will give you hand eye coordination practice needed for smithing. You can cut a hole for the blower OR use pieces of the sides of the tank to make a truncated pyramid fire pot. At this point it REALLY helps if you have a torch to cut and weld with. However, if you are determined you cut and hammer out the parts and put them together with small small nuts and bolts. You will need to be able to drill holes to do this. A brace and bit will work surprisingly well on steel making holes for 1/4" bolts. You can also get a cheap 1/4" electric drill for $20 or less and a good one for around $100.

So, think about your project. Inventory your available pieces and sketch what can be done with them. Are there tools you will need for smithing that you can use to build the forge? Items like a hammer, cold chisel, hacksaw, files and a small drill come first. A vise and bench of any kind is handy. C-clamps are useful but not a priority.

Note that in limited space or situations where you need to break down and move equipment that a water barrel or part of that hot water heater tank we spoke of can be filled with water and make a nice heavy anchor for a vice. Fit a board to the curve of a section of the tank's rim, attach with screws and anchor your vise there. When you need to move it drain the water and roll it away. . .

If you are going to spend money on a forge you can buy a real fire pot and very nice blowers from our advertisers and for about $150 have the makings of a FIRST CLASS coal forge. As noted above, be sure coal is available first.

- guru - Monday, 01/03/05 13:12:29 EST
---
Johnathan, you live only a few miles from a master of adaptive reuse and primitive forging setups. A guy by the name of Tai Goo lives out there. He's a VERY good knifemaker who uses an old Weber kettle grill lined with ashes as a charcoal-burning forge, air supplied by hair dryer. He used to have a huge shop with all the goodies, including gas forges, belt grinders, and a Nazel 3B, but sold it all because he felt the machines were taking over his life. He now forges in a roofing-tin lean-to and does all his finishing by hand. He's sort of one extreme in the world of bladesmithing. Look at www.taigoo.com.


Alan-L - Monday, 01/03/05 13:16:40 EST
---
D'OH!: Tai lives outside Tucson, not Phoenix. My bad! I can't get his website to come up at the moment, either. At any rate, there's quite a few smiths out in AZ. If you can find one to look at their setup before you start to build, it will be a very helpful educational experience.
Alan-L - Monday, 01/03/05 13:26:27 EST
---
Johnathan: I moved here (Oregon) from Arizona just over a year ago. While living there I became acquainted with a few very talented smiths through my own guru. Try looking up Tom Yeager in the Phoenix area and Peter Sevens in Tucson. Also there's Chris Hill down in St. David, but I would definitely try calling him first as he likes to keep to himself. Tom and Peter are both very friendly and if they had the time would be happy to give you some advice.
HeatherK - Monday, 01/03/05 14:00:16 EST
---
Jonathan, the Arizona Artists Blacksmiths Association has annual workshops where one can build a working propane forge for about $75 in parts. They furnish the parts, you furnish the $75 and your own labor. We had one last January and 7 of us spent a day building nice forges. The valley can be a hard place to build a coal fire, especially if you are new at it and have trouble with smoke.....coke is a good alternative but a tad harder to work with, and last I knew there was a couple of tons of it left in the AABA storeroom. They have a website, and meetings where you can meet lots of nice folk who will help you out. You can google the website, I don't have the link handy, as I recall dues are about $25 a year and you get a nice magazine along with it. Hope that helps......also a trip to Pieh Tool Co. in Camp Verde would a good thing to do, and their 3 day class is excellent! Check out Brown's Farriers Supply at 1863 E. Baseline in Tempe, they are most helpful and you can buy some goodies there. Good luck!
Ellen - Monday, 01/03/05 14:05:44 EST
---
Jonathan, the website is: www.az-blacksmiths.org. Dues are $25/year. Much good info and many pix on the website.
Ellen - Monday, 01/03/05 14:09:25 EST
---
Johnathan-Correction: That's Peter Sevins, not Sevens.
HeatherK - Monday, 01/03/05 14:11:56 EST
---
Jonathan, for scrounging steel two of the best places are Davis Salvage, about 36th St. & Washington, you can still wander around there and pick out your goodies, and I also like Capitol Metal on 48th St. between Broadway and Southern on the west side of the street. They have a HUGE selection of precut steel in uniform quantities which makes it a whole lot easier to build up your projects. Their "storeroom" is extensive and you can also go into the main warehouse with one of the hardhats they furnish. Prices are fair. Service is excellent.
Ellen - Monday, 01/03/05 14:23:19 EST
---
Water Heater Insulation: ANYBODY: I was wondering which hot water heaters had the kao-wool type insulation? I read someplace that some mobile homes were equipt with this insulation.
- Sandpile - Monday, 01/03/05 15:20:30 EST
---
Jonathan, I forgot to mention I saw a 125# Trenton anvil at Browns, used but in good condition, seems like it was $200 and no shipping (grin!). Trentons are a good anvil, and a better starter than a farriers anvil in general.
Ellen - Monday, 01/03/05 15:34:16 EST
---
I got my t-rex burner finally. I cant wait to fire it up. finally got my regulator hooked up. the only thing now is that the nipple on the burner is quarter inch rh thread and the hose is 1/2 i belive and lh thread. so i have to get or make an adapter for it. nothing seems to be going together right. but hopefully i can get it together by the end of the week.
chris
- chris - Monday, 01/03/05 16:37:25 EST
---
Scrounging again!: Today must be my day! The turn signal lamp on my truck went out this morning (on my way to pick up the Kaowool) so I just went to the nearest auto parts store to get another. Since I pass a junkyard on the way, naturally I stopped. I saw a nice looking machine pedestal, but although actually too heavy for the now being rebuilt gas forge, I looked for the yard owner anyway. He said "I have something for you."

It is a beautiful cast-iron base from a sock-knitting machine. It is of the old, gracefuly curved cast iron era, and just right for the gas forge. The best part is it was FREE!! The other base is part of a Press he will sell as a complete working unit, so it wasn't for sale anyway..

Be VERY good to your scrapman!
John Odom - Monday, 01/03/05 17:01:19 EST
---
Water heater insulation: Sandpile: I know of no water heaters that use a high temp insulation. The only stuff I have seen in that use id fiberglass of plastic foan and neither will take the heat of a forge.
John Odom - Monday, 01/03/05 17:04:34 EST
---
New Membership: I would like to say hello to all, this is my first post.
after lurking for about 2 years on and off , I just sent my membership dues in via EFT. I wish I had done this earlier. This was part of my wife's grandmothers christmas gift to me :). I know that there has to be others just like me reading this right now, so if you want to keep reading and getting all this great information then join and help out. (now back to work)

best wishes- Dave
daveb - Monday, 01/03/05 17:12:29 EST
---
KJ ARCH.--INSULATION: MILLS: I have ARCHIVES book marked:Thanks
Hello, JOHN O. There has been some made with that insulation, I just do not know which one it is. If we can find out which one, it will save somebody quite a bit of cash. I will talk to my son, he is in heat and air.
- Sandpile - Monday, 01/03/05 17:17:38 EST
---
Water Heater Insulation: The shells of water heaters have the common "pink" or yellow low density firerglass just like used in domestic insulation but without the paper backing. GAS hot water heaters MAY have about a square foot or less of Kaowool in the burner chamber. However, the wool used in oil furnaces and gas hot water heaters is low grade and not worth recycling.

If you need small quantities we sell it by the foot, 10 foot or 25 foot carton.

Chris, Your T-Rex has a standard tapered pipe fitting. Your hose has a special union coupling that pressure seals against a matching seat. The adaptors cost a couple dollars at your welding supplier. You will want a valve on the forge or burner and then screw the brass hose fitting adaptor into that.

Note that all the gas and welding hardware that is left hand is marked with a machined stripe on the hex. The tapered (NPT) ends are always right hand. Only the ball and chamfer ends are left hand. Also note that the same type fittings are available in right hand for non-fuel gase hoses.
- guru - Monday, 01/03/05 17:23:15 EST
---
Fittings: Here is a link to Western Enterprises. Their on-line catalog has a lot of pictures of different fittings and threads. This can help you get the correct name for what you want.
www.westernenterprises.com/enterprises/indcontents.html
John Odom - Monday, 01/03/05 17:52:04 EST
---
Chris's T-rex burner and regulator:
Chris, what I have been known to do (usually) is to go down to the hardware store and buy a HOSE BARB in the appropriate size -- for you it would be 1/2" pipe thread with a 1/4" barb -- and then cut the threaded fitting off of the hose and use a hose clamp or two to attach the hose to the barb. Works a treat, it's how I have all my burners set up. If you have any questions feel free to drop me an email.
- T. Gold - Monday, 01/03/05 17:57:26 EST
---
And for some reason my email didn't show up in that last... let's try this again.
T. Gold - Monday, 01/03/05 17:58:01 EST
---
Dave:
Welcome to the CSI family! We're glad to have you, and we appreciate your support.

Eric
eander4 - Monday, 01/03/05 18:26:24 EST
---
Dave,
Welcome to the blue. CSI membership is what keeps this site up and running.
ptree - Monday, 01/03/05 18:41:22 EST
---
Ramblin: Sandpile: I've been meaning to ask, but just havn't gotten a roundtuit yet, you mentioned making bits and spurs, which brings the question, Did you known Jerry Cates, spur and bit maker and Cowboy Hall of Famer. We both grew in Foard County at the same time. THE last I heard of him before he died he lived in Amarillo, He has a brother J.M. Cates that lives in or around Clayton N.M.
Gotta Go


- RudyH - Monday, 01/03/05 20:15:26 EST
---
Responses: Tom C., the current plan is for me to visit you guys in several weekends--next weekend is the Gichner hammerin, the next weekend is a family event, and then I thought I'd come down to see you guys, arriving on Friday, staying Saturday night, and driving home on Sunday afternoon.

vicopper, thanks and good luck on the hammer. I really miss the junkyard forum and am trying to adapt. The anvils weren't really for sale until I started my substantial revamp of the shop in October, following quad states, and when I got the replacement layout table I got serious. I'm glad you got one "reasonably priced"--sounds to me like you nearly stole it. When you do your tup be sure to retain the outer tube so that you can have an oil reservoir for the bronze bushings. I think your idea is a really good one, but it's not for the height challenged shop. :-) You probably need 6 to 8 inches from tip to tip on the bushings to have good die registration. Just my two cents.

Rutterbush, e-mail headed your way.

Today I used the superb weather to clean and paint some stuff. I forged some rods that I'm using to build a new, portable tong and hammer rack. The nice one I built several weeks ago got outmoded when I changed layout tables. I don't know if I can adapt it to another location or not. My trust, dusty hardware store still didn't receive my stove pipes.

Which leads to a question. What is the proper way to add one of those flapper valves to the stove pipes? And what is it that they do?

John Larson - Monday, 01/03/05 20:54:53 EST
---
SPUR-MAKER:FIDDLER: RUDY H: HELLO RUDY, Jerry Cates is alive and well. He is still making spurs and bits. With all the publicity he has had, his prices are getting up there, where he can make really good money on his spurs and bits. JERRY is a good fellow and helps a lot of beginners. J.M. is still ranching and playing the fiddle. He jerked a finger off of his left hand and the sucker learned how to play with just three fingers. J.M. is always laughing and having a good time, losts of fun to be around. He is a friend of mine. We have a lot CATES in this country and most of them are kinfolks.
- Sandpile - Monday, 01/03/05 22:26:14 EST
---
---MONEY---: SOMEBODY: If somebody would put out the snail mail addy for ANVILFIRE I would send a check for the membership. I would hate to have to go through the withdrawal symptoms again, BOG. I am going pester JOCK and PAW PAW enough to get my moneys worth. GRIN
- Sandpile - Monday, 01/03/05 22:38:05 EST
---
--CSI--: I should have written --CSI-- I will send dues.
- Sandpile - Monday, 01/03/05 22:45:58 EST
---
CSI: Sandpile-

Jocks mailing address is at the bottom of the home page. Welcome to you and all the new members coming in.
Brian C - Monday, 01/03/05 23:02:13 EST
---
Sandpile:
I've got to ask, though I might regret it. How did he lose the finger? (I'll go cringe in the corner now, and try to shake that visual out of my head)

Eric
eander4 - Tuesday, 01/04/05 00:25:11 EST
---
Chris- Dont get discouraged with your gasser. I was the poster child for not getting mine up and running. I bought it and it took me 6 or 7 months to actually getit running
correctly. It took the knowledge of the guys on Keenjunk, some who are now here, John Fee, John Larson,Rutterbush, and
a host of others to get me pointed in the right direction.
John Newman finally put me in contact with a new gas supplier who came to my shop and told me exactly what to do
to fix my problems. Guess what, the guys here were all right
I just couldnt put to work what they were telling me. Turns out my feed line was too small a dia. and so were my nozzles. I now have a 100 pd. bottle with regulator and it
runs perfect.
- Jeff Haffner - Tuesday, 01/04/05 00:46:46 EST
---
FINGER: Hello ERIC-- It has been about 15 years now. It was his ring finger. I forget just exactly how it happend. He hung his ring on something and it jerked the first two joints off. He does not even know it is gone. I jerked my thumb off, except for a very small piece of skin and the big ligament on the bottom. A durned good doc put back on. It took six months to grow it back. It looks more like my big toe than it does a thumb, but I can start a nut with it. Things happen. I let it get between 1/4" chain and a piece of pipe.
- Sandpile - Tuesday, 01/04/05 00:53:13 EST
---
Thank you kindly! : Thanks very much to all of you for your support and advice. My dad happens to know a guy who owns an auto-body shop, so perhaps steel wheels or brake drums wont be that hard to come by. ;)

Thomas, maybe YOU can make whatever you want, but Ive not done any actual smithing yet, so I darenot say as much for myself. ;) ...but your right, I think I will find that highly enjoyable.

One of the biggest problems that Ive had planning my forge thus far is that I have very limited knowledge of metalurgy. I dont know how hot the forges are supposed to be, or at what temperatures certain metals soft getting soft. I dont want to make a forge out of something thats going to melt on my first attempt! ;) Any books or online references that any of you could suggest on THAT subject would be much appreciated.

Seeing as how Im still a young lad of 24, and usually broke, scrounging is going to be a very good thing to learn I think. I had a thought...how well would an old vacuum cleaner motor work as a blower for a forge? Am I on the right track with that one, or out in left field?

Space is an issue as I live in apartment and will probably end up transporting my forge to my father's house to work over there. I would like to learn bladesmithing... eventually... but Im not in any rush and want to learn the basics and gain a good solid grasp and appreciation for this art, which has always intruiged me.

Guru, I have read the articles on this wonderful site already, and have seen the picture of your first forge. I think its pretty darn good! Id be very proud if my forge looked (or even worked) half as well as yours). :)

Alan, Thanks for that info, if Im in Tucson (which I am occasionally), Ill have to give him a look. His stuff is interesting. It looks like many of his knives are made from re-worked shovels?

Ellen, Thanks for the info. Ill have to see if I can set aside some money then. ;) Both of those places are across town from me (I live on the North side off of I-17 and T-bird), but I get the feeling Ill be making some special trips , at least to Brown's to pick up an anvil myself! ;)

Thomas, I know a few people who used to do the SCA, so maybe Ill go watch the Estrella War and try to hook up with you.

Again, thanks very much for all help, I greatly appreciate it! :D I cant work to start hammerin!
Johnathan Clayborn - Tuesday, 01/04/05 01:13:09 EST
---
Jonathan: Browns is a mom and pop operation. Ray is in his early sixties, shoes a few horses still (he is an expert, held in awe by the local farriers for being able to expertly shoe 12 horses in a day when he was younger) and he and his wife are most friendly and helpful, especially to young smiths getting started. Ray has a blacksmith shop at home and is a hobby smith and an AABA member. If he likes you he will work with you, save back used tongs, anvils, etc, make you a good price. A resource well worth the trip and getting to know. Real nice folks. He knows what it is like to start out poor. When he first started shoeing he would go to a local stable, set up his equipment and start making horseshoes. From that audience he would get horses to shoe.

Same with the local AABA members. Check out the website and go to a meeting, you don't have to be a member to attend meetings. Visit Phoenix Forge in downtown Phoenix. Get out and meet some of the local smiths. Best thing you can do for yourself.
Ellen - Tuesday, 01/04/05 02:21:04 EST
---
Dave and Sandpile: thanks for helping to support CSI. We appreciate! Your fifteen cents a day will help to keep this site going. THANK YOU!
Ellen - Tuesday, 01/04/05 02:24:05 EST
---
Of stovepipes and stuff: Johnathan, no they aren't made from shovels, he forges them from flat stock, something like leaf springs. The socket is good, though. I watched him forge one of those in about 40 minutes last year. Very good hammer control!

John Larson, do you mean the barometric draft thing that looks like a T with a couterweighted flapper in the short arm, or one of those in-pipe dampers? The barometric ones only work on airtight stoves and furnaces, but they do work well. They keep the draft from getting too strong and burning out the firepot, and they reduce creosote buildup by introducing cold fresh air into the system, which condenses the creosote in the air instead of on the inside of the pipe.

The cast iron plate ones that fit inside the pipe are for adjusting the draft on non-airtight stoves that don't have enough draft regulation built in. You install them by pulling the pointy rod out of the plate, fitting the plate inside a length of stovepipe, and pushing the pointy rod through pipe, plate, and all. That's why you often see them installed near one end or the other of a pipe section.
Alan-L - Tuesday, 01/04/05 09:28:34 EST
---
Sandpile:
I,m glad to here that Jerry is still alive and kicking. I don,t know who told me that. I don,t get back to
Foard county that much any more. J.M. and I graduated from high school in the same class. We had a fiftieth class anniversy this past year, J.M. was one of the few that didn,t get to make it, Tell him I said hello.
I almost said there is alot of Cates back in Foard County and they are all kin. but maybe they've all left
Crowell too. I think at the last count there was 1300 in the county.
I left there in the fifties, Went back in the early nintys. Stayed a few years, then came back to Carolina in 2000.
I was just looking at the weather maps, looks like you've got some cold air coming your way', the fence must be down again.

- RudyH - Tuesday, 01/04/05 10:00:55 EST
---
Apartment forging: Johnathan, I forge on my apartment balcony. Have a propane forge, anvil on laminated stump, post vice on moveable table, and all the accessories I need. My apartment is in the corner, facing the street on two sides, so traffic noise usually masks the hammering...

I find having a forge at home makes me a lot more inclined to using it, have a welding setup at the folks house, and I hardly ever use it. Whenever I get over there I am busy visiting and doing other things. I also attend all the local (DFW, TX) meetings and jump at the chance to use the forge.

I did my first demonstration at the Southern Forestry Heritage Museum, back around Halloween. They have a great line shaft driven shop. Their website is:

http://www.forestheritagemuseum.org/sfhm.htm
AaronHoldg - Tuesday, 01/04/05 11:01:33 EST
---
Oh...: Oh, well thats very good then. :) I thought they might have been shovels originally because of the shapes of the handles...they look almost like how a small garden shovel attaches to a handle, how the steel is folded around to make an opening.
Johnathan Clayborn - Tuesday, 01/04/05 11:01:40 EST
---
Jhonathan---you *can* make things---the first ones may not be pretty but even an experienced smith expects to have to make a dozen of something to get "good" at it.

Get into the mentality of working within your tools and supplies and you will find yourself designing what you can manage.

A universal motor can be controlled using an oldfashioned rheostat so old vacuums are usually pretty good---noisy though. Even a used blow dryer will push more air than you need---make sure the heating element is disconnected and the pipe to the tuyere is long enough that it doesn't melt---and put in some sort of an air gate!

I've forged in a hole in the ground, friends have used a wooden box full of wood ashes--the forgepot isn't some super special item! Most commercial ones are made from cast iron and nthat melts much lower than steel does.

Go to the library and ILL "The Complete Modern Blacksmith" for a good "scrounge your way to smithing" reference.

Thomas
Thomas P - Tuesday, 01/04/05 11:21:18 EST
---
Those socketed handles again: That is how they make those little shovels, too. Tai based that line of knives on Indonesian bush tools. You can stick a stick in the socket and have a spear. Be sure to look at some of his fine art pieces too.

I second Thomas, get that book. It's by Alexander Weygers. It's very inspiring for the smith with few tools. And even for those of us with lots of tools, for that matter!
Alan-L - Tuesday, 01/04/05 11:33:57 EST
---
Johnathan- Books: Thomas just made me think of some other good books to start out with. "The Art of Blacksmithing" by Alex Bealer and "the New Edge of the Anvil" are by Jack Andrews both have a lot of good info in them. Actually up until Christmas I was still reading the first edition of the latter titled "Edge of the Anvil" for 5 years now because I wsa too cheap to order the revised edition. A good friend gave me the new one as a Christmas present.

When I was starting out I also found a set of videos that were really helpful made by Rob Gunter called "the Forgery School of Blacksmithing" after his school in New Mexico. I loved these tapes because you could watch him doing the actual processes. He is currently building a new school that will be run by his sons, and last I heard it should be open this spring.
HeatherK - Tuesday, 01/04/05 11:48:35 EST
---
Jonathan: AABA demos at Phoenix Forge, 130 E. Taylor, Phx, AZ at 9 AM on January 15th, 2005, and Feb. 19th, 9 AM, registration begins at 8 AM.
Ellen - Tuesday, 01/04/05 12:56:22 EST
---
Few Tools: I grew up in the Philippines and was constantly amazed at what the local smiths did with almost nothing. They even made parts for modern machines, forged and filed and drilled insteac of cast milled and drilled. The local hand-made forged parts often out performed the original equipment part.

John Odom - Tuesday, 01/04/05 13:13:49 EST
---
Ellen: Whereabouts in Arizona do you live? I used to live in Pima, a small farming community in southeastern that you may know of. I wasn't able to get to many of the demos without traveling 3 1/2 to 4 hrs.
HeatherK - Tuesday, 01/04/05 13:58:00 EST
---
Heather: Tempe, but planning to move to Apache Junction in about 3 months. Found a horse property there with home and 2400 sq
foot workshop, steel building on concrete slab.

Pima is in Safford farming community, right? Should have been able to light a coal forge there without the PD sending the swat team like here in the valley (grin!). How do you like the rainy northwest?
Ellen - Tuesday, 01/04/05 14:43:15 EST
---
More Books: Two of my favorite How-to books are Plain and Ornamental Forging by Ernst Schwarzkopf and Werk Und Werkzeug des Kunstschmieds (Work and tools of the Artsmith) by Otto Schmirler. There is also my school in Santa Fe which is 35 years old; see information in the header on the Guru's page. You can e-mail me for a slug mail brochure.
Frank Turley - Tuesday, 01/04/05 15:39:25 EST
---
Refractory: I have just remoced tha cast refractory in my gas forge, in preparation for the (FREE) kaowool. It was very hard and dense and strong. I couldn't do anything except make a chip with a hand hammer and cold chisel. Much harder than most concrete, and about as dense. No wonder it was such a good conductor.

I got a hand air hammer like they use in mufler shops and cut it out with that. It was secured in the shell with 3/4" studs! They contributed to the conductivity too. I'll flame cut (OA) them out.

Tomorrow I can put in the Kaowool.

John
John Odom - Tuesday, 01/04/05 15:53:22 EST
---
vice: i just got a vice from my dad. it was my great grandfathers who was a machinist. he used to make parts for the space shuttles in clifton new jersey. its a bench vice and its pretty heavy.so theres another tool that i needed. hopefully today im going to get my fittings. i still cant belive how simple that trex burner is. i cant wait to fire it up. i was wondering if high temp caulk good to 2000 degrees would melt the kaowool like flux. i was thinking of holding the kaowool to the fire brick with the caulk but i dont want to melt my kaowool. thanks
chris
- chris - Tuesday, 01/04/05 16:12:59 EST
---
REFRACTORY: HELLO JOHN; I noticed your post on the removal of your refractory-- How come? What was the reason for removal? Was it eaten up or did you not like it? I have the refractory bottom and KAO-WOOL over the cement. I just take a strip of KAOWOOL out to forge weld. When I put the KAO in the bottom I over lapped the two side pieces with the center piece. This keeps my KAOWOOL from getting eat up. I have LARRY Z.s goop on the refractory in the center, and on the KAO WOOL pieces also. I had not seen the GURU'S demo. on the ITC, before I build this gas forge.
- Sandpile - Tuesday, 01/04/05 17:17:10 EST
---
equipment: I was talking to Jock the other day & he says I should post some information you folks might like. A friend of mine is an old-time rigger in the Boston area & has been haulin & collecting equipment for many many years. Well, he has a very large warehouse, packed, 3 floors, with an awful lot of metal equipment, most in good to excellent condition far as I can see. I just picked up a #6 fly press, an arbor, 3 milling machines etc at prices you wouldn't believe if I told you. Bob just likes crazy metal people & has to make some room. These are all leftovers from the jewlery industries up here that closed down. I know I'm a happy guy at the moment, I've got one of the most complete shops in New England and that's just for my hobby stuff! Call him up if you want & make your own deals. 508-369-5950. Tell him what you're looking for & he probably has a dozen of them. He doesn't do computers, but I'll shoot digital pictures for him if it helps.
bill - Tuesday, 01/04/05 17:56:20 EST
---
Congradulations! Apache Junction is nice and it sounds like a great place that you've found.

Yes, I only lived about 12 miles from Safford. That was probably my favorite thing about living there- I could lite up my forge any time I wanted because I didn't have any neighbors. My friend and mentor only lived about 12 miles away in Ft. Thomas, so I could go over there and work any time too.

I was born in Alaska and have lived up and down the west coast most of my life, so I am accustomed to cold, damp weather. I miss a lot of things about Arizona, though. My friends, the coyotes, Javelinas (sp?), etc..
I'm planning a trip to come back and visit this summer.
- HeatherK - Tuesday, 01/04/05 18:15:55 EST
---
Sparky's site: I see that Sparky has his site up just in case anyone was wondering. Made a quick post
- Daryl - Tuesday, 01/04/05 18:30:08 EST
---
beginnig a eco village in the spring. currently the focus is on self sufficient living... we will be building houses and barns come spring and would like very much for a blacksmith to join our community... as a member you would have a house food and clothig provided by the community along with a quarterly equal split of commnuity based business
- willpower - Tuesday, 01/04/05 18:40:15 EST
---
i forgot to leave address: i forgot to leave you yall an email address its gezium@aol.com
- wilpower - Tuesday, 01/04/05 18:49:09 EST
---
Apartment Smiths:
It appears that I'm not alone! Although I still think I was the first... BoG. I agree with Aaron. Sounds like he's got a bit bigger of a setup than I do, but good work can be done in very small spaces. I would hasten to note to Johnathan that a gasser is a much better choice for a "porch forge", less chance of setting your surroundings on fire. With regard to the books, I maintain that Percy W. Blandford's _Practical Blacksmithing and Metalworking_ is the best book for beginners, as it has 100% blacksmithing content (while Weygers' book _The Complete Modern Blacksmith_ has a strong focus on "other stuff") and it is all accurate and pretty modern (while Bealer's book _The Art of Blacksmithing_ does still contain a few factual inaccuracies and was written quite a while ago). Now, I own Bealer's book and I owned the Weygers book for a day. In both these books, the illustrations are stellar, the text is excellent, and the projects are good. But if I had to pick one book, it would be Practical Blacksmithing and Metalworking.

Guru, want another review for the Bookshelf? Drop me an email and I'll review that one for you.
T. Gold - Tuesday, 01/04/05 19:07:08 EST
---
Shipping?: How long will it take for my book orderd on Saturday to reach me in California if ordered Priority Mail? 3 days 4 possibly? Thanks all
- Adam Scott - Tuesday, 01/04/05 19:40:31 EST
---
Books: If I had to choose just one book to recommend for new smiths, it would "The Artist Blacksmith" by Peter Parkinson. I just got a copy a couple months ago and was blown away by the quality. Excellent pictures, graphics and clear concise text. I did a book review on it that should be posted sometime soon, once the better pictures are loaded. Artisan Ideas, one of our advertisers here, carries it, I understand.
vicopper - Tuesday, 01/04/05 20:07:48 EST
---
Book: Okay, Jock already has the review posted. Check the Bookshelf.
vicopper - Tuesday, 01/04/05 20:08:46 EST
---
damper valve: Alan, I'm talking about the counter-weighted barometric damper valve. I have the unit that came with the furnace, but I can't tell if it was on a horizontal run or a vertical run. My home furnace has its damper on a vertical segment. I want to install the shop's unit on a horizontal segment and need to know if that's going to be okay. The furnace man will tune it when he comes back. I just don't want to do the job a second time and patch the first mistaken hole. Yes, I know the counterweight is "down", but I'm concerned about the hot gas flows. I'll try a google search. I'm sending you an e-mail, Alan.


John Larson - Tuesday, 01/04/05 20:19:05 EST
---
Thanks again..: Thomas, thanks for that. :) Ill hop onto Amazon.com or the local borders and see if they can just order me a copy of it so that I can keep it on file for reference.

The hole in the ground I understand, but I dont understand the Iron or the wooden forgepots. How is it that you can create a fire hot enough to soften steel without burning or melting/softening the pot also? Shouldnt the pot have a higher melting point that whatever it is that you are forging, or doesnt it work like that? Maybe I just dont quite understand the principle behind that.

Alan, Thanks for the clarification! :)

Heather, thanks for the other books and video names. Im sure Ill be able to find some/all of these either at the local bookstore or online, and if Im lucky I can score a used copy! ;)

Ellen, how much $ do I need to set aside for demo? I should be able to make the one in Jan as its on a Saturday and Im lucky enough to have those days off. :)

Frank, Thanks for those books too.

T. Gold, Thanks for the book. And while *I* live in an apartment, I think most of my forging will most likely be done elsewhere, like perhaps my father's house. ;) But Ill most likely end up looking into a gas forge later on. A local blacksmith has been kind enough to provide me with a coal forge, so at least now Ill have something to start with, which I greatly appreciate. :)

Ive got a couple of leads on an anvil and some other supplies, so I should be all set here within a week or two I think, and then I can make some tongs or something. ;)
Johnathan Clayborn - Tuesday, 01/04/05 21:00:02 EST
---
Chris,
You're great grandfather made parts for the space shuttle? You sure know how to make a guy feel old(grin).

The Anvilfire store sells ITC products. I think ITC 213 is recommended for "gluing" kaowool. I don't know if the caulk you've got will hold up in the forge. It would have to turn to liquid before it could melt the kaowool, though, and if that happens it won't be doing much good anyway.
Mike B - Tuesday, 01/04/05 21:15:13 EST
---
By the way, I second VICopper's recommendation for Parkinson's book. I don't geel compelled to own many books (if you saw my house you wouldn't belive me, but those are mostly ones the library didn't have). When I saw Parkinson's book though, I knew I had to buy it.
Mike B - Tuesday, 01/04/05 21:20:26 EST
---
Various and sundry. Junkyards fro Johnathan, etc.:
It was just the power supply. The computer died on New Years Day.

Johnathan, yes indeedy, real scrap yards are a national treasure. But they are owned and operated by onerous ogres! Therefore, unless you can answer the questions three, NONE SHALL PASS the gate.

In other words, stay away from them!

Lest you get all the good stuff that I have been transferring to my property these last number of years.

Grin!

Really, if you call ahead with a CLEAR AND CONCISE LIST of what you want, most scrap people love to deal with wierdos like us. We are their entertainment. Show up with beer and donuts the first time. A twelve pack of each. After you make some stuff, bring a few trinkets along on future trips. And Cash. No checks and no invoices. Like Tom said, do not expect to be allowed to run around the yard until you are well established. Liability is bad for them. My wanderings have been curtailed too.

And don't expect instant satisfaction. They may have to search a bit for you and it will be on their schedule.

That being said, one of my better life experiences has been getting locked into a yard one evening.

It is a game like anything else. Learn the rules and play fair and you will be rewarded. Most of the time.

Rutterbush, I seem to remember your house being very taste fully decorated. Nothing like my Comfy Chair in sight. But thanks for the compliment! grin.

John Larson, etc. Composting and incinerating toilets are solutions looking for a problem in my OPINION. Both are fussy compared to the natural method. When offloading, fussy is not an attribute I look for. The composting will occur without the cost as long as you don't add anything to the mix that stops it.

If we make it, they will buy it! If we make it, they will buy it......

I think the lime is to neutralize the acids and thus reduce the smell. I'm not certain, but I don't think it helps the composting. In my experience, it slows it down. Limed outhouse offal seems to pile up faster. But I'm licensed to "herd the turds", no more.

Speaking of State involvement in outhouses... we had the local natural resources people steal one that we moved. It was "grandfathered" in it's original location. They siezed it when we moved it and it was no longer grandfathered. So we replaced it with one that was MUCH heavier. He He. Now the ones with no ground hole, they don't like, but can't do anything about. Won the war so far.

Hey! Happy New Years everyone.

Sorry, loaded up on the caffeine too much this afternoon. Lingering buzz.

OK, not really sorry.


- Tony - Tuesday, 01/04/05 23:26:20 EST
---
Johnathan: I too agree with Vicopper on Parkinsons book. There are alot of good books out there. Jack Andrews, " The edge of the anvil" , Ted Tuckers book, can't remember the name right now. Get the ones you want and read them. Then go and try some of the stuff in them. You WILL make junk to begin with. Don't worry about it. Just keep going and practise and practise some more. And join your local BS group and go to the hammer-ins. Find a smith close by and go meet him or her. I have never met a smith that was unwilling to help a beginner. Everyone has to start from stratch sometime. After you make a whole bunch of mistakes you will wake up one day and be able to do just about anything you want. Learn how to make tongs, your going to need em. OH and one more thing. Just have fun.
Good luck Johnathan

- steve parker - Tuesday, 01/04/05 23:48:56 EST
---
Johnathan, I also like Ted Tucker's book. I have loaned it to a friend but I think the name is "Practical Projects for Blacksmiths" It has some simple but useful projects. I think it came from a class he taught to seventh and eighth grade girls and boys.
Leah - Wednesday, 01/05/05 00:24:00 EST
---
Frank- Oh, how I wish I had known about your school when I lived in Arizona. I used to come to Santa Fe at least twice a year when I lived there. I would have enjoyed paying a visit and meeting you. I remember your posts at the keenjunk site. Every year my guru & I used to go there to sell odds & ends and we would visit Rob Gunter on the way there. I am going to try to pull off a trip this fall- I will have to get your address before I leave If you don't mind me stopping by.

The ultimate junkyard experience for me that I still haven't been able to beat is the Phelps-Dodge mine not far from where I lived in Arizona. Because my Blacksmithing teacher was tied to the college, we could go and spend a whole day in there loading up a trailer full of good steel, including heavy plate, for free. Ah, those were the days...
- Heather - Wednesday, 01/05/05 00:54:16 EST
---
:D: Mike, Thanks for that. :)

Tony, in that case Id better stay away Id fail the third question and be cast into the abyss! ;)

I imagine that one skill that I will need to develop (that Im sure, like everything else will take time), is learning to tell what is gold in a scrap yard and what is just plain scrap. I guess the best way to learn is by (trying) to make stuff though, right? ;)

Steve, Ive been in touch with a local BS already. He lives about 10-15 minutes from my house and has been VERY gracious, providing me the use of a coal forge and offering me a tour of his own smithy. :D Im very excited about it all! :) Tongs are actually the first thing that Im going to try (seing as how Whitehammer's tutorial (at least) appears easy enough...and seeing as how they are an essential tool. ;) After that I thought Id probably make ...well, I dont know quite yet...I might just hammer away and see what happens. ;)

Leah, thanks for the advice!
Johnathan Clayborn - Wednesday, 01/05/05 01:03:52 EST
---
The Grail:

Ahh Johnathan, one who has searched for the Grail...

Good man.

Be nice and avoid the abyss. Grin.

Deep rust pits are bad. Any 1" bar and under is good size to start playing with. Unbroken springs are handy. Broken ones usually work for non life sustaining work but can be a waste if they have lots of cracks. Leaf or coil springs. Aluminum, galvanized and brass might be best avoided until you know how to do iron. Avoid castings. Most coatings on metals are not good to breathe when they burn off in the forge. Use clean stuff. Rust is OK.

There is nothing wrong with just pounding some and seeing what different temperatures and such do. Try stuff. Learning from someone with experience is far faster however. You may not learn as many bad habits that you may have to undo later.

These again, are just opinions. And others opinions are just as valid. Steve Parker's advice is the most important. Have FUN!

You will make stuff you may not like or think is any good. The good thing about forging is you can make something else from the trial pieces usually.

The firepot can be made of the same material you are forging because it loses some of it's heat to the non fire side. Usually the bottom. The work you are heating in the fire to forge is both heated by and insulated by the coal. The part not in the fire does not get "soft". Same with the firepot since it is exposed to the air.

Dang... the caffeine is wearing off!
- Tony - Wednesday, 01/05/05 01:36:13 EST
---
Jonathan: No demo price listed in the Anvil's Horn. Phoenix forge is 602 253-3116, they will have the details and cost. The Feb. one is on a Friday also. Good luck.
Ellen - Wednesday, 01/05/05 01:43:43 EST
---
correction: The Feb. demo is on a SATURDAY also. Past my bedtime.
Ellen - Wednesday, 01/05/05 01:45:15 EST
---
An angry little person wrote this.: I was just reading this site and I just shook my head. This person needs a reality check. I think this is a good example of someone who has little talent for adaptation and self reliance. Here is the link. http://www.beautifuliron.com/forge_costs.htm
Enjoy!
Adam Scott
stormcloud_2 - Wednesday, 01/05/05 03:48:46 EST
---
The beautifuliron site has strong opinions expressed. That is one of the beautiful things about smithing: the wide variety of people and opinions one finds.

I could not dissagree more with his opinions that starting small (cheap) is not good, I think it is the best way. Fancy equipment does NOY make the smith!
- John Odom - Wednesday, 01/05/05 08:01:59 EST
---
Guru's Helper: Heather, I'm one of the guru's helpers, and all of my contact information is hiding behind the header of the Guru's Den. It comes up when you click on The Gurus. The school is a backyard thing, so it's both private and public. The latch string is out, especially when visitors make an appointment, as I'm sometimes away from the forge.
Frank Turley - Wednesday, 01/05/05 09:42:29 EST
---
Starting costs: Keep in mind that the comments on the Beautifuliron site are geared towards people who want to MAKE A PROFIT by forging. I tend to agree witht the author that setting up to make a profit is much more costly than setting up just to play and have fun. I would definitly advise people to start small and cheap, that way you don't have a big outlay of money up front if you decide you don't like it. But to make money, you must be efficient and competitive and I think that requires equipment. I would estimate that I have personally invested between 3 and 5K since I started smithing and for me it is still a hobby. But I have made some purchases with production forging in mind. I did start small and that was , for me, the best way to go-plus it is very satisfying to what you can accomplish with minimal investment. Conclusion-Keep in mind the difference between trying to make a profit and trying to have fun.

Patrick
Patrick Nowak - Wednesday, 01/05/05 10:02:01 EST
---
beautifuliron economics: It's all relative. $2500 to some people is a drop in the bucket. For others, it's higher than a cat's back. If you're in the latter group, you can start, but it's normally a struggle. Struggling is not all bad. "Without obstacles, there is no growth" is a saying we hear, especially when speaking of personal psychology in the broad sense.

I got a loan from a friend when I set up which really helped , but I must relate the analogy of The Butterscoth Man which someone shared with me years ago.

"Starting a business without capital is kind of like being The Butterscotch Man. You have to get warm in order to run, but you have to run in order to get warm."
Frank Turley - Wednesday, 01/05/05 10:10:29 EST
---
Patrick, where's my cut?

While I have come up with a starter kit that ran $25 and a bunch of scrounging and could do patternwelded billets in it; my disagreement would be with the "Beginner starting with a profit making shop" concept.

Would you suggest to a fellow that has never had any training in machine work that they start with a fullblown machine shop and expect to make a profit? A fellow who has never struck an arc go out and buy mig, tig, OA and a truck and start a welding business?

Generally when you have someone wanting to start a *business* you advise them to get training and then work in the field under someone else before they even *think* of running their own business!

I've talked with a passle of folks who want to skip college and be blacksmiths/knife makers/swordsmiths/etc. My advice is that it's a lot easier tooling up with a good job to pay for the good stuff and nice benefits while you are making your mistakes on your own time than to be scratching a hand to mouth existance not being able to afford the tooling you need to make a real go at it and being only 1 accident from bankruptcy.

Thomas
Thomas P - Wednesday, 01/05/05 11:58:34 EST
---
Beautiful iron: Yes, to make a living, most smiths need quite a bit of equipment. BUT based on the other material in the site I concluded that he was addressing the rank amatures who get the idea they want to smith. His advice is OK if your daddy is rich. I support Thomas' view.
John Odom - Wednesday, 01/05/05 12:39:24 EST
---
Just a generality, to start any business, you need to have the necessary skill(s), money to cover needed equipment, place to work, etc, ins, plus your own living expenses: rent, groceries, medical insurance, etc for several months....obviously, as most here have said, it is best to have a paying job, learn the skills, gradually accumulate the equipment, build up a nest egg, test the waters (you know that bothersome part about paying customers and all those nagging details), and so on.
Ellen - Wednesday, 01/05/05 13:01:36 EST
---
Beautiful iron:
Well, it's obvious from reading that article that we're all just "nitwits that hang out on internet blacksmith forums" anyway, so what do we know? (grin) It's obvious he was addressing that elite group of "Blacksmith savants" who picked up a hammer and created beautiful art with their first swing. Sadly, for the rest of the world, there is a steep learning curve.

I started blacksmithing for the express purpose of learning to make my own toys, anyway. Granted, I have shown occassional fits of laziness and bought things I could have made myself, but in those situations, the tools in question were just so darned inexpensive for what you got, I couldn't pass 'em up! (thanks Ken!)

Trial and error is truly the stuff learning is made of.

Eric
eander4 - Wednesday, 01/05/05 13:04:03 EST
---
Beautiful Iron: Beautiful Iron, ugly attitude. Nothing like knowing it all to keep you humble.
- quenchcrack - Wednesday, 01/05/05 14:03:54 EST
---
Parting Thoughts on Beautiful Iron: in this day and age, making a blank recommendation for a coal forge is a bit short sighted. Propane forges have many excellent features, and have some major advantages for production work....like stacking work and not having to worry about it burning up, tending your fire (quite a learning curve in itself with the many grades of coal), looking over your shoulder for the "air quality police", and so on. One might at least mention these little tidbits.
Ellen - Wednesday, 01/05/05 14:43:05 EST
---
Looking For Website: I'm a beginner blacksmith and one of the problems I have is judging metal/temperature color.
I was browsing through a bunch of blacksmithing websites, when I came across one that has a chart showing metal temperature/colors in photo quality color. My computer crashed and I lost the link and can't find the site anywheres.
I was hoping someone here would know the site and have the link to it.
Scottrw - Wednesday, 01/05/05 15:41:50 EST
---
Introduction: I have been reading this web-site for quite a while , and just wanted to hello . I blacksmith about 3 days a week. I make gates large and small,I make light fixture's most and anything in the home, Signage' western theme item's , branding iron's etc . I learn with every job and class that I attend. I have been Blacksmithing about 24 years,and a member of NWBA and ABANA.Nice to meet all of you. Jim "Grizz" Griswold
Jim Griswold - Wednesday, 01/05/05 15:43:02 EST
---
Damn fine turn out.: All I can say is wow. My post generated a LOT of responces, that is such a cool feeling! Mostly because all of you felt the same way I do. The first forging I did was on a 75lb Peddinghaus I do believe and with a Squrrel cage air supplied forge, it worked completely in contrast with that the BI site said. The next time I forged it was in my back yard, in a junk wood and shingles fire and a rough cut train rail. I made a candle hook in 30 min out of 5/16 round stock, I had NO fire pot and NO blower, just a sunday news paper to fan the flames, NOW thats hard core! Not to toot my own horn or anything... heh. Thanks all!

Adam Scott
stormcloud_2 - Wednesday, 01/05/05 15:59:28 EST
---
Scottrw,

If you use the pulldown menu in the upper-right corner and go to FAQs, you'll find a section on temper colors with a color chart. This may be what you're after.

If you mean temperature in terms of forging temperatures, things tend to get kind of relative. Ellen's idea of what lemon yellow is and my idea of what lemon yellow is may differ a bit (sorry to pick on you Ellen!). Much of that is dependent on the ambient lighting of your smithy, and a bit of personal interpretation. Maybe someone else has seen a chart like that, but I can't recall one.

Grizz,

A hearty hello right back at ya! What part of the Northwest do you hail from? We've got a number of folks from that region. Sadly, I'm on the opposite side of the country in Eastern North Carolina, but it's still pretty nice here.

Eric

Eric
eander4 - Wednesday, 01/05/05 16:25:53 EST
---
Oops! That would be just one "Eric". PTP


eander4 - Wednesday, 01/05/05 16:27:21 EST
---
burner: i just got my burner hooked up. sounds like ajet is taking off. burns fine. yea Mike B my great grandfather was a machinist before they had computers and such. everything with "old fashion" machines. i never met him though. he died before i was born. hopefully my forge will run aright today. the first coat of the itc 100 is gonna a little hard but after that it should be ok. how many coats should i put on like 3 or 4? thanks
chris
chris - Wednesday, 01/05/05 16:38:41 EST
---
ITC-100: One coat is enough unless you put it on used Kaowool or thined it too thin. Old Kaowool tends to be crumbly and hard to brush the ITC on. This leaves holes that take two coats to cover.
- guru - Wednesday, 01/05/05 17:03:42 EST
---
dampers: John Larson, sorry to take so long to answer about the damper thing, been busy today. You can install them an a horizontal run (that's what my oil furnace has), but you may have to add a short section of pipe so that the counterweighted flap will be plumb and level. I was serching the web last summer looking for triple wall pipe and found some good info on dampers, catalytic combustors, etc. for wood stoves. Don't have a clue where I found it now, but it's out there somewhere.
Alan-L - Wednesday, 01/05/05 17:46:16 EST
---
forge: it runs beatifully. i just have to play with it a little to get used to it and find the right settings. the flame is red so that means a little lean right? i was running at like 3 psi and it ran great. im just a little paranoid of every little noise thats differnt. i dont want anything blowing up in my face. hopefully tommrow ill get my shop started and i can start forgeing a little bit. the itc100 kinda peeled when i fired the forge is that normal? i think illput a 2nd coat on since i have it. it cant hurt any. how should i store the exess itc? will it hurt it if it dries up? thanks
chris
chris - Wednesday, 01/05/05 18:15:01 EST
---
Just another Nitwit: Seems to me the problem with the statements of Mr. Shlosser over at Beautiful Iron is not so much his specific opinions, as the overall tone of the site which suggests that there is ONE right way to do things, and that is his.
Now if you leave religion out if it, I think most of us will agree there are numerous ways to skin a cat- and not a single one of em is RIGHT. Myself, I feel pretty ignorant until I have learned at least 3 ways to make any given thing. In fact, I bet I will feel pretty ignorant about most things until I die, seeing as how I am such a generalist that my knowledge in any given field is teensy compared to some of the people I know who have focused on one thing for many years.
I know guys who can make "beautiful iron" with almost no tools, and who have spent no money on em- in fact, some have spent negative money, having sold stuff they scrounged for more than the tools they actually use cost.
I know other guys who have every tool known to man.
Both of em can do excellent quality work, or horrible stuff.
And I am perfectly within my rights if I think one, both or neither is "beautiful", which, after all, is a very subjective judgement. I dont like some historical stuff, and call it ugly, while other folks dismiss anything made after 1875 or so as modern, and ugly.
I tend to agree with him that it is a whole lot easier to learn if you have a forge that works, an anvil heavy enough to take the blows, decent tongs, hammer, and vice. So for many people, its probably better to spend a little more, and focus on the work, rather than making the tools. But some people love the journey more than the destination, and making the tools is the whole point for them.
He makes it pretty clear he would rather spend his time making work, and pay for tools. This is a perfectly reasonable opinion, but nobody HAS to agree with it.
And $2500 doesnt seem like all that much for a setup that will probably last 2 or 3 working lifetimes, to me. Since I left High School in 1972, I have probably spent closer to $200k on tools, not counting the cost of buildings to house em in. And I think my shop is a model of doing a lot with a little money- to set up a shop like mine, buying everything new at list price, would probably cost twice that. Its all what you want to do, and how you go about doing it.
Personally, I could write a how to that broke every rule- and it would still work just fine for some people. Like, I have never used a coal forge once in my life. Been working hot iron since the late 80's, serious smithing for maybe 5 years, and I have never been tempted. I have a post vice somewhere, but it has never once been set up in my shop- havent needed it. Most of my hammers have never been dressed, my tongs are storebought and not customized to any stock. But I have made, and sold, literally tons of forged ironwork for hundreds of thousands of dollars. Rules were made to be broken. Not to say I wouldnt be a better smith if I learned to coal forge, and practiced up on my hot punching and forge welding- I definitely would.
What works for me may or may not work for you- but I would be a fool not to try to learn from you anyway. But I guess I am already a Nitwit.
- Ries - Wednesday, 01/05/05 18:32:54 EST
---
Paw Paw??: I know Paw Paw was supposed to be offline for a few days when he moved to his new digs, but I haven't seen anything from him since. Anybody heard anything from him? Think we ought to chunk a rock over that way and see if he shoots back?
- Larry - Wednesday, 01/05/05 19:18:36 EST
---
I've always held that there was only *1* way to do things at the forge and that's "Anyway That Works!".

(and I like some of the Art Nuveau and the neo gothic stuff from the 20's; the deco stuff doesn't do much for me though I do like to look at some of it---just never had the urge to try to reproduce it.)

Thomas
Thomas P - Wednesday, 01/05/05 19:21:42 EST
---
Paw Paw: Now Larry, you and I both know we don't want Jim shooting at us. So don't be chunking no rocks! So, how is Kentucky these days? Michigan, 19*, heckuva wind chill, and 4" to 8" of snow expected.
Bob H - Wednesday, 01/05/05 21:29:14 EST
---
Bruce Wallace???: Hello Everyone,

I am a long time reader of Keenjunk's Virtual Junkyard and after the closing I thought I'd mosey on over here. This is my first posting and it is a question.

I tried E-mailing Wallace Metal Work and received no respounce and a phone call produced a "No Longer in Service" message. Anybody know if he is still in business? or has he moved?

Thanks!!!
- Maurice - Wednesday, 01/05/05 21:53:54 EST
---
SMITHING--PRODUCTION--REPRODUCTION---ART. There so many different approaches to the metal working-blacksmithing world. RIES I do not think anyone would ever call you a NITWIT maybe NUT he heh , grin. If they looked in on your site they would know that you don't always think in the box. I have seen a lot of simple stuff made for the farm and shop that was beautiful, well made and finished to a T. Then have gone to sites on the internet(including RIES) and found art that was really nice. Old Museuem(SP) pieces and new reproduction that was nice. What it boils down to, simply put, is the level of craftsmanship that is brought to bear on the piece being created. There are simply too many ways to do something, to have one right way--Except the way that works.
- Sandpile - Wednesday, 01/05/05 22:30:37 EST
---
Paw-Paw: Larry, I just got off the phone with him, he said he will be back online tomorrow hopefully. He was a little under the weather and waiting on his computer.
daveb - Wednesday, 01/05/05 22:35:48 EST
---
Paw Paw: Glad to hear he is still around and cantankerous.

Thanks daveb and BobH.

Things are awful wet around here, but warm. We got an ice storm back before Christmas, but not much snow. Now we are on the warm side of the big storm rolling through the lakes and on northeast. Today, about noon, it was 60 in Cynthiana and 38 in Cincinnati. Temps are supposed to fall all day tomorrow and bottom out in the twenties Friday morning. What the hell. The creek is up and I can't get to the jobsite anyway.
- Larry - Wednesday, 01/05/05 23:26:25 EST
---
I'm Not Beating a Dead Horse...: ...I'm tenderizing the meat!

One of the things that amused me at the website in question was his scorn at comparing anvils based on the $/lb. ratio (Oh, wicked us!). Given that anvils were sold by the pound for hundreds of years, why not? Of course it's not the end-all and be-all of selecting a purchasing an anvil, still it's a good rule of thumb to evaluate what you can get for your money.

I agree with Quenchcrack and Ries, it's not so much what he said as the way he says it.

And if lots of good tools make the smith, how come Master Finnr could create such wonderful work (especially compared with some of my work) with a fraction of the tools I've gathered over the years?
Bruce Blackistone (Atli) - Wednesday, 01/05/05 23:32:12 EST
---
Beautiful Iron: Well I agree with some of what the guy said but his tone was kinda uppity. My first forge was made with a sheet metal drawer filled with mud and had a cast iron drain cover from my parents basement for the blast opening. Used a hair dryer for the blast. Borrowed an anvil from a guy in the town I lived in.

It started there. Then later I bought a real forge from another old guy in town. Played around a bit for awhile then forgot about it for ten years. I sold the forge back to the same guy for the same money. He still has it.

Then me and a friend stared playing around with forging again. We built a brakedrum forge. He wanted to make knives. Borrowed another anvil and started making stuff. He still wanted to make knives.
So we would switch off from hooks and such to knives.
I work fulltime as an industrial blacksmith, 12 years now.
He quit his job about 7 years ago to make knives full time. He pays a mortgage and a car payment and feeds himself and his wife. He did'nt just decide to be a knife maker and quit his job. He worked on the side for about 10 years before he did this.
So if you have to start out on the cheap, do what you have to do. If you have the will and the drive you will succeed. Along the way you will get better tools and improve your skills. Skill is the most important thing to accumulate.




- steve parker - Thursday, 01/06/05 00:28:39 EST
---
Whoa...: Looks like I really brought something to the table eh? I hope the newbies that stop by here read this forum, its going to be a hell of a booster for em to read this stuff. Nice work guys and gals, awesome insite.

Adam Scott
stormcloud_2 - Thursday, 01/06/05 01:42:48 EST
---
Thanks : Tony, I think I understand how that works now. Thanks for that description. ..and all the good advice! :)


Johnathan Clayborn - Thursday, 01/06/05 03:14:12 EST
---
Bruce Wallace:
Maurice, Bruce's e-mail and phone still work as posted on his site. But like all of us he gets spammed horribly. Be sure your subject is clearly smithing business related.
- guru - Thursday, 01/06/05 11:24:51 EST
---
Shoot, that's a relief! I was thinking that Paw Paw had decided to "drop" by with his razor strop!

Thomas
Thomas P - Thursday, 01/06/05 11:34:03 EST
---
i'm hooked!: forged part of my first hook today. im definatly hooked. stupid 20lb tanks. how much is it to buy a 100 lb tank? The hook turned out pretty well. I only got the scroll and one bend then the tank putzed out. all i had was an old cross pein i guess it is and a 3 inch section of rr track. the bend looks alright but its not even because i didnt have a horn to bend it over. the forge worked great until the propane ran out. it went from 100psi when it was warm to 60 in the cold then 0 once i started using it. i need to get like a 100 lb tank eventually. i cant wait to start doing other projects once i finish my hook. i have tons of steel well not tons but a couple hundred pounds of steel to use. thanks for everyones help i would have never have got this far without this great website.
chris
chris - Thursday, 01/06/05 16:15:31 EST
---
100lb tank: Chris, I was pricing 100lb tanks around town, when I found out that my local Ferrelgas just loans out the tank. You just pay for the propane. So, check with your major propane suppliers.
Bob H - Thursday, 01/06/05 16:53:24 EST
---
Chris : I saw a slick way to turn a hook at the last hammer-in I went to: take a piece of pipe in the vice and grip the end of the hook near the rat tail with a pair of pliers on the out side of the pipe and wrap the hook around the pipe, take a new grip closer to the middle of the hook and back bend. Takes longer to tell than to do. Try it with the dimond edge against the pipe. Do both ends and then twist.
- habu - Thursday, 01/06/05 17:26:12 EST
---
Cris: Way to go on your first forging. Glad you're "hooked". Grin. I have a 500 gal tank at my cabin and the annual rent is $35/year. Cheaper than buying a big tank, and they get to maintain if there are any problems with it.
Ellen - Thursday, 01/06/05 17:26:49 EST
---
hooked!: Good job! I never use the horn to turn hooks, I just do it like you would a scroll, startin over the edge of the anvil then turn over and roll it in.
Alan-L - Thursday, 01/06/05 17:39:36 EST
---
I have 2 differnt gas suppliers around me so ill talk to both of em and see who will give me a better deal airgas and agl. i know airgas is nationwide but i dont know about agl. i dont need a 500 gal tank thats a little over kill for a one burner forge. i finished the hook before. it turned out alright. well it was my first project so it turned out pretty well. thats a great idea habu i would have never thought of that. i guess like 2 or 3 inch black pipe would work. one scroll turned out really well but the other one i flattend out before i got it around nice.
chris
chris - Thursday, 01/06/05 18:16:01 EST
---
Flue dampers: Alan L, and others: My landlord told me today about the function of the counterweighted butterfly damper on a stove pipe run between a furnace and the chimney. It allows a strong drawing chimney to do its thing, but not suck the flames out of the firebox and into the stack. In other words, to keep the fire from becoming too intense. Aside from issues of barometric pressure, he said that he has seen furnace installation instructions that said to create a restriction in the flue that corresponds to a proper looking fire in the firebox. Sometimes wood stoves that I've seen for sale in hardware stores have a butterfly valve at the smoke output point to do this very thing. Most have air inlet throttling capability, in my offhand observations. Numerous woodstove sites turned up by google spoke of dampers on top of the chimney.

I've been aware for a long time that we'd be smart to pipe fresh air to the combustion process in our furnaces. Now it is apparent to me that such fresh air can also feed the barometric flue damper that otherwise sucks air outta the house. Thanks all. I'm ready to be corrected as needed.


John Larson - Thursday, 01/06/05 18:46:43 EST
---
Chris - hooks: If you have not been to iForge-Anvilfire demo page, look up demos #15 and #30

Other ways to make hooks (bends) are listed on IForgeiron.com > tools > bends and scrolls, ref #0002, #0003, and John England's bending pliers #0004 (simular to what Habu mentioned).

The best instruction would be iForge-Anvilfire demo #112 by the then 9 year old "Whitesmith". He shows how he makes the pigtail, and two different ways to make the loop for a hook.

Try them all and decide which you like best.




- Conner - Thursday, 01/06/05 19:42:48 EST
---
I have a 2 burner aspirated forge in the shop that I ran for several hours last weekend forging brackets for the pegboard and slitting and drifting and heat treating a dishing hammer made from a RR bolt and heat treating a pattern welded knife and have loads of gas left. Was your tank low to start? Low tanks freeze up a lot faster.

I sure notice that I can run a tank all the way to the bottom in the summer out here in NM!

Thomas
Thomas P - Thursday, 01/06/05 19:48:32 EST
---
Chris tanks: If the propane is running low to the point that I can't turn up the preasure, I just turn the valve up than I tilt the tankon its side than back up. The burner usualy jumps up to the desired preasure. the preasure will decrease eventualy, I just tilt the tank agean. The intervel legnth of having to tilt the tank shortens the more you do it. But doing this you can get a lot mor work done.
- Bjorn - Thursday, 01/06/05 20:10:35 EST
---
damping, again.:
John Larson, that's kind of what I meant about the "barometric" ones. Them chimneytop units are not really dampers, they just let you close the flue when you aren't using it. Thanks again for the email offer, BTW. Wish I could do it!
Alan-L - Thursday, 01/06/05 20:58:55 EST
---
tank: yes my tank wasnt full im not sure how full it was it might have been almost empty. i might be getting a 100lb tank from my dads boss. thanks for the tip bjorn ill have to try it. i put the tanks in my shed that is somewhat warm for tonight so tommrow they wont be freezing. ill have to try somethin else. ill check out those iforge demos. ive been lookin around on the demo page. thanks
chris
chris - Thursday, 01/06/05 21:16:16 EST
---
Iforgeiron: Has Iforgeiron.com gone the way of the Junkyard? I went for a visit and its offline, at least for the moment.
habu - Thursday, 01/06/05 21:38:25 EST
---
tools: hi, could anyone give me a basic list of tools i need. like what kind of hammer and such. i guess ill need hot cutters punches and what else. i dont want to buy any junk and you guys might know what i need and whats good to buy. whats the best kind of hammer? cross pein straight peen german czech french hofi etc they all have theyre reasons but i need a basic beating hammer. i dont have a belt sander so i really cant and dont want to dress them. id rather have a hammer that wasnt perfect then a hammer that i totaly screwed up....frank your friend tom emailed me back...saturdays hes closed but he said he would come to the shop if i contacted him. one of these days ill get up there. thanks
chris
chris - Thursday, 01/06/05 22:12:14 EST
---
Chris' Tank problems: Don't tip tanks if you can possibly avoid it. They are designed to work in the upright position so that they can draw off gas and not liquid propane. If you tip one far enough, with some valves, it can suddenly vomit up a big bolus of liquid to your burner, causing a very exciting and potentially disastrous flare-up. Picture a flame five feet long erupting from the front of your forge.

The little 20# barbecue tanks supposedly have a valve design now that shouldn't allow liquid to be drawn off. I've not tested this, and am too chicken to try it. My 100# tanks most assuredly WILL release liquid if tipped enough, and I know not to do that.

There are good reasons that tanks should be upright and securely held that way. Deliberately going against that is the road to perdition, old son. Please do things safely so you can be around a lot longer.
vicopper - Thursday, 01/06/05 22:21:34 EST
---
Tipping Tanks: After one of my friends tripped over my tank and tipped my whole gas forge setup into the dirt (thank God(s)it wasn't running at the time) I now keep the 20#tanl in one of those double milk crates and further to one side of the door. Much more stable with a wider base and corners. Cool and foggy on the banks of the lower Potomac. Brushing-up my art projects for the MarsCon art show ( http://www.marscon.net/ ).

Visit your National Parks: www.nps.gov

Go viking: www.longshipco.org
Now Here's a "Timely" Project for a Blacksmith!
Bruce Blackistone - Thursday, 01/06/05 23:51:34 EST
---
tools: Chris,
Might I suggest a real reading of the getting started section.
As for tools needed, it all depends on what your goals are.
Hammers are like picking a girlfriend, tastes vary.
I am not that fond of the Hofi style hammer, but that is probably because I never could really get the control or power from his style of hammering.
I like for my general forging a 2 1/2 lb crosspien hammer.
I dressed the face and then the pien was dressed to match the same curvature and radius of the face.
Then you will need something for an anvil. And tongs.
After that you can make most of the other hand tooling yourself, unless you find stuff at BARGAIN basement prices.

Dressing hammers and tools, I am faily certain most smiths 150 years ago did not have belt sanders.
They did have files and scrapers etc.
I have been smithing as a hobbiest for almost 11 years and I
got my first belt sander ( a 1" X 30" Delta) about 3 years ago. Files worked well dressing my hammers and other tools.
Screwing up hammers will happen only if you are not paying attention. Also a belt sander will allow the screw up to occur much more readily.
Ralph - Friday, 01/07/05 00:54:10 EST
---
Timely story:
Bruce,

It's a bit eerie that you posted that link. This evening I was repairing the family clock, and my wife asked me how long pendulum clocks had been around. I told her I had no idea, but that someone here might. Do you (or anyone else) know the oldest date for a pendulum-type mechanical clock?

Eric
eander4 - Friday, 01/07/05 00:55:51 EST
---
damper valve: counter-weighted barometric damper valve. Horizontal is ok. Mater of fact on some furnaces like low boys there isn't enough vertical flue pipe for one. You've already got one but they make them where you cut a hole out in the pipe, insert and fasten with sheet metal screws, the unit to the pipe. ---------My wood stove has dampers in the door plus I installed one in the flue pipe. Without a damper in the flue pipe I couldn't controll the stove properly.
- d w - Friday, 01/07/05 01:16:25 EST
---
Iforgeiron: Habu
Iforgeiron was off line for a short while due to a equiptment failure at the server. It is now back on line.

- Conner - Friday, 01/07/05 01:22:59 EST
---
HAMMERS: HELLO CHRIS-- I would lean towards a Farriers shaping hammer. You can have a look for free at your local feed store or some such place. I started all my kids with one. They are, now, starting their kids with the same hammers, they used as kids. It is a pretty forgiving type hammer, they usually do not have to be dressed to get the right feel for hitting where you are looking.
- Sandpile - Friday, 01/07/05 01:35:19 EST
---
Dampers: The ones on the stove doors and the ones that tilt adjustably inside the stove pipe serve to control the normal draft. The barometric damper is whole 'nother thing, a safety must that opens only when strong winds blowing across the top of the chimney create a Venturi, a low-pressure zone up there that, like all vacuums, wants to be filled. It gets itself filled by sucking air up through the pipe. Without a barometric damper, your stove then turns into a forge, one with the blower or the bellows going full blast. This can melt the stove pipe. All you can do without a barometric damper to prevent this when the wind starts howling is close the dampers on the doors and hope your stove is truly air-tight enough to fight the Venturi. Old Polish proverb: hope is the mother of fools.
Miles Undercut - Friday, 01/07/05 02:31:26 EST
---
Eric Pendulum clock: http://news.bbc.co.uk/1/hi/sci/tech/1820643.stm

"Researchers in the US think they have solved a puzzle dating back to the days of the 17th century Dutch scientist, astronomer and inventor Christiaan Huygens.

Huygens was a remarkable figure whose astronomical observations led him to try to design an accurate clock, Georgia Tech researcher Mike Schatz told BBC News Online.

He designed and built the first pendulum clock. "Da Vinci and Galileo had the idea but it was Huygens who made it work," Quote from above
habu - Friday, 01/07/05 02:38:07 EST
---
Pendulum clocks: Ever since Galileo, clock makers tried to use his discovery of the isochronos properties of the pendulum. These inventions were used, but not very accurate. When Chrisyian Huygens invented the dead beat escapement the accuracy of clocks improved ten fold. Then improvements were made to the pendulum itself. In the 1950s precision mechanical clocks were being made for observatories that actualy surpassed in some cases the electronic clocks of that time.
There was a mechanical clock in South Africa with an uncorrected error of less than a tenth of a second per year, and one in Switzerland that had NO measurable error for 3 years. Of course they couldn't measure errors as well then and they assumed the earth rotation was absolutely constant and now we know it isn't.
John Odom - Friday, 01/07/05 09:46:10 EST
---
Tock Tick: Good article, Habu.

One of my friends is actually considering working with me to construct one of these, but if any of you are interested in it, I'll happily refer him to you. I'd like to, but it looks like a "retirement" project. The earliest clocks did not have a face or hands but struck a bell, which seems to me to be "close enough". Minutes as a unit of time was the same as "minute" as in "a very small measurement". (Seconds were the "second division of very small measurements of time".)

So when someone says: "I'm going to clock you one!" they really are going to ring your bell.

Enough with this horological chatter, back to blacksmithing!
Click on Time Zone (U.S.)
Bruce Blackistone (Atli) - Friday, 01/07/05 09:48:10 EST
---
Tiping tanks: ALWAYS use some method to prevent the tipping of tanks of sny kind. I chain my 100# propane to the wall, as I do other tanks not in use. The Oxy and acetelyne tanks are chained in a shop cart, the CO2 and Argon to the welder cart. I could tell a lot of horror stories about unsecured tanks!
John Odom - Friday, 01/07/05 09:51:01 EST
---
Comment - Twist Bits: Twist bits - I SUGGEST that they evolved from (building or now-a-days, barn) beam augers. The European construction of larger sailing ships in the 17th and 18th Centuries would have brought about the need for new techniques and tools. You just can't glue those big chunks of oak together, and intricate (i.e. japanese style) wood joints would be too labour and time intensive. Hence make a hole and drive in a wooden pin or use an iron fitting.

Don Shears
Cool, clear and sunny at -1 Cel North of the Lake (Ontario)

Don Shears - Friday, 01/07/05 10:59:31 EST
---
Don since auger styled bits stayed around much longer in timber framing, I'd counter that they were a variation on the gimlet used in cabinet making.

Thomas
Thomas P - Friday, 01/07/05 11:58:04 EST
---
Tipping Tanks: I second what John O and others here have said. No only are my oxy acetylene tanks chained to a hand truck, but that is also chained to the wall when not in motion.

One of the first things I saw in my welding class years ago was a slideshow of the devestation which can be caused by tipped over tanks. One pix showed how an oxy tank penetrated a couple of brick walls in a factory when it tipped over and broke the valve off. At 3000#/in sq they can generate a lot of force and lethal impact.

Fire and explosion hazards with tipped propane and acetlyene tanks are well documented also.
Ellen - Friday, 01/07/05 12:42:11 EST
---
Blacksmiths Cookbook: There was some discussion about this book on this forum a few months ago, and that it was unavailable. I see that Pieh Tool Co. has a reprint of it in their online catalog. It is by Whitaker and dedicated to Yellin. Is this the same book and is it a good addition to my library? Thanks!
Ellen - Friday, 01/07/05 13:27:03 EST
---
cookbook: If it's the same one, it's a must-have for decorative work. The chapter on how to build a hand shear isn't of much use to me personally, but other than that the rules of thumb for collaring are worth the price on thier own.

This is assuming it's the same one...
Alan-L - Friday, 01/07/05 13:38:18 EST
---
I just looked, and it IS the same book. If I didn't have a copy already I'd buy one.
Alan-L - Friday, 01/07/05 15:18:12 EST
---
CLOCKS:
I recieved a copy of Hasluks Metalworking (1907) to review and it has an article about building a "skeleton" (open frame) clock. Details are minimal expecting the metalworker to be able to figure out many things one their own but all the pieces are there.
- guru - Friday, 01/07/05 15:21:04 EST
---
100lb tank: the guy at airgas gave me a quote and he said to fill a 100lb tank it was 85. is that high? its only 12 to fill a 20 lb at a garden center and 12 times 5 is only 60. is that a bit pricey or am i going to find the same price everywhere? will someone with an account get a better deal. my dads boss spends tons of money at his gas supplier so if i buy it through him i might get a better deal right?
chris
chris - Friday, 01/07/05 16:09:30 EST
---
1/4 steel drum: Hello all. I just procured a 1/4 steel drum with no lid, its heavy steel and in good shape, no rust very few dents. Now it attracted my eye because all things metal seem to call to me, so I snaged it up. Got any good idea what I can do with this puppy? Projects, tools. I see its use as a good slack bucket or stool but what is it useful for otherwise? I am going to think on it for the rest of the day, any suggestons are welcome!. Thanks

Adam Scott
stormcloud_2 - Friday, 01/07/05 16:13:54 EST
---
Sounds like a good slack tub if you don't have one. OR material for a steel drum (musical). Some folks make hoods for coal forges out of them. . could be a mole trap (long, long story).
- guru - Friday, 01/07/05 16:23:04 EST
---
Chris was this the cost for the first fill including removal of any air that might already be in place, or the price for the "usual" fill?

Thomas
Thomas P - Friday, 01/07/05 18:28:15 EST
---
Chris, in S. Indiana, I pay in the $36 to $40 per 100# refill. I do own the tank.
ptree - Friday, 01/07/05 18:58:37 EST
---
dampers: Thanks all for the additional info on dampers, venturi effects, inflow and outflow valves on the firebox, and whatnot. I love it when multiple sources of info all tie together in agrement. And, now the fire management and control system all makes sense.


John Larson - Friday, 01/07/05 19:24:49 EST
---
Steel Drum: When I was in Maine last summer we went down to the Stonington fish pier one night to hear a Steel Drum Band from the Blue Hill Penninsula of all places. They sounded like a full orchestra but only played a huge variety of different steel drums. The amazing thing to me was that this was a community group with teenagers through adults and they had all made their own instruments. I wish I could remember the name to give them credit. They sounded great.
SGensh - Friday, 01/07/05 20:17:38 EST
---
Hey, everybody!: It's really god to see all (most) of my friends from Keenjunk here. Too bad it's gone. The one regret I have is I didn't print out the entries in the "Techniques" section. I'd used them before when making or doing something completely different. There was a lot of good info lost.

Hello to Grizz. How're the pups? Haven't you been elected Mayor of Maury Island yet?

Sandpile, you're looking dapper as ever. Are those bibbies new?

Bruce, I'm really glad you're here. My Lady Wife, the Truly Evil Ms. Hutchins with the stainless steel tampon, has promised to use me badly, if you don't come back out here, and stop by for dinner. I'm conflicted between having your illustrious company at table, and seeing just how badly the
T. E. Ms. Hutchins will make me suffer.

Maybe if I get lucky...
John Hutchins - Friday, 01/07/05 20:26:12 EST
---
Chris: Here in the Virgin Islands, I pay $52.50 for a 100# tank full of propane. The supplier just exchanges cylinders when he comes to deliver, there is no separate charge for renting the tank or anything. Almost every home on the island uses propane for cooking, so there are tens of thousands of cylinders out there.

Your "supplier" may be ripping you off pretty mightily, or he may just be quoting you a premium price to fill your tank at YOUR location. The price should be lower if the tank was brought to his facility. It sounds as though that supplier is not in the business of dealing with small users, except for filling barbecue tanks. If I operated a bulk truck, I wouldn't want to mess around with filling much of anything less than a 250 gallon (~1000 lb.) tank.
vicopper - Friday, 01/07/05 20:29:13 EST
---
Steel Drums: Down here in America's Paradise, the Virgin Islands, we have a steel pan band on every street corner, practically. There are a couple of renowned pan makers here on St. Croix and the schools offer music courses in playing/making the pans.

The raw material of choice for pan making is the standard 55 gallon oil drum. The different notes are created by hammering and torching the head of the drum in different sections to differing degrees of hardness and tension. It is an art, not a science.

Any time that a neighbor complains about the sweet sound of you forging on the anvil, tell him he could be much worse off; he could live next door to a steel pan drum maker. The racket involved in making a pan is about as pleasant as listening to a neophyte learning to play the bagpipes.
vicopper - Friday, 01/07/05 20:35:54 EST
---
Francis' Cookbook: Yes, this book was assembled by Jim Fleming, one of my 'grad students' from 1974. I told Jim in class, 'The smith is the cook; the smithy, his kitchen." I had heard the expression from another smith, and Jim took off with it, and it went into the book title. The Cookbook has 153 pages and was copyrighted in 1986. In the back is an appendix with a few photos of Francis' work. There is a good section, among others, on straight stair layout using a wooden plank to plot the vertical balusters.
Frank Turley - Friday, 01/07/05 20:44:40 EST
---
Reinventing the wheel:: Has anyone here contemplated a forge where the gas/air mixture was burned in a "fluid bed" under a layer of lose insulating material like vermiculite, pearlite or the red lava rocks found in Bar-b-ques? Forging heats could be taken imbeded in the material like coal with the advantages of a gas forge.

As Butch said to Sundance: "You just keep thinking, that's what your good at"
habu - Friday, 01/07/05 23:32:11 EST
---
Pacific Northwest Smithin' Folks: John:

My regards to the Lady Wif and the rest of your horde. I just got a cal from GSA yesterday about a potential facility out there, but no follow-up so far. If they insist, I shall go. Who knows, they might even deign to invite me to the grand opening when we move into the Cadillac Hotel ("Flophouse to the Stars").

Steel Bands:

Thanks, guys, now I've got "Under the Sea" from my daughter's tape of The Little Mermaid running through my head...
Bruce Blackistone (Atli) - Saturday, 01/08/05 00:22:17 EST
---
Clocks:
Thanks for the clock info guys! My wife's curiosity has been appeased....for now.(grin)

Eric
eander4 - Saturday, 01/08/05 03:33:51 EST
---
Re-reinventing the wheel:

Habu,
Been done. I believe Adam's Rubble-roaster is like this -- also, the Flamefast gas forges filled with ceramic chips. Link to the Flamefast forge below. Also google for "flamefast ceramic chip forge" without the quotes for more info.
Pieh Tool Co sells 'em.
T. Gold - Saturday, 01/08/05 04:54:00 EST
---
Quenchcrack, while forging does indeed raise the temp over the Curie point, remember that we are an upsetter shop, and only about 1/4 to 1/3 of the bar is so heated. We then machine the part prior to heat treat. Magnetic properties at machining show up pretty quick. Course, the post machining heat treat would then remove any magnetic properties. And some of our steel may lay about for a couple of years, due to the nature of the biz.
ptree - Saturday, 01/08/05 09:45:28 EST
---
Magnetism: ptree, clearly your experience is different than mine. When I worked in Texas, residual magnetism was a serious problem in pipe and bar yards. Of course, I was there during GW's time in the Oil Patch and it might have been his magnetic personality!
quenchcrack - Saturday, 01/08/05 09:52:28 EST
---
Fluidized Bed: Habu, Google for "Fluidized Bed Furnace" and you should get some hits. The FB furnace is a refractory lined can with a sintered plug in the bottom. The can is filled with sand or other suitable media. Air and/or burning natural gas is injected through the plug at high pressure to cause the sand to become agitated. It does provide for very uniform heat transfer. I experimented with one in an attempt to replace a salt pot but it is not as good as molten salt for rapid heating and cooling.
quenchcrack - Saturday, 01/08/05 13:12:17 EST
---
First Project: Can yall recomend a first project? I have been around my farrier for quite a while, and know how to arc, mig, tig, mapp, actylene, and most any other weld out there. All that aside, pounding on iron I have never done. Should I try and start with a poker, or what do yall think?
- Peyton R. - Saturday, 01/08/05 15:02:09 EST
---
Farrier Prints (Artwork): My wife has prints from her Farrier series for sale.

Each series has 200 prints in it which makes it nice because only 200 prints are in existence for each title. One is called "Farrier and Horse" and the other is called "The Shoeing". In addition to being limited editions they are also signed & numbered. Price: $30 (plus $4 for shipping).

Happy New Year!


Our prints are listed on eBay at this link. Thanks for looking.
Jeff Law - Saturday, 01/08/05 15:13:38 EST
---
Treadle Grinder: Went to a re-enactment today (not to work - just to watch them shoot the 6 pound cannon). While there, one of the group asked me if either the older treadle-style or bench mounted manual grinders are still available new from anyone. I figured the foot style were not made but maybe the bench ones are still sold. Any leads are appreciated.
- HWooldridge - Saturday, 01/08/05 16:41:17 EST
---
Grinders:
The Japanese still make and use water stone hand grinders. The high end tool places used to carry them. Try Garrett-Wade Tool Company. They had them in my OLD catalog from them.

You can ocassionaly find the metal frame bicycle seat and pedle style a tailgate meets.
- guru - Saturday, 01/08/05 18:10:03 EST
---
Flamefast Forges:
I did a bunch of research on these a few years ago. I was considering building a better version. . .

These are NOT a fluidized bed. They are a dispersed heat sink forge. They use synthetic Mullite chips as a heat sink. The gas flame comes in from the bottom through either a metal plate with holes or a ceramic plate with nozzel holes.

The first problem with these is that the chips must be sorted and cleaned daily. Bits of steel and burnt or broken chips are screened out. Then about once a month the chips need to be replaced. Those from Flamefast in England will be quite pricey since they come from the US. I got on this subject looking for the US supplier.

The second problem is that there is a HUGE glaring heat. Folks that have used them say you cannot work close to them OR spend any time looking into the fire. Its just like your gas forge except with the interior outside radiating all that heat.

They work SORT of like a coal forge in that you bury your work in the chips and the heat is relatively of concentrated. Being open they allow the heating of long and irregular shaped work that won't fit a common gas forge.


- guru - Saturday, 01/08/05 18:23:01 EST
---
Steel Drums:
These ARE an art to make but there is also quite a science to it. Each tone is made by a specific sized and tuned pan arranged in a various patterns in the drum. With practice they can be tuned to specific notes. As each drum has a limited range you will see a single musician with several.

I have a copy of the only really authoratative booklet on the subject (including patterns) written back in the 1960's by the folk muscian Peter Seeger. Others have been written since but pale in comparison. Peter understood the details of work hardneing, tempering and over thining the metal and conveyed it well. Many of those patterns are fairly standardized so that like many musical instuments a muscian can pick one up and play with a only brief familiarization.


- guru - Saturday, 01/08/05 18:36:27 EST
---
Idea re: Flamefast chip forges:
Hmmm. Guru, you could conceivably build a refractory cowling to cover most of the fire on a ceramic chip forge, couldn't you? Allow some air space between the chips and the cowling, and it'll stop the radiant heat dead. One layer of rigidized Kaowool coated with ITC-100 would do it fine, I'd wager. Just like how good coal builds a kind of "cave". What do you say, Jock?

Oh, come to think of it, why do the chips need to be replaced once a month? Sounds like you could make your own by crushing up mullite refractory brick with a hammer.
T. Gold - Saturday, 01/08/05 19:01:19 EST
---
Quenchcrack,
I wonder if the latitude could have any effect? My experience is somewhat more north than Texas. Just my experience. As we did not link the bars up as in a pipe line, perhaps we did notice the effect as much. We did have to demag much of the machining stock, but I really think it came in magnetic.
ptree - Saturday, 01/08/05 20:02:52 EST
---
Holiday tong trade: Received my long "pickup tongs" today. Thanks, Mark.
Frank Turley - Saturday, 01/08/05 20:44:35 EST
---
dampers: Miles: Exactly. I was talking about two different subjects. One on wood stoves (air tight)manual dampers and other subject barometric flue controll dampers on oil fired furnaces. And like I said on my wood stove theres no way I could rely on the dampers on my stove doors to deaden the fire on windy days.-----------Today at a meeting I did see a pot-belly stove that had three dampers. Two manual ,one on the door, one inside the pipe, and one barometric. The barometric was controlling the fire, watching it flap as the wind blew.----On furnaces the barometric needs to be adjusted for controll of the flame.
- d w - Saturday, 01/08/05 21:36:37 EST
---
First Project.....: Not to say I am any kind of expert or anything but leadership traning has taught me something, the K.I.S.S. method, the grunts use it alot, stands for keep it stupid simple, meaning don't go killing yourself on a complex project. A poker, from what I have seen combinds a few of the techniques that require a little of the basic knowledge needed to successfull make one. My sugestion is read the glossary terms here on anvil fire, get to know them and then read the iForge portion of the site, it will give you a graphical representation of what is being said to do for the project at hand. Then practice the following few techniques to get the feel of hot to handle hot iron, "Drawing out", "Upsetting", "scrolling", "fullering". But before you do anything, READ, READ, READ!!!! Get loads of info so you know some of what your looking at. If you can, find a smith in your area or at the nearest round up and see if he will show you what it looks like to draw a piece of metal out or any of the other techniques name above and so on. Well I hope I have been of some help, good luck and most of all be safe.
Adam Scott
stormcloud_2 - Saturday, 01/08/05 22:11:47 EST
---
I'm back.:

Sorta.

I've got over 2,000 messages in my trash can, and 50+ to answer in my inbox.

If I've missed something important, please remind me.
Paw Paw - Saturday, 01/08/05 22:16:33 EST
---
Welcome back Paw Paw:

How's the new place?
- Tony - Saturday, 01/08/05 23:36:53 EST
---
Tony,:

Nice. Still have to move the shop. The pad will be poured next week, then I'll let it sit for at LEAST a week. 4" of re-bar and fiber filled, air entrained concrete over top of 4" of compacted crusher run. A "turn down" pad with the rebar connected between the footings and the surface of the pad. Also having calcium (I think, mind is blank tonight, I'm whipped.) added to slow down the cure rate.

Am also going to use the rebar as a ground "mesh" for additional electrical safety.
Paw Paw - Sunday, 01/09/05 00:12:26 EST
---
Paw Paw Who??: Paw Paw? The name sounds familiar. Seems to me there was some mention made to somebody like that in the distant past. .... Oh yeah. The crusty old gentlemen who lost the cart race at Quad State. (He He)..... Borrowing a phrase that my wife uses when I come in late, "Where the hell have you been?" Not that we missed you, but your prescence here makes everybody else seem so much nicer. Welcome back anyway.
- Larry - Sunday, 01/09/05 00:12:45 EST
---
I was talking about wood stoves. I've seen the movie. And lest we forget, closing the dampers on the doors when the wind kicks up depends upon someone being home and awake to do it. The barometric damper never sleeps.
Miles Undercut - Sunday, 01/09/05 00:30:26 EST
---
Flamefast forges: Thanks for the links and feed back, the ceramic chip type forge was closer to what I was thinking. The fluidized bed was just what I had envisioned with pearlite or vermiculite, (not a good idea with the dust and asbestos). The Kaowool cover also sounded like a plan.
A couple of questions came to mind: I assume that the 1300 degree temp quoted in the add is in Celsius not Fahrenheit and is there a catalytic reaction with the ceramic chips? If so, does anyone have thoughts on using the honeycomb ceramic from auto catalytic converters?
habu - Sunday, 01/09/05 00:33:16 EST
---
Farrier Artwork: I meant to give you a link to a picture. Not sure if this forum can post it though. If it doesn't look right, please delete it. Thanks.

www.carolinaequine.com/uploaded/admin/the_shoeing_575x432.gif
Jeff Law - Sunday, 01/09/05 04:50:06 EST
---
Employment Op: If you are, or know of, a good hands-on welding engineer / metallurgist that would like to work for a great family owned company in a small Oklahoma town. Take a look at www.ditchwitch.com / About Us / Employment / Position 05-002 on the net.
Jim C. - Sunday, 01/09/05 09:10:29 EST
---
Pawpaw, welcome back! I think I would prefer a visit from some crusty old CSM with a dull spoon than to move all the junk in my shop!
That said, I saw the floor description for your new shop. Are you planning to place poly sheeting between the concrete and the crusher run? It helps the cure rate a bit, but really helps to cut down the moisture coming thru the floor. Cuts down on sweating in the shop some, and its cheap. When we did the 6.5 acre shop floor for the new plant, we used the plastic, and then numbers for moisture reduction were pretty impressive. It was an airconditioned shop, and the lower humidity in the summer lowered the cost to air condition plenty. Had 1200 tons of air conditioning to do the job. I think I remember that the daily rate was something like 600 gallons of water that did not have to be removed.
ptree - Sunday, 01/09/05 10:51:11 EST
---
Paw Paw is Back!: Great to have you back! You were Missed!
John Odom - Sunday, 01/09/05 11:18:21 EST
---
PTree:

Yes, 6 mil sheeting between the crusher run and the crete.

Hi, John! How are you doing?
Paw Paw - Sunday, 01/09/05 11:31:05 EST
---
Pocher mini-hammer: Hidey PawPaw, Take it slow and easy.

I was cruising eBay and came across a 8:1 scale tool roll designed in France for the miniature Pocher classic cars. The tool roll contains tiny wrenches, screwdrivers, pliers, and a French pattern blacksmith's hammer! See #5948285294. I suppose it is as common in France as the ball peen is in England.


Frank Turley - Sunday, 01/09/05 11:46:08 EST
---
Paw Paw:: Welcome back Jim. I have a question for you. You wanted me to make, and take pictures of a stone point for you. My problem is, I don't know what style point would be correct for that time period. So, if you know any Cherokees, try to find out what point style they may have made at that time, if anyone was to have made a stone point then. Mostly the Indians used trade points and then guns once trade started between the settlers and the Indians. And if you do get that info, try to find out what rock it was made of, if you could.
Bob H - Sunday, 01/09/05 11:55:30 EST
---
Mullite Chips:
Habu,

There is no catalytic reaction with synthetic Mullite. It is just a heat sink and dispersion medium. Natural Mullite is a mineral originaly found on the Isle of Mull near England. Apparently it has been replaced world wide by the synthetic type made largely in the US.

The synthetic Mullite is created from another mineral (mined nearby here in Virginia) which is ground, mixed with water and binder, extruded into bar shaped pieces, fired at high temperature to vitrify and then broken into various refractory agregate sizes. It is a common agregate in many refractory cements. The grade needed for the chip forges is the largest pieces screened from the first pass of grinding. They are called "ceramic" chips because they are synthetic.

When I was trying to find a source of the chips there was a great deal of merging and buying out of various suppliers by Haberson Walker and contacts dissapeared and sales policies changed. . At one time I had a 100 pound sample aranged for and then POOF. . nobody knew anything, even about the product. As this was an unfunded non-profit bit of research I let it go.

In use the Mullite chips burn slightly causing them to break down. They also break down mechanicaly from use in the forge. When pieces get too small they clog the nozzels in the forge. So you want to screen out the smalls on a regular basis. Then as I mentioned you get to the point where it is best to replace the whole batch. It is not good to add make up amounts as you go because you end up with a lot more waste. This information came from a school in England where they use a half dozen of these forges for all their work and have a lot of experiance with them.

- guru - Sunday, 01/09/05 12:20:54 EST
---
Paw Paw and Bob H: Getting forgetful? Remember I AM an archaeologist (grin!)! If you're looking for point types used by the Cherokee, the simple answer is they quit using them between about 1680 and 1760, as trade guns and to a lesser degree sheet brass arrowheads had taken over. Remind me and I'll scan some pictures for you later this week. For a sample of the last type of stone point in use in the mountain southeast, look up Madison points. These are basically a triangle between .75 to 1.25 inches long, no more than .5 inches wide, and up to 3/16 thick.
Alan-L - Sunday, 01/09/05 13:22:07 EST
---
Bob & Alan,: Bob, See Alan's answer. (grin)

Alan, Thank you! Bob was going to make a point, taking "step" photos for me to use as an illustration in the next TRB.
Paw Paw - Sunday, 01/09/05 14:48:39 EST
---
Tom C.:

Would you mind sending me that last page of KJ, please? I wasn't back on line yet when it went down, so I missed all the posts on the page.
Paw Paw - Sunday, 01/09/05 16:17:44 EST
---
Last page of Keenjunk: Welcome back, Paw Paw. Email coming your way.

Today is #1's birthday. Last summer I found a set of stakes & a stake holder at Dempsey's (Noel, not Jock) Machinery Exchange & set 'em aside for today. Well, she loved them & I scored some points. Like I said, I'm lucky I have a gal who wants tools for presents!

Tom C
- Tom C - Sunday, 01/09/05 18:26:32 EST
---
H. Woolridge: You asked a couple days ago about hand-powered grinders. Thre is a place in Wisconsin that still makes them and sells them online. Along with a good bit of other pretty nifty looking stuff, I might add. I haven't dealt with them, nor personally seen their products, but I liked the catalogue. Prairie Tool Company. I posted the link for you.
www.prairietool.com/
vicopper - Sunday, 01/09/05 18:50:07 EST
---
Broom: Hi, Folks:
I have a small quandary. I am making a set of fireplace tools, and need to find a brush to complete the broom. Where can such an item be had? I've made the handle, but am not sure where to seek the bristles, though they must certainly be available somewhere. Advice, please?

Thanks much,
Rob
LionGate Arms & Armour
- Rob Miller - Sunday, 01/09/05 19:59:12 EST
---
Broom: Just one idea. You can purchase roof/tar brushes at some building supply places...the kind with three 3"-4" circular black brushes mounted next to each other on a wooden stock. Saw off one of the brushes and fabricate a sheet metal head for it and attach your shank.
Frank Turley - Sunday, 01/09/05 20:22:34 EST
---
PPW and Bob::
I forgot to add, to picture this fully, there is no stem on these late period points. The base may be slightly incurved, and they usually look pretty rough compared to earlier points.

I'd still like to watch Bob make one! I have done some flintknapping, but I do that almost as well as I play bassoon, which is to say, not at all! (grin!)
Alan-L - Sunday, 01/09/05 21:05:26 EST
---
Books: lot of general metalworking books on ebay #3866049431
may be of interest
Mark P - Sunday, 01/09/05 21:07:32 EST
---
what to do?: i have these spikes i guess they are about 14 inches long and like 3/4 inch wide. theyre round with a point on one end and a head on the other. ive got about 15 of em and i have no idea what i could do with one. i made a hook out of one. theyre hard as hell and they dont wanna bend(plus im using a little bit of rr track on block of wood and that was like my second project) so any ideas? also does anyone know what barbed wire is made out of. i thought of makin some cool lookin steel with it and i put it in the fire and it caught on fire and was burnin green. so that didnt work out...... hopefully if everything works out im going up to Toms shop in port jervis next monday. thanks for the contact Frank. im getting some steel this week hopefully so i can start making some candle stands and such. everything i have is really heavy so that doesnt work out too well....is there any way to get the kaowool to stick to it self good? my roof keeps falling in. the piece of one inch sticks great to the steel then everything thats attached to that piece just falls off. thanks
chris
- chris - Sunday, 01/09/05 21:18:29 EST
---
need grave marker help: Hello, been a long time since I've posted here. Hope someone can point me in a good direction. My brother was killed a few days ago in an accident. He was one of those guys that everyone liked & kidded with & was only 46. It has been hardest thing I've ever been exposed to.

I'd like to make a piece for his grave that reflects his life long love of hunting & fishing. Does anyone make bronze (or copper or whatever is weather proof) versions of shotguns and fishing poles? I got to thinking that I'm not the first guy who's wanted to do something like this, so am hoping I can just buy some of the pieces, rather than make it entirely from scratch. I don't have access to any casting or molding, so I would have to work in steel & then have it hot dipped. If anyone can point me in a good direction, I'd really appreciate it.
Mike Sa.
- Mike Sa - Sunday, 01/09/05 21:21:09 EST
---
Propane Torch Cutting/Welding: I am finally building a small (12'x20') smithy over the next month or so, and have decided to build a large multi-burner propane forge. As a result of all my planning, figuring, and dreaming on how to set things up in the smithy, the issue of where to store my oxygen/acetylene bottles came up. I am a good hand at burning, and don't own a plasma cutter or shear or cut-off saw. I have a full regulator, hose, and handles for oxy-acet now. I don't own my bottles, too expensive, but have to pay the demerge, high cost over time. A further brainstorm, and the seed question arises -- Do I need to keep acetylene inside my smallish workspace at all?

My questions to the crowd/group/guild are:

#1 - What about Propane Cutting Torches or Welding with a Propane Fueled Torch?

I have seen "propane tips" but not much else in the arena. I should have a healthy supply of propane, with an dealer-supplied high pressure regulator, on a 250 gallon outdoor tank, to be plumb indoors for my forge.

#2 - Can I effectively or efficiently use the same energy source (propane), with only a pressurized oxygen source; use one flammable gas for all my needs?

ANY inputs, experiences, opinions, sources of components, negatives/positives would be appreciated. Thanks.

.
CCHarper - Sunday, 01/09/05 21:23:01 EST
---
Points: Alan-L,
Bob H does a beautiful job on the points. He made one for my #2 son at Quad State out of a piece of glass that is great.
Brian C - Sunday, 01/09/05 21:33:04 EST
---
RE: Broom: Mr. Miller - May I suggest you contact Jeff Mohr of Mockingbird Forge.

He was once situated in Farmington, Georgia, but relocated to Crawfordville, Florida. That is the last location that I am sure of. Jeff has a video of broom-making, about 30 minutes long. I bought my copy at the Southeastern Regional Blacksmithing Conference in Madison, Georgia a few years ago. It is very complete, simple, and useful. Jeff was a member of the Ocmulgee Blacksmith Guild in Georgia, they have a website, but I am not sure if Jeff is still a member.

Jeff's email, in the 2004 Crafter Listing was - mockingbirdforge@peoplepc.com. I suggest Jeff because he is a very nice fellow, pleasant and informative. The video has an advertisement to contact him for broom-making supplies.

.
CCHarper - Sunday, 01/09/05 21:36:29 EST
---
flea market: Thomas Powers would be proud. Hit the flea market today, got a nice pair of tongs, 2 chisels, 2 punches, 2 ball pien heads, 2 monkey wrenches, and a small cross pien hammer for $12.00 American
Brian C - Sunday, 01/09/05 21:36:50 EST
---
RE:Brooms.. Again..: Mr. Miller - I found the tape on the internet after I dug up my copy to get the right title. The title is "Broommaking for the Blacksmith". It is sold through TeachingTapes.net for $21.95.

I have Jeff's home address and telephone number, from the tape case. If you want that information to contact him, just email me.

.
CCHarper - Sunday, 01/09/05 21:51:48 EST
---
Mike Sa-- My condolences. What about getting a fab shop to cut your design out of half-inch stainless, welding that to a vertical element to provide a mount, stamping the epitaph? This would eliminate all that costly foundry work, would provide a monument of lasting beauty.
Miles Undercut - Sunday, 01/09/05 22:24:26 EST
---
Alan L:: Flintnapping is really pretty simple, just remove everything that isn't an arrowhead! Actually, if a Neanderthal could knap stone tools, then this Polack can too. Once you understand a few simple rules, and your body learns the moves, much like smithing, things go along pretty good. I don't know what state you are in, but when I travel, I usually take my knapping bucket with me. Took it to Quad State every time I've been there, and intend to do it again this year. If you go to Quad State, I'd be more than happy to give you a lesson. By the way, I am located in SW Michigan.
Bob H - Sunday, 01/09/05 22:38:20 EST
---
propane torch: ccharper, you can use propane alone. my dads boss uses just propane because its alot cheaper than acetleyne. you need a really big cutting tip so it doesnt cut as cleen as actelyne. ive never cut with it but my dad said it takes a bit longer to get the steel hot but once it does it cuts fine. he uses a 100lb tank and it lasts for a long time so with your 250 gallon you wont have any trouble. others probaly know alot more than i do on this subject though.
chris
chris - Sunday, 01/09/05 22:40:28 EST
---
brooms: Rob: Theres nothing better looking than your own tied broom handles. Enough broom corn to do 10 brooms can be bought for around $30 from R.E.Caddy, Greensboro N.C. and theres instructions on how to tie brooms on the broom web site. If you don't use the remaing stock send it my way but better yet make 9 more handles and sell them.---If I can tie my own brooms any body can.
- d w - Sunday, 01/09/05 23:17:35 EST
---
VICopper: Thanks for the link to Prairie tool. I'll pass it on to the guy who was asking.
- HWooldridge - Monday, 01/10/05 00:40:31 EST
---
VICopper: Thanks for the link to Prairie tool. I'll pass it on to the guy who was asking.
- HWooldridge - Monday, 01/10/05 00:40:40 EST
---
Memorials - Grave Markers:
Mike,

Almost anything you want can made in bronze for a price. Art foundries commonly do fancy memorial pieces. However, it is all custom work.

Although it is not common in this country, in Germany all types of funery art is made by blacksmiths. Crosses and monuments are forged of stainless steel. When forged and left unfinished stainless is black like regular forged steel. Sometimes it is cleaned and polished and other times it has just the highlights finished. Brass and bronze can also be forged and hand fabricated as well.

- guru - Monday, 01/10/05 04:59:14 EST
---
Flint: Thanks Bob, but I did it as a hobby/learning experience in colledge for about two years and never progressed much beyond the pre-neanderthal stage! I can make a pointy rock that cuts, but it ain't pretty.(grin!) If I ever go to quad-state I'll bring you hunk of lovely striped obsidian from near Guadalajara. It has zones of black with stripes of near-transparent running through it. I'm in east Tennessee, by the way.
Alan-L - Monday, 01/10/05 09:28:37 EST
---
Paw Paw's email: Paw Paw, the message I sent you last night wasn't delivered. It was "delayed". Do you have another address?

- Tom C - Monday, 01/10/05 09:33:27 EST
---
Tom C.:
pawpaw@pawpawsforge.com

That should work with no problems.
Paw Paw - Monday, 01/10/05 11:24:11 EST
---
Monument: look into laser cutting or water jet. They can cut pictures into a slab of stainless that will look good and last a long time! An important first step is to find out if the graveyard has any specific requirements for monuments.

Chris, the "burning green" was probably the zinc on galvanized wire. Not good to work with! Zinc causes toxic fumes and many a weldor can give you graphic descriptions of fume fever after welding on galvanized steel without protection or massive ammounts of ventilation. Now that I've tried to scare you the little you were exposued to shouldn't cause problems just avoid galvanized or *any* type of plated metal for the forge.

What temp were you forging the spikes at? Do you know what they were used for---where you found them?

Thomas
Thomas P - Monday, 01/10/05 12:50:35 EST
---
spikes: i was working the spikes at like a bright yellow. i couldnt get them to weld. i tried folding it but they layers wouldnt melt together. i have no idea what they are made out of or what they were for. they have alot of little holes for like cotter pins or somethin to go through. they must be high carbon or somethin because they dont like to move.im getting some real steel this week. some 1018 square and flat and round. the flat for tongs the round for candle stands and the square for other stuff.... i figured that the smoke was bad. i know galvanized is really bad for you.
chris - Monday, 01/10/05 14:50:27 EST
---
Chris are the holes oriented at 90 degs from each other? beginning to sound like grade stakes. If so they are usually A36 and should have moved at yellow. Tell us about your hammer and your anvil set up please.

Thomas
Thomas P - Monday, 01/10/05 17:06:47 EST
---
stems: When i was working on a leaf candle holder yesterday, the leaf snaped clean off when forging the stem on the other end of the bar. I can't figure out why this happened. the leaf was cold. Why would this happen?
- Bjorn - Monday, 01/10/05 17:34:44 EST
---
Chris' stakes: The other thing they might have been is old form pins for steel forms for concrete pouring. Those are either A36 or similar, as I recall. Still should have moved at a yellow heat.
vicopper - Monday, 01/10/05 17:48:26 EST
---
Bjorn: If you got a bit of a cold shut in the place where the leaf transitions from leaf to stem, and quenched it from hot, then the vibrations from hitting the other end probably snapped it.

There is a surprising amount of force exerted on the far end of a bar when forging. You can use this to advantage when straightening stock, in that you hit the area away from the bow and the counter force straightens the bow out. Any piece that has a feature that is heavier than the adjacent stock has to be handled with some forethought or things can snap off like your leaf. It's all about momentum and inertia working against each other.
vicopper - Monday, 01/10/05 17:52:39 EST
---
Bjorn, was the piece A36 ? I've seen some with enought C in it to harden in contact with a cold anvil or vise or quenched and so become brittle. A little forge brazing can come in handy if you don't have a welder; but if brazed I'd do it late in the sequence to keep the braze from being heated during other heats.

VICopper, I was wondering about a light "ASO" and a small hammer---might make 3/4" steel feel pretty tough under the hammer.

BTW a book I was reading said we got the term copper from the copper badges issued to NY policemen in the 19th century.

Thomas
Thomas P - Monday, 01/10/05 18:10:22 EST
---
spikes: the spikes moved just they were hard. i really dont have an anvil. just a 3 inch section of rr track sittin on a 6x6 on a stool. so theres not much under the metal. my hammer is around a 2lb cross pein. i really dont have any real good tools yet but i will. im in the process of running power to my shop.... would an old heating pad help to keep my propane tank warm? i havent had trouble since i filled it but it hasnt been that cold. back to the topic of tipping tanks, what about forklift tanks? every forklift ive ever seen has a horizontal tank. so i guess the valves are good on them.....thanks
chris
chris - Monday, 01/10/05 18:51:18 EST
---
coal forge: ive been playin with the idea of building a coal forge too. it would be nice to have if i ran out of propane or something wouldnt fit in my gasser. is it worth it? could i use just plain red clay bricks and mortar and just get some fire bricks for the fire pot? do i need buy a tuyere or can i make one? what kind of blower should i use? electric or hand crank? do i need to buy a fire pot or could i make somethin or use something else to use as a fire pot. i dont really want to dump alot of money into this forge so i want to make as much as i can. thanks
chris
chris - Monday, 01/10/05 19:36:03 EST
---
Alan-L: BobH is the best flintknapper I've ever seen. Of course, he is also the only flintknapper I've ever seen too. A bunch of us congregated at Paw Paw's tent and spent a very nice day shooting the breeze. BobH brought over his knapping bucket and tarp and started making points out of flint, obsidian, chert, plate glass and Corell Ware. It was quite a sight how he made them so fast and perfect. He even offered to let me try to make one, but I declined. I told him I would either ruin the stone or cut my finger off. His reply," No problem. I would laugh either way." Gee. It's nice to have friends.
- Larry - Monday, 01/10/05 20:22:36 EST
---
Yup Chris you need more under the hammer. I've used a bunch of improvised anvils and the lightest was around 40 pounds. A good chunk of shafting, a large hunk of steel, shoot I used the broken knuckler off a train coupler before.

RR rail needs to be the big heavy stuff---with the top nicely worn flat or use it in longer lengths set up on end---you really use the part directly below the hammer so that's where you want the mass to be located. Having it firmly mounted so it doesn't jump around is important too.

I gotta get home so I'll let other folks discuss building a coal forge; just let me say it should be *cheap* and *easy*.

Thomas
Thomas P - Monday, 01/10/05 20:46:45 EST
---
Larry, and Chris, too:

Larry, I survived my knapping years with only a few scars, but the guy who taught me lost a lot of blood from an obsidian flake. It is surprising how quickly a skilled person can produce a point from a rock. I can't do it so quickly, as I seem to be more in tune with iron than stone. If I used the yahoo site I'd post some of the pointy rocks I've made versus the pointy steel I've forged and let you be the judge of which I do better at. It is probable that Bob is better at both, of course!

Chris: While you can make a coal firepot from brick, you'd be happier with a store-bought or welded steel plate one. Heck, make one from a brake drum as shown in the planfile. Also: You don't seem to have enough anvil mass to do much good. 3/4" A-36 is hard enough to move with a 2-lb hammer when your anvil weighs 150 lbs, much less however much your rail weighs. Find a heavier chunk of steel to beat on and you'll be hapier! I can't think of the last thing I made that used 3/4" round, but that thought also makes me happy...
Alan-L - Monday, 01/10/05 20:50:05 EST
---
Chris, and wrapping propane tanks:: I regularly forge outsite(both my tank AND I) at temps of 35F and below. Having the tank freezing up due to weather hasn't been a problem, although aving my fingers freezing up has. The propane liquid stops evaporating at -44F, so, if you're above that, you're probably ok, although you will have some flow rate problems at the below 0 temperatures.

After a valient attempt at solving the ideal gas equation, I found the info I wanted already floating about in the ether. Propane vapor pressure is about 23.5 psig at 0° and 175 psig at 100°. Normally, forging doesn't require anything over 2-10PSI, given an average sized orifice and forge chamber. So, if you can hack 0F, you're golden.
- Tom T - Monday, 01/10/05 20:56:09 EST
---
Alan L.: If you go to volumn 35 of the News, and hit page 10, you will see some of my points. And your obsidian sounds like what we call Mahogony Obsidian. Doesn't Tennesee have some knappable chert? Seems I recall it does, kinda plain if I remember right. One of my favorite flints[I call it all flint} is Burlington, outa Missouri. But I also knap a lot of Novaculite, as I got it cheaper than most other flints. If ya want, I could e-mail you a few pictures of some of the nicer stuff I've done.
Bob H - Monday, 01/10/05 21:11:14 EST
---
Calling Old Trail/D Wells: Dave, some of us former Junkyarders have been trying to reach you but we seem to have a bad email address. Please email me when you have an opportunity.
Jim M - Monday, 01/10/05 21:16:58 EST
---
Petrogen: Has anyone tried the gasoline/oxygen cutting torch? It looks like a refined mini flame thrower. At least it would keep the neighbor from wandering over when I'm busy at the forge :)

http://www.petrogen.com/performance.html
- Tom T - Monday, 01/10/05 21:26:42 EST
---
Chris,
If you put an electric heater on a propane tank you have made a "fired pressure vessel". The pressure relief valve is rated on the tank to handle the heat imput from a hot day, not a heater and may not be able to relieve at a rate that will prevent a rupture pressure from being reached. Not that likely, but it does happen.
Consulted on a case where a 2 ton liquid tank was heated, the manway blew, and the tank launched like a rocket. Flew a couple of hundred yards, and killed a 12 year old. The heater was miswired, with the heater conected to the normally closed instead of the normally open contacts. The relief valve was under rated and was plugged somewhat, and the idiots hydro'ed with nitrous oxide instead of water.
Boils down to get a proper sized tank.

Forktruck tanks are horizontal to feed liquid, and vertical to feed vapor. different motors are set up for different feed. Do not use a horizontal fork truck tank to feed your forge!
ptree - Monday, 01/10/05 21:44:50 EST
---
propane for cutting: CCHarper,
The scrappers that regularly cut up all manner of junk at our plant use a propane/oxygen set. They have a small liquid oxygen tank and a 100 gallon propane tank on a truck, and they run several torchs at once and can run all day.
ptree - Monday, 01/10/05 21:48:36 EST
---
Heated propane tanks: The Canadian Pacific RR uses propane fired track heaters at switches. It regularly gets to -40, so they have propane fired tank heaters. The winter of '64 in Alberta we had a terrible blowing blizzard with -50 tenperatures. the wind blew out the track heaters and the vapor pressure when it warmed up to the normal -40 was too low to start the tank heaters. The section men put torches to the sides of the 250 lb tanks until there was enough vapor pressure to light the main heaters. They alternated torches with one being heated by the truck exhaust while the other was used. I had to do that while repairing some outdoor telephone equipment. I even saw one track gang with a small woor fire under one ent of the big tank. I wouldn't want that job! It took them a week to restart the railroad.
John Odom - Monday, 01/10/05 22:07:03 EST
---
knapping: Bob H, do you know Erret Callahan? He's a professor of anthropology who has been knapping points for many years. He lives in Lynchburg, VA , but he taught here in Richmond in the early '70s at VCU. He makes some beautiful pieces, some of them quite outrageous. We used to have some of his things in our store, but they didn't sell well to the local crowd.

Tom C
- Tom C - Monday, 01/10/05 22:23:47 EST
---
leaves: the metal I used for the laeves was 1035 or whatever its called (I really need to work on my metalurgy). I do have a MIG welder, but I don't know how to finish the weld to look nice after it splatters all over the leaf.
- Bjorn - Tuesday, 01/11/05 00:18:48 EST
---
leaves: Bjorn, Cover or clamp sheet metal or some kind of cover to protect the leaf. When the weld is completed, let it air cool and file finish. Reheat and wire brush if you want a scale finish. 1035 contains about 0.35% carbon. This is indicated by the last two digits in the four digit series. It is considered a medium carbon steel and will harden if quenched at a red heat. You should know more than "whatever" when you are forging steel.
Frank Turley - Tuesday, 01/11/05 01:32:13 EST
---
leaves and chert: Bjorn, you sure it wasn't A-36? That's what most structural steel is these days.

Bob: Nice stuff! We do have a couple of nice cherts in Tennessee. Along the edges of the middle section of the state there's outcrops of Fort Payne limestone that produces a range of cherts from chalky white stuff to hard black. Then there's the Dover quarries on the western end of the Tennessee River, which produce BIG hunks of Fort Payne chert that's kind of pinkish-white and responds well to heat-treatment. Most FP also likes wet working. We have lovely blue-grey St. Louis chert that is almost a true flint, Brassfield which is gray-green and full of little fossils, Ridley and Bigby-Cannon, both of which are glassier than Ft. Payne and come in pretty colors, and finally my local material, Knox chert. It is as close to a black English flint one can get in the southeast. It also comes in gray, white, and root beer. It makes a lovely pale blue chalcedony as well. My obsidian isn't mahogany, it's true black. It just has stripes in it. I've seen the kind you're talking about, though. If you're ever in upper East TN there's frequent knap-ins all over the place.

We now return you to your regularly scheduled smithing content...
Alan-L - Tuesday, 01/11/05 09:46:26 EST
---
Box bellows: I know my bellows are a little different than traditonal, but someone was asking for pictures so I posted some in the user gallery, Joshua Langfitt.
dragon-boy - Tuesday, 01/11/05 12:47:56 EST
---
Propane for cutting: With the right set up it's hard to beat oxy propane for cutting. The cut is cleaner, the steel doesnt get carburized, you can get a controlled cut inches away from the tip (this is very nice for making straight cuts in sheet metal since it allows you to roll the torch head without moving it along the line of the cut), the tips cover a much wider range than acetylene and finally its a LOT cheaper.

Propane is a hard gas to mix properly. If you use propane in your acetylene rig with a propane tip it works OK but its not great. Poor mixing forces you to run the torch too rich and this degrades performance.

The only torch that I know of that is designed from end to end for propane is the Allstates torch. It is spendy but its a great torch and it will recoup the extra cost in gas savings.
- adam - Tuesday, 01/11/05 13:20:58 EST
---
Thomas: re: copper. I've also read that the acronym derived from Olde Englande, where Constable On Patrol was abbreviated in the police logbooks. Could have mutliple origins.
Ellen - Tuesday, 01/11/05 14:45:14 EST
---
Bit of early industrial history in PA: This is what sparked my interest in smithing and history. I grew up about 15 minutes from this place. I remember the demo smith making horse shoe nails. I was around 9 at the time. being hyper active, horribly so my mother and father in trying to settle me ushered me out of the community kitchen and out to the smithy. My facination with tools started much younger, being the son of a mechanic, its rational. The noise welded my attention to the hammer and anvil then to the smith explaning what he was doing. From then on I was hooked. Didnt know why then but I sure do now. Just thought I would share some history of PA with thoes who are interested. Page 3 on this link has a small bit on the smithy. Enjoy!

http://www.phmc.state.pa.us/ppet/economy/page1.asp?secid=31

Adam Scott
stormcloud_2 - Tuesday, 01/11/05 14:48:50 EST
---
Copper: The NYPD's "official" history credits Thomas' version of the origion of the term "copper." That same history, available at the NYPD museum website, also mentions the British use of Constable on Patrol as the origin of "cop."

Personally, I think the term "Copper" was coined by James Cagney. And "cop" MAY have come from Constable on Patrol or Constable of the Peace, but when did the term get mutated into a verb, as "copping a ..."? (grin)

I dunno, all this etymology is way too esoteric for this dumb flatfoot. :-)
vicopper - Tuesday, 01/11/05 15:57:02 EST
---
Box Bellows: Joshua,

Thanks for posting those pics. They should be a help when the inevitable question comes up again.

That's a bit different method of making one than I would have thought, but it looks like it should work just fine. Do you find it delivers the air that you need?
vicopper - Tuesday, 01/11/05 16:17:05 EST
---
leaves: it prabably was A-36

i got it at a steel and welding shop
- Bjorn - Tuesday, 01/11/05 16:24:52 EST
---
bellows: Absloutely, if not I just snap the whip and the slothful apprentice pumps harder. Actually If the all the cracks were sealed with a silicon caulking I think it would work a lot more efficiently. As is, it is just a matter of increasing the pumping action. The plunger definately needs to be well lubricated. I also wish that for a portable set I had built out of lighter weight stuff than treated 2x12.
dragon-boy - Tuesday, 01/11/05 17:14:47 EST
---
What about the well know tendency for the Irish to become cops in NYC? Perhaps "copper" referred to stereotyped hair colour, the verb a derrivative of their search technique...

Real easy to create bogus etymology---like the famous one for *the* 4 letter word.

Looks like Sandpile may stop out for a visit---luckily they have removed the street sign and most of my neighbors will deny knowing me...

Thomas
Thomas P - Tuesday, 01/11/05 17:39:59 EST
---
Cops: As a boy in London it was explained to me that Peales coppers used copper whistles (Sir Robert Peale started the London Metropolitan Police Force circa 1830). This slang crossed the Atlantic and got adopted by the natives who then invented stories to claim it as their own. Of course if your chauvinism is of a different color then it was the Brits who picked it up from the Americans and then lied about where they got it.

In either case, I think it's a bogus "retrofit". Many etymologies are bogus. People make up logical explanations after the fact when really words change in ways that very quirky and seemingly illogical: sometimes even reversing their meanings. But people love a logical explanation even when there is none.
adam - Tuesday, 01/11/05 17:48:07 EST
---
leaves: Blacksmiths Journal once suggested sandwiching a thin piece of wrought (or baling wire - my idea) in the weld to prevent this problem. It does help some.
adam - Tuesday, 01/11/05 17:50:48 EST
---
Slack-tub/leaves: Sandwiching? I don't understand what you mean.

I'm having trouble setting up an account in the slack tub,
After I created on to be registered, my email stopped letting mail come in because of too little memory space. should I register agean or will I cause too much confusion on the other end? (who ever checks the emails and lets me get in)
- Bjorn - Tuesday, 01/11/05 20:36:15 EST
---
Bjorn.: If you are having trouble with splatter from the mig sticking to the work, drop by your welding supply place and pick up a spray can of splatter shield. It goes by different names so just tell what you want and they will get one out for you. If you are not near a supply place, try WD 40 or Pam cooking spray. Either one should work well. Just coat it heavy and brush the B-B's of after they cool. When you start ginding and blending the weld you might try a sectioned pad. They are soft and don't gouge or burn the work.


Another copper story I heard is that the New York police used to wear uniforms with copper buttons back in the 1800's. Makes a feller wonder. What would we call them it they wore mother of pearl buttons?
- Larry - Tuesday, 01/11/05 20:36:51 EST
---
leaves again: Bjorn, I think that was a subtle suggestion that you try forge-welding the leaves. No problem with spatter then!

Jock aka the guru is way behind on slack-tub pub registrations, and catches up a little at a time. If your email isn't working when you get the reply, you're SOL. Maybe the guru will chime in on this one...
Alan-L - Tuesday, 01/11/05 21:01:46 EST
---
Propane only smithy. CCHarper: I switched to propane only a couple of months ago. I doubt I'll be using the acetylene much any more but I do still have it as I own the tanks. Cleaner cuts with propane and I don't see a slow down compared to acetylene. The oxy/propane with a rosebud is also VERY handy for spot heating to forge and tweaking stuff that doesn't fit in the forge. Gas welding is no problem. I have all Victor equipment now (mostly used from the dreaded eBay) with one old Airco torch. Both work very well on propane. The two piece cutting tips are the way to go. I run mine off the 500 gallon tank for my house. The big rosebuds like to have 50 psi propane or so, but the medium sized rosebuds will work fine on 30 psi. I can provide specific Victor model numbers that I use if you like.
- Tony - Tuesday, 01/11/05 21:16:21 EST
---
Heated Propane: Chris,

When I have trouble with may 20# tank freezing (it's not usually all that cold around here), I fill a 5 gallon joint compound bucket to overflowing with warm water and put the propane bottle on top. It rests on the bucket rim with of most of the domed bottom hanging down into the water. With liquid propane on one side and warm water on the other, the tank bottom makes a pretty good heat exchanger. I wouldn't use anything warmer than my bath water, though.
- Mike B - Tuesday, 01/11/05 21:17:14 EST
---
Tony: The best way to provide those Victor numbers for me would be to copy them directly from the equipment. Just shove it all in a box and send it down. When I'm finished with it, I'll send it back. (GRIN)

On a non-humorous note, Kai passed away on the 6th. He was ready, so the time was right. Irene is just starting to really feel it today. Memorial service on the 22nd here at the museum.

For those who don't know, (most everyone, I suppose), Kai Lawaetz and his widow Irene are the wonderful folks who have been good enough to provide me with a place to build and use my smithy, as well as providing much encouragement with their endless appreciation of the little things I do. Kai would have been 95 this month. I'll celebrate his life as one of the kindest, gentlest and most sincere people I have ever had the honor to call my friend.
vicopper - Tuesday, 01/11/05 21:37:56 EST
---
Vic:
I'm very sorry to hear about Kai. It always hurts to lose the ones we love, and we males seem to have a lot of reservations about using the word love with our male friends.

But I don't think I've ever heard a more beautiful epitath. Kai is pleased, as I know Irene will be.

May all the angels of heaven greet him at the gate, may he rest forever in peace and may perpetual Son light shine on him.
Paw Paw - Tuesday, 01/11/05 22:06:12 EST
---
Loss: Vic,
Sorry to hear about the loss of your friend. I don't think we're ever ready for the loss of the older generation, even when we know it's immanent for the one involved, and better in the long run. The closer one is to a person, the more it strikes one and the longer it takes to get over it.

Regards,
- Gavainh - Tuesday, 01/11/05 22:21:58 EST
---
Vicopper: Sorry to hear of your friends passing. Just lost my neighbor down the road. He had just turned 90.
His health had been slipping since his wife passed in 2000.
He was a retired farmer. Well as much as they ever retire.
I knew him my whole life. He was a kind , gental man.
I got my first paying job from him when I was 13.
Baling hey was the job. His wife was as kind as he was.

I know he is with the good lord today.

He was also a connection with the past that is gone now.
His son and daughter are very much like him.
They will carry thier parents legacy forward.

Steve
- steve parker - Wednesday, 01/12/05 00:06:51 EST
---
Tony's Shop:
Tony, are you saying that you do your gas welding with propane? I've heard that this is difficult/impossible from various sources, but I was not inclined to believe it as my dad welds platinum with propane quite often... small pieces, but still. I, too, am interested in the all-propane smithy. (Grin)
- T. Gold - Wednesday, 01/12/05 03:23:46 EST
---
Propane welding: I have never been able to weld steel with propane - it just froths up and turns to slag. Would love to know how if it can be done.

Bjorn/ Leaves. I didnt track back to the start of the thread. I read the words "cold shut" in someone's post and assumed it was a forge weld. Sorry
adam - Wednesday, 01/12/05 10:36:38 EST
---
Rich: I am sorry to hear the sad news about your friend.
adam - Wednesday, 01/12/05 10:37:10 EST
---
Doesn't sound like Kai will need it; but if St Peter is hesitating at the front may St Dunstan slip him the key to the side gate.

Early "cops" were called Pealers or Bobbies both after Robert Peale (sp?) who instituted the first London police force.

There are already a group of people called "pearlies" due to their wearing vests covered with MOP buttons.

Gonna sneak out at lunch today and do a quick forge project for a teacher friend at Tech who's prepping their classroom for the start of the spring semester next week.

Thomas
Thomas P - Wednesday, 01/12/05 11:31:50 EST
---
Rich: email your way with a prayer which may help in your loss. It helps me when I lose a loved one.
Ellen - Wednesday, 01/12/05 12:46:18 EST
---
Rich, Sorry to hear of Kai's passing. It sounds like he was a wonderful person and leaves a legacy of friendship behind him. I sure it was a comfort to him to know you will be there to help Irene.
SGensh - Wednesday, 01/12/05 14:23:05 EST
---
Mo' Cop Stuff: This from my good ol' American Heritage Dictionary. Cop n. Short for "copper",policeman, from cop, cap, to seize,catch, probably from Dutch "kapen"
3dogs - Wednesday, 01/12/05 14:39:34 EST
---
leaves: Adam. now that you mentioned forge welding I think I will try to weld the leaf back on. How much flux should be used?

- Bjorn - Wednesday, 01/12/05 17:40:06 EST
---
fluxing: Bjorn,
use as much flux as you need to weld with. Huh, what do I mean? Some folks can and do weld with out flux and others use a lot. Basically use enough to allow the flux to provide a uniform liguid cover over the weld area. I usually strive to use as little flux as possible. But that is just me.
Ralph - Wednesday, 01/12/05 18:08:24 EST
---
flux: I use borax and I like to use a lot of flux on small work to help protect it from burning and also because I like to disagree with Ralph. Seriously though, I do my welding in a gasser and its hard to shielf small stuff from the hot gas - flux helps
adam - Wednesday, 01/12/05 19:25:53 EST
---
Vicopper,
Sorry for your loss.
ptree - Wednesday, 01/12/05 20:36:39 EST
---
Adam, perhaps your forge needs tuning. (grin)
I do use a tiny bit more flux in my gasser.
Ralph - Wednesday, 01/12/05 21:32:49 EST
---
Kai and propane: I have met Kai and Irene. Kai will rest in the right place. Vic, if there is anything you think I can do for Irene, short of gettting down there, please let me know.

Kai and Irene are some of the good souls.

Vic, I'm sorry. But he's in a better place.

More humorously..... Less hot at least! grin.

As I mentioned, I am using mostly used Victor Equipment mostly bought off eBay. It took some time to get good deals, but it can be done. I use big diaphragm Victor SR450 series and VTS 700 series regulators, 315 and the big HD310C torch handles, cut with the old Airco torch and Victor CA2460 cutting attachment on one of the Victor handles. The heating attachments (rosebuds) are Type 55 -8 and -15 size. I use a Smith gas saver that I ended up paying McMaster Carr for. See their catalog as I can't remember the number off the top of the pointy. I missed one on eBay (rare there) by $5 over half price. Use 3/8" ID type T twin hose if you want to use the big rosebud.

The gas saver pilot is on when the forge is on and I have one socket for the gas saver right next to the forges. Otherwise the gas saver is set up to also go into a tripod so I can move it around. VERY HANDY for spot heating to forge. Learned that from Jeff Fetty at Quad State last year. The key is to have it on and ready when the steel needs it. Not having to fumble with lighting and adjusting the torch while the metal cools. I can reach the rosebud handle from the anvil.

I know some use acetylene regulators for propane. But they will not give the high pressure for using the rosebuds best. The main propane regulator is SR461D 510 and the 510 CGA connection fits in a propane tank valve.

The link below has all of the Victor links to descriptive PDF files.


Thermadyne.com/vec/literature/index.asp?div=vec
- Tony - Wednesday, 01/12/05 21:44:56 EST
---
Victor Oxy Reg on eBay NOW: The link below is to a VERY good deal on a new SR450D 5-125 psi oxygen regulator you need for the oxy-propane. 2 hours left. I have no knowledge of the seller but based on my experience, this is a good deal. You are on your own however. This is not an endorsement. Just an opinion, but if I didn't have enough regulators now, I would pay up to $75 for this and be happy.
cgi.ebay.com/ws/eBayISAPI.dll?ViewItem&category=67058&item=3865383998&rd=1
- Tony - Wednesday, 01/12/05 22:08:36 EST
---
Tony: Thanks for the kind words about Kai and Irene, and for the tip on the regulator. I'll bid on it and see. I need a good big one.

I found a place that does mail order (USPS to here) for welding supplies. 99% knock-off stuff, but the prices for hose and tips are definitely right. Quality is fine, too. I bought a gas saver from them for $40 that looks just fine. Haven't put it into service yet, but will let you know how it performs when I do. Their knock-offs of Victor tips look really good, too.
store.weldingdepot.com
vicopper - Wednesday, 01/12/05 23:04:11 EST
---
Welding the leaf. This is a weld I would do *in* the forge by scrunching the joint with a pair of tongs when it's at temp. Then I'd let it come back to temp and take it out and refine the weld on a preheated bic with a light fast hammer.

Thomas
Thomas P - Wednesday, 01/12/05 23:41:29 EST
---
Improvised anvil?: I found a piece of steel, cylidrical about 2" round and 5" or 6" long, weighs about 10 lbs. Looks like it was the end of an old school bench barbell. It has a hole about 1 1/2" from the end for the lock pin from the looks of it. Can anyone tell me if it will make a good improv anvil? If I remember right, weight equipment was made of mild steel. I hit it with a 2 lbs cross pein hammmer, it has original tooling face so still hard and made no dents. Not too much rebound but dont have it mounted yet either. All advice welcome. Thanks all.

Adam Scott
stormcloud_2 - Thursday, 01/13/05 02:30:20 EST
---
Anvil: I does sound as though it might be something on that order, or perhaps a counterweight of some sort. It may very well be cast iron, but would still work for light forming operations. I'll use practically any old piece of anything that will give me the contour I want when I'm forming something.

For an effective anvil, you really need something with at least fifty times the mass of your hammer. The higher the ratio the better, up to about 100:1, where you approach the point of diminishing return. The more the mass is concentrated directly under the hammer, the more effective it is. A long shaft used vertically and worked on the end will be much more effective than say, a piece of RR track used flat, which is too springy and costs you work. Anything that has the requisite mass under the hammer will work to some degree, but the difference between plenty of mass and not enough is VERY noticeable.

Big pieces of shafting such as heavy equipment axles, old hydraulic cylinder shafts, etc, make good makeshift anvils. Big chunks of heavy steel plate (4" or more thick), will also work. Places like county maintenance yards where they service heavy equipment usually have scrap parts that you can get for free if you show up a half-hour before quitting time with a suitable refreshment for the guys. For shaping stakes or anvils the mass is not as critical, since you are bending rather than squashing the steel. The stake only has to resist the movement of the workpiece enough to let you bend it.

Most ordinary weight equipment I've seen was made of cast iron, with the exception of barbell bars, which were medium carbon steel. The newer, "gentrified" weight equipment seems to be made more of mild steel and have sexier finishes to appeal to the executive set, I guess. I get all my exercise shuffling tools around, I don't need a weight set. (grin)
vicopper - Thursday, 01/13/05 09:33:45 EST
---
Bjorn:
Pub registrations are still way behind. Haven't gotten to yours so it has not bounced. If you have and account that is overfull and the response mail DOES bounce when I send it the registration will be pulled. My goal is to be caught up by the end of the month when I leave town. .

We are working on a automated system. It will be a double opt in checking your mail first by working ISP and then by requiring a response. However, it is a big deal to setup and will be part of a general user registration system for other things as well.
- guru - Thursday, 01/13/05 11:49:39 EST
---
improvised anvil: Sounds like it might be a large pin from a piece of earthworking equipment. In any case it should do ok as long as its not cast iron. Can you do a spark test?

If you are withing driving distance of N. New Mexico I have a lot of heavy scrap suitable for makeshift anvils and you are welcome to what you need.
adam - Thursday, 01/13/05 12:13:49 EST
---
When did I demo at the Ohio Roundup?: I'm trying to update my workshop résumé. I was at the Studebaker homestead somewhere between 1980 and 1984 (I think). I domonstrated mainly forge welding. I pretty sure at that time it was called Tri-State Roundup. Any help would be appreciated.
Frank Turley - Thursday, 01/13/05 12:21:40 EST
---
Kayne & Son / Blacksmith's depot: I recently had cause to call this company to complain about a tool I got from them. (first time I ever had cause to be dissatisfied with these guys) I didnt ask for refund and I only mentioned my name in passing yet a week later a gift certificate for more than twice the value of the hammer arrived in my mail. Not only was this excessively generous, I was quite touched by the fact that they had gone to the trouble of looking in their records to find my address. They really cared. You dont come across that very often.
adam - Thursday, 01/13/05 12:34:05 EST
---
Frank; did you ask over at the SOFA website? They probably have your demo pieces up on the wall with a date on them...

10 pounds is about right for hot forging silver but too light for decent sized work in steel. Hunt for a bigger chunk!

Thomas
Thomas P - Thursday, 01/13/05 12:38:11 EST
---
Frank at SOFA: Frank; I'm pretty sure that the demo pieces are dated 1981. If I'm not mistaken, one of the pieces was a bird.
3dogs - Thursday, 01/13/05 12:49:12 EST
---
SOFA Demo: Nevermind! I found it in my ha ha files. 1982. Thanks for your input.
Frank Turley - Thursday, 01/13/05 12:51:37 EST
---
Improvised anvil: the improv anvil I've been using since about thanksgiving is 75lb piece of I beam from the local scrap yard. the vertical member is about 7/8 thick and the horizontals are about 5/8 each. Paid about $40 for it and another 30 lbs of scrap to set up my forge. As long as I keep the hammering over the center of the Ibeam, seems to work pretty well. Out on the edges of the horizontal it rings like a bell and you can feel the loss of effort. Ground a notch on one side for bending. need to drill a pritchel hole. Only been smithing since November, brake drum forge.
Michael
hometown.aol.com/nicknaylo/images/forge2.jpg
Michael - Thursday, 01/13/05 13:09:14 EST
---
Kayne's: Yep, they're really good people to do business with. They have been happy to mail things to me, when I'm sure that has to be more trouble for them than UPS, just to save me money. They get my business and my recommendation because of things like that. They're also just plain nice people.
vicopper - Thursday, 01/13/05 13:17:55 EST
---
looks like a half decent forge on ebay. price is right

If i was closer I'd pick it up.


ebay forge.
- Chris Pook - Thursday, 01/13/05 14:01:21 EST
---
Kaynes;Pieh;Centaur: I've order from all three of these firms and the service has been outstanding....I would heartily recommend them for anyone in need of blacksmithing tools.
Ellen - Thursday, 01/13/05 15:21:30 EST
---
There was a Farriers school in OKC when I lived their in the '80's, seems like it would do better to haul it around there than to go to e-bay.

Thomas
Thomas P - Thursday, 01/13/05 16:37:27 EST
---
Anvil: Thanks for the imput friends. Adam New Mex is like 6 hours away, always wanted to visit but never have the time or a reason to go, thanks anyway, I just need to dig deeper. I might be able to make a horn out of the chunk I have now. Have a good one all.
stormcloud_2 - Thursday, 01/13/05 17:09:49 EST
---
kaynes: I just got a leaf swage litteraly ten minutes ago and had to complement them on their service. I mill defentaly be ordering from them agean.
Bjorn - Thursday, 01/13/05 17:32:03 EST
---
Mr. Frank Turley thank you for your contact. I gave Tom a call today and if everything gos well I should be up to his store on monday. He seemed very friendly. Hopefully i can get some supplies while im up there.
Whats the best design for making a coal forge? Well i know everyone has there own best idea but whats a simple and cheap way to build a coal forge. It doesnt have to be huge and complicated just an example of KISS. I would like to "expand my horizons" with building the coal forge. With a good forge running about an hour or so a day(longer once i get power in my shop) how long will a 70lb of coal last?
Does it burn fast? I need a blower but i dont want to spend 480 on a hand crank like at centaur or a couple hundred on a power blower. Is there any good substition for a forge blower that I could use? A vacume motor will work but will it put out enough air? What can i use for a tuyere, could i make something to work or do i need to buy one? I know i asked this question before but I really didnt get any good answers about the tuyere and firepot. Im not trying to be rude or anything im just trying to get information. thanks
Chris
chris - Thursday, 01/13/05 21:42:30 EST
---
coal forge: Take another look at the Getting Started page in the 21st Century section on the drop-down menu, Chris. The answers to your questions are there, as those same questions have been asked and answered probably hundreds of times by now. :-)

Once you have really studied the information on those pages, then if you have any lingering questions we'll answer them. I posted the direct link to the brake drum forge plans, but don't get lazy and stop with just that, read the whole section.
www.anvilfire.com/21centbs/forges/brkdrum1.htm
vicopper - Thursday, 01/13/05 22:00:21 EST
---
Motivated!:
I recived my book Paw Paw. Copy 195, thats a good number and signed as well, I couldn't be more pleased. Thank you Mr. Wilson, it will have an honored place on my book shelves.
Semper Fi
Adam Scott





























stormcloud_2 - Thursday, 01/13/05 22:01:14 EST
---
I allways liked big blank spaces.
Bjorn - Thursday, 01/13/05 22:15:15 EST
---
Chris & coal forge: Tom Maiorana will be able to answer your questions, and he has a coal forge at his house on the New Jersey side. I prefer to buy a cast iron firepot with clinker breaker, ash "barrel" and 3" diameter intake into the barrel. We drew designs a few days ago for a homemade hearth, 24" x 30" with angle iron legs and angle iron rim around the hearth. You cut a rectangular in the hearth plate and drop in the firepot. I line the hearth with concrete, sand and portland mix. If there is any way you can visit Peters Valley Craft Center near Layton, NJ, they have a nice shop with several coal forges set up. The craft center is associated with the National Park Service because it is in the Delaware Water Gap. I'm sure you would be offered a tour of their facilities.
- Frank Turley - Thursday, 01/13/05 23:57:29 EST
---
cops coppers: Just to add to the thread. The early badges were made of copper! Or so they told me in copschool years ago.
Nice to see the regular crowd move over from KJ.
Back to lurking mode....
- Mark Singleton - Friday, 01/14/05 01:18:50 EST
---
Peters Valley Info: Oddly enough, there seems to be no links between our official Delaware Water Gap National Recreation Area website ( www.nps.gov/dewa ) and the Peters Valley Craft Center ( http://www.pvcrafts.org/index.htm ). The only mention, when I did a site search of our internal pages, was in our Volunteers in Parks section:

DELAWARE WATER GAP NATIONAL RECREATION AREA, New Jersey
Peters Valley Craft Education Center
Residencies open to: Craft artists
Application deadline: Varies - call for information
Residency period: Year-round
Number & length of residencies: Varies - call for information
Contact: Peters Valley at 973-948-5200 EST or pv@warwick.net
For additional information, write: Peters Valley Craft Education Center, 19 Kuhn Road, Layton, New Jersey USA 07851


Strange are the ways of the NPS (and I work here)! 8-|

Bruce Blackistone - Friday, 01/14/05 11:32:24 EST
---
Atli---ahhh *that* explains it....

Bjorn Again: if you stare at the blank space while chanting the blacksmith's mantra "it's only pain" you can see Weylentil the smith mess up a forge weld---through internal application of Skull Splitter---the beer not the blade can help bring in the picture.

Must be a Friday...

Thomas
Thomas P - Friday, 01/14/05 11:49:18 EST
---
Pedro's Folly: Bruce, They have some kind of arrangement, or they did at an earlier date. When I've domoed there, occasionally a guy or gal in uniform would show up wearing a Smokey Bear hat...but they never seemed to know quite what we were up to. Kind of a clipboard check, I suppose.
- Frank Turley - Friday, 01/14/05 13:41:07 EST
---
Steel for Hot Chisels: I need to obtain some steel to make hot slitting chisels and hot cutters from, as I'm slowly destroying my cold chisels due to using hot :( From what I'm seeing looking at hot chisels available on the Net, some form of molybdenum steel seems most appropriate. I'd like to hear what works best for you folks, also a good source for this steel, and if there is any hazard in forging molybdenum steel, i.e. am I better off just buying the silly things, and if so, where is the best source for these?
Thanks in advance,
Rob
LionGate Arms & Armour
Rob Miller - Friday, 01/14/05 14:18:46 EST
---
cheap": One of my most favorite words - right there behind "free" lol!

Chris most blowers with a 3" output will put out enough to run a forge. Go to a place that services furnaces and explain what you need and they will likely have a bunch of furnace blowers which are ideal. You can b.. bu... b..uy , there I said it, an excellent blower for about $15 if you search the online surplus reseller. Automobiles have suitable fans but they run off DC 12v. Any blower you scrounge will likely run at a fixed speed so you will need to rig up an airgate. This can be as simple as a hacksawed slot in a piece of 3" pipe with a piece of flattened beer can (avoid cheap imports - smiths need the best when it comes to beer). If you are willing to spring for the postage I could send you something from my scrap pile - but you will have get your own beer can.

Coal usage:- well of course this varies on the kind of fire you are running that day and the work that goes through it but 40#/day ( 5 gal bucket full) is typical, I think. So you have about two full days worth. BUT you are going to be very inefficient at first so you will probably get less out of it than you will from the next batch you buy
adam - Friday, 01/14/05 15:02:27 EST
---
hot work steel: H13 H21 S1 S7. You can probably let your search engines look for tool steel companies and their outlets in the U.S., for example, Carpenter, Crucible, Teledyne-Vasco, Latrobe. Your local "steel service center" will probably not know what you are talking about if you say "H13". This anvilfire site has S7 flats for sale. Use the pulldown menu, upper right, and click on STORE.
Frank Turley - Friday, 01/14/05 17:48:14 EST
---
With a hand crank blower I think my first 100 pounds of coal lasted me 6 months. Course I didn't forge all day long; but I did get a lot of my mistakes out of the way with that first load of coal.

Since a typical blowdryer produces too much air for a forge, I'd worry more about if it's strong enough to push it through the coal.

E-bay just about doubled the fleamarket price of stuff I used to buy in OH. Had folks telling me how they could sell it on e-bay for more than I was willing to pay. The local market was well supplied and prices used to be low. Now they want the same price as folks in a smithing tool drought area.

I well remember a friend telling me not to pay a fellow $25 for a good post vise "cause then he'd want $25 every time"---2 years ago in OH Out here in NM you seldom see a postvise and then they go high---I paid $75 for two *large* vises and that was considered a steal.

Thomas
Thomas P - Friday, 01/14/05 17:49:35 EST
---
That was $75 *apiece*...

Thomas
Thomas P - Friday, 01/14/05 19:30:35 EST
---
Membership: Tiz a good day friend's. I have joined the ranks of CSI today, rather I signed up for a membership and paid first dues. I am glad to help this place out, it has been a constant source of information and enjoyment. I would tap thrice on my anvil to celebrate but I dont have one yet, will get a rain check on that one though, heh. Well I am pulling 24hr duty again so can't stay long. G'night friends.

Adam Scott
stormcloud_2 - Friday, 01/14/05 20:50:08 EST
---
Forges and blowers: I just ordered a firepot with clinker breaker and ash dump so I too need to set up a blower.

Just how much flow do you need? I've seen blow dryers mentioned...are they really adequate? I've got a bunch of those laying around.

Is an air gate the way to go or would a reastat do the trick? That's what my old forge had.


- Mike Ferrara - Friday, 01/14/05 21:49:06 EST
---
Stormcloud,:

Welcome to the famdamily! (grin)
Paw Paw - Friday, 01/14/05 21:54:21 EST
---
ADAM:-- What part of NEW MEX. I think you told me(us) that you were in or near LOS ALAMOS. I finally got a diploma from SANTA FE HIGH, finally. ToOO much RODEO and horse races, could not seem to find the school house door. Grin.
Thomas P. I left a message across the street.--Sandpile
- Sandpile - Friday, 01/14/05 22:30:41 EST
---
Blowers: Almost anything that will move air will work, to some degree. The better the blower, the better it will work. Note that I said better, not necessarily bigger. A blowdryer will work, but it's noisy and you have to disconnect the heating coil and have it far enough away form the forge to protect the plastic from the heat.

With a blowdryer, the little motor is working pretty hard, so a ceiling fan controller or dimmer would be appropriate. Larger blowers, or those with induction motors, aren't going to like a dimmer much at all.

For best results with squirrel cage blowers and the like, an air gate is a good solution. It is far better to put the air gate on the INTAKE side, rather than the output. Blowers force the air molecules to move, which take senergy. When you put the air gate on the output, you are adding load to the motor because you are forcing the blower to try to compress the air to some extent. If however, you put the air gate on the intake side, the blower is simply starved for air, which means less molecules of air to have to push around, therefore less energy used. The less energy used, the longer it will last and the less electricity it will use.
vicopper - Friday, 01/14/05 22:32:51 EST
---
Santa Fe Sandpile: If you're in Santa Fe, come visit. I'm probably a stone's throw from you. We'll hornswoggle a bale of hay.
Frank Turley - Saturday, 01/15/05 00:01:22 EST
---
FRANK TURLEY-- HOW are you ? I have heard quite a bit about you. I have been wanting to get over your way and meet you. JIM KEITH tried to get me to go with him to one of your meetings. I could not make it and he said we'd go another time. I will be there some day. Jim K. holds a good opinion of you and your abilties.. Hope to see you some day. Thanks for the invite. --Sandpile
- Sandpile - Saturday, 01/15/05 00:49:01 EST
---
Stormcloud: Welcome aboard and thank you for your support. We do appreciate!
Ellen - Saturday, 01/15/05 00:56:09 EST
---
stormcloud: yes welcome! thanks for your help : )

Yep I am in Los Alamos . If you find yourself in that part of the country with your PU truck, stop by.
adam - Saturday, 01/15/05 11:59:34 EST
---
Thank you Paw Paw , Ellen and Adam. Paw Paw I received your book on the 13th, I finished reading it this morning around 0430 excellent story and a nice project set to practice, the illustrations were very clear! I can't wait for the second installment! Can't wait till next pay, think I will buy New Edge of The Anvil from Skipjack. My mentor said it was a good starting manual. Well I am out of here for now. Adios amigos.


Adam Scott

stormcloud_2 - Saturday, 01/15/05 14:35:50 EST
---
Shaklee: Hello, I am a Shaklee rep that just discovered that some blacksmiths use Basic I in a "quenching" formula. I would certainly appreciate anyone's business. Please feel free to get a hold of me at pdksuccessATyahooDOTcom
www.shaklee.net/konetchy
Paul - Saturday, 01/15/05 16:23:43 EST
---
Aluminum corrosion:
I have a hydraulic cylinder I need to take apart to make it an air cylinder for a new hammer idea. Unfortunately, it has a screw in rod cap made of cast aluminum. The cylinder tube is steel. I'm suspecting some aluminum to steel corrosion in the threads.

There are no set screws or pins or clips or wires locking this thing together. I have removed ALL paint to make sure. I have also tried turning for right and left hand threads even though I have never seen a screw on rod cap with left hand threads. There is no manufacturer identification on the cylinder.

Any ideas on how to loosen that up? I'm getting close to using just enough heat on the tube to not wreck the seals and icing the aluminum rod cap at the same time. Since this early afternoon, it has been soaking with PBlaster.

Any ideas would be appreciated! Thanks.


- Tony - Saturday, 01/15/05 20:20:56 EST
---
Tony, maybe a low temperature would assist loosening the critter.
- John Larson - Saturday, 01/15/05 20:57:05 EST
---
Blowers and forges, a nifty trick that sofa uses is to have the electric blower set up so that you can either turn it on all the time or use a foot switch that only rund sthe blower when you are stepping on it. Saves a lot of coal and steel until you get to where you are needing to keep the fire at top heat all the time.

Thomas
Thomas P - Saturday, 01/15/05 23:51:12 EST
---