---
The Guru has three helpers that have been given a distinct colored "voice".
Grant Sarver of Off Center Products (purple).


"grandpa" Daryl Meier a Damascus steel legend (green).


Jim "Paw-Paw" Wilson, official demostrator at Bethbara Historical Park, Winston-Salem, NC (OD green).


---
This page is still new so there may still be a few bugs in it. Some early MS-IE browsers do not properly refresh as needed. Please report any problems to:



webmaster at anvilfire.com



After posting and returning, the page will automaticly reload and display your entry. If not then, click on LastPost after the file reloads. Your question will be answered as soon as possible.

Your input, answers and comments on questions to the Guru are welcome.

-- guru Saturday, 08/01/98 00:00:00 EDT
---
A STORY TO START THE MONTH:

A VERY COOL THING happened today (for me). A young red tailed hawk flew into my shop chasing one of the little birds that nest there, and then crashed into the upstairs window. From the crash I was surprised it wasn't hurt. I chased it from the mezzenine that overlooks the rest of the shop but instead of going out the nearby 12 x 14 foot door it went for the other windows downstairs. I gave it a few minutes to settle down and find its way out but it just kept going for blind corners and crashing into windows. Finally I couldn't take watching it bash and peck at the glass any more. I put on a pair of work gloves and gently cornered the the big brown and white bird. I carefully closed both hands around its wings and picked it up. Surprisingly the aggitated hawk did not struggle or try to bite. Meanwhile the little birds that nest in the shop were all fliting about and making as much noisy as possible. I had no idea there were so many! The whole scene had a Disneyesque feel to it! I carried the hawk outside and gave a it close look before giving it a gentle toss into the air. What a beautiful creature! Really made my day.
-- guru Saturday, 08/01/98 05:25:45 GMT
---
FROM THE MAIL:

I don't have three phase power in my shop. What can I do besides buy an expensive inverter?

Unless you are going to run a lot of motors with magnetic contactors or certain precision machine tools such as surface grinders, you really don't need a fancy inverter. All you need is a 3PH motor a couple horsepower bigger than the largest one you want to run.

220 VAC 1PH goes to the motor and those two legs + the third leg goes to the 3PH motor (switch) you want to run. THEN you have to start the 3PH motor! Some people rig a rope pull starter like on an old lawn mower. Give the rope a sharp pull then hit the switch! On bigger units they use a small fractional HP motor with a belt clutch to get the 3PH motor up to speed and then you hit the switch. You have to use step down belting from the small motor because they generally don't have enough torque to get the bigger motor up to full speed (armature inertia of a 1/2HP motor trying to move the armature of a 30HP motor). The bigger motor only needs to be going a couple hundred RPM so that it keeps going once the power is turned on. I know a local shop that runs a 15HP planner off a 20HP motor setup exactly this way. In many parts of the country every other shop has one of these!

A "roto-phase" works the same way except they have a bank of capacitors that make them self starting and help balance the power of that third leg a little. We had a big 10HP unit in our shop. It made an incredible noise! You also had to be very careful not to wire magnetic contactors to that generated third leg. When you started another motor on the roto-phase circuit the voltage drop would cause the contactors to open and the first motor stop. And from the amount of information on trouble shooting the capacitors in the units manual I suspect the capacitors could be a maintenance problem.

-- guru Saturday, 08/01/98 05:43:03 GMT
---
I have a burning interest in metal smithing, more directly in medeival plate armour.
and I was wondering if you could point me the right direction to getting
started or where to find info for the the beginning blacksmith.
I am not able to atend any of the schools and just want to get started in my garage. any info would be grately appricated.
Tony -- tkm at tminet.com Saturday, 08/01/98 05:59:20 GMT
---
Tony,

For general smithing see my article under 21st Century, Learning Blacksmithing. I also highly recomend Jack Andrews book NEW Edge of the Anvil. You can order it from Centaur Forge and ask for their new catalog. It is a Blacksmithing education in itself! There are also some sword and armour links on our links page. You could also join one of the SCA or Markland groups (see the anvilfire NEWS, Volume 3).

For plate armour you need to collect a few sections of hardwood log. These will be more usefull than an anvil for armour work. Pieces about 30"(70cm) tall are good. These are gently dished out (gouge or chain saw!) on the ends for forming the curves in breast plates and starting helms. You can also chisle and rasp fluting or ribing forms in the end of the same logs. Don't forget you can use both ends of the log! The end grain of a hardwood log is VERY tough and take an incredible pounding when sheet metal is distributing the force over a little area.

Many of the hammers used are also used in auto-body work and by other sheet metal workers. Look for hammers with odd flared or rounded ends. Ball pien hammers are also useful and can be converted into other types. If you go to the flea market and you find an unhandled hammer of any type (other than carpenters claw hammers) and its cheap ($5 US or less) buy it! Everything from sledge hammers to tack hammers will be useful. A good hard steel sledge hammer head makes a great bench anvil or a "dolly" for holding against the back of the work while you hammer on the other side.

Then you need a stake anvil or several stake anvils. These are a metal post that either fits in a metal socket called a bench plate or can be set in another section of log. For these you need some shorter logs maybe 24" (60cm) long (there goes the rest of the wood pile!). These are both rare and expensive so you will probably want to make your own. Time to go to the scrap yard and look for sperical or hemispherical steel parts form helmet stakes! Although RR rail makes very light springy anvils it can be used to make parts of stakes and specialty forms you are going to want so look for some of it too. If its a big heavy chunk of steel you probably want to bring it home. You WILL find a use for it.

To make a light bickern (a kind of stake anvil - bick coming from beak like a bird's). You need a pick ax (new or used) and a piece of steel shafting about 2" (5cm) in diameter and 18" (45cm) long. Torch the eye of the pick ax in two along the sides of the eye. Then remove enough more so that the two pieces fit the shaft with a little gap. Heat and forge the two pieces to fit the round shaft and correct the angle of the "bicks" so they are at right angles to the fit at the shaft. Straighten them now too. Traditionaly one is a tapered sguare and the other a round. THEN arc weld the two pieces onto the shaft. Drill a hole in one of the logs to accept about 1/3 of the shaft. The bickern may need to be wedged into the log for a tight fit but if you use green wood it won't be long before the bickern is as if it grew out of the log! The "bicks" can be hardened after welding but the pick ax steel is hard enough that if you don't TRY to anneal after forging (soften) they will likely be hard enough.

This is the kind of tool making that while not elagant WILL get you tools made that you can do some elagant work WITH! Read, study, make tools (be creative). When your tools are ready you probably will be too. Don't get stuck on someones idea of "traditional" methods. Focus on the results rather than the means.

-- guru Saturday, 08/01/98 07:12:29 GMT
---
Also, Tony, armor work is done by a process called cold working. In other words, you don't heat the metal. Metal guage is 16-20 guage which 16 guage = about .0625 i believe, Guru check me on this.
I tried to make my first helm in a forge and ended up with armor for my friends turtle, trust me cold is the way to go! (laughing!)
Chris -- kilpe4 at gte.net Saturday, 08/01/98 11:55:28 GMT
---
Chris is absolutely right. However, you DO need a heat source (torch or forge) to anneal the steel between phases of working. All that hammering and cold working hoardens the steel and makes it brittle. It will crack if you work it too much. Annealing steel is done by heating the steel to a red heat and letting it cool as slowly as possible. This makes the steel soft. To "raise" a one piece helm you may have to anneal the piece 4-5 times or more depending on the type of steel.

Well, I may not be in for a while. My 350# Niles-Bement is comming in today! Christmas in August! And Josh just called to tell me his 700# from the same source is running!

MORE POWER for the POWER hammer PAGE!

-- guru Saturday, 08/01/98 12:14:56 GMT
---
Uh, HARDENS not hoardens! I'm just too excited to type! Later world!

-- guru Saturday, 08/01/98 12:16:34 GMT
---
Tony, try posting over at The Arador Armour library at http://disc.server.com/discussion.cgi?id=6354 they should be able to help, though the plate guys haven't been around much. You may also want to read the old Arador at http://darkstar.swsc.k12.ar.us/~davidc/ under Armour's guild, be warned it takes forever to download (4 megs) but there is a ton of info.

dmb
dmb Saturday, 08/01/98 19:05:40 GMT
---
I am wondering if there is anyone teaching blacksmithing in or around Boston,MA?

Thanks,

John
John Frankl -- jmfrankl at fas.harvard.edu Sunday, 08/02/98 00:18:11 GMT
---
The following is from the ABANA list of schools
Old Sturbridge Village
1 Old Sturbridge Village
Sturbridge, MA 01566
(508) 347-3362 - TDD (508) 347-5383

Old Sturbridge Village features the "Crafts-at-Close Range" program. They offer a variety of 1-day classes from beginning to advanced during January, February, and March. Write for a current class schedule.

The New England Craft Program
Horizons - Business Office
108-P North Main St.
Sunderland, MA 01375
(413) 665-0300 FAX: (413) 665-4141

The craft school is located in Williamsburg, MA on an old farm in a rural setting. There is at least one Intensive on blacksmithing during the year. Studios are open after class for free time and on-site lodging in dormatory style buildings is available. Call or write for a brochure.

Cape Cod School of Blacksmithing
13 Captain Doane Way
Orleans, MA 02653
(508) 240-7661

The Cape Cod School of Blacksmithing is a 4 forge facility offering beginning, intermediate, and advanced 2-day workshops. Instruction is given by Robert Jordan. Call or write for a complete and current schedule of classes.

Worcester Center for Crafts
25 Sagamore Rd
Worcester, MA 01605
(508) 753-8183 Fax: 797-5626

As part of the Adult School program, the metal studio at the Center is a place to develop as a metalsmith. Classes in forging and fabrication, cold forming and jewelrymaking allow the student to learn by demonstration and hands-on participation with the philosophy of exploration, shared learning, and hones critiques. The Center also has a two year certificate program for a career-oriented student in metalsmithing. This program has optional college credit thereby making full-time students eligible for loans and grants through affiliations with three colleges.


-- guru Sunday, 08/02/98 15:19:19 GMT
---
Also Tony be careful if you are making armour for SCA use I believe helms must be 14 ga. mild steel or 16 ga stainless. They also have rules regarding specs on the other parts of armour as well. Having made several helms myself I find it easier to make the dome in 4 parts and the skirt a fifth part and weld it all together. Rather than dish a dome down in a single piece.
Ron Hardy -- rhemail at flash.net Monday, 08/03/98 04:33:35 GMT
---
Not too long ago I read an article that said many of the weld seams in old armour that were previously believed to be repairs were actualy forge welds where pieces were fitted together. Extream raising was more suited to non-ferrous materials.

Modern steel plate is much more uniform than the wrought iron sheet used in old armour. Though it work hardens faster it is less likely to delaminate or split due to flaws in the material. It can also be spun rather than raised by hand. This is a "non-traditional" method but if you are looking for results by any method, this is a great way to blank out a helmet shell if you have the equipment.

Oddly enough both raising and spinning "upset" the material making it thicker rather than stretching it and making it thinner.

-- guru Monday, 08/03/98 06:34:36 GMT
---
Anyone know what the oil like substance is in the bottom of LPG and CNG cylinders?, i just emptied out 2 cylinders for use with an air compressor and forgot about the stuff in the bottom, it filled my air line and water catcher. anything i need to worry about?.

Andrew Hooper -- administrator at hive.co.nz Monday, 08/03/98 08:41:56 GMT
---
Andrew Hooper if you are still alive never combine compresed air
and containers that have contained flamable gases
there is a real risk of explonsions
to great to ignore
so for you own safety dont
Ö rjan Sandström -- 90119952482E7 at bibl.Skelleftea.SE Monday, 08/03/98 13:04:06 GMT
---
Good point Örjan! I would have to research Andrew's "sludge" question but I suspect it is either petroleum impurities or grease and oil from the LPG pumping machinery. As liquid petroleum products I suspect they act like solvents and pickup everything along the way!

Before "recycling" these containers they should have been thouroughly ventilated AND inspected (with a borescope). The grease may not be a hazardous substance but combined with compressed air it CAN be explosive! Örjan made a good point about gases, but even the oil or grease in the tank is a problem too!

-- guru Monday, 08/03/98 14:07:08 GMT
---
Ö rjan, Jock: The tanks were ventilated for around 1 month, the and were purged with an inert gas (nitrogen) first.. both tanks hace a large bung on both sides and both bungs were removed and the tanks left to sit, after 1 mth the bungs were replaced and bottles were compressed with a small amount (to 200psi) of nitrogen, this was done several times so as to ensure that all the flamabe gas was gone.

The Oil was not a problem until the bottles were placed upright in a rack, I know that an oil (of types) is introduced in to other bottles that have flamable gas to remove the risk of scale, having metal scale floating around in a bottle contaning compressed flamable gas could be interesting.

Thanks for the advice.
Andrew Hooper -- administrator at hive.co.nz Monday, 08/03/98 15:15:24 GMT
---
I was thumbing through the Summer '96 copy of The Hammer's Blow and came accross the following chart:

Heat Colors of Mild Steel Temperature (F)
Red Heat 975
Black Red 990
Dark Blood Red 1050
and so forth...

My question for the great Guru: Why did they specify "mild steel"? Would high carbon, say 1080, show a different incandescent range? How about 5260 auto spring or 52100 bearing race? Would stainless steel incandesce differently? Would a tungsten alloy pretend it was a light bulb and glow brighter? Besides, how red are cherries, anyway?

If different steels show different incandescent colors at different temperatures, then someone has just rounded the corners of the dice in our crap shoot.

On the other hand, maybe they specified "mild steel" as a universal baseline standard.

Answers; Oh knowledgeable one?
Bruce Blackistone (Atli) -- bruce_blackistone at nps.gov Monday, 08/03/98 16:09:08 GMT
---
Different materials do fluoresce slightly differently but I think all steels fluoresce the same. At least I've never seen any diferentiation in all my reading. Mostly you are looking a near infra red produced by X temperature. I suspect the mild steel was specified like you said, as a "baseline" for the curious.

As to what color is what? Bunch of bull to me! The human eye sees different colors dependant on the ambient light. A "cherry red" in my well lit shop will not be the same in someone's dark dungeon. I've worked outdoors a lot and in bright sunlight a red-orange heat looks like cold metal! I recently read an article about an early heat treating operation where they kept the light almost imperceptable so that the workers could acurately judge the metal temperature by color. Low light is important but these guys may have gone overboard. The important thing is consistancy. However, you cannot use filtered daylight to be your light source. Daylight varies from a "normal" white, to red at sunset and blue on a cloudy day.

At least modern technology gives us options. Tempil sticks, pyrometers and now non-contact infared devices!

I've recently made an intresting discovery along this line. My digital camera sees most light (or corrects for most) as almost as well as the human eye. But hot metal looks distinctly different. It displays yellows and reds that the human eye doesn't percieve! I suspect it is "seeing" the infrared.

-- guru Monday, 08/03/98 17:18:46 GMT
---
I am still beginnig my exploration into blademaking. I am a woodworker but have been forced into blademaking out of necessity. I recently bought a NEW 159lb anvil from "Jet Machine". It appears to be a sand casting imported from Asia. It arrived with the casting marks only roughly ground out. I discovered to my dismay that my first hammer falls left deep peenong marks in the working surfaces. Local blademakers and blacksmiths have informed me that 1) they didn't know "Jet" made anvils, 2) that my problem is the anvil was never heat treated. I have found an outfit that has the capability to do the heat treatment, but they asked a question I can only give them a "BLANK STARE' as an answer. The Question "what is it made of?". I have no idea, and finding anyone at "Jet" who has any clue has been a real dead end to me. CAN ANYBODY HELP ME!!! what is it made of? (steel haha) Can it be treated? To what reccomennded Specifications? Am I better of selling it as a doorstop? Is it more economical to buy another new anvil from some other company and chalk this "Jet" anvil off to learning? If this one is usless does anybody have a recommendation of a good ready to use anvil.
Thank You
David of Highland House Ltd Custom Woodworking
David -- hhltd at silverlink.net Monday, 08/03/98 18:10:00 GMT
---
I'm interested in learning more about blacksmithing, but I'm having trouble finding anyone to teach me. I live in West Central Idaho, and nobody seems to know of any classes being offered or blacksmiths that could teach me the skills I need. Do you have knowledge of any schools around Idaho that I could learn the art of blacksmithing?
Any help would be greatly appreciated.
Thank you,
Rich Bereczky
Rich Bereczky -- bereczkyr at aol.com Monday, 08/03/98 18:58:43 GMT
---
JET ANVIL (David): So now you have to be a metalurgist. . . There is a good possibility it is plain old cast iron. In that case it is a heavy door stop. Next best, it might be ductile iron. Good stuff, you can weld to it but it will not heat-treat for anvil purposes. Then. . . is might cast steel. . . but you will need to know a lot about it to heat-treat it.

Test #1: Turn it upside down, take a heavy grinder to it. Cast iron doesn't spark well and is quite distinctive. Test a known sample in the same light and compare. If you've been grinding knives you know how steel sparks. Cast or wrought sparks the same with minor differences due to alloys.

Test #2: Some ductile sparks sort of like steel. SO, lets drill a hole in it. A 1/4" bit in a low speed hand drill is fine. Drill on one of the places you've ground off the hard (often sand filled) surface. Steel chips curl. Cast iron chips crumble into dust. Ductile chips break up and show a lot of graphite.

You can only heat treat it if it is steel. If its ductile you can weld to it (possibley hard face it) and it will be very difficult to break.

-- guru Monday, 08/03/98 19:12:17 GMT
---
Rich Bereczky: Finding other blacksmiths. Join ABANA or a chapter!
Try these guys, they include Illinios and Idaho. This is from the ABANA chapters page. Notice that the newsletter editors are both from Idaho!

UPPER MIDWEST BLACKSMITHS ASSOC.
President: Jim Ribordy
15646 County Line
Rd, South Beloit, IL 61080
(815) 389-4432

Editor: Steve White, 8893 Hwy 14 South,
Monroe, IA 50170, (515) 259-3307
web site: www.execpc.com/~forge

ILLINOIS VALLEY BLACKSMITH ASSOC
President: Steve Clary, RR 4 Box 282,
Decatur, IL 62521 (217) 865-2002

Editor: Doug Heritage, 1209 Brown St,
Davenport, IA 52804-3925 (319) 326-0530
e-mail: dheritage at mwci.net


-- guru Monday, 08/03/98 23:13:07 GMT
---
JET ANVIL AGAIN (David): If you want a good NEW anvil try Centaur Forge, they carry several brands and they will be absolutely straight with you about quality. They carry Peddinghaus among other bands.

Also check the Peddinghaus ad (banner or from the Directory). Bruce Wallace is the dealer and he also carries used anvils which he will be absolutely straight about! Peddinghaus is THE or one of the last forged anvils made.

Good OLD anvils. Hey-Budden, the best US made anvil last made in 1928, M&H Armitage "Mouse Hole" anvils - also long out of business, just about defined the modern anvil, Peter Wright, KOLSHWA a Swedish cast steel anvil - I've had two and still have one. All very good anvils.

This list could go into the hundreds but the above are my personal favorites.

-- guru Monday, 08/03/98 23:25:29 GMT
---
David......Ref to Jet Anvil...Once while stroling through a flea market I spied a small black anvil. Ready to jump on anything that even looked like an anvil, I bought that 55 lb thing for a dollar/pound..took this wondorous mass home and mounted it to a fine hickory stump..lifted my 3# hammer to about 3-4" off the face and dropped it. It sounded like a thumb testing a melon for ripeness. The sand casting was poor..the word CHINA and 55 lb. was legible on one side.There was tape over gas bubbles left in the cast on the face (thats where the price was written). I used it for a while to teach myself a lesson...soon after I found a fellow who wanted to get rid of a gear from an old crane or shrimpboat wench. It was about 110 lb of hard flat steel. It sounded like a bell at the slightest tap of a hammer. I used that for 6 months while I searched for a proper anvil..
Point is...take your time..use what you have and scrap around until you can buy a good anvil from a reputable dealer, Like Bruce Wallace, he often has good used anvils and new as well, though the new ones are a bit rich for my blood. Search the pages here and others and you will find a good anvil. Keep hammering..
Randall Guess -- rguess at hotmail.com Tuesday, 08/04/98 00:57:41 GMT
---
rich bereczky---illinois and iowa may seem close if you live on the east coast--but there is a northwest blacksmith assn.--covers or., wa., id., mt. & b.c. primarily -- meets twice a year for conferences---and offers basic as well as int. & advanced classes[2 1/2 & 5 day]---
northwest blacksmith assn.
8002 n.e.hwy 99 #405
vancouver,wa. 98665 $35--annual due
hope this helps,don
kemper -- kemper at pacifier.com Tuesday, 08/04/98 04:20:15 GMT
---
AS REGARDS SMALLER POWER HAMMERS, HOW SMALL CAN SOME KIND OF PIVOT OR VERTICAL DROP HAMMER BE WHEN PARTS ARE IRON AND FALL INTO THE GUN PARTS (IRON-STEEL) RANGE? HOW SMALL CAN A HELVE HAMMER BE MADE WHERE CAM ACTION OR PERHAPS BLANK AMMUNITION MIGHT BE USED TO PRODUCE THE LIFT FOR 10-30 OPEN DIE FORMING BLOWS? HAS ANYONE TRIED CAM ACTION OR AN INDEXING DEVICE TO LIFT A VERTICAL HAMMER HEAD AS OPPOSED TO WHAT SEEMS TO BE A 3.25" PNEUMATIC CYLINDER i SEE ON SOME MACHINES YOU SHOW? A 4" MACHINE GRADE HYDRAULIC CYLINDER WORKING AT 1500 PSI (THIS IS LOW PRESSURE) CAN PRODUCE 18,000 LBS OF FORCE THOUGH HOW FAST IT CAUSES A RAM TO MOVE IS ANOTHER MATTER (INVOLVING PORT SIZE). I DON'T SEE ANYONE USING HYDRAULIC "SQUINCH" TO FORM IRON OR STEEL PARTS ROUTINELY. IS THIS SORT OF TECHNIQUE USED BY ANYONE FOR SMALL FERROUS PARTS (AGAIN, GUN PART SIZE)? MY PERSONAL PROJECT/DELUSION IS TO USE HEAVY HYDRAULIC FORCE TO FORM HOT BAR STOCK TO MOST OF ITS FINAL FORM AND FINSH WITH SOME OTHER FORMING TECHNIQUE. THIS WOULD INVOLVE PERHAPS 5/16" STOCK.
F.S. PIEKARCZYK -- FSPIC at EARTHLINK.NET Tuesday, 08/04/98 04:35:14 GMT
---
I'm considering a Bull air hammer for my shop. I would like to hear from anyone who is currently using one on a daily basis in regard to the following questions... 1. What air compressor should I consider in terms of efficency , effectiveness and cost of running the hammer? If a inexpensive compressor will the same job as well as a really "nice" one, I would have no problem spending less. Is a 2-stage compressor better? 2. Is anyone using a foundation? I have a dirt/small aggregate floor and it seems to me that even this small hammer will probably try to bury itself or at least try to do a little dance... make a little love, get down tonight...sorry, I couldn't hep myself.
Ron -- hmmrhead at epix.net Tuesday, 08/04/98 14:03:29 GMT
---
HOW SMALL A POWER HAMMER?: Commercial power hammers have been built down to 15 pounds ram weight. Every concievable mechanical arrangement has been used over the years. Cams were the earliest helve trip hammer mechanism operated by water power. Currently there are no mechanical hammer manufacturers other than an outfit that fabricates a "panel beater". My "bench top" design may be as little as a 10-12 pound ram weight.

The cylinder driven blacksmiths hammers you see are operated by air and are very fast. These are based roughly on the original 1838 steam hammer design of James Nasmyth (see his biography on the book review page). Air/steam hammers give the absolute best control and range of blows (hard and soft). There are several large and small makers of air hammers today. I'll post a list on the Power hammer Page later today.

Big industry is moving more and more toward hydraulic forging presses , and yes, the require a LOT of pressure. Forget pounds, you start talking tons on the smallest machines built by blacksmiths. See the Don Fogg Web Site for one of the first small shop scale hydraulic forging presses.

THEN you mentioned closed die work. The force required to work closed dies goes up expotentialy compared to "open die" or "hand forging". The first mistake people make when comparing power hammers to a hand held hammer is they do not realize that the velocity of a very fast power hammer is still nothing compared to the hand hammer. A smith raising a 3lb hand hammer to head height and accelerating it during the entire stroke hits harder than a 50# power hammer! Of course the machine can produce more blows or strokes per minute and doesn't get tired!

It is hard to judge the capacity need for closed die work. There are some general rules but in the end it depends on how much the metal needs to be displaced and how sharp an impression you expect (details in the dies). One thing people overlook when they think of forging presses is that they need to be fast because the metal will be cooling fairly rapidly. You can generate a lot of pressure with little horsepower if you have time but you don't have time to waste when forging. Combine speed (gallons per minute) and pressure or force and this results in horsepower. Even small hydraulic presses need lots of horsepower.

OBTW- I don't know of any hammers that run on explosives BUT there are diesel powered pile drivers. These raise the ram by compressing and igniting diesel fuel at the same time as it strikes a blow.

-- guru Tuesday, 08/04/98 14:13:10 GMT
---
There are "stud guns" on the market that are in effect explosive hammers. They work by inserting a crimped cartridge into the chamber, and a nail into the barrel. When the trigger is pulled, the force of the exploding round drives a "hammer" rod down the barell till it impacts the head of the nail, driving it into whatever surface the "stud gun" is in contact with.

The guns are made in two pressure ranges, low and high. Low pressure guns use .22 cal crimped cartridges, high pressure guns use .38 cal crimped cartridges. I've used both types, currently own a low pressure gun. I suppose they could be used for some closed die work, but they wouldn't be much good for anything else.

Originally they only made single shot versions. You can now buy semi-auto versions that load the cartridge automatically. The "nail" still has to be loaded individually, though.

Jim Wilson -- pawpaw at netunlimited.net Tuesday, 08/04/98 14:29:07 GMT
---
BULL HAMMERS (Ron): I've only run one for a few minutes in their plant in Asheville but you are right about it digging itself in. They are heavy enough that they don't walk too bad on a level surface but I expect once its dug a little slope it would take off. I also wathced them run for three days at the ABANA conference on asphalt. Didn't damage that surface (in the hot sun) at all.

If you don't want to pour a foundation I'd recomend a bigger base plate or bolting the hammer to a bigger plate. A 30-36" square plate 1" thick (or more) would stay put. The hammer would still be "portable" if you unbolted it from the bigger plate. A wooden pad would do the same thing but would have to be thicker.

I don't have any personal experiance with the compressor requirements but I do believe all these guys (not just Bull) try to make folks believe they don't need a lot of HP. Bull states 15CFM at 100PSI. This means a 3HP compressor minimum.

I hear the music too. Dorothy Steigler had a pretty good dance going while running the EC-JYH at Asheville. Amazing woman, dance AND forge on an odd-ball home built hammer! Its slow 100/140 SPM was about right!

-- guru Tuesday, 08/04/98 14:43:44 GMT
---
Kemper: Thanks for listing NWBA for me. I just searched the ABANA chapters list for IA and Iowa. I know Iowa is a LONG way West of Illinois but I figured since both the IL chapter newsletter editors were in Iowa it was a good place to start.

So when is the next NWBA conference?

-- guru Tuesday, 08/04/98 14:51:12 GMT
---
I have seen references to "buttress" and "butteris". Are these the same item, and how is it used? Thank you. (I am acquiring items to refurnish a turn of the century blacksmith shop.)

Neal Bullington
Neal Bullington -- NRoberB at aol.com Tuesday, 08/04/98 21:18:29 GMT
---
Neal, that is a new one on me. Only definition I could find is the common architectural usage, an exterior brace. . . (Webster's unabridged, 1918). Where have you seen this reference?



-- guru Tuesday, 08/04/98 21:43:31 GMT
---
OK, Lets try again. I searched Yahoo! using blacksmithing+buttress and found the term used in horseshoeing as part of a shoe. Try this site (page):

Fremlins Forgery

-- guru Tuesday, 08/04/98 22:00:08 GMT
---
Are there any blacksmithing events comming up in SoCalifornia?
thanx
jason -- jfboehm at earthlink.net Wednesday, 08/05/98 02:36:15 GMT
---
OK..I'll jump in. Re: Buttress as in buttress thread ? Its also
something you need after standing too long at the forge.
Hotter than welding heat in Sonora,Ca. 106 F. in the shop today !
Rick Willson -- rwillson at sonnet.com Wednesday, 08/05/98 07:35:25 GMT
---
I've machined a couple buttress threads so I should have gotten that one! HA! I'd thought of your second kind too! So what IS it, Neal?

-- guru Wednesday, 08/05/98 12:18:43 GMT
---
Actually a butteris (sp?)is a large shoulder powered chisel for trimming the horse's hoof. You'd brace the but against your shoulder, guide it with one hand and hold the hoof steady with the other. They were not used much in this country in this century, but I think they're still used in Europe, and possibly Latin America. Examples are found in the book Blacksmithing Tools from the Shelburn Museum (I'm not sure that's the exact title, but it's close. I can nail it tonight, if no one else comes closer.)

It's one of those tools you read about, but I've yet to bump up against a real one. I'm checking with a farrier friend for further brain picking.
Bruce Blackistone (Atli) -- bruce_blackistone at nps.gov Wednesday, 08/05/98 12:21:50 GMT
---
Leave it to Blackistone to know what and where to find something odd! I'm not strong on farriers tools so I'm not surprised I didn't know what this one was. Blacksmiths' and Farriers' Tools at the Shelburne Museum, 1966, H.R. Bradley Smith, last printed in 1981 and currently out of print. Here is the illustration from p.172.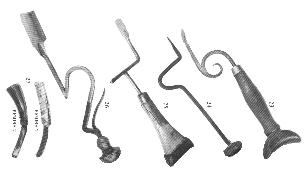 I left the two hoof knives in the illustration above for scale. Item #26 was identified as an "ox hoof trimmer" but it was noted that in the 1938 catalog of Turner, Naylor & Co., Ltd a subsidairy of William Marples & Sons, Ltd., Sheffield, England, their No. 417 Buttress was similar to this one and was intended for horses.

Butteris = Buttress in farriery
-- guru Wednesday, 08/05/98 13:12:18 GMT
---
Talked to my friend, Mike Spalding, who once worked as a farrier. He said that they tended to be used in large livery operations (actually he said "hack shops") where the hoof of an individual horse had a certain reliable "set". The problem with them is that they were fast, with no finesse, so if a hoof had a wrong set, it would tend to perpetuate the flaw. This made (makes) it unsuitable to the average farrier, who works with a wide variety of horses in a wide variety of conditions.

The hoof knives shown, on the left, are not only universally used by farriers, but are great favorites of wood carvers for bowls and spoons. (Nice work, Jock; an illustration that jumps from the overly specialized to the generally useful.) If you have any beginning wood carvers in the family, a hoof or "hook" knife is the sort of tool that they never knew they needed and wouldn't be without. Centaur and other farrier supply places carry them in right and left hand models.
Bruce Blackistone (Atli) -- bruce_blackistone at nps.gov Wednesday, 08/05/98 13:38:27 GMT
---
Bruce,

A hoof or hook knife is easily made from a piece of hacksaw blade, too. I've made a couple for some re-enactor friends of mine. Made hoof knives using deer antler for handles, and hoof picks out of 1/4" sq stock.

Another "old" tool I've been asked for many times. What we now call hemostats. Museum illustrations show the old ones and the only real difference is the shape of the handle. I buy cheap ones from flea markets, heat the to red to get rid of the shine, cut the curl of the handle loose from the shank, re-shape them, and voila! An instant "antique" for my suregeon re-enactor friends. Surprising how many of the durn things I've sold!

Jim Wilson -- pawpaw at netunlimited.net Wednesday, 08/05/98 15:30:50 GMT
---
Bruce, I fixed the double post. It happens. The double posts are a browser button bug. The other day everytime I maximized the page it tried to post (Windoz)!

I edit the errors in this page quite often (mostly mine). Its kind of tricky editing a live document. I always check to be sure there are no new posts just before I hit "load". I have had new posts show up as soon as I hit refresh after a reload! If you get the "posted" message and your post doesn't show up after refresh, bitch at me not your computer!

-- guru Wednesday, 08/05/98 16:18:42 GMT
---
Dear Guru,

I'm a 35 year-old male with absolutely zero experience in blacksmithing. A year ago, my wife and I purchased a 114-year old house in the country just outside St. Catharines, Ontario, Canada. At the back of our property there is an old wooden shop located exactly where the local blacksmith used to ply his trade some 100 years ago. In fact, the floor of what was once a stone wall forge still exists and serves as the current floor of the existing structure. It has been a dream of mine almost since the moment we moved in to eventually reconstruct the shop (I have one photo to work from), learn the trade, sell some of my wares (if I get good enough) and, most importantly, offer tours to the elementary schools in the area to try to communicate some sense of our local history and the crucial role the blacksmith played in fashioning equipment, etc, that allowed the local community to flourish.

My question is this: How does one get started? Should I fashion a forge and rely on sites like anvilfire.com to learn or is there some formal training available to neophytes like me?

Bob
Bob Hay -- hayr at mcmaster.ca Wednesday, 08/05/98 16:45:26 GMT
---
Bob,

You have a variety of options. First of all there are a lot more books on the subject of blacksmithing than it appears to the casual researcher. There are also quite a few blacksmithing schools in the U.S. and I'm sure there are few in Canada. There are also Canadian and U.S. blacksmiths organizations that can help you emensly.

As far as the shop is concerned, I would hold off on any construction until you have studied blacksmithing of that era. Do what is necessary to preserve the building but do not change the forge if you want to preserve the historical aspect of the site.

OPTIONS: Self study. Some people can learn heart surgery from a book while others can't assemble a bicycle when they DO read the instructions. You know your own learning capacity. On the 21st Century page there is an article on learning blacksmithing. It is a practical list of things to do and includes a few books to get you started. For the historical aspect I would ad the collected works of Eric Sloane. Typically they come in boxed three book sets and I think they are still in print. If not they will be available in the library.

Next July, plan on going to CanIron II in Calgary. Its sort of like the U.S. ABANA conference. I'm going to try to make it myself.

Contact and join this group. They will get you contact with local blacksmiths, schools suppliers and so on.

ONTARIO ARTIST-BLACKSMITHS ASSOC. (An ABANA Chapter)
President: Betty Hourie
1358 Woodbine Ave,
Toronto, ON Canada M4C 4G5
(416) 421-7158
Editor: Wendy Davidson
Box 102
Staffordville, ON CANADA N0J 1Y0
(519) 866-3629

If you order the books I mentioned in my "learning" article from Centaur Forge, they will send a catalog too if you ask. They sell virtually everything you need and have a lot of other books too. The above link is new and under construction but has what you need.

One book I mention is "Decorative and Scultpural Ironwork" by Dona Meilach. It is currently out of print but may reappear soon.

Meanwhile, anvilfire and the Internet blacksmithing community will be here to help support you along the way and perhaps one day you will return the favor.

OBTW- I've demonstrated blacksmithing at fairs and schools and there is nothing like showing kids that hot steel can be bent and squashed like clay!

Good luck! And welcome to blacksmithing!

-- guru Wednesday, 08/05/98 20:21:40 GMT
---
Bob Hay,

Let me add my welcome to the guru's, please.

I'm the blacksmith at Historical Bethabara Park, here in Winston-Salem, NC. The park is the site of the first Moravian settlement in what was then known as the Wachovia Tract, in the year 1753. I do blacksmithing demonstrations at the Park and at the area schools. Generally speaking, I try to use tools and techniques that are appropriate to the time frame, though there's always some overlap.

Jock designed a twister, I modified it some when I built it. Watching the kids try to twist a piece of cold 1/2" sq stock and then actually twisting a piece of hot 1/2" sq stock has got to be one of the most satisfying things I've ever done. When the classes "King Kong" can't twist the cold stock, and the class "wimp" CAN twist the hot stock, you can watch the child gain three inches in height right before your eyes!

Stick with your plan! You'll derive more satisfaction from the craft and from demonstrating than you can possibly envision!

Jim

Jim Wilson -- pawpaw at netunlimited.net Wednesday, 08/05/98 21:13:38 GMT
---
Has anyone used a gas forge to do forge welding?, or am i just wasting my time, im shure im doing everything correctly.
heat steel to an orange(slaging)colour, remove from forge and wire brush the slag off, apply some flux to the top and sides of the steel (not the surface to be welded) replace in forge and heat to a near yellow colour (where the surface of a test pice not covered in flux appears to be shiney/liquid), then remove and hammer the pices together.

The forege is being depribed of air to the point that yellow flames are leaping out of the openining, and theres no blue colour to any of the flames.

i have also sealed most of the forge front and back and only left a hole large enough to put the pice im trying to weld.

Thanks in advance for any help.
Andrew Hooper -- administrator at hive.co.nz Thursday, 08/06/98 06:56:06 GMT
---
Bob (and others starting out):

A quick note on library crawling.

The blacksmithing books are usualy lumped in under technology or engineering, but be sure to check the science, art and architecture sections of the library, too. After exhausting the rather paltry offerings under "blacksmithing" a whole new world opened up under "iron", "metalwork", "architectural iron", "sculptural metal" and such. Relevant volumes were in the history section, as in "A History of...".

If your library has a very limited collection, see what the librarians can pull for you under an inter-library loan.

Jim Wilson's right about the kids. It's a delight to see the light bulbs light up in their heads. If you get roaring along there, don't forget the retirees, too. Some of them have been there, or worked with their parents, and can provide all sorts of insights.

Good luck, and remember, just because the iron is black, doesn't mean it's cold!

Visit our National Parks: www.nps.gov

Come have a row with us: www.wam.umd.edu/~eowyn/Longship/ (case sensitive)
Bruce Blackistone (Atli) -- bruce_blackistone at nps.gov Thursday, 08/06/98 12:48:19 GMT
---
Guru--

In the slack-tub pub, you asked who was the person who had come up with the "grashopper" straight-line hammer motion. Answer: Bruce Freeman, Editor of the NJBA newsletter. Also, I took the mechanism and modified it a bit for a frameless design (same throw &s straight line motion, but no overhead frame). Bruce has photos of his prototype on Ron Riel's 'Scrapbook' page. Its at: http://www.webpak.net/~rreil/theforge/scrapbook.htm
There's also an animated drawing of my design that Bruce and I decided to call a 'Weta' hammer. According to Bruce, a weta is a carnivorous cousin of a grashopper with huge ***ing jaws and an unimpressive body (no frame).

Morgan
Morgan Hall -- morganh at teleport.com Thursday, 08/06/98 15:06:45 GMT
---
Thanks, Morgan! I have a terrible time with names! But you guys need to start powering up these machines! Foot power just fees the hands. Your total horsepower is limited and will not outperform a little 1/2HP 1PH motor! I just made your URL above "hot". We have a link to the Ron Reil site on the links page too!

---
Bruce (Atli), Thanks for the library hints. Something else to look for is if you are using the Yellow Pages most smiths are listed under "ironworks". All my "blacksmith" listing got me was calls for farriers (of which I kept some names posted to send these folks).

---
TO ALL: Andrew's forge welding problem was handled in the Slack-Tub Pub. It appears his forge is not getting hot enough or when it does it is running to lean (oxidizing).

-- guru Thursday, 08/06/98 15:54:30 GMT
---
Morgan, Great animation! But I still think you guys are wasting a lot of time and effort building these machines. Mechanically they are truely ingenious but they are more complex than a powered machine with sliding guides (and as mentioned, the lack of HP).

The guide system on my JYH is much like the Ron Kinyon design. Like your linkages all it requires is the ability to drill holes. I scimped on the bronze and the adjustability due to time constraints but the system worked just fine. It also takes less space and material than those linkages.

The EC-JYH as built was a rather large machine. However, some of this is due to my wanting to keep close to the original design sketch posted before there was a challange to build it! I also opted for a heavy duty rear axel just to be sure it didn't fail. It turns out that a much smaller axel could have been used.

As I mentioned, I am working on a floor mounted axel design. It still takes considerable floor space but it is much more compact, thus requiring less material. It is also much easier to move and handle having a low center of gravity.

For those of you waiting for the anvilfire JYH book, I am holding back the final product as I want to include two new tested designs and some mods to the original to give you as many options as possible!

-- guru Thursday, 08/06/98 16:27:19 GMT
---
Hi I have been a farrier for the last 12 years, I can make new horse shoes out of round stock, that involves swedging, drawing clips, making a nice block at the heels, make an outside sticker, sweat a toe grab in and weld a bar shoe in the forge(coal). Recently I've been interested into metal working outside the horse business.
I would appreciate some comments and help, regarding how to start and how to build up a knowlodgable carreer i.e. evaluating my actual credentials and the orientation I should follow to achieve a sound craftsmanship. Thank you.
edgard arabadjian -- earabadj at uoguelph.ca Thursday, 08/06/98 16:56:54 GMT
---
Comments on building in power -- I think it depends on what you are building the tool for. Bruce is planning to do heavy work with his. I'm more likely to build a very small model (perhaps 10 lb hammer) for doing light top-tool work, chasing, etc. I'd hesitate to wham a light butcher tool with any real power behind it. For heavy work, I'll just fire up my Canadian Giant (Meyer went to Canada at some point) and use it -- I have it and it works. For my use, I figure a 10 lb hammer should be sufficient with foot power. 'Course with my bum knees, some sort of single-blow hammer might be the answer. Big problem there is
the control... when I feather the CG a twitch can have major repurcussions!
... been wondering about the compressed air palm nailers. Has anyone tried altering them? With a captured tool, they might make the treadle hammer need moot.
Morgan Hall -- morganh at teleport.com Thursday, 08/06/98 17:56:22 GMT
---
Edgard, is sounds like you have the basic of forging well under control. As a farrier I'm sure you are well read in your field but have done little reading in the decorative ironwork field. A number of the German books carried by Centaur Forge and Norm Larson are an excelent and have examples of the kind of work I think you are interested in.

Another good place to start is ABANA. As "Artist Blacksmiths" most of these folks are heavy on the "art" and do some mighty fine work. Their publications are full of members work and include "how-to" articles. ABANA also has a Journeyman program with guidlines. I'm sure that any shop would welcome a man with your skills. Explore the ABANA web site. They have lists of schools and their chapter groups.
http://www.abana.org

And you might want to look at my article on "Learning Blacksmithing" on the 21st Century page. It is intended for newbies but some may apply to you.

If you want formal schooling you will have to make up your own program. Many decorative smiths have art degrees to start and then learned blacksmithing to support their artistic intrests. There are a number of blacksmithing schools (see ABANA) and some have advanced courses and can recomend further schooling.

On the other hand if you are intrested in industrial blacksmithing then look at taking engineering, metalurgy and machine shop courses.

-- guru Thursday, 08/06/98 17:59:18 GMT
---
Morgan, If you want a hammer that will do it all you want a Kuhn, Nazel or even an old Bement like mine. These big powerful machines have excellent control and are suitable for the finest work. You cannot beat those huge flat dies for knife work. After that come the Bull, Big Blue and KA (you get what you pay for) although Nazels occasionaly pop up at scrap prices. . .

One overlooked tool are hand held air hammers (nailer is too low mass). These tools can be fitted with chisles, dies, punches and run on a relatively small air compressor. Of course they don't replace a power hammer and are best used with two hands.

SO, Did you see the Grant Saver JYH #2? Worlds simplest power hammer linkage and perfect for retrofit to treadle hammers. It simply pinches a belt "pull" in a small pulley. Secret to its success using a small motor is that it pulls on a spring that helps accelerate the hammer instead of stalling the motor. This is a single stroke "one shot" linkage. You have to let off the peddle between each stroke. Of course it could have some type of automatic release that might let it cycle continously. . . A motor, a belt, tensioner and a spring (he used bungy cords). I guess I'll have to post a drawing.

-- guru Thursday, 08/06/98 18:26:13 GMT
---
I need to heat-treat (harden) some molding plane blades and I want to be able to do it myself rather than send the planes off to a heat-treating service company. How can I build a relatively inexpensive forge that would allow be to heat the blades to around 1500F? It would be advantageous if the heating chamber could be starved of oxygen to prevent losing carbon from the tool steel. Also, I need to be able to get from the heating chamber to the quench tank quickly.
Jim -- jpeden at data-ray.com Thursday, 08/06/98 19:25:15 GMT
---
About hammers: Yep would really like a big air hammer. Reality, this is a hobby not a profession! And -- part of the fun is winkling out how to do things on the cheap! So far, major acquisitions have also done double duty as adventures. Story of acquiring the C.G. is a blast. Also, found that crossing the border is ... interesting ... when you have a trailer full of "odd" stuff. Also had fun getting a load of coal from a seam in the high rockies up above Fernie, B.C...

Grant's JYH #2. YES! and on a $50 budget! I've been thinking about that way to power a Weta hammer. May even be able to do on 1/3 hp
motor (tons available from old washers around here). I've probably got 3 or 4 at the back of the storage shed.

For light stuff, I'm not trying to replace a power hammer. I'm trying to replace a 1/2 to 1 lb ball peen and handled chasing tool. Perhaps a small air hammer with a counterweight -- leave the mass and reduce the weight? Thoughts.

Working on my trailer. Picked up a frame that had been built, then decked and used as hay hauler. Tore off old deck, need to take the smoke wrench to it and cut off the rather ...odd non-functional bracing that the maker put on, then add some structure that was overlooked. Then to deck and start building. Have some drawings of where it's going, but staying rather loose to let inspiration take over when it needs to.


Morgan Hall -- morganh at teleport.com Thursday, 08/06/98 20:09:46 GMT
---
Jim, heat treating is an art that requires either experiance or good control and often both. "Around 1500F" may not be good enough depending on the type of steel. Be sure you know what kind of steel you are dealing with before you start. There are air, oil and water quench steels and the wrong quench can wreck the part.

"Inexpensive" depends a lot on what materials you may have on hand. A propane gas fired stacked brick forge is one of the easiest to build. See 10 Minute Gas Forge under 21st Century, it also has a link to a burner design on the plans page. There are also other articles on gas forges on the 21st Century page.

Gas forges have the advantage of being more likely to produce an even heat, it is easier to observe the part and can be adjusted down for heat-treating. IF you already have propane cylinder for your barbeque the biggest expense is refractory brick and a blower.

There are also plans on the Ron Reil page for "atomospheric" forges and burners. These do not use a blower but require higher gas pressures and can be tricky to build correctly. The designs shown are cheaper to build if you have a source of Kaowool but can be more expensive than brick.

The cheapest possibility is what is called a "bean can" forge. These literaly use a large bean can for the body lined with some 1" Kaowool and have a propane torch stuck through the side for the burner! In your case you might need two ( at $9.95 US). The secret to these mini forges is the Kaowool which is a very good insulator so the heat is confined in the "forge". Even if you had to go to 3 or 4 burners this would still be cheap.

Scrap Kaowool can often be obtained from commercial furnace service folks. Otherwise it must be purchased from a foundry supply.

The absolute cheapest. A few refractory bricks and an oxyactylene or oxy-propane torch (if you have the torch)!

You could also try something like the brake drum forge on the plans page. To evenly heat a tool steel part with a charcoal or coal forge you should heat a much heavier piece up to a red heat then put the part to be heated on the bigger heat sink while you continue to maintain the fire underneith. Without the heatsink it is very easy to burn the part or heat it unevenly.

And lastly. One dissadvantage to doing the heat-treating your self is that the commercial places wrap the part in stainless steel foil or use inert gas atmospheres to keep from burning it. You CAN do this yourself but the SS foil costs about $100/roll. I highly recomend it, but it is not cheap. The alternative is to do what manufacturers do with most parts of this type. Surface and jig grind after heat treating.

-- guru Thursday, 08/06/98 20:30:09 GMT
---
Morgan, most of those 1/3HP washer motors are two speed. They (generally) have lots more torque at the low speed. Counter weighting hand tools is often overlooked. My big B&D anglge grinder has an eyebolt in the top just for that. Since air hammers/chisles are an inertia machine being hung from a cable doesn't hurt.

OBTW- They also make electric chisles (hammer drills)! Good ones can have rotate turned off for chisle only.

-- guru Thursday, 08/06/98 20:35:51 GMT
---
Excellent idea! Counterwieghted electric hammer drill used to drive
top tools! Probably good for veining, butchering, texturing, etc. Probably take a little rigging to get it to hang right, some sort of high boom to locate the tool free-hanging, and a foot switch for firing it off! I think I may run with this one ... start hitting up the local 2nd hand tool places for a hammer drill -- possibly one with the drill part broken . I'll let you know what I find.
Morgan Hall -- morganh at teleport.com Friday, 08/07/98 14:31:01 GMT
---
I am interested in learning to forge medievil weapons for fun. Is there anywhere that I should start to learn the basics? I am only interested in this as a hobby and not a potential career.

Thank you
Todd Manger -- todd.r.manger at usabb.mail.abb.com Friday, 08/07/98 14:39:37 GMT
---
Todd, this question came up last month and one on plate armor earlier this month (near top), but I had a hard time finding the one from last month so I will repeat my self and maybe do a better job.

If you are looking for blacksmithing schools try ABANA (Artist Blacksmith Association of North America) This is also a good place to look for local blacksmiths that may help you out.

If you wish to learn on your own as many do, see the anvilfire bookshelf for a review of the Jack Andrews book NEW Edge of the Anvil. It is very good. If you order it from Centaur Forge ask for a catalog too. They have lots of blacksmithing books and several on armor and weapons. Their catalog is also an education in itself. (Note: the above link is to a test page in the early construction stages, let me know how you like it).

On our LINKS page we have links to several medievalist sites and others that may help you. The article Learning Blacksmithing on the 21st Century page may also be helpful and lists the address and phone number for Norm Larson Books. Norm has quite a selection of books and will probably tell you which one has the most on weapons and armor.

AND for fun the SCA (Society for Creative Anachronisms) and Markland are into the medieval thing and have lots of sources for period information. You can find links to them in NEWS Volume 3

Let me know if I can be of further help.

-- guru Friday, 08/07/98 15:39:45 GMT
---
I printed what information you have on the bellows you made but would like to know the dimensions.
Keith -- KLHeff at aol.com Friday, 08/07/98 16:55:11 GMT
---
Keith,

I've recently sold the trailer and bellows (the only part of real value). I have my original sketches but it was one of those design and build as you go projects. Mostly layed out on the wood as it was built. In the past I rarely made plans for anything I built. Lots of idea sketches but few plans. Today I make plans because I know others may be intrested.

I'll ask the fellow that I sold it to get some dimensions. Meanwhile: The bottom valve was roughly 11" x 13" and had four 3" intake holes. The upper valve had two 3" holes and was designed to be removable through the lower valve hole for possible maintence (never needed in 20 years). The valves were made of a laminated rubber/cloth material of unknown origin. Leather valves with thin backup plates of wood, plastic or metal will work. In both cases the elastomer is the hinge.

The reason for the bigger intake valves is that they work on atmospheric pressure and the upper valve works on the higher pressure forced air and do not need to be so big. This was all theory and it worked quite well. However I have nothing to compare to as these were the only bellows I've built.

All original bellows I've seen had the valves built onto the boards. The removable valves were my idea. If they didn't work I could take them out and use something else. . .

-- guru Friday, 08/07/98 19:33:31 GMT
---
To the person interested in medieval weapons, Jim Hrysoulas has written several good books on sword making. If you go to the ABANA site and subscribe to THEFORGE, he is Dr. H on there.
Chris -- kilpe4 at gte.net Friday, 08/07/98 22:14:27 GMT
---
Keith and guru,

I'll measure the bellows as many ways as I can tomorrow and post a message with the measurements included. OR, I'll draw a sketch, scan it, (yes Jock, the scanner came in) and upload it to anvilfire for inclusion on the plans page. Which would you guys prefer?




Jim Wilson -- pawpaw at netunlimited.net Friday, 08/07/98 22:49:42 GMT
---
Jim, SCAN IT! Play with your new toy! I'll redraw it if need be.

-- guru Friday, 08/07/98 23:25:31 GMT
---
Has anyone made musket barrels by winding, upsetting, etc?
F.S. Piekarczyk -- fspic at earthlink.net Saturday, 08/08/98 01:49:55 GMT
---
I know the basics of producing hand made rivets, its slow and when using 9mm round can be an awkward process keeping the rivet hot.

Has anyone made a die for forming the shaft of the rivet?, currently I have found it easied to use the lpg/oxy set to form the head due to the speed that the rivet cools at...

Any advice?, Thanks in advance.
Andrew Hooper -- administrator at hive.co.nz Saturday, 08/08/98 05:03:57 GMT
---
I have been in the welding and metal working business for about 25 years. I was an industrial pipefitter for 12 years and have worked in a coal fired powerplant for 13 years. I have been doing ornamental iron for about the last 7 years. I mainly make furniture, mostly beds. I am looking for a plasma cutter to start cutting sillhouettes. Would you be able to steer me in the direction of dependable unit that would work for this application? I would appreciate any information you can give me. Please return message to vickrey at easilink.com thank you,, Scott Vickrey
Scott Vickrey -- vickrey at easilink.com Saturday, 08/08/98 15:39:03 GMT
---
Keith,

The bellows at it's widest dimension is 33". At it's longest dimension, it is 55". The output pipe is 2". I can and will do a better job of getting dimensions for you, but I got sidetracked twice today.

First I had to take a 1,000 paver bricks over to my daughter's house for her new brick patio. Guess who gets to build the damn thing!

Then I had to take a road trip to meet the truck driving brother of one of my foster daughters. He had a M&H Armitage anvil in the trailer for me. Nice little 105# anvil. Needs minor polishing, and is ready to work.

Jock, this one rings better than my Griffiths! (grin)

Am I happy about it? You bet your bippy!

Jim Wilson -- pawpaw at netunlimited.net Sunday, 08/09/98 00:35:12 GMT
---
PLASMA TORCH (Scott): Unless you are cutting stainless steel a plasma cutter is not really necessary. They are also difficult to use by hand and are preferably used with a template, tracer or X-Y compu-cutter.

An outfit called Henrob makes a slick little low pressure oxy-actylene torch that produces a very narrow (1/32") kerf and very little slag. Although I have not used on of these I have seen one demonstrated at the ABANA conference and it appeared to be a slick little tool. The clean narrow kerf is perfect for sillhouetts. Try these links.

Henrob Ad
and
NEWS V.2, p.13 Henrob at ABANA

-- guru Sunday, 08/09/98 17:49:39 GMT
---
RIVITS (Andrew): Rivits are headed (upset) not reduced from larger stock. Any time a lot of rivits are needed most of us buy them.

A clean way to make rivits is to make a spring die that fits into a vise to clamp the shank of the stock. It also helps to have a "back stop" for the rivit to seat against. To use, you simply heat a short piece precut to length (allow 1-1/2 diameters for heading), drop it in the vise supported clamp, tighten and then upset or head. You can hand hammer the head to get a truncated pyrimid (rose head) or use a die set (tool with half round impression to fit).

On most decorative work preheaded rivits are not used. A simple straight piece is placed in the hole heated with a torch and one side at a time is headed in place.


-- guru Sunday, 08/09/98 18:29:17 GMT
---
MORE ON HENROB: Henrob Site


-- guru Sunday, 08/09/98 20:22:09 GMT
---
Guru: I am building a replica Hawkin rifle, and would like to find some sheet IRON (about 1/16 in thick)for the thimbles, endcap ect. I have used steel on my previous guns, but would like to try iron on this one. Do you know of a source (only need about 1 sq. foot).
Thanks.
Terry Bistrovich -- tbistrov at eznet.net Monday, 08/10/98 13:50:27 GMT
---
BIG SUMMER CONTEST




(Anvil Givaway - 150# Peter Wright):


You guys really aren't trying very hard! As stated, it IS a tool. Not a loose item (chain, bolts) and not wood or part of the building. And for all of you that guessed the stump, an anvil stand of any kind would be classified a blacksmith's tool or equipment!

Keep trying you have less than a month left!

-- guru Monday, 08/10/98 13:51:02 GMT
---
WROUGHT IRON (Terry): Except for helping identify possible OLD scrap I can't help you. There are a few dealers of wrought iron and I would have to research them. The problem is going to be that most of what is available is bar stock and you would need to process it into sheet (or thin flat stock) yourself.

Possible wrought items. Old rivited boilers. Old fencing. An occasional scrap bridge (they are taking down one near us but it is destined for a bridge museum). Some very early RR-rail was wrought. Some rivited structurals, early ship plate. . . Along the East coast of the U.S. every older city has some scrap wrought iron in scrap or salvage yards. Even out in the country you find a piece or two. I have two lintel bars out of colonial era stone chimineys that are wrought. Most recently I discovered the "old" scrap 1" I was testing the EC-JYH on was some wrought iron someone had given me!

Wrought can be identified several ways. The easiest is if the item is broken or heavily corroded it will show a wood grain like splinteryness. An acid etch will shoe the same characteristics. Good sound wrought can be spark tested.

Testing by hardness or ductility as has been suggested by some is unreliable. Wrought work hardens like any metal and low carbon mild steel that is super annealed (like in a house or bon fire) is just as ductile as wrought.

Anyone with wrought for sale please feel free to post a notice on the Hammer-In.

-- guru Monday, 08/10/98 14:13:32 GMT
---
NOTICE: I will be out of my regular office for a while working at another site. The PLAN is to setup a PC so I can keep things maintained at anvilfire!.

FINALLY! ANVILFIRE IS NO.1 ON LYCOS UNDER "BLACKSMITHING"!!!!!

-- guru Tuesday, 08/11/98 10:25:38 GMT
---
Terry Bistrovich
i have some wrought i gues i could "sell" you some(like you pay the shiping)but but i live in sweden and the thinest ive got is 1/4"(6.2-7.5 depending where i measure it is severely coroded).
I have found it at a dump site where they left the(ok some)remains of a sawmill (it went up in flames around 1860).
If you want it reply here and i will end it to you.
Örjan Sandström -- pokerbacken at angelfire.com Tuesday, 08/11/98 12:17:11 GMT
---
sorry i mean Send it to you
Örjan Sandström -- pokerbacken at angelfire.com Tuesday, 08/11/98 12:24:10 GMT
---
I am brand new at smithing. i have talked to a few people to learn enough to get started. a few questions. I made a brake drum forge out of a semi-truck drum and i am feeling it is too big. i also have a drum from a 1-ton truck that i made interchangeable with the semi drum. which is better? it might also help if i knew how large the coal lumps should be. i have been using 2" to 4" chunks. any imput would be helpful. thanks "emerys"
emerys -- ndg at lgcy.com Wednesday, 08/12/98 06:07:14 GMT
---
Emerys,

I'm inclined to agree that the semi brake drum is too large, but I suspect you can make it work. You'll just have to get used to it.
A smaller size coal will help. Ask your supplier for metalurgical coal, blacksmith coal, or failing that ask for bean coal. The best to use would be metalurgical.

Jim Wilson -- pawpaw at netunlimited.net Wednesday, 08/12/98 12:12:15 GMT
---
New Zealand? Interesting. Guru, I still have that 486 32MB if you're interested. If not, I'm thinking of putting it together for the boys. Also, machines are being auctioned at work, now... can't front, but if you want to bid lemme know. I see the Slack Tub is running; good deal. Who's the fella helping you test?
Stu -- Stu.Smith at Anvilfire.com Wednesday, 08/12/98 17:53:28 GMT
---
Hey Stu! I'm trying to use the cludgomatic 486 dual power at Josh's but the modem (14.4) is zapped and the HD gives spurrious errs. . . I'm using his daughter's AOL account at the moment. Strange browser!

-- guru Wednesday, 08/12/98 23:58:05 GMT
---
Emerys, "Nut" coal 1" to 2" lumps is best. The smaller coal will need a grate (a 1/2" or 5/8" bar across the tywer). You can use some firebricks to fill up some of the extra space in the bigger forge. Most forges have a 10" to 14" by 4" to 6" deep fire pot and the rest is shallower. You may also wamt to torch or cut some notches in that big drum so long pieces can be gotten close to the fire. You can always do less in a big forge but its hard to do more in a forge that's too small. The best thing to do is experiment and find what YOU like.

-- guru Thursday, 08/13/98 00:10:46 GMT
---
Terry Bistrovich:

The closest thing to "iron" that I know of is a product called "MAG IRON". It's widely used for things like magnet and transformer core laminates. Very low carbon but I seem to remember it had a high content of silly cones. NOT the sort of thing you buy at the local steel supply, but it is out there.

GRANT -- NAKEDANVIL at USA.NET Thursday, 08/13/98 06:00:41 GMT
---
Youre rigt Grant,Some(most small ones in Sweden)transformers are made with a core consisting mainly of stacks alternating between iron(96%Fe and 4% Si) and a electrically isolating material.
You could probably stackweld them together to form a bar of almost pure iron with virtually no carbon and some Si.
(actualy verry closeto real wrought vhith fibres and all)
Örjan Sandström -- pokerbacken at angelfire.com Friday, 08/14/98 08:23:19 GMT
---
Thanks for the information on the buttress (butteris). I saw it in the 1895 Sears, Roebuck catalog, as part of "The Farmers' Kit of Blacksmiths' Tools for the farmer, stockman, planter and mechanic" at $25.00

Neal Bullington
Neal Bullington -- NRobertB at aol.com Friday, 08/14/98 18:55:34 GMT
---
l have found a good supply of L7 steel and l'm not sure what the best method of heat treating it is? l understand it has Nickel in it. Any ideas would be of great help.
David B -- Outrage806 at aol.com Saturday, 08/15/98 02:28:50 GMT
---
Anyone ever heard of a 1024 700weight Massey power hammer?, i may have the chance to purchase one but wonder if its worth while.
Andrew Hooper -- administrator at hive.co.nz Saturday, 08/15/98 03:09:36 GMT
---
MAG-IRON, Transformer plates, no carbon iron. Thanks GRANT and Örjan! I keep forgeting this source. Although it doesn't have the characteristic grain of true wrought it is pretty close to the orginal. Laminated and welded with a little slag inclusion it WOULD come pretty close!

Örjan! Are you trying to confuse me with that angelfire address??? :)

GRANT, Glad to see you're home!

I've been at Josh's for the past week doing some hydro installation work. Meanwhile we got his 750 pound Bement's linkage loosened up and boy does it run slick! Hard to imagine a piece of iron THAT BIG moving that fast! Hammer is not installed yet, just testing on an oak log! Also took delivery on a 500 pound Chambersburg utility and got it into the shop today. Next will be a 1500 pound Bement! BIG Hammer heaven!

-- guru Saturday, 08/15/98 04:03:28 GMT
---
Dear Jock-- Ireland was gorgeous, and I'm homesick already. That teaching forge at County Mayo Heritage Center is under construction nd the smith wasn't around but I saw some his work at a crafts shop in Westport.
Got a couple of questions re my Royersford like yours: 1) just ahead of the cone pulley on the top drive shaft is a thingie that engages the back-gear. It consists of a disk about 5 1/4 inches in diameter with two holes at 180 from each other that seems to be bolted to a gear that rides damned near inside the largest pulley. Next in line, going toward the front of the shaft, is another gear, with a spring loaded plunger that, when depressed, engages a rod in one of the holes, and this gets me to my question: take a look at yours, would you please, and tell me if that disk-gear combo turns freely when the little rod is pulled all the way out. This is the last element on this monster that I have to free up from the rust that had it totally seized when I got it.
Next question: the shaft that drives the chuck, that is, the vertical shaft, has two thrust bearings. The top one seems to be held onto the shaft by some kind of pin or set screw. Mine seems to have both ends of whatever the hell it is dimpled, perhaps by some butcher who got at it long ago. I'd like to get the thing all the way apart to get at the rust cancer that I know is in there, although it is turning freely, now, too.
I thank you for any info/help you can add to all the assistance you've already extended. All best, and congratulations on a handsome site! All best, John Neary

John Neary -- jneary at roadrunner.com Saturday, 08/15/98 04:27:54 GMT
---
Royersford Drill press & Ireland (John): They've been advertising the heck out of that blacksmith school that you found "under construction" in Ireland. Ah, well. . .

YES, When you disengage the pin from the plate that couples the large back gear to the front "half shaft" the two should turn seperately. I've never had this joint apart but it may or may not have a bronze bushing in the joint. You absolutely MUST disengage the pin before engaging the back gears (while stopped). Otherwise you end up with the broken gear teeth you find on 99% of these machines (and many lathes).

All the thrust bearing pins I've seen were piened on the ends (short flush head). I think this is normal. . . They are adjusted, drilled in assembly and pined. The manufacturer never planned on these being taken apart.

-- guru Saturday, 08/15/98 05:16:47 GMT
---
Ihave seensome demos of textured steel by using a punch press. I have followed your site and have read your opinion on not being able to forge on an OBI. I have the usual tools, coal forge, and more hammers and tongs than I can use, and work a few days a week and my question is, Since the punch press will deform mild steel in the plastic state, why cannot you set the press for example to 1/2 inch and draw down a 1 inch bar when heated to forging temperature to the dimensions pre set? I understand that the energy must be absorbed or the back of the press, crank, bearings etc, will, but if the metal is at forging temp, why do yousay you cannnot forge with one?? Thanks for the thoughts David Schiff
david schiff -- dschiff at mcn.org Saturday, 08/15/98 06:41:47 GMT
---
David, ALL punch press operations must be carefully calculated so that you absolutely KNOW the machine can complete its cycle without being overloaded. Forging is not condusive to this. Stick a bar a little too big or a little too cool or even of a different alloy under the press and it will blow up.

Yes, blow up. In good condition a modern press will just shear a pin but most older presses will shatter a ram, break a shaft, flywheel or frame when stalled. Punch presses use only 15-20% of the available energy of the flywheel on each stroke. If you try to suddenly stop a flywheel you momentarily produce INFINITE force (backed up by 5 to 7 times the rated tonnage of the press). Something ALWAYS breaks, parts often fly and injuries are the result.

Yes you COULD forge with a punch press, but every operation must be engineered. That metal texturing operation was carefully engineered and required very precision material. Put a slightly thicker piece of material in that press and it will stall and blow up.
For safety that operation was probably (should have been) only using a small portion of the rated capacity of the press.

Forging means variable conditions and punch presses do not adapt to variable or unforeseen conditions. That's what power hammers are for.

-- guru Saturday, 08/15/98 07:53:36 GMT
---
Oh, Great guru!
Could you build a spring linkage for an OBI press that fit on the table?
Chris Saturday, 08/15/98 15:15:13 GMT
---
It is possible, but the hammer mass of a power hammer still hits the work and the drive is isolated. In a punch press the mass is in the flywheel and you would be isolating that from the work. Punch presses are also typicaly short and it would be hard to fit the parts. You would probably have to replace everything connected to the crank including the clutch. Punch press clutches are designed for single strokes. There is something wrong when they double stroke! (or more).
You would have to lock up the clutch and provide a friction clutch. Then install a toggle and spring linkage linkage, AND add mass to the ram and add an anvil because the press frame is not designed for impact loads. . . Oh, yeah, what LOOKS like a flywheel on a power hammer IS NOT A FLYWHEEL. It is a balanced crank. They make them round to reduce the hazzard of a rotating arm, and it is a stronger design but they are not a solid section!

After all this work and the necessary machining and addition of parts you could have built a pretty good power hammer without starting with a punch press. A REAL TALL punch press could possibly have the JYH shock linkage installed but you would still have all the other problems.

-- guru Saturday, 08/15/98 23:36:49 GMT
---
Can anyone tell me where to get good metalurgical coal in Texas?
Ken Seabourn -- forge at bluebon.net Sunday, 08/16/98 04:44:53 GMT
---
Ken Seabourn,

Check the Coal Scuttle link on the Anvilfire main page. I think there is a listing for Texas there.

Jim Wilson -- pawpaw at netunlimited.net Sunday, 08/16/98 12:18:45 GMT
---
PUNCH PRESS AS FORGING PRESS: More thoughts. . .

I was trying to figure out a safe rule of thumb where you could use mega overkill as a safety factor. Such as:


Rate the job so that the press has the capacity to shear the work cold.
Sounds good doesn't it. No! Shearing assumes a place for the metal to be displaced into. A flat forging platten doesn't alow this.


Rate the job for cold working the material (bending, spreading, ANY displacement).
Now THIS works. If a punch press has the tonnage to work the bar cold Only Then is it safe to perform the same operation as hot forging.

Still some tricky engineering to do. As the work is spread the force goes up with the increase in area and change of proportions (H:W). These are not easy calculations and even the temper of the metal and hardness of the dies (friction) enters into play. I think force goes up by the fourth power of the increase in width. There would also be some limits based on the (H:W) ratio.
---
TEXAS COAL: I think one of the listings is no longer available. I will update the list ASAP. Check the Blacksmiths Gazette for the most current listings (via link on same page).


-- guru Sunday, 08/16/98 15:35:53 GMT
---
---
Copyright © 2001 Jock Dempsey, www.anvilfire.com