---
Guru,
I've been invited to a gathering of blacksmiths this weekend, and want to use the opportunity to knock up a couple of pairs of tongs. I've not made any as yet, only bought a light pair from a flea market for flat stock. I need to bundle up some stock for whatever I intend to make. What size stock do you recomend for a basic pair of round-stock tongs for "general" use in a small forge on a small anvil?
Craig - Tuesday, 11/20/07 23:19:51 EST
---
Craig, It depends on the method you are going to use and the level of your skills.

The classic method of making tongs starts with large stock, usually square for the bits and round stock for the reins. The bits are welded to the reins. If you have good forge welding skills this is more efficient than drawing out.

If you have high drawing skills OR a power hammer, then you start with a large piece of square or round and draw out the reins. For really heavy hand tongs 1" stock is used. For the average tongs 3/4" (round or square) is used. For light tongs you can use 5/8" (round or square) and it is possible to make nice small tongs with 1/2" square. In each case the square makes larger tongs so each size gives you some range.

Look for some 3/4" or 5/8" (19 or 16mm).

For dimensions and rein stock size see Tongs Dimensions

guru - Wednesday, 11/21/07 00:04:03 EST
---
I am looking for some info on a "KOCH" power hammer, Manuals other owners ect.
Thanks, JB
John JB Bergman - Wednesday, 11/21/07 02:01:21 EST
---
John, There is no information to be had other than a little company history that can be found in the book "Pounding out the Profits". See our review page.

Even when these machines (all old power hammers) were new the information was very sparse. The manufacturers expected their customers to be experienced mill wrights and mechanics as most blacksmiths were. The most you would have gotten is a short list on a single sheet of the adjustments and the admonition to oil the machine daily.

The general adjustment rule for all mmechanical power hammers is that there should be about 1/2" miniumum clearance over the dies for small work when the hammer is at rest and a little higher than the height of tall or large work. These machines have a narrow working range. If you work wide stock on edge the working height may need adjustment while working any piece with a large change in section.

Depending on the linkage type the toggles should be nearly in a straight line when the hammer is at rest.

If there is a stroke adjustment (not height) then it is set short for doing small fast work and planishing and long for heavy slow work such as drawing large stock. Most work is done at the middle of the stroke range.

I could be more specific but I am on the road away from my library.
guru - Wednesday, 11/21/07 09:42:41 EST
---
I was at my local ABANA club (Houston Area Blacksmiths) meeting this past weekend and saw a nice metal folding rule. It had only two sections, each about a foot long. I have googled until I am blind and cannot find who might sell these, if anyone still does. I even checked eBay with no luck. Anyone have any ideas where I can find one?
quenchcrack - Wednesday, 11/21/07 15:18:19 EST
---
Hello
I wonder if some one can help me. I have recently purchased an Atlas power hammer unfortunately the motor has packed up and all the markings on the motor and on the the actual hammer have worn off so I have no idea of what size hp or speed the motor should be. Can anyone advise? also does anyone have any pictures of how to effectively guard one of these machines.
Hope someone can help.
Thanks a lot.

Ben Prothero
ben.prothero@tiscali.co.uk
Gloucestershire
UK
Ben Prothero - Wednesday, 11/21/07 17:38:17 EST
---
Ben, is a mechanical (spring) or a pneumatic with its own compressor? - if you know the full blows per min of the hammer you can 'work it back' from there from the pully diameters. It will be quite obvious if its 2 pole, 4 pole or 6 pole motor. I can advise approx horesey powers if its a pneumatic, if its a spring someone on the other side of the pond may be able to advise better.

the size (capacity) of the hammer will give a clue to its BPM's if you dont know this figure.
- John N - Wednesday, 11/21/07 18:02:04 EST
---
Ben, I don't have a clue about this hammer either. Depending on its size and type it could have required a low speed motor. This was common on old hammers. A motor shop SHOULD be able to tell you about the HP and RPM.

There are guards and then there are guards. On late punch presses the manufacturer guards the entire operating zone and the user must cut the guards in order to use the machine. This puts the responsibility for the guarding entirely on the owner.

On power hammers used for decorative work you work from every angle and no guards are used in the work area. US rules require hammers in industrial service to have flash guards in any direction that is not needed to access the work area and would result in flash splattering on workers not operating the machine. On mechanical hammers the arms and particularly springs need guards. It is easy to approach some hammers from the side and be struck in the head. Any exposed belts should be guarded. Note that guards need to be designed so that the common adjustments are easy to access.

guru - Wednesday, 11/21/07 18:25:02 EST
---
Quenchcrack,

These 2 foot folders used to be carried by many blacksmiths, and the old Lufkins were made of brass. I have seen a couple of them, but they were quite worn and beyond repair. I have two Lufkin 2 foot folders made of spring steel, both made when Lufkin was in Saginaw, Michigan. One locks because the joint butts together when opened. The other locks when a couple of small bosses snap into matching depressions. These two have circumference rules on them. I think Lufkin is now a part of the Cooper Group.

In England, Rabone Chesterman made [makes?] a nice brass one, No. 1243. It has inches on one side and is metric on the other.

I think you're bound to find one, if you keep looking.
Frank Turley - Wednesday, 11/21/07 18:25:11 EST
---
Thanks, Frank. I guess I will use my 12" square rule for now and keep looking.
quenchcrack - Wednesday, 11/21/07 19:10:11 EST
---
Quenchcrack. L.S. Starret makes a 24" folding steel rule, with the best made in the US quality. Quality that a lady once called here as "to die for quality. The product is #471. Any good mill supply should be able to order, and Hagemeyer, Mike Morrison @502-961-5930 will be able to order, and ship from a credit card. He has special prdered for several folks here.
ptree - Wednesday, 11/21/07 19:22:24 EST
---
Single fold rules. Like Frank most of those I have seen were antique or collectors pieces. Somewhere I seem to remember a web site devoted to them. I also faintly remember one of the old blacksmiths manuals giving instructions on making one. .

Ah. . someone with a current Starrett catalog! They are on-line as well. Been avoiding such things as I am on the road using my old dial up connection. . .

guru - Wednesday, 11/21/07 20:06:56 EST
---
Hi, well im looking for the books you have recommended on the page but since they are all in english im having a hard time finding any of them. I live in Chile (southamerica) and the very few bookstores that sells english written books dont have them. So Im asking if you know of any book of the kind thats been written in spanish, or if you know the translated title of some/any of the books (because i dont think that the, like, editorials would simply translate textually the english title into a spanish title, and anyhow im not familiar with the definitions so to translate the titles myself).

Thanks anyway, bye.
Alvaro - Wednesday, 11/21/07 20:59:55 EST
---
Spanish Language Book:


I reviewed "Guía Practica de la Forja Artistica", an excellent book printed in Spain by Editorial de los Oficios. Occasionally, people have a difficult time obtaining the book. Their website is no longer active. The postal address is: Editorial do los Oficios, Polígono Industrial de León, parcela M-83, 24231 ONZONILLA (LEóN) España.

Buena Suerte
Frank Turley - Wednesday, 11/21/07 22:11:43 EST
---
Alvaro (and any else who's interested),

There's what looks like a useful Spanish-English/English-Spanish technical dictionary available here: http://tinyurl.com/34jra6. It's almost 100 years old, but that should be okay for blacksmithing.

I've been fooling with the Google book search recently (you click on "more" from the home page to find it). There are a surprising number of scanned out-of-copyright books available that way. If you click on "full view" you'll get only books that are on line in their entirety.


Mike BR - Wednesday, 11/21/07 22:46:42 EST
---
i live in Utah and i've been looking for a hand cranked blower but i cant find one is there a special store that sells them or is there a way that i could make my own? any thing helps thanks
Denny - Thursday, 11/22/07 01:33:52 EST
---
Hand cranked blowers: These are made NEW in India, Great Britain and maybe the Czech republic. Several of our advertisers carry these small cast aluminum models. Try Blacksmith Supply and Centaur Forge. You will not find them in a local store.

Otherwise the old ones DO exist but many are very worn and are difficult or impossible to repair. There ARE NO replacement parts. if they do not turn smoothly and run quietly then avoid them. You will find them with ironmonger at the flea market occasionally, farm sales and particularly at blacksmith meets. They also show up on ebay but at too high a price.


- guru - Monday, 11/22/07 00:11:16 EST
---
I am trying to find the web address for the blacksmithing information published by the Brittish Govt. I have seen it mentioned on the forum pretty many times, but can't find it now that I am looking. Thanks
- Dave Boyer - Thursday, 11/22/07 01:52:16 EST
---
Dave Boyer... Try

http://www.countryside.gov.uk/LAR/archive/publications/index.asp
- djhammerd - Thursday, 11/22/07 05:37:38 EST
---
Thanks Guys
It is a spring hammer, I've just cleaned the plate which says 220 revs on the cam wheel. I beleve the weight of the actual hammer part is about 1 cw.
Thanks
Ben
Ben Prothero - Thursday, 11/22/07 06:54:32 EST
---
Denny: You might consider a 12V blower hooked up to a vehicle battery. Try www.surpluscenter.com. Anything in the 100 cubic foot per minute output area should give you all the air you need.
Ken Scharabok (Poor Boy Blacksmith Tools) - Thursday, 11/22/07 09:51:45 EST
---
Hi
I am a hopeful and enthusiastic blacksmith in the making. I live in Cape Town, South Africa where I make solid wood furniture from a small workshop at home.I am a one man business and am very passionate about what I do.

For some time now I have been thinking about making my own furniture hardware, in particular the hand forged strap hinges, handles and nails one finds on Medieval and Arts and Crafts style chests and cupboards. Here in South Africa resources for this type of hardware are virtually non-existent. The trash that is commercially available here is not worth mentioning. There are a few blacksmiths here in Cape Town but it would not be viable for me to order from them long term.

So you see my only option is to make my own. I am exited about this prospect and I feel confident that I could set myself up with a small work area and successfully produce something that is hand made and has some integrity. My main problem is a forge. I need something small that I can manufacture myself. It would only need to be used part time but will of course have to do the job. I thought maybe a gas fired option. I also need some resourses on how to make the hardware in question. Do you know of any books that specialize in this area. I have recently bought two books on general Blacksmithing (The Backyard Blacksmith and Practical Blacksmithing and Metalworking.)

Please could you advise me or tell me where to get more info on the above subjects.

Hoping to hear from you soon.
Kindest regards
Geoff Hudson
Geoff Hudson - Thursday, 11/22/07 11:34:17 EST
---
DIY Gas Forges: See our plans page and the ABANA site where they have the archives of the ROn Reil Gas Forge page.

We have the basics for a blower type gas forge which is dead simple and works every time.
- guru - Monday, 11/22/07 00:11:16 EST
---
Well, I hit a few Starrett distributor sites, including the big Starrett Company site, and found the cost of the folding 24" ruler is breathtaking. If I were a machinist or cabinetmaker, this kind of precision would be critical. When I am forging a piece to length, I can tolerate some lack of precision. I think I will stay with my $3.42 12" metal square from Home Depot. I am also going to put my stainless steel 6" Starrett machinists rule in my safe deposit box.
quenchcrack - Thursday, 11/22/07 11:46:27 EST
---
Geoff... Go to URL http://www.zoellerforge.com/

All the information you need to make a gas forge is on that site. I'd recommend you size your forge to fit the work you do. Anything larger just wastes propane. Any cylinder will work for the body. If it's 6" or less in diameter, one inch of koawool (or equivalent) will do just fine. A hard floor is nice, but not necessary. I use both.
- djhammerd - Thursday, 11/22/07 11:47:35 EST
---
What is 'pot metal'? Neighbor brought by a fireplace shovel which had broken at the back of the pan. Handle screwed into a small bracket, which was then put on the shovel with three rivets. Both handle and pan appear to be stainless. However, when I touched that part with a SS rod, it basically melted. "Pot metal' came immediately to mind, followed by I don't know exactly what pot metal is either.
Ken Scharabok (Poor Boy Blacksmith Tools) - Thursday, 11/22/07 12:29:58 EST
---
Pot Metal:

Ken it is primarily zinc with some aluminium

- guru - Monday, 11/22/07 12:11:16 EST
---
Happy Thanksgiving Guru, and Friends!
Guru, I do notice that there is some irregularity in the time stamp of your last 4 posts. Don't know if that has any significance.
- Charlie Spademan - Thursday, 11/22/07 15:22:48 EST
---
Its true, Starrett tools are not cheap. But they are made in america, which, as we all know, is a rare thing these days. It seems to me you kinda lose your complaining rights when you dont buy quality stuff made here, even when its pricy.
I bought a Starrett combination square when I was 19, back in the mid 70's, and it cost more than my tablesaw. But I still use it daily, and it is a truly well made tool.
I try to buy Starrett tools, both new and used, rather than cheapo imports, and I never regret it when I use em. They feel right in the hand, they are accurate and sturdy.

That said, look for your folding rule used. Starrett tools are often found at fleamarkets, on ebay, and so on. I have bought whole toolboxes full of em, often at 10% of the new cost. I recently bought a Starrett precision protractor for five bucks, only to find the new cost was a whopping $372. I never would have bought it for that price, but I sure like having it for $5.
- Ries - Thursday, 11/22/07 15:52:03 EST
---
Quenchcrack, the Luftkin folding steel blacksmith's rule is still available I found it searching "folding steel rule" at http://toolsandsupply.com
ptree - Thursday, 11/22/07 16:21:05 EST
---
Quench, they had it for $42 i think
ptree - Thursday, 11/22/07 16:21:25 EST
---
Ries, You and I are in total agreement about Starret, and anyone headquartered in a place with a name like Athol has to be good:)
ptree - Thursday, 11/22/07 16:22:31 EST
---
Ries, I agree with your comments except why use an instrument that is as precise and accurate and costly as a Starrett rule, when a $4 square is good enough for the job? Like I said, if I were a machinist, I would want nothing but the best. Now, if I find one at a flea market for $5, yep, I will be forging with a Starrett! My Dad always said that if you buy the best, you will never regret it. I guess that goes along with the saying "If you buy a cheap tool, you will remember the cost long after you have forgotten the price."
quenchcrack - Thursday, 11/22/07 16:26:40 EST
---
Ben, A 1 cwt air hammer uses about 6 / 7 horse, I think a spring hammer will use less than half that, if your a sinlge phase shop go with 2.2kw, since thats about as big as ya can get away with.

Its not as dear as you think getting a motor overhauled, so long as it doesnt need a rewind, a wash, stove, bake & new bearings should only be a couple of hundred quid. (at the very least they can tell you what spec the motor is. )

New motors are loads cheaper than you think, I buy from WYCO in the UK - if your 3 phase £150/ may see a new one to your doorstep. (you will need to factor in a new pully though, since yours almost certainly wont fit!)
- John N - Thursday, 11/22/07 18:20:02 EST
---
Ptree, thanks. $42 is still a bit stiff for me to use at the forge. Now, if it was a slash peen hammer.....
quenchcrack - Thursday, 11/22/07 18:55:34 EST
---
Quenchcrack, well unless the flea market is very kind, or you have a friend in the uK, where I saw a post for a folding rule for 3 pounds sterling, I think the other option is to just be a blacksmith and make the darn thing.
Two cheap 12" scales, a little drilling and a rivet and bingo.
ptree - Thursday, 11/22/07 19:42:44 EST
---
djhammered, thanks, that is the site I was looking for.
- Dave Boyer - Thursday, 11/22/07 19:51:34 EST
---
I have a steel bolt that siezed in an aluminium housing and was hoping someone would know the best way to get it out?
Brian Peters - Friday, 11/23/07 08:00:03 EST
---
Bolt in Aluminum: Brian, the best you can do is repeatedly soak it with an active penetrating oil like Liquid Wrench or Blaster. Then us impact to shake it loose. If you do not have an impact wrench tapping on it with a small hammer until it breaks free will help. Soaking, taping, trying to turn, tapping some more. If you are persistent and patient you can usually get these things apart without too much damage.

When parts rust the rust is larger than the original iron.steel and this is what jambs them up. In the case of aluminium and steel there is terrible bimetalic corrosion. These two should never be used together. Stainless still has problems but is the best recommendation.
- guru - Friday, 11/23/07 17:58:54 EST
---
ptree, yes, a viable alternative. However, getting the second ruler to read beyond 12" could be difficult if it is also a 0-12" rule. Most of what I make is pathetically small anyway so my cheepo 12" square should work for now. I really only need it to measure hot items. I can still use a metal tape measure on the cold ones. Just thought it was a nice tool.
quenchcrack - Friday, 11/23/07 15:51:02 EST
---
hmmm, test post from john n, Jock, you are a mortal after all, several glitch free years and now a problem the users notice :) - youll sort it soon enough.
- John N - Friday, 11/23/07 17:02:37 EST
---
Posting Problems Fixed: Took some fiddling with the server.
- guru - Friday, 11/23/07 18:02:47 EST
---
Did the server mind?
- Nippulini - Friday, 11/23/07 18:26:22 EST
---
Aluminum & bimetalic corosion: If You think there is a reaction between ordinary steel and aluminum, You have just got to see what happens between aluminum and stainless in the presence of an electrolite. Initally the stainless fastner is merrily siezed in the hole. After more time has passed there is a large hole in the aluminum where the fastner went in. Never sieze does not help, sealing the fastner with locktite or the use of Tef Gel usually works, but not always. Brass & bronze fastners react as well.
- Dave Boyer - Friday, 11/23/07 22:01:15 EST
---
Steel stuck in aluminum: There is some real good penetrating oil called Probe III that seems to work wonders but is rather pricey. I have had good luck cutting the bolt off flush, drilling it out to the next largest size past the major diameter of the bolt and retapping the hole on a couple of occasions.
Robert Cutting - Friday, 11/23/07 22:45:11 EST
---
Quenchcrack,

What you might want to consider making is an 18" hook rule. I have one that is really handy in the shop for hot work. You can make one easily from almost any piece of scrap sheet stock. Mine has about a 1/2" of hook end, and is graduated in eighths of an inch, since I made it myself and don't need anything more accurate than that for forging and I didn't trust my ability to chisel in the markings any finer than that. It works just fine and dandy, and the hook end is really handy when measuein ghot stock. It also gets used to snag things out of the forge sometimes. :-)
vicopper - Friday, 11/23/07 23:30:10 EST
---
vicopper, excellent idea. In fact, one could use a regular framing square and just cut the short leg off...but I like the idea of just making it.
quenchcrack - Saturday, 11/24/07 07:37:40 EST
---
Ordinary household ammonia is supposed to dissolve aluminum oxide and be good for freeing stuck parts. It seemed to work the one time I tried it, freeing up tight pulley on an aluminum shaft. I don't know if it would penetrate well enough to loosen a stuck bolt, but it might be worth a try.
Mike BR - Saturday, 11/24/07 09:21:45 EST
---
I went to HF today looking for those big bargains. Hmmm. Came home with a six-pack of work gloves and a large pair of needle-nose pliers. Took the plier jaws to the belt grinder, rounded them over and ground out the serrations and made them into a very functional (but smaller)set of scrolling tongs. No metal rulers, though.
quenchcrack - Saturday, 11/24/07 13:24:16 EST
---
Hey I'm very new to blacksmithing and was wondering if you knew about any corses around edmonton alberta? I live in Calahoo which is an extreamly small town about an hour for edmonton. My grandpa welds so I might be able to get him to teach me some of the simple aspects but i would like to learn more. Also i have looked at my libray and book store for many of the books your site has suggested but have only been able to find The Art of Blacksmting which is a very good book but alot of it is way beyond me. Do you know of any simpler texts that I might be able to understand better? To be honset Im not very strong in my arms and shoulders what do you think is the best anvil and hammer wieght and size for a 14 year old girl? Also what do you suggest as a good starting exersize for someone new to blacksmithing?

Thank you for your time
Michelle Meunier
Michelle Meunier - Saturday, 11/24/07 14:24:21 EST
---
Michelle Meunier,
I started my girls younger than you. They were TINY. Both of my girls are still small, the 22 year old is 5'-2" and maybe 105#. Size is not everything. Hammer control is near though. May I suggest that you start by driving nails? That is how I started all four of my kids. That is find a nice hunk of log, and drive nails. Use a nice 16 oz. hammer and when you can drive 25 16 penny nails in a row, without missing, move to the smaller 8 penny. When you can drive 25 of those in a row without bending any, you are ready to start with how metal. Also your hammer arm will be a bit stronger. I started my girls with a 1# ball peen on 1/4" square stock, making "S" hooks. You do not mention what tools and so forth that are available to you. An S hook can be made with a simple forge, something steel and a bit heavy for an anvil and a hammer. Almost every blacksmithing beginners book shows the S hook.
Does your local libary have interlibary loan? This is often a great way to get the books that you really need.
Good luck
ptree - Saturday, 11/24/07 15:41:46 EST
---
Michelle, As Ptree pointed out the only exercise that really helps hammering IS hammering. At first it will hurt in your upper arm and palm from gripping the hammer. With some practice this will go away. The first thing to know is to NOT grip the hammer too tightly. Hold it loosely and spend your effort on aiming the hammer the hammer. When you get tired and sloppy STOP. Practicing bad and sloppy may increase strength but hurts your control. Control is important and strength will follow. If you want to practice with weights then lots of repetitive curls with light free weights (hand weights) will help. Use both arms because blacksmithing works both hands/arms.

The Art of Blacksmithing is a good book to read but it is not a how-to. Lorelei Simms' book is very well illustrated photographically and is written by a talented young female smith. See Poor Boy Tools (on of our advertisers). He sells Lorelei's book and 101 Projects. The two would be a good start.

There are several blacksmithing groups in your area and the trade school in Calgary SAIT has a blacksmithing curriculum. While you are too young to be a full time student there they MAY let you in courses once you have some experience and have proven your interest.
- guru - Saturday, 11/24/07 16:58:23 EST
---
Michelle, As a father of a girl also, I feel I should point out what boys already know, blisters often come before callouses. Don't over-do, cause pain will make you gun shy and you'll form bad hammer habits trying not to hurt youself, or give up altogether. There's a book regularly for sale on ebay "The Complete Modern Blacksmith", by Alex Weygers, (about $15.00), he gives a pretty comprehensive chapter on proper hammer and body position which you might find useful. Good Luck!
Roland - Saturday, 11/24/07 21:17:47 EST
---
question of value. forge blower western chief royal H, turns, blades intact,case not cracked, crank orig, no stand. would like to buy it but want to give the guy a fair price. thanks for your time! -Vic
Victor - Sunday, 11/25/07 11:24:14 EST
---
In thinking about the hot-work 2' folder and hook rule, I was minded of a handy tool that I use and that I first saw in the British book, "Wrought Ironwork", the smith's square. It is a square with one leg extended for a handle. I made mine out of 5/16" x 3/4" flat MS. I can check my hot work for 90º without cooking my hand.
Frank Turley - Sunday, 11/25/07 11:35:14 EST
---
Victor. The big thing on blowers is how the gears sound. The should be nearly silent. The more noise they make the less they are worth as this is a sign of how worn they are. In old non-sealed gear boxes it is common for the gears and bearings to be worn out. $200 or more if the blower is in smooth and quiet, down to $25 if a growler.

As to true value, these heavy duty blowers iron and steel blowers are not made any more. If they were, they would cost between $1500 and $2000. A growler. . . not even worth parts since the important ones are what is worn out. .
- guru - Sunday, 11/25/07 12:03:25 EST
---
Thanks for the fast reply! Based on your advice it should be in the 50 dollar range kinda screams a little but has not seen any lube in years. thanks again! Keep the hammer coming down. -Vic
Victor - Sunday, 11/25/07 13:38:21 EST
---
Frank, interesting idea. I could rivet a handle onto my cheepo square.
quenchcrack - Sunday, 11/25/07 13:57:59 EST
---
Gear Box Noises: Squeaking and squealing is something locked up (like bearings) or something rubbing such as a bent part or debris in a gap. Gear noises are different. They are caused by wear on the gear teeth which changes their action from rolling silently to sliding. The wear can be from normal use, abuse or start as rust. Early gear noise is a soft hum. As it progresses it gets louder until it it a roaring growl. At this point, besides being VERY noisy to the point of distraction there is high friction which means more effort to turn the bearings. Worn gears cannot be fixed and must be replaced. However, most devices like this have custom gears and there are no replacements.
- guru - Sunday, 11/25/07 14:55:23 EST
---
Gear Box Noise: Some noise in a gearbox is normal. One needs to also go by the feel. If it turns easily and freewheels nicely. Just like lash in a vehicle you will find some lash and noise in a blower.
- Iron Balls - Sunday, 11/25/07 16:07:27 EST
---
A friend and I are starting our own forge, building it from scratch. We have all the plans made up but there are still a few things we are not sure of. Is it better to have your forge inside or outside. What works best as far as fuel for beginners such as us. Are there any tools that we may need other than our anvil, hammers, and tongs. What would you suggest we could do to help us take off with our new hobby.

Thanks for your time.
Byron
Byron - Sunday, 11/25/07 16:49:59 EST
---
Ihave been treating meat forks with olive oil to prevent rust and useable for food. I need to know what you would suggest useing on a fireplace shovel and porker beside paint. I want to keep the polished metal look.
wayne - Sunday, 11/25/07 17:44:10 EST
---
Victor,
Ask the owner if he'd mind you cleaning the gears to see how they work before you buy it. Do this by clamping the base stand adapter in a vise, open the petcock to drain any oil. Leave it open and pour in kerosene or diesel fuel till it comes out the petcock. Close the cock and crank the handle moderately a few times in both directions. Empty and repeat 3-5 times. The old oil will dissolve and you'll get a truer idea of how the gears and bearings are working and if the unit will freewheel when you release the handle. About price, I love mine and picked it up with the stand locally, for $60.00, I couldn't clean it on the premises, but the fan moved freely with my fingers so I knew it wasn't bound up. After cleaning it out and hearing how smoothly it ran, I liked it so much, I spent another $30.00 for the brass fittings to complete it. On ebay they go for about that total, but you have to add $50-75 for shipping. See if he'll trade for some wrought iron work.
Roland - Sunday, 11/25/07 19:24:39 EST
---
Wayne,
Linseed oil, turpentine and bees wax mixed together in equal parts. By the way, I'm fairly certain olive oil will go rancid over time, might want to mention that to your clients.
Roland - Sunday, 11/25/07 19:30:22 EST
---
thanks for the great input! the owner restores old tractors and makes a living buying and selling heavy equipment, so i think he'll be very open to getting it cleaned up just to learn how to do it and see how it works. I'll report back to let you know how the project turns out. and as always if you can't remember if it's hot then it's HOT use tongs -Vic
Victor - Sunday, 11/25/07 19:42:36 EST
---
Michelle Meunier

There is an excellent smith that teaches in Edmonton, Shawn Cunningham, he teaches some classes at a local collage and in his shop. I believe his web site is www.frontstepforge.com. Shawn is one of the best smiths that I have ever had the chance to work with, and is a trained teacher. I hope this is of some help.
- Daryl - Sunday, 11/25/07 21:16:01 EST
---
hello
i'm interested about finding out how or who to contact about casting brass for antique lamp parts.small parts and only a few different pieces.thanks.
steve

- steve davis - Sunday, 11/25/07 22:34:46 EST
---
Steve Davis: You would be better off dealing with someone close to where You are. Where is that?
- Dave Boyer - Sunday, 11/25/07 22:42:34 EST
---
Hey, im not sure if im in the right place to ask this but i would like to make my girlfriend a ring for Christmas... Would any of you guys be willing to help me out at all? at lest point me in the right direction or something.

all help is appricated,
Nathan Davis of Florida
Nathan Davis - Sunday, 11/25/07 23:20:06 EST
---
Indoors, Outdoors and TOOLs: Byron,

Indoors OR outdoors you will be playing with fire and sparks that go flying. You do not want to be the cause of a disaster. Indoors is generally better IF you have very good ventilation. Outdoors is better if there is no dry brush, debris or you are not in a high fire risk area. Personally I like a shop under roof with lots of big openings (car/truck size) AND power ventilation for when the natural breeze dies. However, some wood buildings, particularly old ones can be tinder dry and scary easy to start on fire. Every situation is different so study it and go with your best judgment.

Good coal is the easiest and hotest fuel to use but is sometimes hard to come by. Coal is closely followed by real wood or "lump" charcoal. This was the standard fuel for thousands of years and still is in many parts of the world. See our Coal, Charcoal FAQ.

The minimum tools for forging are an anvil, hammer and forge. However, you also need to be able to hold the work by hand and on a bench. So you need tongs for short pieces and a vise to hold the work when you need to use two hands like for punching, chiseling or carving. The vise is also needed for sawing and filing. A blacksmiths leg vise is best and they can be picked up used for a reasonable price. A good heavy bench vise is suitable for sawing and filing but not recommended for heavy hammering.

So there we have added a bunch more tools. Vise, hack saw and blades, files, chisels and punches. . . Blacksmiths use a lot of small tools. Many they make for themselves, others are best to buy. For bending and twisting an adjustable spanner such as a Stilson or Crescent wrench are handy.

Then you will find that drilling holes is often easier than punching. A hand crank drill, an electric drill or a drill press. . . A sabre saw (reciprocating electric hand saw) is good for small cut off work and sheet metal as well as wood.

As you add tools and machines you will find that you need maintenance and adjustment tools. That is, a small set of mechanics tools. And you will also want a secure place to lock up all the above.

With time you will want machines to help speed things up. A cutoff saw or chop saw, drill press, power hammer. . . Start small, practice until you can sell some of your work and then you will be able to afford tools as you want.

- guru - Monday, 11/26/07 00:54:03 EST
---
Rings for the Ladies: Nathan, the type of work you are looking for is best done with the help of a custom jeweler. They commonly do small custom castings in silver (occasionally gold). In silver a large part of the cost is labor after the casting, filing, sanding, polishing. If you can do this you might be able to save some money and honestly say you did a lot to make the ring.

Another option but with less flexibility is to find a machinist and turn a ring from solid. This can be done in stainless or silver. There is a lot of waste in the process but silver is relatively cheap these days and the cost of the waste metal (it should be recycled) is probably close to the labor and fuel for casting. The lathe does not need to be large or highly precision. However, in either case you are going to need to know a ring size.

- guru - Monday, 11/26/07 01:25:10 EST
---
Treating Forks with oil: Wayne, any organic oil used is a hazzard as meat fats will soak in and become part of the rancid bacteria filled finish. The best thing to do is to provide an instruction sheet that says to wash or burn off protective oil prior to use, then oil with vegetable oil to prevent rust while in storage.

Oil that is not baked on is easy to wipe off and wash off completely. Reapplication will prevent rust.

If all this seems a bit much then make your tools out of stainless.

- guru - Monday, 11/26/07 01:30:56 EST
---
I'm building a Kinyon style power hammer. I'm making the dies from Starrett AISI Type 01 steel. I have a heat treating oven and the tempering chart, but I can't seem to find any information on the desired Rc hardness. I've seen overseas die manufacturers advertising hardness in the 40-42 and 52-54 range. What's optimum for flat dies? Thanks
Pete Drake - Monday, 11/26/07 09:21:12 EST
---
Die Steels and Hardness: Pete, in industry the die steels in hammer construction are special steels and their hardness specific to the steels. However, flat dies are recommended to be fairly soft (24 to 36 Rc). In small hammer construction it depends on the type of die but most are harder than on large industrial hammers, dependent on the type of steel, so the ranges you gave are about right.

Dies like the crown dies and combo made by Big BLU must be harder due to the forces on the small die faces and the wear on the heavily worked edges. These also require a better grade of steel (they use S7). Enclosed dies are even harder due to wear and heat issues.

I would make flat dies for a small hammer with a differential hardness with the faces at 55-58 HRc and the base at 37-40. This assumes well rounded corners for common small hammer work like drawing.

- guru - Monday, 11/26/07 10:08:38 EST
---
When the SOF&A workshop built their version of the same hammer they used oil-quench 4140, 2" x 2" x 5" as the dies. 24 dies needed to be quenched. They had set up a container of oil within a larger container with ice kept between them to try to keep the oil cooled. Believe oil was used crankcase.
Ken Scharabok (Poor Boy Blacksmith Tools) - Monday, 11/26/07 14:26:34 EST
---
We are a Spanish group from (Catalonia), which we are organizing the History Museum of Craft Iron in Figueres (the city of Salvador Dali).
It is very old and we have 440 pieces.
We would like to know whether the world museums of this type.
We know the Gallery in the Victoria & Alberts.
Can you help us?

Thanks
Miguel Angel Campanero - Monday, 11/26/07 15:24:11 EST
---
WOO HOO....found a 24" stainless steel rule for $6 at Woodcraft. OK, so it doesn't take much to thrill me anymore.....it beats laying in the ground with dirt on your face and holding your breath forever....
quenchcrack - Monday, 11/26/07 17:30:25 EST
---
Quench, have a look at the Starret catalog to better enjoy that find, and also look at their hook rule and make a hook for yours. You should be ahead a bunch of $$$.
ptree - Monday, 11/26/07 18:21:17 EST
---
I am a student of Petroleum Training Institute, Nigeria. writting a project on Anvil. Please I want information on the history of Anvil
etemebiri samuel - Monday, 11/26/07 20:12:35 EST
---
etemebiri,
You can get started by going to the upper right drop-down menu, "NAVIGATE", and clicking on FAQS. Read the articles and references under "Anvil Making" and "Anvil Selection".




Frank Turley - Monday, 11/26/07 20:40:06 EST
---
Miguel Angel Campanero,

There must by many. You can use your search engines to find more. Here are a few.
Le Secq des Tournelles Museum, Rouen, France. Their catalogue is "Decorative Antique Ironwork" ISBN 0-486-22082-6.
National Ornamental Metal Museum, Memphis, Tennessee, U.S.A. www.metalmuseum.org
Museum of Decorative Arts, Prague (Praha), Czechoslovakia
Catalogue of Romano-British Ironwork, Museum of Antiquities, Newcastle upon Tyne, England.
Davistown Museum, Liberty, Maine, U.S.A. www.davistownmuseum.org/index.html
Söderfors Ironworks Village, Söderfors, Sweden
John Woodman Higgins Armoury Museum, Worchester, Massachusetts, U.S.A.
Frank Turley - Monday, 11/26/07 21:35:57 EST
---
A friend of mine asked me to re- harden / temper an old 1 1/2" woodworking chisel. Stamped ---F (or E) Welles .... Cast-Steel. The chisel has a high carbon edge welded into the body. Can I approach this as normal or are there any precautions or special techniques I should employ?

thanks -


- jamie - Monday, 11/26/07 21:36:20 EST
---
Sr. Campanero, Addenda.

From Mexico, there is an out-of-print book (monografía) which shows much of the collection of the Museo Nacional de Arqueología Historia y Ethnografía. "Hierros Forjados" by Antonio Cortes, 1935. Today, I think the museum is referred to as the Museo Nacional de Historia, Ciudad de Mexico, Mexico

Also, Soumaya Museum, Ciudad de Mexico, Mexico
Franz Mayer Museum, Ciudad de Mexico, Mexico
Frank Turley - Monday, 11/26/07 22:00:07 EST
---
Jamie, Too bright a heat will cause that old cast steel to crack. Use a magnet. Don't harden too much above where the chisel loses magnetism. Quench VERTICALLY in oil; figure-eight it (agitate) in the oil. Try to bring it out where it's just warm to the touch. Wipe off all oil. If you temper by the heat rainbow, many woodworking hand tools are taken to a copper color. It depends on whether the chisel is a paring tool or whether it's mallet struck, and it depends on whether the chisel is going into hard or soft wood; end-grain or with the grain.
Frank Turley - Monday, 11/26/07 22:09:47 EST
---
I have to put some 1" holes through some cast iron which averages about 1" thick. Should I use a pilot hole first? What speed should I use? Is the carbon in the cast sufficient lubrication or should I use more? If I need further lubrication what should I use?
philip in china - Monday, 11/26/07 22:44:47 EST
---
Jamie-- friend of mine, excellent smith, undertook a similar task with an antique drawknife, a collector's item, and wouldn't you know it, the hardened steel edge peeled clean away from the mild steel or wrought iron body of the blade upon being quenched. Your client should be informed that he is asking you to venture out there on the frontiers of the craft-- and some patients simply do not survive this operation. I.e., does he REALLY need this oldie to be re-hardened and tempered? Couldn't he just sharpen the thing more often and be safe? Or simply hang it on the wall and go get himself a good chisel? Whatever, get some sort of release, written or verbal, in advance.
Miles Undercut - Monday, 11/26/07 22:59:24 EST
---
Frank & Miles -- thanks

as for the usage - my friend is a timber framer, so the wood could be anything from fresh fir/larch to reclaimed hardwood (mallet struck). I'm fairly sure he wants to work this tool but we will see.
- jamie - Monday, 11/26/07 23:22:02 EST
---
Im new to the the blacksmithing scene and i just bought my first anvil. I purchased an Enderes Tool Co. Inc 10-77 Alberta Lea Minnesota 1973 SER 35. I think it weights 125 pounds. I gave 100 dollars for this anvil that looks brand new. Ive been looking it up and cant seem to find out what kind of quality it is. I was wondering if it is a good anvil and if i got a good deal on it.

Thanks
David


David - Tuesday, 11/27/07 01:31:56 EST
---
An overhead truss bridge built in 1910 over the Kickapoo River in Soldiers Grove WI will be sold for $1. Don't know if it's wrought, but thought you guys should know about it. Google "Soldiers Grove", kickapoo, & bridge for more info.
rgstrohl - Tuesday, 11/27/07 07:55:16 EST
---
well my son did it. afte thinknig about it for yaers he finally quit his job and is working full tiem as a blacksmith/welder.

Jake
- jake - Tuesday, 11/27/07 09:01:17 EST
---
Enders: David, There are two Enders companies. The one in Iowa was a manufacturer of farrier's tools. Most of the Enders' anvils I have seen were the long thin waisted farrier's type. These are fine for light blacksmithing but tend to bounce around when you work out on the horn and heel. Note that most general purpose anvils are semi-farrier design. The difference being that for heavy work you want proportionately more mass under the face of the anvil. The Enders of Iowa made a good Cast Steel anvil.

Enders Tool Company of Minnesota is another question. They did not actually make anvils and were just a branded reseller. Richard Postman says he THINKS the 125 was a forged farrier's pattern made by Columbus Anvil and Forge.


- guru - Tuesday, 11/27/07 09:21:18 EST
---
Drilling Cast Iron: Phillip, A lot depends on how you are drilling the holes. Cast iron can be machined faster than mild steel but I usually apply mild steel speeds. Around 500 to 600 RPM should do on a drill press. A 1" hole takes a lot of torque requiring a good sized metal working drill press.

The rule for drilling with large drill bits is to use a pilot drill about the size of the "dead center" or chisel edge of the full size bit. I use 3/16" simply because I have had excellent luck drilling deep holes (2") with that size. The pilot drill needs to be a top quality HSS drill bit, preferably with split point sharpening.

IF you are hand drilling then this is a different story. The torque if the drill bit hangs up can be arm breaking (depending on the machine). To do this job by hand you step drill using small 1/32" (1/16" max) increments between steps. The problem is the feed rate. The drill will try to screw itself into the hole at the rate of the twist. This often breaks the bit and leaves it stuck in the hole. Feeding in a case like this is more holding back than pushing in. You want the edges that are doing the cutting to feed at the same rate as it would if you were drilling the entire hole at once. This is only a few thousandths of an inch per revolution. A faster feed rate breaks the leading edges off the drill. Folks that use step drilling usually have boxes full of drill bits with pieces missing from the corners. . . unless they are VERY good at holding back on the drill and very patient.

When step drilling on a drill press you like to have one that has automatic feed for boring or a slow feed hand wheel. Machines that have one usually have both. In this case the machine controls the feed rate of a few thousandths per revolution. The higher rates are for boring. The lowest rate should be used with a drill bit.

Cast iron does not need lubrication so much as flushing out the fine abrasive chips which do not self eject like steel chips. Water soluable oil is commonly used but plain water will work.

A "slugger" or hollow drill can also be used on a job like this. These are like a hole saw with a pilot but have a thicker blade and less teeth. Their advantage is they do not need a lot of feed pressure. However, they are expensive and must be powered by a accurately guided machine (Magnetic based drill, drill press, milling machine).

1" holes in CI is a tough job.

- guru - Tuesday, 11/27/07 09:58:59 EST
---
I've been reworking the cone that fits in the hardie hole of my great-grandpa's anvil. In the process of welding and reshaping the cone on become very soft. My question is "What is the best way to heat treat a cast cone?" In restoring I have found that the cast likes to crack if it cools too quick. I appreciate your knowledge and time! Thanks Creek
Creek - Tuesday, 11/27/07 15:38:14 EST
---
Recently read about forming scroll ends from -Bill Epps forum of Jan 26, 2000. It was execellant My question is Bill used a starting scroll tong. to help start a scroll end. Are these available to buy, or can you make your own , if so how? thaks for all the great information for us amateurs. Duke
Duke - Tuesday, 11/27/07 16:11:43 EST
---
ptree, my $6 rule is not the thick, rigid rule like Starrett makes. This one is more flexible but is still better than I need. I may cobble together a hook for it but I really don't need it. On a totally different subject, I finally used the punch lube I got from you at the CSI hammer in last year. However, I have not yet diluted it. Can you refresh my memory of the recommended dilution ratio? Used straight it works wonderfully but that is probably overkill.
quenchcrack - Tuesday, 11/27/07 17:32:51 EST
---
Creek, cast what? Cast steel or cast iron ? If it was cast iron (ductile iron) it may have been chilled on the surface to harden it. Rehardening will be very difficult without some type of temperature controlled furnace. Cast steel can be rehardened fairly easily, heat to non-magnetic, quench in warm oil. If it fails to harden, consider using water but make sure you keep the square shank out of the quench or it may crack at the section change. Depending on how soft it is, consider using it as is or you may lose it altogether.
quenchcrack - Tuesday, 11/27/07 17:37:36 EST
---
Duke, It looks home made.
Frank Turley - Tuesday, 11/27/07 18:02:21 EST
---
Quenchcrack, I like to do a 20% concentrate into good water. This covers about every possibility. Freeze it? No problem just thaw. Leave the top off and evaporate the water? No problem just add water. It works from 5% in water to full strenght, but I like and use 20% as I find that about best for everything I have tried. Remember, only works on a hot tool. too hot and it does not leave as good a film, wet it does nothing. Look for a tan dry film. Enjoy.
ptree - Tuesday, 11/27/07 19:50:12 EST
---
So a summary of your advice on drilling the cast iron would be "don't do it"! I think I shall find a different way of solving the problem. Thank you for the warnings.
philip in china - Tuesday, 11/27/07 21:46:12 EST
---
What is used for browning and blueing solutions?
- Hollon - Tuesday, 11/27/07 22:06:10 EST
---
Phillip: If You do not need a precise hole You might consider using a bi metal hole saw. The trick to getting one of these to work in a deep hole in metal is to drill a holet hat will fall ALLMOAST completely inside the finished hole, while stil alowing a web between this hole and the pilot hole. This hole allows the chips to get out of the saw teeth. Don't use any type of oil, not even soluable. Soapy water is acceptable, but dry should be fine.
IF You step drill, and I wouldn't recommend doing it by hand for all the reasons Jock mentioned, reducing the clearance on the point to all moast none and grinding or stoning a small radius with slight clearance on the corner will help. If You have acess to an industrial drillpress that is meant to drill 1" holes, no pilot hole is needed. If using too light a drillpress or a large hand drill I would go in with about a 1/2" bit then the 1". The greater ammount left for the second pass reduces the snagging. If You are going the hand drill route, You will have a rough time. The proper way involves using a drilling post and a drill with a screw feed mounted oposite the chuck. These are common in shipyards, but prett ymuch nowhere else. A firm structure to take the torque of the pipe screwed into the drill housing and a lever to provide feed pressure can be made to work, but it is challenging, and larger tripple reduction drills don't stall or slow down quickley.
- Dave Boyer - Tuesday, 11/27/07 22:11:35 EST
---
Hollon, There are many old timey chemical formulas, some of them time consuming. Nowadays, probably the most used are Birchwood Casey products which are available at many sporting goods stores where guns are sold. The company is located in Eden Prairie, Minnesota.
Frank Turley - Tuesday, 11/27/07 23:12:43 EST
---
Hello out there! First post, as you can see. Love the forum. Very inforumative, and everyone seems to be very polite. Would love to ask a few questions. Forgive me if articles/posts have already been written on these queries and I've just overlooked 'em. Please refer...

I'm trying to make a couple of small makeshit... err, makeshift anvils. Got a 16" section of railroad track with '1913' stamped on it, too soft though.
Today, acquired good chunk (5" dia, 5"overall length) of 4142 hot-rolled round stock.

I need to harden both of these. I suppose I'll have to anneal or normalize them first, but ,especially regarding the 4142, please advise on the QUENCH. Oil, i guess?

I plan to use the rail horizontally (yea, i know...) and utilize the radius to my advantage.

I really appreciate any help you may care to give regarding the above. I've a lot of experience in metalworking, but not so much in forging/hammering. Mostly machining (turn-of-the-century gear shapers, ha! ;)
BearLeaWanaby - Tuesday, 11/27/07 23:14:21 EST
---
BearLeaWanaby: If you are going to drop a piece of 5" x 5" round stock in an oil-quenching solution provide more oil than you think you need and don't fill the oil up anywhere near the top of the container. It will immediately start to boil and likely bubble over. (And don't ask how I know that.)

Support Anvilfire advertisers: Check out each new Google ad at the top AND bottom of forum. You might want to put some of the links in a separately file to access in the future. For example there is one on there now on a manufacturer of metal balls.
Ken Scharabok (Poor Boy Blacksmith Tools) - Wednesday, 11/28/07 08:25:36 EST
---
Anvil Hardening: Bearlea, A lot depends on the tools you have. Note that RR-rail is a medium to high carbon steel (60 to 75 points) and will harden glass hard. It is usually fairly hard as-is.

Anvils are normally flame or surface hardened on the work surface only. This means heating the work surface quickly to a red heat and letting it self quench OR following the heat source with water. The heat source is either a large wide oxy-acetylene flame or an induction heater. These are moved slowly from one end of the item to the other hardening progressively.

Otherwise you need to heat the entire face then quench just the face. Do so rather tentatively and repeatedly in warm water. You must continue to quench as excess heat behind the face will be conducted from the body and temper (soften) the face. The trick here is quenching just enough to harden just the face. A perfect quench would be if you stopped, quickly sanded a bright stripe down the face and it turned a nice temper yellow or gold. At that point you would want to quench again to stop any further tempering.

Doing this is going to result in a LOT of rising steam. Steam will saturate gloves and such. Wet protective gear is worse than no protective gear against heat as the water will conduct the heat as well as make steam IN your gloves. So I would recommend either a two man system so that you can both stand well to the side OR use a pulley system to raise and lower the hot work.

Sound like a big deal? It is. Any time you try to heat treat a large piece of steel it is a big job. It is also not a job you want to tackle in a shop without proper equipment. While these things can be done in a bootstrap shop it is difficult to jump ahead to big items. It helps to have the capacity to make tongs, special fixtures. . basic stuff before tackling the heavy jobs.

Unless you plan on doing a LOT of small work (3/8" and less) I would not put a lot of effort into what usually ends up being a temporary tool. Real anvils in the used market cost less than the fuel to heat treat one. . .
- guru - Wednesday, 11/28/07 08:34:39 EST
---
Bluing and Browning Solutions: Hollon, lots or really NASTY stuff. Old fashioned browning is just plain rust and can be done with nothing more than a "damp" box. Chemical solutions include nitric and hydrochloric acid plus some real nasty heavy metal compounds. See Machinery's Handbook for the basics, any gun smithing book for more specifics. Firearm Blueing and Browning by Angier is good. You can also purchase small bottles of various quick blues from Birchwood Casey.
- guru - Wednesday, 11/28/07 08:46:58 EST
---
The most common ingredient in cold-blueing solutions today is selenium dioxide and/or selenous acid. As Jock said, BAD stuff to get on you or in you. Older formulae (threw that in for Miles as he loves British words) may include mercury. One modern browning solution is mostly copper sulfate in very dilute nitric acid.

What effect are you trying for? That information can help us guess a good solution.
Alan-L - Wednesday, 11/28/07 09:42:59 EST
---
Frank Turley and Addenda,
Thank you for your information. I am still looking.
Miguel Angel Campanero - Wednesday, 11/28/07 11:38:47 EST
---
BearLea, you will need several gallons of oil per pound of material to be quenched. Using too little oil will guarantee a fire. For the price of the oil, you could have them professionally heat treated. If you are willing to wait, you might get a free ride if the heat treater can put your anvils in with another load. If you do it yourself, you need to determine how you will lift a red hot, five pound cylinder out of the fire, into the quench, and then how you can agitate the part in the quench. I will stand WAY OVER THERE when you do this job! :-)
quenchcrack - Wednesday, 11/28/07 11:53:59 EST
---
I suspect a 5" cylinder 5" high weighs a lot more than 5 lbs. But for the record, I was able to harden a 10lb block of steel in my backyard a couple weeks ago. It took about 15 lbs of charcoal, and about 2 1/2 hours to heat (some of that was soak time), and I quenched it in about 4 gallons of hot oil. I made a couple of long-handled hooks to lift it out of the fire. It did flame up at first, and boiled the oil for a long time, but a cover took care of that. Not an industrial job, and not industrial quality control by any means, but probably good enough for a backyard hobby.
mstu - Wednesday, 11/28/07 13:01:58 EST
---
Mstu, I agree, the cylinder would weigh more like 27 pounds which makes the task evern more dangerous. I was typing faster than I was thinking!
quenchcrack - Wednesday, 11/28/07 13:35:44 EST
---
The problem with an oil quench, and the reason I recommended a gentle water quench is FIRE. Depending on the oil you can easily bring the whole to flash point and at that temperature it might as well be gasoline. Any red on the piece being quenched OR a smoke leader from your quench to your forge fire and WHOOMPH, they will be calling you hairless (maybe faceless) for a long time.

I would not quench anything large in oil unless I was setup like a professional heat treater to do so. This means a cooling system, exhaust system, covers to reduce fire problems and an HD fire extinguisher system. .

- guru - Wednesday, 11/28/07 14:38:50 EST
---
I have used Caswell's Black Oxide Kit, it gives a darkend, almost black finish. Search for caswell black oxide to see the kit. I don't have the MSDS here but can find it if needed.
Bart
blackbart - Wednesday, 11/28/07 15:08:13 EST
---
Hello. I'm making a knife, a folder, actually, and don't know what kind of pin I should use for the handle and tang. Or maybe a rivet? Any help would be appreciated.
Phil Bombard - Wednesday, 11/28/07 15:39:37 EST
---
Guru, I agree with you. You can use water on this grade but the chances of a quench crack do go up a bit. I was trying to point out the problems with an oil quench at home. I think the consensus is "don't".
quenchcrack - Wednesday, 11/28/07 17:18:49 EST
---
You probably dont need to harden the RR anvil at all. 75pt carbon steel will give good service w/o heat treat. By the time you do wear it out, you will probably have found a real anvil.
adam - Wednesday, 11/28/07 17:30:29 EST
---
pickling solution: what is the best pickling solution for rust and light scale?

just a note about the trip hammer analysis. guru, you are correct about there not being any information about the kinematic analysis of the dupont linkage arrangement used on the 25lb little giant trip hammer. a friend and i are almost ready to run a system of differential equations to predict the top anvil motion based on geometry and spring information. the problem is there is no readily available larger trip hammers near by. do you know of anyone that would be willing to let me gather data about their hammer and photograph the operation to check against calculated results? thanks for any input.
kirt
p.s. the trip hammer dvd's are great.

kirt j - Wednesday, 11/28/07 18:08:34 EST
---
Alvaro;
please send me an e-mail; I am working on a project that is a joint venture between the USA, EU, Japan and Chile and sometimes make trips to Santiago and up to the Atacama. I know that books are quite expensive in Chile---I currently share my office with a Chilian and have heard him rant on it.

Thomas
Thomas P - Wednesday, 11/28/07 18:22:55 EST
---
Kirt J
Where are you located?
I have a #100 Little Giant in Northern California.
Bart
blackbart - Wednesday, 11/28/07 18:24:50 EST
---
Knife Pins: Phil, This is part of the design process. If the furniture is stainless you use stainless, if brass, brass, monel. . . (silver, gold?) Many of these parts are made with a matching alloy so that pins in the furniture are blended in an do not show at all. Its like brass padlocks. They look like one piece but actually have several pins holding them together that are ground and polished to match the surrounding surface. They can be found by rapping the lock with a wood mallet until they move a little. . .

Pins of this type have the head spun on using a drill press. Some materials work a lot easier than others. Soft steel is the easiest and stainless the worst.
- guru - Wednesday, 11/28/07 18:32:13 EST
---
The oil quench systems for large items I have been associoated with have been a real smoke maker, even with a cooling system. The big system at the axle shop could quench a "push" from the heat treat oven, which could be up to 3000# of forgings. This would be place in the quench one 500# axle at a time, with one axle about every 30 seconds into the tank, and then all pulled when cool. This system had a 1000 gallon tank to drop the forgings in, a 20,000 gallon holding tank, two water colled tube in shell exchangers and about 2000 gallon a minute flow rate at least. There was also a set of 5' fans in a cupplo over the tank. 3 I think. And it still sometimes smoked up a city block shop!
The valve shop HT furnace had a basket capcity of 600#, the tank top was enclosed and vented with stacks, but so much smoke leaked from the doors that we had a draft hood to enclose the entire heat treat area. I had to add 4800 cfm exhaust to the existing 2200 cfm inside the draft hood to keep from setting every smoke alarm in the plant off when we quenched, and that was a 259,000 sqft plant.
The valve shop used an auto transfer, but the axle shop used tongs balenced from a bridge trolly, and the spitting hot oil was a real hazard.
I quench in oil on a regular basis, but I am talking pretty small stuff, nothing bigger than 2#, and I have a handy lid for the can. And I do it outside the shop to help with the smoke.
ptree - Wednesday, 11/28/07 18:33:34 EST
---
Philip, in China...

Hows it going down there???

Re Drilling in cast iron, its very easy, we do tons (litertally) of chips from drills every year in C.I (all different grades) - the only rules I abide by (no doubt someone will say im wrong, but here goes) are s l o w speeds (revs) , heavy feeds, and NO coolant / water / cutting oil. it forms a nasty paste with the c.i dust that you cant cut through. (this is for h.s.s bits, never botherered with anything else for CI)

Im not overly technical here, but if you can see the drill bit spinning (not a blur) and put all your weight behind it, it will cut.
- John N - Wednesday, 11/28/07 19:43:06 EST
---
More on drilling CI - Jock on drilling / generally machining CI I would run much much slower, and much heavier feed than for Mild steel as you recommend above.

I can look up the reccomended in 'machine shop practice', but its really not necessary. on C.I drilling if your making 'dust' your running to quick / light. When its going 'right' on a 1" dia hole the chippings will come off 'fingernail' size, and just about crumble if you rub them between your fingers. You get quite a distinctive 'crunchy grind scrape' noise when its cutting well, impossible to describe (but I tried), but you will know it when you hear it!
- John N - Wednesday, 11/28/07 19:55:25 EST
---
Kirt J- If you are in the Northeast corner of things I have a 150# Fairbanks (Dupont) in Vermont. And if you are going to be proper enough to run diff. eq. on them, you shoud say "crank-actuated guided ram power hammers" rather than trip hammer; there is a difference (grin). Come to think of it why do you need a big hammer rather than a small one? Are the mechanics different? I'm not trying to second guess you, just honestly interested.
Jud Yaggy - Wednesday, 11/28/07 20:43:37 EST
---
Says "trip hammer" cast into the flywheel on my Meyer Bros. 50-pounder. If it's good enough for the cats what first designed and cast and built the Little Giant and then cloned it after they lost the company in some financial maelstrom, it's good enough for the likes of moi. And thee.
Miles Undercut - Wednesday, 11/28/07 21:45:51 EST
---
Quenching:
No one suggested brine. Wouldn't that be applicable? Bad quench story....Back when I was making jewelry for a living, quenching in alcohol to anneal 14k was the proven method with certain guidelines, never at red heat and always in a steel container with a lid available. I told this to a fledgling jeweler, but she took a couple of shortcuts, a styrofoam cup and she put the metal in while still red. The alcohol flashed, melted the cup, and the resulting mess only resulted in minor burns a scorched floor and work bench and a much chagrined young lady. The moral is SAFETY, FIRST, SECOND, AND LAST!!!
Roland - Wednesday, 11/28/07 21:59:33 EST
---
Hey can you give me any leads on where to buy mild steel screen of an appropriate gauge for fireplace screen. I have ben out of the general blacksmithing community for a while and am having trouble locating this material and if i could even find the proper terminology i should be asking for so that i can locate it localy that would be great .
thank you for your help
riordan - Wednesday, 11/28/07 23:39:43 EST
---
Was really just looking for a recipe for a good solution to remove rust and scale. Better living through chemistry. The linkage analysis is just a side line to optimize the performance of my soon to be in operation little giant hammer. Comparing a math model to only one linkage arrangement and claiming any degree of success is dodgy at best. Testing different linkage arrangements with different springs and reciprocating masses will hopefully validate the math model. I'm located in eastern North Carolina about an hour east of Raleigh. If anyone wants to help all that has to be done is gather a few pieces of physical data about their hammer and take a few pics so the actual motion can be determined. This info can be loaded into the equations and results compared.
kirt j - Thursday, 11/29/07 00:29:28 EST
---
One more quick note. If anyone has any information about someone analyzing a dupont linkage or have done it yourself and are willing to share, please feel free to contact me. No need in reinventing the wheel. Thank you in advance.
kirt j - Thursday, 11/29/07 00:37:47 EST
---
kirt j: I had a look at those equations. If you assume the bottom linkage meets at a point mass rather than either side of a ram, it's much easier. Including a finite width ram made it too messy, so I moved on. I think I still have the matlab function for the simple diamond case though. Are you modelling a complete linkage & ram?

Andrew B

Andrew - Thursday, 11/29/07 06:24:03 EST
---
While you can look at point to point in a diamond the action in a Little Giant is far from that. You get some very strange action that is different on the two sides of the LG version of the DuPpont Linkage that does some strange things to the spring. There is also a big difference between the early and late linkage where the upper arms connect above the crank pin. This was done to shorten the hammer frame (less metal) but increased the angular change in the top of the linkage. The rotation of the crank pin applies side thrust on the connection that produces the angle and a different shape to the toggle arm arrangement (for good or bad).


- guru - Thursday, 11/29/07 10:43:09 EST
---
Chemical Descaling: Kirt, two organic acids are in common use, vinegar and citric acid. Citric acid is used in commercial applications and is supposedly the least harmful to get rid of. Note however that any chemical used to dissolve metals now has heavy metals in solution, usually as salts. While the killed acid may not be a hazardous waste the metalic salts almost always are.
- guru - Thursday, 11/29/07 11:03:30 EST
---
Fire Place Screen: There are a variety of sources. You will need to spec out the screen size according to use. McMaster-Carr is pretty good. They have a 6 x 6 mesh 0.035" wire 0.132" opening 62.7% open bronze screen. . . They carry a LOT of screen so it might take some research to find the right one.

- guru - Thursday, 11/29/07 11:15:15 EST
---
Hello,
I am looking for a CAD program that will facilitate free drawing placement into Fixed form patterns. IE custom work design that I can import to a Scale CAD program.

I have been apprenticing with a very skilled blacksmith for awhile now and have begun to do some work on my own. The blacksmith I am working with has an artistic skill with a pencil and scale that I am unable to duplicate. Saying this, I am proficient in my abilities with computer graphics and generalized PC skill.

I have read your illustraion ariticle, in which you touched on CAD blacksmith design. I am simply in need of a program that will allow my own creativity to flow within scale drawings. I am currently taking a CAD program at our local college. If that comes up in the answer...

Below are a few links that I have found for CAD programs, to avoid crossing lines with suggestions. I simply do not see them allowing for custom design, blacksmith oriented prints. Any input would be deeply appreciated.


http://www.punchcad.com/
http://www.turbocad.com/
http://www.datacad.com/
http://www.bentley.com/en-US/Products/MicroStation/

http://usa.autodesk.com/adsk/servlet/index?id=6668606&siteID=123112

http://usa.autodesk.com/adsk/servlet/index?siteID=123112&id=2704278

Thank you in advance.
Rusty Slayton

Rusty Slayton - Thursday, 11/29/07 12:15:10 EST
---
If my Little Giant is "crank actuated", I'm still looking for the crank.

Fireplace screen. In New Mexico, we use a lot of 1/8" mesh hardware cloth which is sold at building supplies. We spray paint it black.
Frank Turley - Thursday, 11/29/07 12:29:14 EST
---
Can you give me a few hints or descriptions to share with my high school students about how to draw round stock to a point. I can do it in front of them, just have trouble describing the process to them.
Willey - Thursday, 11/29/07 12:33:13 EST
---
A chunk of RR rail with "1913" on it must have had about a bazillion wheels pass over it, and is, therefore, quite well work hardened. I tried to convince a feller of that fact many moons ago, but he insisted on trashing a beaucoup dollar carbide shell end mill instead of sneaking up on it with a surface grinder. It was well beyond Herr Doktor Professor Waugh's Labia Picidae scale of hardness.
- 3dogs - Thursday, 11/29/07 12:55:39 EST
---
Willey,
to draw round stock to a point...draw a square point on the end on the round bar then hit off the corners then hit off the corners again then again and again then making light taps with the hammer while rolling the piece fo the anvil face turn it round. in essence your taking a round bar forging a square point then turning the square point round again. make sure when your rounding the square point you keep it hot or the tip might split or fray.
there are probably other ways to do it bu that's how i do it...

Son
- son - Thursday, 11/29/07 13:18:12 EST
---
CAD: Rusty, I am not familiar with all of the above. However, all CAD programs that I know of allow for drawing anything you can imagine. It is up to you to learn the techniques. The examples given are often not related to our industry, however, you can draw anything from maps and machinery to the human figure in both 2D and 3D CAD packages. That includes scrolls, fluer de'lis and icanthus leaves.

I have been a long time DesignCAD (originally ProDesign) user and currently use DesignCAD Pro 2000. The problem I have had with this product is that it is on it 4th or 5th company ownership and the old versions and old methods have been left far behind (as well as all support). However it does run well under Win98, 2000 and XP, and prints perfectly to Adobe Acrobat Pro.

When I started using ProDesign it supported Dot Matrix printers when all you could output to with AutoCAD was a plotter. It did a good job of supporting line widths and curves at a time when AutoCAD did not. However, AnutoCAD was the industry standard. . .

Later DesignCAD became very powerful and continued to support line widths much better than AutoCAD and hatching as well. The standard curve in DesignCAD was a cubic spline while AutoCAD (and many others used the canned Bezier curve routines). The cubic spline is much more complex mathematically but the control points are all ON THE LINE rather than off in space like a Bezier Curve. While both will create any curve you want the aspect of having the curves on the line made much more sense to me and IS much easier to use.

Today most CAD packages support both curve types as well as a variety of output and input devices.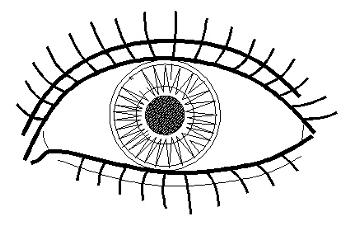 The above was drawn in a few minutes using a CAD program and the curve, line and circle commands using a trackball. It is not a great drawing but it shows the non-traditional uses that you can apply any CAD program to.

If you want to draw true scale components, scrolls and various parts and clone them into a finished work it is no problem

CAD in the World: Where you want to think about your CAD package is how it works with the world at large. If you are going to accept and interchange drawings with architects or buy libraries of predrawn components then you want AutoCAD (AutoCAD Lite). There are several outfits that have special AutoCAD add-ons for decorative iron work job estimation and layout.

Almost all CAD packages will import and export directly to AutoCAD or via DFX. However, since every package has its own tricks and AutoCAD does the worst with handling its own interchange format (DFX) there are always losses, sometimes serious or making the drawing unusable. Using DFX to exchange among other packages works better than to or from AutoCAD.

I am not a big proponent of AutoCAD but its position in the market is something to consider.

File maintenance over long time periods is also a problem that NOBODY handles well. New versions often do not open or correctly handle the details of old version files. Ocassionally entire libraries become just more worthless data. . . Microsoft outdates your software FOR YOU by no longer supporting types and functions. So it is not just the CAD package you use.

Lots to think about.

- guru - Thursday, 11/29/07 13:28:20 EST
---
Mixed Graphics: Most computer graphic artists apply more than one graphics program to a project. CAD may be used for one part and a common paint program for another. CAD drawings can usually be overlaid over a photograph or another digital image. A hand drawing can be scanned and traced in CAD or merged into a bitmap. Texture samples are often hand drawn using a graphics tablet then used in a 3D library to cover an item with a skin.



The Mass3j icon was created in a 3D cad program, exported to a trial program that did rendering and the the image captured at high resolution. It was then adjusted and resized in a paint program.

Our new anvilfire logo is from the old art which was done in a primitive DOS paint program many years ago. The outline was from a CAD drawing that was imported and hand painted. Then the fire was taken from a scan of a photo and carefully applied. The animated flaming lettering was created in GIF construction kit and is overlaid onto the logo graphic with a trick of HTML. So what you see is not even a single image.

- guru - Thursday, 11/29/07 14:07:23 EST
---
My dad is just getting started in Blacksmithing with a forge he purchased after attending many 'Mountain Man' days within the past couple of years. He has a forge, but I want to get him something for Christmas that he can use. Any advise?
Friesen - Thursday, 11/29/07 15:59:10 EST
---
Hello i am learning how to blacksmith with someone from my church and things have been slow is there a website you can direct me to that would help me learn smithing on my own.
Tim - Thursday, 11/29/07 16:13:50 EST
---
Tim, This is the place. We have demos of every possible difficulty on our iForge page, lots of articles and FAQs on the FAQs page, book reviews of all the major references. You need to start with our Getting Started article and consider the books suggested as well as looking at the books on our book review page.
- guru - Thursday, 11/29/07 17:13:49 EST
---
Friesen, Tools and materials are often personal decisions. Unless you know what is needed then you are taking a chance. Then there is the range of your budget.

A nice shiny new anvil from any one of our banner advertisers would look nice under the tree with a big red bow.

Sacks of coal are not punishment for the smith and good coal is difficult to get. Blacksmiths Depot sells coal, ships by UPS.

You can never have enough tongs. A nice set of each size of the Off-Center brand chainmaker tongs would be nice. Blacksmith Supply and Blacksmith Depot sell them.

Centaur Forge and the others mentioned above sell a little thin hot work slitting chisel that is a wonderful tool. A matching set of punches and chisels to match would make a nice gift.

Then for the newby that did not already have a metalworking shop things like a set of drill bits:
1/16" to 1/2" in 64ths, jobber length, black oxide, split point, in drill index.

Sizes A - Z jobber length, black oxide, split point, in drill index.

Sizes 1 to 60 jobber length, black oxide, split point, in drill index.
Then there are files. half round bastard files in 8, 10, 12 and 14". Same in flat smooth cut. . .

Drill bits, files, saw blades. All these critical little tools are pricey and would make nice gifts as they are all consumables to some degree.

Now me. . I just bought a fork lift so I can move my tools around. . . would have made a nice gift. . .

- guru - Thursday, 11/29/07 17:40:09 EST
---
I asked Santa for a new utility hammer the last few years. i must have been a very bad boy as I have not recieved it yet:(
Guru, sold the old fork lift yet?
ptree - Thursday, 11/29/07 19:02:44 EST
---
Gentleman name of Kern did a handy-dandy book and did some issues of a magazine re: same that are probably still out there somewhere, re: the care and feeding of Little Giants. This all might help with the linkage adjustments more than paper calculations. Main thing with these monsters, as Kern notes, is to keep in mind at all times that you are dealing with a machine that is trying to destroy itself. Owning and using one, it helps to know how to weld the toggle arms.
Miles Undercut - Thursday, 11/29/07 19:17:08 EST
---
Nope. . about to ebay it. However, I HAVE already bought the replacement. After looking at dozens I found the right size, type age in Minneapolis. Ain't the Internet wonderful!


- guru - Thursday, 11/29/07 19:20:37 EST
---
Im farely new to blacksmithing, so far i have done mostly blade work and i've been unable to find out much infomation on 5160 tool steel. I was wondering, in a experienced opinion, whether 5160 would make a better blade steel then 01 or L6.
- Chris - Thursday, 11/29/07 19:30:57 EST
---
Frank- You insert the crank into the side of the head and twist hard. It helps to grease your ear first.
Jud Yaggy - Thursday, 11/29/07 20:10:17 EST
---
Miles, EVERY forging machine I have ever seen was an exercise in entrohpy.
If you think a lG tries to beat itself to death, have you ever watched a real live steam hammer? Perhaps a drop forge? All that loverly clanging about, but added as a special attraction is the screaming, and moaning of the steam as it leaks from various places. When tupping the big hammers in the valve shop often had a moan on the down, and a screach on the upstroke from the rod packing.
The clang from a 25,000# hammer when seating in the dies is interesting as well.
Upsetters and presses of an older age have a unique ringing and resonance from the bull gear when that little pinion, say 24", chases the bull gear, say 12' around one turn. There is also that lovely grip slide slap, the cam follower spring scrunch and so forth. A cacaphony that must be heard to be believed. And in a shop with 7 upsetters forging, when one made an unexpected noise, even with the background, and the earplugs, everyone in the shop stops and holds their breath to see if the noise is followed by the sound of toggles breaking over,( also felt through the feet) or much worse the dreaded sharp crack of a 24" diameter, heat treated crank shapping, followed by a plantwide Oh s...!
I really miss the big machine forge shops at times, usually when NOT thinking about fixing those big machines;)
ptree - Thursday, 11/29/07 20:39:02 EST
---
AISI 5160 Steel: Chris, there is lots of info on 5160. See our Heat Treating FAQ.

AISI/SAE 5160 is not really classed a "tool" steel. It is a spring steel and used for many tools that need toughness and springiness. Besides many types of springs it is used for pry bars and caulking tools.

O1 and L6 are true tool steels used where you need a lot of hardness. O1 is a "common" tool steel but is more dimensionally stable than W1 when heat treated. L6 is used for saw blades where abrasion resistance is needed with high hardness in a steel that is high performance but easier to heat treat than high speed steels. Both these steels have more carbon than 5160 and L6 has a considerable amount of nickle.

There are a lot of things to know about steels and why they are selected for various purposes. I like plain carbon steels like 1095 for blades because it is very easy to sharpen. While alloy steels are great their abrasion resistance that make them stay sharp makes them hard to get sharp. . choices, more choices, decisions.

5160 will make a fair knife and I like it a lot for wood carving tools. But everyone has their own preferences.
- guru - Thursday, 11/29/07 21:52:28 EST
---
Chris: You arent going to find any tables that compair the merrits of 5160 with O1 and L6, because 5160 isn't really tool steel, it is spring steel. I am not a bladesmith, but I am a tool & die maker, and from My point of view, from best edge holding to greatest toughness of the 3 materials You mentioned, the order would be O1,L6 and 5160. You are asking about a "better" material. Do You prefer edge holding or maximum toughness? You can't have both, and the choice is Yours to make. A GOOD bladesmith could make a pretty darn good knife from any of these, but a poor one could make a piece of crap from any material. I think I would go with the O1 for a knife that wouldn't see much abuse, L6 for something like a "survival" knife or large sheath knife, and 5160 drawn back to spring temper for a machettie or a sword.
- Dave Boyer - Thursday, 11/29/07 22:06:52 EST
---
ptree-- I don't think the LG tries to beat itself to death, I KNOW it does. I have reincarnated mine more than once. And judging by the many welds, so did the previous owners over its God knows how many years of masochism. Can a machine be masochistic? Hmm.... Hey-- sounds to me as if you have the makings of a passionate DVD here, to be followed by the CD that's sure to go platinum!! Speaking of steam, rejoice with me, y'all-- finally got my steam-bending box fired up at last and it works great.
Miles Undercut - Thursday, 11/29/07 23:29:10 EST
---
Hello all, I have been gone for a long time but I now greet you from Maui... good to see business as usual here. My question: I have a huge supply of scrap post tensioning cable from a large construction site. I have been welding billets out of it, and it seems to quench fairly hard in oil(not to mention it has a cool pattern) but I am naturally curious about the alloying ingredients of this steel. After an hour on google I can't find anything concrete. No pun intended...
vorpal - Friday, 11/30/07 00:20:12 EST
---
I am pursuing a commission to forge several letters and numerals for an entry gate. The customer wants a massive look, and in either brass or bronze. I have been experimenting with both materials, a very yellow brass, and a silica bronze. Between hot short, work hardening and a low melting tempurature I am about ready to recommend powder coated steel or find someone else. I would appreciate information on forging these materials.
wadco - Friday, 11/30/07 02:09:34 EST
---
Vorpal, I THINK tensioning wire is something like 1095 music wire but I am not sure. Its good stuff that has to take a high degree of stretch.
- guru - Friday, 11/30/07 07:43:56 EST
---
Brasses: Wadco, Good forging brass or naval bronze is rated as the easiest material there is to forge. However, there are thousands of brass and bronze alloys. Many are designed for hardness and machinability both of which greatly reduce their forgability. Lead added to screw machine brass makes it machine great but tend to crumble when over heated.

Many times it is just a matter of getting used to the bronze. Heating with a forge is difficult as the forging temperature IS very close to the melting point. Same with aluminium. A temperature controlled furnace is much better. I use a torch and keep a sharp eye on the material. Like any forging you need a good soaking heat in a narrow range. If it is forgable bronze then it should work cold for quite a few blows before it work hardens. I usually work it from forging temperature until cold. At the slightest change in resistance I stop and reheat.

However, there is a reason many brass and bronze things are cast. It is fairly easy to melt and castings can have the same appearance as forgings if you want. Hand made wax patterns can have that hammered look (from a hammer) as well as chisel marks if you want. Hand finishing the brass is almost always required to get the look you want.

- guru - Friday, 11/30/07 07:57:58 EST
---
On the road to Florida and back!
- guru - Friday, 11/30/07 07:58:31 EST
---
ptree, does the sound of a double-toggle upsetter actuating sound familiar? Like the sound of the Landwalkers moving in Star Wars? This movie was made prior to a lot of digital technology and most of the sounds were actually recorded from real life. The sound of the "ray guns" was made by hitting the guy wires on a radio tower with a wrench.
quenchcrack - Friday, 11/30/07 09:38:46 EST
---
Wadco,
You might get help by googling Copper Development Association and using their marginal menu. An oft recommended forging brass is numbered UNS C37700.
Frank Turley - Friday, 11/30/07 09:55:49 EST
---
guru,

i've been maknig leaves alot latly but they always turn out weird. i always make them to long. is that because the point i put it to long or because i set it down to far back...or both. thanks

JAke
- jake - Friday, 11/30/07 11:27:45 EST
---
Miles; it must be so as those were the years where truth in advertising was so highly thought of---just like the internet today. I get folks claiming the internet as the one true source of info and my general reply is that "give me 1/2 an hour and I'll have a website claiming that they are a love child of Elvis and an alien!"

Frank, the "crank" is the pitman and the rod projecting from the flywheel that changes rotary motion to up and down motion.

An interesting factoid is that the original steam engines used planetary gearing at someone in England had patened the crank---even though it had been in use for about 1000 years by then.

Thomas
Thomas P - Friday, 11/30/07 12:11:49 EST
---
ptree,
Nice post...you could feel the tension in the shop. Nothing like the possibility of huge pieces of steel flying around arbitrarily to keep the adrenalin flowing!! Ah, blacksmithing at it's finest!!
Roland - Friday, 11/30/07 12:44:01 EST
---
How low in carbon content is real rebar, as in the stuff used for concrete and not junkyard scrap? It's a lot easier to work than 'weld steel' or A36.
- Nabiul Haque - Friday, 11/30/07 13:17:00 EST
---
Thomas-- a Wall Street Journal writer once put it like this: anybody who can fog a mirror can post on the Internet.
Miles Undercut - Friday, 11/30/07 13:32:48 EST
---
Nabiul, I don't think there is a chemistry spec for rebar. Only a tensile strength requirment. Could be anything.
quenchcrack - Friday, 11/30/07 14:20:36 EST
---
Well I just finished making the two sides for my first pair of tongs, I couldn't get a precise flat spot like in the tutorial using the rebar and it actually put a few dings into the surface of the 200# piece of rail I'm using as an anvil. Now all's left to do is grind the rotation surfaces smooth then drill and bolt them together.
Nabiul Haque - Friday, 11/30/07 15:04:02 EST
---
Nabiul Hague: My first do-it-yourself blacksmithing project was a pair of tongs made from 1/2" rebar. Today they don't look like much, but MAN was I proud of them at the time.
Ken Scharabok (Poor Boy Blacksmith Tools) - Friday, 11/30/07 17:53:23 EST
---
Quenchcrack, The toggles on the upsetters I know and was reffering to, are to relieve the load when something goes wrong. The things that usually go wrong is that a cold billet gets through the pyrometer check and won't move when the tool slide comes to push. The other big baddie is not getting the part into the locater and against the backstop, and it does not go into the dies but into the area between. Since the crank drive is going to make one turn, stall, or break the machine unless the toggles kick over, this is a critical setting. The toggles need to NOT kick at the rated forge load. In a 9" upsetter the developed load is about 1700 to 2400 tons. So when that toggle kick occurs, it ia shake the floor, feel it in your bones noise over that city block factory! The crank breaking because the toggles did not save it makes an even stronger noise. One i heard several times and learned to really hate. Especially when I was the Maintenance MGR.
Pity the operator of the manual upsetter when the porter bar is not located right and it kicks the porter bar. Several cases I saw on the 10" flipped big men 6 to 12' in the air and sideways. Where you put the finished, hot forgings is pretty important as you need to know where the men get thrown. Its bad enough to get wacked with a 1000# porterbar hanging from two chain hoists and then fly though the air and land on concrete. It ruins you whole day when you land in a 6' square tub of just forged 500# axles! Sent several to the hosipital, but no serious lasting injuries. (good kentucky windage on the tub placement)

Roland, When you are working with machines that are this powerfull, there is always tension. You may get used to it, but if you get complacent you may get dead. Still all in all, fascinating to witch and witness. If you stand near you can feel the metal move, the earth move, and the machines sing to you. When they are happy you can hear the happy song, and it becomes reassuring. When something breaks everybody knows pretty much instantly, and there is a rush as to see what broke.
Watching those guys who had run these machines for a entire working career you get very humble.
ptree - Friday, 11/30/07 18:57:41 EST
---
Jake,

Renowned Czech/Austrian smith, Alfred Habermann, showed one method of leaf making. Try a 3/8" rod. Point it like a pencil, move it to the FAR radiused edge overhanging it until you're a little bit into the parent stock. Use half-face blows on two sides only, giving 90º turns back and forth. You will be setting metal below the anvil edge while also reducing stock on the anvil face, the latter becoming a stem. The stem will be square in section, but that's OK on a forging. If you don't want it square, round it up. When you turn the leaf over so that the stem is on the diamond, you should have a nice lump of metal behind the point. Flatten it with your hammer face; use the cross peen, only if you need more spread. You then shape it in various ways imparting an "attitude", perhaps putting a medial crease in, etc.
Frank Turley - Friday, 11/30/07 19:19:11 EST
---
Wadco,

I just finished a commission for several items of forged silicon bronze. I had no trouble at all forging the bronze; in fact, I love working with it. I used high silicon bronze, alloy C65500, which is 97% Cu and 3% Si.

I have previously tried forging bronze and brass using a torch, and found it a complete nightmare. Far too difficult to get and maintain a stable heat. I use a propane forge for working bronze, with great success. I bring the forge up to heat with the burners running full blast and, when it has gotten the heavy refractories heated, I turn it down to just an idle on one burner. This maintains the forge at a low orange heat, just right for the bronze. You can use the forge at a higher heat, but you have to be absolutely, even fanatically, vigilant about watching the piece heat or you'll surely have a puddle on the forge floor. With the forge just idling at a high-red to low-orange heat, I can work several pieces at a time using the powerhammer and not worry about them melting. Note: I keep my normally bright shop lighting down to a low level so I can see the color in the bronze.

At a low orange heat silicon bronze will forge very easily and still be controllable. If you go much higher, it becomes so soft you can overstrike, or it just suddenly melts into a shiny and expensive puddle. The recently silicon bronze cost about $13 to $15 per pound, so puddles were not allowed. :-)

I have forged a fair amount of brass, too. I much prefer the silicon bronze. At forging heat, most brasses give off some zinc fumes, which I don't care for and which are toxic. If you overheat zinc-bearing brass it really burns off the zinc and makes lots of fumes.

Naval bronze, also called naval brass sometimes, forges very nicely. The silicon bronze is a harder and tougher material than the naval bronze, which I preferred for the work I was recently doing. Another great thing about working with silicon bronze is that you can TIG weld it very easily with silicon bronze rod and have an absolutely invisible joint when finished. Naval bronze won't do that.
vicopper - Friday, 11/30/07 19:37:21 EST
---
ptree, the little upsetters I am familiar with upset 2-3/8" to 3" tubing. No solids. When working right, they make a low rumbling noise. If something goes awry, it sounds like a train wreck. I did see the upsetters at National Forge years ago and they were upsetting 8" solid bars to be made into Kelly Bars for drilling rigs. Big Honkin' Machines.
quenchcrack - Friday, 11/30/07 20:07:09 EST
---
Quenchcrack, the machines we had were Nationals and Ajaxs. We forged from 1 3/8" up to 10" bar. The 10" upsetter would push a 6" bar back into a 22" diameter, by about 3 to 4' think flange in 5 hits. a almost 7' bar became a about 4' long axle with a honkin big flange.
And yes it sounds like a train wreck when it goes ugly.
The big Ajaxs had a unique ringing hollow clang when the pedal was hit and the pinion drove that big hard bull gear around. Imagine a 24" od pinion with maybe 50 teeth driving a 12' gear. There is also the incessant whoosh as the clutchs are blown in and out. and the squall of the band brakes. The clutch on a 10" national is about 7' od, and has a 7' air piston to move it at 100psi. The band brake is about 2' wide acting on a 4' drum, and has a RR car sized cylinder.
And when it crashes, it takes almost train sized cranes to clean it up:) The frame on a 9" weighs 260,000# with no cranks or anything else:)
ptree - Friday, 11/30/07 20:47:13 EST
---
I was able to take a select few through the shops. Paw paw wilson got a tour, Tom clark also. I think if their eyes had gotten any wider they would have touched:) Paw Paw was watching when the 10" was running the biggest axle we made, and it was about 5 in the evening and a dark evening at that. When that big bar came out of the forge and went in the upsetter he was impressed, but when they hit the first lick, i thought he went about 12" off the floor. The last lick was the pancake and full tonnage, and all he could do was cross himself and say a quick prayer for the guys running it:) We were still running grease/graphite lube then and the flame-explosion when it hit was pretty impressive at night.
ptree - Friday, 11/30/07 20:52:57 EST
---
[ CSI - anvilfire MEMBERS Group | Getting Started in Blacksmithing ]